August, 14, 2011
8/14/11
5:19
PM ET
Duke redshirt junior center Brian Moore will be sidelined indefinitely after suffering a fractured right arm during Friday's practice, the school announced on Saturday.

This is a huge setback for the Blue Devils, as Moore could be one of the top linemen in the country, and if Duke is going to get to a bowl game, it needs its best players up front. Moore started the past two seasons at right guard before
moving to center
this spring. He was named to the preseason watch list for the Rimington Trophy.
"We're certainly disappointed for Brian because of how hard he's worked and his dedication to the program," coach David Cutcliffe said in a prepared statement. "But, as we all know, injuries are part of the game of football and this creates opportunities for other young players."
Redshirt junior Conor Irwin entered summer camp as Moore's backup. Redshirt sophomore Dave Harding, Duke's returning starting left guard, and true freshman Matt Skura also will receive practice and scrimmage repetitions.
Redshirt sophomore cornerback Lex Butler and redshirt freshman defensive lineman Nick Sink are also sidelined indefinitely with leg injuries.
June, 24, 2011
6/24/11
2:00
PM ET
Ranking offensive linemen is not easy. But hey, either is being an offensive lineman. Here are your best "big uglies."

1. North Carolina:
Three starters and one part-time starter return from last year's team, and this line could be the biggest and best since Butch Davis was hired. Guard Jonathan Cooper (22 starts), center Cam Holland (20) and tackle James Hurst (12) have combined for 54 career starts. Travis Bond has four starts and is the leading candidate to take over at the other guard position.

2. Miami:
The Canes return nine of their top 10 offensive linemen including four starters from last year, and Joel Figueroa was granted a sixth season of eligibility. Even with the coaching change, the Canes should be strong up front. Center Tyler Horn is a veteran, Brandon Washington is a difference-maker, and there's enough competition that Seantrel Henderson spent most of the spring as a backup.

3. Clemson:
First-year offensive line coach Robbie Caldwell has four returning starters to work with in Landon Walker, Antoine McClain, Dalton Freeman and David Smith. They also have top reserve Mason Cloy, who has 19 career starts and has played in 38 games. There is plenty of depth for a dependable rotation.

4. Virginia Tech:
All four returnees started every game last year, and there is enough depth that the Hokies should be able to rotate the most players up front they ever have. It's a veteran group led by Blake DeChristopher, Andrew Lanier, Jaymes Brooks and Greg Nosal.

5. Florida State:
Despite the losses of Rodney Hudson and Ryan McMahon, there's experience up front. This fall, the starting lineup will consist of tackle Andrew Datko, left guard Bryan Stork or David Spurlock, center Jacob Fahrenkrug, right guard Spurlock or Stork, right tackle Zebrie Sanders. Just how good they'll be remains to be seen as the majority of them were out with injuries this past spring.

6. NC State:
The Pack lost Jake Vermiglio and will be without injured left guard Andrew Wallace for about half of the season, but Zach Allen, Camden Wentz and R.J. Mattes are returning starters. There's also a lot of talent waiting to emerge with young players like Duran Christophe, Rob Crisp, Tyson Chandler, Torian Box and Andy Jomantas.

7. Virginia:
Four players return with a combined 64 career starts in Anthony Mihota, Austin Pasztor, Oday Aboushi and Morgan Moses, who started the final seven games of the season as a true freshman. Pasztor is in his fourth season as a starter and has 32 career starts.

8. Boston College:
Despite the losses of Anthony Castonzo, Thomas Claiborne and Rich Lapham, the Eagles are almost settled up front, it's the experience behind the starters that's reason for concern. The No. 2 offensive line is comprised entirely of redshirt freshmen. Mark Spinney returns at center, the projected starting guards are Nathan Richman and Ian White, who started three games as a freshman, and the tackles are Emmett Cleary and John Wetzel.

9. Maryland:
It's been an injury-prone group the past two seasons and that didn't change this past spring. Left tackle Justin Gilbert, one of the top linemen on the team, reinjured the same knee he had ACL surgery on and will be out until October. R.J. Dill was also injured this spring, though he played in the spring game, and Justin Lewis was rehabbing from offseason surgery. Pete White also missed practices, so the group needs to solidify the two-deep roster.

10. Georgia Tech:
The Jackets return three starters in guard Omoregie Uzzi, guard Will Jackson and tackle Phil Smith. Sophomore Jay Finch played extensively last season and Ray Beno and Nick McRae were key reserves. Redshirt freshmen Catlin Alford and Morgan Bailey could also work their way into the rotation. Uzzi will be the leader of the line, but they were outplayed by the defense this spring.

11. Wake Forest:
Four starters are back, but the Deacs will sorely miss the experience and leadership of former center Russell Nenon. Garrick Williams started the final three games of 2010 -- two at guard and one at center, but he struggled with the snaps towards the end of spring and isn't where the staff needs him to be yet.

12. Duke:
The Blue Devils should take another step forward this season under offensive line coach Matt Luke, and they need to -- Duke's running game was last in the ACC last year and 104th in the country. Brian Moore replaces a three-year starter at center, but given his experience at right guard the past two seasons, it should be a smooth transition. That will leave a hole, though, at the right guard position, where Laken Tomlinson and John Coleman are the top candidates.
June, 23, 2011
6/23/11
9:00
AM ET
The quarterbacks in the ACC are not strong this year. They're not weak, either.
They're a complete unknown.
With more than half of the ACC introducing first-year starting quarterbacks, there's not enough on tape yet to determine how this group will fare. There is enough evidence, though, to pinpoint which position groups -- based on past performances and future potential -- enter this fall as the strongest and weakest in the ACC:
STRONGEST/OFFENSE
[+] Enlarge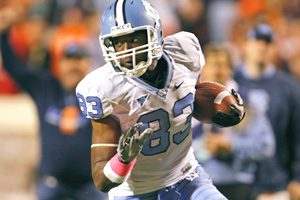 AP Photo/Steve HelberDwight Jones had 62 receptions for 946 yards last season, both good for fourth in the ACC.
Wide receivers:
The ACC overfloweth this year with veteran receivers. Virginia Tech, Florida State and Duke come to mind first, but don't forget about North Carolina. The Tar Heels didn't lose any receivers from last year, and
Dwight Jones
had 946 yards last year. Colin Larmond Jr. at Boston College, who is making his way back from a season-ending knee injury,
Kris Burd
at Virginia and Miami's fast and talented group will also highlight ACC passing games. With Leonard Hankerson gone at Miami, somebody is going to have to emerge as the go-to receiver, and
Tommy Streeter
gets my vote, but he must be more consistent.
WEAKEST/OFFENSE
Center:
There are three above-average centers in the league this year: Cam Holland at North Carolina, Tyler Horn at Miami, and Dalton Freeman at Clemson. Beyond that, it's a thankless yet vital position that's in transition throughout the conference. Brian Moore is replacing a three-year starter at Duke, Florida State loses one of its best players in center Ryan McMahon, the same with Georgia Tech and Sean Bedford, Virginia Tech and Beau Warren, and Wake Forest and Russell Nenon. With the exception of Freeman (22), and Holland (20), no returning starter at center in the league has more than 13 career starts.
STRONGEST/DEFENSE
[+] Enlarge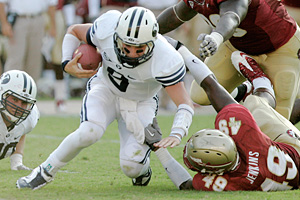 AP Photo/Steve CannonFlorida State's Brandon Jenkins had 13.5 sacks as a true sophomore.
Defensive ends:
The ACC has had a reputation as a defensive conference, and this year shouldn't be any different. Conference fans should be excited about the talent up front. Brandon Jenkins at Florida State and Quinton Coples at North Carolina should be two of the best pass-rushers in the country, but they're not the only players with all-league potential. Andre Branch at Clemson, UNC's Donte Paige-Moss, Virginia's Cam Johnson, and Miami's Adewale Ojomo and Olivier Vernon are all going to cause opposing quarterbacks some pain.
WEAKEST/DEFENSE
Cornerbacks:
Unless, of course, you're Florida State, where Greg Reid and Xavier Rhodes should be one of the best duos in the country. Chase Minnifield at Virginia and Jayron Hosley should also be candidates for national honors, but that's about where the confidence in corners comes to a halt. North Carolina has to replace its entire secondary, and so does Georgia Tech. Clemson also lost two starting corners in Marcus Gilchrist and Byron Maxwell, and Miami lost two starters in Brandon Harris and Ryan Hill.
June, 9, 2011
6/09/11
3:30
PM ET
Practicing snaps with Duke's quarterbacks every day have become as routine as breakfast in the morning for Duke center Brian Moore.

"I make him snap every day here," said Duke offensive line coach Matt Luke. "I don't think he likes me very much for that."

Duke's offense will appreciate it, though, this fall.

One of the best (and most unheralded and unrecognized) position changes in the ACC this offseason was at Duke, where Moore moved from right guard to center. Moore had played almost every snap at right guard for the past two seasons, but he is talented enough that he was one of 42 players and four ACC centers on the 2011 Rimington Trophy Watch List. As a true freshman, Moore practiced as a backup center, but the fact that he hasn't played the position in a game situation speaks volumes about what others think of his potential.

"He's well-respected in the league," Luke said. "He's played a bunch. People probably view him as a better center prospect than a guard prospect as far as the NFL goes, but he plays the game the way it's supposed to be played."

Despite the fact he's replacing a three-year starter at a position he never played, Moore's move could actually be an upgrade to a line that returns four starters. His knowledge of the offense coupled with his size makes the position a better fit for him than guard. At 6-foot-3, 285 pounds, he's a prototypical center and won't be overmatched as much as he was at guard.

The only problem with Moore's move is that now the offensive line loses significant experience at the right guard position. John Coleman and Laken Tomlinson are the top two candidates to take over.

"That's always a concern," Luke said. "We have some bigger bodies that we're able to put in there that I think have a chance to be a good combination. They just haven't played a whole bunch. That right guard spot is going to be one that somebody is going to have to step in there and do a great job just because we lose a bunch of experience."

Duke's passing game has flourished under coach David Cutcliffe, but the running game has consistently struggled. Improvement up front will help the Blue Devils, who ranked 104th in the country and last in the ACC last year in rushing offense.

"We've been getting better steadily," Luke said. "They need to have the confidence they can physically take over a game instead of just get by. … We are a very athletic offensive line. We've gotten so much better just from a physical standpoint. Now they have to take it to the next level and have the confidence they can take over a game. I'm hoping they can take it to that level this year."
February, 15, 2011
2/15/11
10:00
AM ET
We've already looked at who and what to watch in the Atlantic Division this spring. Here's a breakdown of three issues facing each program in the Coastal Division:

DUKE
Spring practice starts:
Feb. 16
Spring game:
March 26
What to watch:
Jim Knowles taking over as defensive coordinator. After coaching the safeties last season, Knowles was promoted in late January following the departure of Marion Hobby to coach Clemson's defensive line. It's not a complete overhaul on defense, but for the third time in as many seasons, a different person will be calling the plays. Knowles has also assumed the lead role with Duke's practice scheduling and weekly preparation.
New faces at linebacker. Duke graduated its leading tackler from 2010, Abraham Kromah, and freshman All-American Kelby Brown is out while recovering from knee surgery. Those two slots will be wide open this spring and the competition will be among Austin Gamble, C.J. France, Tyree Glover and Kevin Rojas.
Offensive line shuffling. The Blue Devils return four starters up front, but they'll be missing the glue of the line in Bryan Morgan, who graduated. Brian Moore, who has started the past two seasons at right guard, will make the transition to center. John Coleman and Laken Tomlinson are expected to compete for the right guard spot.

GEORGIA TECH
Spring practice starts:
March 28 (tentative)
Spring game:
April 23
What to watch:
Starting quarterback competition. Tevin Washington enters the spring at No. 1 on the depth chart, and it's his job to lose, as he has the most experience after taking over for injured starter Joshua Nesbitt in 2010. Synjyn Days will give him legitimate competition this spring, though, and it will increase this summer with the addition of standout recruit Vad Lee to the roster. For now, though, it's between Washington and Days, as David Sims is expected to move to B-back.
Offensive line reshuffling. Georgia Tech will have to replace three starters in all-conference center Sean Bedford, right tackle Austin Barrick and left tackle Nick Claytor, who decided to leave early for the NFL draft. Phil Smith, Barrick's backup last year, is the only one with any experience at tackle. The staff will likely have to move a player or two from guard to tackle, and only it knows who those candidates might be right now.
Revamped secondary. Jerrard Tarrant's decision to leave school early and enter the NFL draft left the Jackets without any returning starters in the secondary. Junior cornerback Rod Sweeting, sophomore cornerback Louis Young, redshirt freshman cornerback Ryan Ayers and sophomore safety Fred Holton are front-runners, but they all have a lot to prove this spring. Holton and Young played sparingly as true freshmen and combined for 21 tackles. Sweeting played in all 13 games and had one fumble recovery and eight passes defended, including one interception. Senior cornerback Michael Peterson may help, and safety Jemea Thomas played as a true freshman in 2009 but redshirted last year. There's some talent, but the inexperience makes it a question mark.

MIAMI
Spring practice starts:
March 5
Spring game:
April 9 or 16
What to watch:
New staff, new schemes. Defensively, first-year coordinator Mark D'Onofrio will work with two other assistants who were with him and first-year coach Al Golden at Temple, so there is familiarity there. Linebackers coach Michael Barrow has to learn D'Onofrio's system, but the players tend to pick it up faster if the majority of the staff is already acclimated to it. Offensively, everyone will be working together for the first time. Jedd Fisch wants to run a pure pro-style offense based on matchups, and the good news is that several of the assistants, because of their respective backgrounds, are already schooled in at least a version of it.
Quarterback battle. Golden has said he would like to name a starter by the end of the spring, making these practices critical auditions for both Jacory Harris and Stephen Morris. Harris has both flourished and flopped as a starter for the Canes, and his injury last year gave Morris the opportunity he needed to win the people's choice award. Has a new era of quarterback begun, or will Harris finally have the breakout season Miami fans have waited for in his final year as a Cane?
Corner competition. Following the departures of Ryan Hill, DeMarcus Van Dyke and Brandon Harris, Brandon McGee is the only corner remaining on the roster with any significant experience. He played in 11 games, started one, and had 15 tackles. Redshirt freshman Devont'a Davis, sophomore Kacey Rodgers, and redshirt sophomore Jamal Reid will also compete for playing time. There are also several incoming freshmen who could be immediate contributors.

NORTH CAROLINA
Spring practice starts:
March 16
Spring game:
April 9
What to watch:
The rookie quarterbacks. There's no guarantee that Bryn Renner will be the Tar Heels' starter in 2011, but he enters the spring slightly ahead of the race, as he was No. 2 on the depth chart last season and was pushing T.J. Yates for the starting job at this time a year ago. The staff would also like to see what true freshman Marquise Williams, who enrolled in January, has to offer. Braden Hanson and A.J. Blue will also compete for playing time. Blue was injured two years ago and redshirted last season.
Running backs race. The Tar Heels graduated three key players from 2010: Johnny White, Anthony Elzy and Shaun Draughn. Ryan Houston is back for his fifth year after redshirting last year and is the most experienced of the returnees. Giovani Bernard was a true freshman last year and had been expected to get some playing time, but he tore his ACL on the third day of training camp. It's not clear yet how much he'll be able to participate this spring. Hunter Furr played sparingly last year and true freshman Travis Riley, who enrolled in January, are also in the mix.
Another strong defensive line. If Quinton Coples was an all-conference selection as a defensive tackle, he could be scary good at his natural position, defensive end. Coples played there as a freshman and sophomore, but switched to tackle out of necessity last season. The defensive line should once again be the strength of the team, but it will be reconfigured again, as Coples' move will leave a defensive tackle spot up for grabs. Junior college transfer Sylvester Williams, who enrolled in January, could fill that role.

VIRGINIA
Spring practice starts:
March 16
Spring game:
April 2
What to watch:
The search for a new starting quarterback. With Marc Verica graduated, the lead contenders to replace him are the ones who saw the field last year -- Michael Rocco and Ross Metheny. Neither of them started, but Rocco played in six games and Metheny five. Nobody has thrown the ball more than Rocco's 25 times. The staff will also look at Michael Strauss, who redshirted last year, Miles Gooch, and David Watford, who enrolled in January.
Competition at running back. With leading rusher Keith Payne graduated, the question becomes what can Kevin Parks do after redshirting last year? There's a lot of depth at the running back position, but Parks, the No. 56 running back in his class by ESPN.com and national prep record-setter out of the state of North Carolina, came to Charlottesville facing high expectations. With Payne gone, this could open the door for him to meet them, but returning starter Perry Jones will also be competing for carries.
Development of the receivers. In January, Jared Green Tweeted that he had decided to transfer after finishing his degree in Charlottesville this spring, according to a school spokesman. His departure, coupled with the graduation of Dontrelle Inman, leaves the Cavaliers without two of their top wideouts from 2010. With Tim Smith coming off an injury, the development of other receivers will be critical -- especially with a new starting quarterback.

VIRGINIA TECH
Spring practice starts:
March 30
Spring game:
April 23
What to watch:
Quarterback Logan Thomas. The Tyrod Taylor era is over, and Thomas is the front-runner to succeed the winningest quarterback in school history. Ju-Ju Clayton is the only other quarterback on the roster who's ever taken a snap, and he'll push Thomas this spring. It's Thomas' job to lose, but the staff is looking for him to improve his accuracy. He played quarterback in only his final two high school seasons and was projected as a tight end. He's still raw and learning the position, but physically, he's a clone of Cam Newton. If he develops some poise in the pocket, look out.
Competition on the defensive line. The Hokies have to replace starters John Graves (defensive tackle) and Steven Friday (defensive end), who both graduated. They've got Antoine Hopkins and Chris Drager back, but it's possible Drager could move back to tight end after starting 10 games at defensive end last year. Tackle Kwamaine Battle, who started the first two games before he tore his ACL and Hopkins took over, is another front-runner. Hopkins' younger brother, Derrick, will also be in the mix, along with James Gayle and J.R. Collins. Redshirt freshman defensive end Zack McCray, the cousin of Logan Thomas, has also impressed the staff so far.
Tight end auditions. The graduation of Andre Smith leaves the Hokies with only one returning tight end who's caught a pass in a game, Randall Dunn (one). Redshirt freshman Eric Martin was the second tight end when the Hokies used two-tight end sets, but he missed three games mid-season with an injury.