NCF Nation:

Brian Norwood
December, 31, 2013
12/31/13
1:00
PM ET
Thirteen years ago,
Levi Norwood
was the 8-year-old kid running around at Texas Tech football practice, the one hanging out with the other coaches' kids.
His father, Brian Norwood, was the first-year defensive backs coach on Mike Leach's first staff in Lubbock. Norwood had moved his family down to Texas after five years of coaching at Navy.
And Art Briles, well, he was the cool guy.
"All the kids loved Coach Briles because he had all the current music and he listened to a lot of R&B," Brian Norwood said. "He just got in his big truck and would blast R&B. The old-school stuff, Motown, a little bit of everything."
[+] Enlarge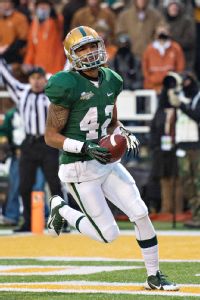 Jerome Miron/USA TODAY SportsLevi Norwood has six receiving touchdowns in his last five games for the Bears.
Levi was too young to remember much about Briles back then. All he knows is he's glad he plays for him today, as the breakout slot receiver in Baylor's No. 1 ranked offense.
He wouldn't be here today, a key cog in the Bears' dream 11-1 season, Big 12 championship and Tostitos Fiesta Bowl berth, if not for the bond his father formed with Briles back in 2000.
It took a serious leap of faith, too, to get the Norwoods to Waco, Texas.
Brian and his family had found plenty of happiness in Happy Valley. They spent seven years at Penn State after that one season at Texas Tech. They loved the community. He loved working for Joe Paterno. And his older son, Jordan Norwood, was one of the Nittany Lions' leading receivers. All in all, the Norwoods were thriving.
So why in the world would they give it up to go to Baylor? Why, in 2008, would Brian give up a good thing to join a program that hadn't surpassed five wins since 1995?
"When you talk about faith, it was literally what I call a God move," Brian said. "At Baylor, Coach Briles had given me this opportunity to be defensive coordinator and we really sat down and talked about teaming up and building something. That was really exciting."
Added Levi: "It was a leap of faith for anyone coming here. But if you know my dad, he's going to put all his faith into what he's doing. I don't think it was a very hard decision for him."
Mostly, Brian Norwood believed in Briles. They forged a strong bond in Lubbock, both on the practice field and the recruiting trail. And especially in the weight room, where they often lifted together.
"It was sort of competitive, because Briles is competitive at everything," Brian said. "I mean, I never did power cleans since I probably finished college. Art is doing all these other lifts and I'm thinking, 'What in the world?'"
When Briles was head coach at Houston, he tried to hire Norwood. The timing didn't work out. He tried again when he arrived in Waco, landing his old friend to serve as defensive coordinator for three years before bringing in Phil Bennett.
Briles sold Norwood on his vision. Briles earnestly and honestly believed he could bring a winning mentality to the Bears. He was passionate about the opportunity to change a woebegone program into a winner. Norwood bought in.
"It ended up being a great move for me and my family," Brian said. "We did have challenges with it, but definitely a good move."
And Levi eventually bought in, too. He wasn't thrilled about moving to Waco and originally signed with Penn State out of high school in 2010. He changed his mind three months later and went to Baylor.
After starting seven games for Baylor as a sophomore, Norwood has enjoyed his big break this season. He has accounted for 1,134 all-purpose yards as a receiver and returner, is No. 2 on the team in receptions with 43 for 670 yards and has scored nine touchdowns, including two on punt returns.
When speedster
Tevin Reese
went down, Norwood stepped up and kept the Bears' offense rolling. Norwood is proud of that, but more proud of the milestones this program achieved.
"It's awesome to see the change that's happening from where it was, even from last year," he said. "It's all exciting and really gets you motivated."
He's looking forward to visiting Penn State again and already has a trip planned for after the bowl game. He still calls the college town home. But he's glad his family found a new home in Waco.
"It was a huge blessing," he said. "I wasn't looking forward to it really at all. Looking back at where I am today, it's definitely been a blessing and a decision I appreciate."
November, 19, 2013
11/19/13
10:00
AM ET
WACO, Texas -- While
Levi Norwood
outran Texas Tech defenders on Saturday, his proud father sat back and, when he wasn't busy doing his job, made sure to savor the scene.
Brian Norwood watched from the coaches' box at AT&T Stadium. The night was all too perfect for the Baylor associate head coach, like one of those sunsets from back home.
"It's like you're looking at the ocean in Hawaii," he said. "Sometimes, you just sit back and take it all in."
[+] Enlarge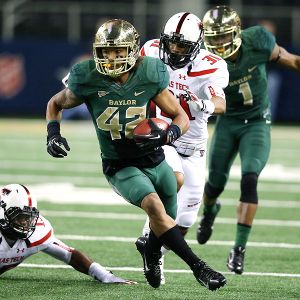 Matthew Emmons/USA TODAY SportsBaylor's Levi Norwood has always made big plays as a punt returner, but now he's also making them as a wide receiver for the Bears.
The message he delivered to his son after Baylor's 63-34 win over the Red Raiders was simple as usual: "Good job. Good game. That was a lot of fun."
For Levi, the fun might be just beginning. The fourth-year junior receiver and returner has quietly emerged as one of the Bears' biggest weapons. And like his punt returns, Norwood's journey to that big night against Tech has had twists and turns. You get used to that as a coach's kid.
He grew up in a household of wall-to-wall competition, and his older brothers held Levi to a high standard from the start. Gabe Norwood was on George Mason's 2005-06 Final Four team and plays pro basketball in the Philippines.
Jordan Norwood
finished as the No. 3 receiver in Penn State history and played in the NFL. Levi always wanted to beat them.
"Oh yeah, goodness yeah, it was always a little brother thing," Brian Norwood said.
And now Levi is making a name for himself for No. 4 Baylor, in an offense that needed someone to step up after losing
Tevin Reese
for the season. He had a career day against Texas Tech, with seven catches for 156 yards, touchdowns of 40 and 58 yards and a 48-yard punt return for a score that swung the game early.
"It feels really good," Levi said. "For the receivers, really we wanted to all step up and be able to do something special for Tevin."
In the locker room, his father reminded him to call his nana and granddaddy, the relatives and everyone else they consider family. They're spread out over Hawaii, Maryland, Virginia, Pennsylvania and plenty other places.
Growing up, Levi got used to moving. Brian, a native of Honolulu, had coaching stints at Arizona, Richmond, Navy and Texas Tech before spending seven years at Penn State. His son wasn't caught by surprise when, after the 2007 season, Brian agreed to become Baylor's defensive coordinator and reunite with Art Briles, whom he'd coached with at Tech and trusted.
Levi wasn't thrilled about uprooting and leaving his high school in State College, but he does remember being excited about the opportunity at first. Then he arrived in Waco.
"I got down here and the food was different, the people were different, the weather was different, the landscape -- there's no mountains or hills here," he said. "Everything was different. It took a couple years for me to adjust."
He didn't particularly want to stay. Norwood signed with Penn State in Feb. 2010 after his senior season at Waco Midway. Three months later, he had a change of heart. Penn State agreed to release Norwood from his scholarship so he could stay home and attend Baylor.
"I really just had a peace about staying here," he said. "The chaplain here, Wes Yeary, he didn't ever really say much but he had an influence on me, just talking to him and knowing how I could grow my faith here at Baylor. That was bigger than football, bigger than family. That was more important to me than going up to Penn State."
"

Levi is slippery. Extremely slippery. Its fun watching him because he can do so many things after he gets the ball.

"

-- Baylor QB Bryce Petty
If that meant sitting behind future NFL receivers
Kendall Wright
,
Terrance Williams
, Lanear Sampson and Reese, so be it. Norwood did catch 40 passes in 2012, but he's known more for the niche he carved out returning kicks.
"I think his versatility is the key word, without question," Baylor coach Art Briles said. "Here's a guy who returns kicks and punts, and returning punts is one of the hardest jobs on the field. It takes a special person to be able to do that on a consistent level."
Until this season, though, he'd never returned one for a score. He's done so twice as a junior, against Iowa State and Tech, and both runbacks have been eerily similar. Norwood gets trapped by oncoming defenders, stops, makes one miss, finds his crease and he's off to the races.
"Levi is slippery. Extremely slippery," quarterback
Bryce Petty
said. "It's fun watching him because he can do so many things after he gets the ball."
And after he gets to the end zone, Norwood likes to throw up a jump shot with the football. That's a tribute to the 2010-11 season he spent as a reserve on the Bears' basketball team. Basketball was always his first love.
As a coach and as a father, Brian Norwood loved every minute of his son's big game on Saturday, and he admits he did a fist pump or two in the box before shifting his focus back to the safeties he oversees. In fact, at one point he lost count of how many times Levi had scored. He was too caught up in the game.
In the days since, Brian has watched the 48-yard punt return touchdown more than few times. His son can't explain what made that run look so easy.
"I guess it's just instinct," Levi Norwood said. "I don't know how or why I'm good at doing that."
After years of playing a supporting role for Baylor, Norwood's experience with changing directions is finally paying off.
April, 7, 2011
4/07/11
10:30
AM ET
Spring football is in full swing. Three teams from the Big 12 (Texas Tech, Baylor, Texas) are already done, and the last team in the Big 12 to start (Kansas State) kicked off on Wednesday.
That leaves seven teams in the Big 12 on the field, but who's coaching them? We've had plenty of teams shift coordinators this season, so here's a quick refresher if you've been busy following basketball since the season ended and the coaching carousel began spinning.

BAYLOR
Defensive coordinator:
Phil Bennett.
He replaces Brian Norwood, who moved to associate head coach and secondary coach. Bennett was previously the defensive coordinator at Pittsburgh, where he coordinated the nation's No. 8 defense.

KANSAS
Offensive coordinator:
David Beaty
. He spent a year at Rice, but returned to Kansas to coach receivers and serve as co-offensive coordinator alongside Chuck Long. He replaces Darrell Wyatt, who left to coach receivers at Texas. Long retained play-calling duties.

OKLAHOMA
Offensive coordinator:
Josh Heupel and Jay Norvell
. They'll share offensive coordinator duties, with Heupel calling the plays. He did so during the Sooners' 48-20 win over Connecticut in the Fiesta Bowl. They'll replace Kevin Wilson, who left to become the head coach at Indiana. Heupel will continue to coach quarterbacks as he has since 2006. Norvell will continue to coach receivers as he has since 2008.

OKLAHOMA STATE
Offensive coordinator:
Todd Monken
. He'll replace Dana Holgorsen, who took over as offensive coordinator at West Virginia and is scheduled to replace Bill Stewart as the head coach in 2012. Monken previously coached receivers for the Jacksonville Jaguars.

TEXAS
Offensive coordinator:
Bryan Harsin
. He spent a decade at Boise State and five years as offensive coordinator, and will replace Greg Davis, the longtime coordinator under Mack Brown who resigned after the 2010 season.
Defensive coordinator:
Manny Diaz
. Another young coach, Diaz was at Middle Tennessee State in 2009 and coordinated the defense at Mississippi State under Dan Mullen last season. He replaces Will Muschamp, who left to become head coach at Florida.

TEXAS TECH
Defensive coordinator:
Chad Glasgow.
Previously the secondary coach at TCU, Glasgow helped the Horned Frogs win the Rose Bowl last year and parlayed his recent excellence into a coordinator gig in Lubbock, where he'll replace James Willis, who left the program in December, before the Red Raiders beat Northwestern in the inaugural TicketCity Bowl.
November, 12, 2009
11/12/09
9:00
AM ET
Posted by ESPN.com's Tim Griffin
The upset bug cropped up around the Big 12 last week with four underdogs claiming victories.
I was able to pick one of them with Kansas State beating Kansas -- a game I predicted on a lot of talk shows during the summer. And that was long before anybody thought the second version of Bill Snyder's "Manhattan Miracle" could come to fruition this season.
I wasn't as fortunate with victories by Colorado, Nebraska and Baylor. I was close to picking both Nebraska and Colorado but just wasn't comfortable enough to go out on the ledge with either of them.
Maybe I'll learn as the season continues.
Here are my picks.
Texas 45, Baylor 7:
The Longhorns are cruising to the Big 12 title game and their trip north along Interstate 35 should be little more than a speed bump to get there. Mack Brown is 11-0 against the Bears and his teams have scored 62, 49, 56, 62 and 31 points in his five previous games at Floyd Casey Stadium. Look for
Colt McCoy
to have another big game against Baylor's secondary, which was blistered for 468 yards by
Blaine Gabbert
last week. Texas has much better talent than Missouri and will make for a long day for Baylor defensive coordinator Brian Norwood.
Kansas State 24, Missouri 17:
Bill Snyder has claimed 13 victories in a row against Missouri and needs another one on Saturday to keep his Big 12 North hopes alive. The Wildcats will try to wrap up a perfect home record as they look to control the game with a bruising running attack keyed by
Daniel Thomas
. Missouri has been more susceptible to the pass this season, but look for KSU to try to mash the Tigers inside. Special teams could be a difference in the game and KSU has the best weapon on the field in
Brandon Banks
. That should be enough to subdue the fading Tigers.
Iowa State 24, Colorado 21:
The Cyclones are playing for a bowl berth and Colorado is trying to keep its flickering bowl hopes and North title aspirations alive. ISU's key will be to get its running game going and let
Austen Arnaud
have some success throwing play-action passes. The home team has claimed the victory in this series in each of the past five seasons. I'm looking for that streak to hit six.
Nebraska 21, Kansas 16:
Back in the summer, this was one of the most highly anticipated games of the conference for this season. Kansas' recent four-game losing streak has diminished that excitement, but the Cornhuskers still need to win to keep their title hopes alive. Nebraska struggled offensively against Oklahoma, but likely won't be tested as much in this game.
Todd Reesing
's recent turnover binge has been the primary culprit in the Jayhawks' recent skid, and they'll be facing perhaps their toughest defensive challenge of that gauntlet when the Cornhuskers visit.
Oklahoma 34, Texas A&M 17:
The battered psyche of Bob Stoops' program will get a pick-me-up when the Aggies visit. Von Miller and A&M's pass rush will pressure
Landry Jones
and his patchwork offensive line, but look for the Sooners to run the ball consistently and to hit quick passes to exploit the weak A&M secondary. The Sooners' defense should be able to dominate in the trenches and provide enough pressure to keep
Jerrod Johnson
out of rhythm.
Oklahoma State 41, Texas Tech 38:
These two teams have staged some memorable games over the past few years, capped by the battle of the dueling sound bites in the memorable last matchup between Mike Gundy and Mike Leach in 2007. Look for more offensive fireworks in this game. Oklahoma State should have an edge at quarterback with
Zac Robinson
against whoever Leach picks. The key will be for OSU's massive offensive line to keep pressure from Tech's underrated front seven manageable. The Red Raiders are coming off a bye and have won four of their last five games, but the challenge of winning at Boone Pickens Stadium will be a little too much for them on Saturday night.
Last week
: 3-3 (50 percent)
Season total
: 59-21 (73.8 percent)
November, 9, 2009
11/09/09
9:00
AM ET
Posted by ESPN.com's Tim Griffin
Here are this week's Big 12 power rankings after four upsets scrambled both divisions.
1. Texas:
The Longhorns sputtered coming out of the gate, but still rebounded for an impressive victory over UCF.
Colt McCoy
stoked his Heisman Trophy credentials with a monster game, and
Jordan Shipley
had the best receiving game in school history. The defense also kept up with its steady play. Amazingly, the Horns had one of their strongest games of the season and still fell from second to third in the BCS.
2. Oklahoma State:
No
Dez Bryant
. No
Kendall Hunter
. No worries for this group. The key for the Cowboys' recent surge has been Bill Young's defense, which limited an Iowa State team that was leading the conference in rushing to only 54 yards. It's helped the Cowboys win seven games in four consecutive seasons for the first time in the 109-season history of the program.
3. Texas Tech:
The Red Raiders were off last week, but had more time to get their quarterback situation untracked as
Steven Sheffield
recovered from his foot surgery. The Red Raiders will face a huge challenge in the final three games as they meet Oklahoma, Oklahoma State and Baylor. Win out and they could be headed for the Cotton Bowl. But they haven't claimed a sweep of those three teams in the same season since 1996.
4. Kansas State:
Bill Snyder's team isn't very pretty, but it just keeps winning. The Wildcats beat Kansas because
Daniel Thomas
rushed for a career-best 185 yards, and an opportunistic defense that is plus-11 in turnover margin this season flummoxed the Jayhawks and
Todd Reesing
. The Wildcats can wrap up their first title since 2003 with a victory and two Nebraska losses. And can we give Snyder the Big 12's Coach of the Year award by acclimation right now?
5. Nebraska:
The Cornhuskers have the most favorable schedule of any of the North challengers, so they now are in the favorite's role for the title. But their 10-3 victory over Oklahoma was set up because the game's only touchdown capped a 1-yard scoring drive after an interception. The quarterback situation remains scrambled, but Roy Helu Jr. came up big for the Cornhuskers when they really needed him to. But as well as the defense played, how much confidence can Bo Pelini have in an offense that had more punts (11) than points (10) or first downs (7)?
6. Oklahoma: In doing these weekly ratings since the conference began, I can't remember the Sooners being ranked as low during the Bob Stoops coaching era. The Sooners' offense had the lowest point production in Stoops' tenure against Nebraska and it was painful to watch. Oklahoma had field position all night as 11 of 16 drives ended up in Nebraska territory and it still couldn't produce a touchdown for the first time in the Stoops era. Sooners coaches have to hope that the five-interception effort by redshirt freshman Landry Jones -- a school record -- doesn't stunt his growth as a starter.
7. Kansas:
Reesing's stature as the most productive quarterback in school history is being sullied by his mystifying turnover slump late in his senior season. The Jayhawks are skidding out of control with four straight losses after five victories to start the season. The upcoming games appear tough, and a sixth victory that would ensure bowl eligibility will be a difficult accomplishment. Remember when many thought this team was the North Division's best?
8. Colorado:
Don't look now, but the Buffaloes are sitting in third place in the North Division after their comeback victory over Texas A&M.
Tyler Hansen
had a resilient game as he rebounded from eight sacks to spark a surprisingly effective offense. The Buffaloes still are only a game away from being eliminated from bowl contention, but they have a better shot at the North title than Kansas and Missouri teams that were picked in front of them.
9. Texas A&M:
The Aggies squandered a chance to become bowl eligible and their schedule gets tougher in the next several games. Their defense picked up eight sacks against Colorado, but they let too many receivers get free for big gains and it cost them the game. I'm still wondering why a field goal looks so good in the fourth quarter on the road, when the same situation was in place in the first quarter and didn't call for the gamble. The Aggies had good field position and strong special-teams play and still couldn't escape with a victory.
10. Iowa State:
The Cyclones have two shots at bowl eligibility remaining and their best chance will be this week when Colorado visits. Paul Rhoads has done a masterful job with this team's confidence, but it has struggled offensively in the past three games. Over the last 13 quarters, the Cyclones have produced three touchdowns. Their bowl hopes depend on juicing production -- quickly.
11. Baylor:
Great coaching job by Art Briles to keep the Bears engaged this season after the Robert Griffin injury. And his confidence paid off with the upset victory at Missouri where
Nick Florence
sliced through the Missouri defense for a school-record 427 passing yards. Brian Norwood's defense made some masterful adjustments after
Blaine Gabbert
blistered the Bears in the first half. It helped snap Baylor's 13-game conference road losing streak and ranked as the Big 12 upset of the season so far.
12. Missouri:
The loss to Baylor has to rank as one of the worst of Gary Pinkel's coaching era. Nick Florence singed the Missouri defense and stretched their home losing streak to three games for the first time since 2004. The Tigers have been outscored 80-11 in the second half of five Big 12 games with the points coming from three field goals and a safety. But they still remain only one victory from bowl eligibility as a difficult challenge at North Division leader Kansas State approaches this week.
February, 26, 2009
2/26/09
10:50
AM ET
Posted by ESPN.com's Tim Griffin
Several key players are poised to earn their shot at playing time after sitting out last season. Here are some of the more notable newcomers who will start practicing with their teams during the spring with hopes of winning starting jobs.

Texas RB Tre' Newton -- The son of former Dallas Cowboys offensive lineman Nate Newton didn't fall too far from the tree as far as his blocking skills, even if he is more than 100 pounds lighter than his father was during his playing career. Texas coaches visualize him as the ideal replacement for Chris Ogbonnaya as a third-down specialist because of his receiving and pass-blocking skills.

Baylor DT Phil Taylor -- You may remember him after he played two seasons as a starter at Penn State before his dismissal from the Nittany Lions squad for his role in an on-campus fight. The 6-foot-4, 340-pounder practiced with the Bears and turned heads throughout practice last season. He arrived at Baylor because of his association with defensive coordinator Brian Norwood, a former Penn State assistant. And the best example of Baylor coaches' expectations for him can be seen in this nugget: Of Baylor's 29 recruits in its most recent recruiting class, none were defensive tackles.

Missouri WR Rolandis Woodland -- Missouri coaches likely could have used him last season, but preserved his redshirt because of the depth at the position. Some observers are reminded of Jeremy Maclin when they watch Woodland's receiving and kick-returning skills.

Nebraska DT Baker Steinkuhler -- How about this for a neat family twist? Steinkuhler has a good chance to slide into playing time opposite Ndamukong Suh at the same position his older brother, Ty, played for the Cornhuskers last season.

Kansas State DE Jeffrey Fitzgerald - -A two-year starter at Virginia who earned Freshman All-American honors in 2006 should immediately boost the Wildcats' dormant pass rush. Fitzgerald produced 12 sacks and four interceptions in two seasons as a starter with the Cavaliers before leaving school because of academic issues.
August, 15, 2008
8/15/08
12:08
PM ET
Posted by ESPN.com's Tim Griffin
Nicknames used to dot the college football landscape, giving a splash of additional color to an already colorful game.
There was "The Galloping Ghost," "The Kansas Comet," "Earthquake," "The Mad Stork" and "The Italian Stallion." For you old-schoolers out there like me, you'll immediately remember Red Grange, Gale Sayers, Bill Enyart, Ted Hendricks and Johnny Musso.
It was good stuff.
But in today's changing times, nicknames don't seem to be given as readily as in the past. That's why a couple of recent stories delighted me so much when I read them this morning.
Oklahoma State running back Kendall Hunter is in a tight battle to replace Dantrell Savage as the Cowboys' featured back.
More notable to me than Hunter's 696 yards last season was an anecdote from last season. The 5-foot-8 Hunter was in a team meeting when Oklahoma State running backs coach Curtis Luper inexplicably started referring to him as "Spud."
"I have no idea why that was," Hunter told the Tulsa World. "On the practice field that day, all I was hearing was Spud. Everywhere I went, it was Spud. Not Kendall, but Spud. I can't shake it."
And at Missouri, redshirt freshman wide receiver Jerrell Jackson has also picked up a similarly colorful moniker. Missouri linebacker Sean Weatherspoon has taken to calling him "Young Grasshopper" because of his pass-catching abilities. It sounds to me like something straight out of the old "Kung Fu" show that I used to love when I was a teenager back in the 1970s, but Jackson says Weatherspoon's descriptive nickname is a badge of honor.

"When I first got here, I caught a ball out of the air from one of the defensive backs, and he started calling me that." Jackson told the Columbia Daily Tribune.
Both nicknames seem to fit the players and are a throwback to the good ol' days of college football. I like them.
I'd be interested if any readers know about nicknames for other Big 12 players, or have suggestions for nicknames. If anybody has some, I'll share them in an upcoming post.
And after a problem with a crashed computer, which I called several nicknames I know weren't suitable for a family Web site, here are some mid-morning links.
Better late than never, I guess. Hope you enjoy.