NCF Nation:

Brian Stewart
August, 20, 2014
Aug 20
2:00
PM ET
Oddball is coming to the Big Ten in 2014.
After spreading through the NFL and much of college football, odd defenses -- with three down linemen instead of four -- will be more visible in the Big Ten this season. Three Big Ten teams -- Wisconsin, Maryland and Indiana -- will operate mainly with three linemen and four linebackers. Although the Terrapins and Hoosiers prefer the hybrid label for their defenses, all three units will show alignments somewhat foreign to the conference.
In 2012, all 12 Big Ten teams used base defenses featuring four down linemen. Defenses with odd fronts had made cameos at places like Michigan and Indiana in the past -- Northwestern considered moving to a 3-4 early in Pat Fitzgerald's tenure but has since elected to remain in a 4-3 -- but unlike the NFL, where about half of the teams use odd fronts, the Big Ten steered clear of the trend.
[+] Enlarge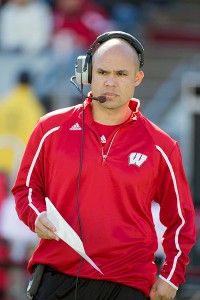 AP Photo/David StlukaWisconsin coordinator Dave Aranda installed a 3-4 scheme last season, and the Badgers finished in the top seven nationally in points allowed (16.3 ppg).
Last season, Wisconsin installed the 3-4, which the new coaching staff had used at Utah State. Indiana hopes to upgrade a perennially poor defense as it uses more of a 3-4 look under new defensive coordinator Brian Knorr. Maryland will keep its scheme -- three linemen, four linebackers but not the traditional two-gap approach seen with 3-4 defenses -- as it transitions from the ACC.
"[Big Ten teams] don't see an odd front every week," Knorr told ESPN.com. "Being multiple, giving them different looks, something they haven't seen, hopefully that's an advantage for us."
Defensive coordinator Dave Aranda always planned to install a 3-4 at Wisconsin. He just wasn't sure the Badgers had the personnel to do it in Year 1. They needed a nose tackle who could occupy two blockers, and outside linebackers with the speed-size mix to do it all. Fortunately, Beau Allen filled the nose position and Ethan Armstrong and Brendan Kelly occupied the outside spots.
Wisconsin finished in the top seven nationally in points allowed (16.3 ppg), rush yards allowed (102.5 ypg), total yards allowed (305.1 ypg) and third-down conversions against (30.6 percent). Aranda likes having an extra linebacker to defend spread offenses, and the 3-4 also has the flexibility to stop the traditional offenses for which the Big Ten is known.
"The power run fits in well with the 3-4," Aranda said.
Indiana will mix three- and four-man fronts, but like Aranda, Knorr inherits players he thinks can fill the critical roles in the 3-4.
Nick Mangieri
and
Zack Shaw
, who played defensive end in the previous system, have the ability to blitz from the perimeter or drop back in coverage.
"The offenses are so wide open, and you have to be able to cover the entire field," Knorr said. "Having the ability to drop eight at times, gives you an extra guy in coverage. Having the ability to have five guys in a great position to blitz right away gives you the versatility we're looking for, while being able to keep our disguise."
The disguise, according to Aranda, is what can set 3-4 defenses apart. He wants to keep offenses guessing about the fourth rusher: Will it be the weakside inside linebacker? The strongside outside linebacker? A safety? A cornerback?
As long as the outside linebackers have the ability to both rush and cover, without giving up too much, defensive play-callers can really mix things up.
"I know a lot of teams will be confused and we'll cause a lot of uncertainty and chaos for the offense," Indiana linebacker
David Cooper
said. "I think we'll do great in the Big Ten."
Maryland typically will use four linebackers, but doesn't feature the massive defensive linemen seen in standard two-gap, 3-4 looks. The Terrapins last season generated pressure both from the linebacker spot (
Marcus Whitfield
had nine sacks and 15.5 tackles for loss) and the line (end
Andre Monroe
had 9.5 sacks and 17 tackles for loss). They return nine defensive starters.
Aranda used to visit Maryland defensive coordinator Brian Stewart when Stewart coached in the NFL under Wade Phillips, a longtime 3-4 defense practitioner. Aranda looks forward to seeing how other odd defenses fare in the Big Ten this season.
"Part of the issue with us last year is we'd go into games not knowing how people would block us," Aranda said. "That works both ways because people don't know how we're going to line up, either, or at least that first year. Now that film's out, but it definitely helps to me when you see someone play Indiana or someone play Maryland, you can see how they're lining up vs. 3-4."
Will the 3-4 keep spreading around the Big Ten? Defensive line has been the league's strongest position in recent years, as players in traditional end or tackle roles have gone on to the NFL in droves.
"There's such a fertile ground for defensive linemen in our area," Aranda admits. "We're trading some of those guys for linebackers and secondary players. Our corners and our safeties are as much our pass-rushers as our D-linemen are.
"There has to be a decision or a philosophy, somewhere along the line, of where you're going with it."
Depending on the results at Wisconsin, Indiana and Maryland, more Big Ten teams could choose to be odd.
October, 10, 2012
10/10/12
9:00
AM ET
Maryland defensive end
A.J. Francis
grew up a huge Cowboys fan and remembers watching Brian Stewart lead the Dallas defense back in 2008 and 2009.
Francis loved the way Stewart coached. So imagine his surprise when Stewart was named defensive coordinator at Maryland back in January. Francis could hardly believe his luck, and was eager to get coaching advice from somebody he had grown to admire.
Their relationship blossomed in the months that followed, so much so that Francis said of Stewart, "He's the best defensive coach I've played for and my favorite coordinator I've played for." It is hard to argue with the results Stewart has gotten out of Francis and every other Terrapins defender this season.
[+] Enlarge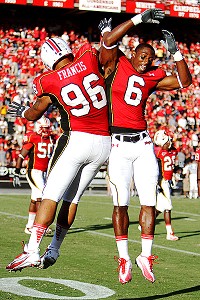 Mitch Stringer/US PresswireMaryland defenders A.J. Francis and Kenny Tate should be giddy. They're part of a unit that ranks No. 7 nationally in total defense.
The worst defense in the ACC has blossomed into one of the best, this despite a coordinator change and a defensive scheme shift. Headed into their game at Virginia (2-4, 0-2) on Saturday, the Terps (3-2, 1-0) rank No. 2 in the ACC in total defense and No. 7 in the nation. That group is a big reason why Maryland has already surpassed its win total from a year ago.
"Usually it takes at least a year to be comfortable in a new defensive scheme, but this scheme we have this year, I've never seen us get as comfortable as we have been as a team," Francis said in a telephone interview. "I feel like everybody feels great in their role, and everybody's willing to accomplish anything that's put ahead of them. There's no task too tall. We feel we can make all the plays."
Francis points squarely at Stewart, along with the return of nearly every position coach on the defense. Both have allowed players to feel good about what they are doing on the field.
"Playing for the same guy who coached my favorite player, DeMarcus Ware, I felt like that was an honor that not a lot of people get to appreciate and so I knew as soon as I got the chance, anything he told me to do I'd be willing to do it without hesitation," Francis said.
He is not alone. Consider these outstanding stats:
For the first time since 1999, Maryland has held its opponent under 300 yards of total offense in four of the season's first five games. West Virginia was the only team to go over 300 yards. But, consider Maryland held the Mountaineers to a season-low 363 total yards of offense and a season-low 31 points.

The Terps rank seventh nationally in total defense (257.2 ypg), seventh in rushing defense (81 ypg) and 15th in passing defense (176.2 ypg). They are holding opponents to 2.3 yards a carry to rank third nationally.

Last week, Wake Forest managed just 45 yards in the second half, including only 4 in the entire fourth quarter. Maryland has been at its best in the second half all year, giving up an average of just 121.4 yards in the second half.
When asked whether he thinks Maryland has the best defense in the ACC, Francis said, "The stats say Florida State is the best in the ACC. Until the stats say so, we're not."
Maryland is considerably better than a year ago, when it ranked last in the ACC in total defense (457.2 ypg) and scoring defense (34.2 ppg). But nobody is allowing themselves a moment to look ahead at a possible bowl berth. There are too many areas of concern that remain, particularly an inconsistent offense that has turned the ball over too much and cannot get its ground game going.
Still, the headlines out of College Park these days are not the negative ones that filtered out at a rapid pace a year ago. Coach Randy Edsall seems to have his team looking ahead, not back. If they keep up their current pace, the Terps could end up being one of the most pleasant surprises in the ACC this season.
"You don't go to a bowl game off three wins," Francis said. "Everybody told us we were going to be bowl bound after getting back to 2-2 last year. Things didn't work out the way we thought they would and I think that's still fresh in everyone's mind. It's hard to win football games. Every game from here on out is an ACC game -- everybody is going to be familiar with us and our personnel. They're going to be pretty good teams. We have to be ready to go out and get the wins."
March, 9, 2012
3/09/12
2:00
PM ET
Of all of the new coaches who have been hired in the ACC this offseason, Maryland defensive coordinator Brian Stewart has been tasked with one of the more difficult jobs -- at least on paper.
Stewart inherited the nation's No. 102 scoring defense (34.25 points per game), No. 111 rushing defense (219.75 yards per game), and No. 108 total defense (457.17 ypg).
"I never look at rankings," Stewart said. "If you get caught up in the rankings, you can get discouraged, or you can start patting yourself on the back. First of all you have to believe in your system, you look at the people who are going to play in your system, and you look at the guys who are going to teach your system. If you can get those three things to jive, then you've got a chance to be successful, and that's how I look at it."

Based on what he's seen this offseason, Stewart said he already has two thirds of the equation solved, as coach Randy Edsall and the other assistants are all on board with switching to a 3-4 scheme. Only when the Terps start spring practices on Saturday, though, will Stewart learn if the players are also buying in. The first few practices will be filled with a lot of installation, and will be pivotal in revealing how quickly the players can learn the scheme and how it's being taught.
"Once people believe," Stewart said, "they make it work."
The good news? The only way for Maryland to go is up.
Stewart will introduce a pressure defense -- not just blitzing on every play and every down, but pressure meaning when the receivers are trying to catch the ball, the defensive backs are in a place where they can contest every catch, and the opposing coordinator and quarterback can't tell who's coming and who's not from the seven players at the line of scrimmage.
Stewart said he has tried to evaluate the skill sets of the players he has inherited as opposed to the previous system they were playing in. Stewart said he was specifically interested in how his defenders fared against Florida State, Clemson, Georgia Tech and West Virginia.
"I look at it every day," he said, "over and over."
On Saturday, he'll finally get his first live look.
Eleven of Maryland's top 13 tacklers from 2011 return, including linebacker
Demetrius Hartsfield
, who had a team-high 108 tackles, and safety
Eric Franklin
, who was second with 106. Six of the top seven sack producers from 2011 also return, including
Andre Monroe
, who had five, the second most by a Maryland freshman in the past nine years. Maryland also welcomes back
Joe Vellano
, who led the FBS last season in tackles by a defensive lineman with 7.8 per game. A total of 16 defenders have starting experience. It was a young, injury-laden group in 2011 that now faces a much-needed overhaul.
"We just had a defensive meeting [Tuesday] morning and just the way [Stewart] is really upbeat is really good," Vellano said. "We are really working on getting this defense down and getting that work in off the field as well. We have a lot of new guys in positions to make plays and I think it really just fits us personnel-wise."
March, 22, 2010
3/22/10
12:30
PM ET
A lot of rebuilding projects get underway this week as another round of teams begin spring football. New coaches such as Ruffin McNeill and Rob Ianello will get their first glimpses of their teams on the field, while other coaches such as Todd Dodge, Bob Toledo and Mike Locksley try to put their teams on track.
Here's a look at this week's spring starts and the biggest issues each teams faces:
East Carolina, March 22
Biggest issue:
With several senior lettermen gone, new head coach Ruffin McNeill is basically starting from scratch, but he does have a good foundation upon which to build. The Pirates will spend the spring transitioning from a pro-style offense to a spread under the direction of new offensive coordinator Lincoln Riley.
Tulane, March 22
Biggest issue:
There are several issues Tulane has to deal with the spring, but the biggest will be replacing the production of running back
Andre Anderson
. Anderson accounted for 80 percent of the team's rushing yards and scored eight of the team's 10 rushing touchdowns.
Idaho, March 23
Biggest issue:
The Idaho offense was quite good last season, but the defense cost it some games. The defense allowed 433.23 yards per game and 36 points per game. It returns 11 players with starting experience, which should help. The Vandals also have to replace four starters on the offensive line.
New Mexico, March 23
Biggest issue:
With three-year starter
Donovan Porterie
gone, sophomore
B.R. Holbrook
and juniors
Tate Smith
and
Brad Gruner
will compete for the starting quarterback spot. However, the winner of that competition will have to fend off top recruits Tarean Austin and Stump Godfrey in the fall.
Northern Illinois, March 23
Biggest issue:
Starting quarterback
Chandler Harnish
will miss spring football, which opens up the quarterback position.
A.J. Hill
,
DeMarcus Grady
,
Jordan Lynch
will be vying for time, but a lot will be expected from junior college transfer Casey Weston in the fall.
North Texas, March 23
Biggest issue:
This is a pivotal season for Dodge and his staff, and the key to turning the Mean Green's fortunes around is getting the defense to play better. North Texas allowed 412.33 yards and 35.58 points per game last season, and also averaged just one sack per game.
Utah State, March 23
Biggest issue:
With running back
Robert Turbin
sidelined with a knee injury, the Aggies will have to find a running back to fill his shoes. Turbin accounted for almost 60 percent of the team's rushing yardage.
Akron, March 24
Biggest issue:
Ianello enters his first spring, and the top priority will be to find playmakers on offense. Akron, which hasn't had a winning season since 2005, averaged just 19.25 points per game last season.
Ball State, March 24
Biggest issue:
The Cardinals will look to replicate the type of offense they had during their 12-win season in 2008. Last season the run game was OK, but the passing game struggled. All of the quarterbacks are healthy this spring and running back
MiQuale Lewis
returns for a sixth season.
TCU, March 24
Biggest issue:
The Horned Frogs didn't lose much from last season's 12-win team, but they did lose their top defensive performers in defensive end Jerry Hughes and linebacker Daryl Washington. Replacing those players, as well as adding depth in the secondary, will be the focus this spring.
UAB, March 24
Biggest issue:
David Isabelle
has the unenviable task of replacing do-it-all quarterback
Joe Webb
, who was essentially all of the Blazers' offense for the past two seasons. Isabelle does bring a strong arm as well as rushing ability to the quarterbacking position, which might help other players get involved in the offense.
Colorado State, March 25
Biggest issue:
The Rams will once again look for a new starting quarterback this spring, and all eyes will be on early enrollee Pete Thomas, who is the favorite to win the job. Senior
Jon Eastman
, junior
T.J. Borcky
and redshirt freshman
Nico Ranieri
also will compete for the starting role.
UTEP, March 25
Biggest issue:
Former UNLV defensive line coach Andre Patterson takes over as the defensive coordinator, and he'll do away with the 3-3-5 defense installed by Osia Lewis. The Miners have consistently been bad on defense, which has stopped them from competing for the C-USA West title. But if Patterson can get the defense moving in the right direction, the Miners become a dangerous team.
Houston, March 27
Biggest issue:
New defensive coordinator Brian Stewart inherits a young group with a lot of talent and will need to show some sort of defensive turnaround this spring. The defense was part of the reason the Cougars didn't cap the perfect season they started.
February, 22, 2010
2/22/10
10:00
AM ET
Here's a breakdown of three issues facing each program heading into the spring:

Central Florida Knights
Spring practice starts:
March 19
Spring game:
April 17
What to watch:
The Knights will need to develop offensive line talent after allowing 2.54 sacks per game and failing to block for a rushing offense that ranked 82nd in the country. The Knights return all but two offensive linemen and have one coming in the spring.
The quarterback battle will heat up with early enrollee Jeffrey Godfrey, who already has impressed coach George O'Leary. Godfrey will compete against Rob Calabrese for the starting role.
The Knights will have to find replacements for three key members of the defensive line -- DE Jarvis Geathers, RT Torrell Troup, LT Travis Timmons. The defense was the main reason the Knights finished 8-5 and won their final five games.

East Carolina Pirates
Spring practice starts:
March 22
Spring game:
April 17
What to watch:
With a new coach, a new system, and a crop of new starters, East Carolina will have its work cut out for it this spring. New head coach Ruffin McNeill needs to replace 15 players with starting experience, which won't be easy with just a month to work.
The most underrated positions the Pirates have to fill are punter and kicker. All-American Matt Dodge is gone as is kicker Ben Hartman, who set the school record for career scoring. Finding replacements for those two is a top priority.
New offensive coordinator Lincoln Riley will be implement Texas Tech's offensive system with just two scholarship quarterbacks and a team that relied on its running game. Riley is confident he can install all of his spread offense this fall, but there's no telling how quickly the Pirates will pick it up.

Houston Cougars
Spring practice starts:
March 27
Spring game:
April 24
What to watch:
The one thing that really kept Houston from an undefeated season was its defense. Brian Stewart, who was named the defensive coordinator in January, inherits a young team with a lot of talent, but he has some work to do to catch the defense up to the offense by September.
Quarterback Case Keenum returns for his senior season, but his center, Carl Barnett, does not. Barnett started 39 games, so Keenum will have to establish a good rapport with his new center this spring. Blake Sargent, who was the backup last year, appears to be the front-runner.
Even though the Cougars did not lose many starters on offense, coach Kevin Sumlin will look for more athletic players to rotate into the mix. Last season, 19 players had at least one catch and 12 had double-digit catches.