NCF Nation:

Brian VanGorder
March, 5, 2014
Mar 5
9:30
AM ET
SOUTH BEND, Ind. -- The keys to Notre Dame's future arrived Monday, when
Everett Golson
took the field for the first time in nearly a year as the Irish opened their fifth spring practice under Brian Kelly.
[+] Enlarge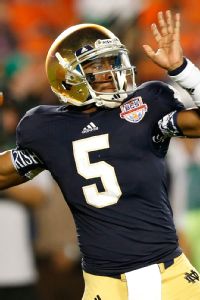 Joel Auerbach/Getty ImagesThe Irish offense hopes to benefit from the return of quarterback Everett Golson.
This spring will probably not look all that different from last spring, when Golson, coming off a redshirt freshman season that ended in the BCS title game, was officially handed complete control of the vehicle that was Kelly's offense before being exiled the following fall for an academic mishap. Yet the Irish may be shorter on all-around playmakers this spring than they were last year.
But with Golson back -- 15 pounds heavier and seemingly much more mature after spending two months with well-known quarterback coach George Whitfield Jr. in San Diego -- it is finally all in for Notre Dame. Its fan base has been anxiously awaiting the offensive theatrics that a Kelly team last displayed five years ago at Cincinnati, and the most important component to that is Golson.
"Absolutely," Kelly said, speaking about the quarterback position, specifically. "Your offensive line has to play well; it has to protect the quarterback. We've got to run the ball effectively, take care of it. But I think we all know college football and where it is: The quarterback is really going to be the centerpiece of this offense and the way we run it. It's going to fall on him.
"We all live in the same world when it comes to the Notre Dame quarterback. We're going to heap a lot on this kid's shoulders. And he knows that. That's why he came back to Notre Dame, because he wants that. Clearly, he's going to be the one that drives this for us."
Replacing the top protectors of Golson (and every other QB of the Kelly era) is paramount, as stalwarts
Zack Martin
and
Chris Watt
are gone after manning the left side of the line so well together for more than three years.
Finding reliable weapons in a passing game down its top three pass-catchers from last season is important, too. (One of those targets,
DaVaris Daniels
, is expected back this summer after making a Golson-like academic gaffe.)
Defensively, potential first-round picks
Stephon Tuitt
and Louis Nix are gone, as are three of the four starting linebackers. Defensive coordinator Bob Diaco -- along with offensive playcaller Chuck Martin -- are gone, and longtime college and NFL veteran Brian VanGorder brings aboard the potential for a more aggressive defense, which should complement a much more aggressive offense.
A running game that lacked punch at times last year will be greatly strengthened by the dimension presented by Golson's legs, which he says got quicker despite the added weight.
It is weight his body and mind are ready to carry as he looks to bring Notre Dame's offense to a place it has longed for.
"I think if leadership ability is in you, it'll show eventually when you're called on," Golson said. "I think only being a freshman, I was still leading to a certain extent. I think now it's more heightened, I would say, because our team is so young this year. But it's been great. That's the spot that I want to be at and I was kind of born to be at, I would say, in a sense. So when it happens, leadership steps to the front."
November, 25, 2012
11/25/12
3:18
PM ET
Two years ago, Auburn coach Gene Chizik was celebrating an undefeated season and a national championship. On Saturday, he
coached his last game as the Tigers' head coach
.
[+] Enlarge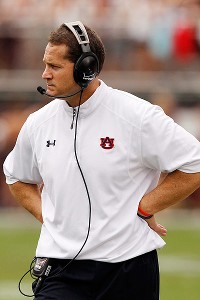 Butch Dill/Getty ImagesGene Chizik was dismissed two years after leading the Tigers to their first national title since 1957.
The dismissal of Chizik doesn't come as a surprise at all. Two years removed from a national championship, the Tigers ended the 2012 season 3-9 and went 0-8 in SEC play. It was Auburn's worst season since the Tigers went 3-8 overall and 1-7 in SEC play in 1998. It was also the first time Auburn went winless in SEC play since going 0-6 in 1980. The Tigers had never gone 0-8 against SEC opponents in a season.
The Tigers also finished the regular season near the bottom of the SEC in most major offensive and defensive categories and were outscored 340-224 this season, including 272-81 in SEC play.
It definitely didn't help that the Tigers suffered some absolutely embarrassing losses this season. A
63-21 loss to Texas A&M
this season was the worst loss by Auburn since its 68-7 loss to Georgia Tech in 1917. Auburn was also shut out in its last two SEC games and was outscored 150-21 in its final three SEC contests. The Tigers have been outscored by archrival Alabama 91-14 in the past two years.
Although Auburn was relatively young this season, the product on the field wasn't getting better as the year went on, and two new coordinators didn't have much of a positive influence on the Tigers in games. With new offensive coordinator Scot Loeffler, the Tigers finished the season ranked 118th nationally in total offense (305 yards per game), and under new defensive coordinator Brian VanGorder, they ranked 84th in total defense (420.5).
Chizik finished his four-year Auburn career with a 33-19 record (with 14 of those wins coming during the 2010 season) and was 15-17 against SEC opponents. Since winning the national championship in 2010, the Tigers have gone just 11-14 and totally fell apart this fall. There just weren't enough positive signs for the future with Chizik in charge.
Check the SEC blog and ESPN.com for more on Chizik's firing.
October, 1, 2012
10/01/12
11:00
AM ET
It seems like only yesterday people were talking about an LSU-USC national championship, and weren't totally sold on Alabama making another run to a national title.
Oh, how things change in a matter of a month.
Now that September has come and gone, it's time to take a look back at some of the SEC's best and worst moments from the first month of the college football season. We'll also take a look at three storylines to keep an eye on in October:
September's best:
1. Alabama's dominant run to No. 1 in the polls:
In September, it appeared the Crimson Tide were just reloading after their national championship season. Alabama destroyed Michigan in its season opener at Cowboys Stadium and has mangled its past four opponents by a combined score of 160-21, including a 52-0 romp over Arkansas in Fayetteville. Questions surrounded Alabama's defense, but it's been utterly dominant, leading the nation in scoring defense and ranking in the top four in total, rushing and passing defense. There's no question that this is the best, most complete team in the country.
2. Florida's emergence in the East:
We didn't know what we were going to get from the Gators in Year 2 of Will Muschamp's coaching career. The defense hasn't really surprised us with how it's played, but the offense has made tremendous strides since last season, thanks to
Jeff Driskel
and
Mike Gillislee
. Driskel has been splendid for the Gators, running that offense like a vet with his ability to own the second half of games. Gillislee has given this offense the downhill running threat it's missed since Tim Tebow was around. The Gators have dominated in the second half of games and haven't allowed any fourth-quarter points.
3. Georgia's sensational freshman duo:
The Bulldogs had to find some success in their running game after
Isaiah Crowell
's dismissal, and with
Todd Gurley
and
Keith Marshall
tearing it up, Crowell is a distant memory. The fabulous freshmen have combined for 964 yards and 14 touchdowns. Gurley currently leads the SEC with 536 yards and nine touchdowns. He's also averaging 7.9 yards per carry. Marshall, who has displayed some of the best open-field speed in the SEC, is averaging 8.2 yards per carry and cranked out touchdown runs of 75 and 72 yards against Tennessee over the weekend. It's hard to stop a train, let alone two.
September's worst
1. Arkansas' total meltdown:
Heading into the season, I had a feeling that this team would struggle with adversity without Bobby Petrino around. This team hasn't just struggled, it has totally collapsed. John L. Smith has lost this team, as the Razorbacks are 1-4 and have been outscored 203-116. Against Alabama and Texas A&M, the Hogs were outscored by 100 points. This all started with Petrino's now-infamous motorcycle ride back in April, but trouble on the field was magnified by Arkansas' overtime loss to Louisiana-Monroe. Since then, there hasn't been a lot of fight out of this team and quarterback
Tyler Wilson
went as far as to say his team "quit" against Alabama. The same should have been said about the 58-10 loss to Texas A&M.
2. Defensive woes:
It was a rough month for some of the SEC's defenses that were supposed to be better in 2012. Arkansas, Auburn and Tennessee are all giving up more than 400 yards a game, after all hired new defensive coordinators. The Hogs own the SEC's worst defense, allowing 510.2 yards per game and 40.6 points per game under Paul Haynes. Auburn defensive coordinator Brian VanGorder has been through the SEC before, but the Tigers are allowing 419.3 yards per game. As Tennessee continues to transition to Sal Sunseri's 3-4 defense, it's clear the Vols aren't ready for it, as they are allowing 425.8 yards and nearly 30 points a game.
3. Missouri's SEC start:
After Mizzou's first two SEC games, the Tigers are a decisive 0-2 and have been outscored by Georgia and South Carolina by a combined 72-30 margin. Mizzou put up a good fight through the first three quarters against Georgia, but had no steam in the fourth. This team barely looked alive against South Carolina, as the Gamecocks just pushed the Tigers around all day. The Tigers said they could handle the size and speed of the SEC, but haven't through two games.
October storylines:
1. Will the real LSU stand up?
Entering the season, LSU was one of the country's best teams on paper. Now, we're all wondering what this team will do going forward after it ended the month with less than flattering outings against Auburn and Towson. LSU's offense struggled to get much of anything going against an overmatched Auburn defense, and the Tigers' defense then allowed 188 rushing yards and 22 points to Towson. It isn't panic time in Baton Rouge, but what's this team's true identity? A lot has to be cleaned up in a month that features trips to Florida and Texas A&M and a home game against South Carolina.
2. Can Manziel continue his red-hot run?
Georgia's frosh duo at running back has stolen the freshman headlines, but Texas A&M quarterback
Johnny Manziel
has been spectacular this year. Through four games, the redshirt freshman has passed for 1,094 yards and 10 touchdowns (no interceptions) and has rushed for a team-high 366 yards and six more scores. He's been the league's best dual-threat quarterback, and while his feet have made him and A&M's offense that much more dangerous, he's turning into a better passer with each game. Against Arkansas, his 557 yards of total offense (453 passing yards and 104 rushing yards) set an SEC record.
3. East race could settle itself:
This month, Florida, Georgia and South Carolina all play each other. That means that come Nov. 1, we might know who really has the upper hand in the East race. Florida has a chance to really make a statement by playing LSU on Saturday, while either Georgia or South Carolina will drop a game back this weekend, as they play each other in Columbia, S.C. South Carolina then goes to LSU. Florida ends the month playing South Carolina and Georgia back-to-back, but both games are in the state of Florida.
September, 4, 2012
9/04/12
9:00
AM ET
The first weekend of the college football season brought some changes to our power rankings. As we enter Week 2, some teams are trending down, while others are on the up. And some look pretty much like we thought they'd look in their first games.
It's still early, but this weekend could help to better shape the conference race, especially in the SEC East where Florida travels to Texas A&M and Georgia heads to Missouri. Also, keep an eye on Mississippi State's home game with Auburn.
OK, time for the rankings:
1. Alabama (1-0):
The Crimson Tide made quite the statement by absolutely dominating No. 8 Michigan inside Cowboys Stadium. The defense, which lost a host of top talent from last year's national championship team, took
Denard Robinson
out of the game from the start. The offense should be fun to watch this fall with freshman
T.J. Yeldon
and
Eddie Lacy
carrying the ball and
AJ McCarron
throwing to those young, explosive receivers.
2. LSU (1-0):
It's not like the Tigers looked bad against overmatched North Texas, but Alabama's performance was just
that
good.
Zach Mettenberger
did well in his LSU debut, passing for 192 yards and a touchdown, while running backs
Kenny Hilliard
(141 yards) and
Alfred Blue
(123) pounded away at North Texas' defense. The Tigers racked up 508 total yards and limited North Texas to just nine first downs and 219 total yards.
3. Arkansas (1-0):
We know Arkansas can score and churn out yards. The Hogs made both of those things look very easy against Jacksonville State, especially quarterback
Tyler Wilson
, who threw for 367 yards and three touchdowns Saturday. But the defense still has some questions surrounding it, as the Hogs gave up 24 points. The defense settled down the second half and gave up 322 total yards, which was one yard less than the average given up by top 15 teams this weekend.
4. Georgia (1-0):
The Bulldogs' defense is obviously hurting without
Bacarri Rambo
and
Alec Ogletree
and it showed in the win over Buffalo. There was a lot of give in the pass defense and the Bulldogs struggled stopping quarterback runs. Improving in both of those areas will be crucial heading into the Missouri game. The offense looked pretty good, especially with freshman running back
Todd Gurley
carrying the ball. He registered 100 yards and two touchdowns on eight carries.
5. South Carolina (1-0):
The offense was shaky when it came to throwing the ball, and it certainly wasn't any better after quarterback
Connor Shaw
went down with that shoulder injury. His health is critical, as there isn't much experience at all behind him. Running back
Marcus Lattimore
looked solid in his return and was back to his workhorse ways. The defense played well overall, but the secondary still has concerns.
6. Tennessee (1-0):
Everything went right for the Vols against NC State. It became blatenly obvious that they have more depth across the board now than they've had during Derek Dooley's tenure. Getting the tough yards running the ball was still an issue at times, but
Marlin Lane
showed that he might have what it takes to be that explosive running back Tennessee needs.
Tyler Bray
had no issue throwing the ball with
Justin Hunter
back and newcomer
Cordarrelle Patterson
going off.
7. Florida (1-0):
There was more bend in Florida's defense than the coaches would like, but it looked like players were more disinterested than anything else. Expect a little more enthusiasm from that group this week. The offense, however, has major work to do.
Mike Gillislee
can run, but the passing game was nonexistent.
Jeff Driskel
was named the starting quarterback and the Gators should open things up more this weekend at Texas A&M, but it'll be a tough road game.
8. Mississippi State (1-0):
The Bulldogs were pretty balanced on offense against Jackson State, getting 193 passing yards and 202 rushing yards in their 56-9 win. The Bulldogs have a major test this Saturday with Auburn coming to town. Dan Mullen has yet to win a game in the West against someone not named Ole Miss. This game could go a long way to shaping the Bulldogs' season, kind of like last year's game at Auburn.
9. Missouri (1-0):
The Tigers might not have all the size that other SEC teams possess, but this team showed it has some quality speed -- and some quality playmakers. The defense displayed some grit as well, forcing four turnovers in the blowout win over Southeastern Louisiana. But the real test is this weekend with Georgia coming to town. We'll see that high-flying spread offense battle one of the SEC's top defenses. Should be fun.
10. Texas A&M (0-0):
The Aggies had their opener with Louisiana Tech postponed because of Hurricane Isaac. That gave Texas A&M a couple more days to game plan for Florida, but all the kinks and mistakes that you'd like to get out of the way early will now come in the Aggies' SEC opener against Florida. The Gators might not have much offense, but expect that defense to put a lot of pressure on first-year starting quarterback
Johnny Manziel
.
11. Auburn (0-1):
These Tigers have clearly improved on defense under Brian VanGorder, but their "tackling" in Week 1 was ugly. Just ask Clemson running back
Andre Ellington
, who rushed for 231 yards in the win over Auburn Saturday.
Kiehl Frazier
looked more comfortable throwing the ball, and Auburn has a solid rushing tandem in
Tre Mason
and
Onterio McCalebb
, but offensive efficiency has to improve. Auburn settled for too many field goals Saturday.
12. Vanderbilt (0-1):
Thursday's loss to South Carolina was tough for this team to swallow. The swagger and talent is there in Nashville, but the little things that have plagued this program continue. Still, you can tell that with the offensive weapons and a hungry defense, this team has what it takes to beat one of the top teams in the SEC East. A trip to Northwestern this weekend is a must-win for the Commodores as far as confidence and making a bowl are concerned.
13. Ole Miss (1-0):
The Rebels ended a seven-game losing streak dating back to last season in Hugh Freeze's debut. For the first time in a long time, Ole Miss' offense showed up, as the Rebels registered 565 yards of offense against Central Arkansas. Quarterback
Bo Wallace
also had a tremendous debut for the Rebels, with his 264 passing yards and 82 rushing yards. UTEP provides a bigger test, as the Rebels look for their first two-game winning streak since September 2010.
14. Kentucky (0-1):
Not a lot went right for the Wildcats in their loss to Louisville. The offense moved the ball through the air at times, but couldn't make plays when it had to and rushed for just 93 yards. The defense was gutted up front, as two of Louisville's backs rushed for more than 100 yards. As far as making it back to the postseason, this was a game that Joker Phillips' team had to have. Line work on both sides has to get better if Kentucky is going to improve on last year's 5-7 season.
August, 27, 2012
8/27/12
11:00
AM ET
╗
Power Rankings
:
ACC
|
Big 12
|
Big East
|
Big Ten
|
Pac-10
|
SEC
|
Non-AQ
We are just days away from the college football season, so it's time to unveil our first batch of power rankings for the regular season.
A lot goes into our power rankings. It isn't just about how strong teams are right now. We look into our crystal ball as well to get a good read on how each team will finish the season -- before it has even started.
For each school, we look at talent coming back, coaching, roster changes, how teams have looked in practice now compared to the spring and uniform style. Well, maybe not that last part, but you get the point.

Here are our season-opening SEC power rankings for 2012:
1. LSU:
The gap between the Tigers and Alabama got a lot smaller after Tyrann Mathieu's dismissal, so this could be viewed as 1A and 1B. Mathieu is a big loss for LSU on defense and special teams, but there is just way too much talent for this team not to make another title run. LSU's offense still has one of the best/deepest running games around and gets an upgrade with quarterback
Zach Mettenberger
. LSU also might have the best offensive line/defensive line combo in the nation.
2. Alabama:
The defending champs lost a lot of star power on defense, but that unit should still be pretty darn good this fall. There could be some growing pains at times, but the Tide should still have one of the league's best defensive units this fall. The offense might be better and more balanced this fall, even without Trent Richardson. There is a good stable of backs, the nation's top offensive line and quarterback
AJ McCarron
has a little more explosiveness and athleticism to work with at receiver.
3. Arkansas:
Bobby Petrino is gone, and that could be tough for the Razorbacks to overcome in the long run, but the team has bought in to what interim coach John L. Smith is saying. We still need to see how this team -- and Smith -- acts when adversity enters the picture. The offense has two of the league's best in quarterback
Tyler Wilson
and running back
Knile Davis
, who is back from a serious ankle injury. Wilson lost three NFL receivers, but his receiving corps doesn't lack talent. Questions still surround the defense, which lacked depth last season.
4. Georgia:
A load of talent returns on both sides of the ball. Quarterback
Aaron Murray
could be a Heisman candidate, while linebacker
Jarvis Jones
might be one the country's best players, regardless of position.
Isaiah Crowell
is gone, but the Bulldogs seem happy with their stable of running backs and were probably going to run by committee again this season anyway. The defense will take a hit with a couple of key stars suspended to start the year, but this group has elite status. The schedule is set up again for a run to Atlanta.
5. South Carolina:
The Gamecocks return a filthy defense headlined by sophomore defensive end
Jadeveon Clowney
. The defensive line should be one of the best in the league with Clowney and
Devin Taylor
on the ends and
Kelcy Quarles
coming back in the middle. The secondary has issues, especially with
Akeem Auguste
going down, but safety
D.J. Swearinger
and hybrid safety/linebacker
DeVonte Holloman
are studs.
Marcus Lattimore
is one of the nation's best, and he appears to be 100 percent after his ACL injury. The hope is that quarterback
Connor Shaw
will help take some pressure off of him.
6. Florida:
The Gators return a fierce defense that should be strong across the board. End/tackle
Dominique Easley
is coming off an ACL injury, but has the ability to be one of the top linemen in this league. But for Will Muschamp, his second-year success will be determined by what the offense can do. Questions are everywhere, starting with a quarterback battle that isn't close to being settled. There are unproven pieces at receiver and the offensive line, which returns most of last year's parts, struggled mightily in 2011.
7. Tennessee:
The Vols have a chance to challenge Arkansas for the league's best passing game.
Tyler Bray
can throw it all around a bit and has two potential stars in
Justin Hunter
and
Cordarrelle Patterson
to throw to. However,
Da'Rick Rogers
is gone, which means the pressure is on Hunter, who is coming off an ACL injury, and Patterson, who is in from the juco ranks. The defense has a lot of experience and talent, but four new coaches are on board, including defensive coordinator Sal Sunseri. Seven new coaches are in Knoxville, and it's no secret that Derek Dooley's seat is very hot there.
8. Mississippi State:
There is a lot of confidence in quarterback
Tyler Russell
, who can finally call this team his. He'll have quite a bit of experienced weapons to throw to, including seniors
Chad Bumphis
,
Arceto Clark
and
Chris Smith
, who have combined to catch 221 passes for 2,782 yards and 22 touchdowns in their careers. The running game should be strong with
LaDarius Perkins
and
Nick Griffin
, while the offensive line is just hoping to stay healthy this year. The defense should be solid with a talented front seven and a very gifted secondary, starring potential All-American
Johnthan Banks
. The schedule is also very favorable in September and October.
9. Missouri:
The newbies don't lack confidence, but on paper they lack size up front -- on both sides. The staff and players say it's not a problem, but let's see come mid-October. Quarterback
James Franklin
appears to be 100 percent after undergoing shoulder surgery and might be the league's best dual-threat QB. He's the key to a spread offense that returns a lot of speed. The defense is experienced and has a strong linebacker group. Ends
Brad Madison
and
Kony Ealy
could form a pretty good tandem this fall.
10. Auburn:
The Tigers are still a young team and there are two new coordinators in town. Now that
Kiehl Frazier
has been named the starting quarterback, the offense can start molding around him. He'll have a solid group of running backs to work with, but the line is young and he needs more reliable receiving targets alongside
Emory Blake
and
Philip Lutzenkirchen
. The defense is loaded up front, headlined by end
Corey Lemonier
. But the defense as a whole still has a lot of questionable parts for new coordinator Brian VanGorder to work with.
11. Texas A&M:
The Aggies have a new coaching staff, have to replace some key starters from last year and will be working with a very green quarterback in redshirt freshman
Johnny Manziel
. The good news for him is that the offensive line is very strong, starting with tackles
Luke Joeckel
and
Jake Matthews
. Helping Manziel will be senior receivers
Ryan Swope
and
Uzoma Nwachukwu
and stud running back
Christine Michael
, who is coming back from an ACL injury. The defense is moving to a 4-3, but is stacked at linebacker. The secondary is dangerously young and thin.
12. Vanderbilt:
This team surprised a lot of people last year, but opponents won't be caught off guard by the Commodores in 2012. There is good offensive firepower coming back, with quarterback
Jordan Rodgers
, running back
Zac Stacy
and receivers
Jordan Matthews
and
Chris Boyd
. Plus, there is some good, young offensive talent. But the offensive line has depth issues and will have to use a lot of young guys this fall. The defense is also replacing some key components from last year's team.
13. Kentucky:
The Wildcats saw their five-year postseason run end after having the SEC's worst statistical offense in 2011. Joker Phillips thinks he has more potential playmakers this fall and is excited about quarterback
Maxwell Smith
's potential. The offensive line is younger and can't afford an injury to either
Matt Smith
or
Larry Warford
. The defense will be strong up front, but is replacing all four linebackers and two starters in the secondary.
14. Ole Miss:
New coach Hugh Freeze isn't working with a lot of numbers, as attrition from the past few years is catching up. The offense was one of the league's worst last year, and still has a quarterback battle between
Bo Wallace
and
Barry Brunetti
going on. The offensive line struggled mightily to grasp Freeze's spread this spring and has to improve quickly. Receivers
Donte Moncrief
and
Ja-Mes Logan
have a lot of upside, while the defense should be better, especially in the secondary. Still, depth is an issue overall.
July, 12, 2012
7/12/12
6:24
PM ET
As if the Alabama-Auburn rivalry didn't need anymore drama. Things really got interesting on the recruiting side of such a great rivalry when top high school linebacker prospect
Reuben Foster
(Auburn, Ala.), who is the nation's No. 2 prospect, flipped his verbal commitment
from Alabama to Auburn
during a news conference held in his high school cafeteria Thursday.
"I have a lot of respect for the Alabama people -- the coaches and all of the other people and the fans," Foster said. "But at the end of the day, I feel like Auburn University is the place for me and my family. It has the best situation for me and my family.
"I am 100 percent confident with my final decision."
[+] Enlarge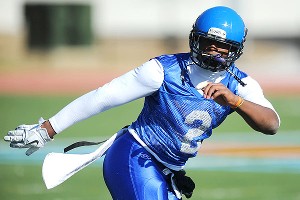 Radi Nabulsi/ESPN.comReuben Foster surely made many Auburn fans giddy with his announcement on Thursday.
Foster transfered to Auburn High from Troup County High in LaGrange, Ga., this spring. He's now basically in Auburn University's backyard, so he's had plenty of opportunities to check out the Tide's biggest rival.
By the way, didn't he say he was "100 percent committed" to Alabama last week? Oh, recruiting. Another high school player goes back on his non-binding word. Shocker.
Forget that Foster was all about being loyal to Alabama a week ago and that it's still a long way before he actually has to sign with a school; this is a big get for the Tigers. Not only did Auburn's staff snatch its arch-rival's top commit but he gained one of the best players in the country. In a state that it must share with one of the kings of college football, Auburn pulled a quick one on the Tide.
Auburn isn't exactly hurting at linebacker, but now the Tigers have the nation's top two inside linebackers in Foster and Under Armour All-American
Trey Johnson
(Lawrenceville, Ga./Central Gwinnett). For as much as Auburn's defense struggled last year and for as young as it still is overall, getting highly-touted and highly-talented players like this will only help the future. Chances are both players -- if they do sign with the Tigers -- will be expected to contribute early at Auburn, especially Foster.
Foster is extremely talented, but Alabama is stacked at linebacker, especially with four linebackers signing with the 2012 class. He might be considered more talented than those players, so chances are he would have had his chance to play once he got to Tuscaloosa, but he's more important to the Tigers.
He not only helps Auburn's future depth, but he's a brand name in this year's recruiting class. Auburn, which has a solid class already, should be able to build some good momentum with this kind of pickup. Other top players will take notice to this. Their interest in Auburn might even increase now. Regardless, this was a huge get for Auburn and it wouldn't surprise me if Gene Chizik and defensive coordinator Brian VanGorder took a victory lap around campus once they heard the news.
And, hey, it's a shot to Alabama's recruiting class. Say what you will about whether or not Alabama
needed
Foster, but at the end of he day, Nick Saban and his staff want him in this class. And fans want him in this class. Losing him to
Auburn
stings more than just seeing him decommit. That's your arch-arch-arch-rival. You never want to see that.
We'll see how long Auburn's collective victory lap lasts. After all, this is recruiting and you better believe that Saban, a recruiting master, won't give up on recruiting Foster. Not when his No. 1 rival swoops in and takes his prize, and not when "100 percent committed" means nothing until pen is put to paper.
May, 18, 2012
5/18/12
11:09
AM ET
We're putting spring behind us and looking toward the fall with our post-spring power rankings:
1. LSU: The Tigers had one of the best springs around. Things were quiet off the field, and the offense rallied behind quarterback Zach Mettenberger. Coach Les Miles was very impressed with Mettenberger's play and maturity, and expects LSU's offense to be more balanced with him under center. LSU can still use four or five running backs, as well. Defensively, the Tigers are stacked once again, especially up front with two potential first-rounders in ends Sam Montgomery and Barkevious Mingo. Questions surround the inexperienced linebackers, but Kevin Minter had a tremendous spring in the middle. On paper, LSU is equipped with the talent to make another title run, and gets Alabama at home this year.

2. Alabama: While the defending national champs saw a lot of "new" faces on defense this spring, coach Nick Saban left happy with where his players were -- but not satisfied. There is still work to be done, especially in the secondary, where the Tide must replace three starters. Dont'a Hightower and Courtney Upshaw are gone at linebacker, but the coaches were impressed with how Nico Johnson, C.J. Mosley and Adrian Hubbard played this spring. Some think Hubbard, a redshirt sophomore, could be Bama's top pass-rusher. Offensively, quarterback AJ McCarron is back, more mature and surrounded by a very veteran line. He has a group of younger receivers to throw to, but has at least four quality running backs. Alabama's road to repeating is tougher, with games at Arkansas and LSU.
3. South Carolina: A healthy Marcus Lattimore (knee) at RB makes South Carolina an even better contender for the SEC East crown. His status is uncertain, but the pieces around him are pretty impressive. Quarterback Connor Shaw had an impressive spring, and looks ready to be the passer coach Steve Spurrier wants him to be. The defense is once again stacked, especially up front with ends Jadeveon Clowney and Devin Taylor. There are questions in the secondary, with two new, young starters in Victor Hampton (cornerback) and Brison Williams (safety), while senior Akeem Auguste returns after missing last season with a foot injury. Still, Spurrier is chirping about his SEC counterparts, so you know he thinks he's got a good team this year.
4. Georgia: The Bulldogs should be higher on this list, but when you take into account the suspensions of four defensive starters at the beginning of the season, they slide a little. Georgia returns nine defensive starters, including one of the nation's best linebackers in Jarvis Jones, and some firepower on offense, led by veteran quarterback Aaron Murray, who could get some early Heisman love. It also sounds like enigmatic running back Isaiah Crowell is slowly turning things around. Yet again, the Bulldogs have a favorable SEC schedule, with no games against Alabama, Arkansas or LSU, so their road to the SEC championship is easier than South Carolina's, but keep an eye on that inexperienced offensive line.
5. Arkansas: If not for Bobby Petrino's embarrassing dismissal, the Razorbacks might be ranked higher. Offensively, it doesn't get much better than what Arkansas has. Tyler Wilson returns as arguably the league's best quarterback, and he'll get to work with one of the most complete backs around, Knile Davis, who is returning from a devastating ankle injury. An older and more improved offensive line returns, and so does a talented receiving corps led by Cobi Hamilton. But there are questions. How effective will interim coach John L. Smith be, especially if something goes wrong? Will Marquel Wade's suspension leak into the fall after his spring arrest? And will the defense improve and be more aggressive under new coordinator Paul Haynes? The good news is that Alabama and LSU play in Fayetteville this fall.
6. Florida: The chemistry is much better in Gainesville. Florida returns 10 starters from a defense that ranked eighth nationally in 2011. Matt Elam looks like a budding star at safety, and Florida's linebacking group is solid. Buck/defensive end Ronald Powell could be out after tearing his ACL this spring, but coach Will Muschamp recently said Powell is off crutches. Stud defensive tackle Dominique Easley is also walking fine after tearing his ACL in last year's season finale. The Gators have their third offensive coordinator in three years, and unproven sophomore quarterbacks Jacoby Brissett and Jeff Driskel are still battling. Florida has unproven running backs and receivers, but the offensive line toughened up tremendously.
7. Auburn: The Tigers welcomed two new coordinators, Scot Loeffler and Brian VanGorder, this spring, and by all accounts players were very receptive. Coach Gene Chizik is still dealing with a lot of youth, as close to 70 percent of his roster is made up of underclassmen. One of those underclassmen is quarterback Kiehl Frazier, who made strides as a passer this spring and seems to have the edge in the quarterback race with Clint Moseley, who missed some of the spring with a sore shoulder. The defensive line will be the team's strength, with end Dee Ford exploding this spring and Corey Lemonier returning. There is a lot of depth up front on defense, which will go a long way for the Tigers.
8. Missouri: Coach Gary Pinkel and his players have made it clear they aren't intimidated by the move to the SEC. These new Tigers return solid offensive firepower, but there has to be some concern about quarterback James Franklin, who missed most of the spring after having surgery on his throwing shoulder. Plus, Mizzou's backup QB could miss games this fall after his recent arrest, so the Tigers' offensive success will be riding on Franklin's health. The Tigers are replacing a few starters on both lines, but feel confident about both areas. Mizzou will face a Georgia team down a few defensive players in Week 2, but must travel to South Carolina, Florida, Tennessee and Texas A&M.
9. Tennessee: A lot is different in Knoxville, as the Vols welcomed seven new assistant coaches. Coach Derek Dooley insists the changes were for the best, but there's still going to be some adjusting to do this fall. The good news is that Tennessee returns a lot on both sides of the ball, starting with quarterback Tyler Bray and receivers Justin Hunter and Da'Rick Rogers. A healthy trio there makes Tennessee's passing game one of the best in the league. Questions remain on the offensive line and at running back, but improvements were made this spring. New defensive coordinator Sal Sunseri would like to run more 3-4 this fall, but players aren't totally comfortable, leaving some concerns.
10. Mississippi State: Quarterback Tyler Russell finally looks ready to take over as the guy in Starkville, and he'll have a veteran receiving corps to work with. However, that group still has a lot to prove, especially senior Chad Bumphis. The running game looks solid with LaDarius Perkins and Nick Griffin, and the offensive line got help from the junior college ranks. Defensively, there are a few holes to fill up front and in the secondary, but Johnthan Banks and Corey Broomfield are a solid cornerback tandem and linebacker is set with a few vets back, including stud Cameron Lawrence. Junior college defensive end Denico Autry has to perform early to help a line with a couple of holes.
11. Texas A&M: The Aggies have some holes to fill this year, but the offensive line will be a strength. Left tackle Luke Joeckel, a future first-rounder, leads a line that returns four starters. Star wide receiver Ryan Swope is back, and running back Christine Michael should be healthy (knee) this fall, but quarterback is an issue. Sophomore Jameill Showers has the edge right now, but like all of his competitors, he lacks experience. The defense will lean on linebackers Sean Porter, Steven Jenkins, Jonathan Stewart and converted end Damontre Moore, but the secondary has depth and experience issues, and the team will still be adjusting to a new staff led by coach Kevin Sumlin.
12. Vanderbilt: There is some solid offensive talent in Nashville, starting with running back Zac Stacy and receivers Jordan Matthews and Chris Boyd, but coach James Franklin is still waiting for quarterback Jordan Rodgers to be more consistent. The offensive line is very thin and could barely get through spring. The defense must replace a handful of starters and leaders, but Franklin felt better about guys like linebacker Chase Garnham, defensive end Walker May and cornerback Trey Wilson. Vandy's schedule will be tough this fall, and if that offensive line doesn't hold up, getting back to a bowl will be tough.
13. Kentucky: Coach Joker Phillips was pleased with how spring practice ended, especially when it came to finding offensive playmakers, like receivers Demarco Robinson and Daryl Collins. Quarterback Maxwell Smith had a solid spring, but struggled during the spring game, meaning the battle with Morgan Newton and freshman Patrick Towles should go into the fall. The offensive line is still trying to get by after losing three starters, and the Wildcats must replace six starters at linebacker and in the secondary. Given the Wildcats' schedule, they will need to sweep their nonconference games to be in bowl shape.
14. Ole Miss: The arrival of coach Hugh Freeze brought a lot of positive change to Ole Miss, especially off the field, but there are still a lot of concerns. There are depth issues at just about every position, especially running back and defensive tackle. Even one of the most experienced groups, the offensive line, has struggled mightily with picking up Freeze's spread offense and is the team's biggest weakness. Academic issues are also worrying Ole Miss' staff, and top running back Jeff Scott and cornerback/receiver Nickolas Brassell are in that group. Quarterback is still up for grabs, but progress was made on defense, especially in the secondary.
April, 25, 2012
4/25/12
1:00
PM ET
The maturation of Auburn's football team could clearly be seen on a first-and-goal late in last season's Chick-fil-A Bowl.
The Tigers were sitting at the 4-yard line, only steps from scoring, but there wasn't any urgency. There wasn't any desire to take those few steps because the game was well in hand. So instead of shooting for 50 points, Auburn knelt on the ball twice to run the clock out.
Moments later, Auburn was celebrating its 43-24 thrashing of Virginia without starting quarterback
Clint Moseley
or starting running back
Michael Dyer
.
[+] Enlarge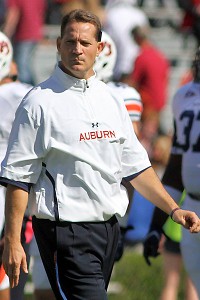 Joshua S. Kelly/US PresswireGene Chizik has been impressed with his team's maturity heading into the 2012 season.
The team buried in youth and inexperience for most of the season looked like a group vets with its composure and dominance.
The squad that left the Georgia Dome that night was a much better representation of the Tigers than any prior last season, and coach Gene Chizik said that New Year's Eve win propelled this team into the offseason.
"There's a lot of value in playing in a bowl game and winning it," Chizik said.
That value has come in the form of a more competitive and faster spring on the Plains. Even with the addition of two new coordinators in Scot Loeffler and Brian VanGorder, Chizik said this team was further ahead as far as maturation and development within the schemes than last spring's group.
"It's been a really productive offseason," Chizik said. "We know that we've got a long way to go, but I think our kids understand that our future here is very bright and the foundation has been laid and will continue to work in that direction. Everybody's very upbeat, very positive and understanding that there's an urgency to be a better football team than we were the previous year.
"We're excited about it and our kids are, too."
One side of the ball that made a lot of progress was the offense. Auburn's players were entrenched in a spread style with Gus Malzahn running the show, but with Loeffler in town, the Tigers have added more pro-style sets. The good thing, Chizik said, is that Loeffler has a background in both styles, which made it easier for players to adapt this spring.
Loeffler would rather run more of a pro-style offense, but he isn't na´ve. He knows what his talent can do, and while Chizik wouldn't exactly give the blueprint for Auburn's offense, he did hint that there could be elements of both styles this fall.
"We're going to come up with our own package and our own identity," he said. "We're going to try and get good at just a few things, but we have certainly moved forward in terms of finding out exactly what we can and can't do this spring; no question about it."
Another thing that isn't totally clear is who will throw the ball for the Tigers this fall. Moseley, who started the last six games of the season, was sidelined for most of the spring with a sore shoulder, while rising sophomore
Kiehl Frazier
, who was used more for running situations last year, took a bit of a lead.
Frazier fits more of a spread style, but Loeffler's teaching really helped him develop more of his game, especially as a passer, this spring.
"I don't think that there's any question about it; he certainly improved in a lot of aspects this spring," Chizik said. "He had a lot of opportunities. He's maturing as a quarterback, but he's learning a lot. He's still a young 19-year-old kid that has a lot in front of him, but we're asking a lot of him. I thought he handled it very well.
"His best days are certainly ahead of him, but he made a lot of strides this spring."
And Chizik thinks the best days are ahead for his entire team. Offensively and defensively, this team will still be young, as close to 70 percent of Auburn's scholarship players will be underclassmen, but Chizik said the level of maturity this year doesn't resemble a group of underclassmen.
Development still has a ways to go, Chizik said, but the want to improve and win is exactly where he wants it.
"As long as you have young, eager guys that are wanting to succeed and wanting to better themselves," he said, "I think you always got a great chance to have a successful year."
April, 2, 2012
4/02/12
1:40
PM ET
A quick recap of the weekend scrimmages around the SEC:
ALABAMA

It looks like junior quarterback
AJ McCarron
has picked up where he left off in the BCS National Championship Game. McCarron finished 25-of-43 for 290 yards, three touchdowns and an interception last Saturday in the Crimson Tide's first full scrimmage of the spring.
Alabama coach Nick Saban said McCarron was "very commanding" under center, and Saban said he's been impressed with how the receivers have been able to get onto the same page with McCarron. Sophomore
Christion Jones
had a pair of touchdown catches.
Kevin Norwood
also caught a touchdown pass. The freshman receiver who's caught Saban's eye is Amari Cooper. Sophomore
DeAndrew White
also got off to a good start this spring, but is now battling a pulled hamstring.
On defense,
Vinnie Sunseri
and junior college newcomer Deion Belue both returned interceptions for touchdowns. Belue is competing for a starting cornerback job. Saban said
John Fulton
is also having a good spring and in that mix. Another junior college newcomer to watch is Travell Dixon, who's working at both cornerback and the "star" position, which is the nickel back role when the Crimson Tide go to five defensive backs.
Some of the best news for the Crimson Tide last Saturday was that their kickers were a combined 7-of-8 on field goals.
Jeremy Shelley
was 4-of-4, and
Cade Foster
was 3-of-4. Foster's only miss was from 54 yards and was blocked by
Nico Johnson
.
Here's a
report from the scrimmage
on Alabama's official web site, and it includes stats and pictures.
ARKANSAS

There wasn't any shortage of offense in the
Hogs' scrimmage last Friday
, and not surprisingly, senior quarterback
Tyler Wilson
was the catalyst. He passed for 310 yards and four touchdowns. Star running back
Knile Davis
was held out of contact, but
Dennis Johnson
was plenty productive in his absence with 75 yards on 12 carries. Johnson also scored three touchdowns.
Senior
Cobi Hamilton
had a big day catching the ball and so did sophomore
Marquel Wade
, who caught seven passes for 149 yards and three touchdowns.
The first-team offense scored on seven of its first 10 possessions. The Hogs' defense struggled to stop the run at times, which was a problem last season. Sophomore cornerback
Tevin Mitchel
didn't participate in the scrimmage after suffering a hamstring pull earlier in the day.
AUBURN

The
Tigers' first scrimmage of the spring
featured a couple of long touchdown passes by sophomore quarterback
Kiehl Frazier
, who connected with
Emory Blake
and
Travante Stallworth
.
Clint Moseley
didn't participate in the scrimmage. He's been plagued by a sore throwing shoulder.
The running back job is wide open, and
Corey Grant
made his case Saturday with several nice runs. His teammates were raving about his explosiveness through the hole.
On defense, first-year coordinator Brian VanGorder felt like his guys made a positive step, although giving up the big play continues to be a problem.
"You can't do that and be a good defense," VanGorder said.
VanGorder was pleased with
Kris Frost
's improvement at linebacker and also liked what he saw from
Jawara White
at middle linebacker.
GEORGIA

The defense has been the story for much of this spring for the Bulldogs, and that was again the story Saturday in their
first full scrimmage
.
While piling up 12 sacks, the defense also saw the offense break through with a few plays, namely redshirt freshman tight end
Jay Rome
. He caught a 30-yard touchdown pass and had another scoring grab down on the goal line where he made an acrobatic play in the corner of the end zone.
Several of the Georgia players also had high praise for freshman running back Keith Marshall.
Safety
Shawn Williams
had 4.5 tackles, two pass breakups and an interception to lead the defense.
LSU

Zach Mettenberger
threw two second-quarter touchdown passes to lead the White to a 24-17 win over the Purple on Saturday in
LSU's National L Club spring game
.
Mettenberger finished 14-of-25 for 270 yards and threw touchdown passes of 49 yards to
Odell Beckham
, Jr. and 18 yards to
Russell Shepard
.
Alfred Blue
led all rushers with 73 yards on nine carries.
Mettenberger also threw a pair of interceptions, one of those returned 74 yards by freshman linebacker Lamar Louis for the Purple's final touchdown.
Safety
Eric Reid
also returned an interception 55 yards for a touchdown to put the White ahead 21-0 in the second quarter.
OLE MISS

There weren't any iron-clad answers at quarterback for the Rebels in
their scrimmage last Friday
.
Barry Brunetti
had the best day. He was 7-of-10 for 80 yards and threw touchdown passes of 30 yards and 15 yards to
Ja-Mes Logan
.
Ole Miss coach Hugh Freeze said evaluating the quarterbacks was even more difficult because the Rebels continue to struggle in the offensive line.
After a slow start, Bo Wallace finished strong. He was also able to run the ball with some success.
SOUTH CAROLINA

The Gamecocks held their
second major scrimmage last Saturday
, and Steve Spurrier wasn't thrilled with the passing game.
"I hope we don't have to run the ball all the time next year, but if we can't throw it very well, that's what we'll do," said Spurrier, who was especially frustrated by the sacks his offense allowed.
He said
Connor Shaw
has to get better at throwing the ball away and not taking sacks.
"Connor (Shaw) must have had four sacks today in 10 passes," Spurrier said. "He's got to throw the ball somewhere and get it out of his hands a little quicker. The other quarterbacks were not real accurate at times, but we hit a few here and there."
Star running back
Marcus Lattimore
, still recovering from knee surgery, didn't scrimmage.
Jared Shaw returned a
Dylan Thompson
interception 38 yards for a touchdown.
VANDERBILT

Vanderbilt coach James Franklin was pleased with the way his first-team offense performed in the red zone in
last Saturday's scrimmage
, but said the Commodores have work to do between the 20's. He also wants to see his defense do a better job with its back to the goal line.
""There's a feeling sometimes, especially with a young team, that when you get in the red zone, it's OK to give up points, and offensively, it should be easier to score," Franklin said. "We need to make sure that we have the same mentality on offense, whether we are on the minus five or the plus five, and defensively, whether we are on the minus one or plus one, that we have the mentality that we're going to stop them."
Quarterback
Jordan Rodgers
was 11-of-17 for 83 yards and two touchdowns. He also ran for a touchdown.
March, 8, 2012
3/08/12
3:55
PM ET
Auburn is going to pay first-year defensive coordinator Brian VanGorder $850,000 for each of the next two seasons.

Remember when $500,000 was considered top dollar for a premier defensive coordinator in the SEC? Not anymore.

Alabama's Kirby Smart was already at $850,000, making him the highest-paid defensive coordinator in college football. Given the way his defense played last season in leading the Crimson Tide to its second national championship in three years, Smart might not be at $850,000 for much longer.

Two other SEC defensive coordinators are also in line for nice raises.

LSU's John Chavis could approach $1 million annually when his new deal is finalized. Chavis was already making $700,000, but has turned down overtures from Texas, Georgia and Clemson, among others, in the last couple of years. With the way he has re-energized the Tigers' defense, he deserves to be in that $1 million stratosphere.

The same goes for Georgia's Todd Grantham, who earned $750,000 last season. Georgia athletic director Greg McGarity has already said that the school is working on an extension for Grantham, whose defense finished fifth nationally in total defense last season and was the driving force behind the Bulldogs' turnaround after starting the season 0-2.

At the very least, look for both Chavis and Grantham to go well above the $800,000 mark.

In fact, when it's all said and done, there's likely to be five defensive coordinators in the SEC next season making $800,000 or more. New Tennessee defensive coordinator Sal Sunseri signed a three-year deal worth $2.4 million after coming over from Alabama.
February, 24, 2012
2/24/12
9:48
AM ET
We all know that football season never ends in the SEC. Well, it's cranking back up in earnest next week, at least the spring version, when LSU opens spring practice Thursday.
As usual, there's a lot that's new in the SEC, including coaches and even a pair of new teams. Missouri settles into the Eastern Division and Texas A&M into the Western Division.
And while the league lost its share of star players, plenty of star power returns.
We'll kick off our SEC spring preview with the West, home to the past three national champions, including Alabama this past season.
So without further ado …

ALABAMA
Spring practice starts:
March 9
Spring game:
April 14
What to watch:
McCarron takes charge: As a first-year starter this past season, quarterback AJ McCarron was more of a caretaker on offense for the Crimson Tide and performed well in that role. But next season, he will be asked to do more and will also need to take on more of a leadership role. He played his best game on the biggest stage in the BCS National Championship Game, so he enters this spring with a lot of momentum. If he takes the kind of step Alabama fans hope he will, the Tide will be a load on offense again in 2012.
Shuffling the deck up front: Replacing veteran center William Vlachos won't be easy. He's been a rock in the middle of that offensive line for the past three seasons. Alabama could end up replacing him with another rock. Outland Trophy winner Barrett Jones will get a long look at center this spring after playing left tackle this past season and left guard the season before that. One of the keys for the Tide up front is Cyrus Kouandjio, who had his freshman season cut short by a knee injury. Physically, he's exactly what you're looking for at left tackle. However it shakes out, the Tide will get their best five on the field.
Reloading on defense: Most of the marquee playmakers on defense are gone, and the Tide were gutted in the secondary. But junior college cornerbacks Travell Dixon and Deion Belue are on campus and will be tossed into the mix this spring. It's also a big spring for rising sophomore safety Ha'Sean Clinton-Dix, and Alabama will be looking for a few more finishers when it comes to rushing the passer and a nose guard to replace steady Josh Chapman. One option may be sliding Jesse Williams inside, although the Alabama coaches like what he gave them at end during his first season on campus.

ARKANSAS
Spring practice starts:
March 14
Spring game:
April 21
What to watch:
Getting defensive: There's a reason Paul Haynes is now calling the shots on defense for Arkansas. The Hogs simply had not made the kind of strides on that side of the ball that coach Bobby Petrino felt like they needed to make if they were going to break through and play for a national championship. Haynes comes over from Ohio State and brings with him an attacking approach. Arkansas fans liked what they saw in the Cotton Bowl, but replacing departing seniors Jake Bequette, Jerry Franklin, Jerico Nelson and Tramain Thomas won't be easy.
Ask and you shall receive: The Big Three are gone -- Jarius Wright, Joe Adams and Greg Childs. They comprised the heart of the Hogs' talented receiving corps for the past three seasons and made a lot of plays. Now, it's Cobi Hamilton's time to be the leader with a whole cast of less familiar faces jockeying to get into that starting equation this spring. It's a chance for guys like Marquel Wade, Quinta Funderburk, Julian Horton and Javontee Herndon to show what they can do. Don't forget about Chris Gragg, who returns as one of the best pass-catching tight ends in the SEC.
Jewel of the Knile: There were some rumblings that Knile Davis was going to give it a go at the end of last season after fracturing his ankle in the preseason. It didn't make sense to rush things, though, and Davis should be fully healthy for the 2012 season. How much he does this spring remains to be seen, but you know it's important for him to at least be out there and getting back into the feel of football. He was doing some things at the end of practice last season. Obviously, the most important thing is to make sure he's ready to go come September when the season begins, but the spring will provide a glimpse of where he is with his recovery. If he returns to the same form as the 2010 season, Arkansas fans are salivating at the thought of that offense with Tyler Wilson slinging it and Davis running it.

AUBURN
Spring practice starts:
March 21
Spring game:
April 14
What to watch:
Defensive restructuring: It was a nightmarish season a year ago for Auburn's defense, making it no surprise to anybody that Gene Chizik overhauled things on that side of the ball. Only defensive line coach Mike Pelton remains in the same position. Everything else will be new on defense, including Brian VanGorder taking over as coordinator. Willie Martinez joins the staff as the secondary coach, and Tommy Thigpen moves from coaching safeties to coaching linebackers. The Tigers return most of their key players on defense, and youth was certainly an issue last season. But VanGorder's challenge is getting this unit to play with more consistency and to be more fundamentally sound, particularly when it comes to tackling.
Quarterback quandary: Scot Loeffler steps in as the Tigers' new offensive coordinator, and right off the bat, he has to settle on a starting quarterback. In the past, Auburn has taken its time with that decision. We'll see if that changes with Loeffler. Clint Moseley has the most experience and finished last season as Auburn's starter, but rising sophomore Kiehl Frazier has been around long enough now that he should have his first legitimate chance to win the job. One of the things Frazier has to prove this spring is that he can throw the ball well enough to be the every-down starter. True freshman Zeke Pike is also on campus and will practice this spring.
Making plays: With Michael Dyer now at Arkansas State, the Tigers have to find somebody else to lean on offensively. Dyer was the Tigers' offense last season. There are plenty of candidates. Onterio McCalebb would be at the top of that list, and Tigers are also keeping their fingers crossed that receivers Emory Blake and Trovon Reed can stay healthy this season. But finding roles for guys like Tre Mason and Quan Bray will be equally important this spring. Both are supremely talented with the ball in their hands, and the Tigers need to find ways to get them both a lot of touches next season.

LSU
Spring practice starts:
March 1
Spring game:
March 31
What to watch:
Forgetting the past: As memorable as last season was for LSU, the way it ended has been difficult for anybody on the Bayou to forget. The 21-0 loss to Alabama in the BCS National Championship Game was a serious downer after 13 straight wins against a killer schedule and still has a lot of LSU fans fuming. The best thing for the Tigers is simply getting back onto the practice field and putting the past behind them once and for all. This will be an extremely talented team once again, but a team that everyone will expect to be right back in the championship race in 2012. Developing the right kind of chemistry and leadership will be critical, and that starts this spring.
Passing fancy: LSU coach Les Miles has already said that the Tigers will throw the ball more next season, and a big reason is because Zach Mettenberger steps in at quarterback. The Tigers have been spotty in the passing game each of the past two seasons, but throwing the ball downfield and hitting big plays in the passing game is what Mettenberger does best. This spring will be his first chance to be "The Man" for the Tigers, and a big part of that is gaining the trust, confidence and faith in all of the players around him on offense. With all the pieces in place to be a strong running team again, LSU could really take off offensively if Mettenberger has a big season throwing the ball.
Looking for linebackers: Go back and look at LSU's signing class, and it's obvious the Tigers felt like they needed to reload at linebacker. There will be a ton of competition for starting spots this spring at linebacker with a lot of new faces in that mix. Defensive coordinator John Chavis puts a premium on speed, which means you don't have to be 240 pounds to play linebacker for him. He's also proven that he's not afraid to play young guys if they're ready. This will be a big spring for rising junior Tahj Jones, who has the speed and athleticism to be a perfect fit in Chavis' system.

MISSISSIPPI STATE
Spring practice starts:
March 22
Spring game:
April 21
What to watch:
Tyler Russell's time: With Chris Relf gone, it's Russell's time to show what he can do as the Bulldogs' full-time starter. He made four starts toward the end of this past season, and throwing the football from the pocket is his forte. Russell still needs to polish up on all of the other things it takes to be a good quarterback in this league, and the Bulldogs also need to create some depth at the position. Look for Dak Prescott to get a lot of work this spring, especially with Russell still nursing the knee he banged up during bowl practice. Prescott redshirted last season and will be a redshirt freshman.
Drawing a line: The Bulldogs are eager to get junior college newcomers Dylan Holley and Charles Siddoway on the field and see where they fit in up front in the offensive line and if they're going to be ready to go in the season opener. Holley projects as a center, but could also play guard. Siddoway will get a shot at the Bulldogs' left tackle job. Sorting out things across the board on the offensive line will be a priority for Mississippi State this spring.
Safety valve: The good news is that Mississippi returns two experienced cornerbacks in Johnthan Banks and Corey Broomfield, but veteran safety Charles Mitchell is gone. What's more, Nickoe Whitley tore his Achilles tendon in the Alabama game and won't be full strength this spring. So finding some reinforcements at safety will be important. Some of the younger guys like Jamerson Love, Dee Arrington and Jay Hughes will have big opportunities to show what they can do, and cornerback Darius Slay could also get a look at safety.

OLE MISS
Spring practice starts:
March 23
Spring game:
April 21
What to watch:
The big Freeze: First-year Ole Miss coach Hugh Freeze wants to run a power spread similar to what Arkansas State ran on offense last season. One of the toughest parts of that transition will be getting the offensive line up to speed. Freeze isn't sure what Ole Miss has returning in the offensive line is tailor-made for a power offense, which means the Rebels' coaches have some coaching and some recruiting to do. Addressing the offensive line, period, will be a big priority this spring, especially with offensive tackle Bobby Massie deciding to turn pro.
Wallace on display: One of the things that held the Rebels back last season on offense was that they were never able to get any consistency at the quarterback position. There are still a couple of different options, but junior college newcomer Bo Wallace is probably the front-runner to win the job. He's on campus and will go through spring practice and isn't a stranger to Freeze's offense. Wallace started his career at Arkansas State and redshirted in 2010 when Freeze was the offensive coordinator there. More than anything, Freeze is looking for some real competition at the position with Randall Mackey, Zack Stoudt and Barry Brunetti all returning.
Recovering on defense: It was a rough season for the Rebels defensively a year ago, and a lot of that was because they were on the field for much of the season. Getting a healthy D.T. Shackelford back at linebacker is huge after he missed all of last season with a torn ACL suffered last spring. It will be interesting to see how much he does in this spring practice. Either way, just having him back out there should help from a leadership standpoint and getting that edge back defensively. The Rebels need to find more finishers up front defensively after finishing 110th nationally with just 13 sacks in 12 games. Creating more turnovers is also a must. Ole Miss finished with 17 a season ago, which was tied for 95th nationally.

TEXAS A&M
Spring practice starts:
March 31
Spring game:
April 28
What to watch:
Sumlin takes over: First-year coach Kevin Sumlin takes over in College Station, and the spring will be his first real chance to place his stamp on the program. He's already said that all jobs are open and purposely didn't watch any film from the 2011 regular season. He wants to make his own evaluations on the field, which means there will be some serious auditions going on this spring. Sumlin ran a wide-open spread offense at Houston because that's the kind of personnel he had. He'll certainly modify his system to fit his personnel this first season at Texas A&M, which likely means running the ball more given the Aggies' returning experience in the offensive line and their stable of backs.
Quarterback hunting: One of Sumlin's first orders of business is finding a quarterback, and there's at least four candidates on campus. The only guy with any game experience (and it's not much) is rising sophomore Jameill Showers, who backed up Ryan Tannehill last season. The other two returnees are Johnny Manziel and Matt Joeckel, both of whom will be redshirt freshmen. Manziel is more of a runner, while the 6-4, 230-pound Joeckel is a pocket passer. Sumlin knows at least a little bit about Showers, Manziel and Joeckel. He recruited all three at Houston. There's also true freshman Matt Davis, who's already enrolled and will go through spring practice.
Finishing the drill: As all Texas A&M fans are well aware, the Aggies weren't what you could call a second-half team last season. In fact, they were far from it, and time and time again wilted in the second half. Sumlin has made it known that one of his goals is for the program to toughen up both physically and mentally. In five of the Aggies' six losses last season, they were ahead at halftime or at some point in the second half. The defense absorbed much of the blame and definitely has to improve as Texas A&M makes the jump to the SEC, but Sumlin wants to make sure this spring that he instills a programwide toughness that carries over into the fall.
January, 10, 2012
1/10/12
3:00
PM ET
We officially said goodbye to the 2011 season Monday night and crowned the
Alabama Crimson Tide
as college football's new champions. Now, it's time to shift our focus to 2012. Here's to hoping the Mayans were wrong:

1. Alabama:
The defense will get hit the hardest by graduation and the NFL draft, but Alabama's offense should be better. While it's almost a forgone conclusion that junior running back
Trent Richardson
will declare for the NFL draft, Alabama returns a veteran offensive line, has a good set of up-and-coming receivers and has some pretty talented running backs to work with, including pounder
Eddie Lacy
. Oh, and that quarterback ain't too bad, either.
2. LSU:
The Tigers might have come up short in the big one, but it's not like LSU is going anywhere. That defense that ranked second nationally was made up by a slew of youngsters. LSU returns double-digit starters next year, including most of its front seven. A major bright spot for this team is that former Georgia quarterback
Zach Mettenberger
will now get his chance, and has skill that
Jordan Jefferson
and
Jarrett Lee
lacked.
3. Georgia:
The Bulldogs might return more starters next year than LSU. After surpassing expectations and challenging LSU for the SEC title, the Bulldogs should enter next fall as the favorites in the SEC East. Stud quarterback
Aaron Murray
returns and so do most of his weapons. With arguably the easiest schedule (again) in the SEC, Mark Richt will be expected to take his Dawgs back to Atlanta.
4. South Carolina:
There won't be any sleeping on the Gamecocks in 2012. After getting 11 wins for only the second time in school history, South Carolina should compete for the SEC East for the third straight year. The Gamecocks return a slew of talent, especially on defense, and saw tremendous improvement in quarterback
Connor Shaw
. Also, running back
Marcus Lattimore
should be back and healthy after his devastating season-ending knee injury.
5. Arkansas:
The Razorbacks will lose a lot of key players that have helped Arkansas get to where it is under Bobby Petrino. Defensively, five seniors will say goodbye, while the offense will lose three NFL wide receivers. However, that offensive line, which grew up as the season progressed, will be much better and star running back
Knile Davis
should be back and healthy. Quarterback
Tyler Wilson
is back, so there shouldn't be much dip in the passing game even with some new faces at receiver.
6. Auburn:
Those youngsters on the Plains will be more mature and much improved in 2012. That has to be a scary thought for other SEC members. Auburn doesn't lose much from its 2011 team and gets a great addition to the defensive side of the ball in new defensive coordinator Brian VanGorder. Offensively, there are weapons everywhere, but the key will be finding the right quarterback ... again.
7. Florida:
Will Muschamp's first year as the Gators' head coach didn't go as planned, but there is still a lot of talent in Gainesville, especially on the defensive side of the ball. Florida loses just one starter on defense and should have one of the fastest, most aggressive defensive units around the SEC. Getting that offense going will be key to Muschamp's second year, but with all that turnover, it should be a fresh start for this unit.
8. Missouri:
This new group of Tigers enters 2012 as a factor in the SEC East. Missouri returns nearly everyone from 2011, including quarterback
James Franklin
and running back
Henry Josey
, who both put up solid numbers in 2011. The Tigers will no doubt hit some snags as they transition into their new home, but with all the talent that returns, Missouri won't be a pushover in its first year in the SEC.
9. Tennessee:
Derek Dooley has the pieces in place on both sides of the ball to compete in the SEC East. That young defense won't be so young in 2012 and quarterback
Tyler Bray
returns with his deep-threat sidekicks at wide receiver. With a solid offensive line, the next step for Tennessee is to find a consistent running back to help take the pressure off of the passing game. There's a lot of pressure on Dooley to get things done, and he has the talent to in 2012.
10. Texas A&M:
The Aggies have the pleasure of entering the SEC as a Western Division team. That's not exactly a warm welcome. It doesn't help that Texas A&M is losing a ton from its 2011 team. There could be six NFL draft picks who won't be back in College Station next season. Quarterback
Ryan Tannehill
and top safety Trent Hunter are gone, and so is receiver
Jeff Fuller
.
Christine Michael
should do well as
Cyrus Gray
's replacement at running back, but the core of this team will be gone.
11. Vanderbilt:
Year 1 of the James Franklin era was a success and there shouldn't be a lot of drop-off for the Commodores next season. Vandy loses top defenders Chris Marve, Tim Fugger and Casey Hayward, but a lot of veterans return on that side of the ball.
Jordan Rodgers
is back at quarterback,
Zac Stacy
returns at running back and wide receivers
Chris Boyd
and
Jordan Matthews
will be back. Running back and specialist
Warren Norman
should be back too and the offensive line returns four starters.
12. Mississippi State:
The Bulldogs lose a lot on both sides of the ball in 2012, but should have a top cornerback combo in Johnthan Banks and Corey Broomfield. Losing Fletcher Cox up front will leave a hole on the defensive line and saying goodbye to linebacker Brandon Wilson won't be easy.
Tyler Russell
will probably get the first crack at quarterback for the Bulldogs, but he will be without his safety net in running back
Vick Ballard
. The good thing is that the receivers are back, but this team will have to grow up in a hurry.
13. Kentucky:
The offensive line will have some missing pieces in 2012 and the defense loses six starters, including star linebacker Danny Trevathan.
Maxwell Smith
and
Morgan Newton
will battle at quarterback, but with how 2011 ended, Smith might have the advantage. This team struggled mightily on offense and the problem was that there wasn't a lot of improvement throughout the year. The offseason should be dedicated to find ways to get this offense moving.
14. Ole Miss:
Hugh Freeze steps into a tough situation at Ole Miss. His first order of business needs to be improving the discipline on this team. It was awful in 2011, and if Ole Miss wants to improve it has to clean that up. The defense should get a boost with leader D.T. Shackelford returning from his season-ending knee injury and offensive playmakers
Jeff Scott
,
Donte Moncrief
and
Nickolas Brassell
are back. The offensive line loses some key components, and the quarterback situation is far from figured out.
March, 20, 2009
3/20/09
6:42
PM ET
Posted by ESPN.com's Chris Low
ATHENS, Ga. -- Hell hath no fury like an SEC fanbase determined to run a coach out of town.
The popular target last season at Georgia was defensive coordinator Willie Martinez, and the backlash against him was downright nasty at times.
That's what happens in these parts when you start a season ranked No. 1 in the country and then proceed to lose three of the biggest games you play all year -- giving up 41 or more points in all three games.
"Nobody was more disappointed than myself in how we played defensively last year," Martinez said. "I take full responsibility. But (the criticism) is part of the business. You don't try to pay too much attention to the things you can't control. You try and control the things you can and do the best you can. I know I can do a better job."
Georgia coach Mark Richt was steadfast in his support of Martinez. They go back to their playing days at Miami, although Richt was a couple of years ahead of Martinez in school. When Richt got the head job at Georgia, Martinez came with him from Central Michigan as secondary coach and was promoted to defensive coordinator in 2005 after Brian VanGorder left.
"He's a couple years older than I am, but I look older and have less hair," joked Martinez, sporting the Curly Neal look.
Nothing was funny about last season on the defensive side of the ball. The Bulldogs were ravaged by injuries, tackled poorly most of the season and allowed 38 or more points in four of their last five regular-season games.
The low point came in the regular-season finale. Georgia Tech shredded Georgia for 409 rushing yards in a 45-42 win at Sanford Stadium, snapping the Bulldogs' seven-game winning streak in the series.
The calls for Richt to fire Martinez at that point were deafening, but Richt would hear none of it.
"I know he's an outstanding coach and an outstanding man," Richt said. "Statistically, we didn't play as well as we have in the past, and there were some games that got away from us defensively. That hasn't happened a lot around here, but you just can't discount the impact all the injuries had on our defense.
"It wasn't just the injuries, either. We had to change the way we prepared to keep from losing another guy, and that knocked the edge off our defense. We didn't tackle. We didn't practice tackling. We didn't tackle to the ground, and we didn't scrimmage as much as we usually scrimmage.
"When you don't do that, it's hard to just turn it on during the games."
Martinez had his chance to bolt even if Richt wasn't holding the door open for him. He was offered the defensive coordinator's job at Miami this past January after Bill Young left to go to Oklahoma State.
The lure to return to his alma mater was strong, but it didn't outweigh his loyalty to Richt, his love for the Georgia community or the fact that he simply couldn't bring himself to walk away on the heels of such an unfulfilling season.
"This is a great place and a great program," Martinez said. "It's been a huge blessing to my family, what we've been able to accomplish here. I felt like we could do a lot better. It just wasn't the right time."
A cursory glance at the Bulldogs' defensive numbers from last season doesn't look nearly as bad as one might think when you consider the degree of venom hurled Martinez's way. They slipped to 59th nationally in scoring defense, but were a respectable 22nd in total defense.
And that's after Georgia finished in the top 20 nationally in both scoring and total defense all three seasons from 2005 to 2007.
It's the way the Bulldogs lost, though, and the way they were carved apart against the best teams on their schedule that was so painful to watch.
Even some of the wins were difficult to enjoy, particularly the 52-38 track meet at LSU.
"It's hard to satisfy a defensive coach, and I'm as hard as anybody to satisfy," Martinez said. "We want to win. That's our number one goal, but we definitely don't want to win by one point and have 40-some points hung on you. That's not the way we want to win."
He's still hesitant to talk too much about the injuries last season. He doesn't want to use them as an excuse.
But he peers over to the depth chart on the big board in his office, a depth chart littered with guys recovering from surgery, and does his best to be philosophical.
"Defense is emotion, playing hard, being physical and setting the tempo, and we were unable to do that last year," said Martinez, noting how much the Bulldogs had to scale back practice.
"But, hey, we all still have a bad taste in our mouths. Regardless of the situation, it doesn't really matter if it's injuries. Good defense has always been a tradition around here, and tradition never graduates.
"It's, 'Next man up and let's go.' Who cares if the other guy is gone?"