April, 13, 2012
4/13/12
12:00
PM ET
Our question this week: Who has the best position group in the conference?
Lots of teams have a strength at a certain area -- running back, receiver, linebacker, etc. -- but whose team strength is the strongest?
Our thoughts.
Kevin Gemmell
: Anytime you have a four-man position group and half of them could be All-Americans, that's phenomenal. And that's what Stanford is looking at this year and that's why I'm picking its linebackers as the best individual position group in the conference.
[+] Enlarge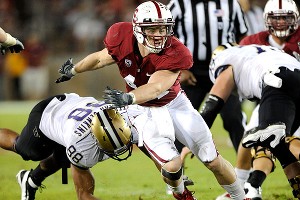 Bob Stanton/Icon SMIChase Thomas, who had 8.5 sacks last season, helps make Stanford's linebackers one of the Pac-12s top position groups.
It starts on the outside with
Chase Thomas
(52 tackles, 8.5 sacks, 17.5 tackles for a loss) -- a first-team All-Pac-12 performer and All-American. On the other side,
Trent Murphy
(40 tackles, 6.5 sacks, 10 tackles for a loss) is underappreciated because of all the attention Thomas gets. But Murphy is a beast at 6-foot-6, 255 pounds.
Then you move to the inside linebackers where
Shayne Skov
is one of the best in the nation. There is a to-be-determined punishment pending for his DUI arrest and he's still recovering from a season-ending knee injury from last year. But once he's paid his penance and is 100 percent healthy, he'll be on par with the best middle linebackers in the country.
Who lines up next to Skov is a question. And also a good problem for the Cardinal to have.
Jarek Lancaster
(team-leading 70 tackles) and
A.J. Tarpley
(57 tackles) were both outstanding in Skov's absence last year. Lancaster in particular came on very strong at the end of the season.
Highly touted sophomore
James Vaughters
is also slotted for inside linebacker. The coaching staff treated Vaughters with kid gloves last season -- using him mostly as an extra pass-rusher on third downs, where he tallied 11 tackles, four for a loss, and a sack. But he's expected to be unleashed in 2012.
Another aspect that makes this group so scary is the overall depth. Because of guys like Lancaster, Tarpley, Vaughters,
Alex Debniak
,
Kevin Anderson
and incoming freshman Noor Davis, the Cardinal are in a position to absorb a significant injury like they did with Skov last season. Of course, no one wants to see that happen for any team. But injuries are part of the game. And if something happens to one of Stanford's starters, there is significant talent that can rotate in.
One thing to keep in mind is the loss of co-defensive coordinator and inside linebackers coach Jason Tarver. He was a brilliant operator of the 3-4 defense -- which is why he's now a defensive coordinator in the NFL. He did an amazing job coaching up Lancaster and Tarpley, which helped Stanford boast the No. 1 rush defense in the conference last year. Allowing just 84.4 yards per game on the ground, Stanford was the only Pac-12 team to hold opponents below 100 yards per game on average.
Factor in the talent returning on the defensive line and that makes the linebacking corps that much better. Stanford not only has the deepest and most talented group in the conference, but you can make an argument that as a unit it is one of the best groups in the country.
Ted Miller
: I know you guys are going to get on Kevin for picking Stanford, but I agree with him: Stanford's linebacking corps is the best complete unit in the Pac-12 in terms of both skill and depth. But, of course, a "ditto" doesn't make for much of a "Take 2" now, does it?
I like California's running backs, Oregon's LBs, Arizona State's RBs and Utah's defensive line, but I'm going to go with USC's receivers.
The Trojans aren't terribly deep at receiver. In fact, they are decidedly top-heavy. But what a top.
[+] Enlarge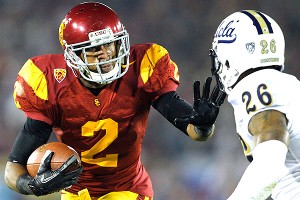 Ric Tapia/Icon SMIUSC's Robert Woods, arguably the nation's top wide receiver, averaged over 107 receiving yards per game last season.
First, you have junior
Robert Woods
, a 2011 first-team All-American. He ranked eighth in the nation with 107.7 yards receiving per game in 2011. He's the leading candidate heading into 2012 to win the Biletnikoff Award given annually to the nation's best receiver.
Second, you have
Marqise Lee
, second-team All-Pac-12, who actually outplayed a banged-up Woods over the home stretch of the 2011 season. He ranked 15th in the nation with 95.3 yards receiving per game. He also is a Biletnikoff candidate, and it wouldn't be too shocking if both of these guys earned All-America honors this upcoming season.
They combined for 26 touchdown receptions. The next highest total in the Pac-12 for a receiving combo was 19 (Oregon's
De'Anthony Thomas
and
Lavasier Tuinei
).
Put it this way: If you made a list of the top-five receivers in the nation this fall, most folks would include Woods and Lee.
Now, it's not unreasonable to question the Trojans' depth at the position. Both
Brice Butler
and
Kyle Prater
opted to transfer. Both are capable and would have made this unit scary good. While there's plenty of talent behind Woods and Lee, it's unproven.
That said: It's entirely possible speedy sophomore
George Farmer
has his own star turn this fall. Folks thought that might happen last year for everybody's prep All-American, but injuries and an odd position change to running back slowed that down. No question Farmer has All-American talent. If he stays healthy, the Trojans could end up with a troika that is almost impossible to defend, one that is superior to many NFL teams. For real.
Other guys who have the ability to help: Junior
De'Von Flournoy
and redshirt freshman
Victor Blackwell
. In the fall, true freshmen
Nelson Agholor
and
Darreus Rogers
could potentially get into the mix.
So there will be solid options for the Nos. 3, 4 and 5 receivers.
Still, this is about the top. It's not hyperbole to project that Woods and Lee, with QB
Matt Barkley
returning, are in position to write themselves onto a very short list of the best receiver combinations in college football history this fall.
May, 9, 2011
5/09/11
7:17
PM ET
USC junior receiver
Brice Butler
has decided not to transfer and will rejoin the Trojans next fall, the school announced Monday.
"We are pleased with Brice's decision to continue his development as a student-athlete at USC," Trojan head coach Lane Kiffin
said in a statement
.
Butler, a once-touted recruit out of Norcross, Ga., has struggled to break through. He has 29 career receptions with three touchdowns. Last fall, he caught just nine passes for 112 yards and a score.
He did not participate in 2011 spring practice, but remained in school at USC. He will face an uphill battle to work his way into a young and talented receiver rotation that includes
Robert Woods
,
Brandon Carswell
and
Kyle Prater
, as well as highly rated incoming freshman George Farmer.
August, 24, 2010
8/24/10
10:47
AM ET
Lane Kiffin isn't afraid to shake things up. Just consider
what appears to be happening on USC's depth chart
.
It appears that sophomore Devon Kennard has beaten out junior Chris Galippo, a returning starter, at middle linebacker. It was one of the hottest competitions of spring practices and fall camp after Kennard was moved from outside linebacker to challenge Galippo, who started strongly in 2009 but faded late.
And that's not all
.
Junior
Marc Tyler
, a hyped recruit in 2006 whose career has been riddled by injuries, is running as the first-team tailback. Further, two freshmen -- receiver
Robert Woods
and cornerback Nickell Robey -- also appear to have won starting jobs.
The official depth chart in advance of the opener at Hawaii on Sept. 2 won't be released until Saturday.
Tyler's ascension is due in part to senior
Allen Bradford
, No. 1 at tailback after spring practices, missing action with a bruised knee. Bradford has returned to practice, so the situation may be a 1A and 1B at this point.
Woods, widely regarded as the nation's top high school receiver last year, will start opposite senior
Ronald Johnson
. He's eclipsed sophomore
Brice Butler
for the starting nod.
Robey has beaten out redshirt freshman Torin Harris.
July, 27, 2010
7/27/10
1:30
PM ET
Receiver is a difficult position to evaluate this year. Just about every team has a solid (or better) lead receiver back and some intriguing, but inexperienced, talent around him. But, other than Washington, no team should feel completely secure.
There is, however, a lot of potential at the position. Many of the names below who appear as secondary options could end up competing for All-Pac-10 spots.
Note: Tight ends and running backs don't count here.
Great shape
Washington: The Huskies entire two-deep is back, topped by second-team All-Pac-10 pick Jermaine Kearse and Devin Aguilar, who ranked seventh in the conference in receiving yards per game in 2009. James Johnson was probably the best freshman receiver in the conference last year.
Good shape
[+] Enlarge

AP Photo/Ben MargotOregon State's James Rodgers caught 91 passes for 1,034 yards and nine TDs last year.
We'll see
California: The Bears only lose No. 2 WR Verran Tucker and the underwhelming Nyan Boateng, but, other than Marvin Jones, they didn't get much production here in 2009.

Arizona State: The Sun Devils lost their top-two WRs, but the cupboard isn't empty, with Oregon transfer Aaron Pflugrad, who would have started for the Ducks in 2009, and JC transfer George Bell, Gerell Robinson, Jamal Miles and Kerry Taylor. Still, it's not a proven group.

Washington State: The Cougars went through spring with just four scholarship receivers, a crew topped by Jared Karstetter and Gino Simone. The incoming recruiting class features five receivers, and at least a couple will get on the field. The Cougars are OK here but they did rank last in the conference in passing in 2009.
July, 23, 2008
7/23/08
5:41
PM ET
Posted by ESPN.com's Ted Miller
| | |
| --- | --- |
| | |
| | Matt Brown/Icon SMI |
| | USC offensive coordinator Steve Sarkisian would "love someday to be a head football coach." |
USC offensive coordinator Steve Sarkisian is a hot head-coaching prospect and runs a unit that -- if recruiting rankings are to be believed -- is almost as talented annually as any in the nation.
Of course, when an offense is perceived as owning elite talent, the margin for error is small and fans are quick to criticize when things aren't perfect. More than a few believe the Trojans 32.6 points and 434.9 yards per game in 2007 qualified as underachieving, regardless of the critical injuries at many key positions.
So with just four starters back on offense, what's in store in 2008? Is quarterback Mark Sanchez the man? What's up with the logjams at tailback and receiver? And is an offensive line with just one returning starter in trouble?
Sark stopped by for a chat.
What did Mark Sanchez do in the spring to jump ahead in the quarterback race?
Steve Sarkisian: The first thing that jumps out is he has a great comfort level with the offense. He does a nice job handling the offense as far as making the proper checks, the audibles, getting the ball into guys' hands quickly. But on top of that I think we felt and saw his energetic leadership. We saw a charismatic guy who loved to come out and work and practice every day and I think it was contagious for the entire football team. Those are some of the qualities you like to see in a leader, a guy who makes those around him better.
Is there a chance that someone else will start at quarterback in the opener at Virginia?
SS: Up until now [Sanchez] won the job. But we're going to give those other guys their opportunities in fall camp to go out and compete and prove they're worthy of playing time. But up until this point, Mark is the guy for us.
It seems like the competition remains wide-open at tailback, with a bunch of guys who could end up starting or at least get a lot of carries: How does the pecking order stack up there?
SS: If we were going to play today you'd see three guys: You'd see Joe McKnight. You'd see Stafon Johnson. You'd see C.J. Gable. For sure those three. But I think you're also going to get a little dose of Allen Bradford as well. Now that doesn't mean Allen Bradford couldn't be the lead dog by the end of camp. And that doesn't mean Marc Tyler or Broderick Green couldn't get in the mix. But coming out of spring football, those three guys really established themselves. And Allen Bradford made a lot of noise.
You guys have so many talented running backs, but has there been much discussion among the coaches about maybe picking one horse, one guy who gets 25 carries a game?
SS: Not really. We've always had -- go back to when it was Justin Fargas and Sultan McCullough -- we've always had sort of a two-horse-type backfield with a third guy who was kind of a variety-type guy who can do a lot of different things. So we've always been that way. Sure, preferably you'd like it to be two solid guys where you know what you're getting. But right now we're looking at three or four guys. But I think that kind of stuff kind of settles itself out. Injuries come into play and guys step up. But it's good to know we've got that luxury at that position because it is a tough position to sustain and stay healthy at. As you saw last year. The moment Stafon Johnson established himself as the back, he got hurt and then Chauncey Washington played and Joe McKnight stepped up when we lost C.J. Gable after the third game. So, obvious, it's a luxury to have three guys there -- or four or five.
Same thing at receiver: What's the pecking order there?
| | |
| --- | --- |
| | |
| | AP Photo/John Froschauer |
| | Wide receiver Patrick Turner had 48 catches for 569 yards last year, including 3 scores. |
SS: Coming out of spring football you really saw Vidal Hazelton really rise to the challenge. He was a [50]-catch guy as a sophomore and really was playing injured. He got healthy during spring football and looked fantastic. Patrick Turner, I think, is poised for a big-time senior season, and Damian Williams, a transfer from Arkansas, really impressed people. The two young guys, David Ausberry and Ronald Johnson, really stepped up in spring and got better. Then there are some dark horses in there: Travon Patterson, and a true freshman by the name of Brice Butler is coming into the mix. I think it is a really good position group for us because we've got a lot of depth there. But, again, we're looking for two or three guys to really step up and take over that spot and be the go-to guys for us.
The receivers as a group took some criticism last year. Was that fair? Were you disappointed in some of the production?
SS: Well, I think as a group offensively we were disappointed in ourselves as a whole. That position group was young and inexperienced and had some drops early in the season. And to compound that they were replacing maybe the greatest tandem of receivers in college football history in Steve Smith and Dwayne Jarrett. I think that made that discrepancy even bigger. There was a lot of pressure on them last year, but I really like how they ended the year. They grew up. I like the way Vidal ended the year. It was unfortunate that Patrick Turner couldn't pla
y in the bowl game. But he got better during the year. And I think David Ausberry got better and Ronald Johnson got better and it carried over to spring practice. They'll be ready for fall camp.
The offensive line needs four new starters. Is this a reload or rebuild?
SS: Last year we were hit with an injury bug up front all last year; it seemed like every week we had a different starting five. That forced a lot of our young kids to have to play last year, whether that was Charles Brown or Zach Heberer or Kristofer O'Dowd, the true freshman. So those guys got a lot more experience than I think people realize. It sounds like we're an inexperienced group because we're replacing four starters. But in reality these guys have played a lot of football and we're excited about them. This is an ornery group. They're competitive and athletic and tough and nasty. I think realistically we're a good eight deep with guys who can play. The challenge for us is to just get cohesive as we go through fall camp.
Of the guys we maybe haven't heard much about, who's going to break out this year?
SS: I don't know how to answer that. We've got a lot of kids who are very talented who have kind of just waited for their opportunity. The guy who jumps out at me is [tight end] Anthony McCoy, the guy who's played behind Fred Davis the last couple of years. I'm anxious to see [fullback] Stanley Havili as a sophomore. Damian Williams the transfer from Arkansas. And I'm anxious to see our quarterback play. I expect him to play really well and I think he expects to play really well. I wouldn't be surprised if he went out and had a great year.
Your name seems to come up a lot during coaching searches the past couple of years. What are your thoughts on your future as far as becoming a head coach? Do you have a timeline? Are you anxious about it?
SS: There's no question I'd love someday to be a head football coach. But I'm extremely fortunate. I am at a tremendous place at a tremendous time. Pete Carroll has been very good to me. We're winning. We've got great kids. We get to live in Los Angeles. I love it. I'm in no rush to get out of here. Every day is learning, watching how Pete handles our football team. I have fun going to work every day. So, yeah, I want to be a head football coach. But I'm not in any rush.