NCF Nation:

Britton Banowsky
August, 28, 2012
8/28/12
2:00
PM ET
As Big Ten players acclimatized to the rigors of preseason camp earlier this month, the league's commissioner endured a different type of conditioning test.
One that ended 19,340 feet above sea level.
[+] Enlarge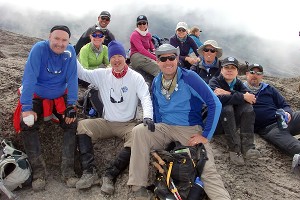 Courtesy of Big Ten Conference Big Ten commissioner Jim Delany (front left) and Conference USA commissioner Britton Banowsky (back left) were part of a group that climbed Mt. Kilimanjaro earlier this month.
Shortly after the Big Ten kickoff luncheon in Chicago, Delany boarded a plane for Africa. He gathered with nine others in Tanzania and began the trek up
Mt. Kilimanjaro
, the highest peak in Africa.
They began the climb Aug. 3, and at 6:20 a.m. on Aug. 8, Delany's group reached the summit.
"It was a terrific trip," Delany told ESPN.com. "We had great leadership, a great group. We had pretty decent weather. We only got rained on once, snowed on just a little bit. But all in all, just a cultural experience, a physical experience, a chance to get away and see how other people live. We were fortunate that everyone who started finished."
Scott Jenkins, the executive vice president of the Tournament of Roses, organized the trip, which also included Conference USA commissioner Britton Banowsky and Kevin Ash, the Rose Bowl's chief administrative officer.
The 64-year-old Delany, who played basketball at North Carolina, spent about six months training for the Kilimanjaro climb. He and Banowsky, 52, climbed Pikes Peak in Colorado in May. Delany also did some climbing in Ketchum, Idaho, and in California.
"Everybody needed to get themselves in great physical shape," Delany said. "Those people who had no trekking, the experience of working at altitude, living outdoors for a week is different. The altitude is a great challenge, especially above 12 or 13,000 [feet]."
The group, which called itself Team Rose Bowl, spent several days adjusting to the elevation between 12,000-15,000 feet before climbing to the summit. Ben Jones, a 2003 graduate of Indiana University who has taken on Mt. Everest and other peaks, led the tour and received help from a group of Tanzanian sherpas.
While a few members of the group fell ill with stomach sickness and dizziness, they all ended up reaching the summit.
"Everybody was pretty determined to make it, and everybody did make it," Delany said. "There were a lot of people supporting us, who were committed in helping us get to the top of the mountain.
"It was difficult, challenging, but it was a lot of fun, too. It was worthwhile."
March, 12, 2012
3/12/12
7:46
PM ET
The Butch Davis era began at North Carolina in November 2007 with high hopes. It ended Monday in the dreadful, funereal ritual of the release of a report of the NCAA Committee on Infractions.
Just coincidence, said committee chair Britton Banowsky, the Conference USA commissioner, that the report came out the day after North Carolina became a No. 1 seed in the NCAA men's basketball tournament for a national-record 14th time. But the timing provided a reminder of what the university hired Davis to achieve and how spectacularly he failed to do so.
Over the course of the 1990s, Mack Brown had built the Tar Heels into a national power. He commandeered the resources to build one of the first Taj Mahals in the sport -- a $50 million palace of offices and facilities that announced to recruits and rivals that North Carolina took football seriously.
As much as Brown achieved, he couldn't lift the Tar Heels into the BCS hierarchy where the Florida States played. Though Brown left for Texas after the 1997 season, he had planted the seed. Nine years of mediocrity under Carl Torbush and John Bunting failed to dim the potential that Brown had kindled in the program.
Davis rebuilt a Miami team struck down by NCAA penalties and took them to the precipice of a national championship. When Davis left after the 2000 season for the Cleveland Browns, Larry Coker, his top assistant, took over and won the next 23 games. With the foundation assembled by Davis, Coker coached the Hurricanes within a double overtime of two consecutive crystal footballs.
That builder is who the Tar Heels assumed they hired. And Davis, a coaching lifer who traveled from Oklahoma high schools to the NFL, wanted to create a football empire on Tobacco Road.
For Ivan Maisel's full column, click
here
.
October, 14, 2011
10/14/11
8:57
PM ET
The Mountain West and Conference USA will form a
football-only alliance
, hoping their partnership will help foster stability and get them an automatic spot into the BCS.


And if it helps keep Boise State, Air Force and UCF in their leagues, the better.
All three schools are in discussions about
possibly joining the Big East
. Mountain West commissioner Craig Thompson and C-USA commissioner Britton Banowsky confirmed those talks, but had little to say about whether or not they expected their respective members to leave. If Boise State and Air Force go, they would be football-only members in the Big East and in need of finding a home for their other sports. UCF would be a full member of the Big East.
There also is no word on the likelihood this alliance would get an automatic BCS bid. Still, both commissioners felt making this move was in the best interest of their respective conferences.
May, 17, 2011
5/17/11
12:30
PM ET
August, 5, 2010
8/05/10
11:40
AM ET
Let us recap what happened at media days for the non-AQ conferences. Today we feature Conference USA.
Preseason favorite
: Conference USA does not select preseason favorites.
Preseason Players of the Year
: But it does select preseason players of the year and a preseason first team. Houston QB
Case Keenum
was selected the Offensive Player of the Year; UCF DE Bruce Miller the Defensive Player of the Year; Houston return specialist
Tyron Carrier
the Special Teams Player of the Year. Here is the
full first team
.
Seen and heard:
A year after holding its media days via video conferencing, the league went back to a more traditional summit in Memphis.
Commissioner Britton Banowsky made headlines when he said his league was considering going to a nine-game league schedule to help it field a BCS buster. Part of the reasoning is because so many C-USA teams play difficult nonconference schedules against BCS teams. Everybody but UTEP plays at least 2 schools from BCS conferences this year.
But on the flip side, many of the C-USA programs are cash-strapped, so those BCS games give them guaranteed money that help the entire athletic department.
"Our coaches are pleading for it," Banowsky said. "But it's a difficult dynamic because there's an economic factor associated with [it] and you have to balance it. You have to pay for your athletic programs and you to have a good season ticket for the fans. It's challenging. We have talked about moving to a nine-game conference schedule, which may help moderate it."
Sure, adding another league game and taking away a game against a BCS opponent could help a team go undefeated. But it could also serve to hinder strength of schedule and its standing in the computer rankings. Take Houston as an example. It did well in 2009 with its difficult nonconference schedule, beating Oklahoma St., Texas Tech and Mississippi St. But it tripped up in Conference USA play. So a nine-game league schedule certainly would not have helped last season.
News and notes:
UAB has got to find a replacement for QB Joe Webb, and fast.
David Isabelle
,
Bryan Ellis
, Emmanuel Taylor,
Jonathan Perry
Joe Bento are all competing for the starting job. Coach Neil Callaway wants to narrow the list soon. But there is no question losing Webb hurts. He had a combined 8,545 rushing and passing yards in his career and 65 total TDs. "There's no doubt we'll miss Joe Webb," Callaway said.
Tulsa had its first losing season in five years, going 5-7, last season. But hopes are high for a turnaround in 2010. QB
G.J. Kinne
is on several preseason watch lists, and the Golden Hurricane return nine starters on offense. Coach Todd Graham called last season "humbling" and is hoping for a quick return to its winning ways.
UCF coach George O'Leary and UTEP coach Mike Price are the longest-serving coaches in Conference USA. Both are entering their seventh seasons at their respective schools. Hopes are high for UCF this season, but for UTEP the key is going to be improving on defense.
"If you want to watch a lot of fireworks, come watch our games," Price said. "We can score a lot of points, but we can't stop anybody on the other side. It's fast-break basketball at its best. If we can do anything defensively, we'll be a much better team and have a much better record."
SMU coach June Jones said the Mustangs would throw the ball even more now that
Kyle Padron
has another year experience. His team is a hot pick this season for the way it came on in 2009. That is fine with him. "We have a better chance now of sustaining because we have kids who know that feeling. You don't have to describe how to win. You have a whole locker room of kids who have done it.
"And, I just know that what we do works. And the guys have to love to come to work. And these kids do right now."
Keenum did his best to deflect the Heisman talk. Houston is considered the favorite to win C-USA because he returns. "Preseason stuff is very cool and that's definitely an honor, but the ones that really matter are at the end of the season," he said. "The season is a long season, you know 14 weeks is a long time. We need to play at a high level each week and we'll take it week by week."
Previous recaps:
May, 18, 2010
5/18/10
12:30
PM ET
Not all of the nonautomatic qualifying conference commissioners are welcoming expansion with open arms, but Conference USA commissioner Britton Banowsky has no such qualms.
During Conference USA spring meetings this week, Banowsky said he's encouraging institutions to seek out better opportunities.
"We have three principles that we share with our folks," Banowsky told media. "One is, it's OK to change conferences. Unlike other conferences, we are generally comfortable with that concept. ... We have no problem with having the conversation. We have it openly. We do, however, believe while you're on the team, you've got to support the team. And that's something that we talk about."
Banowsky's candidness is surprising considering his conference covers prime poaching areas for the Big 12, Big East and ACC. There's been speculation that if the Big 12 loses several member institutions it might seek former members of the Southwest Conference, which includ current C-USA members Rice, SMU and Houston. Tulsa also would fit into the Big 12's plan should Oklahoma or Oklahoma State leave.
In the East, teams such as Central Florida and Memphis have spoken out about wanting to move to a bigger conference. C-USA members East Carolina, Marshall and Southern Miss also are in the thick of big conference territory.
Perhaps Banowsky is so calm because C-USA has gone through this before. In 2005, the Big East took five members, including football schools Cincinnati, Louisville and South Florida. TCU also left for the Mountain West Conference that same year.
"We did probably have the most dramatic change of any conference in a short amount of time maybe in the history of all of college athletics," Banowsky said. "We learned a lot of lessons. I mean some of the lessons we learned are some of the things I talked about before."
Conference USA's meetings are being held during the same time as the Big Ten and everyone is keeping a close watch on Big Ten commissioner Jim Delany and the goings on in Chicago.
While expansion likely won't occur this week or even this month -- Delany continues to maintain the timetable will be 12 to 18 months -- every conference is bracing for the domino effect caused by the Big Ten's decision to expand to 12 or 16 schools.
"We have to keep our eye on the ball," Banowsky said. "I mean we can't lose focus worrying about what may or may not happen. I mean, we'll be prepared for it. I think we'll be ready, but we don't want to lose focus on what we have to be prepared for today on our campuses and as a group."
April, 27, 2010
4/27/10
6:11
PM ET
Conference USA has signed an agreement to continue playing in the Beef 'O' Brady's Bowl St. Petersburg in Florida through the 2013 college football season.
Conference USA will pit a bowl eligible team against a team from the Big East. The game will be televised on ESPN.
This year's game will mark the bowl's third. The Big East has won the first two games.
Last season, Rutgers defeated UCF 45-24 in front of a crowd of 28,000. In the inaugural game in 2008, South Florida defeated Memphis 41-14 at Tropicana Field.
"St. Petersburg and the Beef 'O' Brady's Bowl have provided a first-class event in a fantastic location to reward our teams and their fans for a great season," Conference USA Commissioner Britton Banowsky said in a statement. We are thrilled to continue highlighting our teams on ESPN against a quality opponent."
The game also is a backup bowl agreement for the Sun Belt Conference, which will provide a team if one of the tie-ins cannot be filled.
February, 22, 2010
2/22/10
1:02
PM ET
For the past couple of seasons, Conference USA has had a team mount a small uprising to challenge the tradition non-AQ powers in the Mountain West and WAC. In 2008, it was East Carolina moving up the rankings early. Last season, Houston stayed in the Top 25 almost all season.
Conference USA commissioner Britton Banowsky took a few minutes this week to answer five questions about his conference and some of the national recognition it's starting to get on a more consistent basis.
What are your thoughts on the past season and the direction your conference is going?
Britton Banowsky:
We had another very competitive season and we were pleased that, for the third year in a row, we sent six of our teams to play in bowl games. Our teams play a very entertaining, exciting brand of football and we expect that to continue and just get better as more than half of our all-conference selections will be back in 2010.
In the past two seasons, you've had a team ranked in the Top 25 and several teams defeat ranked AQ schools. Do you feel like your conference is edging closer toward becoming a BCS bowl qualifier?
BB:
We have been able to defeat a number of quality ranked opponents over the past two seasons and our coaches and administrators know we need to continue to do that in the future. There is an exceptional amount of talent in this league and proving ourselves against top-level competition is important to gain respect nationally.
Obviously, to gain the respect of voters and move higher in the polls, you have to show a pattern of consistency. Do you feel like your conference is on the road to doing that?
BB:
I believe we are. We have had three different teams nationally ranked over the past two seasons and others that have received votes. The quality of play top-to-bottom in our conference has continued to improve and I believe that we will continue to show that we can succeed at a high level.
For the past few years, this conference has been able to attract several of the nation's top up-and-coming coaches. What do you attribute that to?
BB:
Our schools have a strong commitment to compete at the highest level. We have some very impressive facilities on our campuses, with several brand new multimillion dollar improvements made over the last five years. There are more plans for additional upgrades in place. A real commitment has been made to recruiting and providing coaches with support staffs that are needed for a program to succeed. Conference USA has also been a leader in making significant gains in ethnic-minority coaching opportunities.
How much did it mean for the conference in terms of national recognition to have Case Keenum considered for the Heisman Trophy?
BB:
Case had an outstanding season and was deserving of the recognition that he received. When one of our players is considered for a top national award like that, it shines a spotlight on the entire conference. There have been many talented players in this league in recent years. Nine of our former players just played in the NFL Pro Bowl, which speak volumes to the caliber of players that have competed in C-USA recently.
November, 3, 2009
11/03/09
1:00
PM ET
Posted by ESPN.com's Graham Watson

Conference USA announced Tuesday that it has secured future commitments with seven bowls -- the AutoZone Liberty Bowl, Bell Helicopter Armed Forces Bowl, EagleBank Bowl, R+L Carriers New Orleans Bowl, Sheraton Hawai'i Bowl, the St. Petersburg Bowl, and the new Dallas Football Classic.

The new bowl schedule will begin following the 2010-2013 regular seasons and the games will be played against seven different conferences.

The Dallas Football Classic is subject to NCAA Football Issues Committee approval. If approved, it will be played at the Cotton Bowl in Dallas and will feature the Big Ten Conference in 2011 and 2013.

The Liberty Bowl will continue to host the league champion as it has since C-USA's inaugural season in 1996.

"Postseason football is amazing and having the right mix of bowl games is important to every conference," Conference USA commissioner Britton Banowsky said in a statement. "When we began developing our new bowl agreements we wanted three things: great destinations; quality opponents; and, increased revenues. We are very pleased with our line-up for the 2010-2013 seasons and believe it delivers in every way."
August, 10, 2009
8/10/09
9:00
AM ET
Posted by ESPN.com's Graham Watson
Since 2004, Conference USA has watched the Mountain West and the WAC send teams to BCS bowls and reap the financial and national attention benefits. Now the third-best nonautomatic qualifying conference wants to get in on the action.

East Carolina proved last season that it could play with anyone in the country by pulling upsets of No. 17 Virginia Tech and No. 8 West Virginia. While the Pirates weren't able to turn their early success into an undefeated season, their play might have been a sign of things to come.
"We've talked about the way we want to build this program is inside-out instead of outside-in," head coach Skip Holtz told ESPN.com last August. "We're not looking to schedule a bunch of wins to say, 'Look at us, we won nine games last year.' We're not just going to build wins with scheduling. We've got to get to the point where we're good enough on the field to line up and compete with these top-10 and top-20 programs."
Holtz's mentality is one that the entire conference has seemingly adopted. Conference USA's nonconference scheduling is arguably the strongest its ever been with 25 teams from the automatic qualifying conferences, including 19 that played in bowl games last season.
Conference USA commissioner Britton Banowsky said during his annual state of the conference media address that while each of his 12 teams has a different scheduling philosophy depending on talent and experience, he believes that this might be his conference's best chance to get into the BCS conversation.
"I believe we have the toughest nonconference schedule of all teams not [in a BCS league]," Banowsky said. "The biggest prize for us right now is for us to be able to put a team in a BCS game. That's how we get the positive notoriety we need and part of that is scheduling."
July, 8, 2009
7/08/09
3:41
PM ET