May, 31, 2013
5/31/13
1:00
PM ET
Oregon has very few obvious holes on its 2013 roster (though the Pac-12 blog believes questions at linebacker are fairly substantial).

The biggest issue is whether things will continue in their elite trajectory after the departure of coach Chip Kelly for the Philadelphia Eagles. Folks can believe that Mark Helfrich can step in seamlessly, but when the Ducks face Nicholls State on Aug. 31, it will be the first anyone has seen of Helfrich as a head coach.
So you don't really know, because you can't know.
Still, the Ducks clearly are a national-title contender. At least, that's the conclusion of ESPN analyst Brock Huard.
(Yes, Huard is a former Huskies quarterback. At some point can we acknowledge that his sporting background doesn't color his analysis, which I typically find insightful?)
Oregon is one of 10 teams ESPN.com's Insider's college football experts have examined based on their having the best odds to win the BCS title this season, according to
Brian Fremeau's post-spring projections

.
Huard gives
three pros and three cons for the Oregon case

. You have to be an Insider to get the details, but here are his judgements:
Three reasons why Oregon can win the national title:
Their quarterback -- and offense as a whole -- will again be dynamic.
The pieces are in place for new coach Mark Helfrich to succeed right away.
The schedule sets up nicely.
And the reasons why not:
There are some concerns at the linebacker spot.
The depth isn't as strong as it usually is.
The kicking game could be an issue.
And Huard's bottom line?
Two cold November nights have undone Oregon's ultimate goal the past two seasons. This campaign, a Nov. 7 matchup at Stanford could very well have the conference division title and much more on the line. The conference's most effective, established system paired with the conference's best quarterback should prove to be the difference this November.
So you'd have to say that Huard is onboard with the Ducks playing the final game of the season.
May, 22, 2013
5/22/13
1:00
PM ET
You may have noticed
this story
Monday from Mackenzie Kraemer of ESPN Stats & Info. It's a nice breakdown of how the 2013 class of quarterbacks across college football might be one of the best ever. Kraemer offers five reasons why:
The best teams of 2012 return their quarterbacks

The best passers are returning

A diverse array of NFL talent

Little QB turnover in SEC

Award winners back on campus
We're going to take this and, point-by-point, give it a Pac-12 rinse.
[+] Enlarge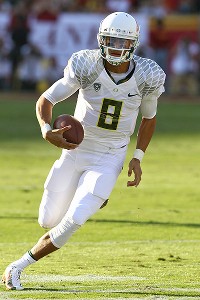 AP Photo/Bruce SchwartzmanOregon QB Marcus Mariota showed that he was more than just a strong runner last season.
The best teams of 2012 (in the Pac-12) return their quarterbacks
: Yep. Stanford (12-2), yes. Oregon (12-1), yes. Oregon State (9-4), yes (and yes). UCLA (9-5), yes. Arizona State (8-5), yes. It should come as no surprise that the top six teams in
our post-spring power rankings
all have their quarterback coming back. In fact, there were only four teams last year that started the same quarterback in every game (Arizona State, Oregon, UCLA, Washington) and those are four of our top five teams in the rankings.
Thus, it's not by chance that the five of the bottom six in the power rankings have an ongoing quarterback competition. That's not to say that a school like USC, which has too much talent to be sitting in the bottom half of the rankings, can't quickly make a jump to the top once their quarterback situation is resolved.
And the same goes for No. 6 Oregon State -- which is fortunate to have two capable starters competing. I don't know who first opined that if you have two quarterbacks, you don't have one. I don't buy it. Ask any coach in the bottom half of the power rankings if they'd prefer zero quarterbacks who have won games or two. I think we all know the answer.
The best passers are returning
: Yep.
Marcus Mariota
led the Pac-12 in efficiency and
Taylor Kelly
wasn't far behind. Matt Barkley was third,
Brett Hundley
was fourth and
Sean Mannion
was fifth. However, it's worth noting that
Kevin Hogan
's efficiency would have ranked him slightly above Hundley had he appeared in more games in 2012 (the cutoff was appearing in 75 percent of the games, Hogan was at 71). That means five of the top six quarterbacks in efficiency are back.
A diverse array of NFL talent:
Yep. Anyone who thinks Mariota is just a running quarterback failed to witness his 32 touchdown passes and league-best 68.5 completion percentage. He will fit nicely into any NFL offense.
Same for Kelly (29 touchdowns, 67.1 completion percentage) and Hundley (29, 66.5). Hogan should be well-versed in the pro-style attack (and NFL scouts love quarterbacks who know the pro-style/West Coast coming out of college) and if Mannion (if he wins the job) bounces back, he's got the prototypical NFL pro-style frame.
And let's not forget
Keith Price
, who we're expecting to have a nice bounce-back year. He was extremely efficient in 2011 (33, 66.9) so the potential and athleticism is obviously there.
Little QB turnover in the league:
Well, the Pac-12 can't make that claim with six starting jobs still in doubt and potentially five schools starting a fresh-faced QB.
Award winners back on campus:
Yep. Pac-12 Freshman Offensive Player of the Year (Mariota). First-team quarterback (Mariota). Kelly, Hogan and Hundley were honorable mention.
While it's true that this might shape up as one of the greatest years in college football history for quarterbacks, it's equally true that the Pac-12 might have its best crop of quarterbacks in league history.
The Pac-12 has sent at least one quarterback to the NFL since 1995 and at least one has gone in the first round in nine of the past 16 drafts. There was 2003 when Carson Palmer (USC) and Kyle Boller (Cal) both went in the first round. 1999 was a strong year with Akili Smith (Oregon) and Cade McNown (UCLA) going in the first round and Brock Huard (Washington) going in the third. Three times the Pac-12 has had four quarterbacks go in the draft (2005, 1991 and 1989).
2004 comes to mind as a pretty darn good collection with Aaron Rodgers (Cal), Matt Leinart (USC), Derek Anderson (Oregon State), Andrew Walter (ASU), Kellen Clemens (Oregon), Trent Edwards (Stanford), Drew Olson (UCLA) and Alex Brink (Washington State).
It's a little too early to start speculating about who is going to go and who is going to stay. But based on what we've seen from this crop in the past nine months, it's possible the 2013 class will be right up there in the conversation as one of the best collection of quarterbacks ever in the league.
November, 4, 2010
11/04/10
7:06
PM ET
Woody Hayes was a rivalry guy. When he was Ohio State's head coach, he wouldn't even say "Michigan." He said, "that team up north." He famously refused to fill up his gas tank while on a recruiting trip in Michigan. When Jim Tressel was hired to fill that legacy, he immediately endeared himself to Buckeyes' fans by promising something special "in 310 days in Ann Arbor, Mich., on the football field."
Oregon coach Chip Kelly is not a rivalry guy. The hated
Washington Huskies
visiting Kelly's Ducks on Saturday? Pffft.
"We have 12 rivalries," Kelly said.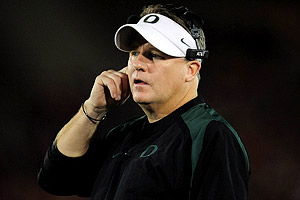 Gary A. Vasquez/US PresswireDon't tell Oregon coach Chip Kelly that Washington is a rival. Kelly contends the Ducks have 12 rivals.
Kelly previously said the Ducks play "12 Super Bowls," so his "every game is critical" philosophy is at least consistent.
Fact is, the Huskies-Ducks rivalry, long one of the nastiest and most underrated in the nation, has dramatically shifted. Washington was once the power that barely even noticed Oregon, which hated the Huskies sense of entitlement -- and winning -- in the Northwest (and a certain UW
vote in 1948 on who goes to the Rose Bowl
was a bit of an issue, too). But in the mid-1990s, things started to change. Oregon became competitive, and Huskies' fans didn't like that. The rivalry may have peaked when Rick Neuheisel became Washington's coach in 1999. Ducks fans already disliked Neuheisel from his days of Colorado, so it was a perfect stir to an already boiling pot.
Those were fun times
because both programs were national powers. The rivalry mattered.
Now? Not so much. Oregon has won six in a row in the series, each by at least 20 points. The Huskies appear to be headed toward an eighth-consecutive non-winning season. They are coming off an embarrassing 41-zip loss to Stanford inside a stunned Husky Stadium. Moreover, struggling quarterback
Jake Locker
, the unquestioned face of the program, will be out Saturday due to a broken rib, and redshirt freshman
Keith Price
will make his first career start in boisterous Autzen Stadium.
Uh-oh
.
Huskies coach Steve Sarkisian, therefore, fielded no questions about the glorious rivalry with the Ducks during a lengthy news conference Monday.
"I think more important for our program right now is focusing on us and not necessarily on the
Oregon Ducks
," Sarkisian said.
Meanwhile, Oregon, after finishing ranked in the top-11 the previous two seasons, is a national title contender. It's got bigger things going on than trash-talking a team that it's favored to beat by five touchdowns.
"Every game in this league is a challenge for everybody," Kelly droned. "Our concentration is solely on next week's game and that's playing Washington."
Oh, but the Huskies-Ducks hatred is still there among the fans.
Guess what's being celebrated -- again -- at Autzen on Saturday? Yep, "The Pick," the 1994 pick-six interception by Ducks cornerback Kenny Wheaton of Huskies QB Damon Huard, which is widely considered the most important play in school history. Wheaton will be at the game, appearing at PK Park from 10:30 a.m. to noon (PDT), signing autographs, including a T-shirt commemorating the play.
By the way, guess who is the new color guy on Huskies broadcasts? Huard. And guess who's an analyst for the ABC telecast? Damon's younger brother, Brock, also a former Washington QB. And guess who's going to be Brock Huard's co-analyst? Former Oregon coach Mike Bellotti.
How fun is that? How can you not smile about all that!
Said Kelly, "Harrumph." (We just made that up, but that's a fair translation of whatever he would say).
So do the Huskies have a chance? The short -- and practical -- answer is, no. But, folks, in college football, everyone has a chance, even when a team is missing its starting QB and brings one of the nation's worst defenses into the nation's most hostile venue to face the nation's best offense.
Said Kelly, "They've got really good athletes."
He then spit and let out an mocking laugh.
No, he didn't, but wouldn't it have been fun if he did?