September, 4, 2010
9/04/10
2:43
PM ET
ANN ARBOR, Mich. -- Greetings from the Bigger House, which will be rededicated today following a $226 million renovation. Michigan opens a critical season against Connecticut after back-to-back losing campaigns.


The place certainly looks nice. I know the media is pleased with the new press box, which comes with an excellent pregame spread. Great atmosphere around the stadium today and around campus last night. A surprising number of Connecticut fans are here, although I hear they've always traveled well for basketball. A special shout-out to my new friend Matan, a Michigan fan living in Bogota, Colombia, who tells me the Big Ten blog gets him through the day.
The weather will be interesting, as the winds are gusting up to 25 miles an hour, blowing toward the southwest. Both teams' specialists could have some adventures out there, and Michigan is replacing both its starting kicker and starting punter.
All signs point to sophomore
Denard Robinson
starting for Michigan at quarterback, but head coach Rich Rodriguez likely will play multiple signal-callers. Michigan must establish the line of scrimmage on both sides of the ball. If the Wolverines' offensive line is as advertised, and if defensive tackle
Mike Martin
can clog up the middle, Michigan should control the line.
Connecticut's defense is solid, especially at linebacker, as Greg Lloyd starts in the middle after being told earlier this year that he would redshirt the season because of injuries. The Huskies also boast an outstanding running back in junior
Jordan Todman
, who will be Michigan's primary focus on defense.
Michigan will be without three players: cornerback Troy Woolfolk (ankle, out for season), safety Jared Van Slyke (clavicle) and running back
Fitzgerald Toussaint
. Wideout
Junior Hemingway
(hamstring) is questionable.
Check in before the game as Brock Mealer, the brother of Michigan offensive lineman Elliott Mealer, leads Michigan out of the tunnel after an amazing recovery from a serious car accident.
The atmosphere will be electric, but can Michigan match it with its play?
September, 2, 2010
9/02/10
8:15
AM ET
Tonight, it begins.
The wait is over and we finally get to see Big Ten teams play games that count. As opening weekend begins a little early with three games tonight, here are 10 things to watch around the league.
1. Quarterback questions at Michigan, Penn State:
Two of the league's traditional powers likely will be evaluating multiple quarterbacks in their openers. True freshman
Robert Bolden
was named
a surprise starter for the Nittany Lions
, but sophomores
Matt McGloin
and
Kevin Newsome
also are likely to get some work.
Denard Robinson
could be poised to take control at Michigan, but head coach Rich Rodriguez expects to play more than one signal caller, so sophomore
Tate Forcier
and true freshman
Devin Gardner
likely will take some snaps in the spotlight. Penn State has to see what it has under center before a Week 2 trip to defending national champ Alabama.
[+] Enlarge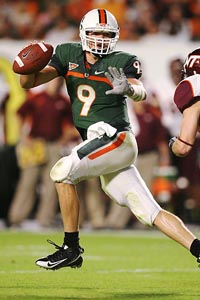 Doug Benc/Getty ImagesFormer Miami quarterback Robert Marve and his new team have a tough test in South Bend.
2. Opportunity knocks for Marve, Boilers:
No team in the Big Ten has a better opportunity to make a national statement than Purdue. All eyes will be on South Bend -- really, when aren't they? -- as Notre Dame kicks off the Brian Kelly era, but Purdue can ruin the fun by upsetting the Fighting Irish. Quarterback
Robert Marve
has done all the right things in West Lafayette since transferring from Miami, and he boasts a big arm and plenty of weapons to attack a suspect Notre Dame secondary. Marve should flourish in the spread offense, so expect a strong debut. It might not matter, though, if Purdue can't upgrade its run defense and protect a new-look secondary from
Dayne Crist
and
Michael Floyd
.
3. Heisman push begins for Pryor, Clay:
When we last saw
Terrelle Pryor
in a game, the Ohio State quarterback was at his best, winning Offensive MVP honors at the Rose Bowl. By all accounts, Pryor made strides during the offseason and said he has a greater grasp of the offense and what it takes to be a leader on the big stage. His accolades heading into the season -- Big Ten preseason Offensive Player of the Year, Heisman Trophy candidate -- are based largely on hype and potential, but Pryor finally gets a chance to produce some hard evidence against Marshall. Wisconsin running back
John Clay
has been largely overlooked in the preseason, but he also could help his Heisman candidacy with a strong debut at UNLV, which ranked 112th nationally in rush defense a year ago.
4. Mystery team makes debut in St. Louis:
Who's the Big Ten's mystery team this season? Illinois. The Illini have new offensive and defensive schemes, a new starting quarterback in
Nathan Scheelhaase
and plenty of unknowns on both sides of the ball. Missouri typically brings out the worst in Ron Zook's squad, and Illinois will need to show some resiliency in the Edward Jones Dome. Scheelhaase is young but skilled and athletic, and it'll be interesting to see how he handles the spotlight in an NFL stadium. Illinois' secondary faces
Blaine Gabbert
and Missouri's high-powered passing attack without two starters (safety Supo Sanni, cornerback Terry Hawthorne), so linebacker Martez Wilson and others need to step up.
5. Iowa's new-look offensive line:
The Hawkeyes shouldn't have much trouble beating Eastern Illinois, although after last year's roller-coaster ride, you never know. The opener should give a new-look offensive line time to get comfortable and create holes for running back
Adam Robinson
. Iowa will start three new players up front -- right tackle Markus Zusevics, right guard Adam Gettis and center James Ferentz -- and needs to get comfortable before bigger tests the next two weeks against Iowa State and Arizona. Running back
Jewel Hampton
sits out because of a suspension, but Iowa really needs to get the run game going with Robinson and adequately protect quarterback
Ricky Stanzi
.
6. Spartans' secondary in spotlight:
Most point to the secondary as Michigan State's biggest weakness in 2009, and for good reason. The Spartans ranked last in the Big Ten in pass yards allowed (267.6 ypg), allowed 11 more passing touchdowns (32 total) than any other Big Ten squad and recorded only six interceptions, the second-lowest total in the league. Several underperforming players are gone, and Michigan State hopes to be younger but better in the back four this fall. Cornerback Johnny Adams returns to the mix, and hopes are high for Trenton Robinson, Chris L. Rucker and others. The secondary needs to step up Saturday against Western Michigan, which loses standout quarterback Tim Hiller but returns top wideouts
Robert Arnheim
and
Jordan White
.
7. Line dance in the Volunteer State for Gophers, Wildcats:
Both Minnesota and Northwestern boast veteran offensive lines that need to upgrade their run-blocking ability this fall. Minnesota ranked last in the Big Ten in rushing for the second straight year in 2009, while Northwestern finished eighth and had no big plays in the ground game. It'll be very interesting to see how both lines perform in what likely will be balmy weather in Tennessee. Minnesota opens Thursday night at Middle Tennessee, while Northwestern visits Vanderbilt in Nashville 48 hours later. Both squads have multiple backs competing for carries, but the performance of the two lines will go a long way toward showing what the upcoming season will hold.
8. Brock Mealer leads Michigan out of the tunnel:
Doctors told Brock Mealer he'd never walk again after being paralyzed from the waist down in a car accident that killed his father and the girlfriend of his brother, Elliott, an offensive lineman for Michigan. But Brock never gave up hope and worked with Michigan strength and conditioning coaches Mike Barwis and Parker Whiteman to work his way out of a wheelchair. Saturday, he'll be walking out of the tunnel at Michigan Stadium as he leads the Wolverines onto the field for their opener against Connecticut. "He's that one percent," Wolverines defensive tackle Mike Martin told me. "People said he'd never walk again, and he's proving people wrong right there. We've got to come out right behind him and show what we've got."
9. Indiana's new-look defense:
The Hoosiers' season likely hinges on whether a historically porous defense can improve. IU will use the 3-4 alignment more this season, but the coaches also are excited about defensive ends Darius Johnson and Fred Jones. Tyler Replogle provides excellent leadership at linebacker, but Indiana needs three junior college transfers -- linebacker Jeff Thomas and defensive backs Andre Kates and Lenyatta Kiles -- to make an immediate impact. A strong debut against Towson is key.
10. Quarterback-turned-receivers:
There was a time when Michigan State's
Keith Nichol
, Minnesota's
MarQueis Gray
and Purdue's
Justin Siller
looked like the potential answers for their teams at quarterback. All three players now will play prominent roles at wide receivers on opening weekend. All three received strong reviews in training camp as receivers, and all three could start on Saturday. Gray is the likeliest to be called upon as a quarterback, as he remains
Adam Weber
's backup for the Gophers. Siller makes his first appearance since 2008 after being suspended from school for the 2009-10 academic year.
September, 1, 2010
9/01/10
9:02
AM ET
Michigan will have all the intangibles on its side Saturday afternoon against Connecticut.
The rededication ceremony will be held for Michigan Stadium, as the school celebrates an extensive renovation that makes the Big House into the Bigger House. Brock Mealer, the brother of Michigan offensive lineman Elliott Mealer, who was given almost no chance to walk again following a car accident that killed his father and Elliott's girlfriend, will led the Wolverines out of the tunnel.
[+] Enlarge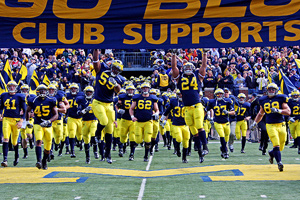 AP Photo/Tony DingThere was a time when opposing teams would be intimidated to play at Michigan.
And as always, Michigan players will wear winged helmets and touch the "Go Blue" banner at midfield as "The Victors" blares in the background.
The place will be rocking. But will it matter?
The Michigan mystique used to be a very real thing. Opposing coaches have admitted that the winged helmets and the Big House equaled 14 points on the scoreboard for the Maize and Blue.
Things are different at Stadium and Main. Appalachian State happened. Then 8-16 happened.
"Everybody's like, 'Oh, they've got the winged helmet and they've got the Big House, but nobody's worried about the Big House,'" Michigan wide receiver
Roy Roundtree
told ESPN.com.
"But come September 4th, it's a different Michigan team."
For Rich Rodriguez's sake, it had better be. Arguably no coach in the country needs a strong opening performance from his team more than Rodriguez.
A turbulent offseason once again directed the spotlight away from the field, as Rodriguez and other Michigan officials dealt with an NCAA investigation into alleged rule violations. Michigan in May admitted to committing major violations for the first time in program history, and the school is awaiting final penalties from the NCAA's Committee on Infractions following an August hearing. The offseason also featured a saga surrounding heralded recruit Demar Dorsey, several player departures and questions about quarterback
Tate Forcier
's commitment to the program.
That's the beauty of Saturday's opener against Connecticut
(ABC/ESPN2, 3:30 p.m. ET)
. It's all about what happens between the lines.
"There's been a lot of side stuff, and a lot of it has been nothing to do with football," defensive tackle Mike Martin said. "We just want to play for the program and get out here and play hard for coach Rod and all the fans, and show all the work we've been putting in."
Connecticut won't be intimidated by the spectacle on Saturday. The Huskies won at Notre Dame last year and fell just short at Cincinnati, Pittsburgh and West Virginia, falling by a combined nine points.
Head coach Randy Edsall consistently sends players to the NFL and returns a team that three ESPN experts
pick to win the Big East
.
"They are an older group of guys that have kind of been there, done that," Rodriguez said. "So it's not a team that is probably going to make mistakes. If we want to win the game, we have to go win it."
Martin says Michigan is hungrier than it's been in a long time. Roundtree says players are "finally all in."
After the last two years, Michigan players know they're entitled to nothing. In fact, quite a few folks -- ahem, Brian Bennett -- pick the Wolverines to lose to UConn on Saturday.
"That's their pick," Roundtree said. "Everybody has their own opinions. It's Michigan against the world, and if that's how it's got to be, then hey, we know who's in our circle, and we know who we're playing for every weekend.
"We're tired of losing, and it's time for a change. It's time to come here and win."