May, 12, 2014
May 12
9:30
AM ET
The biggest non-game on the American sporting calendar is
all done
, as the 2014 NFL draft wrapped up Saturday afternoon in New York. After
arguably its worst draft in the modern era
in 2013, the Big Ten performed better this year with 30 picks. Still, the league finished fourth among conferences in selections, trailing the SEC (49), ACC (42) and Pac-12 (34).
After a big Friday night with six second-round selections -- including four in a row -- and six third-round selections, the Big Ten's momentum slowed a bit Saturday in the final four rounds. The league had only one sixth-round pick and only four in the seventh round.
Let's start the breakdown by listing Big Ten draftees by round (with comments below). Maryland and Rutgers players aren't included here because neither group competed in the Big Ten (Terrapins CB Dexter McDougle went in the third round; Rutgers had no players drafted).
FIRST ROUND (4)
[+] Enlarge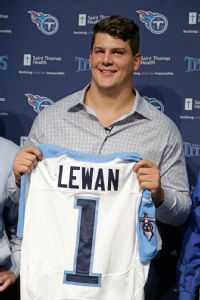 AP Photo/Mark HumphreyTaylor Lewan was the first Big Ten player selected, going 11th overall to the Tennessee Titans.
Analysis:
Click here for my first-round thoughts
SECOND ROUND (6)
Analysis:
Hageman ends up in a really good spot with the Falcons. Although Latimer had an excellent pre-draft performance, it wasn't surprising to see him end up in the middle of the second round. Hyde waited longer than many anticipated, but he enters a great situation with a team that loves to play power football. Robinson joins a new-look Jaguars passing attack featuring quarterback
Blake Bortles
and wideout
Marqise Lee
.
THIRD ROUND (6)
Analysis:
Everyone had Southward going before Borland, right? Borland, the 2013 Big Ten defensive player of the year, had an exceptional college career, but concerns about his height and perhaps his injury history moved him down the draft boards. The Iowa Effect shows up here as both Fiedorowicz and Kirksey were swept up by teams that respect what the Hawkeyes do. What does it say that Michigan's offensive line struggled mightily in 2013 but had two tackles drafted in the first three rounds? Those young Wolverines linemen had better step up this fall.
FOURTH ROUND (4)
Analysis:
Some really good pickups in this round, especially White, who will fit in very well with New England's offense. Although
James Morris
received the most accolades among Iowa's linebackers at the college level, both Kirksey and Hitchens were mid-round selections, while Morris went undrafted and signed with New England as a free agent. As a Chicago Bears fan, I love the Vereen pick. He's a smart, athletic versatile player who knows from his older brother what it takes to succeed in the NFL.
FIFTH ROUND (5)
[+] Enlarge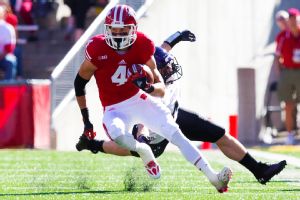 Jeff Hanisch/USA TODAY SportsJared Abbrederis isn't venturing far from Madison as he was drafted by the Green Bay Packers.
Analysis:
Like his teammate Borland, Abbrederis had a much longer wait than expected but lands in a very familiar spot with Green Bay. I think he's a steal and will surprise people with his ability to make plays despite less-than-ideal measurables. Pamphile had a fairly quiet college career but is seen as a project and could develop into a better pro. Urschel is another player who lacks the ideal physical traits sought in the NFL, but could make up for it with exceptional intelligence.
SIXTH ROUND (1)
Analysis:
Enunwa complemented his superb blocking skills with big-play ability in the pass game as a senior. He's a good value for a Jets team that needs to boost the league's 31st-ranked pass offense.
SEVENTH ROUND (4)
Analysis:
All four players could be very good values. Bolser is an athletic tight end who had 15 career touchdown catches. Allen showed versatility as a senior, transitioning to a 3-4 scheme. Gallon heads to a Patriots team that has had success with smaller, productive receivers. Bryant likely would have been selected higher if not for major leg and ankle injuries last season.
Here are the draft picks per B1G team:
Ohio State:
6
Wisconsin:
5
Michigan:
3
Penn State:
3
Nebraska:
3
Iowa:
3
Purdue:
2
Minnesota:
2
Indiana:
2
Michigan State:
1
The big surprise is a Michigan State team that dominated Big Ten play and won the Rose Bowl had just one player selected, as standout linebackers
Max Bullough
and
Denicos Allen
didn't have their names called. Only four teams -- LSU, Alabama, Notre Dame and Florida State -- had more selections than Ohio State. Illinois, which led the Big Ten in draft picks last season (4) and had 18 picks between 2009-13, had no selections. Northwestern also went without a draft pick for the second straight year.
Curious about the Big Ten's undrafted free-agent signings? Check back in a bit as we take a look.
December, 16, 2013
12/16/13
9:00
AM ET
The Big Ten released
its all-conference teams
as selected by coaches and the media earlier this month. We didn't have a vote for the media teams, and we don't pretend to know as much about football as the league's coaches.
But we can also say with confidence that we watched more Big Ten football here at the blog than anyone else. So here are our picks for the 2013 ESPN.com All-Big Ten team:
Offense
[+] Enlarge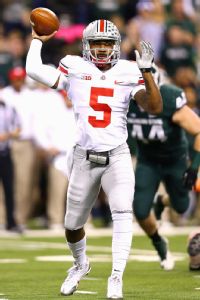 Andy Lyons/Getty ImagesBraxton Miller is one of six Buckeyes on ESPN.com's All-Big Ten team.
QB:
Braxton Miller
, Ohio State
RB:
Carlos Hyde
, Ohio State
RB:
Ameer Abdullah
, Nebraska
WR:
Allen Robinson
, Penn State
WR:
Jared Abbrederis
, Wisconsin
TE:
Devin Funchess
, Michigan
OL:
Jack Mewhort
, Ohio State
OL:
Brandon Scherff
, Iowa
OL:
Taylor Lewan
, Michigan
OL:
Corey Linsley
, Ohio State
OL:
Ryan Groy
, Wisconsin
Defense
DE:
Shilique Calhoun
, Michigan State
DT:
Ra'Shede Hageman
, Minnesota
DE:
Randy Gregory
, Nebraska
LB:
Ryan Shazier
, Ohio State
LB:
Chris Borland
, Wisconsin
LB:
Max Bullough
, Michigan State
LB:
James Morris
, Iowa
DB:
Darqueze Dennard
, Michigan State
DB:
Kurtis Drummond
, Michigan State
DB:
Bradley Roby
, Ohio State
DB:
Brock Vereen
, Minnesota
Specialists
K:
Jeff Budzien
, Northwestern
P:
Mike Sadler
, Michigan State
KR:
Kenny Bell
, Nebraska
PR:
Kevonte Martin-Manley
, Iowa
OK, so we cheated just a bit on positions, going with three tackles on our offensive line and a 3-4 defense. But considering the coaches had six defensive backs and two punters on their first team, we don't feel too bad about it. ... We wanted to include Scherff, Lewan and Mewhort on the first team, because we thought they were the three best linemen in the league. If we had to field an actual team with these guys, we're sure we could figure it out. It was a tough call between Groy and Penn State's
John Urschel
, whom we love for his on- and off-the-field accomplishments. We just felt Wisconsin had the better overall season as an offensive line, so we went with Groy. ... We went with the 3-4 because linebacker was such a deep position in this league -- so deep that we had to leave off some deserving players, like Michigan State's
Denicos Allen
-- while defensive line wasn't nearly as strong. ... The defensive backfield was a tough call (no wonder the coaches had an, ahem, pick six there). Dennard was a lock, and we felt that Drummond was the league's best safety in a year when that position was a bit weak conference-wide. We like what Vereen did in providing versatility and leadership for the Gophers, and Roby overcame a slow start to do his usual fine work. We had to leave off very good cornerbacks like Michigan's
Blake Countess
, Nebraska's
Stanley Jean-Baptiste
and Iowa's
B.J. Lowery
-- but that's what a second team is for. Stay tuned. ... Ohio State leads the way with six selections, followed by Michigan State with five. It's almost as if those were the two best teams in the league or something.
November, 25, 2013
11/25/13
11:00
AM ET
Let's begin the rewind with a little chop talk.
Players and coaches from Wisconsin and Minnesota nearly brawled following the Badgers' 20-7 win at TCF Bank Stadium on Saturday. The brief altercation happened when Wisconsin brought Paul Bunyan's Axe to the Gophers' home end zone for the traditional "chopping" of the opponent's goal post. But Minnesota guarded the post and wouldn't let the Badgers through.
[+] Enlarge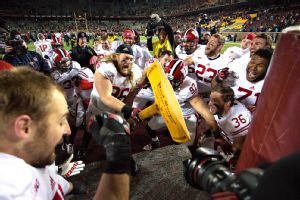 Jesse Johnson/USA TODAY SportsMinnesota didn't like Wisconsin celebrating after winning their rivalry game.
The Wisconsin side claims that the Gophers were being sore losers by not allowing the annual tradition to continue. Minnesota would counter by saying it gathers in that end zone after every game to sing the alma mater in front of its student section, and the Badgers were rude to invade that area (politely asking, "Pardon me, would you mind if we took this giant axe to your uprights?" might not work, either).
"It's just a pride thing," Minnesota defensive back
Brock Vereen
told reporters. "This is our stadium, and even after the clock hits zero, we still feel the need to protect it. So I don't think there's any love lost or anything like that. I think they'd do the same thing."
A small skirmish broke out in the same spot in 2011, when Wisconsin interrupted the singing of the alma mater. The Badgers tried to wait until the song ended on Saturday, but the Gophers still formed a resistance.
Wisconsin defensive tackle
Beau Allen
told reporters, I think jokingly, that teams have chopped both goal posts in all 123 years of the rivalry. (Which, of course, is impossible, since the Axe didn't arrive on the scene until 1948). But Allen was right that the chopping is an annual tradition, so the Gophers can't feign surprise that the axe came their way.
At the same time, if Minnesota wants to make such a stand on its home field, so be it. While Saturday's game showed they're getting a little closer to Wisconsin's level, the Gophers have lost 10 straight in this series. Guarding the post could just have been their way of saying they're tired of being pushed around.
With players and coaches exchanging curse words and shoves and Wisconsin head coach Gary Andersen getting upset about a security officer he said put a finger in his face, the good news is both teams showed restraint in not letting things escalate. The axe celebration is one of the best in sports, but with so many people on the field, these postgame displays are axing -- I mean, asking -- for trouble. Something to keep in mind when this weekend's rivalry games roll around.
Saturday's altercation just added a little more spice to the series. And maybe a new set of rules for the axe tradition.
Take that and rewind it back …
Team of the week:
Iowa. The Hawkeyes did everything they could to let Michigan win the game in the first half, throwing a pick-six and falling behind 21-7 at intermission. But this team has shown resiliency in bouncing back from last year's failures, and it owned the second half for a 24-21 win. Beating Nebraska this week would complete the symbolic turnaround from 4-8 to 8-4.
[+] Enlarge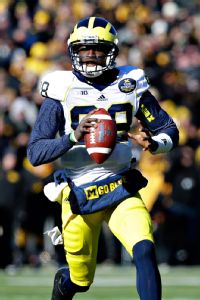 AP Photo/Charlie NeibergallThings haven't gone as planned for Devin Gardner and Michigan.
Worst hangover:
Michigan. You had to feel bad for
Devin Gardner
, who was near tears after the game while regretting his late fumble. He's giving it everything he has got, but the Wolverines just don't have much right now. They've gone from 5-0 to 7-4, with an almost certain fifth loss coming next week against Ohio State.
Best call:
Loved Iowa's decision to have
Jake Rudock
roll out with a run/pass option on third-and-10 late in that game. It was far bolder than just running the ball and punting or throwing a screen, yet it didn't carry a lot of risk. It also showed a lot of confidence in Rudock who had thrown three interceptions. He completed a 12-yard pass to
C.J. Fiedorowicz
for the first down, allowing the Hawkeyes to go into victory formation.
Weirdest call:
Wisconsin's Andersen called for a bizarre-looking fake field goal in the fourth quarter at Minnesota. Holder
Drew Meyer
lined up behind the center in the middle of the field while everyone else split out wide. Meyer threw a lateral to tight end
Sam Arneson
, who had several blockers in front of him but nowhere to go. Arneson was supposed to pass the ball but never had time and wound up losing seven yards. "That one will be scratched off the play list for quite a while," Andersen said.
Best play:
Michigan State receiver
Bennie Fowler
, who has had a great bounce-back season, summed up the season for his team and Northwestern on an
87-yard touchdown catch
. Why are Northwestern defensive backs always involved in such wild plays?
Big Man on Campus (offense):
Raise your arms and yell, "
Steve Hull
!" His late-career receiving renaissance continued with 10 catches for 169 yards and two scores as Illinois finally broke its Big Ten losing streak.
Big Men on Campus (defense):
It's a tie between Ohio State's
Ryan Shazier
, who had a ridiculous 20 tackles and five tackles for loss against Indiana, and Wisconsin's
Chris Borland
, who made 12 stops with two fumble recoveries and a forced fumble. Do we really have to choose between these two for Big Ten defensive player of the year and linebacker of the year?
Big Man on Campus (Special teams):
Nebraska's
Pat Smith
went 3-for-3 on field goals and drilled the 42-yard game-winner in overtime at Penn State.
Best failed effort:
Penn State kicker
Sam Ficken
tried his best to stop Nebraska's
Kenny Bell
on Bell's 99-yard touchdown return. But Bell treated Ficken like a kicker while leaping over him at the 30-yard line on his way toward the end zone. The
photo of that
is delightful. "You will never live it down if you get tackled by the kicker," Bell said.
Best quote:
From Northwestern coach Pat Fitzgerald, whose nightmare season can't end soon enough: "The year '13 -- good riddance. Something about that number I don't like a whole lot. I like those hotels who don't put it on their floors."
October, 30, 2013
10/30/13
4:00
PM ET
Maybe the breakthrough was inevitable. It certainly wouldn't have been the first time a Jerry Kill-coached team took a significant step forward in Year 3.
Northern Illinois went from six wins to 10 in Kill's third season (2010). Southern Illinois went from four wins to 10 in Kill's third season in Carbondale (2003). Minnesota has only matched its 2012 wins total, but following back-to-back Big Ten victories, including last Saturday's historic triumph against Nebraska, there's a sense that more success lies ahead.
[+] Enlarge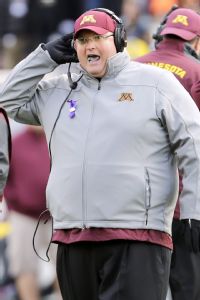 AP Photo/Ann HeisenfeltActing coach Tracy Claeys has brought a calming effect to the Golden Gophers.
"Something about that third year," Minnesota defensive back
Brock Vereen
said.
Perhaps. But Kill's previous Year 3 makeovers didn't occur under circumstances that seemed as unusual and dire as the ones Minnesota faced three short weeks ago.
To recap:
Kill wasn't even with the program. After a seizure prevented him from attending Minnesota's Oct. 5 game at Michigan, he announced Oct. 10 that he would take a leave of absence to focus on epilepsy treatment. His return was unknown, and his longtime defensive coordinator Tracy Claeys would serve as acting coach.

Kill's health and future sparked debate around the program and nationally. How could a coach who had suffered five game-day seizures continue to lead a Big Ten program?

Minnesota had been outscored 65-20 in its first two Big Ten games. The Gophers were just 4-14 in league play under Kill, and had yet to win consecutive conference games.

The quarterback situation was messy, as neither Mitch Leidner nor Philip Nelson had performed consistently enough in league play. Minnesota had completed a Big Ten-low 59 passes for just 701 yards in the first six games.
Not exactly ingredients for a breakthrough. But that's exactly what has happened.
"I don't know how you explain it, really," Claeys said.
Start with Claeys himself. On a staff known for its continuity -- six assistants have been with Kill more than a decade -- Claeys has been there the longest, joining Kill at Saginaw Valley State in 1995.
Despite no head-coaching experience, Claeys knew the messages Kill wanted conveyed -- the two stayed in touch throughout Kill's time away -- but he delivered them in his own way.
"Coach Claeys is definitely calmer than Coach Kill," Nelson said. "That might be something that has been good for us at this time. We can't really get too emotional about anything that's going on right now."
Claeys admits he's "more level" than his fiery boss, and while he tried to keep the message as consistent as possible during Kill's absence, mimicking Kill in team meetings and game-day speeches wasn't the answer.
"The kids, they've been around me long enough," Claeys said. "If I go out there and do something else, they'll know I'm trying to be phony."
Minnesota's breakthrough also can be attributed to a mind-set. After a bye week, the Gophers went to Northwestern on Oct. 19 with confidence, as they had held the Wildcats offense in check the year before in Minneapolis.
Whether that confidence would last through the game remained to be seen. There had been some positive signs early in the season, including four decisive non-league wins, but the Gophers had a habit of letting the sideline sink when bad things happened on the field.
Claeys sensed a shift after Minnesota had the go-ahead touchdown at Northwestern called back on a bogus offensive pass interference penalty and then missed a field goal. The response: a pick-six two plays later.
"Northwestern was really the first time in a Big Ten game that we had some things go against us, and we bounced back and really played with a next-play mentality," Claeys said. "It doesn't promise anything, but I told the kids, 'If you do that and you play that way, most of the time in the fourth quarter, you'll have an opportunity to win.'
"It all seemed to come together at Northwestern and gave us a little boost."
Minnesota faced more adversity against Nebraska, which built a 10-0 lead in less than eight minutes. But Claeys sensed a shift after a
Theiren Cockran
sack stifled a Nebraska drive that had started in Gophers territory.
When Minnesota responded with a 13-play, 75-yard touchdown drive, the confidence was back. The Gophers went on to beat Nebraska for the first time since 1960, as their fans flooded the field.
"Nobody panics anymore," Vereen said. "That first five or six minutes against Nebraska, they really couldn't have gone any worse. But the atmosphere on the sideline was still very, very positive. There was never any doubt that we had a chance to win.
"In earlier years, it would have created some kind of domino effect. That goes to prove that we're a different team."
Like many coaches, Kill has had guest speakers address his team, including former football players who had their careers shortened. While the desired message came through -- that something you love can be taken away -- it didn't take full effect until the Gophers saw it happen to one of their own.
"

That first five or six minutes against Nebraska, they really couldn't have gone any worse. But the atmosphere on the sideline was still very, very positive. There was never any doubt that we had a chance to win.

"

Defensive back Brock Vereen on the Gopher's confidence.
"Coach Kill has been such a huge inspiration to all of us," Nelson said. "The players respect him a lot, and just being able to think about everything Coach Kill has gone through with the media and his health and everything like that, we just want to play for him.
"That really motivates everybody."
Kill and his wife, Rebecca, drove from Minneapolis to the Northwestern game, and Kill addressed the team at halftime and
after the 20-17 win
. He attended every practice the following week and took on a more active role in the coaches' booth against Nebraska. As Kill eases back toward full-time duty, he spends much of his time in the office calling recruits, Claeys said.
Kill will remain in the booth for this week's game at Indiana.
"We aren't going to screw it up right now," Kill said Tuesday. "I am a little superstitious, and we're not going to change a whole lot."
Superstition has had nothing to do with the Gophers' surge. As Vereen puts it, the coaches have taught the players how to win.
They have no intention of stopping now.
"Our goal isn't to win six games and go to a bowl game," Nelson said. "We want to keep climbing the ladder."
April, 22, 2013
4/22/13
1:08
PM ET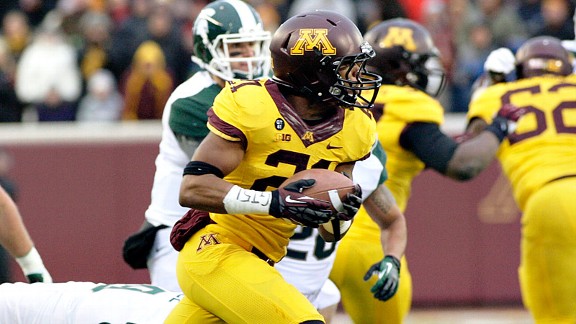 AP Photo/Paul BattagliaThanks to a solid 2012 season, Brock Vereen has excelled as a starting safety for the Gophers.
Anyone could see that Minnesota's secondary took a major step in 2012, helping the defense finish 12th nationally in pass yards allowed and 23rd in pass efficiency.
But could anyone identify the most invaluable piece of the Gophers' back four? Probably not.
The natural inclination is to pick one of the cornerbacks,
Michael Carter
and
Troy Stoudermire
, both of whom earned honorable mention All-Big Ten honors (Carter should have been a second-team selection). Safety
Derrick Wells
put up impressive numbers (74 tackles, two interceptions, 10 pass breakups, one fumble recovered) in his first season as the starter.
But any of those players would be the wrong answer.
"Yeah, we had Troy Stoudermire, yeah, we had Michael Carter, and Michael Carter had a really good year," Gophers defensive backs coach Jay Sawvel told ESPN.com. "But Brock was the most valuable of all our DBs last year. ... Just from a calming influence, from maturity, from a steadiness of play.
"When he wasn't out there, we weren't the same."
Sawvel can't stop raving about
Brock Vereen
, the Gophers' senior safety who started seven games last season (including each of the final six) and recorded 64 tackles, two interceptions and nine pass breakups. Although Minnesota must replace both Carter and Stoudermire this season, Vereen is back to anchor the secondary and the defense, which loses two starting linebackers and top pass rusher DL Wilhite.
"I need to step up and accept that leadership role," Vereen said. "That comes with confidence. It's definitely been a focus this spring. I've never been a vocal leader, so that aspect is something new, but I've always felt comfortable having guys look up to me.
"I know that I need to talk more, but at the same time, I also know some of the younger guys can learn just by watching me."
Vereen can educate Minnesota's young safeties and cornerbacks because he has played both positions for the Gophers. He spent his first two seasons at cornerback, starting four games in 2010 and all 12 as a sophomore the following year.
The 6-foot, 202-pound Vereen immediately bought in to Sawvel and the coaching staff that arrived with Jerry Kill after the 2010 season. He told Sawvel he wished he had been redshirted in 2010, as he had received little guidance as a true freshman.
"His first thing was, 'I can't wait to be coached. I can't wait to learn what a new staff is going to do,'" Sawvel said.
Vereen had a strong finish to the 2011 campaign, limiting talented receivers like Wisconsin's
Jared Abbrederis
(two catches, 27 yards) and Illinois' A.J. Jenkins (four catches, 30 yards). In hindsight, Sawvel wished he had flipped Vereen from side to side rather than leaving him in one spot because he evolved into Minnesota's top cover corner.
But after the season, the coaches moved Vereen to safety. They had brought in several cornerbacks through recruiting, and Sawvel saw a higher ceiling for vereen at safety.
"He doesn't have the hips of an elite corner," Sawvel said. "That doesn't mean he couldn't play it. He could or play it on a short-term basis, but by the same token, he's extremely smart and he's a physical guy. We thought with his skill set, he has a better chance to become an elite safety."
[+] Enlarge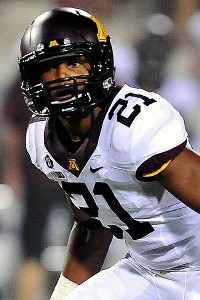 Gary A. Vasquez/USA TODAY SportsBrock Vereen is in a football family, parents who travel to his games and a brother who plays for the New England Patriots.
The coaches appear to be on the right track. Vereen sat out last spring with an injury and began the season as a reserve safety, in part because Sawvel knew Vereen was mature enough to handle coming off of the bench.
The turning point came in Week 4 against Syracuse, when Vereen and the defense shut down
Ryan Nassib
and the Syracuse offense in a 17-10 victory.
"After that game, it was clear," Sawvel said. "It was like, 'Brock's the starter. He needs to be on the field all the time.'"
More like all over the field. Vereen can cover slot receivers, square up running backs in the hole and even play a nickel safety/linebacker hybrid role, like he did against Texas Tech in the Meineke Car Care Bowl of Texas, when he led Minnesota with 10 tackles.
"Somebody asked me, 'What is he? Is he a strong safety? Is he a free safety?'" Sawvel said. "He's a field safety. That allows him to cover people a lot. But when we played Michigan State, they're lining up in two-back and he plays a really good game, and there's several times where we get the ball bounced to him, and it's him and [running back]
Le'Veon Bell
and he won all of them.
"That's a big luxury to have, that you have a guy who can do that much."
A native of Valencia, Calif., Vereen wanted "something new" for his college experience. His older brother, Shane, had starred for Cal at running back, and Brock drew interest from several Pac-12 schools in recruiting. He ended up picking his farthest suitor, Minnesota.
Although Vereen has family ties in the Midwest -- grandparents in Illinois, cousins in Indiana, an uncle living minutes away from Minnesota's campus -- life in Minneapolis provided a bit of a shock.
"I've never been more homesick than that first winter," Vereen said. "That definitely was something I needed to adjust to. But it's been great."
Vereen's parents, Venita and Henry, spend every fall and winter weekend on the road, attending their sons' games. Typically, one watches Brock with Minnesota and the other watches Shane play for the New England Patriots. If there's enough time between the two games, they'll attend both.
"I don't know how they do it, home and away," Brock said. "They have their little system worked out, and I just love 'em for it, all of their sacrifices for me."
Brock attends any of Shane's games that he can -- it helps that the Patriots are a perennial playoff team -- and Shane spends his bye weekend at a Gophers game. The two brothers talk daily, often about football, and Brock keeps close tabs on his brother.
"When I was in high school and he was in college, he was at the level I wanted to get to, so I wanted to know everything he did," Brock said. "And it's the same situation now. I've learned not necessarily from him telling, but just from watching him. That goes back to when we were kids. I've always been very observant of him. He's been very successful in everything that he's done, so I've been trying to do what he did to get to the level he's at."
Sawvel thinks Brock Vereen has NFL potential, although he'll need to "put out more good video" as a senior.
If NFL talent evaluators see what Minnesota's coaches do in Vereen, he could follow his brother's path a year from now.
"He's just very valuable to us," Sawvel said. "He really is."
April, 19, 2013
4/19/13
9:00
AM ET
Minnesota's
Ra'Shede Hageman
long has had the potential to be a major star. Experience, focus and technique were all that separated the potential from the actual.
Now, all of those things seem to be coming together for the senior defensive tackle. Which make his big dreams start to sound like realistic ambitions.
[+] Enlarge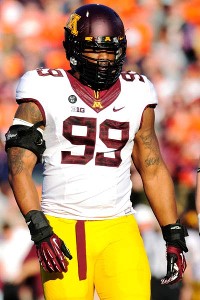 Bradley Leeb/USA TODAY SportsDefensive tackle R'Shede Hageman is beefing up this offseason in preparation for 2013 and a chance at the 2014 NFL draft.
"My main goal is to try and stand out this year, and then get into the first or second round [in the 2014 NFL draft]," Hageman told ESPN.com.
Hageman briefly considered coming out for the draft after his junior year but ultimately decided that he still had a lot to improve. He hasn't wasted any time making sure that was the right choice.
Head coach Jerry Kill recently said that Hageman was "locked in" this offseason. Teammates have noticed a difference as well.
"From off the field to the weight room, in everything he does there's a heightened level of concentration," Gophers safety
Brock Vereen
said. "You can tell he's hungrier than he's ever been and more focused than he's ever been."
The 6-foot-6, 310-pound Hageman bench pressed 475 pounds this winter, up about 50 pounds from his previous high. He also squatted over 500 pounds.
"I was in the weight room before everyone got there and was the last one out," he said. "I wanted to get a lot stronger, and I did that."
During spring drills, Hageman said he's trying to attack every rep with abandon.
"This is my last year, so I don't want to have any regrets about not going hard or not being physical enough," he said. "I'm trying to make as many plays as I can, and that all starts in the spring, the winter and the summer before the fall."
Hageman has always had breathtaking physical skills -- he has a vertical leap of 37 inches -- but not always a home on the field. He was recruited as a tight end and was switched early in his career to defensive end before making the move to defensive tackle. Last season was his first as a full-time starter, and he responded with 35 tackles and six sacks.
It took him a while to learn the intricacies of playing tackle, but now he says "I've developed an appetite for it."
"I have the physical abilities," he said. "I just had to get used to playing D-line and catching up on my technique. I am a little behind, especially versus kids who've been playing defensive tackle their whole life."
But he's catching up quickly. Hageman gained confidence from last year's performance, including the Meineke Car Care Bowl of Texas when he had six tackles and a sack versus Texas Tech. He's working on keeping his pad level low -- not always easy for a guy his size -- and getting off the ball more quickly. With defensive end
D.L. Wilhite
gone and new faces at linebacker, he knows others are looking for him to lead the Minnesota front seven.
If he can do those things, he should be an All-Big Ten performer and skyrocket up NFL draft boards next year. Potential and actual could merge.
"I'm just more comfortable with myself and with the main operation at D-tackle now," he said. "I'm ready to put my own swagger on it.
April, 11, 2013
4/11/13
9:00
AM ET
Philip Nelson
started the final seven games at quarterback for Minnesota last season as a true freshman, including a solid performance in the Meineke Car Care Bowl of Texas. But Gophers head coach Jerry Kill didn't declare Nelson the 2013 starter, instead making him battle it out this spring with youngsters Chris Streveler and
Mitch Leidner
.
Nelson says that's just fine with him.
[+] Enlarge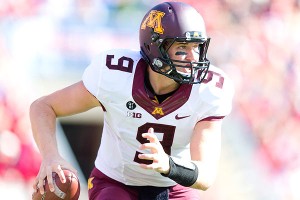 Jeff Hanisch/US PresswireThroughout spring practices, Philip Nelson is still fighting to be named the Gophers' starting QB.
"With Coach Kill, there will always be a competition at every single position, and he's going to play the best players who perform at practice," Nelson told ESPN.com. "That's nothing new to me. You saw that last year, with him making all those changes."
One of the biggest changes last season, of course, was giving Nelson the start in Minnesota's seventh game, against Wisconsin. Before that, he hadn't played at all and looked headed toward a redshirt. Nelson came out of the gate strong, including a 246-yard, three-touchdown effort against Purdue in his second start. But he struggled after that before rebounding in the bowl game.
"Just being thrown into the fire and having to really just execute and think, it was an eye-opening experience for sure," Nelson said.
The decision seems to be paying off this spring, as Nelson has used his experience to put a firm grip on the No. 1 quarterback job.
"You always get questions as a coach when you pull a redshirt off a kid," Kill said. "But I think that proved out to be smart, because the experience he gained during the season has allowed him to be much more comfortable in spring ball and progress as a quarterback."
Nelson is still only 19. But safety
Brock Vereen
says the quarterback is "carrying himself as if he were a senior. Every time I see him, he's always watching film or carrying the playbook. He might be the starter now, but he's carrying himself like he's fighting for a spot."
Nelson said he never viewed himself as the leader in the clubhouse to start. Instead, he went to work this offseason, working out on his own with the receivers and backs to build chemistry and timing.
"I wanted to get to know all the receivers so it ends up being effortless," he said. "I don't think about where the ball needs to go and I can put it on people now."
The game started to slow down for him during the extra bowl practices, and that has continued this spring.
"I'm getting used to the little things that the defense gives away to know what coverage they'll be in," he said. "I'm able to relax in the pocket and make the right throws."
Though he hasn't officially been anointed the starter again by Kill, Nelson is well on his way toward earning that distinction again. And then his job will be to revive a passing game that tied for third-worst in the Big Ten last year.
"The expectations are to make some huge strides and be an explosive offense," Nelson said. "That's the goal, and that's what we want to do."