NCF Nation:

Broderick Green
October, 20, 2011
10/20/11
10:55
AM ET
Four SEC teams are taking the week off, including Florida, Georgia and South Carolina in the East. Mississippi State also has an open date in the West.
Here's a look at what to watch in Week 8:
[+] Enlarge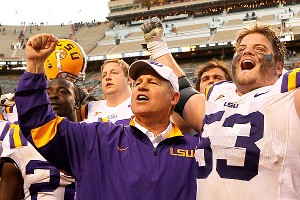 Kevin C. Cox/Getty ImagesFollowing the suspension of three players, LSU coach Les Miles has his work cut out for him this week.
1. Suspensions on the Bayou:
LSU coach Les Miles refused to confirm anyone was suspended for Saturday's game against Auburn. Rather, he said there was an internal disciplinary matter that he was not inclined to share with external forces. The translation, when you get through the Les-speak, is that running back
Spencer Ware
and cornerbacks Tyrann Mathieu and Tharold Simon won't be playing for the No. 1 Tigers this weekend. They reportedly tested positive for synthetic marijuana, which is par for the course when you consider how chaotic off the field it's been for LSU going back to the preseason. Maybe this is a team that thrives on drama, although losing key players has a way of catching up with you.
2. The replacements:
The good news for LSU is that it keeps on winning despite all these distractions, suspensions and injuries, and one of the reasons the Tigers do is because they're so deep.
Michael Ford
and
Alfred Blue
have shared the carries with Ware at running back and already have 10 combined rushing touchdowns between them. In the defensive backfield, there's a chance you might see senior
Brandon Taylor
move to cornerback. If Taylor does move, Craig Loston would probably step in at Taylor's safety spot. Ron Brooks and Derrick Bryant can also play corner.
3. Miles' call:
The Tigers are going to play two quarterbacks the rest of the way, and Miles said everybody might as well get used to it. He said
Jarrett Lee
remains the starter, but that the Tigers will continue to look for ways to get
Jordan Jefferson
in the ballgame. "As imperfect as I am, that's going to be my call," Miles said. "It's not going to have to do with critics, and it's not going to have to do with personality and what somebody sees as his due. … We have our two quarterbacks, and we like the way they play, and we'll play it that way."
4. Another new quarterback:
For the third straight week, LSU will be facing a quarterback who didn't open the season as the starter. This week, it's Auburn's
Clint Moseley
, who takes over for
Barrett Trotter
. Moseley played the second half, and the Tigers threw only 16 passes all game. One of the reasons Auburn is going with Moseley is to try and generate more of a downfield passing attack, which has pretty much been nonexistent lately. Auburn offensive coordinator Gus Malzahn likes Moseley's ability to make plays down the field. Last week, LSU went up against Tennessee quarterback
Matt Simms
, who was filling in for the injured
Tyler Bray
. And in the Florida game, LSU went up against true freshman
Jacoby Brissett
, who took his first college snaps in that game after
John Brantley
sprained his ankle the week before against Alabama.
5. Stingy with the ball:
Not only have Alabama and LSU won 14 straight games between them, they've also gone a combined 98 offensive possessions without a turnover. The Crimson Tide have yet to commit a turnover in four SEC games this season. They haven't thrown an interception in 77 possessions, dating back to the third quarter of the season opener against Kent State. LSU has just three turnovers all season. The Tigers' last turnover came in the fourth quarter of the Mississippi State game the third week of the season.
6. Banged-up Bama:
Alabama's consistency in the offensive line this season speaks for itself, but right guard Anthony Steen has not practiced this week after suffering a concussion in the 52-7 win over Ole Miss last Saturday. Also, left tackle Barrett Jones has been slowed by a nagging hip injury, although coach Nick Saban said Jones would be fine for the Tennessee game. It took a while earlier in the season, but Alabama was able to settle on its best combination up front. Jones moved around and played four of the five positions on the line, including center. It's been a unit that's been rock-solid, as evidenced by the fact Alabama is the only team in the league averaging more than 200 rushing yards per game (241.6). There's also some depth. Senior Alfred McCullough has experienced and could step in at guard or tackle, and true freshman tackle Cyrus Kouandjio may be the most physically talented of the bunch.
7. Cranking up the run:
Once Arkansas got its running game cranked up during the second half of the season a year ago, the Hogs took off and won six straight games. Granted, that was with
Knile Davis
, but the Arkansas coaches and players feel a lot better about the running game coming out of the bye week. For one, outside of Davis, the Hogs are a lot healthier at running back.
Broderick Green
's return has added that power dimension to the running game, and
Dennis Johnson
is one of those guys who gives you a little bit of everything. Arkansas is still looking for that home run threat in the running game, which was supposed to be Ronnie Wingo's role. Wingo injured his toe and didn't play in the last game against Auburn, but Arkansas coach Bobby Petrino said Wingo should be back for Saturday's Ole Miss game. The Hogs will be without freshman running back
Kody Walker
the rest of the season. He underwent surgery to repair a stress fracture in his shin.
8. Shuffling in the secondary:
Tennessee coach Derek Dooley noted this week what has become painfully obvious to Vols fans. "We need to play better at the corner position," Dooley said. Tennessee is tied for last nationally with just one interception through its first six games and is ranked last in the SEC in pass efficiency defense. The Vols plan to move junior Prentiss Waggner from safety back to cornerback this Saturday against Alabama. Waggner has gone back and forth between the positions during his career. It's been a struggle for junior Marsalis Teague at cornerback this season, and with true freshman Brian Randolph playing as many snaps as he has, there are always going to be growing pains. The Vols have also taken a look at junior college newcomer Byron Moore this week at the nickel position. Moore hasn't made much of impact to this point on defense.
9. Trevathan Tornado:
There hasn't been a whole lot that's gone right for Kentucky this season, but senior linebacker Danny Trevathan hasn't slowed down one bit. In fact, he's gotten even better and leads the SEC with 72 total tackles. Trevathan finished with 144 last season to lead the league, and even though the Wildcats are just 2-4, opposing coaches are all coming away from their games with Kentucky saying the same thing: Trevathan is the real deal. He's averaging 12 tackles per game, which is sixth nationally, and his consistency has been remarkable. He's recorded double-digit tackles in five of Kentucky's six games and is a shining example of how you go out and play the game every Saturday regardless of how well or how poorly your team is playing.
10. Rodgers to start for Commodores:
After playing extensively a week ago in the Georgia game,
Jordan Rodgers
will make his first start at quarterback this Saturday against Army, taking over for senior
Larry Smith
. Rodgers, the younger brother of Green Bay Packers quarterback Aaron Rodgers, led Vanderbilt on three touchdown drives in the second half against Georgia. He made several plays with his legs and rushed for 80 yards. Rodgers probably would have played a good bit last season, but redshirted after having shoulder surgery. Vanderbilt coach James Franklin said the decision to start Rodgers this week was based on a combination of Rodgers' playmaking skills and how the team responded to him when he entered the game last week. "I think we kind of fed off that, so we'll keep going with it and see what happens," Franklin said.
October, 19, 2011
10/19/11
12:37
PM ET
Arkansas has yet to have all of its running backs at full speed this year, but coach Bobby Petrino said Wednesday that he thinks he could finally have three ready to go this weekend against Ole Miss with
Ronnie Wingo Jr
. getting back to full speed after injuring his toe.
Petrino said Wingo has practiced all week and "got his speed back."
"It's nice to have the three backs healthy again," Petrino said. "They all [bring] a bit something different to the table. If one of them gets hot, we're going to make sure we feed him."
Along with Wingo, the Hogs will have
Dennis Johnson
and
Broderick Green
to hand the ball off to against the SEC's worst rushing defense.
Petrino also said former starting running back
Knile Davis
is progressing well with his rehab after his season-ending ankle injury during preseason camp.
"He's out running and doing certain things under control," Petrino said of Davis.
But not all the news about Arkansas' running game was good. Petrino said freshman
Kody Walker
, who rushed for 68 yards and five touchdowns through the first three games as the Hogs' short-yardage back, underwent surgery to repair a stress fracture on his shin.
Petrino didn't give a time table for when Walker could return.
"He's doing OK," Petrino said. "It'll take a while for that to heal."
August, 12, 2011
8/12/11
9:16
AM ET
The reports out of Arkansas are that the
lower left leg injury
suffered by star running back
Knile Davis
in Thursday's scrimmage is serious and that the Hogs will be
without him this season
.
Davis, who rushed for 1,322 yards last season, went down screaming Thursday on the seventh play of the scrimmage after being injured in a pileup. He was helped to the sideline and carted from the field.
Arkansas' policy is that head coach Bobby Petrino is the only one to comment about injuries, and Petrino has yet to make any statements.
Davis was a big reason the Hogs' offense took off last season after exploding onto the scene in October, but this latest injury is another in a long list of setbacks for the 6-foot, 226-pound junior. He broke his right ankle in high school and then broke that same ankle during his first spring practice at Arkansas. The screws from the first surgery weren't big enough for a guy Davis' size, which led to the second fracture. Davis has also broken his collarbone twice, once in high school and again during the Hogs' spring game last year, which is one of the reasons Davis wasn't on anybody's radar coming into last season.
One of the most respected players in the league, Davis endeared himself to his Arkansas teammates and coaches with how hard he ran and how hard he worked.
"I think what Knile really needs to understand is that the harder and more physical he runs and the faster he plays, that's how you stay healthy," Petrino said during the spring. "That's what he did when Dennis [Johnson] got hurt last year. He just said, 'I'm going to make sure the coaches know that I'm going to be the guy by finishing every run in practice and being more focused.' It jumped out. We're watching video of practice, and there's not one coach in the room who doesn't say, 'That's a little different No. 7 right there now.' "
Speaking of Johnson, getting him back is huge for the Hogs if Davis is indeed out for the season. Johnson, a 5-foot-9, 213-pound junior, is versatile and able to do different things out of the backfield. The onus is also on junior Ronnie Wingo, Jr., to step up and have his best season. One of the Hogs' fastest players, the 6-foot-3, 231-pound Wingo has shown flashes, but needs to do it consistently.
More than anything, the Hogs are going to need somebody to get the tough yards. They also lost
Broderick Green
to a torn ACL in the spring. The 244-pound Green was Arkansas' power back, but Davis scored 13 rushing touchdowns last season for the Hogs.
That's what made Davis so valuable. He was effective in the red zone and in short yardage, but also had the speed and the moves to break the long one.
October, 16, 2010
10/16/10
7:09
PM ET
AUBURN, Ala. -- Auburn is 2-for-2 on critical reviews Saturday, a big reason the Tigers are leading this game 58-43.
Both were extremely close, this last one a fumble by Arkansas'
Broderick Green
that Zac Etheridge returned 47 yards for a touchdown to give the Tigers a 51-43 lead.
Like Mario Fannin's fumble on the goal line in the first half, this one was ruled a touchdown on the field.
Green looked like he was lying on top of Auburn's Mike Blanc, who was pulling Green to the ground, when the ball came loose. On this one, it was simply too close for the replay official to overturn the call.
However, on Fannin's fumble earlier in the game, the ball definitely looked like it was loose before he crossed the goal line.
October, 16, 2010
10/16/10
4:09
PM ET
AUBURN, Ala. -- Other than the nice play call on
Ryan Mallett
's 7-yard touchdown pass to Van Stuman to give Arkansas an
early 7-0 lead
, what stood out about the Hogs' scoring drive was that they were able to run the ball a little bit.
Knile Davis
got the drive off to a good start with a 7-yard run. Making yards on first down will be key for both teams.
But even more important was
Broderick Green
's surge up the middle on third-and-1 from the Auburn 9.
The Hogs came into the game last in the SEC in rushing offense, and running the ball more effectively has been a big push in practice the last few weeks.
October, 9, 2010
10/09/10
5:32
PM ET
ARLINGTON, Texas --
Jerrod Johnson
hooked up with
Jeff Fuller
for a perfect deep ball down the left sideline for a 31-yard touchdown in the final seconds of the first half, a much-needed answer to an Arkansas touchdown that followed an unspecified injury to Von Miller, trimming Arkansas' lead to 21-14.
Stat of the half:
Arkansas' two most-used running backs on Saturday,
Knile Davis
and
Broderick Green
, have broken big runs and have 94 yards on just 10 carries. Davis set up Arkansas' first touchdown with a 45-yarder, and Green had a 23-yarder late in the half. Texas A&M has to limit those runs in the second half to erase the deficit.
Best player in the half:
Arkansas quarterback
Ryan Mallett
. He's tossed three touchdown passes, including a perfect deep ball to
Cobi Hamilton
that put Arkansas up 14-7.
The other best player in the half:
Texas A&M defensive back Terrence Frederick. He intercepted Mallett to set up Texas A&M's first touchdown, and recovered a fumble on Arkansas' botched fake field goal in the second quarter.
What Texas A&M needs to do:
Keep the offensive balance (20 runs, 19 passes) that was absent against Oklahoma State, and keep feeding
Christine Michael
(12 carries, 56 yards, TD) while continuing to soften up the secondary with intermediate passes that can set-up deep balls like Johnson's to close the half. He was pressured a little less in the second half, and used his legs (five carries, 41 yards) to escape that pressure and turn possible sacks into first downs. On defense, keep doing what it's doing. The Aggies are tackling well, and though they've left receivers open more often than they'd like, they've limited their yards after catch.
November, 11, 2008
11/11/08
2:30
PM ET
Posted by ESPN.com's Ted Miller
Lots of "feelings" behind this week's games, don't you think?
November, 10, 2008
11/10/08
2:30
PM ET
Posted by ESPN.com's Ted Miller
Writers start to paint rosy pictures....
September, 5, 2008
9/05/08
12:43
PM ET
Posted by ESPN.com's Ted Miller
These links are trying to establish a running game.
July, 23, 2008
7/23/08
5:41
PM ET
Posted by ESPN.com's Ted Miller
| | |
| --- | --- |
| | |
| | Matt Brown/Icon SMI |
| | USC offensive coordinator Steve Sarkisian would "love someday to be a head football coach." |
USC offensive coordinator Steve Sarkisian is a hot head-coaching prospect and runs a unit that -- if recruiting rankings are to be believed -- is almost as talented annually as any in the nation.
Of course, when an offense is perceived as owning elite talent, the margin for error is small and fans are quick to criticize when things aren't perfect. More than a few believe the Trojans 32.6 points and 434.9 yards per game in 2007 qualified as underachieving, regardless of the critical injuries at many key positions.
So with just four starters back on offense, what's in store in 2008? Is quarterback Mark Sanchez the man? What's up with the logjams at tailback and receiver? And is an offensive line with just one returning starter in trouble?
Sark stopped by for a chat.
What did Mark Sanchez do in the spring to jump ahead in the quarterback race?
Steve Sarkisian: The first thing that jumps out is he has a great comfort level with the offense. He does a nice job handling the offense as far as making the proper checks, the audibles, getting the ball into guys' hands quickly. But on top of that I think we felt and saw his energetic leadership. We saw a charismatic guy who loved to come out and work and practice every day and I think it was contagious for the entire football team. Those are some of the qualities you like to see in a leader, a guy who makes those around him better.
Is there a chance that someone else will start at quarterback in the opener at Virginia?
SS: Up until now [Sanchez] won the job. But we're going to give those other guys their opportunities in fall camp to go out and compete and prove they're worthy of playing time. But up until this point, Mark is the guy for us.
It seems like the competition remains wide-open at tailback, with a bunch of guys who could end up starting or at least get a lot of carries: How does the pecking order stack up there?
SS: If we were going to play today you'd see three guys: You'd see Joe McKnight. You'd see Stafon Johnson. You'd see C.J. Gable. For sure those three. But I think you're also going to get a little dose of Allen Bradford as well. Now that doesn't mean Allen Bradford couldn't be the lead dog by the end of camp. And that doesn't mean Marc Tyler or Broderick Green couldn't get in the mix. But coming out of spring football, those three guys really established themselves. And Allen Bradford made a lot of noise.
You guys have so many talented running backs, but has there been much discussion among the coaches about maybe picking one horse, one guy who gets 25 carries a game?
SS: Not really. We've always had -- go back to when it was Justin Fargas and Sultan McCullough -- we've always had sort of a two-horse-type backfield with a third guy who was kind of a variety-type guy who can do a lot of different things. So we've always been that way. Sure, preferably you'd like it to be two solid guys where you know what you're getting. But right now we're looking at three or four guys. But I think that kind of stuff kind of settles itself out. Injuries come into play and guys step up. But it's good to know we've got that luxury at that position because it is a tough position to sustain and stay healthy at. As you saw last year. The moment Stafon Johnson established himself as the back, he got hurt and then Chauncey Washington played and Joe McKnight stepped up when we lost C.J. Gable after the third game. So, obvious, it's a luxury to have three guys there -- or four or five.
Same thing at receiver: What's the pecking order there?
| | |
| --- | --- |
| | |
| | AP Photo/John Froschauer |
| | Wide receiver Patrick Turner had 48 catches for 569 yards last year, including 3 scores. |
SS: Coming out of spring football you really saw Vidal Hazelton really rise to the challenge. He was a [50]-catch guy as a sophomore and really was playing injured. He got healthy during spring football and looked fantastic. Patrick Turner, I think, is poised for a big-time senior season, and Damian Williams, a transfer from Arkansas, really impressed people. The two young guys, David Ausberry and Ronald Johnson, really stepped up in spring and got better. Then there are some dark horses in there: Travon Patterson, and a true freshman by the name of Brice Butler is coming into the mix. I think it is a really good position group for us because we've got a lot of depth there. But, again, we're looking for two or three guys to really step up and take over that spot and be the go-to guys for us.
The receivers as a group took some criticism last year. Was that fair? Were you disappointed in some of the production?
SS: Well, I think as a group offensively we were disappointed in ourselves as a whole. That position group was young and inexperienced and had some drops early in the season. And to compound that they were replacing maybe the greatest tandem of receivers in college football history in Steve Smith and Dwayne Jarrett. I think that made that discrepancy even bigger. There was a lot of pressure on them last year, but I really like how they ended the year. They grew up. I like the way Vidal ended the year. It was unfortunate that Patrick Turner couldn't pla
y in the bowl game. But he got better during the year. And I think David Ausberry got better and Ronald Johnson got better and it carried over to spring practice. They'll be ready for fall camp.
The offensive line needs four new starters. Is this a reload or rebuild?
SS: Last year we were hit with an injury bug up front all last year; it seemed like every week we had a different starting five. That forced a lot of our young kids to have to play last year, whether that was Charles Brown or Zach Heberer or Kristofer O'Dowd, the true freshman. So those guys got a lot more experience than I think people realize. It sounds like we're an inexperienced group because we're replacing four starters. But in reality these guys have played a lot of football and we're excited about them. This is an ornery group. They're competitive and athletic and tough and nasty. I think realistically we're a good eight deep with guys who can play. The challenge for us is to just get cohesive as we go through fall camp.
Of the guys we maybe haven't heard much about, who's going to break out this year?
SS: I don't know how to answer that. We've got a lot of kids who are very talented who have kind of just waited for their opportunity. The guy who jumps out at me is [tight end] Anthony McCoy, the guy who's played behind Fred Davis the last couple of years. I'm anxious to see [fullback] Stanley Havili as a sophomore. Damian Williams the transfer from Arkansas. And I'm anxious to see our quarterback play. I expect him to play really well and I think he expects to play really well. I wouldn't be surprised if he went out and had a great year.
Your name seems to come up a lot during coaching searches the past couple of years. What are your thoughts on your future as far as becoming a head coach? Do you have a timeline? Are you anxious about it?
SS: There's no question I'd love someday to be a head football coach. But I'm extremely fortunate. I am at a tremendous place at a tremendous time. Pete Carroll has been very good to me. We're winning. We've got great kids. We get to live in Los Angeles. I love it. I'm in no rush to get out of here. Every day is learning, watching how Pete handles our football team. I have fun going to work every day. So, yeah, I want to be a head football coach. But I'm not in any rush.