NCF Nation:

Brodrick Jenkins
August, 1, 2012
8/01/12
10:30
AM ET
To begin the season, I see six teams with a legitimate chance to win the Big 12. Today we'll continue our series looking at why each team will or will not win the league. Next up: Newcomer West Virginia.
More contenders:
Why the Mountaineers will win the Big 12
[+] Enlarge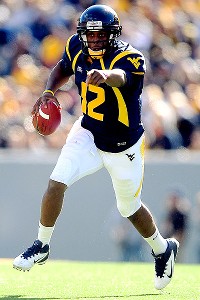 Andrew Weber/US PresswireWest Virginia's Geno Smith passed for 4,385 yards and 31 touchdowns last season.
1. They have the most explosive offense.
Nobody's got a better, more experienced pass-catch combo than Big 12 Preseason Player of the Year
Geno Smith
and his top two targets, receivers
Tavon Austin
and
Stedman Bailey
. The running game with
Dustin Garrison
and
Shawne Alston
isn't going to scare too many folks, but it's definitely good enough to make defenses respect it, and it benefits from the play of Smith, Austin and Bailey. WVU is entering Year 2 with Dana Holgorsen, and there's not a lot of reason to believe the trio won't be even better in 2012.
2. They've got plenty of inside knowledge.
Dana Holgorsen's been in the Big 12 for nine of the past 12 seasons, and his new defensive coordinator, Joe DeForest, spent more than a decade at Oklahoma State. Running backs coach Robert Gillespie and new graduate assistant Andrew McGee, a former OSU cornerback, can help provide some insight into what the Mountaineers will expect on the field in the pregame preparation.
3. They're an unknown entity.
Oklahoma has to make a trip to West Virginia on Nov. 17 in a game that may decide the league title. Nobody in the Big 12 has ever played this band of Mountaineers, and WVU can perhaps use that to their advantage. Big 12 defensive coordinators are familiar with Holgorsen's schemes, but nobody was really able to stop it when he was at Oklahoma State. Don't expect that to change with WVU this year, especially with the kind of talent he's fielding offensively.
Why the Mountaineers will not win the Big 12
1. Where's the defense?
West Virginia lost essentially its entire pass rush from last year's team, which ranked essentially in the middle of the pack in the offensively-challenged Big East. It's a whole new world in the Big 12. Defensive backs
Darwin Cook
and
Terence Garvin
return, along with defensive lineman
Will Clarke
and cornerback
Brodrick Jenkins
, but this isn't the Big East, and WVU is changing schemes from Jeff Casteel's 3-3-5 to a 3-4 with Joe DeForest and Keith Patterson. There could be a rough road ahead of the Mountaineers when it comes to trying to stop Big 12 offenses, which are in another stratosphere compared to what WVU traditionally sees on game day. The one advantage? They've gotten plenty of work in practice this offseason.
2. The Nebraska Effect: They've got too much to learn.
Nebraska was picked by plenty of folks to win the Legends Division in its first year in the Big 12. The Huskers had the talent, but instead, went 5-3 and finished third in the division behind Michigan and Michigan State. West Virginia has the talent to win the Big 12, but has to study up on nine new teams. The rest of the Big 12 only has to adjust to two new teams. NU got rocked by Wisconsin and Michigan, teams that weren't nearly as good as Nebraska's inexperience in the league made them look. WVU may see the same fate against unfamiliar opponents.
3. The inconsistency will catch up to the Mountaineers.
Everybody remembers that nationally-televised bludgeoning WVU handed out to ACC champion Clemson. Doesn't seem like enough people remember a 26-point blowout loss to five-win Syracuse, or narrow wins over sub-.500 teams like Pitt and South Florida. West Virginia wasn't as impressive on a week-to-week basis as they were in their most prominent game in 2011. Even coach Dana Holgorsen admits that game has plenty of people thinking his team is better than it actually is. Will they improve enough between January and September to be a consistent team capable of winning a much tougher league? We'll find out soon.
February, 15, 2012
2/15/12
10:00
AM ET
We're back, and the kindly introduction is over. It's time to get to know the real West Virginia.
How will the Mountaineers handle the transition? Big 12 blogger David Ubben and Big East blogger Andrea Adelson debated the issue.
David Ubben:
TCU's jump would seem to be a lot bigger, but the Big East has had its well-chronicled struggles the past few years. The Mountaineers left the league with a convincing Orange Bowl win against Clemson, scoring 70 points in the process. Talk about endearing yourself to your new offensive-minded friends, huh? You've seen this team up close lately, though. What, if anything, do you think WVU will have to change to get back to the BCS as a Big-12 member?
[+] Enlarge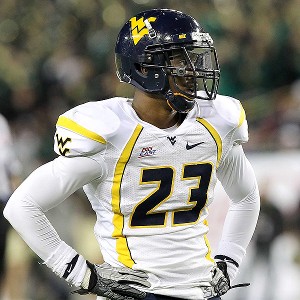 Kim Klement/US PresswireBrodrick Jenkins, an up-and-coming cornerback, will lead the Mountaineers into Big 12 play next season.
Andrea Adelson:
Well, one thing that definitely is going to change is the way West Virginia plays defense. Long-time defensive coordinator Jeff Casteel is out, and so is the odd 3-3-5 stack defense. The Mountaineers are going to go with a 3-4 base set under former Oklahoma State assistant Joe DeForest. This should help ease the transition from the stack, as West Virginia does not have the type of players on the roster to go with four down linemen.
In addition to the new scheme, West Virginia is losing its two best pass-rushers in
Bruce Irvin
and
Julian Miller
, perhaps its best defensive player in linebacker
Najee Goode
, and its best cover corner in
Keith Tandy
. There were times last season when the Mountaineers got beat deep in pass coverage, which will not bode well in Big 12 play.
However, cornerback
Brodrick Jenkins
has the potential to be truly terrific in 2012. He showed flashes late last season. As for the offense, coach Dana Holgorsen is looking for perfection. That means more consistent play out of an offensive line that was mediocre at times last season, and more explosion out of the run game. Starting running back
Dustin Garrison
is coming off ACL surgery, so it will be interesting to see whether he will be the same back come August.
Say what you will about the Holgorsen passing offense, but he definitely wants a running back to complement
Geno Smith
the way Kendall Hunter did with
Brandon Weeden
at Oklahoma State in 2010. How do you think West Virginia will fit in to its new conference home?
DU:
WVU is a good fit on the field. Geographically, not so much, but the Big 12 teams have to like that. There's a lot of uneasiness with TCU entering the league. That could shake up recruiting a lot and cut into the share of teams like Oklahoma State and Texas Tech.
But West Virginia's clearly a strong brand. This is a team that could just as easily have been in the SEC. Instead, it's in the Big 12. The three BCS wins are a big deal, as was the Orange Bowl win. That's endeared the Mountaineers to their new opponents in the Big 12. To win like that on that kind of stage says a lot about where the program is and where it's headed. Having a coach like Holgorsen, who has lots of ties to Texas, will help them grab a few players in Texas, too. The difference between WVU and Mizzou isn't much when you think about recruiting in Texas. I could see WVU being the biggest threat to Missouri recruiting in Texas.
But like TCU, winning games gets people excited. Big 12 fans are psyched about the Mountaineers, who seem like a fun group.
How do you think WVU's transition will compare to TCU's?
AA:
Watching a team put up 70 points is always fun! Hearing a guy like Holgorsen talk is always fun because you never know what he is going to say.
But on to your question: I think West Virginia will have a much smoother transition than TCU because it has played in an AQ conference already. Yeah, OK enter your Big Least jokes in here. But West Virginia has been a solid program throughout the course of its history. Note that the Mountaineers are one of just 14 schools to have 700 program victories -- joining Texas and Oklahoma from the Big 12.
West Virginia is one of just three schools to have at least nine wins in seven straight seasons. That doesn't happen by accident. And it's also important to note West Virginia is not exactly in a recruiting hotbed. Talent does not come pouring out of the state the way it does in Texas. The Mountaineers have built pipelines into Florida -- Geno Smith and
Stedman Bailey
being two notable examples on the squad -- and try to mine talent in Baltimore, Virginia and Washington, D.C. So I do think there will be inroads made into Texas with the Big 12 affiliation.
Already on the roster from the state are starting running back Dustin Garrison and quarterback Ford Childress, an ESPNU 150 player in the class of 2012. I respect the job Gary Patterson has done in building TCU, but I simply think there is going to be much more of a growing curve for a team transitioning to an automatic qualifying conference. What do you think?
DU:
I'd agree. The Big East has been weak, but there aren't any teams like New Mexico and UNLV in that league, who are little more than a week off for teams as talented as TCU has been the past few years. Show up and you win.
Last year, even Kansas beat the MAC champions, Northern Illinois, before losing its final 10 games of 2011. Big 12 champion Oklahoma State lost to 6-7 Iowa State, too. This league is so, so deep. You have to show up and play well every week, and even then, you might not win. In 2010, 11 of the league's 12 teams had five wins and at least played a game with a chance to win six and qualify for a bowl game.
This year, nine of the 10 teams did that. It's got elite teams, too. Texas and OU played for titles in 2008 and 2009 and OSU was barely shut out of the title game this year.
The depth of the Big 12 is what TCU will have to get used to. In that sense, WVU will have to adjust much less. Of course, you never know for sure. We'll find out next year. WVU had some head-scratching losses, too. Losing to Syracuse by 26 points? Really? Sheesh.
Both of these teams are built to win in 2012, and I think they'll do it. But winning a Big 12 title requires you to show up every week and play well. In the Big East, which sent an eight-win team to the BCS in 2010, that hasn't necessarily been true.
In the Big 12, Texas or OU has basically run through the year with 0-2 losses every single season. If WVU wants to win this league, they'll have to do that.
When do you think WVU will win its first title? Will it win one?
[+] Enlarge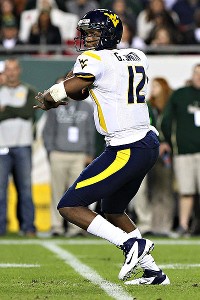 Kim Klement/US PresswireGeno Smith will enter the Big 12 in his third season as West Virginia's starting quarterback.
AA:
It is tough to put a time frame on when West Virginia will win a league title. As crazy as it might sound, I think this team is built to contend in 2012. The Mountaineers dropped FSU from the nonconference schedule, so you could consider Kansas as filling that void. I am sure West Virginia takes that.
Oklahoma is going to be a preseason national favorite, but after that, every single team returning has major question marks. Is Texas going to be Texas? What does Baylor do without RG3? What does Oklahoma State do without Weeden and
Justin Blackmon
?
You bring up a good point about the head-scratching losses. There have been a bunch of those over the last several seasons -- including TWO in a row to Syracuse. This is a team that has simply been inconsistent. It didn't put together a full game against Clemson. But I think Geno Smith,
Tavon Austin
and Stedman Bailey are going to be a handful for teams to stop, so I wouldn't be surprised if the Mountaineers were a surprise contender in 2012. Are you buying or selling?
DU:
I'd generally agree. Year 1 seems to be their best chance. It's a wide-open year in the Big 12, and I think Oklahoma's a bit overrated heading into next year, though the potential for a national title run is there. Texas looks like it's on its way back up, but next year won't be the year.
If it doesn't happen next year, though, I don't think WVU will win a Big 12 title in the next decade. It's a solid program that I think could get into the BCS, but win the Big 12?
With the stability, metroplex location and winning tradition, I like TCU's upside a whole lot more, and its ability to win a Big 12 title in the future. I'm buying a Horned Frogs Big 12 title in the next decade. Not so much on WVU.
Time to put you on the spot: What's WVU's record next year and Big 12 finish?
AA:
I can see the hate mail trickling into the Big 12 mailbag over that one, Mr. Ubben!
I am going to say West Virginia goes 10-2 and finishes second in the Big 12. What say you?
DU:
Maybe so. But hey, that's how we do things on the Big 12 Blog. I call it like I see it. And I see more potential for the Froggies, though I think the Mountaineers will be a solid, solid program. I wouldn't be that surprised if they won the league, but I'm not betting on it.
This is a league built around the state of Texas, and the location's going to make it tough for them to consistently field teams that can win 11-12 games consistently.
Next year, I'll take 9-3 for the Mountaineers, but a tie for third place.
February, 15, 2012
2/15/12
9:00
AM ET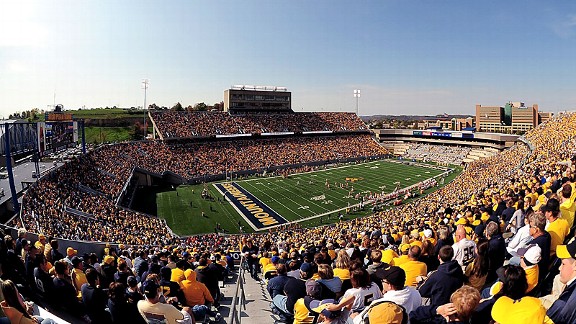 Andrew Weber/US PresswireWest Virginia's Milan Puskar Stadium offers new experiences for Big 12 fans.
After a bit of a delay, thanks to some legal wrangling,
West Virginia is finally free
.
The Big East and the Mountaineers have settled their lawsuit, and West Virginia is officially on its way to the Big 12 for 2012.
That means it's off the Big East blog and onto the Big 12 blog, too.
To help the Big 12 get to know its newest member, Big 12 blogger David Ubben asked Big East blogger Andrea Adelson for her thoughts.
David Ubben:
AA, Les Miles had my favorite quote of the 2011 season in relation to West Virginia. "They were having a football party and invited us. I knew our guys would show up."
You were there, Andrea. What can Big 12 fans expect when they go to Morgantown? Is it a football party every weekend?
Andrea Adelson:
Define "every weekend." West Virginia fans show up for the super gigantic games against teams like LSU and Pitt, but there has been concern that the fan base is "fair weather." Note -- 46,000 fans came out to watch Bowling Green. Now, the truth is, no fan in America gets up for the cupcake patsy schedule. But this rubbed Dana Holgorsen the wrong way,
and he ripped on the fans after that game:
"All I heard about was how much this meant to everybody across the state of West Virginia. This was the NFL team in town and we're going to be here to support you. Well, having 40,000 people at a game isn't doing that. ... We do our best every week to fix what the problems are offensively, defensively and special teams wise. Well, what's everybody across the state of West Virginia, including the student body, doing to fix the fact that our players had to play in front of 40,000 people?"
Now, you remember Holgy from his days at Oklahoma State. OK maybe not, since there were not many of them. But he likes stirring the pot, and I firmly believe he did that to motivate a fan base that had become dispassionate with good ol' Bill Stewart "I never met a punt I didn't like" in charge. The fact is that West Virginia has the most spirited fan base in the Big East and averaged 8,000 more fans than Louisville, which ranked No. 2 in the league in attendance in 2011. The atmosphere is fun, and was absolutely electric against LSU.
I anticipate many more crowds like that with teams like Texas and Oklahoma appearing on the schedule. West Virginia fans have gotten a bad rap nationally because of the couch burning and rowdiness. But in the two games I attended last season, I thought everybody behaved themselves accordingly.
And hey, they now serve alcohol in the stadium. I'm sure Big 12 fans can drink to that.
DU:
No doubt about the couch burning. Apparently West Virginia passed some legislation to make it stop, but I always found it sort of endearing and mostly harmless, albeit destructive. Maybe that's just me.
Holgorsen definitely speaks his mind, and I know fans will be fired up about alcohol sales in the stadium. What about once fans get to the stadium? Any in-game traditions they should be prepared for? Remember, this is the same league that had Texas A&M for its entirety. Visiting fans are prepared for a little weirdness.
AA:
You mean weirder than couch burning?
Well, the Mountaineers mascot runs onto the field with the team toting a real rifle. Each year his costume is tailored to fit just him. But my favorite tradition has to be the playing of "Country Roads" at the end of each home victory. Fans stay in the stands and join the team in signing the song, which became a tradition in 1980 after John Denver dedicated Mountaineer Field with the song.
January, 4, 2012
1/04/12
10:30
AM ET
You saw the preview and prediction. Now here are three keys for West Virginia in the Discover Orange Bowl against Clemson:


1. Get into rhythm.
It's hard to keep up all your momentum when more than a month has passed between football games, especially when your offense is so dependent on rhythm and timing. Nobody really knows how the long layoff is going to impact this offense, but coach Dana Holgorsen has said all week that his team has done all it can to prepare for this game. What really will help rhythm is protecting quarterback
Geno Smith
, who doesn't do so well when he's flustered and out of the pocket. "We need to dominate," center Joe Madsen said. What also will help is the short passing game out of the backfield, an area that West Virginia is going to have to adjust with
Dustin Garrison
out.
2. Safety help.
By now you already know how much of a blow it is for West Virginia to be without starting safety Terence Garvin, a two-year starter with 72 tackles this season and 3.5 sacks. West Virginia has no experienced players to fill in at the spur position, so the Mountaineers will go with a rotation of Shaq Petteway, Wes Tonkery and Matt Moro. There could be other tinkering as well, as the game wears on. Clemson, of course, averages 284.8 passing yards a game, and has explosive players like
Sammy Watkins
,
DeAndre Hopkins
and
Dwayne Allen
. Getting pressure up front is going to really help take pressure off the back end, and players like Keith Tandy and Brodrick Jenkins are also going to have to step up from their corner positions as well.
3. Be special.
It cannot be stated enough how big a role special teams plays in any game, most especially one with teams as evenly matched as Clemson and West Virginia. The Mountaineers have been shaky at times in this category, and cannot afford another bad punting game -- especially with a good punter in Dawson Zimmerman on the other sideline. It will be great to see the kickoff return duel between Sammy Watkins and
Tavon Austin
. Watkins has one kickoff return for touchdown this season; Austin has two. One of these players could decide the game in this hugely important phase.
December, 19, 2011
12/19/11
9:00
AM ET
ACC blogger Heather Dinich has the height and weight advantage, but Big East blogger Andrea Adelson is a shifty little back with elusive speed. Today they go head-to-head to determine who will have the better conference this bowl season. The ACC has been dogged time and again for its losing record in bowl games, which extends back to 2006, but the Big East has been the joke of the BCS conferences this year. The two conferences will square off this bowl season in two bowls, as NC State (7-5) will face Louisville (7-5) in the Belk Bowl on Dec. 27 (8 p.m. ET, ESPN), and Clemson (10-3) will face West Virginia (9-3) on Jan. 4 in the Discover Orange Bowl (8 p.m. ET, ESPN). If you thought the NC State-Cincinnati game was ugly this season, brace yourself for this catfight …
Heather Dinich:
I would love to entertain you all day, AA, but the truth is there really is no argument here for the Big East. In fact, I almost feel bad for you. Almost. I've got two teams in BCS bowls and you've got, well, West Virginia -- a program that loves its conference so much it's already got one foot in the Big 12. The Big East was so good this year that its best nonconference win came against Notre Dame by a South Florida team that finished 1-6 in the league. Now, I will give you this: The ACC and Big East enter bowl season tied at 3-3 this year, thanks to wins by Syracuse (ahem, in overtime with Wake's quarterback injured), West Virginia (you and I could beat Maryland) and Cincinnati (I've got nothin'). There's no reason, though, that the ACC shouldn't come out 2-0 against the punching bag of the BCS. First down, me. Your turn.
[+] Enlarge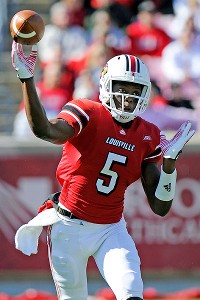 Jamie Rhodes/US PresswireQuarterback Teddy Bridgewater led the Cardinals to a 5-1 record over the second half of the season.
Andrea Adelson:
Yes, there is plenty to brag about when your second BCS team is a laughingstock that does not deserve its spot in the big game. I think even you said that yourself, Heather. The Big East has its problems, and it's easy to take tired jabs. But it does appear as if my preseason prediction is on the verge of coming true. You might recall that I said this summer that the Big East would have a winning record over the ACC this year. Let's take a closer look at the X's and O's to really get this debate started. I would love to hear how NC State is going to beat Louisville, the hottest team in the Big East right now after ending the season 5-1. Quarterback
Teddy Bridgewater
was just named by "College Football Live" as rookie of the year, and the Cardinals' defense has been playing lights-out during this winning streak. The Cardinals have their run game going, they've shored up their offensive line and their defense is one of the most aggressive in the Big East -- ranking No. 2 in scoring defense and total defense. Adrian Bushell has developed into a shutdown corner,
Dominique Brown
has made a huge difference in his move from quarterback to running back, and Bridgewater rarely makes mistakes. Cincinnati hammered NC State, a team I think you called the most inconsistent in the ACC. So how exactly are the Wolfpack going to win this game? And I love how Clemson lost three of four going into the ACC title game, but a win over big-game choker Virginia Tech makes the Tigers a favorite all of a sudden. But we can get to that game in a second.
HD:
Wait, wait, wait. Are we talking about the same Louisville team? The one that ranks No. 100 in scoring offense? No. 104 in total offense? No. 111 in sacks allowed? And No. 94 in rushing offense? Yep, that's the one. How is NC State going to beat that team? Probably by pressuring Bridgewater into an interception right into the hands of cornerback David Amerson, who leads the nation with 11 picks. By winning the turnover battle, thanks in part to quarterback
Mike Glennon
, who has eight touchdown passes to one interception in the past two wins. By making great use of their tight end,
George Bryan
. And by winning the field position battle, thanks to the No. 12 punt returner in the country,
T.J. Graham
. Yeah, Louisville won five of its last six games, OK, but three of those wins came against teams with losing records in conference play. NC State, meanwhile, beat Clemson, the No. 7 team in the country. Speaking of the Tigers, I know you're going to bring up West Virginia quarterback
Geno Smith
as your main argument, but I'll see you Smith and raise you
Sammy Watkins
. Oh, and P.S. West Virginia is 4-9 against the ACC in postseason play.
AA:
You can bring up Geno, who has been quite solid this season. But I will bring up the West Virginia defense, which you could argue is the biggest reason why the Mountaineers are playing in this BCS game. West Virginia looked really shaky early in the year. I will bring up the Syracuse game for you. But then Dana Holgorsen urged his players to quit acting like they could just step onto the field and win without even trying. There was one more hiccup against Louisville, but the defense has been outstanding in wins over Cincinnati, Pitt and USF. Two of those teams are going to bowl games. West Virginia had defensive scores against the Bearcats and Bulls. It was Najee Goode's huge strip of
B.J. Daniels
late in the season finale against USF that allowed the Mountaineers to come back and win. How about 10 sacks against Pitt? Clemson is going to have to account for Julian Miller and Bruce Irvin up front -- both players have come on strong at the end of the season. And the biggest reason West Virginia has improved on pass defense has been cornerback Brodrick Jenkins, who's a major upgrade over Pat Miller. He and first-team Big East cornerback Keith Tandy have been a nice duo. Plus, West Virginia just finds a way to win close games -- 4-1 in games decided by six points or less.
[+] Enlarge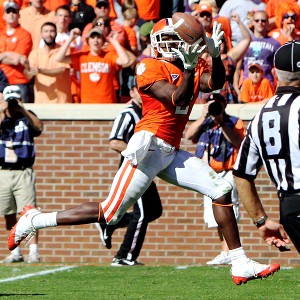 Joshua S. Kelly/US PRESSWIREAP All-American Sammy Watkins led all freshmen this season with 77 receptions for 1,153 yards and 11 touchdowns.
HD:
Two words for the West Virginia defense against Chad Morris' offense: good luck. If it were JUST Sammy Watkins, that would be one thing, but as Virginia Tech figured out in loss No. 1 to Clemson, the Tigers' offense runs deeper than the country's best freshman. Tight end
Dwayne Allen
has been an X factor all season, and the Tigers have plenty of other options surrounding quarterback
Tajh Boyd
. Clemson has already set school season records for passing yards, total offense and points scored. Boyd has been inconsistent this season, but he's had far more good moments than disappointing ones. The biggest factor for Clemson has been the turnover margin. The Tigers are 8-0 when they win the turnover battle and 2-3 when they don't. These two teams are similar in that area. Clemson has lost 20 turnovers this year, WVU 21. I'm guessing that slim margin could be the difference in the game. Quite frankly, Clemson is the more talented team and should win. The ACC will prove this season that it's the better conference. If it weren't, why would Pitt and Syracuse be so quick to jump ship? You can't possibly think that adding Boise State, San Diego State, Houston, UCF and SMU will beef up the Big East. To me, it just got watered down. Even you called the realignment scenario "preposterous." Great word, by the way.
AA:
Are you talking about the same juggernaut Clemson offense that averaged 14 points in its losses to NC State, Georgia Tech and South Carolina? The same Boyd who threw two touchdown passes and five interceptions in those games? Yeah, I think West Virginia can handle that. Don't forget, the Mountaineers see a pretty prolific offense in practice, and Dana Holgorsen has been doing this a little longer than Chad Morris. As for realignment, what the Big East had to do to get itself back in order is preposterous, no question. Having to reach all the way to California to find a new member is ridiculous. But the Big East would not be in this predicament if the ACC kept its hands to itself. If the ACC was such a great, solid conference filled with the finest football programs, why exactly does it keep raiding the Big East? The ACC can now count five former Big East members. Hey, I have an idea. Maybe we should just start calling the ACC the Big East because it will have more of the Big East's original members than the newly reformed Big East-West-Country-USA. The ACC really has the worst of both worlds, taking jabs not only for its own league members but for the Big East, too!
HD:
Hey, if I recall correctly, the ACC "received applications" from Pitt and Syracuse, not the other way around. There was probably a line at ACC commissioner John Swofford's door, with Rutgers, UConn and West Virginia all elbowing each other to try to get in, too. The ACC will be bigger and better, thanks to expansion. The Big Conference will be just that -- bigger. Look, I'd love to sit here and watch you swing at air some more, but the ACC has eight teams in bowl games, unlike the Big East. I've got some work to do. So why don't you just settle in, get yourself some Beef O'Brady's, and watch the ACC go 2-0 against your Big conference. I know, I know, you've got something to say. Go ahead and have the last word. You'll need it.
AA:
Well, considering you cover a conference with 12 teams and I cover one with eight, the Big East has just about the same percentage of teams in bowls. And I don't really need to remind you that the Big East has a better winning percentage in bowl games, or that the ACC has not posted a winning record in bowl games since 2006. Or that the ACC hasn't posted a winning record against the Big East in bowl games since 2007. Nah, you don't need to be reminded at all.
October, 31, 2011
10/31/11
2:14
PM ET
Let's take one final look back at Week 9.
[+] Enlarge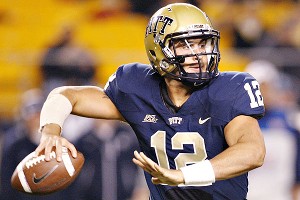 Charles LeClaire/US PresswirePitt QB Tino Sunseri has thrown for seven touchdowns in eight games this season.
The good:
Start with the Louisville defense, which is playing like the best unit in the Big East right now. The Cardinals have held each of their opponents to 25 points or fewer this season. Only one other team has done the same: Alabama. Pretty nice company for the Cardinals, who now rank No. 1 in the Big East in total defense and scoring defense. They are the top Big East team in the national rankings in those categories as well, ranking No. 12 nationally in total defense (295.63 ypg) and No. 11 in scoring defense (16.25 ppg). More on the defense in my video later today. ... How about a little standing O for Pitt quarterback
Tino Sunseri
, perhaps the most heavily criticized player in the Big East this season. Sunseri has taken heat not only from fans, but from his coaches as well because he has not been able to run the new hurry-up spread offense as efficiently as coach Todd Graham anticipated. But Sunseri had a career-day in a win over UConn, throwing for 419 yards and two touchdowns. Interestingly, Pitt didn't have a 100-yard receiver. Eight players caught at least one pass in the game. ... West Virginia became bowl-eligible for the 10th consecutive season with its 41-31 win at Rutgers. Quarterback
Geno Smith
has thrown at least one touchdown pass in 11 consecutive games, and he added his first career rushing touchdown as well. Meanwhile, cornerback Brodrick Jenkins got his first career start and ended up with two interceptions -- the first two of his career.
The bad:
Rutgers still is one of the best in the nation in turnover margin, but that number has taken a tumble of late. The Scarlet Knights had forced at least four turnovers in each of their first five games, but have a total of three forced turnovers in their last three games. In those three games, Rutgers is minus-six in turnover margin -- minus-five in two straight losses. ... Syracuse running back
Antwon Bailey
ran for 70 yards in a loss to Louisville, breaking his four-game streak of 100-plus rushing yards. The defense, which played so well against West Virginia, did not have its greatest day against the Cardinals -- a team that had struggled to move the ball for most of the season. Syracuse allowed Louisville to score a season-high 27 points and its second-highest total offense output against FBS opponents this season (343 yards). ... For the first time all season, UConn did not force a turnover in its loss to Pitt. ... West Virginia receiver
Stedman Bailey
had two receptions for 51 yards and a touchdown against Rutgers, snapping his streak of five straight 100-yard games.
Milestone watch
Victor Anderson, RB, Louisville.
Anderson became the 13th 2,000-yard rusher in school history after gaining 93 yards against Syracuse.
Ryan Nassib, QB, Syracuse.
Nassib moved past Joe Morris (1978-81) and now ranks eighth in school history in total offense (4,429 yards).
Mohamed Sanu, WR, Rutgers.
Sanu had seven receptions for 48 yards against West Virginia, moving into third place on the school's single-season receptions chart (70).
Geno Smith, QB, West Virginia.
Smith now has 45 career passing touchdowns and is tied with Rasheed Marshall (2001-04) for No. 3 on the all-time school list. He also passed athletic director Oliver Luck for No. 4 on the all-time passing chart with 5,787 career passing yards.
San San Te, K, Rutgers.
Te moved into second place on the school's career scoring chart (307 points) with seven points against West Virginia.
Dave Teggart, K, UConn.
Teggart was 2-for-2 on extra-point attempts against Pitt, making him 117-for-117 in his career. Teggart broke the Big East record of 116 consecutive made extra points, held previously by Art Carmody of Louisville.
Week 10 schedule
Louisville at West Virginia, noon, Big East Network
Syracuse at UConn, noon, ESPNU
Cincinnati at Pitt, 7 p.m., ESPNU
USF at Rutgers, 7 p.m., ESPN3
July, 8, 2011
7/08/11
2:00
PM ET
We round out the defensive team position rankings with the cornerbacks. There are some teams with plenty of experience. Others are in desperate need of improvement. Where do they stack up?
[+] Enlarge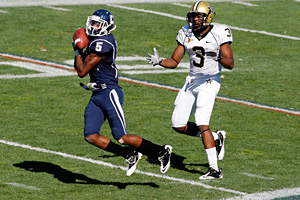 David Butler II/US PresswireUConn's Blidi Wreh-Wilson is one of the Big East's top returning cornerbacks.
1. Connecticut.
Both starters return in Blidi Wreh-Wilson and Dwayne Gratz, and the Huskies should continue to make the improvements they made in the second half of the season. The two combined for six of the team's 20 interceptions. Wreh-Wilson should be a preseason All-Big East selection and is one of the best in the league.
2. West Virginia.
Keith Tandy returns after making first-team All Big East last season, though the Mountaineers have to replace Brandon Hogan, a second-team selection. They do have an experienced player in Pat Miller set to take over, with Brodrick Jenkins and Brantwon Bowser providing depth as well.
3. USF.
The Bulls have to make up for the loss of Mistral Raymond, but have plenty of experienced players back in Kayvon Webster, Ricardo Dixon, George Baker and returning starter Quenton Washington. West Virginia gets the nod ahead of USF because of Tandy.
4. Syracuse.
Both starters are gone in Mike Holmes and Da'Mond Merkerson. Kevyn Scott and Keon Lyn are penciled in to start. Scott has experience, while Lyn has plenty of potential. The problem is depth. Walk-on Joe Nassib is listed as a backup. Early enrollee Jaston George needs to show big improvement in the fall.
5. Pittsburgh.
Coach Todd Graham has talked up K'Waun Williams and fifth-year senior Buddy Jackson after both had good springs. Antwuan Reed missed spring with injury but should be fine for the season, giving the Panthers three players with the potential to have a good year. The problem is that Williams is inexperienced and Jackson has failed to live up to expectations. Reed was inconsistent last season, too.
6. Rutgers.
The Scarlet Knights lose their best cover cornerback in Brandon Bing, and David Rowe moved to safety. Both starting jobs are up for grabs. On the post-spring depth chart, Logan Ryan and
Marcus Cooper
were battling for one spot and Brandon Jones and
Mason Robinson
for another. Robinson moved over from receiver.
Jordan Thomas
also is in the mix after moving from running back.
7. Cincinnati.
The Bearcats were pretty dismal in the secondary last season. They return everybody, and Dominique Battle should be back from a knee injury that cost him most of the season. Still, they need to tackle better and become more aggressive to help this unit improve.
8. Louisville.
The Cardinals have major problems at cornerback. They lose starters Johnny Patrick and Bobby Burns, and Darius Ashley is suspended indefinitely following his second DUI arrest. Jordan Paschal, Anthony Conner and Preston Pace are in the mix. Freshman receiver Charles Gaines was moved here in the spring to provide some relief. But this is a major area of concern.
Previous rankings
April, 28, 2011
4/28/11
1:09
PM ET
MORGANTOWN, W.Va. -- When asked about his defense's goals for the 2011 season, West Virginia cornerback Keith Tandy repeats the company line this spring: Create more turnovers.
[+] Enlarge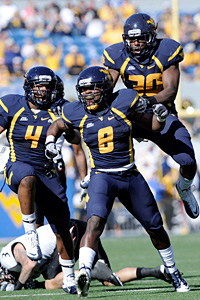 AP Photo/Jeff GentnerCornerback Keith Tandy, 8, has seized a leadership role on West Virginia's defense.
In reality, though, it would be hard for Tandy to come up with more change-of-possession plays than he did in 2010. One of the most improved players in the Big East, he led the league with six interceptions and forced a fumble. He also tied for the lead in the conference in passes defended (17) and was second in pass breakups (11) while earning first-team All-Big East honors.
Tandy readily admitted that he got so many opportunities to make plays last year because opposing offenses avoided Brandon Hogan on the other side of the field. With Hogan now waiting to hear his name called in this weekend's NFL draft, it's Tandy's turn to step up and be the lockdown corner.
"That's what I'm striving for," he said. "If quarterbacks aren't throwing to your side, you're doing something good."
This spring, Tandy moved from the right to the left side of the field -- Hogan's old neighborhood. And as the experienced senior at the position, he's the leader that young players like Pat Miller, Brodrick Jenkins and Vance Roberts are looking to for guidance as they battle for playing time.
"They're picking my brain apart, and I tell them what I've seen, what been through," Tandy said. "Sometimes they'll listen to me more than they listen to [defensive backs] coach [David] Lockwood."
Tandy is a good player to follow. He has improved by leaps and bounds since his sophomore year, when the lasting image of his season was him getting repeatedly burned by Carlton Mitchell at South Florida. In short order, he went from a weak link on the defense to an anchor.
The reason for that, defensive coordinator Jeff Casteel says, is because Tandy -- a former quarterback in high school -- really studies the game.
"He's really smart, and he's a technician," Casteel said.
Tandy said he's always approached the game that way, paying extra attention in meetings and listening when other players get corrected so he doesn't make the same mistake they did. Casteel is so comfortable with Tandy now that he is taking him out of some reps this spring to get a closer look at the younger players.
This spring is offering plenty of work anyway. Going against Dana Holgorsen's offense every day, the cornerbacks get little time for rest.
"It seems like they throw the ball every play and they have like 15 guys on the field," Tandy said. "So you have to be perfect going against this offense. They line up fast, and you have to trust fundamentals and what you've been doing."
Luckily, what Keith Tandy has been doing for West Virginia is pretty good.
April, 6, 2011
4/06/11
12:25
PM ET
MORGANTOWN, W. Va. -- Some quick thoughts after attending the viewing window of West Virginia's spring practice on Wednesday, the Mountaineers' first day in full pads:
I was excited to see Dana Holgorsen's new offense in person, and it's not hard to see the reasons for optimism. The Mountaineers have speed at receiver, a promising young quarterback in Geno Smith and were giving their own defenses problems with the mix of run and pass. Bill Stewart had told me on Monday that the team hadn't looked downfield much yet in practice, but Smith threw deep a few times during the 11-on-11 period, and with good success. It wasn't all passing, though, as the offense lined up with two backs frequently and did some inside zone running.
Holgorsen mostly stands on the sidelines during the team periods, signaling in the calls as he will on gameday. He doesn't say a whole lot during practice, letting his assistants handle the bulk of the talking. Holgorsen gives out a lot more instructions during film review, the players say.
No worries about Smith's health. He was participating in all drills and running around well on his surgically repaired foot. This offense doesn't ask him to run much, anyway.
Freshman Paul Millard got the second-team reps and throws a nice ball. Holgorsen told me he's far ahead of fellow freshman Brian Athey at this point, mostly owing to the fact that he played 5-A Texas high school ball. How this kid went unrecruited is baffling.
Still no real standouts at tailback, but Daquan Hargrett had some nice runs while I was watching, including a burst up the middle for a long touchdown.
Brad Starks got behind the defense for a long completion. He looks great and could be poised for a big senior year. Ivan McCartney dropped a pass early but later caught a short one and completely juked Brodrick Jenkins out of his shoes. McCartney has major potential if he continues to develop and mature. J.D. Woods also made a nice catch in traffic. Tyler Urban also got involved, and it will be interesting to see how the offense uses him.
The defense wasn't allowed to tackle the quarterback, of course, but Bruce Irvin was in the backfield a lot -- "No one can block him yet," Stewart said -- and Julian Miller wasn't far behind. That's not surprising, especially since starting offensive tackles Don Barclay and Jeff Braun are out this spring with injuries. Irvin and a few other players were wearing the gold shoes from last year's special Nike Pro Combat uniforms, which made me happy to see.
Linebacker Tyler Anderson had an interception off a tipped ball. Stewart then told him he should have stayed up and tried to score instead of falling on the ground. About the only thing last year's defense didn't do right last year was get turnovers and points.
Overall impression: The Mountaineers weren't as sharp or crisp defensively as they were a year ago at this time, but that's almost a given after losing seven starters. There is still a lot of talent and speed here, and it's just going to take a little time for the defense to gel and the offense to get the system down. If it all comes together, this could easily be the best team in the Big East this year. But there's a long way to go.
September, 18, 2010
9/18/10
11:39
AM ET
MORGANTOWN, W. Va. -- Who will start in place of suspended cornerback Brandon Hogan for West Virginia?
Most people expected it to be Brodrick Jenkins. But when the Mountaineers lined up for warm-ups, it was Pat Miller playing with the starting defense, with Jenkins running with the twos. I would expect to see both play today.
That will also put more pressure on Keith Tandy, who West Virginia fans know has had his ups and downs in coverage the past couple of years. If Maryland doesn't take a couple of deep shots early, especially to
Torrey Smith
, it would rank as a real surprise.
Defensive end Will Clarke is also out for West Virginia. He's a pass-rushing specialist. That should mean more snaps for heavily-hyped juco import Bruce Irvin. Will the Mountaineers record their first sack of the season today?
September, 16, 2010
9/16/10
10:17
AM ET
[+] Enlarge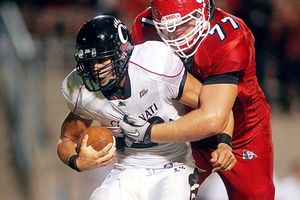 Cary Edmondson/US PresswireZach Collaros was sacked a whopping eight times against Fresno State.
1. Cincinnati's offense vs. the NC State blitz:
The Bearcats' offense has gotten off to a sluggish start in 2010, and now it faces a test at NC State, where defensive coordinator Mike Archer and linebackers coach Jon Tenuta are known for their aggressive blitzing style. The Wolfpack forced five turnovers last week and will try to get after
Zach Collaros
, who was sacked eight times in the opener at Fresno State. Linebackers Nate Irving and Audie Cole will try to break through an offensive line that's still searching for its identity.
2. Cincinnati's defense vs. Russell Wilson:
The NC State quarterback put on a show last year in Raleigh to defeat Pittsburgh. He's an athletic, mobile quarterback who will force Bearcats defenders to mind their assignments. Central Florida was able to contain Wilson and get heavy pressure on him last week. Can Cincinnati do the same?
3. Cincinnati's road legs:
The Bearcats will be playing their third game since Sept. 4 on Thursday night. That stretch includes a long West Coast trip in the opener and now another road adventure. The Indiana State blowout allowed Butch Jones to rest some his starters in the second half last week, but it's still worth watching to see how fresh Cincinnati is late in the game.
4. Hogan's heroes?:
The loss of Brandon Hogan leaves a big hole in the West Virginia secondary. The most likely replacements are Brodrick Jenkins and Pat Miller, who have talent but not a lot of experience. Maryland hasn't thrown it around much in its first two games -- quarterbacks
Jamarr Robinson
and
Danny O'Brien
have completed just 13 of 29 passes thus far -- but the Terrapins would be foolish not to test the new starter at cornerback.
5. Slow vs. fast starts:
Getting out of the gate quickly has been a problem for West Virginia for the past two seasons. That's an area Bill Stewart wanted to see improve this year, but so far it hasn't happened. On the flip side, Maryland has scored on all five of its first-quarter possessions this year. Will the Mountaineers have to play from behind for the second straight week?
6. West Virginia's offensive line:
Maryland has great defensive statistics -- allowing just 8.5 points per game -- but it's hard to know how good the Terps D truly is. They continually stopped Navy near the goal line in the opener and then had an easy time of things against Morgan State. West Virginia's offensive front was dominated at times by Marshall, though coaches and players insisted that had a lot to do with Marshall's familiarity with the Mountaineers' cadences and personnel. Regardless, the offensive line needs a better showing this week.
7. Connecticut's improvement:
What are we to make of the Huskies thus far? They lost by 20 to Michigan and then beat a badly outmatched Texas Southern outfit by 59. We should get a truer measurement of where UConn stands Saturday when they travel to 2-0 Temple. The Owls have played Connecticut tough in the recent past, but if the Huskies truly are a legitimate Big East title contender, they should win this game.
8. Pierce vs. Todman:
The Temple-UConn game should be a showcase for good running backs. The Owls'
Bernard Pierce
ran for 1,361 yards and 16 touchdowns last year as a freshman, though he has yet to top 75 yards this season. The Huskies'
Jordan Todman
leads the Big East in rushing and is coming off a huge game against Texas Southern. Temple is allowing just 91 rushing yards per game so far this season.
9. Louisville vs. the Rodgers brothers:
The Cardinals' undersized defense has played pretty well since surviving a first-half blitzkrieg against Kentucky. But how will it handle an explosive Oregon State offense led by James and
Jacquizz Rodgers
? The Beavers will almost certainly get plenty of yards and points. The real question is whether Louisville's offense, which is lacking playmakers like the Rodgers brothers, can keep up.
10. Syracuse handling its business:
Finally getting back home after two road games to start the season, will Syracuse take a breather against FCS opponent Maine? Coach Doug Marrone says no way. "If we were a top team that had won consistently for a long period of time, some people refer to these games as trap games," Marrone said. "We're not even close to that stage." The Orange have a rare chance to start 3-1 this season if they take care of Maine and Colgate in the next two games. Any slip-up could do a lot of damage to the program's development.
April, 15, 2010
4/15/10
7:30
AM ET
MORGANTOWN, W. Va. -- Wednesday was a fun and enlightening day at West Virginia. I spent a lot of time with the always gregarious Bill Stewart and even got to see
Geno Smith
go through a quarterback meeting with offensive coordinator Jeff Mullen. And of course I watched practice. Here are some quick thoughts and observations:
The team that came out for practice No. 6 won't be the same team you see this fall. At least Stewart hopes not. Several walking wounded wore non-contact jerseys, including receiver Bradley Starks (ankle) and running back Noel Devine (quad). Smith only participates in individual and skeleton drills, no team competitions. Cornerback Brandon Hogan didn't practice as he is concentrating on his academics. And Jock Sanders missed practice because of class. So it was far from a full deck, and Stewart said he was frustrated by a number of busted assignments and broken plays. You could tell the coaching staff's frustration, because after practice several defensive players were made to do up-downs, while the offensive guys ran sprints. Some defensive players argued with each other coming off the field."You have a couple of guys in [non-contact] jerseys, and all of a sudden your leadership starts spiraling down," Stewart said in disgust. "We may be a .500 football team, that's it."
Coley White is a busy man with Smith limited. White takes every snap during the 11-on-11 and other team drills. He's had a good spring and showed off a stronger arm than I -- and even other frequent Mountaineers observers -- expected a couple of times on Wednesday, on a touchdown pass to Stedman Bailey and a long one to Starks. Smith is almost certain to be the starter, but White can win games if needed at quarterback. The only bad news is his time is so important at quarterback that he can't work on his desired transition to receiver.
Only saw a little bit of Smith, but he made some nice throws. He's much bigger than last year, too. In fact, he later told me he's put on 25 pounds since the Gator Bowl, which is amazing.
Bailey, by the way, looked pretty good and made a nice adjustment on one ball. He could be important with very little depth at receiver now that Deon Long and Logan Heastie are gone (and barring a miracle, they aren't coming back).
Former cornerback Eddie Davis continues to work at receiver, but while he looked fast on the practice field, Stewart called him out as one of many players who did not know their assignments and plays Wednesday.
I'm very high on Ryan Clarke. The big, bruising runner steamrolled defensive back Darwin Cook at one point. No surprise, since Cook was yielding about 45 pounds in that matchup.
Stewart said he's happy with the left side of his line (Don Barclay and Josh Jenkins) and center Joe Madsen. But he wants to see much more improvement from the right side, where Eric Jobe is at guard and Matt Timmerman is at tackle.
The oddest sight during practice occurred in the end zone, where a couple of players apparently being punished had to slam a giant tire with a sledgehammer repeatedly. Reminded me of something out of "The World's Strongest Man" competitions. But it provided a good drum beat for practice.
Most discombobulating sight: Starks wearing No. 5 (Pat White's old jersey number) and Devine sporting No. 10 (Steve Slaton's former digits) in their green non-contact shirts.
Knee-jerk reaction of questionable merit: Hard to make a solid judgment on this team with so many important players out. But you'd think the Mountaineers would be a little sharper just because of all the returning starters who are back. It's still early in the spring for them, and there's plenty of time to turn things up. This team is too talented and experienced not to be a major factor in the Big East race.