February, 29, 2012
2/29/12
9:00
AM ET
We're moving on with our postseason position rankings. Today, it's time for linebackers. If you missed it,
here's how I ranked them in the preseason
.
At this position, depth is a major factor in these rankings. Additionally, I included nickelbacks in this grouping. Hybrid defensive end/linebackers will be grouped with defensive lines.
[+] Enlarge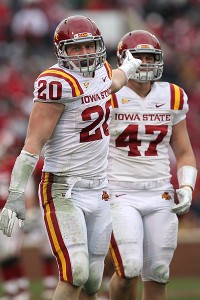 Matthew Emmons/US PresswireIowa State linebackers Jake Knott, 20, and A.J. Klein combined for 231 tackles in 2011.
More postseason position rankings:
1. Iowa State:
The Cyclones top the list after a huge year from their outstanding duo,
Jake Knott
and
A.J. Klein
. They combined for 231 tackles in 2011, both finishing among the top four in the Big 12 in tackles. They had 241 together in 2010, but this season Knott played through injuries and Klein was awarded co-Defensive Player of the Year honors from the league's coaches.
2. Texas:
The Longhorns will sorely miss an outstanding duo of their own with tons of experience.
Keenan Robinson
and
Emmanuel Acho
are both NFL-bound after combining for 215 tackles.
3. Oklahoma:
The Sooners weren't quite as good as expected in 2011, but part of that was because of a
Travis Lewis
preseason toe injury that slowed him for much of the season. Lewis,
Tony Jefferson
and
Tom Wort
all topped 70 tackles in 2011, and are a solid group.
4. Kansas State:
Arthur Brown
reinvigorated this group, finishing eighth in the Big 12 with 101 tackles, but the Wildcats linebackers were more than just Brown.
Tre Walker
and converted safety
Emmanuel Lamur
combined for 135 stops and helped lead one of the league's most underrated units and a much-improved run defense.
5. Texas A&M:
The Aggies' backers were big pass-rushers, though they struggled in coverage this season.
Sean Porter
was the Big 12's sack champion with 9.5, and
Caleb Russell
and
Jonathan Stewart
combined for six more.
Damontre Moore
is the rawest talent of the bunch, but built on that in 2011, making 72 tackles.
6. Oklahoma State:
OSU's group was good, but not great.
Alex Elkins
' crazy story came to an end with 90 stops in 2011. He showed up everywhere for the Cowboys, but reigning Big 12 Freshman of the Year
Shaun Lewis
didn't quite have the sophomore season some had hoped.
Caleb Lavey
added some solid play for the turnover-hungry unit, producing 74 tackles and five tackles for loss.
7. Missouri:
Zaviar Gooden
wasn't quite the impact player Mizzou had hoped, but he was solid alongside a group that's been injury prone over the past two years. Sophomore
Andrew Wilson
emerged as the team's top tackler with 98 stops, and
Luke Lambert
added 82 more. A high ankle sprain in the season opener kept
Will Ebner
off the field, but he'll be back in 2012 after the NCAA granted him a fifth year of eligibility.
8. Kansas:
Steven Johnson
led the Big 12 with 119 tackles, but the rest of the unit left a lot to be desired.
Darius Willis
has some potential, but the rest of the team's linebackers have their work cut out for them in 2012.
Tunde Bakare
also returns from a unit that ranked ninth in the Big 12 in rushing defense.
9. Baylor:
The Bears needed help just about everywhere.
Elliot Coffey
was solid, and finished tied for fourth with 114 stops, but Baylor was eighth in the Big 12 in rush defense. Baylor has solid athlete in the secondary and on the defensive line, but at linebacker,
Rodney Chadwick
and
Brody Trahan
leave a bit to be desired.
Ahmad Dixon
was better in 2011, but still has a lot of potential that needs to be filled.
10. Texas Tech:
The Red Raiders are looking for a new defensive coordinator and the 4-2-5 made a short stop in Lubbock. The Red Raiders were awful everywhere on defense, but especially up front. Nobody in college football was worse at stopping the run, and
D.J. Johnson
,
Daniel Cobb
and
Cqulin Hubert
turned in forgettable performances. Time to get better for 2012.
October, 29, 2011
10/29/11
5:32
PM ET
STILLWATER, Okla.--What a half. Absolutely unbelievable.


Baylor's reached Oklahoma State territory five times and hasn't scored once. The team looked pretty defeated on its walk into the locker room, and understandably so. This team is getting beaten, but it shouldn't be this bad.
Oklahoma State leads,
35-0
.
Time for some analysis.
Turning point:
Baylor drove 69 yards on its opening drive, but was stuffed on the goal line after five runs by
Terrance Ganaway
inside the five-yard line. Oklahoma State marched 99 yards to answer with a score, and that's been the story of the half.
Stat of the half:
Baylor has 248 yards of offense and has reached Oklahoma State territory on five occasions. It's turned the ball over three times on those possessions and hasn't forced a single turnover. OSU wins the turnover battle (+18 on the season now) and that's been the case today.
Best player in the half:
Joseph Randle
, RB, Oklahoma State. He's had a huge day. His eight carries have gone for 111 yards and three scores, including a 62-yard run.
Best call:
Facing a 4th-and-10 and needing a spark, Baylor faked a punt and completed a 21-yard pass from former quarterback-turned-linebacker Brody Trahan to
Jerod Monk
and reached OSU territory. The offense was stuffed on fourth down later that drive, though.
What Baylor needs to do:
The offense has come down with a case of the drops, and the defense hasn't pressured
Brandon Weeden
enough. Fix both of those things and this game might swing in their favor, or at least close. The offense has to find a rhythm and the defense needs big plays.
What Oklahoma State needs to do:
Let Baylor into the OSU red zone as often as possible. Only good things can happen, right?
June, 29, 2011
6/29/11
1:15
PM ET
We've taken a look at the Big 12 offensive skill positions in our position rankings, and we'll circle back along to the lines eventually. For now, though, we'll flip to the defensive side of the ball, starting with linebackers.
There's a lot of turnover in this space, and the bottom half was pretty hard to sort out. We haven't seen a lot of these new faces on the field for extended periods of time, so it's somewhat of a crapshoot. I don't feel like there's a wide gap between teams 7-10, and each of those squads have at least one linebacker who could be due for a huge year and shoot them up this list.
I see Nos. 1-3 possibly being great, with dropoffs before the No. 4 and No. 7 teams.
Also, if you missed them, here are the other position rankings we've done so far.
So, without further ado, here's how I ranked the linebackers. (Nickel backs are included in this list, hybrid DE/LBs will be with defensive lines)
[+] Enlarge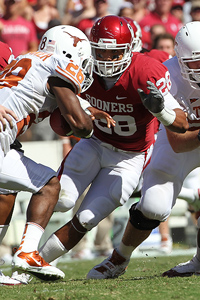 Matthew Emmons/US PresswireOklahoma's Travis Lewis is the Big 12's top returning defender.
1. Oklahoma
-- The Sooners boast the Big 12's top returning defender in Travis Lewis, who has notched at least 100 tackles in each of the past three seasons, and he'll be joined by the Big 12's co-Defensive Freshman of the Year, Tony Jefferson. Tom Wort and Corey Nelson are both loaded with potential, and will fill out the rotation, after the starter at middle linebacker, Austin Box, died on May 19.
2. Iowa State
-- The Cyclones boast two of the Big 12's best in Jake Knott and A.J. Klein, who combined for more tackles than any two teammates in the Big 12 last season. They had 241 stops, and, after healing from a broken leg suffered midseason last year, Matt Tau'fo'ou should join them at middle linebacker.
3. Texas
-- Texas' offense may be lacking, but the defense will be strong once again, led by two others likely to earn spots as some of the Big 12's best. Keenan Robinson and Emmanuel Acho were Texas' top two tacklers last year with 187 stops, and return as likely captains come fall camp. Texas' depth chart is wide open, but look for former blue-chip recruit Jordan Hicks to emerge as another star this year, despite being forced to sit out spring camp with a broken foot. Dravannti Johnson played some defensive end last year at the Buck position for the Longhorns, but may find his way back to linebacker. Tevin Jackson was ineligible last year, but he's ready for 2011, and could make an impact.
4. Oklahoma State
-- The Cowboys "Star" linebacker is occupied by co-Defensive Freshman of the Year Shaun Lewis, and sophomore Caleb Lavey is charged with replacing Orie Lemon, the leader of last year's defense. Oklahoma State has questions on the weak side, but LeRon Furr and Chris Dinkins will compete next fall.
Kris Catlin
could be a factor, too.
5. Texas A&M
-- The Aggies must replace their leading tackler, Michael Hodges, and don't have a clear replacement heading into fall camp. The good news: They've got two others with lots of experience in the linebacking corps that look like budding stars. Garrick Williams should be one of the defense's leaders and Sean Porter returns after making 74 tackles last year to rank third on the team.
6. Missouri
-- The Tigers have lots of experience at middle linebacker, where a pair of seniors (albeit frequently injured seniors) Will Ebner and Luke Lambert will be on the field a lot. One of the Big 12's most exciting players, junior Zaviar Gooden, will hold down the weakside and perhaps become a household name by season's end. Sophomores Andrew Wilson and Donovan Bonner, who missed all of last season with a knee injury, will likely compete for strongside duties in fall camp. Andrew Gachkar, the team's leading tackler, is gone, but here's guessing Gooden emerges as the defense's top playmaker.
7. Kansas
-- The Jayhawks linebackers were solid last year, and could be pretty good again, despite losing Drew Dudley and Justin Springer, two of the team's top four tacklers. Steven Johnson, the team's leading tackler in 2010, is back and he'll be joined by possible star Huldon Tharp, who missed all of last season with a leg injury. Fellow sophomore Darius Willis earned a starting role after spring.
8. Kansas State
-- K-State's front seven struggled last year, but will get a big boost from Arthur Brown. One man won't be enough to totally fix the Wildcats rush defense problems, though. K-State gave up 26 more yards on the ground per game than any other team in the Big 12 (more than 231 per game) but Brown may be playing in a 4-3 next fall rather than the 4-2-5 the Wildcats have employed since Snyder's return. Alex Hrebec, Emmanuel Lamur, Tre Walker and Blake Slaughter will likely fill the rotation along with Brown.
9. Baylor
-- Baylor's defensive depth chart, like Texas', is a bit amorphous after bringing in a new coordinator, but Elliot Coffey figures to be the Bears biggest playmaker at linebacker. Chris McAllister should be solid and Ahmad Dixon is promising at nickelback, too. Brody Trahan is a great story, but him
going from third-string quarterback to starting linebacker
isn't a ringing endorsement for Baylor's depth at the position.
10. Texas Tech
-- Tech will be moving to a 4-2-5 this year under new coordinator Chad Glasgow, and could rise up this list, but the Red Raiders lose a lot of talent from last season's team, which ran the 3-4. Bront Bird and Brian Duncan are both gone, and youth will be a big factor with this group. Cqulin Hubert's outstanding potential is matched by his more outstanding first name, and freshman
Blake Dees
showed promise after arriving early this spring. They'll likely be the rotation at middle linebacker spot alongside Daniel Cobb and Zach Winbush. Terrance Bullitt could be a playmaker at his new safety spot, listed as a strong safety but with plans to spend lots of time near the line of scrimmage, a la nickelback.
June, 16, 2011
6/16/11
3:00
PM ET
Phil Bennett was still coaching for Pittsburgh, but he glanced at a TV at an airport while he was on the road.
There was Baylor and Texas A&M, with the Bears attempting a field goal on the final play of the first half. The Aggies blocked it, and Texas A&M defensive back Terrence Frederick recovered. With time having already expired, Frederick raced toward the end zone with a few Bears making chase.
He caught a few blocks and cut across the field, looking more and more likely to score.
[+] Enlarge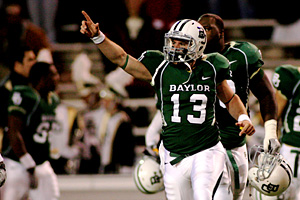 Courtesy of BaylorFormer Baylor reserve Brody Trahan could play a bigger role at his new position: linebacker.
But as Frederick neared the end zone, Baylor's
Brody Trahan
, a reserve quarterback, the team's holder and reserve punter, raced into view and took Frederick down at the 1-yard line to keep the Aggies off the board.
Bennett, thrilled by the play, liked what he saw.
A few months later, Bennett took a job as Baylor's defensive coordinator. He remembered Trahan, and knew his dad, a former Texas A&M quarterback. Bennett asked around, and the training staff told him Trahan's work ethic fit what he was looking for on his defense.
One of the first times they met in person, Bennett made his intentions clear.
"You need to switch to our side of the ball," he said.
"Let me know and I'll be there," Trahan said.
He'd heard that before. During Baylor's bowl practices before facing Illinois, he played some safety, where he'd gotten some time back home in Dickinson, Texas, outside Hosuton. Some recruiting services had him rated higher as a safety than as a quarterback, despite his lack of experience.
When Trahan did line up on defense, he'd snagged a couple picks in high school.
"I want you to play linebacker for me," Bennett told him.
Trahan, anxious to get on the field, told him he'd do it.
"I didn't know if he was being serious or what the deal was, but he kept coming up to me every other day and saying you're going to be with me," Trahan said. "I was like, 'All right,' and then sure enough, when spring ball rolled around, I wasn't in a red jersey anymore."
At 210 pounds, Trahan assumed he'd need to add some size, but Bennett told him not to bother. The coaching veteran loves speed, and he wanted Trahan, who says he runs a "high 4.6" 40 time, just the way he was.
The transition from quarterback/holder to linebacker wasn't a simple one. The amount of running -- "The most running I did in practice was dropping back or running to the running back and handing it off to him. Now I'm using the hips more, muscles I didn't know I had, and running sideline to sideline," he said. -- might have been the easiest part.
[+] Enlarge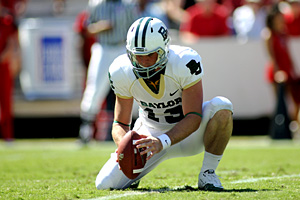 Courtesy of Baylor UniversityBrody Trahan was Baylor's holder, as well as a reserve quarterback and punter, last season.
"I hadn't played linebacker since 7
th
or 8
th
grade. Freakin' sandlot football was about all the linebacker experience I had," Trahan said. "I didn't know anything about the technique or anything."
That's where he still has to improve. His footwork, too, and understanding how to read offenses before a snap the same way he read defenses as a quarterback. Hip flexibility -- the ability to change direction quickly -- will come with time, too. Mostly, he'll just have to get a feel for what he's doing and keep the position from feeling foreign.
"A couple times on a screen, I'll mistakenly have my eyes looking the wrong way, and I'll cut back inside and there's big ol' 6-foot-8 or whatever he is Robert Griffin, and he just swallowed me," Trahan said of the Bears' 330-pound guard who shares a name with the team's quarterback.
Every offensive line starter pancaked him at least once this spring, Trahan said, but his athleticism allowed him to hold his own against the running backs.
And to most people's surprise, when the spring game began, Trahan trotted out with the first-team defense.
"It was kind of a joke at first. We weren't really sure if I'd earn some playing time," he said. "It kind of shocked everyone."
Bennett's defense still doesn't have a true depth chart, but if Trahan improves during fall camp as much as he did in the spring, it'd be shocking if the Bears' third-team quarterback from 2010 didn't get plenty of playing time -- maybe as a starter -- in 2011.
"They know I'm a hard worker and I'll do anything, I'll lay my body on the line to help the team," Trahan said. "I'm hoping everyone accepted it, a quarterback moving to linebacker."