NCF Nation:

Broncos-Huskies-083113
September, 1, 2013
9/01/13
3:35
AM ET
SEATTLE -- The first game of a college football season is not a destination. It's only the initial part of the journey, and often it is not terribly indicative of how things might play out over the course of the next three months. The euphoria of a big opening day win can disappear in the mire of a midseason slump. A disappointing loss can become a touchstone for a special season.
So it's probably unwise to write heroic couplets about Washington's dominant 38-6 victory over No. 19 Boise State and draw epic conclusions about the state of the program as it opens a fancy remodeled Husky Stadium, which is freaking spectacular. Yes, the Huskies dominated a ranked team on both sides of the ball. Yes, it seems meaningful that Washington QB
Keith Price
had a brilliant game. But the Huskies have flirted with a return to national relevance before, only to go rear-end-over-tea-kettle just as folks were raising an inquisitive eyebrow.
"One game doesn't define us," Price said. "I know we have a long way to go. It's a long season."
And yet this was a really impressive performance in front of 71,963 fans who made Husky Stadium quake like it did during the good old days.


You have to start with Price. He completed 23 of 31 passes for 324 yards with a pair of touchdown passes, which gave him 56 for his career -- a new school record, eclipsing Cody Pickett. He also rushed for 25 yards. His efficiency rating of 176.8 would have led the nation in 2012.
Yet the best part of his performance might be that all that happened after a miserable start. Price threw an interception on his first pass of the game. You could almost hear the collective, "Oh, no, not again," in the stadium.
"I threw a bad ball -- no excuse," Price said. "But I told myself I wasn't going to get down and I'm going to lead my team. Nobody was really tripping on the sideline."
The Huskies' offense, in fact, didn't really start churning until the second half. Going into the locker room at halftime, it was only 10-3, with both offenses regretting wasted opportunities.
But things turned Washington's way quickly in the third. Price hit
Kasen Williams
for a 38-yard gain. Then he hit him again for a 19-yard touchdown and a 17-6 lead on the next play. Price, masterly running a new, up-tempo offense, ended the Huskies' next possession with an 18-yard strike to reserve tight end
Joshua Perkins
for a 24-6 advantage.
Perkins likely was the target there because All-America tight end
Austin Seferian-Jenkins
was out, suspended due to an offseason DUI. Perkins was one of seven players who caught passes from Price, with
Jaydon Mickens
leading the charge with nine receptions for 109 yards.
With running back
Bishop Sankey
producing 161 of the Huskies' 268 rushing yards, it's pretty clear this offense has plenty of weapons, even with its biggest one sitting out.
"It was awesome to see other guys stepping up," Price said. "Once [Seferian-Jenkins] gets back, it's going to be kind of scary."
Coach Steve Sarkisian said after the game Seferian-Jenkins will return for the Huskies' Sept. 14 game at Illinois.
But the Huskies didn't provide Boise State its worst defeat since 2005 only because of the offense. The Washington defense holding the Broncos to their lowest point total since 1997 (a 58-0 loss to Washington State) is pretty meaningful, too. The Broncos only gained 3.9 yards per play. Their longest running play was 18 yards. Their longest passing play was 16 yards.
"We kept the ball in front of us," Sarkisian said about the Broncos' lack of big plays.
For a while, it was bend-but-don't-break. By the end, it was something more physically impressive.
"They dominated us in all phases," Boise State coach Chris Petersen said.
Still, the story has to be Price, who began spring practices with an implicit threat that his starting job was up for grabs. That, Price said, was all the motivation he needed. A guy known for his easy smile -- his nickname is "Teeth" -- and mellow ways decided to get a little angry.
"I had a chip on my shoulder. I still do," he said. "I had a lot to prove to myself and a lot to prove to you guys. I know I've still got a long way to go."
Price was sacked 38 times last year, which ranked 102nd in the nation. He was sacked only once by the Broncos. Price having time to throw was a big reason the Huskies were 11-of-15 on third down.
"It was good running around and getting back to the old me," Price said.
Washington fans probably felt the same about the entire team, which ran around looking like the old Huskies -- the 1980s, early-1990s versions.
No, one game doesn't make a season. But if an opening game can be allowed to at least suggest something, this one hinted that Washington might make some noise this season.
August, 31, 2013
8/31/13
9:15
PM ET
SEATTLE -- The day is postcard perfect. Renovated Husky Stadium is spectacular. Now, what about the team that will call it home?
No. 19 Boise State isn't a team that gets intimidated by the big-time atmosphere in an AQ conference team's stadium, fancypants remodel or not. In fact, the Broncos thrive on encountering that very thing. The Huskies could have scheduled a patsy for their stadium opening, but they opted to challenge themselves. The payoff for a win could be substantial, starting with a national ranking. And a loss could have the same effect, only in a negative sense.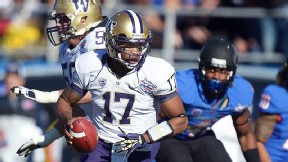 Kirby Lee/Image of Sport/USA TODAY SportsIf Washington is going to topple Boise State on Saturday night, Keith Price will have to be his 2011 self.
There should be some familiarity considering that Boise State beat the Huskies 28-26 in the Las Vegas Bowl last December, a back-and-forth affair that saw the Huskies fall behind early, mount a massive comeback to take the lead, then fold in the waning moments.
That familiarity will be more for Boise State, though. The Broncos only have 10 starters returning from last year's 11-2 team. The Huskies have 20 from a 7-6 squad that ended the season with a dreary two-game losing streak.
Of course, one of those returning starters, All-American tight end
Austin Seferian-Jenkins
-- the Huskies' best player -- won't play. He's been suspended due to an offseason DUI. That means quarterback
Keith Price
will be missing one of his most dangerous and reliable weapons.
Price may be where this game turns. If he's the efficient playmaker he was in 2011, the Huskies should be in good shape. If he's the guy who was inconsistent and turnover prone in 2012, they probably will struggle against a team that knows how to take advantage of bumbling AQ conference teams -- see a list of victims that includes powers such as Oklahoma, Georgia and Oregon, to name only a few.
Price's counterpart,
Joe Southwick
, is a second-year starter who played well over the latter third of the 2012 season. He doesn't, however, have a lot of experience playing in the sort of atmosphere he'll face tonight. The Broncos lost 17-13 at Michigan State to open their 2012 season with Southwick behind center for his first start, but that's his only experience in front of 70,000-plus fans.
So, in the end, Husky Stadium itself might have a role to play. With a hopeful and re-energized fan base packing the stands like the old days, this venue could again become one of the nation's loudest. The removal of the track that formally surrounded the field has moved the stands closer to the action, so the acoustics should be even better for making an opposing offense incapable of communcation.
Huskies coach Steve Sarkisian has tried to emphasize that one game doesn't a season make, win or lose. But Washington fans are impatient after three consecutive seven-win seasons. They want more, such as national rankings and Pac-12 titles.
Beating Boise State would be a big first step toward national relevance. And a loss would be a step in the opposite direction.
August, 31, 2013
8/31/13
8:32
PM ET


Ted Miller sets the scene for Boise State-Washington from the renovated Husky Stadium.