NCF Nation:

Brooks Michel
August, 5, 2010
8/05/10
2:32
PM ET
Schedule:
The Gophers hit the field Friday for their first practice.

What's new:
Another offensive coordinator, the Gophers' third in as many seasons. Jeff Horton isn't bringing dramatic changes like his predecessor Jedd Fish, and he'll try to simplify things for senior quarterback
Adam Weber
, who retained his starting job after spring ball. There are also a ton of new faces on defense as Minnesota loses nine starters, including productive linebackers Lee Campbell, Nate Triplett and Simoni Lawrence. The Gophers also have a new wide receivers coach in former NFL player Steve Watson, who must identify some playmakers after the loss of standout Eric Decker.
Sidelined:
We thought Kim Royston would be in this category, but the senior safety has
healed extremely well from a broken leg
this spring. Royston won't be 100 percent for the start of camp, but barring any setbacks, he should be ready for the start of the season. As one of only two returning starters on defense, Royston provides a strong presence in the secondary. Linebacker Sam Maresh, a possible starter, isn't with the team as he improves his grades at a junior college.
Key battle:
Name a spot on defense and there's probably some competition there, as Minnesota must find answers at linebacker, defensive end and cornerback. The linebacker group should be particularly interesting. Mike Rallis locked up a starting job this spring, but the other spots are open as Keanon Cooper, Gary Tinsley and others are in the mix. Cornerback also is a spot to watch as Michael Carter and Christyn Lewis try to lock up starting spots.
New on the scene:
Head coach Tim Brewster and his staff have recruited well, and it's time they start to see the rewards. Lewis and tight end Tiree Eure both are junior-college transfers who should contribute right away. Minnesota really likes redshirt freshmen offensive linemen Ed Olson and Brooks Michel, and incoming freshman tackle Jimmy Gjere is a name to watch. It also will be interesting to see if freshmen running backs Lamonte Edwards and Donnell Kirkwood can work their way into the mix.
Breaking out:
Brewster sings the praises of defensive end
Ra'Shede Hageman
, and Minnesota could really use a boost in the pass rush from the redshirt freshman.
MarQueis Gray
didn't win the starting quarterback spot, but he's a guy who needs the ball in his hands one way or another. Replacing Decker will be tough, but Minnesota has high hopes for
Da'Jon McKnight
, who averaged 18.3 yards on 17 receptions last year.
Time to step up:
Without a doubt, Minnesota's offensive line is the group that needs to elevate its play in camp. The line boasts both experience and some exciting young talent, and the players are used to coach Tim Davis and his demands. Minnesota simply can't rank last in the league in rushing year after year. It's time for the line to get tougher, come together and build off of a strong spring.
Quotable:
"We're bigger. We're stronger. We're faster. We're more athletic than we've been. And rightfully so. We need to be. We know that we're going to play one of the most challenging schedules in America this season. And our players are going to have to be prepared." -- head coach Tim Brewster
April, 22, 2010
4/22/10
11:12
AM ET
D.J. Burris doesn't need to be reminded of the way it used to be at Minnesota.
The Golden Gophers weren't just a good rushing offense, but a record-setting one. Minnesota didn't just produce good offensive linemen, but great ones like All-Americans Greg Eslinger and Ben Hamilton.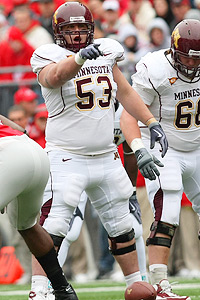 Aaron Josefczyk/Icon SMID.J. Burris & Co. are looking forward to running an offense that emphasizes the power run.
The team's history isn't lost on Burris and his linemates this spring.
"We're definitely aware of the tradition here about running the football," said Burris, Minnesota's starting center. "That's why we're taking it upon ourselves to get it back."
Pride is the word Burris and even non-linemen like quarterback
Adam Weber
use to describe what's happening up front this spring in Minneapolis. The team's running game hasn't merely slipped off its perch, but plummeted to the bottom of the Big Ten.
The last two seasons have seemed extremely un-Gopher-like:
2008: Minnesota finished last in the Big Ten and 104th nationally in rushing offense (103.8 ypg)

2009: Minnesota finished last in the Big Ten and 111th nationally in rushing offense (99.5 ypg)
Part of the problem has been a lack of continuity. Minnesota ran the spread offense under Mike Dunbar in 2007-08, and then switched to a pro-style system, designed to emphasize the power run, under Jedd Fisch last season.
The Gophers are adjusting to another new coordinator this spring, as Jeff Horton takes over the offense. But Horton's top goal, one the players clearly appreciate, is simplifying a convoluted system and identifying the hallmarks for the unit to succeed.
"We know where we're going as an offense," said Burris, who started at guard as a freshman before moving to center the last two seasons. "Our playbook's a lot thinner, and we know exactly what we're doing on every play now, so it's nice. Every season, it's been something new, something new, and then this year we simplified it with what we've already been doing.
"That makes us a lot more comfortable."
Head coach Tim Brewster didn't hide the fact he wanted more toughness from the line this spring, and he has seen the group respond. All five starters are back and continuing to work in the top spots, but they're being pushed by players like Ed Olson and Brooks Michel. Returning starters like Matt Carufel and Jeff Wills are healthier, and massive tackle Jeff Wills has slimmed down a bit.
During an April 10 scrimmage, the line started slow but got stronger as things went along, creating holes for backs
DeLeon Eskridge
and
Duane Bennett
.
Weber, who has a vested interested in the line's performance, has seen a difference this spring.
"They're playing with confidence and they're playing with pride," he said. "You can definitely tell, when it's third-and-1, when it's fourth-and-1, they can sense that they need to pick up their game a little bit, and we've been winning a lot of those battles."
After being pushed around too much the last two seasons, Burris and his crew expect to turn the tables this fall.
"As an offensive line, that's where your pride comes from, when you can walk into a game and you can run the ball up and down the field," he said. "That's when you feel good about yourself."