March, 28, 2013
3/28/13
9:00
AM ET
Roughly 90 percent of college football programs would be thrilled to win 10 games in a season. Oklahoma is not one of those programs.
Sharing a Big 12 title? That trophy is a whole lot less satisfying when there are seven others waiting in the trophy case since 2000 that weren't shared with anybody.
"Our expectations are different than everybody else. Everybody's not Oklahoma," defensive coordinator Mike Stoops said. "When you have Oklahoma across your chest, you expect to win championships, and that's never going to change here."
He knows firsthand. Stoops helped his brother, coach Bob Stoops, win Oklahoma's seventh national title back in 2000, and the Sooners came up short two more times, once losing in the title game with Mike Stoops in 2003 and again a year later with Stoops coaching at Arizona. Without him coordinating the defense, the Sooners gave up 55 points to USC, more points than any team has ever scored in the BCS National Championship Game.
Arizona fired Mike Stoops six games into the 2011 season, and the Sooners' struggling defense needed an offseason jolt, despite winning 10 games that same season. Mike Stoops returned and brought assistant Tim Kish with him to coach linebackers and help coordinate the defense.
"Sometimes change is good, new ideas are good always, and change is good sometimes," Mike Stoops said. "That happens for whatever reason, and whether it's complacency or just being stagnant, those things occur. Just trying to reinvent ourselves is something we need to do."
In 2012, there were more late-season defensive struggles after a strong start, but yet again, a 10-win season and a shared Big 12 title weren't enough. Losing three games isn't good enough, and nobody wants to hear that all three losses came to teams that spent time in the top five last season. The Sooners want to get back to competing for national titles, and Bob Stoops went the route of coaching changes to help get Oklahoma back there.
Assistant coaches Jackie Shipp and Bruce Kittle were shown the door, along with offensive line coach James Patton. The Sooners scooped up Bill Bedenbaugh from West Virginia to replace Patton and brought in Jerry Montgomery from Michigan to coach the defensive line. Jay Boulware filled Kittle's spot on the staff after coaching tight ends at Auburn. The Sooners' reboot was complete, and they're working toward results in the spring.
"[They bring] a new perspective in some areas, new ideas. They're not drastic changes," Mike Stoops said. "Obviously, the coaches we had in here were involved and knew our systems well, but there's always little changes in technique and little things schematically that can help you, so we're always looking for fresh ideas."
Ten wins tastes bitter when you're used to winning 11 or 12, which can be the difference between proving yourself as a very good team and a great team. Oklahoma won at least 12 games six times since 2000 and 11 games on three more occasions. Ten wins isn't good enough, and a few former players and one famed coach were more than willing to speak up about it, echoing fan concerns.
Barry Switzer started it in September when he told one local paper that the Sooners "just don't have the talent."
"We're not as good as we have been," Switzer said. "We don't have the Tommie Harrises or Gerald McCoys squatting down there in the middle [of the defensive line]."
Offensive lineman Jammal Brown, an All-American who played in Norman from 2000 to '04, said he was "mad as hell" about the Sooners' 28-point Cotton Bowl loss to Texas A&M to cap the 10-win season, calling the Sooners "soft." CBS analyst Spencer Tillman, a Sooners running back in the '80s, said Oklahoma lost concentration on what made the program great in the first place.
Considering the Sooners let Shipp go at the end of the season, it's hard to believe Bob Stoops didn't agree in part with what Switzer had to say. As for the rest of it?
"We may not be as skilled at some of the positions as we want to be, but our toughness and pride is what made Oklahoma what it is, whether it was Bud Wilkinson or Barry Switzer or Bob Stoops, I think that's the common thread that goes to being a great team," Mike Stoops said.
"Some of those, from the outside, may have felt like we didn't have that common thread between us. I never felt that; I always thought our teams played hard and together. They're certainly entitled to their opinions, you know. We've got to look at ourselves, and if it's true, we need to change it. The things we needed to change, we're working on changing, and nobody knows our program like we do.
"There's areas we certainly need to get better at, and we're aware of those. Some of those take time. Some of those take adjustments each day to get better."
The Sooners lose a four-year starter at quarterback in
Landry Jones
from last year's team, along with seven starters from Mike Stoops' defense. The task of winning more than 10 games seems difficult in a Big 12 that's deeper than it has ever been.
"We just need to get better, again, individually and schematically and play better across the board and come up with better ideas and a better scheme. We're not far off when you look at the big picture," Mike Stoops said. "We had a chance to win 12 games, we lost them all late in the game and down the stretch and didn't make the plays we needed to, but again, we're not that far off."
Lots to talk about after the long weekend. Let's get to it.
More turnover for the Longhorns
Just when Mack Brown thought he was almost done filling his staff, he ended up with a bit more work to do. Defensive backs coach Duane Akina resigned to take the same position at Arizona.
His departure after an impressive tenure at Texas to take what was a lateral move at best raised all kinds of red flags, but a quick hire from Brown helped lower them a bit. The Longhorns went with Manny Diaz at defensive coordinator over Seattle Seahawks defensive backs coach Jerry Gray, but Brown convinced Gray to make a move of his own to fill Akina's void.
That's a great move for Texas, who could have inspired some panic with Akina's departure. He was arguably Texas' best position coach, and you don't need to look much further than the staggering list of DBs he's sent to the NFL as proof. He's also coached a pair of Thorpe Award winners at Texas in Michael Huff and Aaron Ross.
Now, he's headed back to Arizona, where he coached from 1992-2002.
"We've been talking about getting back there over the years, but it never seemed to be the right time. When this opportunity came up, I felt like the window was there and that it was the right fit," Akina said in a release. "...going back to Arizona was an opportunity I couldn't pass up. It allows me to get closer to a lot of friends and family, and to hopefully help a program that has been such a big part of my life in any little way I can."
Well, that sounds nice and all, but you have to wonder if he didn't fully mesh with Diaz, either personally or philosophically, contributing to the move. Gray's arrival helps silence similar talk, but the Longhorns will be fascinating next seaon.
Six coaches are gone from last season's staff. Just four remain. That's a heck of a lot of turnover for one season.
Fuller sticks around for his senior year
[+] Enlarge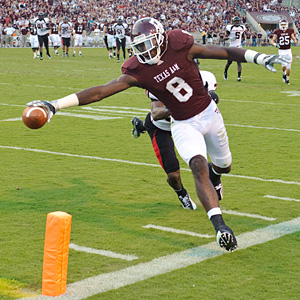 AP Photo/Dave EinselTexas A&M received good news when receiver Jeff Fuller opted to return for another season rather than enter the NFL draft.
We'll have more on the trend later today, but Texas A&M receiver
Jeff Fuller
announced he would return to College Station for his senior year, which is fantastic news for the Aggies. Texas A&M has a great receiving corps, but it doesn't have anyone capable of replacing Fuller's size and production. He just finished the first 1,000-yard season in the history of Texas A&M football, and there's no reason to think he won't kick off the second next September.
Simply put, there aren't many receivers with Fuller's size, and he'll be a much better route runner and probably a little bit faster this time next year. His draft projection from the NFL advisory committee was outside the first two rounds, and a year ago, teammate and linebacker Von Miller received a similar report.
Miller now looks like a mid-to-late first rounder, and Fuller admitted Miller's experience had an influence on him.
"I'm excited about our team and the guys I came into school with. There are a lot of areas I need to work on, and another year will put me closer to earning my degree and that is important to my family," Fuller said in a release. "I had a great example in Von. He decided to come back and he really helped our team improve and I believe he improved his position in the upcoming draft, and he is only a few hours short of his degree."
Thanks to Fuller, A&M is losing just one offensive starter -- center Matt Allen -- and three defensive starters.
Sooners fill out staff
Oklahoma coach Bob Stoops announced his promotion of Bruce Kittle from on-campus recruiting coordinator to tight ends and tackles coach, replacing the void left by offensive coordinator Kevin Wilson. Wilson left Oklahoma to take the head coaching job at Indiana.
Kittle will finally get a chance to prove himself, after a short coaching career and a long relationship with Stoops. The two played at Iowa together, and Kittle is also an ordained minister and lawyer.
That won't satisfy the contingent of Sooners fans who wanted to see Stoops hire a special teams coordinator, but if Oklahoma can get some consistency out of its placekickers and stop giving up long kick returns, those complaints will go away. Certainly, it might be easier to do those things with a special teams coordinator, but Oklahoma, with its eight BCS bowls under Stoops, seems to have done OK for itself without a special teams coordinator thus far.