NCF Nation:

Bruce Matthews
September, 4, 2013
9/04/13
3:00
PM ET
COLLEGE STATION, Texas -- As Jake and
Mike Matthews
settled in to watch the BCS championship game this January, Jake thought deeply about his future and whether to stick around Texas A&M for one more season, perhaps to make a run at playing in the type of game the two were about to watch on television, or declare for the NFL draft.
[+] Enlarge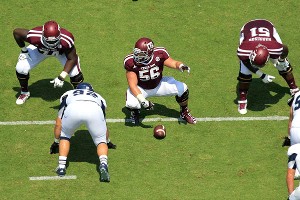 Thomas Campbell/USA TODAY SportsMike Matthews is playing on the O-line with his brother Jake for the first time since high school.
Naturally, Jake sought advice from his father, Pro Football Hall of Famer and Tennessee Titans offensive line coach Bruce Matthews. The two spoke on the phone at length about Jake's options before Jake decided it was best to finish out his Aggie career.
Once his parents knew, the next person he told was Mike, now a sophomore center for Texas A&M. His reaction?
"'Alright, cool,'" Jake recalls Mike saying, nonchalantly. "And then watched the game. That's just way he is."
Now the two embark on a unique opportunity, brothers playing only two spots away from each other on the No. 7 Aggies' offensive line.
The 6-foot-5, 305-pound Jake is now a senior who spent his first three seasons at A&M playing right tackle. But after 2012 Outland Trophy winner Luke Joeckel declared for the 2013 draft and joined the Jacksonville Jaguars, who drafted him second overall, Jake is now manning Joeckel's old left tackle spot.
Mike, a 6-2, 285-pounder who backed up starter Patrick Lewis at center last season, played late in games when the Aggies held comfortable leads in 2012, so the two didn't have a chance to play on the field at the same time last season. With Lewis having graduated and Mike next in line to start at center, the chance to do so existed.
"It's one of the main reasons I wanted to come back and finish up my senior year here, just the opportunity to play with him," Jake said. "… It's always something real special to play with your brother, especially a sport like this and especially playing on the o-line, just because it's such a close-knit group."
The pair had the chance once before, under similar circumstances. When Jake was a high school senior and Mike -- then known as "Mikey" -- was a sophomore at Missouri City (Texas) Elkins High School, they spent a season starting at left tackle, and center, respectively.
Fast forward four years and the pair are playing together on a top-10 team and blocking for one of the country's most explosive offenses, which includes Heisman Trophy-winning quarterback,
Johnny Manziel
.
Jake has established himself as an elite tackle. He was a first-team All-SEC selection last season, was named a first-team All-American by the Football Writers' Association of America and was projected by many to be a first round pick in the 2013 draft, had he elected to enter it. That will still likely be the case when 2014 arrives.
Mike, in his first year starting for the Aggies, has already impressed the coaching staff. His debut as a starter on Saturday in a win over Rice yielded positive results, according to Coach Kevin Sumlin.
"He handled [adjustments] very, very well," Sumlin said. "Really, after the first series, he played extremely well. I think that was evident by our ability to rush the football effectively."
For Jake, there is an adjustment phase in moving from right tackle to left tackle.
"It's definitely different," Jake said. "I played left tackle throughout high school but playing college football three years at right tackle you definitely get some tendencies. That's been a little bit of a challenge, getting used to flipping everything, your feet and all that stuff."
Sumlin calls Jake, one of the Aggies' team captains, a classic "low maintenance, great player," the same compliment he used on Joeckel.
Outside the whistles, their personalities are distinct, according to coaches and teammates.
"I would say Mike Matthews is the more rowdy guy and Jake is more quiet," senior running back
Ben Malena
said. "I think with [Mike] playing the position that he does, by him being vocal it helps him a lot."
Mike agrees.
"I guess I am a little loud," he said. "[Jake] always tells me I'm annoying because I don't shut my mouth. I do a lot of talking. When I get on the field, I start yelling around a little bit. I'm kind of hyper."
Jake even compared Mike's personality to that of a former Texas A&M defensive lineman who was known for his outsized personality.
"He's like the new Spencer Nealy," Jake said. "He's always been like that growing up. You would think we were raised by different parents. He's always yelling and excited and stuff. It's fun to have someone like that on the team because he picks up the energy and gets guys excited. I'm not sure where he gets it from though."
Jake has his share of fun, too, though. Though Mike seemingly shed the "Mikey" nickname once he left high school, Jake has done his best to keep it alive.
"Everyone calls him Mike and I call him Mikey," Jake said. "It is kind of funny, because now half the guys on the team call him 'Mikey,' and it's kind of funny to see it. [Quarterback]
Matt Joeckel
does it the most and makes fun of him with it. It's second nature [for me] to call him Mikey, I've been calling him that since we've been running around like little kids."
Jake doesn't escape ribbing however. Offensive coordinator Clarence McKinney has gotten in a jab or two.
"I always tease Jake and tell him he's the fourth-best center in his family," said McKinney, referring to Bruce, Kevin and Mike Matthews who have all played center. "He'll be a guy who leads us and we're definitely happy to have both of those guys be a part of this program."
The pair aren't the first of the Matthews men to don the maroon-and-white, though. Their older brother Kevin Matthews, who spent three years with the Tennessee Titans and spent time in Washington Redskins camp last month, also played for the Aggies.
With Bruce being a Hall of Famer, Kevin having played in the NFL and Jake next in line, Mike said he wants to follow in his elders' footsteps. The bond he shares with Jake is a strong one.
"We spend a lot of time together," Mike said. "He's like a best friend to me and every single day we have basically the same schedule. We go to class, go to football practice, hang out there, go home, watch TV together, hang out, joke around, just like any old brother relationship."
While Mike was a big reason that Jake returned for one final season in Aggieland, there were a few others too. Jake, a university studies major in A&M's Mays Business School, is on track to earn his degree in December, three-and-a-half years after he stepped on campus. It never hurts to make your mother happy, which Jake did. Carrie Matthews was hopeful for the opportunity to see two of her five sons share the field together at least one more fall. And Jake feels like there are special things ahead for the Aggies.
"We're a great team right now and we're getting a lot of publicity," Jake said. "That was one of the main things I liked. We have a chance to do some special things and I really wanted to be a part of that."
The Aggies are thankful to have them both this season.
"Let me just tell you that I'm extremely happy to have Mike Matthews here, because I do believe if he wasn't here,
Jake Matthews
wouldn't be here this year," McKinney said with a smile. "We're happy about that."
January, 6, 2011
1/06/11
9:00
AM ET
SCOTTSDALE, Ariz. -- One is the veteran linebacker with the last name that says "football." The other is the young, boisterous and sometimes spectacular playmaker who earned All-American honors despite not earning a starting job until midseason.
Oregon's senior linebacker Casey Matthews and sophomore cornerback Cliff Harris are different sorts in more ways than one, but they will be two of the key pieces in the Ducks most challenging chess game on defense this season: How do you slow Auburn and Heisman Trophy winning quarterback
Cameron Newton
?
[+] Enlarge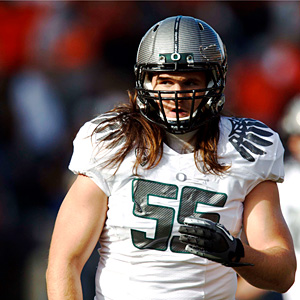 Jason O. Watson/US PresswireCasey Matthews will be at the center of an Oregon defense hoping to stop Cam Newton.
Matthews, who earned first-team All-Pac-10 honors after being second-team a year ago, will lead the charge against Auburn's rushing attack in the Tostitos BCS National Championship Game on Jan. 10. The Tigers rank fifth in the nation with 287 yards rushing per game.
Harris, who earned All-American recognition as both a corner and return man, will be at the center of a secondary trying to contain Auburn's downfield passing attack. The Tigers lead the nation in passing efficiency.
In both instances, the focus will be on Newton, who is extremely efficient and productive -- 28 touchdowns and six interceptions -- and one of the best running quarterbacks in recent memory -- 1,400 yards rushing and 20 touchdowns.
Oh, and Newton is 6-foot-6, 250 pounds.
"He will be very tough to tackle," Matthews said. "He's not your ordinary quarterback. I mean, he's huge. He's got a pretty powerful stiff arm ... he makes a lot of his plays on third and long. If no one is open, he is going to take off and run. We had problems with that last year in the Rose Bowl. That's one thing we knew we had to work on going into this game."
Matthews refers to the career game that Ohio State quarterback
Terrelle Pryor
produced against the Ducks in the previous year's Rose Bowl. Pryor is 6-foot-6, 233 pounds, so the Ducks know how hard it is to contain a big, fast quarterback who can complete passes downfield. Only Newton is way better.
Oregon hopes its No. 16 run defense will hold down Newton's scrambles -- something it didn't do against Pryor -- and force him to throw into a secondary that ranks sixth in the nation in pass efficiency defense, and has grabbed 20 interceptions. Five of those picks went to Harris.
"[Harris] has a great overall game," Auburn receiver
Kodi Burns
said. "He's just a great talent. He's somebody we're really going to have to deal with."
Matthews is the steady leader with good instincts. He led the Ducks with 73 tackles and is the quarterback of the defense. Harris is more of a wild card. He can grab a pick-six at any moment. Or he can get busted on a double move. He's got impressive skills, but he also can lose focus or freelance, which often draws the ire of coordinator Nick Aliotti and even other Ducks.
"For all the big plays he makes, he will sometimes slip a little bit," Matthews said. "It comes back to the mental discipline, just taking your assignment. Sometimes you will try to make the big play on a double route or stop and go and he will jump it and then [the receiver] will be wide open. But you can't go yelling at people, telling them to do this. You just got to keep them calm and remember how he had his success. He's a great corner. Just around the receiver when the ball is thrown, he has got a chance to pick it. That's the big part about him -- his big-play ability."
Matthews obviously has plenty of help becoming a smart, disciplined player. His brother, Clay, is a star linebacker for the Green Bay Packers. His father, Clay, Jr., played the third most games in NFL history (278) over 19 seasons as a linebacker. His uncle, Bruce, is in the NFL Hall of Fame as an offensive lineman.
But it was his mother, Leslie, whose recent advice most resonated.
"My mom told me I had to be slightly insane with my play," Casey Matthews said. "That is one thing I haven't heard her say ever, but she did tell me that."
As for Harris, he wasn't one of the players brought to the news conference featuring Ducks defenders. Part of that is the belief of Oregon coaches that senior Talmadge Jackson is the Ducks best corner, despite Harris' flashy play. Jackson didn't earn All-American honors, but he did get the first-team All-Pac-10 nod over Harris as voted on by conference coaches.
Jackson has served as a bit of a tutor to Harris, who only became a starter in the season's seventh game.
"I try to help him improve his overall knowledge of the game," Jackson said. "He's a great athlete. He's very smart. And he's willing to work at anything you tell him."
As for Harris' sometimes demonstrative personality or his occasional blown coverage, Jackson said there's a fine line between correcting and browbeating.
"Cliff is a very exciting guy to be around," he said. "You don't want to mess up anybody's personality or try to take anything away from him. You want to let him play his style of football but keep it respectable."
Considering how high-powered the Tigers offense has been this season, if Matthews, Harris and the Ducks keep things respectable, Oregon could end up with the national championship.
May, 12, 2010
5/12/10
12:00
PM ET
Two rounds are in the books and four teams are left in ESPN.com's playoff to determine
college football's best NFL pipeline
.
Clemson, Oklahoma State, Nebraska, Florida, Tennessee, Michigan, Arizona State and Penn State were eliminated in Round 2.
Georgia, Notre Dame, UCLA and Ohio State were pushed aside in Round 1.
Only Florida State, Pittsburgh, Miami and the University of Southern California are left.
Based on recent history, it's a surprise the Panthers are still standing.
Next to college football's teams of the 1980s (Miami), 1990s (FSU) and 2000s (USC), the Panthers stick out as much as Lane Kiffin sitting at a table of Hall of Fame coaches.
But here's a brief history lesson to bring you up to speed on Pittsburgh football:
In the early 1980s, there probably wasn't a better NFL factory than the Steel City's university. Quarterback
Dan Marino
played there, along with fellow Pro Football Hall of Famers Russ Grimm and
Rickey Jackson
.
Who can forget Pitt's stellar offensive linemen like
Mark May
, Jimbo Covert,
Ruben Brown
and
Bill Fralic
or its menacing defensive linemen such as Hugh Green,
Chris Doleman
and
Sean Gilbert
? Former NFL running backs
Curtis Martin
and Craig "Iron Head" Heyward played for the Panthers. More recently,
Arizona Cardinals
receiver
Larry Fitzgerald
and cornerback
Darrelle Revis
starred at Pitt.
But if the survey were based on the last 10 to 15 years -- instead of the last three decades -- the Panthers wouldn't have a seat at the front table.
FSU, Miami and USC are far and away college football's best NFL factories during the last two decades.
The Hurricanes blessed us with alumni who won five NFL Most Valuable Player awards and made 100 Pro Bowl appearances. An alumni game at "The U." would include a defense led by safety
Ed Reed
, linebacker
Ray Lewis
, and defensive linemen
Warren Sapp
and
Cortez Kennedy
. Try scoring against that unit.
The Miami offense would include quarterback
Jim Kelly
, tailbacks
Edgerrin James
and
Clinton Portis
, receiver
Michael Irvin
, tight end
Jeremy Shockey
, and tackle
Bryant McKinnie
.
Only USC can match that kind of star power. Four of the former Trojans drafted by NFL teams since 1979 are already in the Pro Football Hall of Fame: safety
Ronnie Lott
, tailback
Marcus Allen
, and offensive linemen Anthony Munoz and
Bruce Matthews
.
It's probably only a matter of time before former Trojans
Junior Seau
joins his fellow USC alumni in Canton, Ohio.
Florida State, which won 10 games or more every season from 1987-2000 and won national championships in 1993 and '99, produced NFL stars such as
Deion Sanders
,
Derrick Brooks
,
Walter Jones
and
Warrick Dunn
.
But many of FSU's best players during the 1980s and '90s never found as much success in the NFL.
Brad Johnson
, the only former Noles quarterback to have sustained success in the NFL, didn't even start during his senior season at FSU. Quarterbacks like
Peter Tom Willis
, Danny McManus,
Danny Kanell
and
Casey Weldon
had a cup of coffee in the NFL, but not much more.
What was the biggest surprise in the first round? No. 12 seed Ohio State over No. 5 seed Tennessee.
Ohio State's lineup of
Orlando Pace
,
Cris Carter
,
Chris Spielman
,
Eddie George
and
Robert Smith
is as good as anybody's, but Tennessee's roster of NFL talent is arguably just as solid.
Besides, who doesn't know the Buckeyes are going to lose to an SEC team every time?