May, 24, 2012
5/24/12
2:30
PM ET
COLUMBIA, Mo. -- Gary Pinkel isn't naive. Missouri's coach understands a new recruiting game has to be played now that the Tigers are moving to the SEC.
The states of Missouri and Texas will continue to be recruiting priorities, but stretching out to southeastern states will now become very important.
"That makes sense," Pinkel said about generating more recruiting efforts in southeastern states.
[+] Enlarge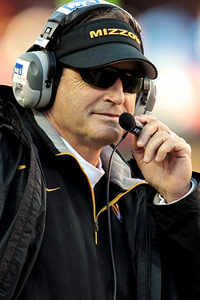 Jamie Squire/Getty ImagesCoach Gary Pinkel says he's confident that Missouri's recent track record will attract recruits from the southeast.
Pinkel said the main areas of importance outside of the Tigers' home state are Dallas and Atlanta. The good thing for Pinkel and his staff is that it's only about an hour longer drive to Atlanta compared to Dallas. It still accounts for 10-plus hours on the road, but if you're going to take the time to head to Dallas, you might as well make it out to the hub of the South.
And for Pinkel, it's well worth it.
"If you look at statistics and analysis of BCS players, they come out of the metroplex around Dallas and then you look at the greater Atlanta area," he said. "The parallels are staggering between those two cities. They produce a lot of athletes."
Currently, Missouri has just six players from SEC states -- three from Florida, two from Arkansas and one from Louisiana. Mizzou increased that number by two after signing two players from Florida in its 2012 class.
Pinkel said things are certainly different when it comes to the 2013 class. There's a lot more marketing in the South from the Tigers. Pinkel said the school is sending "thousands of pieces of information" about Mizzou to southeastern high school coaches and counselors each week. There are also Mizzou billboards in the states of Alabama, Florida, Georgia and Tennessee.
While Mizzou hasn't received any verbal commitments from southeastern prospects in its 2013 class, according to ESPN recruiting services, the coaches have issued scholarships to 19 of those prospects. Expect that number to grow as coaches get out on the road more.
While Pinkel wants to hit Atlanta hard, he doesn't have experience recruiting that area, but has recruited off and on in Florida. Here's a look at the coaches who will be patrolling the southeast:
Safeties coach Alex Grinch: Atlanta area

Running backs coach Brian Jones: Tampa and part of Orlando

Co-offensive line coach Josh Henson: Florida Panhandle, Jacksonville, Fla., and down toward Orlando

Defensive coordinator Dave Steckel: West Dallas

Co-offensive line coach Bruce Walker: East Dallas

Defensive line coach Craig Kullgowski: Houston area

Offensive coordinator David Yost: Missouri and Memphis, Tenn.
Pinkel understands that Mizzou is a foreign program to a lot of southeastern prospects, but slowly he expects that feeling to disappear. He experienced it recruiting the state of Texas as Toledo's coach and when he first arrived at Mizzou, but saw it turn around twice.
Pinkel said his first Mizzou roster had around 10 or 11 players from Texas and now has more than 30. Once southeastern players get to know his program, Pinkel insists Mizzou will be more appealing to recruits in this talent-rich part of the country.
"We've been here before," he said. "We understand it's a process.
"I also think we walk in the door with some credibility -- winning and success and graduating our players. In the last five years or six years -- I'm not sure what it is -- we're the eighth winningest BCS program in the country and we're graduating in the last six years 96 percent of our players. Those are facts."
November, 17, 2011
11/17/11
11:51
AM ET
Gary Pinkel has one of the most sterling reputations of any coach in the Big 12.
After being
arrested on suspicion of driving while intoxicated
on Wednesday night, that's taken a hit.
"I am very disappointed in myself for my lack of judgment in this instance," Pinkel said in a statement. "Nobody should drink and drive, including me. My staff and I constantly reinforce with each of our players the importance of not putting yourself into a position such as this. I did not follow that here and for that, I sincerely apologize to the University of Missouri, to our administration, to the Board of Curators and to our fans."
For Pinkel, though, there's little left to do besides take responsibility and move on.
The Tigers had two players, linebacker Will Ebner and tight end Beau Brinkley, arrested on DWI charges last summer. Mizzou even had a coach, offensive line coach Bruce Walker, arrested on DWI charges, though the exact circumstances were odd in that he was reportedly waiting for a taxi in the parking lot of the Mizzou facilities but his car was running while he sat in the driver's seat.
Either way, Pinkel must hold himself accountable as he would a player.
"I have already met with our staff and communicated with our players and have apologized to them," Pinkel said. "I accept full responsibility for my actions and will abide by whatever course of action our leadership deems appropriate."
Should Pinkel coach on Saturday at home against Texas Tech?
In similar circumstances,
would a player play
?
Nothing causes a coach to lose respect in his locker room faster than inconsistent rules.
Brinkley and Ebner were both suspended for the first two games of the 2010 season. Walker was not suspended after his arrest.
This mistake was extremely out of character for Pinkel, but one mistake can put you in the exact position in which Pinkel finds himself. Pinkel would be well-served to spread that message and turn a very high-profile mistake into a teachable moment for more than just himself.
As with any drunken-driving arrest, this could have been much more serious and the Thursday morning headline much more tragic. It wasn't. For that, all are fortunate.
That doesn't change the seriousness of the mistake or the consequences that should follow.