Stanford outside linebacker Chase Thomas talks about Stanford's win over UCLA and the program getting respect.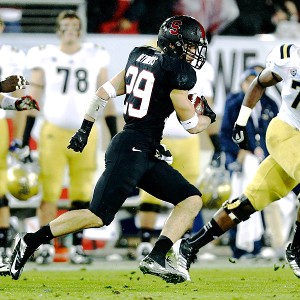 PALO ALTO, Calif. -- It didn't matter to Stanford that everyone was handing the Pac-12 to either USC or Oregon in the preseason. But, of course, it did.
Stanford coach David Shaw talks about winning the Pac-12 title game over UCLA, 27-24, and what it means for his program.
PALO ALTO, Calif. — Here's a quick take on Stanford's 27-24 victory over UCLA in the Pac-12 championship game:It was over when: It was over only when UCLA kicker Ka'imi Fairbairn missed a 51-yard field goal attempt that would have tied the score with 39 seconds left.
PALO ALTO, Calif. -- UCLA started fast, serving notice that its offense wouldn't get dominated as it was last weekend, but Stanford answered and used a 37-yard field goal on the final play before halftime to go up 17-14.
STANFORD, Calif -- The big pregame news in advance of UCLA's visit to Stanford in the Pac-12 championship game is this: Sun. After a long and torrential rain storm, the sun is shining and there's blue sky over Stanford Stadium.
Ted Miller takes a final look at the Pac-12 championship game between Stanford and UCLA.