NCF Nation:

Bruins-Horns-092510
September, 25, 2010
9/25/10
9:17
PM ET
AUSTIN, Texas --
Garrett Gilbert
hung around Joe Jamail Field a little longer than his teammates, who walked slowly underneath the south bleachers into the locker room. He did the same, but slower and with his eyes fixed on a soon-to-be-hoarse section of delirious UCLA fans celebrating and chanting "U-C...L-A" over the half-hearted rendition of "Eyes of Texas" that sounded so much sweeter in Lubbock a week ago.
The last time Gilbert endured a loss, he threw four interceptions and added a fumble. This time, he threw just one, but added a fumble on a sack from his blind side similar to the one that ended Texas' comeback hopes in the national title game.
"I can't turn the ball over like that," Gilbert said. "That's on me."
[+] Enlarge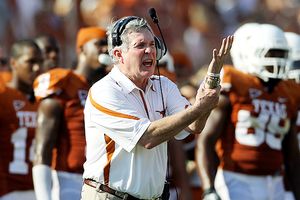 Ronald Martinez/Getty Images"Turnovers are what loses games," said Mack Brown after his team committed five of them, " and we lost this game more than we had a chance to win it."
The interception -- a pass to an open
James Kirkendoll
that never cleared a roaming linebacker underneath -- was on Gilbert, but most of the other mistakes weren't. No. 7 Texas did very little right and most things wrong in a stunning
34-12 loss to UCLA
, a team who was beaten 35-0 on its home field by Stanford two weeks earlier.
"There's probably 15 [mistakes] and they're all bothersome," Texas coach
Mack Brown
said. "Turnovers are what loses games, and we lost this game more than we had a chance to win it."
There were five in all, and three in the first half. None were more embarrassing, albeit meaningless, than a miscommunicated kickoff return in the final minute after a late UCLA touchdown provided the final margin.
In the first half, the defense made up for a few mistakes by recovering a pair of fumbles and setting up the offense for scores, but long touchdown drives on UCLA's first two possessions of the second half effectively quieted the Longhorn crowd and sent Texas to a loss earlier than about anyone expected.
"I don't feel like right now we're very good at anything," Brown said. "It's hard to point at what's worse when it's all bad."
He added: "It was a rear end kicking, and in the first half, it should have been a lot worse than it was, but the defense played their guts out."
The positives were minimal. Brown said a few players played well, and felt the team as a whole prepared well and entered ready to play. Running back
D.J. Monroe
even said Brown had to calm the team down before the game, so uncheck motivation and preparation as possible culprits.
"You can be ready to play and play poorly," Brown said.
Instead, it was mistakes, and Brown added it could have been 100-0 at the half if the team hadn't played well around the costly mistakes.
The only thing more numerous than the mistakes themselves were the ways Brown found to express his frustration about them afterward.
[+] Enlarge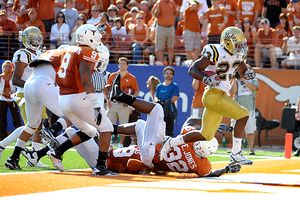 Brendan Maloney/US PresswireJohnathan Franklin gashed the Texas defense for 118 of UCLA's 264 rushing yards. The Bruins scored three touchdowns on the ground including this one.
"This one's embarrassing for me. As a head coach I'm responsible for everyone in this program," Brown said. "It was not fair to Texas fans, it was not fair to the players. I've got to do a better job. You can't have that many mistakes and be doing my job."
Gilbert's interception and fumble were just two. The late kick return was another. In between, a punt return fumbled by
Curtis Brown
-- one he fielded inside his own 5-yard line and turned over in the red zone -- and a fumble on a run by Monroe that produced a UCLA field goal.
"It's the hardest thing in the world when you do not play well as a team. It's an awful feeling as a coach because you feel like you let your kids down, you let your fans down, you let everybody down," Brown said. "It's just awful. It's the worst thing you can do in our business. We're paid to do it well and we didn't do it well today."
Texas will have to do everything better next week against Oklahoma. The defense, which led the nation against the run through three games, was exposed in the second half by UCLA's zone read from the pistol formation. It let UCLA running back
Johnathan Franklin
take a big, 35-yard chunk out of an 80-yard scoring drive to begin the second half. On a later drive, quarterback
Kevin Prince
kept it and trotted into the end zone almost untouched from 38 yards to put the Bruins up 27-6, conjuring up images of 1997's "Rout 66," when unranked UCLA beat No. 11 Texas 66-3. Texas never controlled this game, and that's a bad sign for a team whose annual, season-defining game is seven days away.
"I'll go home right now and see if I can put some sense into this," Brown said, adding that the loss was was disappointing and stunning. "In fact, I'm shocked."
It's hard to fix what you didn't realize was wrong. Now, Texas has to diagnose 60 minutes of its worst football in recent history before a date with Oklahoma in the Cotton Bowl next Saturday.
"Everything that we did messed up," Brown said. "Our gameplan was to try to stay off the field like we did at Tech and make them play late. It worked early, but we didn't score points. I don't know why we're not scoring points. They ended up keeping us on the field and it totally backfired. Everything we wanted to do, they did."
The questions will come as the week progresses. Texas hasn't looked like a team that has successfully established the power running game it sought after Colt McCoy checked out of Austin and took his 70 percent completion rate with him. Brown wanted to support his quarterback with a running game. So far, that support hasn't been there.
Whether or not Texas will keep looking for it hasn't been determined, but Saturday's game tape may hold the answers.
"We have to make sure we're asking guys to do what they can do," said offensive coordinator Greg Davis.
September, 25, 2010
9/25/10
6:54
PM ET
AUSTIN, Texas -- That was ugly. That was a loss when just about everything went wrong for the
Texas Longhorns
, and the
UCLA Bruins
didn't catch a lot of breaks. They beat Texas straight up in every facet of the game. The Longhorns look like they have some soul-searching to do before next week's matchup with Oklahoma. UCLA didn't provide any opportunities, and neither will the rival Sooners.


How the game was won:
Texas scored the first three points of the game, but never reached any kind of offensive rhythm. The defense was worn down and looked ordinary in the second half as UCLA scored touchdowns on its first two drives of the second half to race to a
34-12 win
.
Stat of the game:
Texas turned the ball over four times. Three of those turnovers came in the first half, but the defense kept it close and the Longhorns trailed 13-3. The offense wasn't strong enough to offset two UCLA touchdowns in the third quarter.
Player of the game:
Johnathan Franklin
, RB, UCLA. Against Texas' vaunted run defense -- the nation's best through three games -- Franklin topped 100 yards and scored a touchdown.
Second guessing:
Texas' decision to force an unproductive run game. The Longhorns didn't move much on offense, but looked a lot better when they spread it back out and let
Garrett Gilbert
try to make plays with his arm. It's hard to imagine Texas' coaches didn't see the same thing. It should be very interesting to see what Texas' offense looks like next week against Oklahoma.
What Texas learned:
One half of great defense and two halves of bad offense equal a lopsided loss to a middle-of-the-road Pac-10 team. Gilbert looked decent in spots, but missed a wide-open
James Kirkendoll
in the end zone for a first-half touchdown that would have given Texas the lead. The running game was never a factor and it doesn't look like it will be moving forward. The defense can't win games by itself.
What it means:
Texas' national championship aspirations will need plenty of help. Forget Boise State, Texas has to start with themselves. The Longhorns defense played well for a half, but on the whole, Texas looked like an eight-win team. The good news is it's a nonconference game and Texas still has a week before it plays a game that affects its chances at reaching a BCS bowl game.
Record performance:
UCLA has now outscored Texas 100-15 in its past two trips to Austin, after beating Texas 66-3 in 1997.
September, 25, 2010
9/25/10
6:15
PM ET
AUSTIN, Texas -- Texas needed big plays to start the second half if it wanted to rebound from a 10-point deficit.
Instead, UCLA is producing the big plays and took a 27-6 lead on a 38-yard touchdown run from
Kevin Prince
. That drive was set up by a Bruins kick return to midfield.
The Bruins also scored a touchdown on an 80-yard drive to kick off the second half.
Texas now needs even more big plays on defense to spring a comeback. But with a three-touchdown lead and an offense that doesn't need to do much more to win, UCLA may not provide them with many opportunities.
Texas opened the second half with six passes to just two runs on its first drive that ended in a field goal. Expect that trend to continue Saturday, but we'll see if it continues next week. For now, the deficit has made opening up the offense a necessity.
September, 25, 2010
9/25/10
4:59
PM ET
AUSTIN, Texas -- Another turnover, another UCLA field goal.
UCLA's Kai Forbath drilled his second field goal of the day -- a 49-yard kick that put UCLA up 13-3 -- following Texas running back
D.J. Monroe
's fumble.
Garrett Gilbert
followed that with an interception in Texas' territory, the Longhorns' fourth turnover of the day.
Monroe had sparked the Texas offense and been its most productive back, rushing six times for 46 yards off the bench, but the fumble might cost him some touches.
The crowd here has been frustrated and quieted by the turnovers, and those concerns look legitimate with a messy Texas offense needing a second-half comeback to win.
The defense has allowed scoring drives of four, two and 37 yards.
September, 25, 2010
9/25/10
4:33
PM ET
AUSTIN, Texas -- Texas' defense is dominating. It allowed minus-six yards of offense and just one first down in the first quarter and forced a turnover that set up Texas' only score -- a field goal that came on a four-yard scoring drive.
But twice, the defense has been put in compromising positions, once by the offense and another by special teams.
Curtis Brown
fumbled a punt return inside Texas' 5-yard line that led to a four-yard scoring drive to put UCLA up early in the second quarter, 7-3.
The touchdown pass from UCLA's
Kevin Prince
was the Bruins' first completed pass of the game.
Earlier in the first quarter, quarterback
Garrett Gilbert
was sacked and fumbled, giving way to a Bruins return down to the Texas 20-yard line. The Longhorns came up with a big third-down sack to push UCLA back into a 49-yard attempt, which it missed.
It's hard to ask for much more from Texas' defense. But with the turnovers deep in its own territory, that's exactly what the Longhorns offense and special teams are doing.
September, 25, 2010
9/25/10
4:10
PM ET
AUSTIN, Texas --
Garrett Gilbert
has thrown the ball well through the first quarter, but once again, Texas' defense is spurring a sputtering offense early in its scoreless tie with UCLA.
Gilbert has completed his first seven passes, but UCLA forced a sack and fumble on Texas' second drive, returning it to the 20.
The Longhorns showed off one of college football's best pass rushes a week ago at Texas Tech, and UCLA quarterback
Kevin Prince
got an early taste with his team looking to go up.
Freshman defensive end Jackson Jeffcoat swallowed him up for an 11-yard sack that forced the Bruins into a 49-yard field goal attempt that produced a rare miss from reigning Groza Award winner Kai Forbath.
Outside of a 13-yard run on a 2nd-and-20 draw play from
D.J. Monroe
, the running game has been bottled up once again. Texas' running backs have eight yards on their first three carries, excluding Monroe's play.
September, 25, 2010
9/25/10
1:40
PM ET
AUSTIN, Texas -- I'm in my seat and ready to go for Texas-UCLA, which kicks off in a couple hours here at Darrell K Royal-Texas Memorial Stadium. Texas just arrived at the stadium, the skies have a few puffy clouds and there's a 30 percent chance of isolated showers today.
It might be something to watch, but it's nothing like the
mess going on in Manhattan
today.
That game might take awhile to get going, but we should be good to go here.
I'll be interested to see what Texas' defense has in store for an encore from last week's performance at Texas Tech. Texas will face a much more run-oriented offense today. Don't expect the Longhorns to play nearly as many defensive ends inside as they did last week.
TOP 25 SCOREBOARD
Saturday, 12/7
Thursday, 12/5
Friday, 12/6
TOP PERFORMERS