March, 13, 2012
3/13/12
5:00
AM ET
1. The Penn State Board of Trustees released another explanation Monday of its decision to fire Joe Paterno. After board members said in January that he failed to meet a moral obligation to do more when informed of the child-abuse accusations against former assistant coach Jerry Sandusky, the board said Monday that Paterno showed a "failure of leadership." How long before the board issues another explanation in its continuing attempt to deflect responsibility for its failures?
2. Of the 58 seniors in fall sports awarded a $7,500 postgraduate scholarship by the NCAA, only three play FBS football. That means three players out of about 12,000 on FBS rosters had the chops to earn this scholarship. Let's hope that is less a commentary on the state of FBS academics than it is a compliment to BYU running back
Bryan Kariya
, Ball State wideout
Briggs Orsbon
, and Navy guard
John Dowd
. Make what you will of this: Kariya and Orsbon both have 4.0 GPAs and are married. Dowd, the slacker with the 3.91 GPA, already has won an $18,000 postgraduate grant as a Campbell Award finalist.
3. When I visited Arizona last week, Virginia Tech running backs coach Shane Beamer came through to watch Rich Rodriguez's Wildcats. Beamer is part of one of my favorite stories regarding coaches making spring visits to other staffs. In spring 2003, as a graduate assistant at Tennessee, Beamer and other Vols coaches visited Texas A&M. Head coach Dennis Franchione welcomed everyone, and then threw Beamer out of the meeting. Why? That fall, the Aggies would play the Hokies, coached by Beamer's dad Frank.
August, 5, 2011
8/05/11
9:00
AM ET
BYU opens camp Saturday. Let us take a look at three burning questions:
1. Can the Cougars be a national player?
BYU ended the season on a hot streak and brings back nearly everybody on offense. There has been a shift in philosophy with new offensive coordinator Brandon Doman. Everybody expects
Jake Heaps
to be infinitely better this season than he was last. Now BYU has the perfect opportunity to prove all that on a national stage in Year 1 as an independent. The season starts with games at Ole Miss and Texas, then home games against Utah and UCF. Plenty of opportunity to grab some headlines early.
2. Who gets the ball?
I mentioned Heaps above -- now who does he get the ball to? BYU has a wealth of riches at the skill positions. JJ DiLuigi,
Bryan Kariya
and Josh Quezada all return in the backfield;
Cody Hoffman
and
McKay Jacobson
return at receiver. Add in highly touted receiver
Ross Apo
and tight end
Devin Mahina
, and you have got plenty of options to get this offense back to what is expected with the Cougars.
3. Leaders on defense.
BYU loses six starters from its defense, but there are plenty of talented players ready to fill in. Linebacker Jordan Pendleton is back and healthy after sitting out a chunk of last season with a knee injury and has stepped into a leadership role. Tackle Romey Fuga returns from an injury as well, and safety Travis Uale is back. There are big losses, though. The top three tacklers from last season are gone. Coach Bronco Mendenhall hopes to replace Andrew Rich with Daniel Sorensen and Shane Hunter with Uona Kaveinga. Both had impressive springs and could make this unit even better.
July, 13, 2011
7/13/11
2:00
PM ET

Andrea Adelson talks to the running back about the upcoming season.
April, 19, 2011
4/19/11
9:00
AM ET
We saw a different BYU offense in the second half of the season, one that actually scored points, moved the ball and had one quarterback. The way the Cougars struggled early in 2010 was painful to watch at times, but here are three reasons they will be better from the start of 2011.
[+] Enlarge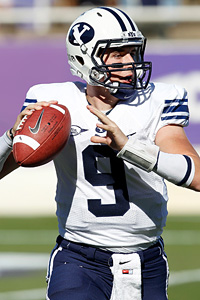 Tom Pennington/Getty ImagesBYU hopes consistent play at quarterback from Jake Heaps will pay off in 2011.
1. Jake Heaps is the starter.
No question waffling between Heaps and
Riley Nelson
severely hampered the way BYU played. The Cougars started 1-4 for the first time since 1973 and ranked No. 96 in the nation in total offense. They turned it around in the second half of the season and ended on a tear. Now, Heaps is firmly entrenched as the starter and has one year under his belt. He will be more comfortable in the offense, and BYU will have one true leader.
"The volume he received in spring ball was helpful for him with his reads," new BYU offensive coordinator Brandon Doman said. "Quarterbacks are the last line of defense, and we gave him the ability to audible and change plays. By the time we're done with 29 practices in fall camp, he will be a wise and veteran guy."
2. Doman is in.
BYU fans became increasingly disenchanted with offensive coordinator Robert Anae last season because of his questionable play calling and predictability on offense. Coach Bronco Mendenhall felt it was time for a fresh start for his offense, so he promoted Doman from quarterbacks coach. You can expect a return to a more BYU-traditional offense this season.
"As we launch forward, teams will consider us to be a West Coast offense," Doman said. "We will be under center more often, run play-action stuff that we'll build into our passing game. That's a skeleton of who we are. I think people will look at it and say this looks like BYU of the early '90s and '80s."
Heaps is your prototypical dropback passer, so expect to see three-, five- and seven-step drops in a progression-type offense. But BYU also has the ability to do no-huddle from the shotgun. Variability is the key, and so is being less predictable. With Doman in charge, you can expect something old-but-new from this offense.
3. Depth.
The Cougars are loaded everywhere. At receiver, they have
McKay Jacobson
and
Cody Hoffman
back, and have high hopes for
Ross Apo
, whom Doman calls "as talented a receiver our school has ever had." The 6-foot-3, 202-pound Apo redshirted last season after injuring his finger and is expected to be a big-time contributor. At running back,
JJ Di Luigi
,
Josh Quezada
and
Bryan Kariya
all return. Di Luigi was the most consistent player on offense last season. Quezada really turned heads this spring with his ability to run and catch out of the backfield. "He showed he's going to be a bona fide running back in this program." The offensive line returns four starters, including All-America candidate Matt Reynolds at tackle. There also are potential young contributors in Houston Reynolds, Matt's younger brother, and highly touted freshman Ryker Matthews.
April, 14, 2011
4/14/11
2:00
PM ET
BYU coach Bronco Mendenhall generally shies away from using the word "best" to describe anything. But he couldn't help himself when asked about how his team fared this spring.
"If we're looking for adjectives to describe who they are, this team loves to compete, they love to have fun they're very talented and we have more depth in the six years that I've been the coach here," Mendenhall said in a phone interview Thursday.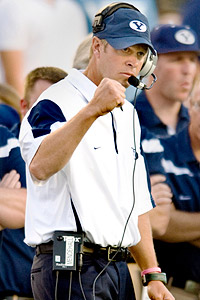 Douglas C. Pizac/US PresswireBronco Mendenhall said the Cougars have had "the best spring" of his tenure as coach.
"I would say it's been the best spring not only from the standpoint of what we got accomplished but possibly where our team is coming out of spring. I'm very optimistic."
There is plenty of reason for optimism as BYU begins its first season as an independent. The Cougars return 19 starters and have a much more solid foundation today than at this time last season. They also have an identity, something that was missing going into 2010. Part of the reason is because Mendenhall was undecided on his starting quarterback, and played both
Jake Heaps
and
Riley Nelson
.
The team struggled to a 2-5 start before closing on a big-time tear and dominating UTEP in the New Mexico Bowl. Mendenhall revamped his coaching staff in the offseason, promoting Brandon Doman to offensive coordinator while deciding to stay on as defensive coordinator after assuming that role midway through last season.
Just as important, Heaps is the definitive starter at quarterback. He and his young teammates are simply more mature.
"We were all disappointed the season was over after our bowl game because we were making progress," Mendenhall said. "I was hopeful to see that same thing happen in spring practice and that happened. We didn't lose ground. We picked up where we left off. I was really happy they were so anxious to compete with each other and the fun they were having -- sometimes spring isn't a time to bring out a heightened sense of competition but that's the way it went."
Indeed, the spring game last week went into overtime. After Nelson ran for a score and hit
Bryan Sampson
for the 2-point conversion, the winning White team carried its coach for the game, Paul Tidwell, off the field.
That speaks to the competitiveness, and BYU is going to need that as it faces a tough opening stretch with games against Ole Miss, Texas and Utah. The biggest holes to fill are on defense, where safety Andrew Rich is gone. Rich led the team in tackles, interceptions, pass breakups and forced fumbles last season and was named AllMWC first team.
But the Cougars feel they have somebody to step right in and make an impact. Daniel Sorensen has returned from his mission and had a nice spring. USC transfer Uona Kaveinga is penciled in to start at middle linebacker and also flashed during the spring.
The front seven is the unquestioned strength of the defense, with talent and depth. Defensive tackle Romney Fuga missed the spring as he rehabbed from a knee injury but is expected to return along with Eathyn Manumaleuna, Matt Putnam and Jordan Richardson.
Offensively, BYU got a boost when tackle Matt Reynolds decided to return to school instead of leaving for the NFL. The running back group is deep with
Bryan Kariya
, JJ DiLuigi and Josh Quezada, and so are the receivers with
Cody Hoffman
,
McKay Jacobson
and
Ross Apo
.
"As we finished last year's season, that identity has formed the basis for what they see going forward," Mendenhall said. "It took a lot of seasoning to get to that point. That's why we'll play with a clearer sense of resolve and identity than we had."
April, 12, 2011
4/12/11
10:30
AM ET
BYU has wrapped up spring practice and has announced its team captains and leadership council.
Offensive tackle Matt Reynolds and running back
Bryan Kariya
will serve as offensive captains, while outside linebacker Jameson Frazier and free safety Travis Uale were picked as defensive captains. All four captains are seniors in 2011. Reynolds will serve for the second time after being selected as a captain last season.
The four captains are also on the leadership council, along with senior Terence Brown (offensive line), senior Matt Edwards (tight ends), seniors
McKay Jacobson
and
Spencer Hafoka
(receivers), juniors Romney Fuga and Eathyn Manumaleuna (defensive line) and junior Brandon Ogletree (inside linebackers).
Reynolds is the most heralded of the group, having decided to return to school after turning down a chance to leave for the NFL. The three-year starter is among the top contenders for the Outland Trophy and Lombardi Award as one of the nation's top linemen. Frazier and Uale both took over starting roles during the 2010 season.
I'll have more on BYU later this week. All indications out of Provo following the spring point to the potential of another Top-25 season. The schedule has its share of tough but winnable games, and there appears to be a chemistry forming with this team that was sorely lacking at the start of 2010.
December, 20, 2010
12/20/10
10:30
AM ET
My, oh, my what an end to the season for the Cougars. Back in October, many left them for dead after a 2-5 start, featuring an anemic offense and a shaky defense. But BYU (7-6, 5-3 MWC) played one of the most difficult stretches to open the season, and had to do it with a true freshman in
Jake Heaps
first rotating snaps and then taking over as the starter.

After losing to TCU on Oct. 16, the schedule lightened considerably and BYU responded. The Cougars closed out the season with wins in five of their final six games -- and probably should have beaten Utah to end the regular season. Heaps showed growth, coach Bronco Mendenhall proved to be a terrific defensive coordinator and BYU moves on to the land of independence with serious momentum after an all-around terrific performance against UTEP in the New Mexico Bowl.
This was not the best season in BYU history, but it was one that showed the true heart, soul and grit of a team clawing its way back to respectability. Mendenhall reiterated throughout the season that this was his most gratifying in six years as a coach. It is easy to see why after watching his team rise from the doldrums to become a bowl champion.
Offensive MVP: RB JJ Di Luigi.
For a big stretch of the season, he was the only playmaker to step up for the Cougars. Because of him, Mendenhall decided to change his offensive identity to be more of a power run team. Di Luigi ended up leading the team with 917 yards rushing and eight touchdowns, and added 45 catches for 443 yards and another score.
Defensive MVP: S Andrew Rich.
BYU could not ask for a better defensive leader than Rich, who ended up leading the team with 111 tackles and five interceptions.
Turning point:
Losing 31-16 at Utah State. The loss dropped BYU to 1-4 and was an embarrassment. So much so that Mendenhall fired defensive coordinator Jamie Hill and took over duties himself. BYU won its next game against San Diego State -- a critical victory that made the difference in the Cougars becoming bowl-eligible.
What's next:
Independence. Anybody who watched the New Mexico Bowl saw some serious talent returning for next season as BYU leaves the Mountain West. Heaps played the best game of his career, throwing for 264 yards and four touchdowns.
Cody Hoffman
caught a career-high eight passes for 137 yards and three touchdowns in the New Mexico Bowl.
Joshua Quezada
, ran for 101 yards on 15 carries and one touchdown. The running back trio of Di Luigi,
Bryan Kariya
and Quezada all return next season. So does
Ross Apo
, a highly touted receiver who was limited this season after injuring his thumb. There will be some tough losses -- kicker Mitch Payne, Rich and linebacker Shane Hunter. Offensive tackle Matt Reynolds must also decide whether he wants to leave school for the NFL draft or return for his senior season. But BYU showed promise. Now the big question is how it will handle a difficult schedule that includes games at Ole Miss, Texas, Oregon State and Hawaii.
December, 17, 2010
12/17/10
10:30
AM ET
You saw the preview and prediction, now here are three keys for BYU and UTEP in the New Mexico Bowl on Saturday:

BYU (6-6)
1. Establish the run.
JJ Di Luigi
,
Josh Quezada
and
Bryan Kariya
have done a good job all season. The trio has combined for 16 of the team's 20 rushing touchdowns. Now they have an opportunity to go out with a big game against a team ranked No. 90 against the run. Getting the running game going will help open up the play-action pass and get
Jake Heaps
into more manageable situations.
2. Heaps record watch.
It has been an up-and-down year for the true freshman, who came in as one of the most highly touted quarterback prospects in the country. But he is the first freshman ever to start a bowl game for the Cougars in program history and is three touchdown passes away from breaking Ty Detmer's school freshman record of 13. He has thrown for two or more touchdowns just three times this season.
3. Keep up the defensive pressure.
BYU is a totally different unit with Bronco Mendenhall in charge of the defense. All of a sudden, teams are having a hard time scoring on the Cougars. They are playing more aggressive and more disciplined, and that is going to have to continue against the Miners.

UTEP (6-6)
1. Establish Kris Adams.
He is the go-to guy for
Trevor Vittatoe
, and like a lot of players on the team, he has fought through injury. If UTEP can establish him as a deep threat, the Miners will be able to stretch the field and come up with the big plays they really need. Of course, much of this is predicated on how healthy Vittatoe is in this game.
2. Don't make silly mistakes.
UTEP has a negative turnover margin, and cannot afford to make many mistakes against a team that rarely makes them. If the Miners are going to have any chance at pulling the upset, they are going to have to play a near perfect game.
3. Get after Heaps.
Easier said than done. The Miners are one of the worst teams in FBS when it comes to sacks, with only 14 this season. But they are going to have to get pressure on Heaps to get him off his rhythm and potentially force him into mistakes. Heaps has been much better at protecting the football in the second half of the season, but he still has some problems adjusting when teams blitz. If UTEP can disguise its fronts and coverages with a healthy mix of blitzes, the Miners have a chance.
January, 26, 2010
1/26/10
11:59
AM ET
National signing day is just about a week away and there are several non-AQ teams that will be looking for the next great player to help their team to a conference championship or even a BCS bowl. The non-AQs are notorious for finding diamonds in the rough, but most teams are just looking to plug holes for positions depleted by graduation and the NFL Draft. Here's a quick look at the non-AQ's top areas of concern for this year's class:
BYU

Defensive line:
The Cougars took some big hits on the defensive line this year with the graduation of star end Jan Jorgensen and nose tackle Russell Tialavea. There's some depth there for the Cougars, but it didn't contribute much this season.
Linebackers:
BYU graduates all of its starting linebackers from 2009 and the Cougars will have three seniors starting in that unit next year. The linebacking corps was a great strength for BYU in 2009 and building it back up will be the highest priority.
Running back:
Star running back
Harvey Unga
is returning for his senior year and the Cougars will have two talented juniors in JJ Di Luigi and
Bryan Kariya
, but beyond that there isn't much help. The Cougars have gotten used to rotating a few guys in the backfield, so adding some young talent will allow that trend to continue.
TCU

Wide receiver:
The Horned Frogs had a lot of success spreading the ball around to several different receivers this past season, but enter 2010 with six seniors on the wide receiver depth chart, including playmaker
Jeremy Kerley
.
Secondary:
The secondary loses both of its corners this season and will have three seniors starting next year. The secondary has been one of the few weak spots of the defense in the past, so shoring that up will be a major priority.
HOUSTON

Offensive line:
The O-line loses senior center Carl Bennett, but will have three senior starters in 2010 and many of the players on the depth will be seniors as well. With as potent as the Houston offense is, finding players to step in right away is a must.
Quarterback:
Star
Case Keenum
is a senior and backup
Cotton Turner
is a junior. It would be good to get a couple young quarterbacks in to learn the system and have the benefit of learning from Keenum, who has essentially become the offensive coordinator on the field.
Athletes:
In Houston's offense, guys with great hands will be rewarded. The Cougars need athletes at both receiver and in the secondary and that should be a big focus in this class.
FRESNO STATE

Wide receiver:
All of Fresno State's starting receivers are gone, including leader
Seyi Ajirotutu
. Ajirotutu was a dynamic player and finding someone to replace him, especially with a couple young quarterbacks waiting in the wings, should be the top priority in this class.
Secondary:
The Bulldogs lose four seniors from the secondary and will lose two more in 2010. The secondary actually was the strength of an otherwise poor defense and the Bulldogs will want to continue to build on that momentum.
Running back:
With
Lonyae Miller
lost to graduation and
Ryan Mathews
leaving early for the draft, Fresno State was left scrambling for some depth at the running back position. Running back has long been the strongest position for the Bulldogs and finding a back to complement sophomore
Robbie Rouse
would be key.
SAN DIEGO STATE

Linebackers:
The linebacking corps was the strength of the Aztecs last season and with defensive coordinator Rocky Long's 3-3-5 scheme, it probably will be the strength for some time. SDSU graduated three linebackers and will have two seniors on the depth chart next year.
Hybrid:
The SDSU 3-3-5 defense uses a Warrior and Aztec position as its hybrids and finding the right athletes to play those spots will be key. Long used what he had last year, but with a full recruiting year under his belt, he should be able to find players that are specifically tailored to fit that hybrid role.
SMU

Running back:
With
Shawnbrey McNeal
opting to leave early for the draft, the Mustangs will need a couple running backs to keep that a viable position on the team. McNeal was coach June Jones' first 1,000-yard rusher and his presence took a lot of the pressure of the young quarterbacks.
Athletes:
All-everything player
Emmanuel Sanders
is gone and the Mustangs don't really have anyone to fill his role immediately. The run-and-shoot offense is successful because of playmakers and finding some of those players in this class will help SMU continue its winning ways.
SOUTHERN MISS

Running back:
The Golden Eagles picked up running back
Kendrick Hardy
in the last recruiting class, but he didn't do enough to unseat the guys who were already on the two-deep. Coach Larry Fedora has gotten a big-name kid each season he's been with Southern Miss, and with his top two running backs lost to graduation, that could be where he strikes next.
Offensive line:
Southern Miss lost four starters off the offensive line and could lose three more after 2010. There are some competent guys waiting in the wings, but they need to start building that depth now.
UCF

Offensive line:
The Knights lose two offensive linemen this year and will lose three next year, so adding more players to that unit in this class has become a priority. The O-line struggled mightily last season with 2.54 sacks allowed and the rushing offense ranked 82
nd
in the country.
Defensive line:
Similar to the offensive line, the Knights defensive line also will need some fresh faces. The defensive line was a major strength in 2009 and should be again in 2010. After that, the Knights will need the youth to start contributing.
Playmakers:
The UCF offense was better this year than it was a year ago, but it still wasn't good enough to be a consistent threat in Conference USA. The Knights need to find some offensive playmakers to really push this team to the forefront of the conference again.
UTAH

Quarterback:
Sophomore
Jordan Wynn
is the future of Utah, but he doesn't have a lot of depth behind him.
Terrance Cain
will be a senior in 2010, so the Utes will need a couple more bodies to provide a push for Wynn and some much-needed depth.
Secondary:
The Utes lose five seniors off the secondary two-deep and while there is some young talent there, the secondary has consistently been the Utes best unit and much of that has been because of the ability to develop young players.
Running back:
This position has consistently been riddled with injuries for the Utes and so stockpiling a few running backs, especially with both
Eddie Wide
and
Shaky Smithson
entering their final seasons, wouldn't be a bad idea.
BOISE STATE

Athlete:
Boise State lost one senior starter this year, so the Broncos needs aren't as great as most other teams around the FBS. However, this squad can never have too many athletes. The secondary could use a little help, as could the receiving corps, which is riddled with young players.
Quarterback:
Kellen Moore
will be a junior next season and backup Michael Coughlin will be a senior. With
Joe Southwick
still a freshman, the need for a new quarterback isn't pressing, but it might be good to get someone in to learn the ropes and give Southwick a challenge in a couple years.
MARSHALL

Quarterback:
The quarterback position hasn't been the strong point of Marshall's offense in quite some time, so finding a guy who can be a difference maker is key. Both
Brian Anderson
and
Press Taylor
will be seniors in 2010, so finding a young quarterback to challenge in this class would be the right move.
Wide receiver:
Marshall's leading receiver for most of last season was its now graduated tight end. While there is a lot of freshman talent on the two-deep, Antavious Willson was the only one that really made a lasting impression. If new coach Doc Holliday could get some high-level receiving talent, it would make his quarterbacks look better than they are.
Defensive line:
The Herd lost three seniors this season and will have four on the depth in 2010. Marshall's defense was one of the best in conference play and the reason why it was able to play in and win a bowl game.