December, 30, 2013
12/30/13
9:00
AM ET
Editor's note: Each day this week, Florida State reporter David M. Hale and Auburn reporter Greg Ostendorf will preview a position battle in next Monday's VIZIO BCS National Championship. The first matchup is between Florida State's offensive line and Auburn's defensive line.


Florida State's offensive line:
The five starters on the line for Florida State are all NFL prospects. The group is led by senior center
Bryan Stork
, a first-team AP All-America selection. Tackle
Cameron Erving
and guard
Tre' Jackson
were first-team All-ACC selections.
The group excels at run-blocking, and Florida State topped 2,600 yards and 40 touchdowns on the ground for a second consecutive season. Factoring out yards lost to sacks, FSU is rushing for more yards per carry against FBS teams this season than Auburn.
The question — if there is one — for Floirida State is in its pass protection. The Seminoles have allowed a sack on 6.7 percent of passing attempts, which ranks 83rd nationally, and 13 of the 29 sacks allowed have came in the last five games.
While those numbers might be a cause for concern against an stout Auburn defensive front (28 sacks, tied for third in SEC), two factors mitigate any perceived struggles.
For one, teams have blitzed Florida State often in hopes of rattling quarterback
Jameis Winston
, as 36 percent of his throws come against the blitz. Occasionally they've gotten to him, with 12 sacks when rushing five or more defenders, according to ESPN Stats & Info. More often, however, he burns them. Winston is completing 71 percent of his passes against the blitz, with 20 TDs and three interceptions.
The second issue is Winston's desire to complete the deep ball. The redshirt freshman won the Heisman Trophy by being aggressive, but he admits there are times he needs to check down and get rid of the ball quicker rather than asking his line to hold blocks for a few extra seconds. The payoff to the approach, however, has been an array of big plays. Winston leads the nation in yards per attempt (10.9) and only LSU's
Zach Mettenberger
has a higher percentage of completions gain 15 yards or more than Winston (43 percent). Winston is tough against pressure, completing 62 percent of his throws when hit or hurried — nearly double the average for a quarterback from a BCS automatic-qualifying conference. Even getting him into third-and-long situations doesn't help much; he's an absurd 16-of-21 with 15 first downs on third-and-10 or longer.
Auburn's defensive line:
When Auburn last won the national championship in 2010, it had an above-average defense, but it was a defense that featured a dominant front line with All-American defensive tackle Nick Fairley and veterans Antoine Carter, Zach Clayton and Mike Blanc. The 2010 Tigers also had highly-touted freshman defensive end Corey Lemonier, who is now a rookie with the San Francisco 49ers.
[+] Enlarge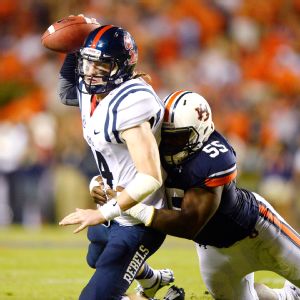 AP Photo/Todd J. Van EmstAuburn freshman Carl Lawson had four sacks this season.
This year's Auburn team is similar. The defense has struggled at times this season, but its strength is up front on the defensive line.
The star is defensive end
Dee Ford
, who leads the team with 8.5 sacks, 12.5 tackles for loss and 17 quarterback hurries. A senior, Ford missed the first two games with an injury but has since recorded a sack in seven of Auburn's last 11 games. He's a different type of animal than Fairley, but an animal nonetheless.
The rest of the line also has its share of veterans with senior
Nosa Eguae
and juniors
Gabe Wright
,
LaDarius Owens
and
Ben Bradley
. Eguae, who moved inside to tackle midway through the season, started in the 2010 BCS title game.
And then there are the freshmen. The trio of
Carl Lawson
,
Montravius Adams
and
Elijah Daniel
is as good a collection of young defensive linemen as there is in college football. Lawson, the nation's No. 2 player coming out of high school in the 2013 recruiting class, leads the group with four sacks.
Fairley was dominant in the 2010 game as Auburn's defensive line controlled the line against a smaller, quicker Oregon team. That likely won't be the case this time around against a Florida State offensive line that's much stronger and much more impressive, but the key to stopping the Seminoles will still begin and end with the front four. Auburn defensive coordinator Ellis Johnson will rely on his line to get pressure on Winston, knowing how good the Heisman Trophy winner has been against the blitz this season.
Hale:
Edge to Florida State
Ostendorf:
Toss-up
December, 16, 2013
12/16/13
9:00
AM ET
Florida State's undefeated season is reflected in the Seminoles' 10 all-conference selections by ESPN.com. Quarterback
Jameis Winston
was the highlight of the group, along with Boston College running back
Andre Williams
, who was also a Heisman candidate this year. This list differs just slightly from the choices of the coaches and writers, with the toughest decisions coming on defense.
Offense
QB: Jameis Winston, Florida State
RB: Andre Williams, Boston College
RB: Devonta Freeman, Florida State
WR: Sammy Watkins, Clemson
WR: Rashad Greene, Florida State
WR: Jamison Crowder, Duke
TE: Eric Ebron, North Carolina
T: Cameron Erving, Florida State
T: Brandon Thomas, Clemson
G: Laken Tomlinson, Duke
G: Tre' Jackson, Florida State
C: Bryan Stork, Florida State
Defense
Special Teams
December, 14, 2013
12/14/13
4:00
PM ET
By
ESPN.com staff
| ESPN.com
Offense
QB:
Jameis Winston
, Florida State
RB:
Ka'Deem Carey
, Arizona,
Andre Williams
, Boston College
WR:
Mike Evans
, Texas A&M,
Brandin Cooks
, Oregon State
TE:
Eric Ebron
, North Carolina
OT:
Jake Matthews
, Texas A&M,
Jack Mewhort
, Ohio State
OG:
Cyril Richardson
, Baylor;
David Yankey
, Stanford
C:
Bryan Stork
, Florida State
Defense
DE:
Michael Sam
, Missouri;
Leonard Williams
, USC
DT:
Aaron Donald
, Pittsburgh;
Timmy Jernigan
, Florida State
LB:
C.J. Mosley
, Alabama;
Ryan Shazier
, Ohio State,
Trent Murphy
, Stanford
CB:
Darqueze Dennard
, Michigan State,
Ifo Ekpre-Olomu
, Oregon
FS:
Ha Ha Clinton-Dix
, Alabama
SS:
Lamarcus Joyner
, Florida State
K:
Nate Freese
, Boston College
P:
Mike Sadler
, Michigan State
KR:
Ryan Switzer
, North Carolina
October, 24, 2013
10/24/13
1:00
PM ET
TALLAHASSEE, Fla. -- Things were different during fall camp this year. The energy was high, but it was a bit less tense. The reason,
Lamarcus Joyner
thought, was his coach.
When camp ended, and the team gathered together, Joyner decided to take note of Jimbo Fisher's more subdued approach. He stood up and told his teammates to offer Fisher a round of applause.
"For the most improved person in the program," Joyner said. "He's changed tremendously."
After Florida State's biggest win in years, with the Seminoles clinging to the No. 2 spot in the BCS rankings, Joyner's perception is shared by a number of people around the program.
[+] Enlarge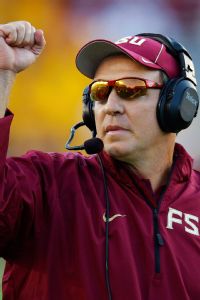 AP Photo/Stephan SavoiaJimbo Fisher has led Florida State to the No. 2 spot in the BCS standings.
In his first three years as head coach at Florida State, Fisher was intense, controlling, demanding. He's still all of those things, Joyner said, but now he has the stability of an ACC title under his feet and the promise of a fully formed program -- one that has completely adopted Fisher's famous "process" — at his disposal. That confidence translates into a more subdued, self-assured head coach.
"He seems more relaxed this year," linebacker
Christian Jones
said. "Last year, he'd get more tense about stuff. [This year,] I feel like he has a lot of confidence in the team he has."
It's a change that's not entirely discernible to the untrained ear when Fisher is barking scathing commentary of a player's performance, often audible from well beyond the walls surrounding Florida State's practice field. And, perhaps, there's really no change at all.
"He's still uptight, and that ain't ever going to change," center
Bryan Stork
said. "There's two guarantees: The sun is going to rise in the morning, and Jimbo is going to cuss you out at practice."
Well, sure. He's still a football coach, and no amount of personal growth is going to lessen the demands he puts on his team. And for Fisher, the demands have always been immense.
"You can mess up, and he'll think the whole practice is bad," said senior
Kenny Shaw
, who admits to being one of Fisher's favorite targets over the years. "So you've got to work on perfection."
What's really changed this year is that Fisher's team actually meets those lofty standards more often than not.
Chalk it up, in part, to veteran leadership. The seniors on this team were recruited by Fisher and spent their entire careers learning the process. He doesn't need to preach the practice-field propaganda over and over because those lessons are being taught in the locker room.
Add in a superstar quarterback who has galvanized the team around him while parroting all of Fisher's favorite mantras, and there's little need for Fisher to underscore what's already been said.
Jameis Winston
offers none of Fisher's stern sensibilities, but they're of one mind when it comes to preparation and expectations.
"We've got so much to get better at, it's crazy," Winston said after throwing for 444 yards in a 51-14 dismantling of Clemson.
With Winston at the helm, there's a different energy, a different attention to detail, and that all adds up to a more relaxed Fisher. And for the players who've heard Fisher's rants for years, that can be a bit jarring.
"Sometimes he'll throw a joke out like, 'Dang, you all don't want me to yell? You're doing everything perfect,' " receiver
Kelvin Benjamin
said. "But you miss it though, so sometimes we'll mess up on purpose to get him ticked off."
When Fisher took over in 2010, the program was in disarray. Recruiting had faltered, leadership had waned, and Fisher's job was to rebuild from the ground up. It was a massive undertaking.
In the four years since, there has been immense progress. For every stumble along the way -- like last year's NC State loss -- there has been growth, lessons learned. And this year, Joyner said, the message Fisher has preached since Day 1 seems to resonate more than ever.
"We still have a long way to go, but you see progress," Joyner said. "After being here four seasons, I see something I've never seen here before, and that's everyone together, everyone believing in each other, eliminating the clutter, sticking together, knowing that it's about us."
It's Fisher's process at work.
Ask the man himself if he's relaxed in Year 4, and Fisher offers a bemused smile and a prompt, firm and absolute denial. The process doesn't reward change.
"I'm the same guy," Fisher said. "Think the same way, believe the same things."
So perhaps Fisher hasn't changed, but his players have gotten used to who he is. It's all second nature, which is exactly how Fisher always wanted it.
"It's not a difference in the coaches, it's a difference in the players," linebacker
Telvin Smith
said. "All the pieces are coming together."
October, 22, 2013
10/22/13
11:00
AM ET
TALLAHASSEE, Fla. -- There were plenty of leaders who spoke up in the locker room before Florida State's resounding 51-14 win over Clemson on Saturday, but it was, unsurprisingly,
Jameis Winston
whom the cameras captured for posterity.
At this point, the Seminoles have come to expect Winston to hog a bit of the spotlight.
"They happened to show Jameis, but we love it," linebacker
Telvin Smith
said. "Put the camera on him and keep it going. If he can embrace it, we can, too."
It's a sign of the stature Winston has achieved inside Florida State's locker room. Six games ago, he was a redshirt freshman. Now, he's a savvy veteran who can command a locker room and gobble up the national spotlight without teammates batting an eye.
But Winston hasn't grabbed the leadership mantle by making pregame speeches. He's done it by proving he's a veteran on the field.
In the two weeks leading up to Saturday's showdown in Death Valley, Winston heard his share of talk about Clemson's vaunted defensive front. The Tigers led the nation in sacks per game, and
Vic Beasley
was going to be tough to block.
As usual, Winston wasn't worried.
"Everyone was saying how they lead the nation in sacks, but I always feel like if someone sacks me, it's my fault," Winston said. "My offensive line is tremendous."
That was Winston's message to his troops before the game, when the lone talking point was simple: Do your jobs, Winston told his linemen, and Clemson won't have a chance.
Sure enough, the Tigers brought the pressure, and Winston made them pay. For the game, he finished with 293 yards against the blitz, the most by any quarterback in the past three years, according to ESPN Stats and Information. Florida State responded again and again to Clemson's aggressive style by holding blocks just long enough for Winston to get off a quick pass to an open receiver, who then tacked on more yards after the catch.
The formula simply asked the line to block and the receivers to be in the right spot, and Winston took care of the rest.
"He's just a really smart guy," said left tackle
Cameron Erving
, who helped hold Beasley to just two tackles -- and no sacks -- in Saturday's win. "He's a film junky, a football junky. He knows what he's doing. He knows what's coming before they do it. He reads defenses as well as the veterans."
It has been Winston's calling card thus far, Jimbo Fisher said. When the defense makes its move, it can be a disaster or a celebration. Winston has routinely enjoyed the latter.
On the practice field and even in the huddle, Winston will goof around with teammates and crack jokes. But when he steps to the line and surveys a defense, he does it with such unique precision that even his veteran teammates are in awe.
"You know what's crazy? He knows football like a veteran. Sometimes he sees things I don't," fifth-year senior
Bryan Stork
said. "He's reading coverages, knows what's coming from the blitz, and I'm like, 'OK.' "
Even amid the deafening roar of the Clemson crowd, Winston was in complete control. He'd read the defense, communicate to his line, make sure his receivers knew the call, and almost without exception, the whole plan came together seamlessly.
For the season, Winston is completing 71 percent of his throws against the blitz, including nine touchdowns and just three sacks. In each of his last two games, he has completed eight first-down throws in the face of a blitz.
Put Winston in a position of pressure, and he thrives. On third downs this season, when the offense needs at least 10 yards to convert, Winston is a perfect 10-of-10 throwing. Nine of those throws have gone for first downs. No other quarterback in the country is converting more than half his throws in those situations.
[+] Enlarge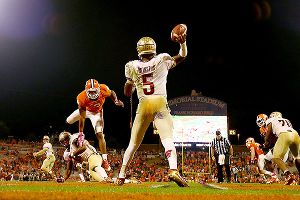 Streeter Lecka/Getty ImagesJameis Winston stood tall in the face of Clemson's pressure and picked the Tigers' defense apart.
On the high-pressure final drive of the half, Winston has been magical. He has completed 18-of-22 throws for 333 yards and four touchdowns. Florida State has scored on all six of the drives.
"His ability to process information is tremendous, and it allows us to get the ball out," Fisher said.
The numbers are astonishing, but Florida State's players aren't amazed. It's Winston doing his job, Erving said, and the rest of the team has followed suit.
"It shows his maturity," Smith said. "He just has total confidence in his line and himself, and he produces."
After Saturday, Winston's ability and maturity are no longer a question. He has proven he can handle the biggest stage.
Instead, a new challenge arises. Florida State is in position to make a run at a national title. Winston is a household name and a top contender for the Heisman. Through six games, he has been a master at turning chaos into precision, potential disaster into the sublime. Now that everything is going Florida State's way, he'll need to manage success just as flawlessly.
From what he has seen so far, Fisher isn't worried.
"He keeps a great head on his shoulders, keeps learning," Fisher said, "and he prioritizes extremely well."
December, 31, 2012
12/31/12
2:16
PM ET

Heather Dinich talks with FSU offensive lineman Bryan Stork about the group's progress since the last bowl appearance, a win against Notre Dame.
August, 27, 2012
8/27/12
2:00
PM ET
For once, Andrea Adelson and I are on the same page. Both of us think this is the year Florida State will live up to the hype. Shocking, I know.
Our opinions differ, though, on exactly how they need to do that.
Will the offensive line and running game be the key? Or will it be quarterback
EJ Manuel
and the development of his receivers?
[+] Enlarge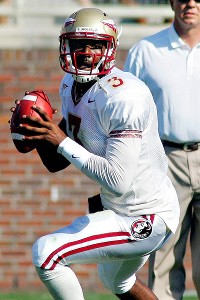 AP Photo/Phil SearsEJ Manuel is going to require a lot of help from his offensive line to his receiving corps in order to get FSU some wins this season.
Depends, of course, on who you ask ...
Heather Dinich:
It's a good thing Florida State offensive line coach Rick Trickett is a Harley Davidson-driving, cigar-gnawing, old-school, kick-in-the-pants kind of coach -- because Florida State's offensive line couldn't afford anything less this summer.
If the No. 7-ranked Seminoles are going to stay in the top 10 -- if they're going to win the ACC and aim for something even higher -- the offensive line must go from the weak link in 2011 to one of the team's greatest strengths in 2012. The running game must improve, and it all starts up front with a group that introduced four freshmen in the starting lineup against Notre Dame last year in the Champs Sports Bowl.
Last year, Florida State's running game finished No. 104 in the country. The Noles tied for No. 110 in sacks allowed. And the linemen didn't create enough holes for the running backs, who also had too many mental errors.
Does that sound like a top-10 team? Well, that's why it wasn't. The Noles sank to No. 23 last year in the final Associated Press Top 25 after starting out No. 6 in the preseason poll.
Florida State can't possibly expect to change that with only 95 total yards of offense against Florida again. It can't possibly win its first ACC title since 2005 with only 63 rushing yards against Miami. And it certainly can't be taken seriously as a national title contender with only 41 rushing yards against Notre Dame.
Florida State's defense and its super special teams were the difference for the Noles last year. If the offensive line and ground game could match that, Florida State would be seemingly unstoppable.
It's getting closer.
The experience sophomore guards
Josue Matias
and
Tre' Jackson
got in the bowl game last year was priceless, and they continued that progress this summer. Cameron Erving's seamless transition from defensive tackle to left tackle was one of the top story lines in Tallahassee, and all three have likely earned starting jobs for the season opener against Murray State. The questions continue at center and right tackle, though, and the competition could, too. During fall camp,
Austin Barron
and
Bryan Stork
were the frontrunners at center, and junior-college transfers
Menelik Watson
and
Daniel Glauser
were the leaders at right tackle.
Overall, the Noles' offensive line has gotten bigger and stronger, but it still needs to prove that it has also gotten better.
Andrea Adelson:
We have heard plenty already this preseason about the depth Florida State has at wide receiver.
Depth is an excellent commodity to have. But here is my question -- how about playmakers? Do the Seminoles have a game-breaker at receiver who will be able to help Manuel carry this offense from good to championship caliber?
I grew up in South Florida, and have watched every Miami-Florida State game going back to the early 1980s. During the heyday of both programs, you could always count on at least one receiver that made you, well, nervous. Florida State had them in spades, between guys like Lawrence Dawsey, Tamarick Vanover, Peter Warrick, Laveranues Coles, Snoop Minnis, E.G. Green, Anquan Boldin and the like.
To that point -- FSU had one receiver on the ACC first team between 1993 and 2000. Since then, the Noles have had just one -- Craphonso Thorpe in 2003. There are a variety of reasons this program has hit a major dip in recent years. One of them has been a lack of some major talent at the skill positions.
The lack of a 1,000-yard rusher (none since 1996) or 1,000-yard receiver (none since 2002) are proof. So is the fact that Florida State has not had a receiver drafted since Willie Davis in 2007. For a program in talent-rich Florida, it is almost inexcusable for there to be a dearth of game-changers at either running back or receiver. A player like
Sammy Watkins
? He used to be found at Florida State.
The Noles have an opportunity to change that this season given some of the talent that is returning. What FSU fans will tell you is Manuel has been good at spreading the ball around to his various receivers, and that has been nearly as good as having one go-to guy emerge. Three players had 30 or more catches last season --
Rashad Greene
,
Rodney Smith
and
Kenny Shaw
.
They all return.
Willie Haulstead
also is back after sitting out last season.
Christian Green
and
Greg Dent
each averaged over 17 yards a catch last season. They are back, too.
Expectations are high for redshirt freshman
Kelvin Benjamin
to emerge as a game-changer. Florida State also has true freshman
Marvin Bracy
, a player with world class speed who may not even see the field this year. That is a testament to the depth at the position, something that is not in dispute.
But what the Noles truly need is a dynamic presence at receiver to put fear into the opposition, the way they used to do. To me, that is going to be a deciding factor in whether the Seminoles live up to all the preseason hype.
March, 19, 2012
3/19/12
9:00
AM ET
TALLAHASSEE, Fla. -- Florida State offensive line coach Rick Trickett likes to joke that the Seminoles have their own version of the United Nations.
Star defensive end
Bjoern Werner
is a native of Berlin, Germany, and the Seminoles' starting offensive tackles this coming season might be from England and Switzerland.
Anything might be better than the inexperienced group the Seminoles put on the field last season. Because of injuries, Florida State started four freshman offensive linemen in its 18-14 victory over Notre Dame in the Champs Sports Bowl.
[+] Enlarge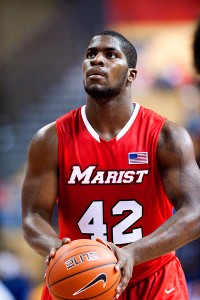 Cal Sports Media via AP ImagesMenelik Watson -- a Manchester, England, native -- played basketball and considered boxing before commiting to football.
As FSU begins spring practice, those freshmen are now sophomores, and two JUCO transfers -- Daniel Glauser and Menelik Watson -- might step in to anchor the offensive line.
Glauser, a native of Rheinfelden, Switzerland, enrolled at FSU in January and is participating in spring practice. Watson, from Manchester, England, is expected to join the Seminoles this summer.
"The [foreign-born] players are more mature," FSU coach Jimbo Fisher said.
But when it comes to football, Glauser and Watson are relatively inexperienced. Glauser grew up playing soccer in Switzerland, but he was encouraged to move to the U.S. by his American-born coach to play college football. Glauser, 6-foot-6 and 315 pounds, spent the past two seasons at New Mexico Military Institute. Fisher was so impressed with Glauser that he offered him a scholarship even though he'll have only one season of eligibility at FSU.
"New Mexico Institute didn't know they could have redshirted him," Fisher said. "They didn't know. We didn't know."
Watson took an even longer route to Florida State. He came to the U.S. to play basketball at Marist College in Poughkeepsie, N.Y. Watson, 6-6 and 320 pounds, averaged 4.4 points and 3.3 rebounds for the Red Foxes during the 2010-11 season.
"Watson was a Division I basketball player," Fisher said. "He was 270 pounds and was a wing, not a post player. He wasn't scoring with his back to the basket. He was making moves and driving to the basket."
Because of his size, Watson figured he'd reached his ceiling as a basketball player. After briefly considering a professional boxing career, Watson enrolled at Saddleback College in Mission Viejo, Calif., where he not only had to learn how to play offensive tackle but also the game's rules. He played in eight games at Saddleback last season. The Gauchos' other offensive tackle was Kyle Long, son of NFL Hall of Famer Howie Long, who signed with Oregon.
Watson still has a long way to go in his development, but he'll probably compete with Glauser and sophomore
Bobby Hart
for the starting offensive tackle jobs this coming season. The Seminoles lost departed senior tackles Zebrie Sanders and Andrew Datko, who combined to play in 90 games in their FSU careers. Datko missed all of last season because of shoulder injuries and chose to turn pro, instead of appealing to the NCAA for another season of college eligibility.
Sophomores
Austin Barron
, Tre' Jackson and
Josue Matias
, who started against Notre Dame at center, right guard and left guard, respectively, are coming back to compete in the middle of the offensive line.
Cameron Erving
, a converted defensive tackle, also will be in the tackle mix.
"I like the young guys," Fisher said. "They're all sophomores. They're big and athletic. They actually know they can play with the way they came back [against Notre Dame]. They're confident now. They don't have to walk on the field and think, 'Can I play?' They know they can play."
Right guard
Bryan Stork
said continuity and staying healthy are keys for FSU's offensive line this coming season.
"Before you're at the top, you're always at the bottom," Stork said. "I feel like we're a diamond in the rough. We've got the guys. It's just everybody getting better together."
June, 24, 2011
6/24/11
2:00
PM ET
Ranking offensive linemen is not easy. But hey, either is being an offensive lineman. Here are your best "big uglies."

1. North Carolina:
Three starters and one part-time starter return from last year's team, and this line could be the biggest and best since Butch Davis was hired. Guard Jonathan Cooper (22 starts), center Cam Holland (20) and tackle James Hurst (12) have combined for 54 career starts. Travis Bond has four starts and is the leading candidate to take over at the other guard position.

2. Miami:
The Canes return nine of their top 10 offensive linemen including four starters from last year, and Joel Figueroa was granted a sixth season of eligibility. Even with the coaching change, the Canes should be strong up front. Center Tyler Horn is a veteran, Brandon Washington is a difference-maker, and there's enough competition that Seantrel Henderson spent most of the spring as a backup.

3. Clemson:
First-year offensive line coach Robbie Caldwell has four returning starters to work with in Landon Walker, Antoine McClain, Dalton Freeman and David Smith. They also have top reserve Mason Cloy, who has 19 career starts and has played in 38 games. There is plenty of depth for a dependable rotation.

4. Virginia Tech:
All four returnees started every game last year, and there is enough depth that the Hokies should be able to rotate the most players up front they ever have. It's a veteran group led by Blake DeChristopher, Andrew Lanier, Jaymes Brooks and Greg Nosal.

5. Florida State:
Despite the losses of Rodney Hudson and Ryan McMahon, there's experience up front. This fall, the starting lineup will consist of tackle Andrew Datko, left guard Bryan Stork or David Spurlock, center Jacob Fahrenkrug, right guard Spurlock or Stork, right tackle Zebrie Sanders. Just how good they'll be remains to be seen as the majority of them were out with injuries this past spring.

6. NC State:
The Pack lost Jake Vermiglio and will be without injured left guard Andrew Wallace for about half of the season, but Zach Allen, Camden Wentz and R.J. Mattes are returning starters. There's also a lot of talent waiting to emerge with young players like Duran Christophe, Rob Crisp, Tyson Chandler, Torian Box and Andy Jomantas.

7. Virginia:
Four players return with a combined 64 career starts in Anthony Mihota, Austin Pasztor, Oday Aboushi and Morgan Moses, who started the final seven games of the season as a true freshman. Pasztor is in his fourth season as a starter and has 32 career starts.

8. Boston College:
Despite the losses of Anthony Castonzo, Thomas Claiborne and Rich Lapham, the Eagles are almost settled up front, it's the experience behind the starters that's reason for concern. The No. 2 offensive line is comprised entirely of redshirt freshmen. Mark Spinney returns at center, the projected starting guards are Nathan Richman and Ian White, who started three games as a freshman, and the tackles are Emmett Cleary and John Wetzel.

9. Maryland:
It's been an injury-prone group the past two seasons and that didn't change this past spring. Left tackle Justin Gilbert, one of the top linemen on the team, reinjured the same knee he had ACL surgery on and will be out until October. R.J. Dill was also injured this spring, though he played in the spring game, and Justin Lewis was rehabbing from offseason surgery. Pete White also missed practices, so the group needs to solidify the two-deep roster.

10. Georgia Tech:
The Jackets return three starters in guard Omoregie Uzzi, guard Will Jackson and tackle Phil Smith. Sophomore Jay Finch played extensively last season and Ray Beno and Nick McRae were key reserves. Redshirt freshmen Catlin Alford and Morgan Bailey could also work their way into the rotation. Uzzi will be the leader of the line, but they were outplayed by the defense this spring.

11. Wake Forest:
Four starters are back, but the Deacs will sorely miss the experience and leadership of former center Russell Nenon. Garrick Williams started the final three games of 2010 -- two at guard and one at center, but he struggled with the snaps towards the end of spring and isn't where the staff needs him to be yet.

12. Duke:
The Blue Devils should take another step forward this season under offensive line coach Matt Luke, and they need to -- Duke's running game was last in the ACC last year and 104th in the country. Brian Moore replaces a three-year starter at center, but given his experience at right guard the past two seasons, it should be a smooth transition. That will leave a hole, though, at the right guard position, where Laken Tomlinson and John Coleman are the top candidates.
April, 6, 2011
4/06/11
9:30
AM ET
Florida State held its first scrimmage of the spring on Monday and on Tuesday evening released the stats. The Seminoles' practices and scrimmages are closed to fans and the media. Here are the highlights,
based on the school's report
:

Offensive highlights:
Reed had a six-yard touchdown reception and a 36-yard touchdown catch in a two-minute situation. Reed finished the day with seven receptions for 81 yards.

Pryor's reception came from seven yards out in a red zone situation.

FSU's starting offensive line of Henry Orelus, Jacob Stanley, Jacob Fahrenkrug, Bryan Stork and Garrett Faircloth each worked 65 plays. Fahrenkrug at center and Faircloth at right tackle both earned the highest grades on the line.
Defensive highlights:
Linebackers Christian Jones and Telvin Smith each had eight tackles. Smith also forced a fumble and recovered a fumble and returned it for a touchdown.

Cornerback Greg Reid had five tackles with two pass breakups and Mike Harris had six solo tackles and a pass breakup.
February, 15, 2011
2/15/11
9:00
AM ET
It's that time of year, ACC fans. Duke kicks off the ACC's spring football schedule with practice tomorrow, so it's time to take a look at three storylines to watch for each program. We'll start with the Atlantic Division:

BOSTON COLLEGE
Spring practice starts:
March 15
Spring game:
April 16
What to watch:

CLEMSON
Spring practice starts:
March 7
Spring game:
April 9
What to watch:

FLORIDA STATE
Spring practice starts:
March 21
Spring game:
April 16
What to watch:

MARYLAND
Spring practice starts:
March 29
Spring game:
April 30
What to watch:

NC STATE
Spring practice starts:
March 17
Spring game:
April 16
What to watch:

WAKE FOREST
Spring practice starts:
March 15
Spring game:
April 16
What to watch: