December, 24, 2014
Dec 24
2:00
PM ET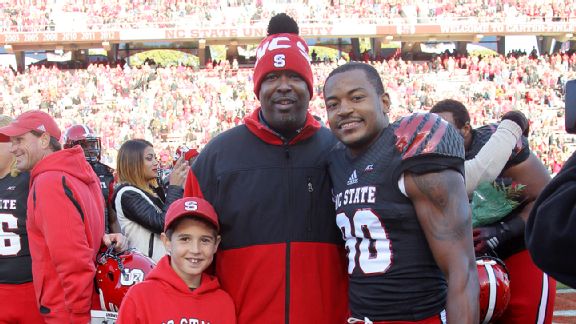 Courtesy of NC State sports informationBryan Underwood celebrated NC State's Senior Day with Josh Medlin, left, and Kerby Harrison, a high school coach of Underwood's.
Early in the fall, a young NC State fan got out his crayons, his pencils and a clean sheet of paper and started to draw.
Soon, a pretty good drawing of receiver
Bryan Underwood
started to take shape. Josh Medlin, 8, submitted his artwork to a social media campaign NC State started asking kids to draw their favorite player.
Underwood saw the picture on Twitter when he got out of practice one day in November. Intrigued, he came up with an idea and decided to give the ultimate gift before the holiday season began. Underwood wanted Josh to walk onto the field with him for Senior Day.
[+] Enlarge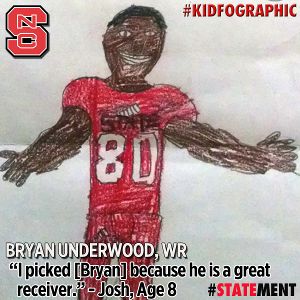 Courtesy of Josh MedlinBryan Underwood said Josh Medlin's artwork was "a pretty cool drawing for an 8-year-old to make."
Underwood needed company out there, after all. One of his high school coaches would be there with him, but his parents had a church event that weekend and were unable to attend. More than the company, though, Underwood wanted to show Josh how much his drawing meant to him.
"It was my last game here, and he doesn't get another chance to meet me. So I figured why not meet him there?" Underwood recalled recently. "It was a pretty cool drawing for an 8-year-old to make. For anybody who takes pride in the program, I wanted to show our appreciation."
Underwood called the Medlin home and spoke to Josh's parents. They were thrilled. He spoke to Josh, who was extremely shy and, truthfully, a little intimidated about having to walk onto a football field with 55,000 fans staring at him.
His parents assured him all would be fine. On Nov. 15, Josh Medlin and Bryan Underwood met at the 50 before kickoff against Wake Forest. Underwood handed him a pair of gloves. They posed for pictures. That would have been kind enough had Underwood stopped there.
But he decided he had to do more. Underwood walked Josh back to his seats in the north end zone, lifted him over the fence, jumped into the stands himself and climbed up to the seats.
In full uniform.
With minutes to go before kick.
The fans around him clapped. A few murmured, "Aww, how cute!"
"It just shows what a special individual Bryan is," Josh's father, Danny, said from his home in North Carolina. "There's so many negative sports stories these days that when you see something like this, it makes you burst with pride."
Underwood smiles when asked why he decided to escort Josh back to his parents.
"I figured why not?" Underwood said. "He was happy to see me, and I was happy to see him, and I wanted to talk to him a little more. He was a great kid."
Josh Medlin still wears his gloves regularly. How could he not, when they came from his favorite player? The Medlins have supported NC State for decades. Danny Medlin graduated from NC State. So did his wife and many other relatives. He has held season tickets since the 1990s, and the whole family tries to attend every home game. Josh has always admired Underwood, and he got his artistic inspiration from the cover of a publication from the Wolfpack Club.
Underwood has one game left in his NC State career -- Friday night against UCF in the Bitcoin St. Petersburg Bowl. Whether he has zero receptions or 10 receptions will not matter much to Josh Medlin. He already has what matters most.