NCF Nation:

Bryant McKinnie
May, 12, 2010
5/12/10
12:00
PM ET
Two rounds are in the books and four teams are left in ESPN.com's playoff to determine
college football's best NFL pipeline
.
Clemson, Oklahoma State, Nebraska, Florida, Tennessee, Michigan, Arizona State and Penn State were eliminated in Round 2.
Georgia, Notre Dame, UCLA and Ohio State were pushed aside in Round 1.
Only Florida State, Pittsburgh, Miami and the University of Southern California are left.
Based on recent history, it's a surprise the Panthers are still standing.
Next to college football's teams of the 1980s (Miami), 1990s (FSU) and 2000s (USC), the Panthers stick out as much as Lane Kiffin sitting at a table of Hall of Fame coaches.
But here's a brief history lesson to bring you up to speed on Pittsburgh football:
In the early 1980s, there probably wasn't a better NFL factory than the Steel City's university. Quarterback
Dan Marino
played there, along with fellow Pro Football Hall of Famers Russ Grimm and
Rickey Jackson
.
Who can forget Pitt's stellar offensive linemen like
Mark May
, Jimbo Covert,
Ruben Brown
and
Bill Fralic
or its menacing defensive linemen such as Hugh Green,
Chris Doleman
and
Sean Gilbert
? Former NFL running backs
Curtis Martin
and Craig "Iron Head" Heyward played for the Panthers. More recently,
Arizona Cardinals
receiver
Larry Fitzgerald
and cornerback
Darrelle Revis
starred at Pitt.
But if the survey were based on the last 10 to 15 years -- instead of the last three decades -- the Panthers wouldn't have a seat at the front table.
FSU, Miami and USC are far and away college football's best NFL factories during the last two decades.
The Hurricanes blessed us with alumni who won five NFL Most Valuable Player awards and made 100 Pro Bowl appearances. An alumni game at "The U." would include a defense led by safety
Ed Reed
, linebacker
Ray Lewis
, and defensive linemen
Warren Sapp
and
Cortez Kennedy
. Try scoring against that unit.
The Miami offense would include quarterback
Jim Kelly
, tailbacks
Edgerrin James
and
Clinton Portis
, receiver
Michael Irvin
, tight end
Jeremy Shockey
, and tackle
Bryant McKinnie
.
Only USC can match that kind of star power. Four of the former Trojans drafted by NFL teams since 1979 are already in the Pro Football Hall of Fame: safety
Ronnie Lott
, tailback
Marcus Allen
, and offensive linemen Anthony Munoz and
Bruce Matthews
.
It's probably only a matter of time before former Trojans
Junior Seau
joins his fellow USC alumni in Canton, Ohio.
Florida State, which won 10 games or more every season from 1987-2000 and won national championships in 1993 and '99, produced NFL stars such as
Deion Sanders
,
Derrick Brooks
,
Walter Jones
and
Warrick Dunn
.
But many of FSU's best players during the 1980s and '90s never found as much success in the NFL.
Brad Johnson
, the only former Noles quarterback to have sustained success in the NFL, didn't even start during his senior season at FSU. Quarterbacks like
Peter Tom Willis
, Danny McManus,
Danny Kanell
and
Casey Weldon
had a cup of coffee in the NFL, but not much more.
What was the biggest surprise in the first round? No. 12 seed Ohio State over No. 5 seed Tennessee.
Ohio State's lineup of
Orlando Pace
,
Cris Carter
,
Chris Spielman
,
Eddie George
and
Robert Smith
is as good as anybody's, but Tennessee's roster of NFL talent is arguably just as solid.
Besides, who doesn't know the Buckeyes are going to lose to an SEC team every time?
January, 19, 2010
1/19/10
9:06
AM ET
It's not easy coming up with a list of the 10 best players of the past decade in the Big East.
You could almost make the list solely from Miami players between 2000 and 2003; the Hurricanes were that dominant with that many unbelievable athletes on the roster.
But there were several other outstanding players on other teams throughout the decade. When trying to pare down the top 10, I gave extra benefit to longevity. Many stars had amazing single seasons -- guys like Willis McGahee, Donald Brown and Elvis Dumervil -- but I leaned toward those who did it over a longer period of time. NFL production doesn't hurt one's case but is not a major determining factor; this is a list of the best Big East players, not top future pros.
So without further ado, here's my Top 10:
10. Brian Brohm, QB, Louisville:
Brohm held the league's all-time career yardage mark before
Matt Grothe
broke it this past season. He led the Cardinals to the 2007 Orange Bowl title, and he still owns Big East records for passing yards in a career (9,956), season (4,024) and a game (555).
9. Mardy Gilyard, WR, Cincinnati:
Gilyard's 3,003 career receiving yards rank just 40 yard behind the league's all-time leader, Rutgers' Kenny Britt. But he is also a two-time league special teams player of the year for his tremendous work on kick returns, and he was one of the main catalysts for the Bearcats' back-to-back Big East titles in 2008 and 2009.
8. Ken Dorsey, QB, Miami:
Dorsey is the only Big East quarterback who can say he won a national title in the aughts. He finished his career with a ridiculous 38-2 record, was a two-time Big East offensive player of the year award winner, a two-time Heisman Trophy finalist and the co-MVP of the 2002 Rose Bowl.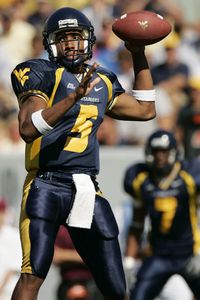 Ron Scheffler/US PresswireFormer West Virginia quarterback Pat White had a 4-0 record in bowl games.
7. Sean Taylor, DB, Miami:
Taylor was an incredible physical specimen who was as feared a defensive player as the league has ever seen. The hard-hitting safety had 10 interceptions while winning 2003 Big East defensive player of the year honors. Tragically, his life was cut short when he was killed in his home in 2007.
6. Dwight Freeney, DE, Syracuse:
Freeney was a holy terror on quarterbacks. His 34 career sacks ranks as the third most in Big East history, and he recorded 17.5 of them his senior year. He has gone on to stardom with the Indianapolis Colts.
5. Bryant McKinnie, OT, Miami:
It's easy to forget the big guys up front sometimes, but it's impossible to omit McKinnie from this list. The 2001 Outland Trophy winner and two-time All-American did not allow a sack in his college career. He finished eighth in Heisman Trophy balloting in 2001 -- for an offensive lineman, that's staggeringly high.
4. Ray Rice, RB, Rutgers:
Rice had two of the top three rushing seasons in Big East history and finished his three-year career with 4,926 rushing yards, only 113 yards behind all-time leader and four-year player Avon Cobourne of West Virginia. Rutgers' running game has sputtered ever since Rice left campus, and he has blossomed into a star at the next level.
3. Ed Reed, DB, Miami:
Reed's Big East record of 21 career interceptions may not be broken for a long, long time. The two-time All-American had nine picks and returned three for touchdowns in 2001 alone.
2. Larry Fitzgerald, WR, Pittsburgh:
Fitzgerald finished second in the 2003 Heisman Trophy race and ought to have won it. His incredible season saw him catch 92 passes for 1,672 yards and 22 touchdowns. He was almost as good in 2002, as well.
1. Pat White, QB, West Virginia:
White may or may not be the best player on this list, but his accomplishments put him above the rest. He finished his career as the NCAA's all-time leader in rushing among quarterbacks, led West Virginia to two BCS bowl wins and went 4-0 in bowls as a starter. Maybe more importantly, he helped save the Big East by leading the Mountaineers to a win over Georgia in the 2006 Sugar Bowl when the league's credibility and BCS status were in question. For pure impact and career achievement, White is the Big East's man of the decade.
Very honorable mention:
Andre Johnson, Kellen Winslow, Willis McGahee and Jonathan Vilma, Miami; Donald Brown, UConn; Kenny Britt, Rutgers; Elvis Dumervil, Louisville; Antonio Bryant and Darrelle Revis, Pitt; Mathias Kiwanuka, Boston College; DeAngelo Hall, Virginia Tech.
That's my list. Who's in your Top 10 of the past 10 years?
February, 26, 2009
2/26/09
10:53
AM ET
Posted by ESPN.com's Adam Rittenberg
The spring practice primer continues today with five newcomers to watch as Big Ten teams return to the field next month.
All five of these men could play critical roles come September.

Michigan quarterback Tate Forcier -- The true freshman from San Diego, who enrolled early, is considered the frontrunner for the starting job after incumbent Steven Threet transferred earlier this month. Forcier boasts the skill set to run Rich Rodriguez's spread offense. If he catches on quickly this spring, he'll likely be the man to beat when fellow freshman Denard Robinson arrives in the summer.

Michigan State quarterback Keith Nichol -- Nichol sat out last season after transferring from Oklahoma and will begin competing this spring for the starting job alongside Kirk Cousins. The 6-foot-2, 205-pound Nichol ran Michigan State's scout team last year and fits the Drew Stanton-like mold as an adept runner as well as a passer. Cousins enters the spring with a slight edge after backing up Brian Hoyer last year, but Nichol isn't too far behind.

Ohio State guard Justin Boren -- He's hardly a newcomer to the Big Ten, but the news-making transfer from Michigan hits the practice field this spring seeking a starting job. The 6-3, 320-pound Boren, who started all 13 games for Michigan in 2007, may very well emerge as Ohio State's best offensive lineman this spring. He could cement himself as a starter on a line that underperformed last fall.

Wisconsin quarterback Curt Phillips -- A heralded recruit from Tennessee, Phillips joins a wide-open competition under center after redshirting last season. Named Wisconsin's offensive scout team player of the year in 2008, the strong-armed Phillips could be the long-term answer at quarterback that the Badgers sorely need. He'll compete alongside incumbent Dustin Sherer, Scott Tolzien, James Stallons and true freshman Jon Budmayr, another key newcomer.

Minnesota tackle Jeff Wills -- As the Gophers resurrect the power run game this spring, Wills should play a key role on a line that struggled for much of last season. Coming from the same junior college that produced Bryant McKinnie, Wills has excellent size (6-7, 350) and will compete for a starting position right away. "He may be one of the biggest humans I've ever been around," head coach Tim Brewster said of Wills.
TOP 25 SCOREBOARD
Saturday, 12/21
Monday, 12/23
Tuesday, 12/24
Thursday, 12/26
Friday, 12/27
Saturday, 12/28
Monday, 12/30
Tuesday, 12/31
Wednesday, 1/1
Thursday, 1/2
Friday, 1/3
Saturday, 1/4
Sunday, 1/5
Monday, 1/6