August, 21, 2014
Aug 21
9:00
AM ET
Today, ESPN.com released its preseason All-American team. Before Big 12 media days, we released our
individual
preseason All-Big 12 ballots. But to pair with the All-American team, we debated, argued and eventually settled on one Big 12 blog, consensus preseason All-Big 12 team.
Here we go:
Offense
QB: Bryce Petty, Baylor
Easy choice. Petty is the reigning Big 12 Offensive Player of the Year after he threw for 4,200 yards and 32 touchdowns with just three picks. He should be even better in Year 2 as a starter.
RB: Johnathan Gray, Texas
Malcolm Brown
finished strong in place of Gray the past season, but there's a reason Gray was Texas' No. 1 back before he suffered an Achilles injury. Gray is healthy again, which gives Texas the best one-two punch at running back in the league.
RB: Shock Linwood, Baylor
Despite being Baylor's third-string running back the past season, Linwood still finished sixth in the Big 12 in rushing. He's the featured back now and could wind up the league's top rusher.
WR: Tyler Lockett, Kansas State
Lockett was literally uncoverable at times last year. Just ask Texas, Oklahoma and Michigan, which surrendered a combined 631 receiving yards and six touchdowns to Lockett. With
Jake Waters
settled in at quarterback, Lockett could put up even bigger numbers in 2014.
WR: Antwan Goodley, Baylor
Goodley might have been the most improved player in the league the past season. He was also one of the most dominant, with 1,339 receiving yards and a national-best five catches of 60 yards or more.
TE: E.J. Bibbs, Iowa State
With
Jace Amaro
gone, Bibbs takes over as the top receiving tight end threat in the league. Only Amaro had more catches and yards than Bibbs among Big 12 tight ends the past season.
OT: Spencer Drango, Baylor
With Drango in the lineup, Petty was sacked only eight times through the Bears' first nine games last year. After Drango was sidelined with a back injury, Petty was sacked nine times in Baylor's last four games. Suffice it to say, Petty is glad to have Drango back protecting his blindside.
OG: Le'Raven Clark, Texas Tech
The Red Raiders previously had plans to move Clark inside to guard, but they still have him manning left tackle this season. Whether he stays at the bookend or slides to guard, Clark is one of the most dominating offensive linemen in the league.
C: BJ Finney, Kansas State
Finney owns a Big 12-best 39 starts over the past three years. The former walk-on is also a two-time first-team All-Big 12 selection and will be the favorite to garner such recognition again as the linchpin of the K-State offensive line.
OG: Cody Whitehair, Kansas State
Whitehair is capable of manning either guard or tackle, but the Wildcats will be showing their trust in him by asking him to protect Waters' blindside this season.
OT: Daryl Williams, Oklahoma
Williams is the best piece on the league's best offensive line, which returns four starters and plenty of capable backups.
AP: Jakeem Grant, Texas Tech
Grant finished sixth in the league in receiving yards per game, despite being the third option in Tech's passing attack the past season. Grant is now the first option in the passing game, as well as an electric playmaker on special teams.
K: Michael Hunnicutt, Oklahoma
The Sooners have never had an All-American kicker before, but they have a strong candidate in Hunnicutt, who converted 24 of 27 field goals the past season.
Defense
DE: Ryan Mueller, Kansas State
In 2013, Mueller finished with 11.5 sacks and 18.5 tackles for loss, which were second in the league only to Big 12 Defensive Player of the Year
Jackson Jeffcoat
. Mueller, who also forced four fumbles, has one of the conference's best noses for finding the ball.
DT: Chucky Hunter, TCU
The Horned Frogs still had a formidable front the past season, even without
Devonte Fields
, due in large part to Hunter. TCU won't have Fields again. But Hunter is back to anchor a defensive line loaded with quality players.
DT: Malcom Brown, Texas
This former blue-chipper broke out the past season with 68 tackles, including 12 for loss. He and
Cedric Reed
team up to form the best inside-outside defensive line combination in the league.
DE: Cedric Reed, Texas
Reed was third in the Big 12 in 2013 with 10 sacks, fourth with 19 tackles for loss and tied for first with five forced fumbles. He gives the Longhorns a chance to feature the Big 12 Defensive Player of the Year for the second straight season.
LB: Eric Striker, Oklahoma
When it comes to rushing the passer, there's no one better in the league. Striker has spent this offseason refining other parts of his game to become a more complete player. But his pass rushing alone makes him one of the top players in the league.
LB: Ben Heeney, Kansas
Heeney was a tackling machine last year for a defense that performed valiantly despite getting little help from its offense. Heeney will get plenty of help from his defense, though, which returns eight other starters.
LB: Bryce Hager, Baylor
Hager has notched 195 tackles over the past two seasons, while twice earning second-team All-Big 12 honors. With
Ahmad Dixon
and Eddie Lackey gone, he takes over as the leader of a defense angling to prove it can be as good as the past year's.
CB: Quandre Diggs, Texas
Diggs, who has never been afraid to speak his mind, is the heart and soul of the Longhorns. If the rest of the team takes on his mentality, Texas could have one feisty team in Charlie Strong's first season.
CB: Daryl Worley, West Virginia
Despite being just a second-year player, Worley has already taken over as one of the vocal leaders of the West Virginia defense. He's also already one of the best cover corners in the league.
SS: Sam Carter, TCU
Carter has nine interceptions the past two years, the most of any returning Big 12 player. He leads arguably the best secondary in the league, too.
FS: Karl Joseph, West Virginia
Joseph has started all 25 games for the Mountaineers since he stepped foot in Morgantown. No other returning Big 12 defensive back has more career tackles than Joseph's 170.
P: Nick O'Toole, West Virginia
The "Boomstache" ranked 15
th
nationally last year, with an average of 44.1 yards per punt. He also has the best mustache in the league, which has to count for something.
August, 13, 2014
Aug 13
2:30
PM ET
Baylor has arrived.
Or have they?
The Bears will kick off the 2014 season as the reigning Big 12 champions with their success under Art Briles impossible to ignore. Yet there remains an undercurrent in Big 12 country that leaves the impression that Baylor still has plenty to prove.
The comments earlier this year from Texas linebacker
Steve Edmond
, who said Baylor was "still trash," then
apologized for his statement
, is a glimpse into the minds of those who aren't believers in Briles' Bears quite yet. Even with the success, Baylor players and their families still hear the noise coming from the naysayers who think they could be short-term placeholders at the top of the conference standings.
"They don't matter and they never did," Baylor receiver
Antwan Goodley
said of detractors. "We know what we're capable of; we know what we're capable of doing. We're just trying bring a trophy to Waco, Texas."
It's nothing new for Goodley, who heard the questions when he initially picked the Bears out of Midland (Texas) High School.
[+] Enlarge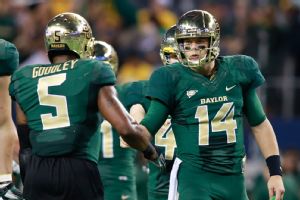 Tim Heitman/USA TODAY SportsAnywan Goodley and Bryce Petty plan to give Baylor staying power atop the Big 12.
"Before I even came here it was, 'You're going to Baylor? Why Baylor?' " Goodley said. "A couple of years ago, hearing Baylor won the Big 12 wouldn't even sound right. We've changed it around a lot, we've got a lot of people ridin' with us and a lot of people against us. That's just how it goes."
Baylor rose to the forefront of college football in 2013 with its high-scoring offense earning nationwide attention as it averaged 64.7 points per game during the first six games of the season. But none of that matters now as their 2013 conference title run is in the rearview mirror.
"2013 is gone forever; that title is ours," Briles said. "We're attacking 2014 just like everybody else. That's our mindset with our players, and that's the way they've been approaching everything. We see ourselves as the guy fighting hard, scratching hard to try to get some recognition and some respect."
The perception has changed, however. Baylor's No. 2 ranking in the Big 12 preseason poll shows just how far Briles' program has progressed.
"We have to learn how to prepare as the hunted as opposed to the hunter," Briles said. "We've always been the hunter. And I don't want to lose that edge and that attitude and that's something that we're working hard to maintain."
But does Baylor have the staying power to cement themselves at the top of the Big 12?
"That's the next step for us," quarterback
Bryce Petty
said. "We have to become relevant and we have to stay relevant. That's the goal for anyone coming in and myself, leave it better than I found it."
Petty and company insist that's the goal and point to the new home of the Bears as one of the reasons everyone should get used to seeing Baylor among the Big 12's best for years to come.
"Having them build that stadium is a huge sign that Baylor is here to stay," linebacker
Bryce Hager
said. "They wouldn't have spent that type of money if it was a one or two-year thing."
McLane Stadium, Baylor's brand-new $266 million, 45,140-seat stadium, is set to open on Aug. 31 when the Bears host SMU. Much like the Bears' football program, McLane Stadium is striving to be ahead of the curve with "state-of-the-art" technology and exceptional amenities for fans and players.
"We have the toys, no doubt," quarterback Bryce Petty said. "It's huge for Baylor to be relevant to have everything everyone else has and also set the standard of having things other people don't. We want to be that school that when you come in you say, 'Man, this is different.'"
Sitting alongside Interstate 35, the on-campus stadium is impossible to miss. Briles hopes it can plant a seed in the mind of every youngster who lays eyes on it for years to come when they're told McLane Stadium is a centerpiece of Baylor University and the Bears' football program.
"Then, for the rest of their lives they're going to associate Baylor with excellence," Briles said. "And that's hard to come by."
August, 4, 2014
Aug 4
10:30
AM ET
»
More team previews:
ACC
|
Big 12
|
Big Ten
|
Pac-12
|
SEC
Previewing the 2014 season for the
Baylor Bears
:
Key returners:
QB
Bryce Petty
, WR
Antwan Goodley
, LB
Bryce Hager
, DE
Shawn Oakman
.
Key losses:
RB
Lache Seastrunk
, OG
Cyril Richardson
, S
Ahmad Dixon
, LB Eddie Lackey, WR
Tevin Reese
.
Most important 2014 games:
Oct. 4 at Texas; Nov. 8 at Oklahoma; Dec. 6 Kansas State.
[+] Enlarge
Tim Heitman/USA TODAY SportsBryce Petty passed for 4,200 yards and 32 touchdowns last season.
Projected win percentage:
80.1 percent.
Over/under Vegas odds:
9½ wins.
Instant impact newcomers:
CB
Chris Sanders
, LB
Grant Campbell
. Baylor sought immediate help to replace some big-time talent on defense and found Sanders and Campbell in the junior college ranks. Both cracked the two-deep this spring and could see the field plenty. Sanders was limited with an injury during spring practices but will compete for a starting job, and Campbell is the top backup to Hager at middle linebacker.
High point from 2013:
Defeating Texas 30-10 to clinch a Big 12 championship. In the final home game at Floyd Casey Stadium, Petty & Co. pulled away in the second half to give Baylor its first outright conference title since 1980, an 11-win season, a trip to the Tostitos Fiesta Bowl and its third win in the past four years over the Longhorns.
Low point from 2013:
Losing to Oklahoma State 49-17. The Bears were 9-0, had climbed to No. 4 in BCS standings and had their sights sets on a national title run. They went to up to Stillwater and got dismantled, giving up nearly 600 total yards against a potent Pokes team. Baylor's first loss put OSU in the driver's seat to win the Big 12.
Best-case scenario for 2014:
Petty and his impressive array of skill-position weapons power an offense that puts up ever better numbers than last year's unit, allowing Baylor to breeze through its first eight games before the big showdown against OU. The defense steps up big to shut down the Sooners and Baylor rides the momentum of that "W" to 12-0. If this team is still hot on both sides of the ball entering the College Football Playoff, everyone else might be playing for second place.
Worst-case scenario for 2014:
The offense is as dangerous as expected, but Baylor learns the hard way that its defense has too many holes and too much inexperience to match the production of last year's senior-loaded unit. The Bears engage in too many shootouts and can't hang on in the big one at Oklahoma. An 8-0 start ends with Baylor losing three of its last four. It's still a nine-win team and a dang good one, but not the Big 12 champions.
They said it:
"We have to learn how to prepare as the hunted as opposed to the hunter. We've always been the hunter. And I don't want to lose that edge and that attitude, and that's something that we're working hard to maintain." -- Baylor coach Art Briles.
July, 29, 2014
Jul 29
9:00
AM ET
With the season just a month away, we're taking this week to rank the Top 25 players in the Big 12.
This is a ranking of who we think the best 25 players will be over the course of the 2014 season.
Monday,
we kicked this series off with the first five names
. Today, we continue with Nos. 20-16.
20. Johnathan Gray, RB, Texas:
Health is the only concern with Gray. Because when he's healthy, Gray is a devastating combination of speed and power. There's a reason the Longhorns have never lost when Gray has gotten 20 carries, which included victories over Oklahoma and Kansas State last year. A torn Achilles ended his 2013 season prematurely. But Gray has been cleared for fall camp, which is a good sign for the Longhorns and a bad one for the rest of the Big 12.
19. Bryce Hager, LB, Baylor:
Hager is the
Bryce Petty
of the Baylor defense, with a pair of second-team All-Big 12 seasons behind him. Hager has recorded 195 tackles over the past two seasons and is one of the most seasoned players in the league. He missed the spring rehabbing from a season-ending groin injury, but should be 100 percent when the Bears begin fall camp. If Baylor avoids a drop off from last year's breakout defensive campaign, Hager's steady play will be a major reason why.
18. Quandre Diggs, CB, Texas:
Diggs is the most outspoken player in the league, even foreshadowing during Big 12 media days that coach Charlie Strong might have to weed out certain players. Diggs will be a four-year starter and the unequivocal leader of the Texas defense. He should be more comfortable back at cornerback after a stint last season at the nickel. With cornerbacks
Jason Verrett
,
Justin Gilbert
and
Aaron Colvin
all gone, Diggs figures to be the new class of the position in the league.
17. Chucky Hunter, DT, TCU:
The Horned Frogs might not have star end
Devonte Fields
this season. But they should still be stout up front, thanks to the return of Hunter, who is coming off an All-Big 12 season. Fellow tackle
Davion Pierson
is one of the most underrated players in the league. And the two form arguably the best one-two punch at defensive tackle in the league.
16. Ben Heeney, LB, Kansas:
Don't blame Heeney for the Jayhawks' 3-9 record last year. The Big 12's top returning tackler spearheaded a defense that gave opposing offenses fits at times in 2013, despite getting virtually no assistance from the Kansas offense. With nine starters back, the Jayhawks could create even more problems for the offenses of the Big 12. Especially with Heeney manning the middle.
Coming Wednesday:
Nos. 15-11 …
July, 10, 2014
Jul 10
11:30
AM ET
Several Big 12 players popped up on the watch lists for the Bronko Nagurski Trophy, awarded to college football's best defensive player, and the Outland Trophy, given to the best interior lineman.
Here are the Big 12 players that made each list:
Nagurski
Outland
Already this week, the Maxwell (player of the year), Bednarik (defensive player of the year), Hornung (most versatile player), Mackey (best tight end), Rimington (best center), Groza (best kicker) and Guy (best punter) watch lists have come.
Below is the rest of the preseason watch list schedule:
Friday, July 11
-
Jim Thorpe Award
, best defensive back
Monday, July 14
-
Butkus Award
, best linebacker
-
Lombardi Award
, best lineman
Tuesday, July 15
-
Biletnikoff Award
, best receiver
Wednesday, July 16
-
Davey O'Brien Award
, best quarterback.
Thursday, July 17
-
Doak Walker Award
, best running back
Friday, July 18
-
Walter Camp Award
, best player
November, 21, 2013
11/21/13
1:00
PM ET
WACO, Texas -- Art Briles has been saying it for nearly a year. After what his No. 4 Baylor team has endured this season, he definitely believes it too.
"We finally have Big 12-quality depth," said Briles once more after the Bears' 41-12 win over Oklahoma on Nov. 7.
In the two weeks since that game, he's needed all that depth to come through in a big way. Briles is proud of the fact his 9-0 Bears don't lean on any one person to succeed, and they've needed plenty of reserves to step up recently.
The Bears lost top deep threat
Tevin Reese
for the season to a dislocated wrist. Running backs
Lache Seastrunk
(groin) and
Glasco Martin
(knee) also went down against the Sooners and haven't played since.
[+] Enlarge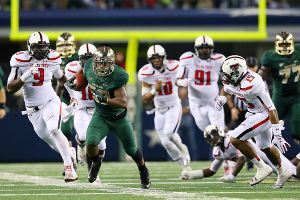 Ronald Martinez/Getty ImagesThird-string running back Shock Linwood starred against Texas Tech, rushing for 187 yards and a touchdown.
Like the rushing duo, linebacker
Bryce Hager
is questionable for this week's huge test at No. 10 Oklahoma State with a groin injury. Left tackle
Spencer Drango
had back surgery on Tuesday and is out indefinitely.
It's November. The guys that are practicing and playing are banged up, too. And Briles' confidence in just how deep these Bears are is being put to the test.
"I wish we weren't having to prove it," Briles said. "You hate to see anybody give so much time and effort and soul to a situation and then not be able to carry on."
And yet, Baylor keeps plugging in new parts and thriving.
Levi Norwood
replaced Reese and scored three touchdowns against Texas Tech. Redshirt freshmen
Shock Linwood
and
Devin Chafin
filled in at running back and each went for 100-plus yards. Another freshman,
Aiavion Edwards
, took over for Hager.
"The only thing that's changed is the name and the number," senior safety
Ahmad Dixon
said. "Guys are still running the ball as if Lache was there. Guys are still catching the ball as if Tevin was there."
And those are just the obvious spots, where injury created opportunity. How's this for depth: Defensive end
Shawn Oakman
leads the team with 12 tackles for loss and isn't even a starter. Fellow backup
Jamal Palmer
is second on the team in sacks.
True freshmen
Byron Bonds
and
Andrew Billings
are getting major minutes at defensive tackle and succeeding. The Bears' No. 3 cornerback,
Joe Williams
, has 22 career starts.
Baylor has been stockpiling talent like this for years in preparation for a season like this.
"It is critical. It's something our staff and everybody has done a great job recruiting to fill needs," Briles said. "That's the first thing you look at, what needs do we need to fill? We've been fortunate up to this point. I don't think you ever get to where you want to get, but we do have guys that can play on our roster."
The development of that Big 12-caliber depth begins with recruiting, but getting them to Waco was just the first step. Bears players say they wouldn't be ready to play whenever needed if not for strength coach Kaz Kazadi.
"We rely on Coach Kaz a lot," Chafin said. "Coach Kaz is our base and foundation. He has us ready physically."
Kazadi has been part of the Briles regime from day one and is renowned for his intensity and passion. Players say his offseason regimen is especially challenging. And borderline crazy.
Dixon offers this example: Kazadi tinkers with the atmosphere of his workouts every day. He'll crank the temperatures to hot one day and cold the next. Blast rap music one day, old-school reggae the next and the Baylor fight song the next, never at the same volume. He's trying to create chaos by any means necessary.
"He puts us in difficult situations, weird situations," Dixon said. "I mean, you sit there and you hear the fight song over and over, doing drills in the indoor during offseason. He's doing everything possible to try to throw our focus off."
There's another key reason why so many Bears are ready to ball: All those blowouts.
Only three foes have faced Baylor's starting offense in the fourth quarter.
Bryce Petty
has 11 pass attempts in the fourth. Seastrunk has two carries. The rest of the snaps have gone to backups and underclassmen, and those extra reps are proving valuable now.
Going into the Oklahoma game, Linwood and Chafin had a combined 86 carries. The third- and fourth-quarter snaps they shared early in the year brought needed experience.
"Us young people still have a lot to learn, but for us to step in at a big level like that just shows us how to prepare ourselves and all the depth we have," Linwood said.
Dixon can spot that depth and development every day on the practice field. The amount of talent on the Bears' roster has come a long way since he was a freshman. It's going to take a lot more than the best 22 to sustain this Big 12 championship run.
"That depth, that offseason, all of that work with Coach Kaz has helped us," Dixon said. "We're starting to turn elite."
November, 21, 2013
11/21/13
10:15
AM ET
Four Big 12 teams are on byes this weekend, but there is no shortage of storylines in Week 13:
1. Who's the king of the conference?
The Big 12 title race won't officially be over after this weekend's big showdown, but by the end of Saturday we should know whether Baylor or Oklahoma State is the conference's top team. If the Bears win, they're one big step closer to being No. 3 in the polls and fighting for a spot in the national title game. Oklahoma State sets up a three-way tie at the top of the Big 12 standings with a home victory, and then things get messy and crazy. But the Cowboys would assert themselves as the best of the bunch with that upset.
[+] Enlarge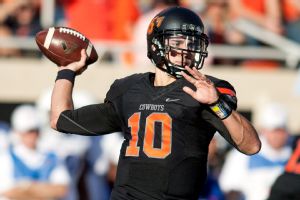 William Purnell/Icon SMIClint Chelf and No. 10 Oklahoma State are out to prove that they are the Big 12's best team when they host No. 4 Baylor on Saturday night.
2. Can OSU go four quarters?
Of all the nine teams the Bears have defeated this season, only Kansas State has taken them deep into the fourth quarter. That was a 35-25 game on the road. Baylor's average margin of victory in its eight other games has been 48 points. The Cowboys have enough talent in all three phases to challenge Baylor, but can they keep this game close entering the fourth and survive late?
3. Winning the battle of the injury report
: Baylor doesn't know if running backs
Lache Seastrunk
and
Glasco Martin
will be available to play Oklahoma State. Top Bears linebacker
Bryce Hager
could be out, too. And the Cowboys need top playmaker
Josh Stewart
back on the field after he missed the win over Texas. Cornerback
Justin Gilbert
got banged up against Texas but has said he won't miss Baylor. Don't expect Mike Gundy or Art Briles to tip their hands until kickoff.
4. Baylor tries to break Stillwater curse
: The last time Baylor defeated Oklahoma State in Stillwater was 1939. Since 1994, the Cowboys are 9-0 at home against Baylor and 6-3 in Waco. There's no obvious reason for the Bears' longtime futility at Boone Pickens Stadium other than, you know, that BU used to be the cellar dweller of the Big 12. But they have a chance to end that slump on Saturday.
5. Kansas State: Big 12's fourth-best team?
The Wildcats are on quite a hot streak after starting 2-4 on the year. K-State has won four in a row, clinched bowl eligibility last weekend with a win over TCU and has a chance to land a signature win in the home finale against No. 20 Oklahoma. Beat the Sooners head-to-head and KSU can finish 6-3 in league play and as high as fourth place in the Big 12.
6. Trevor Knight time
: Or maybe
Blake Bell
will start. Or it could be
Kendal Thompson
, which evidently would make a lot of Sooners fans happy. If the Iowa State game is any indication, we could see two or all three make appearances against Kansas State. No matter what, OU needs to find a solution to its QB carousel before the team travels to Oklahoma State on Dec. 7. This is the last chance for an in-game audition.
7. Jayhawks going for two
: Kansas went more than 1,100 days between Big 12 victories. Might this program have to wait only seven days for its next one? KU knocked off West Virginia with a heavy commitment to the
James Sims
-powered run game and has been playing foes much closer than Iowa State has in Big 12 play. This is a big chance for the Jayhawks to notch their first road win since 2009.
8. Iowa State just wants a W
: Iowa State remains winless in Big 12 play, and since knocking off Baylor 35-21 last October, ISU has won two of its last 15 games. Cyclones fans are ready for this brutal 1-9 season to end. The home finale against Kansas is as good a chance as any to at least get one win and send the program's seniors off on a good note.
November, 11, 2013
11/11/13
9:00
AM ET
And then there were three:

1. Baylor (8-0, 5-0 Big 12, last week 1):
We're 11 weeks into the season, and Baylor still leads the Big 12 in total defense, scoring defense and red zone defense. Those numbers aren't a fluke, as Oklahoma found out the hard way.
Ahmad Dixon
is one of the best safeties in the conference;
Eddie Lackey
and
Bryce Hager
are a stout one-two punch at linebacker; and the defensive line has size and speed. The Sooners might not be very good offensively this year. But Baylor made them look downright ridiculous. This is a complete team.
2. Oklahoma State (8-1, 5-1, LW 2):
This will be just the fifth time Oklahoma State has played Texas when both teams have been ranked in the BCS. The Longhorns have won all four such previous meetings. As a program still aspiring to greater heights, this is the kind of game the Cowboys need to win. Texas is banged up. Oklahoma State has the better defense. And as a result of both, the Cowboys are favored in Austin. Some of the more haunting moments in Oklahoma State history have occurred at the hands of the Longhorns. This is a prime opportunity for the Pokes to produce a memorable one.
3. Texas (7-2, 6-0, LW 3):
The Longhorns have depth at running back and defensive tackle. But they no longer have all-conference players at those positions. That's what tailback
Johnathan Gray
and defensive tackle
Chris Whaley
are. Can Texas overcome these additional hits against one of the hotter teams in the Big 12 in Oklahoma State this weekend? If the Horns do, Mack Brown should get votes for Big 12 Coach of the Year.
4. Kansas State (5-4, 3-3, LW 6):
More and more, K-State is beginning to resemble the Baylor of last year. Maybe not in style, but most certainly in efficiency. The Wildcats scored touchdowns on their first five possessions to basically put then-No. 25 Texas Tech away on its home field by the second quarter. Think about this: From the third quarter of the West Virginia game three weeks ago to halftime at Texas Tech, K-State has scored touchdowns on 14 of 22 possessions (not counting kneel downs). That level of touchdown efficiency would even impress Baylor coach Art Briles. Like the Bears last year, K-State could finish this season with a flourish to set up a run back at the Big 12 title in 2014.
5. Oklahoma (7-2, 4-2, LW 4):
The Sooners' quarterback situations have been the envy of the Big 12 dating back to the advent of the Bob Stoops era. No more. OU has major problems at the position, not only for the rest of this season, but beyond. It's difficult to see the Sooners winning a Big 12 championship with
Blake Bell
at quarterback next season. But the fact the Sooners won't let
Trevor Knight
attempt a pass or
Kendal Thompson
step on the field raises red flags, too. OU had no shot of coming back on Baylor with Bell behind center, yet the Sooners still refused to give either one of the other quarterbacks a chance. Stoops is not one to make drastic changes. But if the Sooners don't shake things up offensively, they could easily finish this regular season a disappointing 8-4.
6. Texas Tech (7-3, 4-3, LW 5):
After three straight losses, the unranked Red Raiders find themselves four-touchdown underdogs to Baylor at a neutral site. A month ago, this game looked like it might be for the Big 12 crown. Instead, Tech will be playing to avoid going 1-11 in the month of November over the past three years.
7. West Virginia (4-6, 2-5, LW 7):
The Mountaineers just missed out on landing another marquee home win, falling 47-40 to Texas in overtime. They have to put that behind them. By snagging these next two winnable games against Kansas and Iowa State, West Virginia will go to a bowl. Considering all the pieces the Mountaineers had to replace from last year, that would constitute a solid season for a team in rebuilding mode.
8. TCU (4-6, 2-5, LW 8):
Credit TCU for not throwing in the towel after dropping three straight for the first time in the Gary Patterson era. The Horned Frogs continued to struggle offensively. But despite missing several key players, they gutted out a game-winning, fourth-quarter touchdown drive at Iowa State to keep their slim bowl hopes alive.
9. Iowa State (1-8, 0-6, LW 9):
The Cyclones had yet to win a Big 12 game and were facing an opponent riding a three-game losing streak in a late-morning kickoff. And yet, Jack Trice Stadium was just about full. Cyclone Nation brought it this weekend, even if their team came up another goal-line stand short.
Tweeted
Iowa State defensive back
Deon Broomfield
: "Best fans in nation. Even through a season like this we have a packed stadium. Sorry for the letdown." It's been a rough year to be an Iowa State fan. You can bet the players will fight to reward that loyalty in the form of a Big 12 win before the end of the season.
10. Kansas (2-7, 0-6, LW 10):
The Jayhawks are 118th in scoring offense, 119th in total offense and 120th in 10-plus-yard plays. Kansas' offense is going nowhere as it's currently constructed. It's time for coach Charlie Weis to give freshman quarterback
Montell Cozart
the keys to the offense. Even though the Jayhawks failed to reach the end zone at Oklahoma State, Cozart flashed promise, leading Kansas to 202 yards on the ground and 13 of its 15 first downs.
September, 8, 2013
9/08/13
9:00
AM ET
Recognizing the best and brightest from around the Big 12 in Week 2:
RB Brennan Clay, Oklahoma
On a night when the Sooners' quarterback plan fell apart, Clay came in and saved the day. The senior backup was a workhorse against West Virginia, rushing for a career-high 170 yards on 22 carries in a 16-7 victory. No matter whom OU goes with behind center, it's at least got two talented, proven backs to lean on in Clay and
Damien Williams
, who nearly joined Clay is hitting the 100-yard mark.

QB Baker Mayfield, Texas Tech
Just because Mayfield and Tech were playing Stephen F. Austin doesn't mean he doesn't deserve some credit. The freshman walk-on continues to impress, throwing for 367 yards and three touchdowns. He added 66 yards on the ground, too, and would've easily finished with more than 500 total yards had he not sat out the second half to give
Davis Webb
reps in the blowout. We'll know a lot more about just how good Mayfield is next week when TTU takes on TCU.
WR Tramaine Thompson, Kansas State
Tyler Lockett
might set more records, but Thompson was the spark KSU needed to bounce back from its season-opening loss. He returned a kickoff 94 yards for a touchdown, added a 79-yard punt return down to the 1-yard line and finished with 46 receiving yards. It's hard to beat that all-purpose contribution, and it's safe to argue that the Wildcats have one of the best kick-return duos in the country.
LB Bryce Hager, Baylor
We could give this honor to several members of the Baylor offense, but let's give the Bears' defense some love. Hager had 124 tackles last season and only two on Saturday. That's normally a bad day in his book, but he gets the sticker for his impressive 91-yard fumble return for a touchdown against Buffalo. To say Hager was rumbling and stumbling on that run-back doesn't do it justice. Baylor coach Art Briles said after the game that Hager's return was the nail in the coffin that the Bears needed.
QB J.W. Walsh, Oklahoma State
Walsh is making Mike Gundy look smart for anointing him the Pokes' starter. He was a near-perfect 24-for-27 passing against UTSA with 326 yards and touchdowns to four different OSU receivers. He also rushed for a touchdown before letting
Clint Chelf
take over and finish off the Roadrunners. While Chelf also made solid use of his reps against UTSA, there's no doubt who the preferable option is right now for OSU at quarterback.
January, 22, 2013
1/22/13
1:30
PM ET
Every year, we see players take the leap. It's a natural progression in college. Contributors become impact players. Solid starters become superstars and there are plenty of moves in between. Only players who have played two full seasons in college football count. That means no freshmen or transfers. My regrets to guys such as
Calvin Barnett
,
Lache Seastrunk
and
Devonte Fields
.
Here are my picks for the Big 12's most improved players:
[+] Enlarge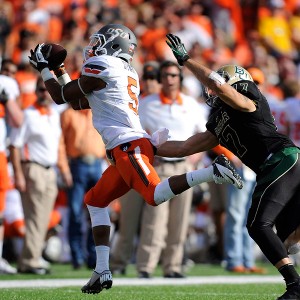 Jerome Miron/USA TODAY Sports Oklahoma State's Josh Stewart stepped in at receiver and delivered a 101-catch, 1,210-yard season.
Josh Stewart, WR, Oklahoma State:
Stewart takes the honor of being the Big 12's most improved player by a landslide. A year ago, he was a bit player on a high-powered offense, grabbing 19 catches for 291 yards. The Cowboys lost their three best receivers from last season's team (Justin Blackmon, Josh Cooper, Mike Harrison) and needed somebody to step up. This season, Stewart answered the bell for an offense that needed him, catching 101 balls for 1,210 yards and seven scores.
Kerry Hyder, DL, Texas Tech:
Hyder was arguably the biggest reason for Texas Tech's defensive resurgence this season, racking up 14 tackles for loss to rank fifth in the Big 12. A year ago, he had just five among his 42 tackles. This year, he made 56 stops, but had 5.5 sacks alone and broke up four passes.
Terrance Williams, WR, Baylor:
Williams was a really good receiver a year ago, putting together maybe the quietest 900-yard receiving season ever. This year, though, he was better than anyone could have predicted. I voted for him for the Biletnikoff Award after leading the nation with 1,832 yards and 12 scores on 97 catches, up from 59 a year ago. He made the jump from great player to true superstar. He'll be an NFL first-rounder.
Jason Verrett, CB, TCU:
Verrett had a nightmare start to 2011, getting burned by Robert Griffin III in a painful loss in Waco to begin the season. This year, he was unquestionably the Big 12's best shutdown corner and arguably one of the best in the country. Ask any Big 12 receiver. He's fast, physical and his great hands helped him grab six interceptions (fifth-most nationally) and break up a ridiculous 16 passes. That's 22 pass defenses. No other Big 12 player had more than 15.
Tony Pierson, RB, Kansas:
Pierson was a great complement to power back
James Sims
, and ranked 10th in the league with 760 yards on just 117 carries. While Sims was suspended to begin the season, he had a pair of 120-yard games and topped 200 yards against Texas Tech, but his yards per carry (6.5) gets him on this list. Among the 25 Big 12 backs with at least 75 carries this year, only Seastrunk had a higher yards-per-carry average.
Lane Johnson, OT, Oklahoma:
Johnson was a good tackle last season, but he made a decent argument for being the best in the Big 12 this year. He was solid all season long, but seeing him shut down Big 12 Defensive Player of the Year Devonte Fields in the regular season finale made a big impact on me. He also played well against possible top-five pick
Damontre Moore
, who was largely quiet in the Cotton Bowl loss to Texas A&M.
Bryce Hager, LB, Baylor:
Hager's tackle numbers are a little inflated because of Baylor's early defensive struggles, but he led the Big 12 with 124 stops after making just 13 in limited duty a year ago as a freshman. If you watched him late in the year against K-State or UCLA, you saw how good Hager and his partner in crime at linebacker,
Eddie Lackey
, could be. It seemed like he was in
Collin Klein
's face all day, and the game may have been different without him.
December, 21, 2012
12/21/12
4:00
PM ET
Thanks for all the emails this week, everybody.
Here's where you can reach me
if you've got more to say.
Let's get to your mail.
Sam Brooks in Overland Park, Kan., writes:
David, I saw in
your Big 12 stock report that you have Kansas State's stock as going down
, and your logic for this is very skewed. Sure, the Cats are losing two very important players with major leadership roles on both sides of the ball in Collin and Arthur, but don't think for a second that the quality of leadership will drop off.
Tre Walker
is more than ready to become the vocal leader of the 'Lynch Mob' (probably already was), and
John Hubert
and
Daniel Sams
have spent countless hours learning the intangibles from CK7. As for talent, they are taking a big hit on the defensive side pretty much only returning Zimmerman and Walker. However, as for the offense, look for them to be more explosive than this year. 5 returning on the O-Line, John Hubert, Tremaine Thompson, and
Tyler Lockett
all return, making it very plausible for D-Sams to ease into Snyder's system and put up huge numbers. The intense QB battle with Waters will only make both players better too. Combine that with a very favorable schedule (8 home games) and I believe K-State takes care of business in Austin early (as they did in Norman), and the Big 12 title will once again run through Manhattan, KS. (Cue November 16 hype [TCU])
David Ubben:
It's possible, Sam, but I simply don't buy that K-State has pieces ready to just replace a guy as integral to the offense as
Collin Klein
and
Arthur Brown
. Both of those guys won their respective Big 12 Player of the Year awards on their side of the ball, and you don't simply replace Klein's experience and toughness or Brown's athleticism and instinct. Walker's a great player, but Brown held the defense together and missed so few tackles. The Sams/Waters quarterback derby in the spring will be interesting, but we'll see if Hubert continues his production without Klein and if Sams or Waters can prove to be a quarterback in the top half of the Big 12. That's a must if you're going to win the league.
Ask Oklahoma State how easy it is to replace pieces that are that important. OSU was a good team this year, but winning 11-12 games in this league is really difficult. The simple truth is next year's Kansas State team will not be as good as this year's team. Considering this year's team has a pretty solid case as the best in school history, I hardly think that's an insult.
K-State's a bowl team next year, but a Big 12 title contender? I don't buy that one bit, unless Sams or Waters just absolutely blows up next season. I expect one of them to be solid, but not one of the league's best.
---
Jamie Hoggatt in San Antonio writes:
David,I really like Baylor's chances to get to 7 or 8 wins again next year.
Tevin Reese
will be the go to guy and will step up like TW did this year for the departed Kendall Wright. You have the Best Big 12 Lineman (
Cyril Richardson
) the best Big 12 back ( Lache Seastruck ) and
Bryce Petty
will do great. On defense you get all 3 LB's back ( Lackey, Hagar and Dixon ) plus 4 other starters return. The kicking game needs improvement. Art Briles is the glue and the last year in Floyd Casey should be promising.. 4 bowl games in a row for the Bears.
DU:
I definitely buy it. I think Baylor's got a lot of upside next season. The receivers won't be as good as they were the past two years, but they'll still be solid, and I think Petty will be better than Florence but not as good as RG3. I do think Seastrunk is better than any back Baylor's had under Briles, and he'll get a whole lot of touches next season. I would be absolutely shocked if Baylor didn't make a bowl next season, but in a wide-open Big 12 with tons of turnover on the offensive side of the ball, a 10-win season or a Big 12 title run would be far from shocking.
I don't think it's likely, and I do think Baylor looks more like a 7 to 8-win team, but the upside is big, and guys like Petty and Seastrunk may easily surpass expectations next year. The defense has to get better, obviously, but I think the offense can maintain yet again, despite losing Florence and
Terrance Williams
.
---
Tommy in Dallas writes:
When will someone please come and take Paul Rhoads out of the conference? As an opposing team fan, I don't ever want to play his teams. I can't imagine why more teams haven't come and tried to take him away yet? Or am I overlooking how much him being an ISU alumn effects the situation?
DU:
You're not alone, Tommy. It's all about finding the right fit, really. There was plenty of rumblings earlier this month that Wisconsin was interested after Bret Bielema checked out to my old stomping grounds at Arkansas, but that never really materialized into anything significant. I don't know if that's the right fit for him. Pittsburgh showed lots of interest last year but Iowa State kept Rhoads around with a contract extension and a raise.
When a truly big-time program comes after Rhoads, I do expect him to leave, but right now, that opportunity hasn't come around. Until then, he's loved at Iowa State. He loves it there, too. He's a native of the state. I don't get the feeling that he believes he can turn the program into a power like Art Briles believes at Baylor, but he's building for the future, and he's not going to leave unless he does so for a major, major step up.
---
Nick in Fort Smith, Ark., writes:
TOP HEAVY SEC!? wow! you know, i expect BIG 12 fans to be delusional, but a sports writer? pathetic. Bama, Georgia, LSU, A&M, South Carolina, Florida. ALL ten wins or more!!! thats nearly have the league! Vandy is no push over and they AND Miss St. will possibly finish with NINE wins! Arkansas with Bobby as their coach would have challenged for the pathetic BIG-12 title this year! ALL they would have had to beat was K-State and OU!!! They already throttled K-State once this year. Get your head out of Bob Stoops rear.
DU:
Hey, I respect those top six teams. They're all good. All top 15 teams, though? I think there's plenty of reason to doubt that, considering as a group, they don't have a ton of great wins out of conference play. They've inflated their ranking by beating up on the bottom eight teams in the SEC, who went 0-30 against the top six this season. That's a top-heavy league if there ever was one. K-State's probably not as good as Alabama or Georgia or maybe even Florida, but teams in the bottom half of the Big 12 like Baylor or West Virginia are far superior than the bottom half of the SEC. The Big 12 is a more balanced league, but the top half of the SEC ascended in the polls largely on the back of the league's success the past 5-6 years, not what they actually did this year.
---
Daniel La Frankie in Temple, Texas, writes:
Dave, enjoy your columns very much.Quick question. Always hear about the "Grant of rights" like it's cement.If people can sue to get out of exit fees of 10, 20, 25, now maybe 50 million dollars, and lawyer it down to a lesser fee...............why couldn't a school sue to get out of "Grant of rights"???Thanks, Dan
DU
: I'm not a lawyer, but it seems highly, highly unlikely. I'll explain. The "exit fees" are, in theory, based on recouping a conference the money that it would lose if a team left the conference. That's why the supposed $50 million exit fee in the ACC may not stand up in court. Granted, we don't know that yet. We'll see. That's only a small part of it, but that's my understanding on why some schools have gotten out of paying the full fees.
The grant of rights, however, isn't based on any losses. It's an agreement to hand over your media rights to the conference for "X" period of time. In the Big 12's case, it's three years. I suppose, in theory, you could sue to get out of that, but there's no doubt that those "handcuffs" are going to be a lot more strict than
the Big 12's weak exit fees that Nebraska, Colorado, Missouri and Texas A&M left in the dust.