October, 31, 2013
Oct 31
10:15
AM ET
A few storylines to keep an eye on this week in the Pac-12.
Light week: Only four games on the Pac-12 docket this week, including one on Thursday (Arizona State at Washington State), one on Friday (USC at Oregon State) and two on Saturday (Arizona at California and Colorado at UCLA).

Let's go bowling: Three teams, Oregon, Stanford and Oregon State, are already bowl bound. Four others sit on the precipice and as many as seven others are still in the hunt (note, because of the 13-game schedule, USC needs seven wins to become bowl eligible). Arizona State, Arizona and UCLA can all become bowl eligible this week.

[+] Enlarge

AP Photo/Elaine ThompsonBishop Sankey is one of four Pac-12 backs who average at least 100 yards a game.

1K club: Washington running back Bishop Sankey became the Pac-12's first 1,000-yard rusher this season and has 1,162 yards on the year. Arizona's Ka'Deem Carey (920 yards) probably will break through this week against a Cal rush defense that yields an average of 189.1 yards per game. Carey leads the league with 153.3 yards per game, one of four backs who average at least 100 yards per contest (Sankey, 145.2; Tyler Gaffney, 110.8; Byron Marshall, 109.9).

Scoreboard, baby: The Sun Devils have the top two scorers in FBS football in running back Marion Grice (15.4 points per game) and kicker Zane Gonzalez (11.4 ppg) and rank sixth in the nation with 45.4 points per game. Four times this year they have posted 50 or more points. That's the most since the 1973 team. Worth noting, too that Oregon State's Brandin Cooks is third nationally in scoring, making it a hat trick for the conference.

Rubber arm: Washington State quarterback Connor Halliday is on pace to set single-season school records in pass attempts and completions. Through eight games he has completed 273 passes on 428 attempts. Gabe Marks has been the primary recipient with 59 catches for 655 yards. But eight different WSU receivers have 20 or more catches.

Remember, Reser: The Beavers have won three straight over USC in Corvallis, but the Trojans' defense, though injury-depleted, is having a fine season. The Trojans have held six of their eight opponents to fewer than 300 yards. They'll be tested by an Oregon State passing attack that, despite a loss last week to Stanford, is still one of the best in the nation. Cooks leads the FBS with 10.6 receptions per game and 157 yards per game. USC is tied for the conference lead with 27 sacks, which might not bode well for an Oregon State team that gave up eight sacks to the Cardinal last week.

Off and running: The aforementioned Carey is 80 yards shy of reaching 1,000. When he gets there, he'll be just the third Arizona running back to post multiple 1,000-yard rushing seasons. He has rushed for at least 100 yards in 10 straight games, which is the longest active streak in FBS. But it was quarterback B.J. Denker who led the Wildcats in rushing last week, posting 192 yards on 15 carries.

Where's the points? Cal, still winless in conference play, is giving up a league high 44 points per game and scoring a league low 22.9 points per game. Moving the ball isn't a problem. The Bears rank sixth in the league in total offense, averaging 468.4 yards per game. But they have only scored 20 touchdowns on the year, second worst only to Colorado's 19. Receivers Chris Harper and Bryce Treggs have combined for 112 catches for 1,387 yards, but just six touchdowns -- five from Harper.

Back to basics: The Bruins are looking to snap a two-game slide after dropping back-to-back road games at Stanford and Oregon. Keep in mind the Bruins have played 32 freshmen this year -- including 17 true freshman. Last year they played 26, including 12 true. Through the first five games, quarterback Brett Hundley averaged 293.8 passing yards per game, was completing 68 percent of his throws with 12 touchdowns to four interceptions. In the last two weeks he averaged just 128 yards and completed 63 percent of his throws with two touchdowns to four interceptions. The more comfortable he gets with his young, reshaped offensive line, and the fact that he's not playing two of the top teams in the league, should help him bounce back.

Explosive potential: The Buffs rebuilding process has yet to produce a conference win. But that doesn't mean Colorado can't be explosive. Wide receiver Paul Richardson has 50 catches and 914 yards with seven touchdowns, and he's sneaking up on some Colorado single-season marks. He has six plays of 50 yards or longer this season. Freshman quarterback Sefo Liufau is 1-1 as a starter and is completing 59 percent of his throws with two touchdowns and an interception.
September, 26, 2013
Sep 26
10:15
AM ET
A few things to keep an eye on in the Pac-12 this week.
League play is upon us: Rejoice! Now the Pac-12 teams can gut each other with their nine-game conference schedule and lose all of that national credibility it built up in the first four weeks of the season. This year, perhaps more than any other in recent memory, it doesn't look like there are any easy outs. Would anyone really be shocked if Colorado beat Oregon State based on what we've seen? The only one that would be truly shocking would be Cal beating Oregon -- and we might raise an eyebrow if Washington State beats Stanford in Seattle -- especially sans David Yankey for the game and Ed Reynolds for a half.

[+] Enlarge

Kirby Lee/USA TODAY SportsUSC's Morgan Breslin has recorded four sacks this season for the Trojans.

Nonconference notes: A good tidbit from the folks at the Pac-12 offices regarding the league's 29-4 nonconference record: Since 1934, only one season witnessed the conference capture more than 29 wins in nonleague play; 2002 (32-15), when the league played an eight-game conference schedule, allowing an additional 10 non-conference games to be played. There are three nonconference games remaining (a possible fourth pending Colorado's situation) against Notre Dame. The Pac-12 is contracted with seven bowl games, so there could be as many as 11 more nonconference games.

Battle of elites (1): Two of the league's top running backs will be on the field in Seattle on Saturday -- though not at the same time. That would mean either a bizarre trade or either Ka'Deem Carey or Bishop Sankey playing defense. In terms of rushing yards per game, they are separated by less than a yard (149.5 for Carey, 148.67 for Sankey). Yards per carry? It's even closer (6.97 for Sankey, 6.95 for Carey). Both have four rushing touchdowns. While it's not truly head-to-head, this could be one of those games folks look to when awarding postseason honors.

Battle of elites (2): Two of the league's top wide receivers will be on the field in Corvallis on Saturday -- though not at the same time. That would mean a bizarre trade or either Brandin Cooks or Paul Richardson playing defense. Cooks leads the nation with 43 catches for 639 yards and seven touchdowns. In only two games, Richardson has 21 catches for 417 yards and four touchdowns. Sixty percent of the time Cooks catches the ball, Oregon State either gains a first down or scores a touchdown.

Battle of elites (3): Two of the league's top defensive players will be on the field in Tempe on Saturday -- though not at the same time. That would mean either a bizarre trade or either Morgan Breslin or Will Sutton playing offense (which would be awesome!). Breslin is tied for the conference lead in total sacks (four) with teammate George Uko and leads the league in tackles for a loss per game. Sutton, on the other hand, has nine tackles, no sacks and half a tackle for a loss. The reason? Teams are double- and triple-teaming him like crazy. Plus, ASU has faced more run-based teams in the first few weeks. This week might be a good time for him to break out.

Speaking of USC: How good has the defense been? According to ESPN Stats & Information, none of the four quarterbacks USC has seen has posted a Total QBR above 30. The Trojans are also blitzing a lot more under new coordinator Clancy Pendergast. Last year they blitzed 25 percent of the time. This year it's up to 46 percent. And when they blitz, opposing QBs are completing just 41.9 percent of their throws, throwing it away or ending up on the ground.

All hands: With big quarterback numbers come big receiving numbers. Six Pac-12 receivers have hauled in 10 or more catches in a game eight times this season, led by Cooks and Richardson with two each. Also, 17 different receivers have posted 100 or more receiving yards in a game 26 times, led by Cooks and Utah's Dres Anderson with three games each.

Layoff impact: Colorado is playing for the first time since its Sept. 7 win over Central Arkansas, which seems like months ago, though it actually has been only 20 days. After their Sept. 14 game with Fresno State was called off because of the flooding, the Buffs had a bye in Week 4. This is Colorado's first trip to Corvallis. The previous two meetings (1931, 1963) took place in Portland. This is the last Pac-12 team Colorado is yet to play since joining the league (though the Cal game in 2011 was the back end of a home and home that didn't count in the conference standings).

Tough road: This is the second-straight game against a top-five team for California, which faces No. 2 Oregon this weekend. The Bears have gotten huge numbers out of true freshman quarterback Jared Goff, who leads the FBS with 435.3 yards per game. But the defense has been hammered with injuries. Not good, considering 12 different Ducks have scored touchdowns so far.

Odds and ends: Worth noting that four more Pac-12 receivers were recently added to the Biletnikoff watchlist: Cal's Bryce Treggs, Oregon State's Richard Mullaney and Washington State's Gabe Marks, who are all in action this weekend. Utah's Dres Anderson is the fourth … UCLA and the Utes are off this week in anticipation of their Thursday night showdown next week in Salt Lake City.
May, 30, 2013
May 30
1:00
PM ET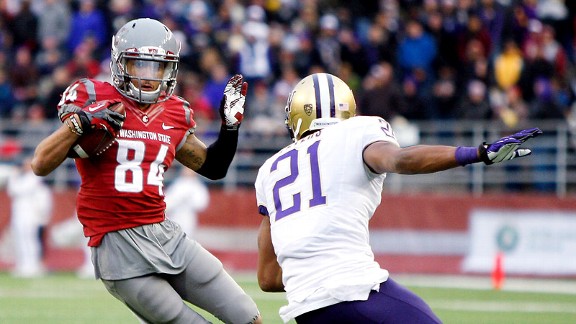 William Mancebo/Getty ImagesIn Mike Leach's offense, WSU's Gabe Marks, left, looks like a good bet to have a 1,000-yard season.
We've looked at the Pac-12's
2,500-yard passers
and its
1,000-yard rushers
. Now we turn to the third wheel of the skill position tricycle: 1,000-yard receivers.
The conference featured four 1,000-yard receivers last year. One is off to the NFL: Oregon State's Markus Wheaton. One is out for the season -- or at least a significant part of it -- with a knee injury: Arizona's
Austin Hill
. Two others are back:
That's a good start. Lee was a unanimous All-American and Cooks could push for such recognition this fall.
There's plenty of talent after them. This is hardly a down position in the conference. In fact, several teams feel pretty good about their chances to produce a 1,000-yard pass-catcher.
Arizona
: The Wildcats not only lost Hill, they also are replacing quarterback Matt Scott. Moreover, their No. 2 receiver in 2012,
Dan Buckner
, is gone, and the No. 3 guy was running back
Ka'Deem Carey
. There's solid experience returning at the position, but no one player looks like the go-to guy. The Wildcats are more likely to have three guys with over 600 yards receiving than to have one with 1,000.
Arizona State
: Receiver is the Sun Devils' most questionable position. At this point, the most likely guy to go over 1,000 yards is tight end
Chris Coyle
. But if you were to imagine who will be the Sun Devils' top wideout in 2013, a good bet is touted juco transfer Jaelen Strong.
California
: Keenan Allen is gone, but the Bears have plenty of young talent at receiver, a list topped by
Chris Harper
and
Bryce Treggs
. With new coach Sonny Dykes' new high-flying spread passing offense, it's difficult to imagine the Bears don't produce a 1,000-yard receiver.
Colorado
: The Buffaloes' only legitimate A-list player is receiver
Paul Richardson
. He'd start for just about any Pac-12 team. And, considering how much new coach Mike MacIntyre likes to throw, Richardson seems likely to hit the 1,000-yard mark if he stays healthy.
Oregon
: The Ducks are expected to throw more this season for a number of reasons -- new coach, questions at running back, etc. -- but the chief reason is because quarterback
Marcus Mariota
is a highly capable passer. Last year, we saw flashes of what he could do. We'll see plenty more in 2013. With
De'Anthony Thomas
slated to be primarily a running back, expect
Josh Huff
to become Mariota's favorite target.
Stanford
: Stanford isn't the sort of team that produces a 1,000-yard receiver, and its most likely candidates in recent years were tight ends. But if things fell a certain way,
Ty Montgomery
might make a run at it.
UCLA
: If you were to make a list of most likely new members of the 1,000-yard club in 2013, Bruins wide receiver
Shaquelle Evans
would be on it. He caught 60 passes for 877 yards last year in quarterback
Brett Hundley
's first year as a starter. With no Johnathan Franklin at running back, the Bruins should be throwing plenty.
Utah
: The Utes should be much better throwing the ball this season. For one, quarterback
Travis Wilson
can only be more mature after starting as a true freshman. Second, new co-offensive coordinator Dennis Erickson likes to spread defenses out and throw the ball.
Dres Anderson
and
Kenneth Scott
are a good tandem, and one or the other could make a run at 1,000 yards.
Washington
: The Huskies have two legit candidates -- wide receiver
Kasen Williams
and tight end
Austin Seferian-Jenkins
. But Jenkins is working through a DUI arrest that has him presently suspended. Williams, who caught 77 passes for 878 yards a year ago, is a strong bet to be
Keith Price
's go-to guy.
Washington State
: That list with likely new 1,000-yard receivers? Colorado's Richardson, UCLA's Evans and Washington's Williams would be on it. But atop the list would be Washington State's
Gabe Marks
. If he stays healthy, he's almost a sure thing, considering how much coach Mike Leach likes to throw the ball.
May, 9, 2013
May 9
12:00
PM ET
On the low end of the bell curve, California's wide receivers will probably be productive. But youth, packaged with a new offensive system, might mean they'll need another year to get up to speed.
On the high end of the bell curve, California might have one of the most explosive wide receiving corps in the Pac-12.
It's that wide open when you measure the depth and potential of the youngsters.
Chances are, they'll probably fall somewhere in the middle. But there is no disputing that new coach Sonny Dykes has some very good talent at the position that can't wait to break out in the new "Bear Raid" system.
[+] Enlarge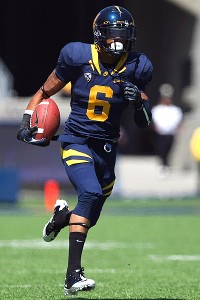 Kelley L Cox/USA TODAY SportsChris Harper is expected to be part of a deep Cal receiving corps.
"It's an interesting group," Dykes said. "We've got a lot of different kinds of guys. We've got longer guys with great ball skills. We've got big guys. Fast guys. A lot of range."
In the pro-style attack of former head coach Jeff Tedford, Keenan Allen was
the
guy -- totaling 205 catches, 2,570 yards and 17 touchdowns in a three-year career. It didn't hurt that his brother was the quarterback. But relations aside, Allen was the kind of talent that it didn't matter who was throwing the football, he was going to be the primary receiver.
In the new system, there is room to spread the wealth. Sophomore
Bryce Treggs
(5-foot-11, 175 pounds) is fast, shifty and good in space. Redshirt freshman
Kenny Lawler
might be the most complete of the bunch at 6-3, 185, with the ability to stretch the field.
"We didn't know at first what we were getting with him," Dykes said. "But he came in and had as productive a spring as anybody. He was really good at going to get the football and he has some outstanding ball skills. He still needs to learn to play the position. But he's been a pleasant surprise."
Sophomore
Chris Harper
(6-0, 165) was second only to Allen last year, catching 41 balls for 544 yards and two touchdowns. Injury, however, limited him this spring.
"We didn't get a great chance to evaluate him," Dykes said. "But we're starting to get a sense now for how he moves and we're pleased. Athletic, quick guy.
Then there is sophomore
Darius Powe
(6-3, 212), sophomore
Maurice Harris
(6-3, 205), sophomore
Maximo Espitia
(6-2, 215), former tight end, sophomore
Richard Rodgers
and about five or six other players who could be impact guys.
It's a unit loaded with youth -- which also means it will grow up together and might eventually emerge as one of the top receiving corps in the league.
But first things first.
"We still need a quarterback," Dykes said.
Oh yeah, details.
"From a talent standpoint, the ingredients are all there," Dykes said. "Maurice Harris has a chance to do some good things. Richard Rodgers has lost about 25 pounds. If he's good at inline blocking, we'll stick him out there and let him block. But that's not really his strength. His strength is being able to run routes and cover people up with his body."
There is room for cautious optimism that personnel is a silky fit for what Dykes wants to bring to the Bears.
"I think we have the makings of having a pretty good offense," he said. "There are question marks at spots. We have to stay healthy at running back. We probably need to get some depth from a true freshman, which is never a good thing. But there are reasons to be optimistic."
April, 10, 2013
Apr 10
11:00
AM ET
A great start to a season can catapult a team into the top 25 and give them staying power. See Oregon State last year. A slow start can stunt momentum and leave a team playing catch-up all year. See Washington.
ESPN Insider Travis Haney looked at
five teams that have especially front-loaded schedules

in 2013. Two of those five come from the Pac-12.


Arizona State and California will have their hands full to kick off the year. The Sun Devils have Rose Bowl hopes and, along with UCLA, appear to be slight favorites in a very competitive Pac-12 South. The Bears are in rebuilding mode under new head coach Sonny Dykes. A tough early slate could either be a shot in the arm or create a crisis of confidence.
Here's Haney's take on the Sun Devils, who play Wisconsin, at Stanford, USC and Notre Dame early.
Anyone who saw the 62-28 bowl manhandling of Navy knows ASU is certainly capable. "We're not going to sneak up on anybody," Graham told our Pac-12 reporter, Ted Miller, last week. "People are expecting us to be a darn good football team. So how do you handle success?"

For starters, you adequately manage the first part of the schedule, beginning with last season's Rose Bowl teams -- meaning two conference champs -- in consecutive weeks. Adding a neutral-site game against last year's national runner-up is another chore.

If the Devils intend to be this year's UCLA, an upstart in the South Division, they're going to have to earn it. Winning two of those four would be solid. Three would be outstanding.
At Cal, the Bears are still trying to figure out who the quarterback is going to be in Dykes' new system. But a very talented group of young receivers -- like
Bryce Treggs
and
Chris Harper
-- are anxiously awaiting to find out who their signal-caller will be. Because whoever it is, he will be tested early. The Bears play Northwestern, Ohio State and at Oregon in the first month.
Writes Haney:
Playing Northwestern or Ohio State would be ambitious for Cal, but both? In particular, this is not the season to catch the national-title-intent Buckeyes, even if the game is in Berkeley.

The good news if you're a Bears fan is that at least Sonny Dykes and his wide-open offense should produce points that could make for competitive games regardless of the opponent's skill level.
Haney doesn't dig into teams that are back-loaded on their schedule. But on the blog we've already talked about the tough stretches facing Oregon State and Stanford. It's no cakewalk for ASU, either. The Sun Devils host Oregon State -- likely a top-25 team -- then travel to UCLA (top 25?) before closing out at home against rival Arizona (top 25?). Chances are that the South title will come down to the final two weeks. So a strong start would bode well for ASU and cement its legitimacy.
September, 1, 2012
9/01/12
8:07
PM ET
Rough Saturday so far for the Pac-12.


NEVADA 31, CAL 24:
Cody Fajardo
,
Stefphon Jefferson
and the
Nevada Wolf Pack
spoiled the grand re-opening of Memorial Stadium.
Fajardo, Nevada's quarterback, rushed for 97 yards on 21 carries with a touchdown and also completed 25 of 32 balls for 230 yards. Jefferson carried the ball 34 times for 145 yards and three scores.
The Bears fell behind 14-0 in the first quarter after Jefferson capped a 16-play drive for the Wolf Pack and then Fajardo scored on a 49-yard run. The Bears were kept off the scoreboard until 4:38 in the second quarter and struggled to keep drives going, converting just 3 of 14 third-down attempts.
Cal quarterback
Zach Maynard
, who didn't start the game because he missed a tutoring session during the summer, came in late in the first quarter and finished the game 17-of-30 for 247 yards and two touchdown passes; one to
Bryce Treggs
and another to
Chris Harper
.
Keenan Allen
(five catches, 69 yards) scored on a 39-yard reverse.
C.J. Anderson
took the bulk of the carries for Cal, carrying 14 times for 66 yards.
Isi Sofele
, a 1,000-yard rusher last season, carried five times for 21 yards.
With the score tied at 24-24, Cal took over at their own 2 with 5:44 remaining and a chance to drive for the lead. But the Bears couldn't get past their own 12. Nevada took the punt and marched 61 yards for the winning score, a 2-yard run by Jefferson.
Cal's defense -- which has been tops in the conference the last two seasons -- gave up 450 yards, including 220 on the ground from Nevada's pistol offense.


COLORADO STATE 22, COLORADO 17:
Speaking of spoilers, the
Colorado State Rams
muscled their way to victory over Colorado in Denver, wrecking the debut of Kansas transfer
Jordan Webb
, who won Colorado's starting quarterback job after just a month on campus.
Webb ran hot-and-cold most of the night, missing his first four passes as the Buffaloes fell behind 3-0 on a
Jared Roberts
47-yard field goal.
Then Webb put it together in the second quarter, coordinating a nine-play, 81 yard drive that ended with a 15-yard dart to
Nelson Spruce
and a 7-3 Colorado lead. Later in the quarter,
Tyler McCulloch
scooped up a one-handed grab on a 9-yard throw to give Colorado a 14-3 advantage.
But Colorado State's pursuit of Webb was relentless, sacking him five times and putting him on the ground several more. He finished 22-of-41 with 187 yards.
Tony Jones
did the bulk of the work on the ground for Colorado, carrying the ball 16 times, but managed just 43 yards. As a team, Colorado mustered just 58 rushing yards and was out-gained by the Rams 298-245.
Colorado re-took the lead in the fourth quarter when
Will Oliver
's 30-yard field goal gave the Buffs a 17-16 advantage. But Roberts converted back-to-back field goals to give CSU the lead and extend the score to 22-17.
Colorado had a chance to drive for the win in the closing minute, but failed to convert on a fourth-and-2 at the Colorado State 39.
TOP 25 SCOREBOARD
Thursday, 12/5
Friday, 12/6
Saturday, 12/7