July, 14, 2014
Jul 14
2:00
PM ET
In three years at Duke,
Jamison Crowder
has blossomed into one of the ACC's best receivers, while helping the Blue Devils' offense become one of the most feared in the conference. As Crowder prepares for what could be his third straight 1,000-yard season, we caught up with the Duke senior for his thoughts on what awaits in 2014.
You came to Duke when the program was a perennial loser, and you've seen it grow exponentially since your arrival. Did you envision this type of success from the beginning?
Jamison Crowder:
As any recruit going to a new place, you have second thoughts about certain things. But I had confidence in what Coach [David] Cutcliffe pitched at me. We had guys coming in and some young guys already here that had good talent. Coach Cut said in the next few years, we'd be a program on the rise, and that was the mindset I had coming in. Now, that's what's happening. My career has escalated as well as the program, and right now, I couldn't have made a better choice.
[+] Enlarge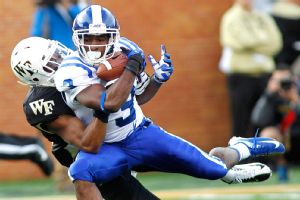 Ellen Ozier/USA TODAY SportsReceiver Jamison Crowder is looking to help Duke win a second straight ACC Coastal Division title.
How do you think people's perceptions of Duke have changed since you've been here? And what did losing those last two games against Florida State and Texas A&M last season mean for where the program is?
JC:
People saw we were for real, but for a lot of people, we still have a lot to prove. And for ourselves. We had a team meeting yesterday, and one of the things we talked about, obviously our program is headed in the right direction, but at the end of the year, both years, we didn't win bowl games. We made it to the ACC championship and that was a good marker, but we failed to win. I think everybody on the team has that determination to continue the success, but now, win the championship games and bowl games. From the outside, I think we still have a lot to prove. A lot of people still think last year was a fluke, but I think we're going to be pretty good again this year.
You're back, Anthony Boone is back, Braxton Deaver, Josh Snead, several key linemen — can this year's offense be even better than last season?
JC:
We've got a lot of experience coming back. We've lost a few linemen and one of our running backs, but we have a lot of playmakers coming back. We have a pretty good running back in
Shaquille Powell
that is going to come on the scene a lot this year. Coach Mo [Scottie Montgomery] is a guy that's fired up and puts players in the right position to make plays. Expectations are high. Last year, we left a lot of plays on the field. That's in the back of our minds. We don't want to leave any plays behind.
Is it fair to compare expectations for QB Thomas Sirk to what Brandon Connette did last year? Can he handle that role?
JC:
Sirk is — Brandon had a little more of a built frame, but Sirk is taller and I think he'll come in a lot on the goal line to run the wildcat. Sirk is very athletic and he can come in and fill that role. One thing he has to work on is in the open field, but I think he can overall come in and do what Brandon did, if not better, on the goal line and in short-yardage situations.
You had a very young secondary last year, including a lot of playing time for freshmen. Have you seen that group improve over the spring and summer?
JC:
Most definitely. Those guys have a good work ethic. I lift with
Bryon Fields
and
Quay Mann
. Those guys have been working. Last year, they were thrown in the fire. They handled it well. They gave up some big plays, but they made some big plays. For a freshman to come in, that's a difficult task, and they did real well last year. And this year, you can see they're more comfortable and bigger and stronger and faster.
What do you need to accomplish this year to convince people at the next level that you're a legit prospect?
JC:
I just have to have another good season. My status, as far as the league, is still unsure because of my size or because I'm not the fastest. So I just want to have another good season, not get complacent. You hear a lot of people telling you you're going to make it, but those same people are the ones making the decision whether I'm playing on Sundays. Only thing I can work on is me, and I'm staying hungry and continuing to work. I want to go out and make plays, score touchdowns and definitely have a better year as a returner this year. Last year I had two returns [for touchdowns], but I feel like I left two or three on the field.
You mentioned special teams, and the ACC has some very talented return men, including your own teammate, DeVon Edwards. Do you compare your game to any of those guys? Is there anyone who you particularly like to watch play?
JC:
Most definitely, DeVon. It's fun to have teammates that make the game easier. I've realized that scoring on special teams takes a load off the offense. That one play is a whole possession. DeVon and me, we joke that I'm going to have more. Last year, we both had two. So this year I said I'm going to have more returns, and he says, 'You're crazy.' But you've got to go out there and perform. Aside from my teammate, I like [North Carolina's]
Ryan Switzer
. I've watched a few highlights on YouTube, and I like his game.
What would a third straight 1,000-yard season mean for you?
JC:
It's great to get 1,000 yards in two years. But I want to be able to play at the next level, and the numbers hold some weight, but if you're not performing at the highest level it doesn't mean anything. The numbers are great, it shows I'm working, but I can do better and I know I'm going to have to do better to have a chance to play at the next level. And as long as we're winning ballgames, that's the main thing.
Is this the most talented Duke team since you've been here?
JC:
Most definitely. We lost a few guys, but we have a lot of talent — raw talent. We're getting better. We're adding talent on talent. We've got a lot of confidence and talent that Duke hasn't had in recent years. Now we've just got to get ready to play.
June, 18, 2014
Jun 18
2:00
PM ET
Tommy Tuberville has never been one to hold back. Whether you want to hear it or not, brutal honesty is all you are going to get.
So when Derek Jones asked his former coach for a bit of advice about whether to join the Dallas Cowboys for a minicamp tryout, Tuberville laid it down: Forget about playing in the NFL, he told him. You need to be a coach.
[+] Enlarge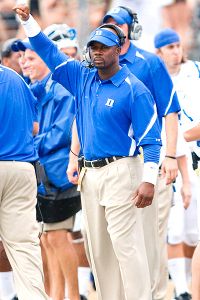 Courtesy of Duke University PhotographyDerek Jones is beginning his seventh season as a Duke assistant, and is on a path to being a head coach someday.
Jones had never given coaching a thought. He figured after his playing career was over, he would become a lawyer. But Tuberville made a convincing argument: Jones was a team leader, a hard worker and knew how to sell the Ole Miss program to incoming recruits while he was still playing.
Tuberville presented him with an opportunity, offering him a graduate assistant job on his Ole Miss staff in 1998. Try it, Tuberville told him. If you hate it, at least you will be on your way toward law school.
Jones considered the possibilities. He realized what Tuberville said was right. He was a 5-foot-8 cornerback with some CFL experience, but would he really have a future in the NFL? Jones gave up on his NFL dream and accepted the job. Now, 16 years later, he is going into his seventh season as a Duke assistant.
But more than that, Jones is headed down a path that could lead him toward a head coaching job. Jones recently participated in the NCAA Champion Forum in Orlando, Florida, where minority assistants identified as potential head coaches participate in sessions designed to prepare them to take the next step in their careers.
"I get it now, and I really appreciate Coach Tuberville seeing something in me that I didn't see in myself," Jones said. "If he hadn't given me that hard love and that advice, I may not have had a chance with Coach [David] Cutcliffe when he came to get in the door. Who knows where I would be now."
Indeed, one decision often becomes life-changing. Jones had a chance to work with Tuberville for one year before Cutcliffe took over at Ole Miss in 1999. Cutcliffe retained Jones, and they each left impressions on the other. Jones went on to become a full-time assistant at Murray State and spent time at Middle Tennessee, Tulsa and Memphis.
Jones' phone rang shortly after Cutcliffe became head coach at Duke in December 2007. Cutcliffe wanted Jones to join him with the Blue Devils.
"When he offered me the job, I had three other job offers on the table at some pretty big football-playing schools," Jones said. "He said something that stuck with me. He said, 'I know you've got some other things going on, and you can go to those places and you'll probably be successful, but I think we have a chance to do something significant at Duke.'
"Going to place a like that, where the odds were against you, I knew I'd have a chance to make a difference not only in the lives of young men and on the football field, but also proving to myself that I'm actually good at this. It was more of a personal thing and believing in him. I saw what he was able to do at my alma mater. I knew if he could go into Ole Miss and do the things he'd done there, I knew there was a chance we could get it done at Duke."
Cutcliffe sold his vision to incoming players, too, and has turned Duke into a division champion because everybody inside the program bought in. Jones has had opportunities to leave Duke, but he has stayed, largely because of Cutcliffe.
[+] Enlarge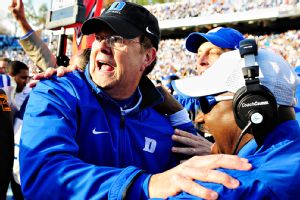 Grant Halverson/Getty ImagesDerek Jones believed in David Cutcliffe's vision for Duke football.
"The ability to work under Coach Cutcliffe is good for my growth," Jones said. "He's as good as any coach I've been around at so many things. The more knowledge I can obtain from him, the better I'm going to be long term. I can't think of many other situations outside of the situation we've been in that compares to anything."
Jones has aspirations to become a head coach, which is why attending the Champion Forum was so important to him. Assistants go through mock interviews with current athletic directors, have opportunities to network and learn everything that goes into becoming a head coach -- because it goes way beyond coaching. Jones has never interviewed for a head coach job, but when that opportunity comes, he will be much better prepared.
"Now I have a background on what it takes for me," he said. "I can start to work on the things I don't have in my arsenal right now."
Jones does have the coaching. As defensive backs coach, he helped cornerback
Ross Cockrell
earn first-team All-ACC honors in 2012 and 2013. Cockrell was picked by Buffalo in the fourth round of the NFL draft in May. Duke returns a young but very talented secondary in 2014, led by All-ACC second-team safety
Jeremy Cash
,
DeVon Edwards
,
Bryon Fields
and
Breon Borders
.
They remain his focus, thanks in large part to the brutal honesty of a coach who believed.
June, 3, 2014
Jun 3
2:00
PM ET
David Cutcliffe earned plenty of praise for the job he did revitalizing Duke in 2012, but even the most optimistic Blue Devils fans had to be surprised by the leap their team took in 2013 — winning 10 games and playing for a conference title. So, how did they do it?
Obviously Cutcliffe's efforts installing an offseason program, improving recruiting and installing his system have worked wonders in Durham, but dig into the numbers and there were a few key areas that proved crucial to Duke's run in 2013 and could make the difference once again as the Blue Devils try to defend their Coastal Division title this fall.
Strong offensive line play
[+] Enlarge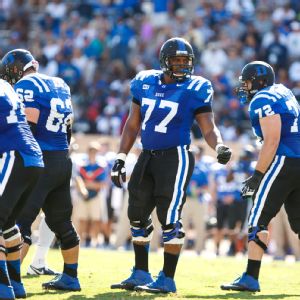 Jeremy McKnight/Icon SMIDespite some personnel losses, Duke's offensive line, led by the experience of Laken Tomlinson, can be successful again in 2014.
Last season:
It's no secret that strong play in the trenches can cover a lot of other blemishes, and Duke's offensive line was exceptional in 2013. The Blue Devils mustered 29 dropbacks per sack, the 10th-best mark in the country and by far the best in the ACC (Miami was next at 23.5). Duke also averaged 4.6 yards per carry (up nearly a yard from 2012) and had 28 rushing TDs (10 more than the previous season).
2014 outlook:
Last season's success shouldn't have been a shocker. Duke returned the third-most experienced line in the country for 2013 (113 career starts), which translated to a unit that gelled quickly. Now, Duke
must replace its two most veteran starters
in
Dave Harding
and
Perry Simmons
, but the Blue Devils still have plenty of experience on the line. Still, Duke's line isn't exactly green.
Laken Tomlinson
(39 career starts),
Matt Skura
and
Takoby Cofield
are all seniors, while
Lucas Patrick
and
Sam Marshall
are juniors with ample game experience. With another year in Cutcliffe's strength and conditioning program, the 2014 line could be every bit as good as 2013's.
A workhorse on offense
Last season:
No receiver in the country
was more relied upon more
than Duke's
Jamison Crowder
. Blue Devils QBs threw the ball 472 times in 2013, with Crowder the target on a whopping 174 of them (37 percent). Crowder hauled in 62 percent of the balls thrown his way and was exceptional on both short passes and as a deep threat. Most importantly, however, he was consistently good. The only game in which Crowder finished with fewer than five catches was the win over Virginia Tech.
2014 outlook:
The case can be made that Crowder won't be a secret in his senior campaign, but ACC defenses had to have known what was in store last fall, too. In the past two seasons, with three different starting QBs throwing to him, Crowder has racked up 184 catches, 2,434 yards and 16 touchdowns. He'll be among the best in the country -- and an ideal security blanket on offense -- once again in 2014.
Dynamic QB play
Last season:
Anthony Boone
and
Brandon Connette
combined for nearly 4,000 yards of offense (551 rushing, 3,472 passing) with 45 total touchdowns. As a point of comparison, Heisman winner
Jameis Winston
had 4,276 yards of offense and 44 total touchdowns. And thanks to the threat Connette posed with his legs, Duke was among the most successful teams in the country in the red zone, scoring TDs on 40 of 58 trips and 27 percent of its red-zone rushing attempts.
2014 outlook:
Boone has another year of experience under his belt and is the ACC's second-most veteran QB, but Connette's transfer to Fresno State is a big blow. Only Navy's
Keenan Reynolds
and Northern Illinois'
Jordan Lynch
had more rushing TDs among quarterbacks last year than Connette, and they did so with nearly three times as many attempts. No player in the country with at least 30 red-zone rushing attempts scored at a higher rate than Connette in 2013 (42 percent), and while the Blue Devils are high on
Thomas Sirk
as Boone's new backup, those are some enormous shoes to fill.
A playmaking defense
Last season:
The easy knock on Duke last season was its defense. After all, twice Duke topped 48 points and still lost (Pitt, Texas A&M). Overall, the Blue Devils' D ranked 82nd nationally, and it allowed nearly 8 yards per play in four losses. But the great equalizer were the big plays. Duke's D recorded 26 takeaways (tied for 26th nationally) and 18 interceptions (tied for 13th nationally). The capacity for big plays helped offset too many bad ones defensively.
2014 outlook:
The Blue Devils could be in for some rough patches on D again this fall. The secondary features four sophomores likely to see extensive playing time, while the defensive front gets a significant makeover from last season. Still, 14 of the 18 INTs from last season return, and
DeVon Edwards
,
Breon Borders
and
Bryon Fields
have the talent to blossom quickly.
Scoring on D, special teams
Last season:
Thanks to Edwards and Crowder, Duke scored six non-offensive touchdowns last season, tied for the eighth-most nationally. The 16 teams that had at least six non-offensive touchdowns were a combined 130-66 (.653) in 2013, with eight of them winning at least 10 games (including both teams that played for the national title).
2014 outlook:
Big plays on D and special teams can be maddeningly inconsistent. When they happen, they can be game-changers, but they're notoriously tough to predict. Still, Duke returns athleticism in the return game and in the secondary, which should open up options, and if the Blue Devils' offense can force opponents into shootouts, the D will have its chances to take a few more INTs to the house.