NCF Nation:

Buckeyes-Badgers-101610
October, 17, 2010
10/17/10
12:39
AM ET
MADISON, Wis. -- Jay Valai had won a lot of games and delivered a lot of bone-crushing hits in his Wisconsin career.
But he'd never experienced this: swarms of students descending on the field at Camp Randall Stadium after a signature win, grabbing players "in bad spots," as he'd later say.
Valai, who follows college football as closely as any other player in the country, felt like he'd been missing out.
"Every year, like a wrestling match, we look like we're about to win," the Wisconsin senior safety said. "It's like, '1-2,' and then they knock us out."
[+] Enlarge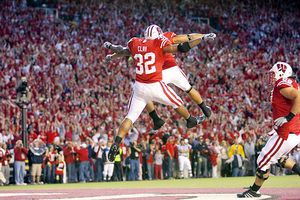 Jeff Hanisch/US PresswireJohn Clay and the Badgers celebrated an upset of No. 1 Ohio State on Saturday. Clay rushed for 104 yards and two touchdowns.
The Badgers pinned No. 1 Ohio State to the mat, but they weren't exactly prepared for what came next. After Blake Sorensen's interception sealed a
31-18 win
, head coach Bret Bielema removed his headset, having no need to signal in a kneel-down.
That's when director of football operations Mark Taurisani approached him.
"He said, 'If they rush the field, go out the far tunnel,'" Bielema recalled. "I'm like, 'Well, you better tell everybody else the same thing.'
"We hadn't exactly gone through an evacuation plan."
Wisconsin didn't have a need for one before Saturday night. These were the games the Badgers had lost for the past decade, the ones separating a very good program from once again reaching elite status.
Wisconsin hadn't defeated a No. 1 team since 1981 (Michigan), but the more significant burden fell on Bielema, who had yet to beat Ohio State in his career and boasted a record that looked stylish (43-15) but lacked substance (1-8 vs. ranked Big Ten opponents). The Badgers' first meeting with a ranked team this fall -- a Week 5 trip to Michigan State -- ended like so many others in recent memory, with a lackluster performance and a loss.
"We always hear we can't beat the big-name teams," Valai said. "The only ranked team we've beat the last couple years has been Miami. We came out with the mentality of us vs. the world."
Wisconsin players didn't let their past failures impact their preparation for Saturday.
They knew of Ohio State's No. 1 ranking -- Bielema mentioned it in the team meeting last Sunday -- but they didn't dwell on what it meant. They sensed the buildup to the game in a town that feeds on hype and excitement, but they didn't get drunk with anticipation.
"That is the challenge," said defensive end J.J. Watt, who twice sacked
Terrelle Pryor
and recorded three tackles for loss. "We had the No. 1 team in the country coming in here, and it's easy to get excited. You've got 'College GameDay' and everything around, but when you can go in there calm and collected and do your job, great things will happen.
"And obviously, tonight, great things happened."
To prepare for the Buckeyes, the Badgers focused on themselves and their bedrock values, the same values that propelled them from good to great under Barry Alvarez in the 1990s.
We're talking about controlling the line of scrimmage, the power run game, offensive efficiency, limiting big plays and major mistakes. Standard stuff for Wisconsin football.
The Badgers delivered early, slicing through the heart of Ohio State's defense on their first possession. And the Badgers delivered late, marching 73 yards on 10 plays in a game-defining touchdown drive after Ohio State had rallied to within three points.
"It's justification for me that we are doing the right thing," Bielema said. "What we do 365 days a year, you saw today, and I know it could be successful. As we build our program with recruiting and the constant belief about what we're all about, it solidifies it that much more."
Wisconsin won the game the Wisconsin way, which hasn't shown up enough in the national spotlight. During the week, Bielema challenged his offensive line, which had been billed as one of the nation's best before the season but hadn't performed like it.
More motivation arrived Friday when running back
John Clay
showed up with a new haircut: he had the jersey numbers of each of the starting linemen shaved into his head.
"I knew this was going to be a big game for us," Clay said, "so I told them when this game comes around, I'm going to do something special."
The linemen were the ones who did something special, completely dominating Cameron Heyward and the Ohio State defensive front. Wisconsin racked up 184 rushing yards and three rush touchdowns; the Buckeyes had allowed three rushing touchdowns all season before Saturday night.
The line also prevented a sack or a quarterback hurry, and
Scott Tolzien
delivered, completing 13 of 16 passes, six to junior wideout
Nick Toon
.
"There was just a feeling this week," senior guard John Moffitt said, "and I even felt it today: I was nervous, but I was also very settled. I just felt right about things. That comes from doing the right things and preparing the right way.
"That's how you win games."
By rededicating themselves to what put their program on the map, the Badgers won a very big game.
"Everybody has things they believe in," Bielema said. "When you say them over and over, and when kids finally see the results of that, that's when you can gain ground."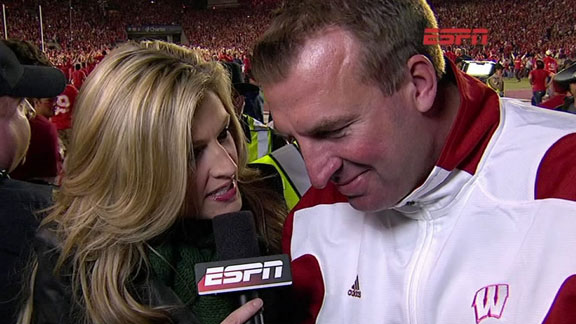 October, 16, 2010
10/16/10
11:58
PM ET

Wisconsin running back James White talks about his performance in the win over Ohio State.
October, 16, 2010
10/16/10
10:05
PM ET
MADISON, Wis. -- Instant analysis from Camp Randall Stadium, where No. 18 Wisconsin upset No. 1 Ohio State
31-18
, notching its first win against a top-ranked team since 1981.


How the game was won:
Wisconsin's offensive line controlled the line of scrimmage for most of the night, allowing its backs and receivers to make plays. After Ohio State regained momentum with a dominant third quarter, Wisconsin marched 73 yards in 10 plays on an extremely well-executed drive and reached the end zone for a huge statement score. In a low-possession game, Wisconsin got the hot start it needed and avoided the major mistakes that would have allowed Ohio State to rally. But the line deserves a ton of credit for keeping Ohio State's defense at bay.
Turning point:
After Ohio State closed to within 21-18, Wisconsin mixed up the play-calling and marched 73 yards in 10 plays.
Scott Tolzien
made a huge throw to
Nick Toon
on third-and-4, while offensive coordinator Paul Chryst surprised Ohio State with four consecutive passes.
James White
finished things off with a 9-yard reception and three runs, the last a nifty 12-yard scoring scamper to put Wisconsin up 27-18.
Best call:
Badgers offensive coordinator Paul Chryst had a great game overall, and he saved his best call for last. After Wisconsin forced a three-and-out, still leading 28-18, Chryst ditched the run for a pass to tight end
Jacob Pedersen
, who, like
Lance Kendricks
, was wide open for a 33-yard gain. The play put even more pressure on Ohio State's defense to make a stop, and Wisconsin drove for a field goal.
Second guessing:
The pistol formation worked brilliantly for Ohio State, so why didn't we see more of it in the first half? Jim Tressel had an excellent plan in the third quarter, but he didn't stick with the pistol enough in the first half as his team tried to crawl out of a 21-0 hole.
What it means:
Ohio State is almost certainly out of the national title mix, and Michigan State, Iowa and Purdue are now the only undefeated teams in Big Ten play. The league title could be decided Oct. 30 in Iowa City, as Michigan State visits the Hawkeyes. Wisconsin, meanwhile, finally overcame its big-game blues and could do some serious damage down the stretch in league play.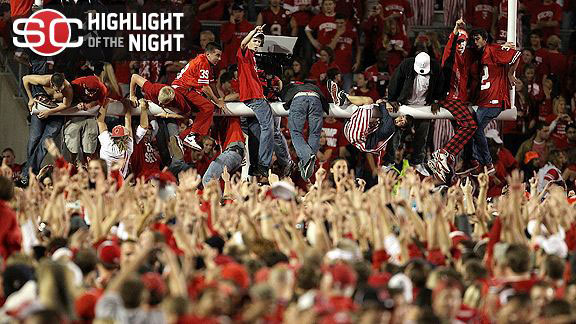 October, 16, 2010
10/16/10
9:46
PM ET
MADISON, Wis. -- What a response by Wisconsin.
The team that supposedly can't win the big one just took a huge step toward knocking off the nation's No. 1 team.
Wisconsin executed brilliantly on a 73-yard scoring drive, as multiple skill players came up big behind an offensive line that regained its edge after a very long rest. Wideout
Nick Toon
continued his very big night with a clutch catch on third-and-4.
Scott Tolzien
made several clutch throws and freshman running back
James White
finished things off with a nifty 12-yard touchdown run, wrong-footing Devon Torrence on the play.
The Badgers reclaimed a two-score lead at
28-18
and put a ton of pressure on
Terrelle Pryor
and the Buckeyes.
October, 16, 2010
10/16/10
9:30
PM ET
MADISON, Wis. --
Terrelle Pryor
looks like a different quarterback, and Ohio State looks like a different team.
Ohio State dominated the third quarter the same way Wisconsin dominated the first, with excellent ball control and offensive execution. The Buckeyes held the ball for 11:26 and outgained Wisconsin 145-23. Pryor completed all seven of his pass attempts for 86 yards after looking lost for much of the first half. Running back
Dan Herron
has been terrific as well.
The offense carried things over to the fourth quarter, completing a 19-play, 94-yard scoring drive that ate up 9:54 of clock. The parallels between Ohio State's drive and Wisconsin's 19-play, 89-yard drive in the first half are incredible. Ohio State is 4-for-4 on third-down conversion attempts in the second half.
You can just see this is a different Ohio State. When "Jump Around" played between quarters, the entire Buckeyes squad joined in and Jim Tressel pumped his fist. Wisconsin is supposed to get the emotional lift, but instead it went to Ohio State.
The Buckeyes have cut the deficit to 21-18. Can they finish the comeback.
October, 16, 2010
10/16/10
9:03
PM ET
MADISON, Wis. -- Ohio State needed to make a statement to begin the third quarter, and the Buckeyes delivered.
Not only was the execution perfect on a 10-play, 77-yard touchdown march, but Ohio State really mixed up the play calls nicely. From a quarterback option that went for a 24-yard pass to the return of the Wildcat formation, Jim Tressel deserves kudos for a well-designed plan.
I still think Ohio State needs at least one more takeaway to make this really interesting, but you had to like what you saw from
Terrelle Pryor
,
Dan Herron
and the offense there. Let's see if the Buckeyes can keep it up.
Wisconsin leads 21-10 with 10:08 left in the third quarter.
October, 16, 2010
10/16/10
8:39
PM ET
MADISON, Wis. -- Quick thoughts at the half, as No. 18 Wisconsin is pounding No. 1 Ohio State
21-3
at Camp Randall Stadium.
Turning point:
David Gilreath
's touchdown return on the opening kickoff stands out, but Wisconsin's ability to keep Ohio State out of the end zone after the Buckeyes had first-and-goal from the Badgers' 3-yard line is my pick. While the Buckeyes mysteriously abandoned the pistol offense, Wisconsin made the plays to keep
Terrelle Pryor
and
Dan Herron
out of the end zone, forcing a short field goal.
Stat of the half:
Even though Ohio State had the first offensive possession because of Gilreath's return, Wisconsin held the ball for 18:05. The Badgers racked up nine first downs in the first quarter and outgained Ohio State 197-93. Last week, Ohio State allowed 14 first downs and 210 total yards all game in a blowout win against Indiana.
What Ohio State needs to do:
Convert opportunities into touchdowns. The Buckeyes' inability to convert Andrew Sweat's interception return into any points was an absolute killer late in the first half. I have a feeling Ohio State will force some more major mistakes from the Badgers, but in a limited-possession game, the Buckeyes can't afford to settle for field goals. They also need to play better on special teams.
What Wisconsin needs to do:
Avoid the major mistake. Quarterback
Scott Tolzien
normally is a very careful passer, but Ohio State seems to bring out the worst in him. He needs to make good decisions in the pass game and let his running backs go to work. The Badgers also have to keep making Pryor beat them with his arm.
October, 16, 2010
10/16/10
8:24
PM ET
MADISON, Wis. -- Down 21-3 against a power-run, clock-killing team like Wisconsin, Ohio State's best chance for a comeback rested with takeaways.
Good thing, too, because Ohio State has one of the most opportunistic defenses in the country. The Buckeyes showed it as linebacker Andrew Sweat picked off a
Scott Tolzien
pass and returned the ball inside Wisconsin territory. A terrible late hit call on Wisconsin -- Sweat merely tripped over his teammates near the Ohio State sideline -- had
Terrelle Pryor
and the Buckeyes sitting pretty, first-and-10 at the Wisconsin 23.
And once again, Ohio State couldn't capitalize. It needed a touchdown and instead came away with nothing after a Devin Barclay missed field goal. Wisconsin continues to dominate the line of scrimmage, as J.J. Watt had a huge sack of Pryor on third-and-9.
Wisconsin still leads 21-3 with 2:53 left in the half. And if Tolzien can limit his mistakes, the Badgers will be in excellent shape to win this game.
October, 16, 2010
10/16/10
7:58
PM ET
MADISON, Wis. -- Wisconsin had its way with Ohio State in the first quarter, and the Buckeyes could do very little about it.
Although the Buckeyes essentially had the game's first possession because of
David Gilreath
's kick return touchdown, Wisconsin still dominated the time of possession (11:18). Wisconsin had nine first downs and 122 yards in the quarter, just incredible numbers if you consider the opposition.
The Badgers continue to pile it on early in the second quarter and lead 21-0 following, get this, a 19-play, 89-yard scoring drive that ate up 10:04. John Moffitt and his linemates have been nothing short of spectacular.
If Wisconsin can simple hold onto the ball and continue to run the ball with effectiveness, it'll be extremely tough for Ohio State to rally because of the clock factor. Turnovers killed Wisconsin last year in Columbus, but the Badgers haven't committed a giveaway for 18 plus quarters.
This likely will be a limited-possession game, so
Terrelle Pryor
and the Buckeyes have to answer in a hurry.
October, 16, 2010
10/16/10
7:30
PM ET
MADISON, Wis. -- Camp Randall is rockin' and Ohio State looks shaken.
What a start for Wisconsin, which took a 14-0 lead just five minutes into the game.
We can certainly talk about
David Gilreath
's 100-yard kickoff return to open the game. Minutes after Badgers honorary captain Lee Evans went to midfield for the coin toss, Gilreath recorded Wisconsin's first kick return for a touchdown since Evans did it against Indiana in 2000. Gilreath also became the Big Ten's all-time kick return yards leader (2,611 yards) with the score.
But Ohio State's coverage issues aren't new. This has been a problem for Jim Tressel's crew since late last season.
What really stunned me was the way Wisconsin shoved the ball right down the Buckeyes' throat on a 6-play, 58-yard scoring drive. Wisconsin's offensive line completely blew up Ohio State's talented defensive front, creating some huge holes for running back
John Clay
. Clay ran hard, but he was barely touched, especially on a 14-yard touchdown run.
You'd expect Ohio State to rally at some stage, but if Wisconsin keeps controlling the line of scrimmage like this, it could be a long night for the Scarlet and Gray.
October, 16, 2010
10/16/10
6:33
PM ET
MADISON, Wis. -- We're about 30 minutes away from kickoff between No. 1 Ohio State and No. 18 Wisconsin.
I watched
Terrelle Pryor
in warm-ups, and although he's wearing a brace on his left leg -- he's dealing with a quad strain -- he seemed to be moving around well on his passes. It'll be very interesting to see if he runs the ball more tonight after having no need to against Indiana.
Speaking of quarterbacks, it's great to see Wisconsin reserve
Curt Phillips
going through warm-ups and moving well. Phillips made an amazingly quick recovery from a torn ACL and enters tonight's game as the third-stringer.
A lot of notable college football figures here, including BCS executive director Bill Hancock.
Should be a good one. Enjoy.
October, 16, 2010
10/16/10
5:09
PM ET
MADISON, Wis. -- Get out your seat and jump around.
It's time to gear up for the nation's premier game, as Ohio State tries to defend the No. 1 ranking for the first time this year against No. 18 Wisconsin, which is 40-4 at home since the start of the 2004 season. The Buckeyes aren't too shabby on the road: 19-1 in their past 20 conference road contests.
What an atmosphere around Camp Randall Stadium today and Friday night. It's a gorgeous day and should be a gorgeous night. The tailgates are in full swing on Regent Street, the parties are raging on Breese Terrace and fans of both teams are geared up for a showdown. Funniest Wisconsin T-shirt being sold on State Street: "Even LeBron thinks Ohio sucks." I'm also seeing a lot of Badgers fans
asking to be taught how to Bucky
.
My biggest question heading into tonight's game is the health of Ohio State quarterback
Terrelle Pryor
. I'm hearing his quad injury is fairly significant, and that his mobility could be very limited in tonight's game. Watch him go out and run for 200 yards now that I wrote that, but I think Wisconsin has a chance to make Pryor one-dimensional. That doesn't get the Badgers off the hook, of course, as Pryor has completed 68 percent of his passes for 1,349 yards with 15 touchdowns and three interceptions.
I'm also interested to see if Wisconsin can put it all together on offense against a very good Ohio State defense. The Badgers seem to have all the pieces to pile up yards and points -- great run game, mammoth line, experienced quarterback, superb tight end -- but they haven't made enough big plays this year. On the other hand, if Wisconsin can keep avoiding turnovers like it has the past four games -- the Badgers couldn't do so last year in Columbus -- it should be in this till the end.
If you can't tell, I'm extremely fired up for this game. Sit back, relax and keep it right here with the Big Ten blog. And if you want to join
our discussion during the game
, please hop in.
TOP 25 SCOREBOARD
Friday, 12/6
Thursday, 12/5
Saturday, 12/7
TOP PERFORMERS