NCF Nation:

Buckeyes-Huskers-100811
October, 9, 2011
10/09/11
2:01
AM ET
LINCOLN, Neb. -- When Nebraska fell apart at the end of the first half at Wisconsin, linebacker Lavonte David lit into his fellow defenders.
David's tirade was justified. The Blackshirts seemed blue after dealing with
Russell Wilson
for 30 minutes.
"I went in and yelled," David recalled. "I shouldn't do that. I should keep my poise."
David got another chance to address the defense in a dire situation Saturday night. An Ohio State offense that nearly was shut out at home the week before had racked up 20 points and 246 yards on the Huskers in the first half.
A sold-out Memorial Stadium crowd sat in stunned silence -- other than those who booed -- as Nebraska trotted to the locker room down 20-6.
"I talked to the guys, got the defense together and said, 'Everybody stay calm,'" David said. "I talked to them in a calm voice, and everybody stayed calm."
[+] Enlarge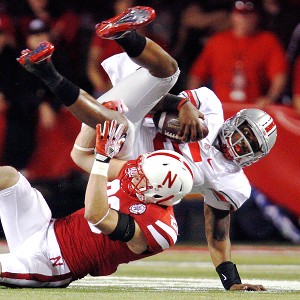 Bruce Thorson/US PresswireNebraska was able to stop Braxton Miller and mount the biggest comeback in Cornhuskers' history.
At a time when cracks could form, when an 0-2 start in a new league seemed inevitable, when a once-promising season could go down the tubes, Nebraska stayed calm, stayed together and stayed on course. David backed up his calm words with effective action, stripping the ball from Ohio State quarterback
Braxton Miller
midway through the third quarter.
Inspired by their leader, the Huskers took complete control and rattled off 28 unanswered points to win
34-27
. It marked the biggest comeback in school history, and it took place in the first Big Ten home game in team history.
"I just had to learn," David said. "That's what being a leader is all about. You just can't go out there and talk reckless to your teammates. Those are the guys you're going to battle with. So just talk to them calmly, let them know how you feel and what we've got to do."
Nebraska made togetherness a theme after its humbling defeat at Wisconsin. Quarterback
Taylor Martinez
took much of the criticism, along with offensive coordinator Tim Beck, although the defense wasn't spared, either, after failing to slow down the Badgers.
The angst and anger in Husker Country would have skyrocketed for the next two weeks if Nebraska had lost to Ohio State. Instead, Bo Pelini and his players can exhale entering a much-needed bye week.
"We stayed the course," Pelini said. "That's kind of the motto of our program. It's about the culture, it's about the process, about staying the course.
"There was no panic."
The same couldn't be said for Ohio State, a program that has taken body blows both on and off the field in recent weeks. The Buckeyes came out with a superb game plan, dominated Nebraska on both sides of the ball and seemed fully in control with a 27-6 lead midway through the third quarter.
Then Miller fumbled. Two plays later, Martinez scooted into the end zone.
"That was the game-changing play," Pelini said of David's forced fumble and recovery.
On Ohio State's next possession, Miller suffered a right ankle injury and hobbled off the field. He had been brilliant up to that point, but his bad wheel prevented him from returning. Ohio State's wheels, meanwhile, fell off.
A Buckeyes team that looked so poised and cohesive suddenly became fragile. The offense stalled under backup quarterback Joe Bauserman. The defense couldn't slow down Martinez and I-back
Rex Burkhead
, who combined to pile up 250 yards and four touchdowns in the second half.
Ohio State went from 21 points up to seven points down in less than 18 minutes.
"I don't think I've seen a game that changed like that that I have been involved with," OSU first-year coach Luke Fickell said.
"I've never been a part of anything like that," added Buckeyes linebacker Andrew Sweat.
A win that would have breathed life into Ohio State's program turned into the most deflating of losses, one that dropped the Buckeyes to 0-2 in Big Ten play for the first time since 2004. The Buckeyes' October grind continues next week at Illinois and wraps up Oct. 29 against Wisconsin.
Fickell knew his team was ready Friday night. The focus was there. The attitude was there. And Ohio State showed up in a big way. And then it fell apart.
"These guys are resilient," Fickell said. "They have been through a lot and it will come down to their commitment to each other. That is what it really ultimately comes down to -- pride. It's not easy and will be hard to get over."
If Ohio State needs an example -- a painful example -- it can look at Nebraska.
The Huskers said their game plan didn't change in the second half.
The defense simply made stops. The offense simply got first downs, found its rhythm and began to wear down the Buckeyes.
"As long as we're getting first downs, we can go as fast as we want," Beck said. "We were close [in the first half]. We just didn't execute very well. ... Sometimes you're feeling 'em out, trying to figure out what their plan is, how they're trying to stop us, all the different formations we us. It sometimes takes a little bit of time."
Pelini was all smiles walking through the tunnel to Nebraska's locker room. But he took a defensive posture at his news conference, engaging in a testy exchange with a reporter who had been critical of Martinez during the week.
"I'm proud of him," Pelini said of Martinez. "Everybody wants to doubt him. You guys can choose to write whatever you want and attack him like the fans will, and now they'll praise him. ...
"He kept fighting, he led the team, he played a heck of a second half."
As a result, Nebraska enters the second half of its season with plenty to fix but a huge win on which to build. Ohio State, meanwhile, will have a tough time recovering.
"Between last week and this week, we became a lot closer unit," Huskers center Mike Caputo said. "And that's only going to help us the rest of this year."
October, 9, 2011
10/09/11
1:15
AM ET
By
ESPN.com staff
| ESPN.com
Adam Rittenberg talks with Nebraska running back
Rex Burkhead
after the Cornhuskers' comeback win over Ohio State.
October, 8, 2011
10/08/11
11:28
PM ET
LINCOLN, Neb. -- Nebraska looked dead in the water. The Huskers were being humiliated on their home field.
And then, Lavonte David stripped
Braxton Miller
and pounced on the ball. Moments later, Miller injured his right ankle and hobbled off the field.


And just like that, momentum swung toward Big Red.
Down 27-6 in the third quarter, Nebraska rallied with 28 unanswered points to win
34-27
in its Big Ten home debut. It marked the biggest comeback in team history, and it occurred in Nebraska's first Big Ten home game as a member of the conference. The previous record came against Texas A&M in 2002, when Nebraska erased a 17-point deficit.
One team's season possibly saved, another team's misery prolonged.
Ohio State, which performed so well for the first 35 minutes or so, is 0-2 in Big Ten play for the first time since 2004. The Scarlet and Gray simply can't buy a break right now, as they looked absolutely shell-shocked after Miller's injury.
The offense went nowhere with
Joe Bauserman
. The defense lost its edge against
Taylor Martinez
and
Rex Burkhead
. And a team that looked so poised early became fragile and melted down.
Credit Nebraska for capitalizing on a favorable situation. That's what good teams can do. While the Huskers have a lot to fix, they can enter the bye week with some confidence after blitzing the Buckeyes in the final 24 minutes. Martinez and Burkhead were huge in this one.
What a game. Back with much more from a joyous Memorial Stadium.
October, 8, 2011
10/08/11
11:06
PM ET
LINCOLN, Neb. -- We've got a new ballgame.
Nebraska has erased a 21-point deficit and tied the game behind a resurgent offense led by
Taylor Martinez
. The Huskers look like a completely different team on both sides of the ball, while Ohio State seems stunned since the departure of top quarterback
Braxton Miller
.
Senior
Joe Bauserman
has struggled in relief of Miller, badly misfiring on several passes. It's hard to see the Ohio State offense scoring with Bauserman in the game, and the Buckeyes wasted a good chance when they reached Nebraska territory but opted not to set up a more manageable field-goal try.
It's tied at 27-27, but the Huskers have all the momentum right now.
October, 8, 2011
10/08/11
10:44
PM ET
LINCOLN, Neb. -- It's getting a bit more interesting here at Memorial Stadium.
Nebraska has cut its deficit to seven points after looking completely beaten early in the quarter. Linebacker Lavonte David, one of few Huskers defenders to make big plays this season, triggered the comeback by stripping
Braxton Miller
on a first-down run and recovering the fumble.
Making matters worse for Ohio State, Miller left the game with an apparent right leg injury on the next possession. Senior
Joe Bauserman
replaced the freshman, who has been very effective with his legs tonight.
Nebraska's defense must continue to make plays and avoid silly penalties, like a late hit late in the quarter to put Ohio State in Huskers territory. The Buckeyes still are imposing their will at the line of scrimmage.
Taylor Martinez
and the Nebraska offense have the ability to strike quickly, and Martinez found his rhythm at the end of the quarter with a touchdown run and a scoring strike to
Quincy Enunwa
, who is quickly becoming his favorite target.
Buckeyes lead 27-20 and have the ball in Nebraska territory.
Settle in for a fun fourth quarter ...
October, 8, 2011
10/08/11
10:32
PM ET
LINCOLN, Neb. -- Momentum is swinging Nebraska's way, and Ohio State has lost its starting quarterback.
Braxton Miller
left the game with an apparent right leg injury midway through the third quarter. The freshman had to be helped off of the field and put no weight on his leg. Miller was walking a bit on the sideline, testing out the leg.
Senior
Joe Bauserman
replaced Miller and threw an incomplete pass on his first play.
Ohio State still leads 27-13, but Nebraska is driving.
October, 8, 2011
10/08/11
9:44
PM ET
LINCOLN, Neb. -- We've reached the break at Memorial Stadium, and surprise, surprise, Ohio State remains in total control. The Buckeyes lead No. 14 Nebraska
20-6
.
Here's a quick update on the first 30 minutes:


Stat of the half:
Ohio State, which entered the game ranked 108th nationally in total offense, outgained Nebraska 246-114 in the half. The Buckeyes out-rushed Nebraska 178-34.
Player of the half:
Buckeyes freshman quarterback
Braxton Miller
. The young signal caller is growing up, folks. He completed 4 of 6 passes for 68 yards and a touchdown and, more importantly, added 79 rush yards on seven carries. Playing behind an offensive line happy to have Mike Adams back at left tackle, Miller used his speed and moves to get in the open field against an overmatched Nebraska defense.
What Ohio State needs to do:
Maintain the game plan because it's working on both sides of the ball. The Buckeyes must continue to put Miller in situations where he can succeed both as a passer and as a runner, where he's very good. Offensive coordinator Jim Bollman can't go in a shell. He must remain creative with his calls and capitalize on an overzealous Nebraska defense. Ohio State needs to continue to be sound in its tackling and make Nebraska work for its points.
What Nebraska needs to do:
Tackle better, for starters, and perhaps start spying Miller, who has been one step ahead of the defense all night. Being aggressive is fine, but Nebraska has repeatedly lost containment on Miller and allowed
Carlos Hyde
to break off a 63-yard touchdown. The offense can't start panicking if the first- and second-down runs aren't picking up big yardage.
Taylor Martinez
has to be a bit shaken right now after his ill-advised throw just before halftime basically gave Ohio State three more points. The fans are upset and the team looks shaken. Nebraska needs something dramatic to go in its favor.
October, 8, 2011
10/08/11
8:57
PM ET
LINCOLN, Neb. -- The first quarter is in the books, and if you're an Ohio State fan, you had to like what you saw. The Buckeyes lead
10-3
. They've outgained Nebraska 141-32 and dominated time of possession (11:08).
Here are a few takeaways:
Ohio State came out with a great game plan on offense after a horrendous performance last week against Michigan State. The Buckeyes started by using a lot of the pistol formation with multiple running backs. They also split tight ends Jake Stoneburner and Reid Fragel wide on one play. Coordinator Jim Bollman called manageable passing plays for freshman quarterback Braxton Miller, who showed good mobility and made only one bad decision in the quarter, which should have been intercepted. Even the touchdown pass to Stoneburner didn't put much pressure on Miller. It was just a great call.
The Buckeyes are capitalizing on Miller's athleticism and Nebraska's aggressive style of defense. Miller has used his legs and found gaps in the Huskers' defense, which continues its disappointing start to the season.
Nebraska freshman Ameer Abdullah will be a factor in this game. He leads the nation in kickoff returns (35.1 ypr) and had a 35-yarder to set up Nebraska's field goal, which required basically nothing from the offense. Ohio State's special teams aren't nearly as polished as they were several years ago, so Abdullah could break a long one or two.
The Huskers have the right idea by getting Rex Burkhead more touches both in the option game and as a receiver out of the backfield. They need to do more of this in the second quarter.
October, 8, 2011
10/08/11
6:45
PM ET
LINCOLN, Neb. -- Greetings from Husker Country, where tonight No. 14 Nebraska and Ohio State both try to avoid an 0-2 start to Big Ten play.
Who would have thought that back in April when this looked like the Big Ten's premier regular-season game of 2011? Jim Tressel, Terrelle Pryor and others were set to return for Ohio State, and Nebraska had been pegged by many to be the Big Ten favorite. Instead, both teams are coming off of humbling losses. Ohio State, which has no Tressel, no Pryor and not even
DeVier Posey
and
Dan Herron
, tries to hold its season together against a Nebraska program where angst is mounting after an unimpressive start to the year.
I really enjoyed the drive in, particularly around the stadium. Nebraska doesn't have fields and fields of tailgating that you see at Penn State, but there were some packed parking lots of revelers surrounding Memorial Stadium. For the second consecutive week, I'm seeing a ton of red. I really like the coziness of Memorial Stadium. Not sure Luke Fickell and the Buckeyes will feel the same.
There has been a ton of attention this week on Nebraska quarterback
Taylor Martinez
and the team's offensive struggles at Wisconsin. Former Huskers quarterback
Tommie Frazier reportedly ripped T-Magic
on Friday night at an alumni event. Martinez is anxious to silence his critics, and it will be interesting to see how he responds against a solid Ohio State defense.
Ohio State needs its defense to win this game, prevent the big plays and force some miscues from Martinez. The Buckeyes have been incredibly inept on offense, and though Mike Adams' return at left tackle will help, they'll have a tough time scoring against a Nebraska defense coming off of an "embarrassing" performance at Wisconsin.
Most folks are picking a low-scoring Nebraska win,
myself included
.
We'll see what happens in the
What-If Bowl
. Keep it here all night for coverage.