NCF Nation:

Buckeyes-Lions-102712
October, 27, 2012
10/27/12
11:48
PM ET
STATE COLLEGE, Pa. -- This was supposed to be Penn State's return to the big time.
Nearly a year to the day from Joe Paterno's last game, the Nittany Lions geared up to show the world that they were back from 12 months of turmoil. A soldout Beaver Stadium roared on its red-hot team, just like the old days.
But Ohio State ruined the celebration. The Buckeyes, in fact, might just be the nation's most unwanted party crasher.
After their
35-23 victory
in the Ineligi-Bowl, it's time to start planning for the inevitable. This team is now on a collision course with a 12-0 season after acing its toughest road challenge of the year.
You can quibble with the Buckeyes' schedule -- which includes no wins over current Top 25 teams -- or their various shortcomings. You can't argue with the record.
"Let's focus on the positive," Ohio State coach Urban Meyer said after the game, objecting to a question about his team's flawed performances. "We're 9-0. It's good to be 9-0. Maybe you can help me, but how many other teams are 9-0?"
The answer is none. Which might also be the answer to the question: Who can beat this team the rest of the way?
The Buckeyes play 2-6 Illinois next week in a virtual bye week, then get a real week off to heal up. Then comes a trip to Wisconsin, which just lost at home to Michigan State and lost its starting quarterback. They end the year, of course, with the showdown against Michigan. That game, as you probably know, is in Columbus. Perfection could be on the line.
[+] Enlarge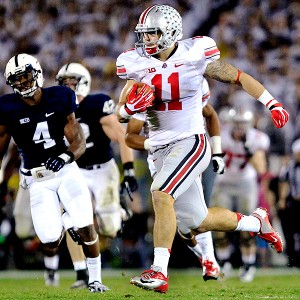 AP Photo/Gene J. PuskarOhio State receiver Jake Stoneburner scored a 72-yard touchdown in the fourth quarter to put the game out of reach.
And then what? Though the Buckeyes are not eligible for the postseason or the BCS standings, Associated Press voters are free to put them as high as their hearts desire.
"We think we're definitely a top team in the country," receiver/tight end
Jake Stoneburner
said. "People underestimate us. But there's something about this team."
Ohio State has had some shaky wins, like last week's overtime great escape against Purdue. But every time it needs to make a play, that play gets made.
"It was the same thing with the [2002] national championship team," defensive end
Nathan Williams
said. "They seemed to [find a] way to win the game at the very end, whether it be the last play or the last drive. I think we have a great chemistry as a team going on right now, and we're just going to continue to feed off it."
Nobody, not even Williams, is suggesting that this Ohio State club is as good as that 2002 team. But it does have a similar knack for winning.
On Saturday that winning effort started, surprisingly, on defense. A unit that had been battered and bruised most of the season held Penn State without an offensive touchdown until the final 10 minutes and allowed only 32 rushing yards. The game plan called for more blitzing than the Buckeyes normally do in order to fluster Nittany Lions quarterback
Matt McGloin
. Ohio State sacked him four times.
In maybe the key sequence of the game, linebacker
Ryan Shazier
dashed through the middle untouched to tackle McGloin early in the third quarter. Then he picked McGloin off for a 17-yard interception return touchdown on the very next play.
Shazier has struggled with missed tackles most of the year, but played inspired on Saturday while wearing a new jersey number, 48, in honor of his deceased high school friend Gary Curtis.
"It almost felt like a dream," Shazier said. "I was thinking about him the whole game. I felt like he was playing there with me."
Quarterback
Braxton Miller
was lying in a hospital room last Saturday after suffering a neck injury against Purdue. Early in the game, in the words of Stoneburner, Miller looked "a little bit jittery." Miller completed just six of his first 18 passes and overthrew a sure touchdown to
Corey Brown
.
But as he has done so often, Miller turned up his game when it mattered most. He threaded a perfect pass to Stoneburner on third down for a 72-yard touchdown in the fourth quarter, after Penn State had cut the lead to 28-16. And even though Miller used more caution while running in deference to his body, he still managed to control the game with 134 rushing yards and two touchdowns.
The Nittany Lions' defense was visibly gassed trying to chase Miller in the second half after Ohio State went to its hurry-up offense. And Miller turned in maybe the prettiest 1-yard run in history for his first touchdown run, avoiding two tacklers and somehow adjusting his body mid-leap to slide past safety
Malcolm Willis
into the end zone.
"We have a drill where you make seven people miss," Meyer joked. "I was on the sideline, so I didn't really see it. But the conversation on the headset was, 'Oh, my god.'"
The Buckeyes are probably making a lot of people say that these days. Just wait until they win three more games.
October, 27, 2012
10/27/12
8:54
PM ET
STATE COLLEGE, Pa. -- The Ineligi-Bowl turned into an indelible moment for Ohio State.
The Buckeyes came into a frenzied Beaver Stadium and sliced up a red-hot Penn State team
35-23
, leaving no doubt which team is the best in the Leaders Division and the entire Big Ten. Ohio State improved to 9-0 and inched one step closer to its goal of a perfect 12-0 season under first-year coach Urban Meyer.


Here's how it went down:
It was over when:
Braxton Miller
squeezed a third-down pass into the hands of
Jake Stoneburner
, who had nothing but daylight in front of him for a 72-yard touchdown catch with 6:11 remaining. That made it 35-16 and extinguished any hope of a Penn State comeback.
Game ball goes to:
The Ohio State defense. Penn State's offense came into the night on a roll, but the Buckeyes applied pressure to quarterback Matt McGloin all night and didn't allow an offensive touchdown by the Nittany Lions until there was 9:49 left in the game.
Stat of the game:
Ohio State had 233 rushing yards to just 32 for Penn State. Miller piled up 134 of those, along with two scores. He was able to dominate the game in the second half despite completing just 7-of-19 passes.
Second-guessing:
Bill O'Brien's gambles have mostly paid off this season. But one backfired on fourth-and-nine from the Ohio State 43 in the third quarter. Penn State went for the fake punt, and
Alex Butterworth
's pass was broken up on a nice play by the Buckeyes'
Adam Griffin
(son of two-time Heisman Trophy winner Archie Griffin). Penn State's defense had been playing really well, and the flipping of field position helped Ohio State drive in for a touchdown to make it 21-10.
What it means:
It was an odd meeting of two good teams who can't play in a bowl game, so no result was going to have any postseason implications. But both teams are eligible to win the Leaders Division title, and now Ohio State has a virtual two-game lead in that race with three games left. Hey, it's something.
More importantly, it continued the Buckeyes' impressive march through the Big Ten in Meyer's first year. If Ohio State keeps on winning, Associated Press voters are going to have an interesting time figuring out to do with this team, which hasn't lost but also hasn't beaten a team currently ranked in the Top 25.
For Penn State, the loss halted some serious momentum as the team had won five straight coming into Saturday. The Nittany Lions had hoped for a dominating performance to impress recruits, more than 100 of whom attended the game. This was as close to a bowl game as Penn State is going to play over the next few years. Still, one loss doesn't erase what this team is accomplishing this year.
October, 27, 2012
10/27/12
4:30
PM ET
STATE COLLEGE, Pa. -- Greetings from Beaver Stadium.
The last time I was here was during the worst and weirdest week in Penn State history, as the Jerry Sandusky scandal enveloped the community and Joe Paterno was fired last November. It's safe to say the atmosphere is a little different this time.


There has been a huge buzz on campus for this game, which arrives nearly a year to the day when Paterno coached his last game for the Nittany Lions. And rightly so, as Penn State has won five straight games and Ohio State comes in at 8-0. I attended the "Rally in the Valley" Friday night, and the students were out in force. The game is sold out, and I expect this to be a special atmosphere this evening.
We've had overcast skies all day, but the rain is holding off and temperature is near 60 degrees. You get the feeling that Penn State fans are hungry for a big-game environment after an incredibly difficult year. This is also big for recruiting, as over 100 prospects are in attendance. With the coming scholarship cuts, Bill O'Brien could use an impressive performance to tell recruits it's OK to come to State College despite the sanctions.
The matchups tonight will be fascinating. Our choices as the Big Ten offensive and defensive players of the year -- Ohio State quarterback
Braxton Miller
and Penn State linebacker
Michael Mauti
-- could go head-to-head, especially if Miller takes off on the run. How much and how well will Miller run it after last week's scary-looking neck injury against Purdue? That's the question that nobody really knows yet. If Miller can't run with abandon -- and really, even if he's healthy, he might not be able to do that against Penn State's disciplined defense -- where does Ohio State get its offensive production? The passing game has been hit or miss, and
Carlos Hyde
's power running style might not work that well against the Lions' defensive front.
Another big question for the Buckeyes is how they will defend Penn State's offense, especially the way O'Brien uses his tight ends. That could spell major trouble for a team that has turned in some shaky play at linebacker and safety all season. Expect a lot of nickel from Luke Fickell's defense tonight, but there should still be some mismatches for the Lions to exploit, including tight end
Kyle Carter
. Getting pressure on
Matt McGloin
will be crucial for Ohio State.
I can't wait to see O'Brien and Urban Meyer match wits, and both coaches have been unafraid to gamble and go for it on fourth down. While the winning team can't go to a bowl, it can still win the Leaders Division title. This one figures to be as good and intense as any bowl game, anyway.