NCF Nation:

buckeyes-spartans-092912
September, 29, 2012
9/29/12
9:45
PM ET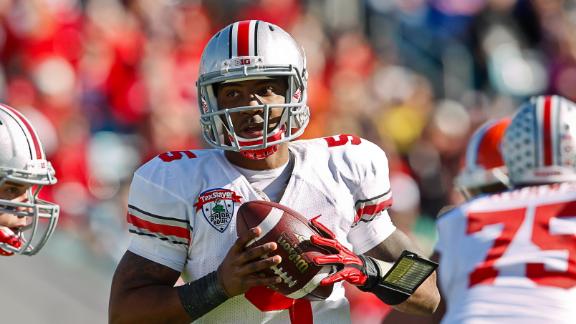 EAST LANSING, Mich. -- We've spent a lot of time nitpicking Ohio State this early season for what the Buckeyes are not.
They are not a dominant team. They lack weapons on offense. Their defense hadn't lived up to preseason billing in the first four games. They can be maddeningly inconsistent.
But after
a 17-16 victory
at No. 20 Michigan State on Saturday, it's time to recognize the 5-0 Buckeyes for what they are and what they might end up being, which is possibly the best flawed team in an enormously flawed Big Ten.
"We stuck to our M.O., which is that we play to win," Ohio State center
Corey Linsley
said. "We may not finish every drive, and we may not score every drive. But when it comes time to win the game, we win it."
They certainly weren't perfect against the Spartans. But they answered the bell time and again and showed they could grind out a late-November type of Big Ten game in the league debut for first-year coach Urban Meyer.
"That was two sledgehammers going at it," Meyer said.
Ohio State simply swung the bigger stick. Its defense surprisingly came into the game ranked last in the Big Ten, plagued by poor tackling and a tendency to give up the big play. The first four opponents often spread the ball out and threw quick passes to neutralize the strength of the Buckeyes' defensive front.
[+] Enlarge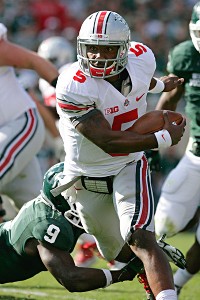 AP Photo/Al GoldisOhio State quarterback Braxton Miller gained 136 yards on the ground against Michigan State.
Saturday brought a more familiar and welcome style with Michigan State's pro set. And the Buckeyes were ready.
Le'Veon Bell
ranked second in the nation in rushing yards through four games, but the 244-pounder would have needed to hurdle the entire line of scrimmage to find any running room Saturday. Bell managed just 45 yards on 17 carries. As a team, Michigan State had only 34 rushing yards. Ohio State brought a safety into the box to slow Bell and felt confident playing man coverage against the Spartans' struggling receivers.
"The defense was really aggravated and frustrated by the way we played the first four weeks, because we know we're a whole lot better than what we played," linebacker
Ryan Shazier
said. "We were trying to show everybody in the world that we are a really good defense."
And against the best defense in the league, Ohio State showed it could gain the tough yards.
With 4:10 left, the Buckeyes took over on their own 18, clinging to that one-point lead. They proceeded to run the ball for three straight first downs, including a
Carlos Hyde
five-yard pile-drive on third-and-4 after the Spartans ran out of timeouts. Michigan State entered Saturday with one of the top rushing defenses in the country. The Buckeyes gashed it for 204 yards on the ground.
"Against that front, when they knew it was coming ... to just take the ball and end the game like that, that tells you a lot," Meyer said. "I didn't know we could do that."
The Buckeyes' offense mostly remains all about
Braxton Miller
. Any thought of limiting his carries has pretty much gone out the window by now. He rushed 23 times on Saturday -- more than every other teammate combined -- and gained 136 yards. It wasn't a vintage Miller performance, as he threw an interception and fumbled twice. But he also delivered a perfect throw to
Devin Smith
for a 63-yard touchdown -- beating All-Big Ten cornerback
Johnny Adams
-- less than two minutes after Michigan State had taken its only lead of the game in the third quarter.
Miller's improvisation skills were on full display, especially after running back
Jordan Hall
left the game with a first-half leg injury. At one point, the sophomore somehow avoided the grasp of
Denicos Allen
and
William Gholston
in the backfield and hit
Corey Brown
for a 24-yard gain. Those weren't MAC defenders Miller shook off; they're two of the very best players in the Big Ten.
But Miller paid a price for those efforts. He got pushed into a metal stand in the first quarter after being hit out of bounds and went down clutching his left knee after a big hit in the second half, among many heavy shots taken. Though Miller waved off any questions about his health after the game, teammates said their quarterback was in obvious pain in the locker room.
"I knew since last year that he was tough," Smith said. "When he gets hit, he gets right back up. The desire for him to not want to leave the game is unbelievable."
That's good, because losing Miller for any length of time would wreck Ohio State's season. But if he can stay healthy, the possibilities become very intriguing.
Linsley said the Buckeyes knew winning at Michigan State was crucial to everything, because it looked like the toughest road game of the season on paper. Ohio State could now be favored in each of its final seven contests, beginning when it hosts Nebraska next week. The only dangerous road games left are at Penn State and at Wisconsin, while Michigan has to come to the Horseshoe in the finale.
Ohio State can't go to a bowl because of a probation, but it can win the Leaders Division title. And it is shooting for a 12-0 season.
"Where we could be right now, it's just awesome," Linsley said. "It's a great feeling to know we can be so much better than this."
Are the Buckeyes perfect? Not even close. But in a highly imperfect Big Ten, they could prove extremely hard to beat.
September, 29, 2012
9/29/12
7:20
PM ET
Ohio State overcame a minus-3 turnover margin, some key injuries, a premature whistle and a plucky Michigan State squad to hold off the Spartans
17-16 at Spartan Stadium
. The 14th-ranked Buckeyes remain perfect at 5-0, while No. 20 Michigan State dropped its second game in three weeks.
Here are some quick thoughts on the game ...


It was over when:
Carlos Hyde
moved the chains with a 5-yard run on third-and-4 with just about two minutes remaining. Ohio State, which had stopped Michigan State moments earlier, then ran out the clock and celebrated a hard-fought win.
Game ball goes to:
Ohio State quarterback
Braxton Miller
. He committed three turnovers (2 fumbles, 1 interception) but made more big plays than Michigan State and fought through some tough hits. The sophomore completed 16 of 23 passes for 179 yards with a touchdown and an interception. Miller also recorded game-highs in both carries (23) and rush yards (136), displaying tremendous footwork to keep Michigan State's defense off balance.
Stat of the game:
Ohio State averaged 4.6 yards per carry on 44 attempts. Michigan State, despite boasting the Big Ten's top rusher in
Le'Veon Bell
, had just 1.5 yards per carry (just 22 attempts).
Worst call:
The officials at Spartan Stadium weren't replacements, but they made a rookie mistake early in the fourth quarter after Miller fumbled near the sideline. The officials ruled Miller down and blew the whistle, ending the play. The replay crew correctly reversed the call and awarded the ball to Michigan State, but the blown whistle prevented the Spartans from potentially scoring a touchdown on a fumble return. Michigan State had other chances to win, but the blown whistle really hurts in a 1-point game.
Unsung hero of the game:
Ohio State senior linebacker
Etienne Sabino
. The former blue-chip recruit, who admits he has underachieved a bit in his career, stepped up in a big way Saturday. He recorded a second-half sack of
Andrew Maxwell
and pressured Maxwell on a third-and-9 play in the closing minutes, forcing a punt. Michigan State never regained possession.
What it means:
Ohio State showed it can win on the road and overcome a lot of adversity. It's not easy to win when you're minus-3 in turnovers, but the Buckeyes received a better defensive effort than they've had in recent weeks, shutting down Bell, and their offensive line stepped up big late to salt away the game. Miller once again showcased big-play ability, making a perfect throw to
Devin Smith
for a 63-yard touchdown after Michigan State had taken the lead. The Spartans showed improvement in their passing game and generated more takeaways on defense, but they simply haven't put it all together against good teams. It has to be frustrating to lose on your home field when you're plus-3 in turnovers. Bell was a surprising nonfactor in the game, and the defense couldn't get a stop in the closing minutes. Michigan State can still make a run in the Legends division, but it will need to do well on the road after dropping two marquee home games.
September, 29, 2012
9/29/12
2:24
PM ET

Brian Bennett and Austin Ward preview Ohio State at Michigan State.
September, 29, 2012
9/29/12
1:45
PM ET
EAST LANSING, Mich. -- There was a whole lot of talk this week about how bad the Big Ten is.
Well, it's an absolutely perfect early fall day in Sparta, and league play is under way. On a day like this, with "GameDay" on hand, there doesn't seem to be a problem in the world.


And while Michigan State and Ohio State each have some flaws, this should be a classic, hard-hitting Big Ten battle. The key, I think, is which team can get the ball downfield.
We all know about the Spartans' troubles at receiver. But they simply can't be one-dimensional in this game. Though the Buckeyes' defense has underperformed -- to put it kindly -- it is set up well to defend a power running game, even versus a great back by
Le'Veon Bell
. Big ol'
Johnathan Hankins
& Co. will do a good enough job against the run. Michigan State will have to stretch the field.
Can the receivers do it? Mark Dantonio told me earlier this week he still has confidence in them.
"We have talent," Dantonio said. "I've watched these guys play for a year or two years or for three years in some cases. It's just a matter of catching the ball cleanly, making difficult catches.
"We need to continue to try to nurture them and build their confidence. I don't think anything would be served by beating them down, and then they lose their confidence. ... I think they're going to be fine. They've had great practices and they catch everything in practice. They just need to transition that over to the games."
Ohio State's receivers came into the season a huge question mark, and they have responded pretty well. But while
Devin Smith
has had some huge highlights and Corey "Philly" Brown has already zoomed past last year's stats, they've been inconsistent. This week, they will face the top secondary in the Big Ten, and Pat Narduzzi likes to press cornerbacks
Johnny Adams
and
Darqueze Dennard
up at the line of scrimmage. Brown, Smith and others will have to break free and make plays downfield, because the Spartans defense is very difficult to run against. Michigan State will focus its efforts on stopping
Braxton Miller
on the ground.
It could be a slugfest if neither team can make plays in the passing game. But if one team excels at that, it should have a major edge in what I expect to be a close game.
Much more to come from Spartan Stadium and this key early conference matchup ...