NCF Nation:

Bulldogs-Gamecocks 091110
September, 11, 2010
9/11/10
7:25
PM ET
COLUMBIA, S.C. – Somewhere about now,
Marcus Lattimore
is probably easing his way into a nice whirlpool bath.
[+] Enlarge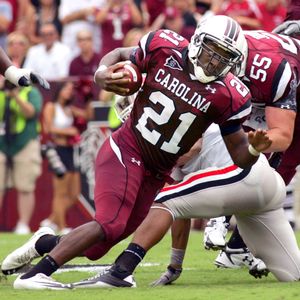 AP Photo/Mary Ann ChastainMarcus Lattimore rushed for 182 yards on 37 carries against Georgia.
Two games into his college career, including a bruising 37-carry, 182-yard rushing performance against Georgia on Saturday, it's safe to say South Carolina isn't easing its prized freshman running back into its offense.
"We look back and thought we probably should have given it to him 47 times," South Carolina coach Steve Spurrier said.
Yep, that's the Head Ball Coach talking, the same guy who loves pitching it and catching it and the same guy who brought the Fun 'n Gun offense to Florida.
But Spurrier also knows a stallion when he sees one. And after watching Lattimore pound on Georgia defenders, drag Georgia defenders with him and find the smallest of creases to run through in South Carolina's 17-6 win at Williams-Brice Stadium, Spurrier's not about to mess up a good thing when he sees one.
And by all accounts, the 6-foot, 218-pound Lattimore has a chance to be better than just good.
"When it came to tackling him, we just didn't go a good job of knocking him back and wrapping him up," Georgia coach Mark Richt said. "But, again, he is a heck of a back.
"I think history will prove that he's one of the best."
To give you an idea of what Lattimore meant to the Gamecocks, they had managed a total of 58 rushing yards in their past three home games against the Bulldogs.
On Saturday, Lattimore had at least that many yards after contact … in the first half.
And when the Gamecocks needed somebody to finish the game, Spurrier never blinked.
He was going to put it in No. 21's hands.
Lattimore got it seven straight times, most of those zone read plays, the same play he ran over and over again at Byrnes High School in Duncan, S.C., on his way to becoming one of the most highly recruited running backs in the country last year.
"We knew coming into the game their ends were playing wide and we could gash them up the middle," Lattimore said. "(Center) T.J. (Johnson) did a great job of moving their nose guard."
And Lattimore did a great job of moving everybody else himself.
"His shoulder pads are almost always square when he hits that hole," Spurrier said. "He's never upright when guys hit him inside. He has a knack of running low and square to the ground. … He rarely gets knocked back."
The Bulldogs never seemed to adjust. In fact, in vintage fashion, Spurrier took a little dig at Georgia first-year defensive coordinator Todd Grantham, who'd been in the NFL the past 11 seasons before coming back to college football.
"That little inside zone play, the NFL doesn't run that play," Spurrier said. "So that's a new little scheme, I guess. Anyway, you'll have to ask them. I'm sure they knew we were going to run it, but they certainly didn't stop it much."
Lattimore had 21 carries and 103 yards by halftime, but he was as strong in those seven consecutive carries to finish the game as he was in the Gamecocks' 16-play, touchdown drive to open the game.
With the crowd chanting his name, Lattimore admitted he was tired.
"I was running on adrenalin that drive," Lattimore said.
That's more than he could say for the Bulldogs.
"We had a high tempo, and they were just standing around and looking around," Lattimore said. "We were just running the ball, running right up the gut, and they didn't know what to do."
Jay Graham, South Carolina's running backs coach, has been around a few good running backs in his time. For that matter, he was a pretty good running back himself at Tennessee, earning All-SEC honors in the mid 1990s.
But the last time Graham walked away from a game feeling the same way he did about a freshman running back in this league as he did Saturday about Lattimore was after watching Tennessee's Jamal Lewis carve through Georgia for 232 yards in 1997.
"I remember thinking, 'He's going to be a great one,' " Graham said. "It's same way I felt (Saturday). There are a lot of variables involved. For instance, does he stay healthy? But Marcus has everything it takes to be a great one."
Ellis Johnson, South Carolina's assistant head coach for the defense, saw Lattimore all preseason from a defensive perspective. He had a pretty good idea what was coming.
"I knew he was different," Johnson said. "We all knew he was different. Hell, all the recruiting experts knew he was different. Everybody knew he was a good player, but a lot of times good players come in and they're just good players. A lot of times they come in, and they're special.
"I don't want to jinx him, but I think he's special."
September, 11, 2010
9/11/10
3:24
PM ET
COLUMBIA, S.C. – South Carolina fans might want to hold off on those December hotel reservations in Atlanta.


These chickens have learned over the years not to count their chickens before they hatch.
But two weeks into the season, South Carolina looks like as good a bet as any to win the Eastern Division after taking down Georgia
17-6
on Saturday at Williams-Brice Stadium.
Freshman running back
Marcus Lattimore
was sensational. Georgia simply couldn't tackle him, as he plowed his way to 182 rushing yards on 37 carries.
The Gamecocks' defense wasn't shabby, either. They kept the Bulldogs out of the end zone for the first time since the 2007 season (a South Carolina 16-12 win in Athens). All Georgia could manage against South Carolina was a pair of Blair Walsh field goals.
Granted, it's early, but this looks like Steve Spurrier's most complete team yet at South Carolina.
September, 11, 2010
9/11/10
2:54
PM ET
COLUMBIA, S.C. -- Georgia has sacked South Carolina quarterback
Stephen Garcia
four times.
Three of those have come courtesy of Georgia outside linebacker Justin Houston.
Garcia's taking sacks was one of South Carolina coach Steve Spurrier's chief problems with his quarterback last season. The Gamecocks allowed 37 sacks, which tied LSU for the most in the league.
A couple of times Saturday, Garcia probably should have gotten rid of the ball quicker or stepped up into the pocket and thrown the ball quicker. But there were also a couple where he didn't have a chance.
Houston is really giving the Gamecocks fits off the edge.
September, 11, 2010
9/11/10
2:35
PM ET
COLUMBIA, S.C. -- I'm not sure which fumble was more costly.
The Gamecocks looked like they might be ready to put the Bulldogs away when
Stephen Garcia
was sacked by Justin Houston and coughed it up at the Georgia 24.
Steve Spurrier was in Garcia's ear on the sideline afterward, too.
The Bulldogs, though, gave it right back after driving down inside the South Carolina 10 when
Washaun Ealey
fumbled at the 3. The Gamecocks' Stephon Gilmore recovered at the 1.
The killer for the Bulldogs was that they moved the ball extremely well in the third quarter and really seemed to be finding a rhythm -- but only have three points to show for it.
September, 11, 2010
9/11/10
2:16
PM ET
COLUMBIA, S.C. -- Georgia did exactly what it needed to do coming out of halftime.
The Bulldogs put together a long drive, kept the ball for 12 plays and mixed the run with the pass. The only problem was they didn't get the ball into the end zone.
Aaron Murray
converted one key third-and-long, but tried to run for it on the next third-and-long and came up a couple of yards short, giving way to Blair Walsh to come on and kick his second field goal.
Still, it was a good sign for the Bulldogs, being able to keep the ball for half the third quarter.
It's what the Gamecocks did to them in the first half.
Moreover, Murray appears to be getting increasingly more comfortable.
September, 11, 2010
9/11/10
1:37
PM ET
COLUMBIA, S.C. – South Carolina took a
14-3
lead over Georgia into halftime Saturday at Williams-Brice Stadium.
Here's a quick halftime analysis:
Player of the half:
South Carolina freshman running back
Marcus Lattimore
has been a man. Not only that, he's been THE man for the Gamecocks with 103 rushing yards and both touchdowns on 21 carries.
Turning point:
It had to be the first possession of the game when the Gamecocks kept it 16 plays and shoved it down the Bulldogs' throats. Over and over again, Lattimore and sophomore receiver
Alshon Jeffery
ran through Georgia defenders. It was a woeful tackling exhibition by the Bulldogs.
What Georgia needs to do:
It's not real complicated. The Bulldogs have to win more battles up front defensively, start wrapping up when they go to tackle somebody and not let Lattimore gash them on first down.
September, 11, 2010
9/11/10
1:22
PM ET
COLUMBIA, S.C. -- I doubt Georgia defensive coordinator Todd Grantham will be adding up the missed tackles at halftime.
But if he did, it wouldn't be pretty.
The Gamecocks -- namely
Marcus Lattimore
and
Alshon Jeffery
-- have run through Georgia defenders and dragged Georgia defenders with them the entire first half.
Case in point: Cornerback Branden Smith had a chance to make a tackle on Jeffery on a third-and-3 play late in the second quarter, but Jeffery ran right through him for a 23-yard gain.
Of course, the 233-pound Jeffery will probably be running over a lot of cornerbacks this season.
September, 11, 2010
9/11/10
1:13
PM ET
Georgia's defense has done a better job of getting South Carolina into some third-and-long situations, although part of it has been the Gamecocks hurting themselves with bobbled snaps and a few other miscues
September, 11, 2010
9/11/10
12:47
PM ET
COLUMBIA, S.C. -- My early thoughts on Georgia-South Carolina are twofold.
For starters, South Carolina freshman running back
Marcus Lattimore
is even more powerful than I thought he was. I knew he had great acceleration, great vision and that knack for making the right cut.
But he's even better than I thought he was at pushing the pile and making yards after contact.
In South Carolina's 16-play scoring drive to open the game, Georgia simply couldn't get him on the ground.
As for Georgia, the Bulldogs' offensive line looks really good.
Washaun Ealey
has had all sorts of running room, and redshirt freshman quarterback
Aaron Murray
has had plenty of time to throw.
The two teams were 6-of-6 on third down until Georgia stalled near the end of the first quarter and had to settle for a Blair Walsh field goal.
It looks like the Bulldogs think they can run on the Gamecocks and wear them down.