NCF Nation:

Bulls-Panthers-092911
September, 30, 2011
9/30/11
1:40
AM ET
PITTSBURGH -- No more Iowas. No more Notre Dames. No more partial efforts.
As they prepared to open league play, each and every Pitt player talked about the way they had failed to play a complete game this season. They knew what type of talent they had on this team, that they let wins slip away against the Hawkeyes and the Irish after blowing fourth-quarter leads.
They may have been the only ones who believed they were capable of what unfolded Thursday night. Pitt unleashed four games' worth of frustration on No. 16 USF, dominating the previously unbeaten Bulls
44-17
.
Ray Graham
was the best player on the field, running over, around and through the Bulls' defense to the tune of 226 yards and two touchdowns en route to 303 all-purpose yards.
Tino Sunseri
, who has been one of the most criticized players in the Big East, had his best performance of the season. The offensive line, down two starters, outmuscled USF up front. The defensive line played aggressively, forcing
B.J. Daniels
into his worst game of the season.
[+] Enlarge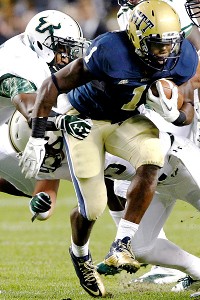 AP Photo/Keith SrakocicRay Graham rushed for 226 yards and two touchdowns and accounted for 303 all-purpose yards against South Florida.
Pitt was more physical. Pitt was smarter. Pitt played with confidence. Pitt looked prepared. Pitt looked like a Big East contender.
"That's what our team is supposed to look like," nose tackle Myles Caragein said. "That's the Pitt way."
Pitt struggled to play the Pitt way in the first four games of the season. Expectations were high for the Panthers heading into the season, with new head coach Todd Graham promising up-tempo, high-octane offense. But there was nothing high octane about what they did to open the season. Graham repeatedly criticized his players for failing to execute his offense, and none took the brunt of that criticism more than Sunseri.
But it was not just Graham who criticized him. If you had turned on talk radio in Pittsburgh or checked a Panthers message board this week, you would have found an increasing chorus of people who wondered why Graham didn't just bench Sunseri already.
Sunseri had struggled throwing the deep ball, working at a quick tempo and getting rid of the ball in a timely fashion. The low point came last week in a loss to Notre Dame, when the Panthers scored just 12 points and Sunseri was sacked six times. The lack of a real threat in the passing game impacted Ray Graham, one of the most dynamic players in the Big East.
Without any real threat to hurt teams with the pass, Ray Graham was essentially shut down in the losses to Iowa and Notre Dame. Sunseri, the son of a coach, realized he was not living up to his capabilities. His father told him so in a phone conversation last week, in which he told his son to try to do better to adapt to the changes of the new offense.
Sunseri was resistant to change. More specifically, he was resistant to execute some of the run options required of the quarterback in the Graham style offense. That is something Sunseri never had to do before, and contributed to the heavy number of sacks he had taken this season. So Sunseri met with co-offensive coordinator Mike Norvell this week to hammer out how exactly he could do a better job when called on to run.
You saw the results. Sunseri went 22-of-33 for 216 yards with a touchdown. He also ran for 35 yards, including a 9-yard touchdown. It is safe to say USF never expected Sunseri to have as much success running the ball as he did.
But the Bulls should have been better prepared for Ray Graham, who was unstoppable. Graham unleashed some series spin moves. He broke tackles. He made defenders fall away helplessly. It was his second 200-yard game of the season, and his incredible talent was showcased in every move he made. Not only that, he caught four passes for 42 yards out of the backfield and returned two kickoffs for 35 yards.
Rather than try to play his hurry-up style in the fourth quarter, Todd Graham stuck with Ray Graham and the run game. That was in contrast to the end of the Iowa game, in which the Panthers never sustained a drive and Iowa was able to come back.
"Ray's been phenomenal," Todd Graham said. "I thought it was his best performance.This kid's competitiveness is off the chart. He runs all over the field, and then he comes over there and he's cheering on the kickoff team, he demanded that he returned the kickoffs. I love how he's competing. These kids are transforming. I feel like we're close. It's just one game, but we're close. All of us are really coming together and I'm proud of them."
The Panthers had dropped two straight and were in danger of a three-game losing streak with one of the best Big East teams coming to town. It's too early in the season to declare anything a must-win, but as safety Jarred Holley said, "That was needed. Big-time."
It was just one game, as Todd Graham said. But an important game to open league play. Now the effort has to be sustained for the remainder of the season.
"We're on a mission," Ray Graham said. "To win the Big East."
September, 29, 2011
9/29/11
11:34
PM ET
PITTSBURGH -- It was the
Ray Graham
show on Thursday night, as the standout Panthers running back helped his team dominate previously unbeaten USF
44-17
.


Simply put, the Bulls had no answer for Graham, who notched his second 200-yard rushing game of the season with 226 yards and two touchdowns. He spun out of tackles. He ran through gashes in the middle of the defense. He stutter-stepped. He caught passes out of the backfield. Graham basically did what he wanted.
But he was not the only one who had a nice game.
Tino Sunseri
should have silenced his critics tonight with his play -- the best of the season. Sunseri made no major mistakes, and was hardly touched behind a much-improved offensive line. The Panthers have now won four straight over USF.
As for the No. 16 Bulls, they have come back to reality with a thud. Feasting on three straight overmatched opponents masked some issues. For all that has been said about
B.J. Daniels
' improvement, he did not have his best game of the season. The Bulls were able to keep pace in the first half, but once the game got out of reach, the Bulls had to abandon the run and Daniels couldn't shoulder the load. The defense was completely overmatched by an offense that struggled to gain any consistency all season.
And now, for the second straight season, the Big East is without an undefeated team headed into October.
September, 29, 2011
9/29/11
10:53
PM ET
PITTSBURGH -- The Panthers built on their lead against USF, taking a 34-17 lead into the final quarter. They continued to pound
Ray Graham
, but
Tino Sunseri
also has made some plays and is having his best game for the Panthers so far this season.
Through three quarters, Graham has 150 yards rushing and a touchdown. Sunseri is 21-of-31 for 199 yards and a touchdown but perhaps most importantly -- no interceptions and no egregious mistakes.
But remember, the fourth quarter has been a familiar bugaboo for Pitt this season, so this is the perfect opportunity for the Panthers to learn how to finish. The Panthers have allowed 49 fourth-quarter points this season -- more than double what they have allowed in the second and third quarters this season.
They blew a 24-3 lead to Iowa, and they gave up a fourth-quarter touchdown last week to Notre Dame to lose despite a valiant effort. But the Panthers seem to be playing inspired football tonight on both sides of the ball. The offensive line is just having its best game of the year, especially in pass protection. Pitt has punted just once all game.
The defense has gotten pressure on
B.J. Daniels
, who is having his worst game of the young season. Daniels has been harassed, and missed open receivers as a result. Because of the large deficit, the Bulls have had to all but abandon the run, which was a strength in the first half. USF only had 13 rushing yards in the third quarter.
September, 29, 2011
9/29/11
9:58
PM ET
PITTSBURGH -- Pitt leads No. 16 USF 20-17. Here is a quick halftime analysis:


Stat of the half:
102. First-half rushing yards for Pitt running back
Ray Graham
. How about one more -- 7.8 yards per carry for Graham.
Best player in the half:
Graham, and it is not even close. Graham has done it all for the Panthers, running and receiving to get them a halftime lead. On the final Pitt scoring drive of the half, he had his hands on nine of the 14 plays of the drive -- including the final six. Who scored on that drive -- Graham, on a 13-yard run. He has 165 all-purpose yards in the first half.
What USF needs to do:
The first order of business is getting a better push from the defensive line. Pitt is clearly beating the Bulls -- despite losing their best player, guard Chris Nix, in the first half. They also could use better tackling. On offense, stretching the field against a suspect Pitt secondary should be an option.
B.J. Daniels
has been taken out of his comfort zone at times.
What Pitt needs to do:
Keep pounding Graham. Coach Todd Graham may have come in saying "high octane" but Ray Graham is hard to stop right now. So keep him going. The defense has had problems containing the USF run as well, particularly up the middle. Plugging those holes should help.
September, 29, 2011
9/29/11
9:00
PM ET
PITTSBURGH -- Pitt leads No. 16 USF 10-7 after the first quarter. Here are a few quick observations:
The Pitt offensive line has done a good job of protecting Tino Sunseri so far, even after starting guard Lucas Nix left the game with an injury. He has not been sacked and has been mostly on target. The Panthers had two unfortunate drops from Mike Shanahan -- one that would have been a sure touchdown, another on the next play that most likely would have been a first down. But so far, they are doing a nice job of mixing the run and pass
Both starting running backs for Pitt and USF are running hard. Ray Graham and Darrell Scott have been able to gain big chunks of yards already in the game -- Graham with 55 total yards and Scott with 35. The USF defense gave up a lot of yards last week in the first half against UTEP, so we will see if the Bulls can make some adjustments.
The USF defense continues to be opportunistic. The lone Bulls' touchdown came off a Pitt fumble.
Kevin Harper, who has struggled at times this season, kicked a career-long 47-yard field goal to give the Panthers a 10-7 lead. That marks the first time USF has trailed all season.
September, 29, 2011
9/29/11
8:08
PM ET
PITTSBURGH -- Here are some final pregame thoughts before USF and Pitt kickoff from Heinz Field.
Quenton Washington will play cornerback for USF after missing last week's game against UTEP with a sore knee.
Watch for Pitt guard Cory King, who will be starting his second game in place of veteran Chris Jacobson. Coach Todd Graham mentioned this week that he wanted King to play better than he did last week.
USF is wearing all white for the game, and B.J. Daniels is one of the game captains for USF.
September, 29, 2011
9/29/11
7:17
PM ET
PITTSBURGH -- Kickoff is closing in between No. 16 USF and Pitt on a cool, breezy night at Heinz Field. Here are a few keys to the game.


For USF
1. Establish the run game. Pitt would love nothing more than to test the new-found confidence
B.J. Daniels
is playing with in his first road game since the opener at Notre Dame.
Darrell Scott
has shown some nice flashes, but it is one thing to have a big game against Florida A&M. It is quite another to have a big game on the road against a Big East opponent as solid as Pitt.
2. Harass
Tino Sunseri
. This is something that nearly everybody has had success doing early on in the season, a big reason why Pitt has given up 19 sacks. Sunseri has not looked comfortable running this offense, and USF needs to keep it that way. The Bulls have played decently well on the defensive line, and should have an advantage against a Pitt offensive line that has struggled at times.
3. Keep testing the Pitt linebackers. Pitt actually played its best game on defense last season, but the Panthers have shown problems covering underneath routes in the pass game. USF could take advantage of this with its fast receivers that have the potential to get big plays in the pass game.
For Pitt
1. Get to B.J. Daniels. Pitt has played well up front, and that has to continue against a Bulls team that has done essentially whatever it has wanted in the past three games. Much has been made of the way Daniels has played through the first three games of the season, but we will see how he responds if Pitt knocks him down a few times and keeps the pressure on. Todd Thomas and Ejuan Price are going to be huge in the contain game, should Daniels be able to escape the pocket when the pressure closes in.
2. Get Sunseri comfortable. That means getting a little more help from his teammates. Better play from the offensive line. More consistent play from the receivers. More of a reliance on
Ray Graham
. Sunseri has not been able to shoulder the entire offensive load thus far.
3. Get Graham going. Graham slowed down a bit in his past two games, but there is no question he has got to help the Pitt offense get going with some big plays.