NCF Nation:

Bulls-Panthers 102409
October, 24, 2009
10/24/09
5:44
PM ET
Posted by ESPN.com's Brian Bennett
PITTSBURGH -- Given that it's their last year of college and they have a bye week for Halloween, roommates
Bill Stull
and
Dorin Dickerson
are planning their costumes for next week.
"We're big scary movie guys," Stull said. "We might get some Michael Myers and Jason outfits."
| | |
| --- | --- |
| | |
| | Justin K. Aller/Icon SMI |
| | Pittsburgh quarterback Bill Stull led a frighteningly good Panthers team Saturday. |
Simply by wearing their home football uniforms on Saturday, the Pittsburgh teammates helped scare the bejeezus out of the rest of the Big East.
The No. 20 Panthers have always been viewed as having perhaps the most talented roster in the league, but they also held themselves back with silly mistakes or sloppy execution. This week, Pitt put everything together in a
41-14 pounding of South Florida
that wasn't even as close as that lopsided score indicates.
All things considered, it was the top overall performance of the Dave Wannstedt era. Pittsburgh (7-1, 4-0 Big East) is off to its best start since Dan Marino's senior year in 1982, and if it can approach this week's performance, it might well finish as the Big East champion.
The Panthers only have three more league games left, and the next one is Syracuse at home after the bye. They close the season at West Virginia, whom they've beaten two years in a row, and at home against Cincinnati Dec. 5 in what is shaping up as a possible de facto league title game.
"Up to this point, it's probably all talk (about) are you a contender or a pretender," Wannstedt said. "I think our guys now should get a taste that we should be a contender."
Put this win in context of the calendar, because October is the time of year when South Florida always wilts. Still, the Bulls have rarely gotten steamrolled quite like this.
Pitt never punted, led 31-7 at halftime and rested all of its starters in the fourth quarter after building a 41-7 cushion. The defense, which had allowed too many passing yards and hadn't created enough turnovers most of the season, bullied the Bulls into three interceptions and just 212 total yards. South Florida quarterback
B.J. Daniels
had as many picks (2) and sacks (2) as he did completions while going just 4-of-8 for 54 yards.
The other side of the ball proved even more impressive. The ballyhooed South Florida defensive line never got any leverage against the Panthers' offensive front. Stull had enough time to finish a Primanti Bros. sandwich before he threw and was never sacked. Did he even get hit?
"I got a little push one time," said Stull, who completed his first 11 passes and threw for 245 yards and two scores in the comfy pocket.
Pitt kept tight end
Nate Byham
in to block and left fullback
Henry Hynoski
in on third down for the first time all season to neutralize defensive ends George Selvie and Jason Pierre-Paul. Tackles Jason Pinkston and Lucas Nix did the rest.
"(Offensive line coach Tony) Wise put the challenge on me and Lucas, just to get our hands on them right away," Pinkston said. "We let Bill get hit a couple of times at Rutgers last week, so we took it on ourselves this week."
The lack of pressure opened all sorts of options. Offensive coordinator Frank Cignetti wisely force fed 6-foot-5 receiver
Jonathan Baldwin
, who had six catches for a career-best 144 yards. Freshman tailback
Dion Lewis
piled up 111 yards and two touchdowns while going over 1,000 yards for the season, and fellow freshman
Ray Graham
added 88 yards on the ground.
Apologies to Cincinnati and West Virginia, but Pittsburgh might have the most varied offensive weapons in the Big East.
"Shady (McCoy) was a great player, but he was our offense last year," Dickerson said. "That's what's difference about this team -- we've got a lot more playmakers."
"We've never had this type of balance," Wannstedt said.
Wannstedt said he heard an interview with Phil Simms on the radio while driving to Heinz Field, and Simms talked about how teams make mistakes to keep themselves average. He relayed that message to his players before the game, and Pitt played about as cleanly as possible, committing only two penalties and converting 11 of 16 third downs.
It looks like a team of horror-movie fans is developing a killer instinct.
"We definitely inflicted some pain today," Stull said.
October, 24, 2009
10/24/09
3:14
PM ET
Posted by ESPN.com's Brian Bennett

PITTSBURGH -- You'd better believe the rest of the Big East is taking notice of this score.
The Pitt Panthers, who have been inconsistent most of the season, put everything together today in a complete wipeout of South Florida, winning 41-14. If they play this way all the time, they can beat anybody.
It's the best start for Pitt since 1982. South Florida, meanwhile, needs to regroup after blowout losses to Cincinnati and now the Panthers. Once again, the Bulls just aren't ready to contend against the big boys for the Big East title, and it's fair to ask when that's going to finally happen.
I'll be back with more on Pitt's terrific showing after postgame interviews.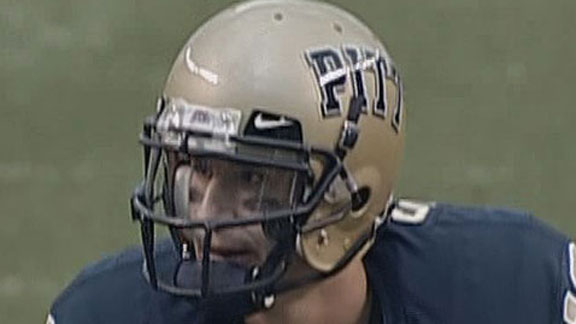 October, 24, 2009
10/24/09
1:59
PM ET
Posted by ESPN.com's Brian Bennett
PITTSBURGH -- Quick analysis of the first half at Heinz Field, where Pitt is dominating with a
31-7 lead
at intermission:
Stat of the half:
Pick any stat, and you can see why Pitt is in full command. I like this one. The Panthers are 6-of-7 on third down, and they got a field goal after the one time they were stopped.
Best player in the half:
Pitt quarterback
Bill Stull
completed his first 10 passes and is 13-of-17 for 191 yards and two touchdowns. He might even get a break in the second half. Special mention to
Dion Lewis
, who has 86 yards and two touchdowns and went over 1,000 for the season.
What South Florida needs to do:
Get on the bus, fly back to Tampa and wait for November to start. It's the third straight October disaster for the Bulls.
October, 24, 2009
10/24/09
1:43
PM ET
Posted by ESPN.com's Brian Bennett
PITTSBURGH -- True freshman
Dion Lewis
has gone over 1,000 yards in just seven and a half games, and he just put an exclamation point on his first half with a touchdown run.
Pitt is
crushing South Florida 31-7
. I never expected this kind of one-sided game. But the Bulls aren't doing everything right, while the Panthers look inspired. This has to be Pitt's best half of the season -- and easily the Bulls' worst. South Florida has committed eight penalties and looks completely lost on both sides of the ball.
The Bulls can kiss their Big East hopes goodbye, while Pitt is going to go to 4-0 in the league and looks like a power to be reckoned with.
October, 24, 2009
10/24/09
1:20
PM ET
Posted by ESPN.com's Brian Bennett
PITTSBURGH -- South Florida's players look stunned right now on the sidelines.
As well they should. Pitt has put on an almost flawless show offensively thus far en route to a
21-7 lead
. South Florida has just one good offensive drive, as
B.J. Daniels
did a lot of work with his legs, but otherwise it's been all Panthers.
The Pitt offense is controlling things up front with the line, and receivers are killing the Bulls' secondary. South Florida continues to help out with dumb penalties, including two straight for face masks down by the goal line.
If this keeps up, we'll have to debate whether Pittsburgh is putting it all together for the stretch drive, or if this is just another typical October collapse for South Florida. Right now, it's a little of both.
October, 24, 2009
10/24/09
12:34
PM ET
Posted by ESPN.com's Brian Bennett
PITTSBURGH -- Give the early edge to Pitt and its offensive line.
The Panthers took the ball 80 yards for a touchdown on their opening possession, as the offensive line kept South Florida's D-line at bay.
Dion Lewis
had some big gains, and
Bill Stull
found
Dorin Dickerson
for two 20-plus yard passes.
Pitt has used some two tight end sets and max protect blocking against the Bulls, and the running game is opening things up for Stull.
The Panthers have had some struggles deep in the red zone this year but broke out freshman
Mike Cruz
for a 2-yard touchdown pass. It was his first catch of the year. This team sure has a lot of capable tight ends.
October, 24, 2009
10/24/09
10:57
AM ET
Posted by ESPN.com's Brian Bennett
PITTSBURGH -- Greetings from Heinz Field, where it's homecoming for No. 20 Pitt against South Florida today.
It rained nearly all day Friday, but the skies are clear this afternoon and the temperature should be about 60 degrees by kickoff.
One bit of pregame news for South Florida: Running back
Jamar Taylor
, who's missed the entire season with a knee injury, will dress and is expected to play. How much of a role he will have is questionable.
What I like about this game is that, using strictly the eyeball test, these two teams might have the most impressive overall rosters in the Big East. I'm not saying they're the best or even the most talented teams. But they both have athletes who look imposing coming off the bus.
And the high level of skill players on both sides makes for some enticing matchups. A few I'm most interested in today are:
George Selvie vs. Jason Pinkston: The Bulls' senior defensive end had a great battle last week with Cincinnati left tackle Jeff Linkenbach and will face another of the league's best today. Jason Pierre-Paul will give sophomore right tackle Lucas Nix a handful as well.
Jonathan Baldwin vs. Jerome Murphy and Nate Allen: The Panthers' 6-foot-5 freak of an athlete at receiver will go against one of the league's better corners and perhaps its best safety. Murphy will have to play better than his mistake-filled game against Cincinnati.
Dion Lewis vs. Kion Wilson: The battle of 'ions. The Big East's leading rusher will surely be met several times by the Bulls' tough-as-nails middle linebacker. We'll see if Wilson has any more success wrapping up the 5-foot-8 ball of fury than other defenders have so far this season.
I'll have much more to come throughout the day from the Steel City.