June, 1, 2012
6/01/12
9:00
AM ET
The Big 12's second day of spring meetings came and went on Thursday in Kansas City, Mo., with no real news after the conference reaffirmed its commitment to 10 members on Wednesday.
Until the new configuration of the BCS is settled (i.e., what form will a four-team playoff take?), the Big 12 won't be taking much action, if any. Outgoing commissioner Chuck Neinas confirmed at least that much. Neinas also said he might stay on through July to relieve new commissioner Bob Bowlsby, who has other obligations on the United States Olympics Committee's board of directors. Bowlsby would still come aboard June 15, but there would be a period of overlapping commissioners.
"It was great to see Bob and Chuck together today at the head table, talking about things," Oklahoma State president Burns Hargis
told reporters Thursday
. "I think the transition will be smooth."
The league's presidents were in attendance Thursday and reaffirmed the athletic directors' stance on expansion.
[+] Enlarge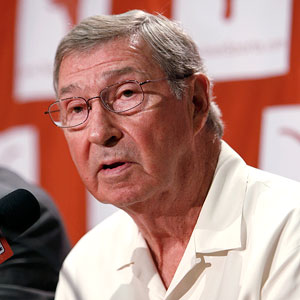 Erich Schlegel/Getty ImagesTexas athletic director DeLoss Dodds lit into the SEC and Big East during the Big 12 meetings.
"We're all very satisfied with 10 teams," Hargis said. "We're not shutting the door to any opportunity that might arrive. We're not in the market, we're not receiving applications. Our expansion committee is inactive."
To my knowledge, that's the first public confirmation that the expansion committee is indeed inactive. Interesting stuff. If Notre Dame becomes a possibility, it's clear the Big 12 would listen, and I'd assume that Florida State would engender a similar reaction, to a lesser extent. For now, though, the Big 12 maintains it's sitting at 10, even if no one (yours truly included) really believes it.
With Florida State officials expressing conflicting messages about the school's future conference affiliation, and the future of the Big East very much in flux, how could you?
A few other quick notes:
Texas AD DeLoss Dodds came out firing on Thursday, tossing barbs just about everyone's way. The SEC has Texas in its footprint? "They have a sliver of the east side," he told reporters. On the Big East? "I don't know if they qualify as a BCS [conference]. They've lost a lot of strength."

Neinas, on the league extending its six-year grant of media rights agreement, which is in progress, but not a done deal? "I don't believe the membership feels it's a gun-at-the-head arrangement. It's just a step forward moving together."

The league membership also didn't sound very fired up about re-instituting a championship game in the new iteration of the BCS. Reports John Hoover of the Tulsa World: "We have come to really appreciate the position we're in right now by not having a championship game," said Iowa State's Jamie Pollard, chairman of the Big 12 athletic directors. Said Dodds: "If this all happens the way we're visualizing today, I think there are some football coaches out there that will say, 'Well, what are we doing? We're 12-0, we've got to go into play a team that's 9-3, we've got a shot at getting beat.' Or, 'We win the game, it's a struggle, we get two kids hurt' -- I mean, those kinds of things are gonna be the reality of it."
Dodds might not have been making many friends Thursday, but he did make some among the league's coaches with that comment for sure.
Friday is the final day of meetings, but it's been a quiet week compared to the past two years at Big 12 spring meetings. For now, it's mostly just been the league's members drawing battle lines on where they stand in relation to the playoff and expansion.
May, 3, 2012
5/03/12
7:00
PM ET
The Big 12 made it official on Thursday afternoon: Stanford AD Bob Bowlsby is
the new man in charge of the Big 12
. He'll be introduced as commissioner at a press conference on Friday morning.

I'll be there at the Big 12 offices in Irving, Texas, for sure, so be sure to check the Big 12 blog for coverage.
Bowlsby will take over for interim commissioner Chuck Neinas on June 15. Neinas replaced fired commissioner Dan Beebe in September 2011.
"I am proud to have been selected to lead the Big 12 Conference as its Commissioner. The member institutions represent the best in competitive intercollegiate athletics and they occupy a prominent place in the history of sports in America," Bowlsby said in a statement. "I am excited to work with a very talented and committed group of Presidents and Chancellors to advance the Conference on the national sports landscape. Additionally, the directors of athletics, senior woman's administrators, faculty athletics representatives, coaches and conference office staff are among the very best in the country. The future is exceedingly bright and I look forward to engaging with my colleagues to achieve great things in the years ahead."
In a tweet, Kansas State AD John Currie said the league's presidents and search committee "hit a home run" with the hire.
"Bob Bowlsby is a highly respected and experienced college athletics administrator who has a reputation for integrity and excellence. His vision will be shaped by successful experiences at leading institutions in other BCS conferences which will serve the Big 12 very well as he leads us into a bright future," Baylor athletic director Ian McCaw said in a statement.
Oklahoma president David Boren also lauded the selection.
"His combination of skills makes him the ideal selection," Boren said in a statement.
Oklahoma State president Burns Hargis explained those skills in the Big 12's announcement of the Bowlsby hire.
"The institutions of the Big 12 wanted a Commissioner that could take us to the next era as a conference with the addition of TCU and WVU, and we unanimously agreed Bob is that leader," Hargis said. "The search committee looked for a candidate that has a vision for the next generation of college athletics, and his credentials and ideas exceeded this. He understands enhancing athletic competition among conference schools, the challenge of balancing academics and athletics for our student-athletes, and working with our broadcast and bowl partners."
September, 19, 2011
9/19/11
2:06
PM ET
Oklahoma's board of regents is scheduled to meet today, but Oklahoma State's board
will meet about 48 hours later, on Wednesday.
It's a special meeting scheduled to "consider matters relating to athletic conference membership."
University president Burns Hargis says the Cowboys have "attractive options" and are working closely with Oklahoma to make sure the "best interests of both institutions" are achieved.

He says the regents want to resolve the issue as soon as possible.
The Big 12 looks like it might be on its last legs, but we might get some concrete action for the first time in awhile when Oklahoma's regents adjourn today and Oklahoma State does the same on Wednesday.