NCF Nation:

Butch Davis fired
July, 28, 2011
7/28/11
9:00
AM ET
We'll know more about which direction North Carolina is headed following today's 11 a.m. press conference, but it's hard not to assume they're going the interim direction. Colleague Bruce Feldman
listed some potential candidates
for the long-term, and one name appears on both of our lists: Bud Foster. The Hokies' defensive guru has made no secret about the fact he wants to be a head coach, and his name has been tied to several openings in the past. It seems completely unreasonable to think an entirely new staff could come in just two weeks before the start of fall camp, but there will be plenty of speculation as to who will lead the Tar Heels on a permanent basis. I haven't heard anything confirming any names, so consider this a list of possibilities for North Carolina's next coach:

INTERIM
Everett Withers, defensive coordinator:
He has 24 seasons of coaching experience at both the collegiate and NFL levels. North Carolina's defense has been in the spotlight under Withers, and what he cobbled together in spite of the NCAA investigations was impressive.
John Shoop, offensive coordinator:
He has two decades of coaching experience in both the NCAA and NFL, and has been a coordinator for both. Carolina's offense improved under Shoop, but he's a quirky character who has been given his fair share of heat at times from UNC fans.
Sam Pittman, offensive line coach:
The title of associate head coach was added earlier this month, but Pittman has spent the past four seasons coaching the Tar Heels' offensive line. School spokesman Kevin Best said there's not necessarily a correlation between Pittman's recent promotion and the timing of the coaching change.
NEW HIRE
Bud Foster, Virginia Tech defensive coordinator:
Give the man a chance, willya?
Randy Shannon, former Miami coach:
He knows the ACC, he's a good recruiter, and the timing would work well if an interim were hired this year because Shannon isn't coaching this season. Shannon was reportedly interested in the Maryland job and wants to return to coaching.
Name your Bowden:
Terry or Tommy, both have plenty of coaching experience to offer.
July, 27, 2011
7/27/11
7:21
PM ET
Eight days.
That's how long North Carolina has to name an interim head coach, get a plan together and develop a new identity before the Tar Heels line up on the field for the first time as a team during fall camp.
[+] Enlarge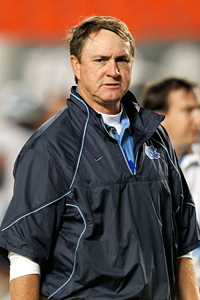 Joel Auerbach/Getty ImagesBucth Davis went 28-23 in four seasons at North Carolina.
For the second straight summer, North Carolina's football program has absolutely no idea which direction it's headed. Just two days after Butch Davis sat at a table at ACC media days and talked to reporters about the support he had from the university, he was fired.
And fans were concerned about the October date with the NCAA.
They should be more concerned about their leadership at the university, or lack thereof.
Because of the timing of this decision -- a move that could have and should have been made months ago, if not the very minute the NCAA announced UNC was charged with nine major violations -- North Carolina will enter the 2011 season in very much the same way it entered 2010: in limbo. There is little choice now but to hire an interim head coach for the entire season -- an unstable, temporary fix that will only put the team in a similar situation next season.
Last Friday, North Carolina announced the promotion of offensive line coach Sam Pittman to associate head coach. Pittman was expected to continue his role with the offensive line, but does that promotion now make him a frontrunner for the interim job? School spokesman Kevin Best said not necessarily, and that the future would be addressed at an 11 a.m. news conference on Thursday.
It feels like UNC has held more news conferences than it played games last season.
Ask almost any player on that roster about last season and he will tell you how it motivated them, how they rallied together for an impressive bowl season, considering the circumstances. The coaching staff, including Davis, deserved a lot of credit for managing the team through what could have been a season-destroying NCAA investigation that derailed the careers of 13 players. About two weeks before their season opener against LSU, nobody within the program knew who would be eligible to play and who wouldn't.
Now, less than two weeks before the start of summer camp, nobody within the program knows which players will accept this latest roadblock and who won't.
The good news?
UNC starts the season off with three home games against teams it should beat: James Madison, Rutgers and Virginia. Up front, the Tar Heels are one of the most talented teams in the ACC. Davis was expecting the best offensive line during his tenure in Chapel Hill. The defense, which was hit hardest last season by the NCAA investigation, will reload, especially where all four starters return on the line.
There is enough talent on this team to contend for the Coastal Division title, especially during a season in which three of the opponents in the division will also have a first-year starting quarterback.
The question is whether there is still enough motivation on this roster to overcome another summer of discontent.
July, 27, 2011
7/27/11
7:21
PM ET
By
ESPN.com staff
| ESPN.com
Joe Schad
shares his thoughts on North Carolina's decision

to cut ties with Butch Davis. Schad says the school gave up on trying to save the program's reputation with Davis as coach.
July, 27, 2011
7/27/11
6:10
PM ET
North Carolina coach Butch Davis
has been fired
, the school announced on Wednesday. Davis was informed by chancellor Holden Thorp and Director of Athletics Dick Baddour of the decision.

Davis
"To restore confidence in the University of North Carolina and our football program, it's time to make a change," Thorp said in a prepared statement. "What started as a purely athletic issue has begun to chip away at this University's reputation. I have been deliberate in my approach to understanding this situation fully, and I have worked to be fair to everyone involved. However, I have lost confidence in our ability to come through this without harming the way people think of this institution. Our academic integrity is paramount and we must work diligently to protect it. The only way to move forward and put this behind us is to make a change."
Instant reaction: Wow. Can't get over the timing of this. We just got back from media days, where Butch Davis represented the university and spent a good chunk of his time addressing the issue. I absolutely agree with the decision, but it should have come earlier. A lot earlier.
ESPN.com will have more analysis to come on this, so stay tuned this evening.