NCF Nation:

Byron Bullough
February, 6, 2014
Feb 6
1:00
PM ET
EAST LANSING, Mich. -- Michigan State had the most eventful signing day of any Big Ten team, complete with the
Malik McDowell
melodrama and
Darius Slade
's move to Ohio State. The Spartans also signed quite possibly coach Mark Dantonio's best class at the school. The defending Big Ten and Rose Bowl champions landed several standout defenders, a big running back and several stout linemen.
Dantonio was unable to discuss McDowell on Wednesday because the coveted defensive tackle hadn't sent in his national letter of intent, but the Spartans coach sat down with ESPN.com to review the rest of the 2014 class.
What stands out to you most about this class?
Mark Dantonio:
This is an excellent class from top to bottom in terms of the quality of players. We have tremendous people in this class. I've seen it by how they interact with each other. There's a reason they've been so successful. You see their character.
Have you seen the effects of last season on this class, or will it not be until 2015?
MD:
We did. There were some guys obviously who were [committed] as we entered the season. If you look at Michigan State football, we've been on the rise, maybe took a small step back [in 2012] but it's been a program right there, on the threshold of a championship. This year, we win the championship and recruiting gained momentum as we gained momentum on the football field. As it came down to the end, we were on some very highly recruited guys. We got some, some we didn't and that's OK. I appreciate their interest, but people make their decisions based on what's best for them, and again, I just hope that everybody can celebrate the day.
[+] Enlarge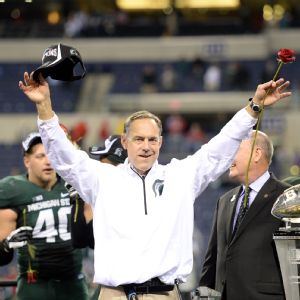 Allen Kee/ESPN ImagesWinning the Rose Bowl has resulted in a recruiting boost for Mark Dantonio and Michigan State.
Are you encountering players who are further along in their development now than a few years ago?
MD:
I think so, but the longer you're at a place, the deeper you go in the recruiting process in terms of how long you've looked at a guy. Recruiting has become very accelerated, and there are certain individuals you see as a sophomore, and you've watched them grow. Guys like
Montae Nicholson
, who I thought was a national recruit but we were on him early, we knew about him, had relationships with he and his family. A big-time football player.
Brian Allen
is another guy who's an outstanding football player. I don't know what his record is as a wrestler. He was 48-0 last year, I think maybe he's lost once this year, so he's outstanding with leverage and very athletic. We've got guys who fit our needs, but they're also high-level players.
Craig Evans
,
Enoch Smith
it doesn't take long to watch them and you know as a football team, you want them.
Are you seeing the effects of what you've done on defense in recruiting?
MD:
We are. We've been the top defense in this conference for the past three years. I think we're one of two teams in the nation that have been in the top five in the four major categories for the last three years. You see collectively, people want to be a part of that. They see guys have an opportunity to go to the NFL from our defense. They're succeeding, they're impacting the team. And on the offensive side, we've got some outstanding guys as well.
[Gerald] Owens, the big back, where does he fit into what you do?
MD:
He's like T.J. Duckett. He reminds me of T.J. a lot. I'd watch his film, and then I'd put on T.J.'s film when I was here in the past. You'd see very similar running styles.
You have another Bullough in Byron. What does he bring at the same position as his brothers?
MD:
When you have guys that have played for you before, like Max and Riley and now you have Byron, you have
Jack Allen
and now you have Brian Allen, it sends a message to me that what we're doing here is in the best interest of their sons. It tells a story that what we are doing is being done the correct way. We're not just being good football players and developing them, but we're developing the person, too. It was the same thing when we had Brent Celek and we got Garrett Celek. When we have families and they send their next son here, it's a statement.
What were your big needs in the class?
MD:
Linebacker was a need because we lost some great linebackers this year. Defensive line's a need as well, just because we lost really three good inside players. I think we addressed that with three outstanding players in
David Beedle
and Enoch Smith and Craig Evans. David is a physical guy, 6-4 plus, 290 [pounds], on a state champion team at Clarkson High School. He has a presence and he's instinctive. For a high school kid to bench-press 225 [pounds] 30 times, it's pretty impressive.
You had a couple of guys already enrolled. Are they in better shape to contribute earlier?
MD:
Yeah.
Matt Sokol
comes in as a tight end. He was a quarterback throughout high school and played a little bit of tight end. He's been a mismatch guy. He's 6-4, 6-5. He's going to develop. And Chris Frey is a very instinctive guy. You see him playing fullback, tailback, linebacker, corner on his high school team. He can take a game over. High-energy guy. Reminds me a lot of Chris Spielman when I was at Ohio State. He's just a football player, and he can run, a powerful, explosive guy.
What's the one theme that stands out most about this class?
MD:
This group was very connected. That's through social media and everything else, even some of the guys who may have opted to go other places at the end, they were connected. This is an outstanding class, maybe our best class in seven years. That's a huge statement, and I don't mean to disrespect our other classes. Time will tell. You come in a lamb and you've got to go out a lion. That's how it is.
August, 9, 2013
8/09/13
9:00
AM ET
EAST LANSING, Mich. -- Wearing big snowsuits to deal with the harsh Michigan weather,
Max Bullough
and his family -- three siblings and two parents -- piled into the car one winter to hunt for a Christmas tree.
Max waited for his chance as they searched. When he had an opening, he tackled his younger brother, Riley. Riley tackled his younger sister, Holly. Then they all piled on the third child, Byron.
Welcome to life with the Bulloughs, where everything is competitive and athletic. Max going on a tackling spree is just as likely with his family -- where it is mostly playful -- as it is at Michigan State, where he is the Spartans' top linebacker and emotional core.
"He would always tackle everyone," Holly said. "... Really playfully, though. Ever since I could remember, they would be playing football and tackling each other, everywhere they went."
In the Bullough backyard as kids or in the basement on their knees playing knee football, it was the same.
Holly, the youngest and already a high school state champion in Michigan in the 800 and 1,600 meters as a sophomore at St. Francis in Traverse City would snap the ball to the quarterback, Riley, the second child and now a redshirt freshman at Michigan State. He'd then look for Byron, now a senior at St. Francis and a MSU commit. Defending Byron would be Max, the oldest.
In the Bullough family, now three generations strong at Michigan State and four children deep as the kids of Shane and LeeAnn Bullough, one thing is clear.
Max Bullough is boss. His family even has a name for him: Tyrant. LeeAnn coined the nickname when Max was a child because, well, he was a bit demanding.
"You don't tell Max what to do," LeeAnn said. "He'll do what he wants to do in his own time. When he went off to college, Shane and I were like, 'Phew, I can't wait for the coaches to have to deal with him."
"But he's successful because of that, too. That's just who he is."
[+] Enlarge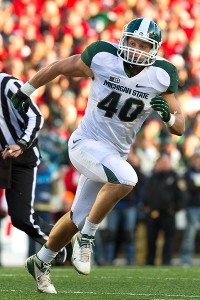 Jeff Hanisch/USA TODAY SportsMax Bullough was nicknamed Tyrant by his family, which has deep roots at Michigan State.
It has worked at Michigan State. Bullough became one of the Big Ten's top linebackers with 111 tackles and was a Spartans captain last season. At home, Byron and Holly would follow Max everywhere, listening to everything he said.
Max's personality led to some yelling when the Bulloughs were younger. Riley, the antithesis of Max as an aspiring musician and family joke-teller, learned how to agitate his brother. He'd fake being injured -- crying after Max threw a rock at him or if Max was on his neck when they wrestled -- to see Max get yelled at.
Only later would Shane and LeeAnn discover Riley was faking the whole time.
"He got yelled at," Riley said, laughing at the memory. "I did that all the time."
The relationship between the brothers, which was never bad, matured after Max left for Michigan State. The instigating stopped -- except when Max returned to Traverse City from Michigan State and Riley convinced LeeAnn to make chicken for dinner because he knew Max was sick of his staple meal from East Lansing.
Riley became the oldest child in the house. Byron took Max's room. Riley took Max's literal seat at one head of the Bullough dinner table, an honor reserved for the eldest Bullough child at home -- a tradition Max started.
Riley and Max talked more. Max texted Riley to get high school updates. Riley asked about Michigan State. When Riley committed to MSU, the relationship strengthened even more.
They'd play the same position -- linebacker -- but they would also be with each other all the time, eventually living together this year.
"He's my best friend," Max said. "He's someone I obviously have gone through my whole life with and he can say the same about me. We act a little more like brothers than best friends, but it is all with good intentions.
"I'm his number one fan out there."
Now, Max will actually watch him. Michigan State coach Mark Dantonio moved Riley to tailback in the spring. He liked his toughness. His ability to gain extra yards. Being a Bullough, Dantonio knew Riley would provide that at linebacker or tailback.
An idea of the move percolated first in a Michigan State coaches meeting, when they kicked around the idea of moving Riley to tailback. His linebackers coach, Mike Tressel, knew Riley had ball skills from linebacker drills. Dantonio had the idea stuck in his head after using Riley to simulate Iowa's
Mark Weisman
to prepare for the Hawkeyes last season. Dantonio's prior time at MSU also helped. Then, the Spartans moved a little-used linebacker named T.J. Duckett to tailback.
"With two weeks left to go in spring, I just walked in and said, 'We're moving him over there. He'll play both sides today,' " Dantonio said. "We just about wore him out."
Tressel knew the move would stick when Dantonio brought it up. Tressel knew Riley could catch. What surprised Tressel was Riley's natural vision and instincts.
By the beginning of preseason, Riley became Michigan State's top running back on the depth chart, so the possibility of a Bullough starting at two of the premier positions at Michigan State at the same time is a definite possibility. Riley always liked offense better. He just never thought he'd get a shot at it.
The fifth and sixth members of the Bullough family who played football at Michigan State might end up starting at the same time.
"How many people get to do that, where they would both start and pay quite a bit," said Shane, a MSU captain in 1986. "On both sides of the ball. We always joked it would be hard for us to get a restroom break in games this fall.
"But it'd be great."
Max doing the hitting. Riley being tackled. A Bullough on the field. Some things with the Bulloughs don't change.