August, 1, 2012
8/01/12
7:00
PM ET
Mike Leach is funny when you asked him which Pac-12 coach he'd like to take hunting. He's funny you ask him to compare his team leaders to famous military generals. He's funny when you ask him about his affection for pirates. Heck, Leach is funny -- and often insightful -- about a variety of things. He's just not going to tell you much about his football team.
Leach and the Cougars begin preseason camp Thursday not unlike they began spring practices: as mostly a blank slate. The depth chart that was included in the Cougars' 2012 media guide doesn't seem to be a terribly valuable document, at least to Leach. When you ask the Cougs' new coach about areas of concern, deepest positions, thinnest positions and incoming players who have a chance to earn playing time, it's not wise to expect much in the way of details or specific names.
[+] Enlarge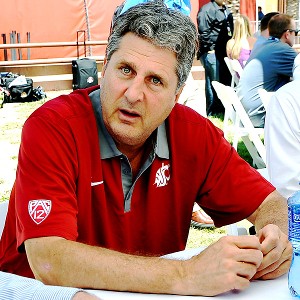 Jayne Kamin-Oncea/US PresswireMike Leach begins his first preseason at Washington State on Thursday, and much of the depth chart is uncertain.
"You earn your job every day," he said, mostly speaking to all depth-chart questions. "The starting lineup is going to be based on performance, not how many years you've played or how old you are."
One thing Leach isn't terribly funny about: team discipline. If his players didn't take his emphasis on it seriously in January, they surely will now. Last week, he dismissed projected starting defensive tackle Anthony Laurenzi after he was arrested for allegedly shoplifting a pair of headphones from a Walmart. He was the third likely starter Leach cut loose from his defensive front seven, which wasn't terribly deep and stout in the first place. He'd previously booted linebackers
C.J. Mizell
and
Sekope Kaufusi
, who were both returning starters.
"There's nothing fun about it," Leach said when asked about kicking players off the team. "You'd like to save everyone."
Laurenzi was listed as the starter at left defensive tackle and the backup at nose tackle. His backup is senior
Steven Hoffart
, though senior
Lenard Williams
could move over from the right said, where he backs up
Xavier Cooper
on the depth chart. Or a new guy could break through. Leach wouldn't project who was first in line to work with the first-team defense. He, in fact, wasn't even ready to agree Laurenzi was a likely starter.
"It's difficult to say he had the first crack at it to begin with," Leach said. "We played a variety of people there and will continue to. We didn't have a set group of starters there."
Leach also professed to "feel good" about his front seven, though it appears to be his team's biggest question mark.
Leach said most of preseason practices will be focused on fundamentals, with game prep not beginning until around 10 days before the visit to BYU on Sept. 1.
Leach did say he'll wait only a week before deciding who his No. 1 quarterback will be, though it seems almost certain that will be
Jeff Tuel
. At that point, Tuel would get two-thirds of the reps with the first-team offense and his likely backup,
Connor Halliday
, would get the other third.
Note
: Leach wouldn't comment on the
expected arrival of freshman cornerback
Raymond Ford
, who was previously headed to California.
March, 28, 2012
3/28/12
9:25
PM ET
Mike Leach is not afraid of the weather in Pullman, Wash., which could be a bit nippy --
and perhaps snowy
-- for the first day of Washington State's spring practices on Thursday.
Heck, it's not like his first spring practice leading the Cougars could be more inclement than his first leading Texas Tech in 2000.
Cold? Snow? Not as bad as hail.
"It's flying off their helmets like popcorn," Leach said recalling his first practice in Lubbock.
[+] Enlarge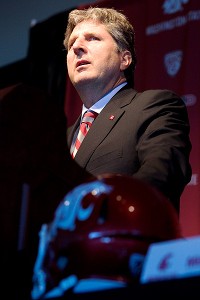 AP Photo/Dean HareTight ends typically don't excel in Washington State coach Mike Leach's system. That could change in 2012.
Or do you know what happens when a hard rain meets a dust storm?
"A couple of times a year there, it rains mud," he said.
Leach the raconteur took control of his chat with reporters Wednesday afternoon and was, as usual, highly entertaining. But getting specifics from him about what he sees with his personnel wasn't part of the plan, and it led to briefer answers. Of course, that makes sense because Leach isn't sure what he's got as he installs his "Air Raid" offense and a 3-4 defense.
Evaluation is obviously a top priority, but Leach used the terms "precise" and "efficient" repeatedly.
Or, as he said, "Getting as good as we possibly can at practicing."
The first order of business is finding a quarterback. Leach said reps will be split 50-50, at least during the early-going, between
Jeff Tuel
and
Connor Halliday
. When asked if Halliday, who suffered a lacerated liver against Utah on Nov. 19, was ready to practice full-go, Leach said, "I assume."
Leach said the top two priorities for his QBs will be decision-making and accuracy. "Those two you really can't compromise on," he said. Quick feet also help, particularly for a team that has some questions on the offensive line.
Leach pointed out that he didn't pursue a JC QB because he's pretty satisfied with what he's seen on tape of Tuel and Halliday. "It's not like you're starting from zero," he said.
He seemed intrigued by his talent at receiver, noting that the crew was taller than what he typically had at Texas Tech. And, yes, he's been impressed by
Marquess Wilson
.
"What I like about him is he always wants the ball," he said.
On the other side of the ball, it will be interesting to see how things develop, particularly if the Cougars want to make new coordinator's Mike Breske's 3-4 alignment their base scheme. After dismissing both
C.J. Mizell
and
Sekope Kaufusi
from the team -- both returning starters -- there's a decided lack of depth at linebacker. Count on there being some position shuffling, both from the backhalf and the line. Leach, in particular, seemed intrigued with
Travis Long
, who has started the previous three years at end. The 6-foot-4, 256-pound senior might be athletic enough to play an outside linebacker spot.
"He can do a lot of things," Leach said. "Moving him around as a player is pretty tempting."
It's obvious there will be a lot going on this spring in Pullman, so the often-challenging weather is not a chief concern. Getting guys into the right spot is.
Said Leach, "There isn't anybody who's not being evaluated."
January, 19, 2012
1/19/12
9:00
AM ET
The coaches announced their All-Pac-12 team
here
, and the Pac-12 blog followed shortly thereafter
here
.
We even created an
All-Underrated Team
.
Now we recognize our Most Improved Players on both offense and defense.
[+] Enlarge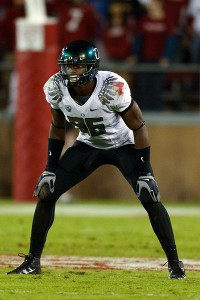 Jason O. Watson/US PresswireAll-Pac-12 junior defensive end Dion Jordan collected 7.5 sacks in 2011.
Defense (tie): Dion Jordan, DE, Oregon
Jordan went from single-game starter in 2010 to first-team All-Pac-12 as a junior in 2011. Jordan had 5.5 tackles for loss and two sacks in 2010, when he showed promise after converting from tight end. He lived up to that promise in 2011 with 13 tackles for loss and 7.5 sacks. Jordan figures to be a leading candidate for Pac-12 Defensive Player of the Year in 2012, particularly if he gets his skinny butt into the weight room and eats a lot of steak.
Star Lotulelei, DT, Utah
Lotulelei started the final three games of the 2010 season and finished with 21 tackles with 2.5 tackles for loss and 0.5 sacks. In 2011, he won the Morris Trophy as the Pac-12's best defensive lineman, as voted on by his peers -- the guys who had to block the 325-pounder. He earned first-team All-Pac-12 honors and was the lineman of the game in the Utes' Sun Bowl victory over Georgia Tech. He finished with 44 tackles, including nine for loss, but his main job was occupying two blockers so linebackers could make tackles. The Utes ranked third in the Pac-12 -- and 20th in the nation -- in run defense.
Honorable mention
:
Conroy Black
, CB, Utah;
Ben Gardner
, DE, Stanford;
Trevor Guyton
, DE, California;
D.J. Holt
, LB, California;
Josh Kaddu
, LB, Oregon;
C.J. Mizell
, LB, Washington State;
Nick Perry
, DE, USC;
Eddie Pleasant
, S, Oregon;
Jordan Poyer
, CB, Oregon State; Nickell Robey, CB, USC;
Trevin Wade
, CB, Arizona
Offense
:
Gerell Robinson, WR, Arizona State
Robinson went from bust to bust-out in 2011. In 2010, the once-touted recruit caught just 29 passes for 387 yards. He was best known for inconsistent hands. And at the start of 2011, he also caught an early case -- or two -- of the dropsies. But Robinson caught fire just as the rest of the Sun Devils started to tank, hauling in more than 100 receiving yards in six of the final eight games, including 13 receptions for 241 yards in the Las Vegas Bowl loss to Boise State. He finished with 77 receptions for 1,397 yards and seven touchdowns. His 107.5 yards receiving per game ranked ninth in the nation, and his 18.1 yards per catch was tied for first in the Pac-12. His late-season surge earned him a spot in the Senior Bowl.
Honorable mention
:
Mark Asper
, OG, Oregon;
Matt Barkley
, QB, USC;
Matt Kalil
, OT, USC;
Brock Osweiler
, QB, Arizona State;
Isi Sofele
, RB, California;
Markus Wheaton
, WR, Oregon State;
Marquess Wilson
, WR, Washington State;
Robert Woods
, WR, USC
April, 28, 2011
4/28/11
6:00
PM ET
Washington State has released its post-spring depth chart --
link here
-- and there are a number of changes from the pre-spring depth chart worthy of note.
Offensive linemen John Fullington and Wade Jacobson switched starting spots, with Fullington moving from right tackle to left guard and Jacobson replacing him at right tackle. Also on the offensive line, Rico Forbes moves from backup left tackle to backup right tackle.
Andrei Lintz is No. 1 at tight end after Skylar Stormo moved from No. 1 tight end to backup defensive end behind Travis Long.
Redshirt freshman Connor Halliday is now the No. 3 quarterback after starting spring at No. 4.
Ricky Galvin is listed at backup running back behind Logwone Mitz.
Toni Pole has move from No. 3 to starting left defensive tackle. Anthony Laurenzi is No. 1 at right defensive tackle, ahead of Brandon Rankin, who sat out spring due to injury.
Mike Ledgerwood is now No. 1 at middle linebacker, ahead of C.J. Mizell, who started spring at No. 1.
Damante Horton is No. 1 at one cornerback ahead of senior Aire Justin, a returning starter, though there might be a complicated explanation for that.
What jumps out of this depth chart? There's way more "maybe" here than in the previous three seasons under coach Paul Wulff.
For one, all five offensive linemen have starting experience and four are seniors. That's typically a good thing.
The Cougars have six receivers who can play, topped by
Marquess Wilson
, and a veteran quarterback in three-year starter
Jeff Tuel
. Another good thing.
The defensive depth chart is just that: There's some depth. There's far less "Who?" when reviewing the two-deep. Officially, eight starters are back, but there's plenty of playing experience. Big question will be if JC transfer Ian Knight, No. 1 at right defensive end, is ready for the grind of a Pac-12 schedule.
Does the cumulative effect of this mean the Cougars are a threat in the Pac-12 North? Probably not. But this is a roster that can compete and perhaps win a handful of games in the Pac-12.
Maybe.
November, 15, 2010
11/15/10
7:07
PM ET
Washington State's
31-14 win
at Oregon State was impressive and significant in many ways, not the least of which was it ending a 16-game Pac-10 losing streak.
But let's face it: Planets often align in strange ways in the college football universe. Just in the past few years we've seen FCS teams win at powers such as Michigan and Virginia Tech. We saw Stanford, as a 41-point underdog, win at USC with its backup quarterback. We saw Alabama get physically manhandled by Utah in the Sugar Bowl.
[+] Enlarge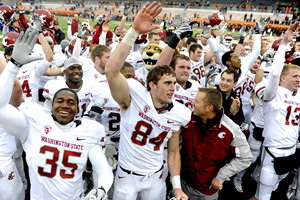 AP Photo/Greg Wahl-StephensWashington State's win against Oregon State may finally be a sign that the program is headed in the right direction.
This year, we've see Kansas lose to South Dakota State in its opener, beat then-No. 15 Georgia Tech in Week 2, then lose to Baylor and Kansas State by a combined count of 114 to 14 on consecutive weekends, then score 35 consecutive fourth-quarter points to beat Colorado 52-45.
So freaky, unpredictable stuff happens all the time.
But nothing about the Cougars win feels "freaky." And this victory -- their first on the road since 2007 -- is about more than a long-awaited payoff for the Cougars. They have repeatedly played well into the second half and even the fourth quarter this season.
To me, the most significant reference point that highlights their improvement is the 42-0 loss at Arizona State on Oct. 30. That's the point in which many, including me, thought the Cougars were waving the white flag over coach Paul Wulff's tenure.
That game seemed to indicate exhaustion and malaise had set in. It seemed to say that Wulff's players had lost their faith and, subsequently, their will. On the Tuesday Pac-10 coaches conference call after that dreadful performance, Wulff said a number of things that could have been used to make a case against him.
Said Wulff, "It felt like we played with a tank that was empty with emotion."
Said Wulff, "We just didn't get a response."
Said Wulff, "That ultimately comes back on me. I've got to get us ready emotionally."
Said Wulff, "I try not to gauge the state of the program on one game."
Said Wulff, "I'm not really worried about retaining for next year. We're in year three of a major rebuilding project. I don't know if I'd state it we have to win these games. Were playing in a lot of ways to our potential and what we are capable of doing. We're close."
All of that could could easily fall into a column about why Wulff shouldn't be back in Year 4. Wulff was being himself -- an honest, stand-up guy -- but it wasn't hard to construe "ultimate defeat" from his words.
But, instead, this is a column about why the only sensible decision is to retain Wulff.
In a nutshell, he got the feckless team that lost 42-zip at Arizona State to become the team that won at Oregon State 31-14 two weeks later. One word: leadership. Wulff got his players, who had fought hard all year -- until the Arizona State game -- to reinvest after they'd hit an emotional nadir. If you've ever been in charge of a group of people, you know how hard that is. Wulff could offer them little incentive; a bowl game wasn't a possibility. His players probably were aware his job status was shaky, so if they quit on him, they'd get a fresh start in 2011 with a new coach.
[+] Enlarge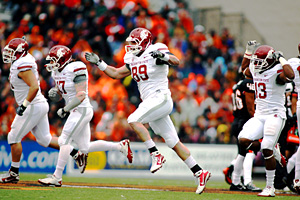 Craig Mitchelldyer/US PresswireWashington State's defense limited the Beavers to just 261 yards of total offense.
All Wulff could say was, "We're in this together. Let's show some pride and compete." And guess what happened? The message stuck and then resonated in what was produced in Reser Stadium.
According to the Sagarin Ratings, Washington State has played the second-toughest schedule in the nation, one that has included No. 1 Oregon, No. 6 Stanford, No. 10 Oklahoma State, No. 20 USC (AP) and No. 22 Arizona. Moreover, they've played 11 consecutive weeks without a bye.
That's at tough road, period. But the Cougars have done it playing a bevy of young players. Of the 60 Cougars who played at Oklahoma State in the season-opener, 24 were making their college football debuts. The Cougars have played 10 true freshman this season. Of the 113 players on the Cougar roster, only 17 have been in the program more than three years, or prior to head coach Wulff's arrival in December of 2007. On defense alone, 14 of the 22 players on the current depth chart are freshmen or sophomores.
Oh, and that defense, which is statistically terrible based on the entire season, held Oregon, Arizona and Stanford below their season averages for both points and yards. It held California to just 20 points. And it completely stuffed Oregon State.
In other words, maybe we should have seen the Corvallis Cougars Crusade coming.
Wulff inherited a disaster -- things were much worse than the average fan realized -- and his first two seasons ended up exactly that way. But the black smoke is clearing, and a program appears to be reemerging.
Every coach in the Pac-10 has remarked that the Cougars are different this year -- faster, more physical and less sloppy. The list of young talent coming back in 2011 is impressive: quarterback
Jeff Tuel
, wide receiver
Marquess Wilson
, Safety Deone Bucannon, defensive end Travis Long, defensive tackle Brandon Rankin, linebacker C.J. Mizell, etc.
We're not ready to proclaim a return to the run from 2001-2003 when Washington State finished ranked in the the final top-10 three consecutive seasons. The Cougars in a bowl game in 2011, in fact, probably will be seen as a longshot.
But you saw what just happened, didn't you? We just typed "Cougars" and "bowl game" in the same sentence and you read it without flinching or doubling over in laughter.
September, 12, 2010
9/12/10
3:52
AM ET
Who deserves a sticker on his helmet for a job well-done?
Mike Mohamed, California
: Mohamed led a strong Bears defensive effort in a
52-7 victory
over Colorado with 14 tackles and a pick-6 interception for a TD.

Darron Thomas, Oregon
: How did Thomas handle his first road start in front of 100,000-plus in Neyland Stadium? He completed 17 of 32 passes for 202 yards and two touchdowns in a
48-13 win over Tennessee
.
C.J. Mizell, Washington State
: Mizell, a new starting linebacker, returned an interception 62 yards and had a key fourth-down sack in the fourth quarter of the Cougars
23-22 comeback win over Montana State
.
Jake Locker, Washington
: A week after a middling performance at BYU, Locker completed 22 of 33 passes for 289 yards with four TDs and no interceptions in a
41-20 win over Syracuse
.
Stanford's defense
: The Cardinal
pitched a road shutout
for the first time since 1974, holding UCLA to just 233 yards.
February, 4, 2010
2/04/10
4:46
PM ET
Washington State signed a
class of 22
that ranked at or near the bottom of the Pac-10.
Still, coach Paul Wulff was satisfied. He said the class upgraded the Cougars size and speed.
"I think this is as good a class as has come here," he said.
Top prospects
: Linebacker
C.J. Mizell
, a former Florida State signee, sort of came out of nowhere. You can
read about him here
. Offensive linemen
David Gonzales
and
Wade Jacobson
, both junior college transfers, should compete immediately for playing time.
Bobby Ratliff
will upgrade the Cougars receiving corps. Tight end
Aaron Dunn
will play next year.
Under the radar
: There's a lot of that with this class, but it's notable that there were plenty of "under the radar" guys playing their way into the NFL when Washington State was winning. More than a few people think quarterback
Connor Halliday
is underrated.
Issues?
The Cougars took a big hit when tight end Asante Cleveland backed out of his commitment and signed with Miami. Also, Wulff was clearly miffed that committed lineman Maxx Forde -- son of a former Cougar player -- decided to sign with Idaho. It's also a bit worrisome that the class only had one defensive lineman and, of the three offensive linemen, only one is a high school player.
Notes
: One of the Cougars best new players may be JC defensive end Brandon Rankin, a 2009 signee who's already enrolled. ... The class features five wide receivers, which should help Wulff run the shotgun, no-huddle spread offense that he brought from Eastern Washington. ... Running back
James Montgomery
, who missed last season after major surgery on his calf, may be ready to return for the 2010 season. The California transfer was the Cougars No. 1 running back before getting hurt. ... Wulff said told reporters he may still sign a couple of JC players. ... The Cougars signed players from four states, including eight from the Bay Area and three from the Spokane area.