March, 27, 2014
Mar 27
10:00
AM ET
AUBURN, Ala. -- When
Nick Marshall
sat in the film room and watched last year's tape with offensive coordinator Rhett Lashlee, he saw all of his flaws. He wasn't making the right reads. He was handing the ball off when he should've kept it. He was overthrowing his wide receivers or throwing it behind them. He was tentative at times, afraid to make a mistake.
He didn't look ready.
[+] Enlarge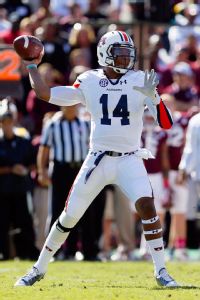 Soobum Im/USA TODAY SportsAuburn's coaches are looking for significant improvement in Nick Marshall's completion percentage.
To his defense, Marshall showed up at Auburn over the summer and had very little time to learn the offense. He had his natural abilities, but playing for Gus Malzahn in the SEC was a far cry from his days of playing in junior college.
"If somebody could go out there and try to play quarterback for us I think it would blow their mind," Malzahn said. "Just pre-snap what they have to do, communication, get everything straight before they even look at the defense. There's a lot to it."
After watching tape from earlier games against LSU and Texas A&M, Lashlee fast forwarded to the Tennessee game. It was like night and day. Marshall completed his first two passes, and midway through the first quarter, he dropped back, went through his progressions, looked off a safety and threw a gorgeous touchdown pass to
C.J. Uzomah
.
Those turned out to be his only three completions in the game, but you could see the poise, the moxie. He was confident again and in control of the offense.
Two months later, Marshall had maybe his best game passing of the season when Auburn played Florida State in the BCS title game. He went 14-of-27 for 217 yards with two touchdowns and one interception in a 34-31 loss to Seminoles. The quarterback who showed up that game looked completely different than the one who was missing throws early in the season.
Fast forward again. Spring practice has started for the Tigers, and the quarterback who sits in the film room with Lashlee is even further along than the one who lost in Pasadena. It's only been a week, but Marshall already looks like he's in midseason form.
"It's just the way he's carrying himself," Malzahn said. "You can tell he's getting more comfortable, and the game's a lot slower for him. He's had a solid first week."
As the game slows down, Marshall's passing picks up. He missed his fair share of deep balls last season, but according to his receivers, he's been putting them on the money this spring. He's also been crisper on the short routes and looks more comfortable in the pocket.
"I'm seeing an NFL-caliber quarterback right now, and it's just the spring," senior receiver
Quan Bray
said. "He's making throws that he wasn't making last year."
"Nick's throwing the ball real good," fellow target
Sammie Coates
added. "It's going to be a shock to the world what he's going to do when he puts it all together."
It's not like running the ball didn't work for Auburn last year. The Tigers led the nation in rushing, and their offense carried them all the way to the national championship game. However, with an experienced Marshall and a talented group of skill players around him, Malzahn expects his quarterback to throw it more this fall.
"Nick's a very talented player, not just running, he can really throw it," Malzahn said. "I know I said that a lot during the fall, but now that he's got a spring, he'll be more comfortable, more reactive and we feel very good about him throwing the football."
Just because Marshall was known more for his rushing abilities last season doesn't mean he doesn't enjoy throwing it. He threw for 3,142 yards the year before while in junior college.
But the goal is not just to have Marshall throw it more. The goal is to have him throw it more and throw it at a higher completion rate. Last week, Lashlee said he wants his quarterback to complete between 65 and 70 percent of his throws. That would be a significant improvement from a year ago when Marshall had a 59.4 completion percentage.
"It's a goal," Marshall said. "It should be a goal. The expectations for us are high this year. I'm just going to do what the [coaches] tell me and complete the passes like they want me to. I'll go through all my progressions and not turn the ball over."
The expectations are high for Auburn this year, and its success rides on both the legs and the arm of its quarterback. The Tigers will go where Marshall takes them.
December, 31, 2013
12/31/13
9:30
AM ET
Editor's note: Each day this week Florida State reporter David M. Hale and Auburn reporter Greg Ostendorf will preview a position battle in Monday's VIZIO BCS National Championship Game. Today's matchup is between Auburn's wide receivers and Florida State's defensive backs.
Auburn's wide receivers:
If there was ever a game for Auburn to stick to the run, this would be it. Quarterback
Nick Marshall
has struggled at times through the air and the Tigers are in for their most challenging test yet against a Florida State secondary that leads the nation in interceptions (25).
Expect a heavy dose of Marshall and
Tre Mason
running the read-option together like they've done all season.
Florida State still has to be wary of Auburn's big-play ability. It starts with
Sammie Coates
who has emerged as a go-to wide receiver for the Tigers. He's one of the fastest players in the SEC, if not the nation, and he leads the team with 38 catches for 841 yards and seven touchdowns. He's second nationally in yards per catch (22.1) and all seven of his scores have come from more than 35 yards. It was his 39-yard touchdown grab in the final minute against Alabama that put Auburn in position to win that game.
The problem for the Tigers is that nobody has emerged opposite Coates. Freshman
Marcus Davis
had his moments early in the season, making key catches in critical situations.
Ricardo Louis
, who hauled in the 73-yard Hail Mary touchdown pass to beat Georgia, might be the most dangerous athlete on the team. But neither has been consistent.
When Auburn plays Florida State, it's going to need a play in the passing game from somebody other than Coates. Whether it's Davis, Louis or even tight end
C.J. Uzomah
, who's healthy again, somebody is going to have to step up and make a play when their number is called. Nothing will come easy, though, against a talented Seminoles' secondary.
Florida State's secondary:
Only five teams threw less often this season than Auburn, which runs the ball on 72 percent of its plays. When the Tigers do throw, however, they've mustered some big plays -- averaging 14 yards per completion.
The recipe for Auburn is pretty simple -- run, run, run, then go deep. It's a plan that may run into some trouble against Florida State, however. The Seminoles' secondary is the nation's best for the second straight season.
Lamarcus Joyner
leads a deep and talented group that leads the nation in fewest yards per attempt (4.9), most interceptions (25) and lowest QBR allowed (18.1). Opponents have completed just 6 of 36 passes thrown 20 yards or more against them this year, according to ESPN Stats & Info.
Coates and Louis both have good size to win some battles downfield, but Florida State can match that physicality with
P.J. Williams
(6-0, 190) and
Ronald Darby
(5-11, 190), who have both been exceptional this year. Darby has allowed just seven completions this year and allows the fifth-lowest completion percentage among AQ-conference defensive backs in the nation.
Marshall can keep some plays alive with his legs, giving his receivers a chance to get open downfield, but Florida State hasn't been burned often this year.
Sammy Watkins
,
Allen Hurns
and
Devin Street
all found some success this season, which should provide a bit of optimism for Coates, but no QB has managed better than 7 yards per attempt against FSU's secondary all year. In its last eight games, Florida State's secondary is allowing just 4.5 yards per attempt with 6 TDs and 19 INTs.
Ostendorf:
Edge Florida State
Hale:
Edge Florida State
December, 9, 2013
12/09/13
11:40
AM ET
ATLANTA -- As Auburn fullback
Jay Prosch
walked off the field inside the Georgia Dome Saturday night, confetti still stuck to his sweat-drenched jersey, he couldn't help but feel like he'd seen this before.
The surroundings were different, as was the significance of the moment, but the performance he saw from his teammates, especially juggernaut running back
Tre Mason
, was all too familiar. The Tigers had just churned out 545 crippling rushing yards, including 304 from Mason, in Auburn's 59-42 win over Missouri in the SEC championship game.
It was a performance for the ages, but Prosch wasn't surprised by the effort or production he saw, especially from Mason, who catapulted himself into the Heisman Trophy conversation.
[+] Enlarge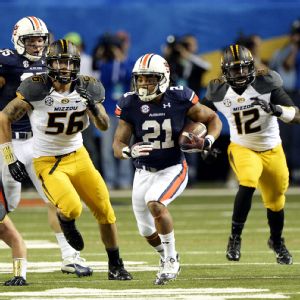 John David Mercer/USA TODAY SportsTre Mason led Auburn's historic rushing attack against Missouri with 304 yards and four touchdowns.
"I see a performance like that out of Tre every week," Prosch said. "He runs hard and he's the same runner every time. I love the guy."
Mason has quietly been one of the league's most consistent running backs, but Auburn's running game has been incredible all season. Everyone knew how dangerous Auburn's running game was, but seeing the Tigers dismantle the SEC's top two rushing defenses in back-to-back weeks was eye-opening.
Auburn punished Alabama with 296 rushing yards before gutting Missouri Saturday. Auburn's 545 rushing yards was the third most gained this season nationally. Mizzou hadn't even allowed a team to rush for more than 184 yards in a single game, but Auburn had 282 by halftime.
"We could tell right away that we were wearing them down up front," said running back
Cameron Artis-Payne
, who added 36 yards and a touchdown on two carries against Mizzou. "Tre came to the sideline and was like, 'Hey, we got them,' and our offensive line, they thought so as well. They came to the sideline and said we could get push on them and we just kept rolling with it."
They rolled, rolled and rolled some more. It was the fourth time this season Auburn finished a game with two 100-yard rushers, as quarterback
Nick Marshall
ran for 101 yards against Mizzou. It was also the second time Auburn had four different players score a rushing touchdown.
Mason was the workhorse, carrying the ball an SEC championship game-record 46 times, but it started with tremendous push from Auburn's offensive line. Auburn pushed Mizzou's d-line around all night, creating Godzilla-sized holes for Mason and his buddies to sprint through.
Another reason for Auburn's rushing success was the offensive pace. Mizzou's offense is fast, but its defense wasn't prepared for Auburn's speed. Auburn was set and ready before most of Mizzou's defense could catch its breath. It seemed like Mason only gained energy as the game went on.
"I didn't even think about fatigue at that point in time," Mason said. "Just not quitting until the clock said zero."
Added left tackle
Greg Robinson
: "When they get tired, he doesn't have to work hard to do what he do."
Check out these numbers regarding Auburn's running game against Mizzou, courtesy of ESPN Stats & Information:
• Auburn's 545 rushing yards were the most ever by an SEC team against an SEC opponent and the most overall by an SEC team since Auburn had 565 against Southwestern Louisiana in 1985.
• Auburn had 29 carries in which first contact was not made until at least 5 yards past the line of scrimmage, the most by any AQ school in a game this season. Entering Saturday, Missouri hadn't allowed more than nine such rushes in a game.
• Auburn had 19 runs of at least 10 yards, second most in a game this season behind New Mexico, which had 20 against Air Force. Entering Saturday, Missouri had allowed 42 such runs all season and had not given up more than five in a game.
• Auburn had 29 carries outside the tackles for 309 yards, the most such rushing yards yielded by any SEC defense this season and the second most by Auburn. This season, Auburn has more rushing yards outside the tackles (2,893) than 105 FBS teams have total rushing yards.
Now the Tigers will take the nation's best rushing game (335.7 yards per game) to the VIZIO BCS National Championship against the country's No. 14 rushing defense owned by top-ranked Florida State. The Seminoles haven't allowed 100 rushing yards in three straight games.
Don't expect the Tigers to be intimidated by another stout rushing defense.
"We're able to run the ball on just about everybody, I guess," tight end
C.J. Uzomah
said. "Numbers don't lie at all."
December, 7, 2013
12/07/13
11:35
PM ET
ATLANTA -- In the minutes that
Tre Mason
spent inside Auburn's locker room before Saturday's SEC championship game, he felt as though he was in some sort of a trance. He was fully aware of where he was and what was about to transpire, but his focus was heightened.
He wasn't jittery or anxious. He possessed a calm demeanor, but spoke with power when he finally stood in front of his teammates and told them the plan: They weren't leaving Atlanta without rings.
"I had the eye of the tiger," Mason said.
Once he stepped on the field, Mason had the strength, agility and heart of one, too, as he sliced and diced his way through Missouri's top-ranked rush defense to carry No. 3 Auburn (12-1, 7-1 SEC) to a
59-42
SEC championship victory.
Mason, who has quietly pummeled SEC defenses all season, not only left Atlanta with dreams of bling and a trophy, he left with a few records and some legitimate Heisman Trophy buzz after registering a career-high 304 yards and four touchdowns on 46 carries. The game's MVP set the SEC championship-game record for rushing yards and attempts, while leaving the rest of the SEC's running backs in his dust with a league-high 1,621 yards and a school-record 22 touchdowns on the season.
"Tre told me he was going to do that and he did," receiver
Ricardo Louis
said. "He's the greatest player here. He's the best running back in the nation."
[+] Enlarge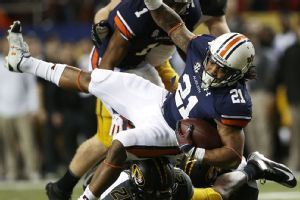 AP Photo/John BazemoreTre Mason had four touchdowns against Missouri and has 13 TDs in his past five games.
Mason couldn't be stopped by a defense that entered the game allowing just 119 rushing yards per contest. Before Saturday, fifth-ranked Missouri (11-2, 7-1) hadn't allowed a team to rush for more than 184 yards or two touchdowns in a single game.
By halftime, Mason had 195 yards, two touchdowns and was averaging a bruising 8.5 yards per carry. With 14 minutes, 26 seconds remaining in the third quarter, his 12-yard, first-down run to Auburn's 37-yard line that gutted the middle of Mizzou's defense pushed him past LSU's Justin Vincent's SEC championship-game record of 201 rushing yards (2003).
With Mizzou worried about athletic quarterback
Nick Marshall
and that deceptive read-option, Mason barreled his way through a line that featured way too much three-man personnel. He did most of his damage through the middle of the field, churning his legs and exploiting truck-sized holes made by his offensive line, and finished the game with just 2 negative yards. According to ESPN Stats & Information, Mason gained 182 yards inside the tackles, the most by an SEC player this season. Mason also gained 5 yards past the line of scrimmage without being contacted on 14 of his 34 carries inside the tackles. When he made his way to the edge, he embarrassed Mizzou's ends, linebackers and defensive backs with speed that left them panting and strength that left their measly arm tackles futile.
It was only fitting that he sealed the game with a feisty 13-yard touchdown run that carried a few Mizzou defenders into the end zone with 4:22 remaining.
With Mason having his way with Mizzou's defense with every punishing run he mustered, Auburn rushed for a title game-record 545 yards (third-most nationally this season) and had seven rushing touchdowns.
"We put the workload on him for the majority of the game and he always delivers," tight end
C.J. Uzomah
said. "He always shows up and he's always ready to play. Sixteen-hundred yards ... there's no reason he shouldn't be in New York.
"Coach [Gus] Malzahn said we were going to run the ball down their throats and really try to impose our will, and he came out and had a performance that I don't think anybody will forget."
So it begs the question: Is Mason, who leads the SEC in rushing and has had eight 100-yard rushing games (five straight), worthy of a seat at next week's Heisman Trophy ceremony?
"I want to win that, that's a goal of mine," said Mason, who now holds Auburn's single-season record for all-purpose yards (2,137). "I want to be in New York and be a finalist for the Heisman."
"I struck the pose a couple times [Saturday]. I feel like I should be in the talk with those guys."
His coach, who knows something about the Heisman, agreed.
"You're looking at one of the top running backs in college football, and he proved it again today," Malzahn said. "So usually, the best players on the best teams have a chance at it, and you're looking at one of those guys right here."
In the nation's toughest conference, Mason ran over and through defenses. Five of the defenses he has faced rank in the top 50 against the run. He rushed for 100-plus yards against each but Mississippi State (34). He has averaged at least 5 yards per carry in nine games and has at least one rushing touchdown in 12 games.
He's confident that he's one of the best players on one of the best teams, and it seems foolish to leave him out of legitimate Heisman talk -- or New York.
He's etched his name into the Auburn record books next to -- and over -- names such as Bo Jackson and Cam Newton. His yardage total Saturday was the second-most in Auburn history. In a special season for a program that has made college football's biggest turnaround, Mason has been a major piece of the Tigers' championship run.
Now he's hoping his own run takes a detour to the Big Apple.
"I feel like I'm chasing after [my dreams]," he said, "and nothing can stop me on the way there."
December, 5, 2013
12/05/13
10:15
AM ET
Almost nobody thought these two teams -- neither of which even reached bowl eligibility a season ago after going a combined 2-14 in SEC play -- would be here when the season started, but here we are. No. 3 Auburn (11-1) and No. 5 Missouri (11-1) will meet in Atlanta on Saturday with an SEC championship, a BCS bowl berth and maybe a spot in the national championship game at stake.
Let's take a look at five things to watch in Saturday's showdown at the Georgia Dome:


Possible hangovers:
One could hardly blame Auburn if it entered this game a bit flat. Gus Malzahn's Tigers are coming off consecutive miracle wins against their biggest rivals: Georgia and Alabama.
Chris Davis
' missed field goal return for a touchdown against the top-ranked Crimson Tide resonated outside the sports world, considering that it was a subject on conversation on "The View" and the "Today" show and not just on sports highlight shows. Likewise, an emotional win against Texas A&M prompted the home fans to empty onto the field after Missouri clinched the SEC East title last Saturday. If one of these teams starts slowly Saturday, it could easily find itself facing a big deficit early in the game.
Defending the run:
If Missouri is able to slow down Auburn's powerful running game (No. 5 nationally at 318.2 YPG), it will be in a small group of defenses that has been successful in that endeavor this season. Alabama -- which entered last week's game ranked fourth nationally against the run -- couldn't do it, as Auburn ran 52 times for 296 yards. In fact, Auburn has run for at least 200 yards in all but one game this season.
Tre Mason
(237 carries, 1,317 yards, 18 TDs) is the league's top rusher at 109.8 yards per game and quarterback
Nick Marshall
(140-922, 10 TDs) is eighth at 83.8 YPG. Meanwhile, Missouri -- which is 14th nationally against the run (119.1 YPG) has yet to allow 200 yards in any game. Let's not forget about the other side of this token, however. Missouri's offense performs with more balance than Auburn's, but its running game has been extremely productive, as well. Missouri ranks second in the league in rushing offense (236.2 YPG) with
Henry Josey
(153-951, 13 TDs) leading the way and ranking ninth in the league with 79.2 yards per game.
Auburn secondary against Missouri's big wideouts:
Auburn has done a good job of pressuring opposing quarterbacks, but its secondary has been erratic at best. The Tigers surrendered 277 passing yards and three touchdowns to Alabama quarterback
AJ McCarron
last week -- including a 99-yard touchdown pass to
Amari Cooper
-- and gave up 415 yards to Georgia's
Aaron Murray
in the previous game. Overall, Auburn ranks second-to-last in the SEC against the pass (256.7 YPG), which is a scary sign with Missouri's big, talented receiving corps on deck. The Tigers have the No. 5 passing offense in the league (252.6 YPG), featuring
L'Damian Washington
(44 catches, 824 yards, 10 TDs) and
Dorial Green-Beckham
(49-686, 10 TDs), who rank seventh and 12th, respectively, in the SEC in receiving yards per game. Senior
Marcus Lucas
(50-596, 2 TDs) ranks 10th with 4.17 catches per game.
[+] Enlarge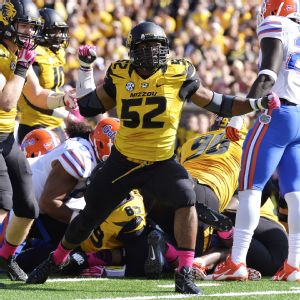 Zumapress/Icon SMIMichael Sam and Missouri's defensive front will be tested by Auburn's powerful run game.
Containing quarterbacks:
Marshall's emergence has been one of the leading factors in Auburn's revival after last season's dismal results. Not only is he poised to become a 1,000-yard rusher, but he has made some enormous plays in the passing game -- and not just the miracle pass for the game-winning, 73-yard touchdown to
Ricardo Louis
against Georgia. He hit Sammie Coates with a crucial game-tying touchdown pass in the final minute against Alabama, went for 339 yards -- including the game-winning touchdown pass to
C.J. Uzomah
with 10 seconds remaining -- against Mississippi State and made some huge throws in the road win against Texas A&M. He has fumbled 11 times this season (and only lost four), however, so Missouri's turnover-happy defense (SEC-high 27 takeaways) will most certainly look to generate some momentum off Marshall turnovers. On the other hand, Mizzou's
James Franklin
creates major matchup issues of his own. The 6-foot-2, 230-pound quarterback earned the nickname "Frank the Tank" with his physical running style, although it would be understandable if he hesitated to put his shoulder down Saturday after missing four games with a shoulder injury suffered against Georgia. Franklin was a combined 30-for-47 for 375 yards, two touchdowns and one interception against Ole Miss and Texas A&M since returning from the injury and also rushed 26 times for 122 yards in those two games, so he appears to be back to the form that makes him so difficult to corral.
Defensive playmakers:
Few defensive players, if any, have made a bigger impact around the SEC this season than Mizzou defensive end
Michael Sam
. He leads the league with 10.5 sacks and 18 tackles for a loss, while fellow defensive lineman
Markus Golden
is fourth with 13 TFLs and
Kony Ealy
(9.5) and
Shane Ray
(9.0) aren't far outside the top 10. If Auburn's typical form holds, Mizzou won't have much of a chance to add to its SEC-leading sack total, but its defensive front will be the determining factor in whether it can handle Auburn's running game. Aside from defensive end
Dee Ford
(eight sacks, 12 TFLs), Auburn doesn't have many defensive players whose individual stats jump off the page. But a deep defensive line and playmakers like
Robenson Therezie
,
Ryan Smith
and Davis have combined to deliver some clutch plays when the Tigers needed a boost the most.
November, 26, 2013
11/26/13
11:00
AM ET
Don't call Auburn a lucky football team. The Tigers are 10-1 and fourth in the
BCS standings
thanks to a tipped Hail Mary touchdown pass against Georgia, but Alabama coach Nick Saban isn't about to say his SEC West rivals are anything other than good and deserving of their lofty ranking.
"I don't think they were lucky to win," Saban said of the Georgia game. "I'm not saying that at all.
"They really probably deserved to win the game, based on how they played in the game, and they got rewarded for it in the end by making a big play."
Call Auburn whatever you want. Call what's happening on The Plains a miracle season, if you must, and point to the last-second win over Georgia or the utter lack of passing game as serious flaws in Auburn's championship resume. But recognize that none of what you're saying takes anything away from what the Tigers have accomplished and what they're capable of accomplishing come Saturday afternoon when they take on the top-ranked Crimson Tide at Jordan-Hare Stadium.
The Iron Bowl is alive and well because Auburn is a good football team once again. This isn't 2011 or 2012 where Alabama won both games by a combined score of 91-14, failing to surrender a single offensive touchdown in the process. Gus Malzahn was Auburn's offensive coordinator for one of those games and absent at Northern Illinois during the other. Since returning as Auburn's head coach this season, he's completely turned around what was a dysfunctional program.
Nick Marshall
has developed into one of the most dynamic athletes in the SEC,
Tre Mason
is the league's leading rusher and the defense, while porous at times, has been good at creating takeaways. Sound familiar? It should because you could describe the 2010 Tigers that beat Alabama and won the national championship with
Cam Newton
and
Michael Dyer
in the same way.
[+] Enlarge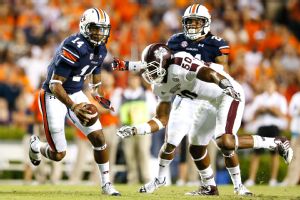 Kevin C. Cox/Getty ImagesAuburn quarterback Nick Marshall has thrown for 1,530 yards and rushed for 823 yards this season.
They were called lucky then, if you remember. Alabama was even favored to beat Auburn in that year's Iron Bowl. The Tigers are a two-touchdown underdog this go around.
"We don't feel lucky, of course," said Auburn defensive end and sack leader
Dee Ford
. "But we feel like it would definitely close a lot of the mouths [beating Alabama] with the things that we've been hearing. At the end of the day, that's not one of our goals. We're not really worried about the outside world because the outside world didn't even believe in us last year.
"We know it will close mouths [talking] about this being a fluke season."
Teammate
C.J. Uzomah
said they've been aware of Alabama's success this season. It's been hard to miss the constant media coverage, he explained, and on Saturday, he and his teammates will get to show they're deserving of the same type of respect by playing them heads-up at home.
"I think that's just fuel for us," Uzomah said of the uneven attention paid to the two programs, "just knowing there's so much hype and talk about them that we're going to prove ourselves, and we feel like we will.
"We feel like we've had a great season thus far, but we aren't satisfied. We want to win this game, and I think this will be a measuring stick of how we've grown as a team, where we are and where we want to head."
Malzahn, who called Alabama the best defense his team will see this season, said he's not letting he or his players get too caught up in the national picture. Improving every day is the goal, he said, not worrying about who's saying what. As he told his team a few weeks back: "We'll worry about all that patting ourselves on the back stuff after the season."
"Anytime you win 10 games, your team has done some right things," Malzahn said of proving his team is good and not lucky. "We're playing the No. 1 team in the country for the right to go to Atlanta. That's big enough in its own right."
Taking a cue from their head coach, Alabama's players aren't about to call Auburn lucky either. If anything, they agreed that having their rival playing good football makes the Iron Bowl better.
"They're a great team," UA receiver
Christion Jones
said, adding that he wasn't surprised by their success. "Auburn's a good unit."
But how good? Just ask Saban, who had no trouble heaping praise on those lucky
Auburn Tigers
.
"They're one of the leading offensive teams in the country ... Nick Marshall has almost 1,000 yards rushing himself," he explained. "They create a lot of issues and a lot of problems. They have good receivers that can make plays down the field when you try to load up on them.
"Defensively, they've played really, really well. They're hard to score on. ... Very, very good in the kicking game. Most of the time the guy kicks the ball out of the end zone. ... All the way around, this is a very, very good team, and I think their record sort of reflects that."
August, 17, 2013
8/17/13
6:55
PM ET
AUBURN, Ala. -- The last time Auburn turned to a dual-threat junior college quarterback, it resulted in a national championship. New head coach Gus Malzahn is hoping for similar results after
he named Nick Marshall the starter
on Saturday.
"
Nick Marshall
has emerged and earned the right to be our starting quarterback," Malzahn said in a press release. "As I've said, we wanted to go with the guy that gives us the best opportunity to win football games and Nick is that guy.
"He has caught on quickly in the short period of time he has been with us. He is a playmaker with a big upside, and once he becomes more comfortable with the offense, he has the chance to improve each week."
Marshall, who originally signed with Georgia out of high school as a cornerback, beat out true freshman
Jeremy Johnson
and returning starters Kiehl Frazier and
Jonathan Wallace
. Frazier took himself out of contention when he moved to safety last week.
At Garden City (Kan.) Community College last year, Marshall threw for 3,142 yards and 18 touchdowns. He also rushed for 1,095 yards and 19 touchdowns.
Although he didn't arrive on campus until the summer, the 6-foot-1, 210-pound signal-caller has already impressed a number of his teammates with his athletic ability.
"Him coming here and showing how athletic he and how fast he is, his ability to extend the play and make things happen with his legs, it's something you just have to watch," tight end
C.J. Uzomah
said. "You can't really say, 'the defensive end would've tackled him.' Probably not. He's a blazing guy. It's something kind of special."
When Marshall takes the field against Washington State in two weeks, he will become the seventh different quarterback to start the season opener in the past seven seasons for Auburn. The last time the Tigers had a returning starter at quarterback was in 2007 with Brandon Cox.
Malzahn hopes Marshall more resembles the last junior college quarterback to start for Auburn.
November, 12, 2011
11/12/11
4:13
PM ET
ATHENS, Ga. -- Georgia overcame early jitters and Auburn overcame an early deficit.
Things have been pretty fun so far "Between the Hedges" as we are
tied at seven
after Georgia and Auburn's opening drives.
Word of South Carolina's win against Florida must have crept into Georgia's huddle because the Bulldogs came out sloppy, with a false start and delay of game penalty, along with some happy feet and some over throws by
Aaron Murray
.
He and his line adjusted as he found some rhythm with a 44-yard strike to
Malcolm Mitchell
, who is back after suffering a hamstring injury. After an 8-yard touchdown pass to
Tavarres King
, this crowd exploded.
However, Auburn just marched down the field. And it did so throwing the ball. Most expected
Michael Dyer
to be Auburn's top option today, but the Tigers came out throwing.
Clint Moseley
threw the ball five times before a trick play that ended with
C.J. Uzomah
throwing to
Philip Lutzenkirchen
tied the game.
We knew Auburn would come in pumped and ready and the Tigers haven't disappointed. Let's see how the Dawgs respond now that they know what they're up against and what is no at stake.