October, 5, 2012
10/05/12
2:00
PM ET
NC State's secondary entered this season as a veteran group. It's still a veteran group, but it hasn't performed up to its potential yet this season. That will have to change on Saturday if the Wolfpack is going to have a chance to upset No. 3-ranked Florida State. I spoke with senior safety
Earl Wolff
earlier this week to get his take on the season so far. Here are the highlights of our conversation.
What's happened to you guys? What's going on?
Earl Wolff:
We had a lot of breakdowns in our pass coverage that usually doesn't happen. Things like that went wrong our freshmen year. We didn't expect it to happen against Miami and it did. We watched film and we handled everything we needed to handle. We made adjustments and I feel like we're ready to go this Saturday.
[+] Enlarge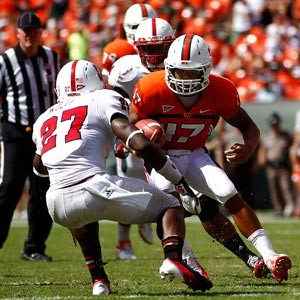 J Pat Carter/AP PhotoNC State's Earl Wolff tracks down Miami quarterback Stephen Morris in the two teams' Week 5 game.
Do you feel like you guys have fallen below your own expectations, considering what a veteran group the secondary is?
EW:
Absolutely. 565 yards, that really hurt. Deep balls over our heads, things that don't usually happen. We feel like we can be the best secondary in the nation, athletically and mentally. When it comes to experience, we're one of the more experienced groups in the ACC, also. That 565 yards, it hurt us. I don't want to say we needed it, but we'll build off of that and try to be better this week. As a matter of fact I can promise you that won't happen again.
I read you called a team meeting. How important was it for you guys to do that?
EW:
Honestly it was very important. I feel like we should've done that last week, before the Miami game. Everybody's heads weren't where they needed to be. People had different things on their minds. I don't know the exact number of penalties, but especially with coach O'Brien, we're not used to that many penalties in a game. I just feel like guys, I don't know if the heat was getting to them, I don't know exactly what it was, but that team meeting we had, we didn't name any individuals, we just talked about what we need to work on as a team. We talked about what we need to do to get better at our weaknesses. Mostly everything that happened was mentally. The staff was in there for part of the meeting and then they left. We just went in there and a couple of guys stood up and said what they had to say. I feel like it was a much-needed meeting and we'll build off of that and get ready for this great game Saturday.
The No. 3 team in the country is coming to your house. How do you get better quickly enough to be ready for this game?
EW:
Just preparation. I feel like a lot of people didn't prepare the way they should have last week. As a matter of fact, we usually call meetings individually on Thursday, we call it ourselves, the players, and honestly, a lot of guys didn't show up. I felt like in the game it showed. When we talked to everybody we said if you're not all in then you can leave right now. A lot of guys have buckled down and they're going to be all in. That's exactly what we need this week. We're going to play one of the best teams in the nation. Luckily we get to play them at home in front of our crowd. We're going to get all this energy from our crowd. We're going to need all the energy we have. We have to go all out to beat Florida State.
What do you feel like the attitude is right now? Do you feel like you guys can truly beat them?
EW:
Honestly we do. A lot of people outside of here even some fans probably think we can't. But I feel like as long as the coaches believe in us and we believe in ourselves, that's really all that matters. For example, last year we played Clemson. A lot of people thought we were going to lose. They were ranked. We came in, we beat them, and it was our crowd. Our crowd gives us energy that we need. Luckily we played them at home. We get to feed off our crowd. We're going to put up a fight for all four quarters.
Have you had to console David Amerson at all?
EW:
Honestly, I did that during the game. Dave doesn't talk a whole lot. He's never been one who does a whole lot of talking. But sometimes you can just look at him and see there's something wrong. At the game I could tell, I don't know what's going on, but this is not like him. I said something to him during the game and then basically afterwards, I was like, 'Man, Dave, it's not just you, brother, we all played bad. We can't point the finger at you. If our pass coverage skills are on point, they don't throw the ball like that. It's not just you. Just stay up.' Dave said thank you. He's a competitor. He'll continue to compete, regardless of what happens. It won't happen again.
It sounds like that meeting helped. Maybe it will be a turning point for you guys.
E
W:
Oh yeah, I feel like that meeting really was what we needed. We'll probably call another one before the game on Saturday, just to make sure. We'll probably call one Thursday, honestly. Make sure everybody gets their rest and just prepares right.
Where is the leadership coming from this year besides yourself?
EW:
I don't really do a whole lot of talking, but I feel like a lot of people aren't talking. So, sometimes I have to speak up and say what I've got to say. In the secondary, it's me,
Brandan Bishop
,
C.J. Wilson
throws his input in sometimes. He doesn't say too much, either. Linebackers it's really just Sterling [Lucas]. On the d-line,
Darryl Cato-Bishop
. He holds everyone on that d-line accountable. I really like that guy. Just leading. Offensively I would say it's
Mike Glennon
.
Mario Carter
sometimes. But I feel like we still have to do a better job when it comes to that. Everybody's still just not on board yet. We have a lot of young guys, and I feel like sometimes they're in the mindset of, 'Shoot, I have two more years, three more years, so if we don't do it this year, than maybe next year.' We're trying to instill in their minds that it has to happen now. We need it now. Imagine if it was your senior year, how would you feel about it? That's how I felt when I was playing. At first I was like, I have this year, and this year. Even though I always gave it my all. I remember Nate [Irving], Audie [Cole], all them boys, saying, it's our senior year. We want to win this. We want you to help us win this. I'm just trying to instill that in their minds and help everybody buy in."
September, 3, 2012
9/03/12
3:10
PM ET
The NCAA has suspended NC State cornerback
C.J. Wilson
for four games
, coach Tom O'Brien announced during his weekly news conference Monday.
Wilson had to take 12 credit hours in the spring and pass six, per NCAA rules. O'Brien said Wilson did not pass the required hours while dealing with family issues. But he also added that Wilson has already graduated, and passed 12 hours in the summer with a 3.5 GPA.
The Wolfpack could definitely use Wilson's help in the secondary. Though Wilson had lost his starting job in the spring, NC State showed some glaring weaknesses in the secondary in the opening loss to Tennessee, allowing 333 yards passing. Cornerback
David Amerson
gave up two long touchdown passes.
Wilson sat out the opener and will be back for Week 5 against Miami. He has 29 starts in three years.
August, 31, 2012
8/31/12
6:30
PM ET
ATLANTA -- And we're off in one of the country's best college football cities and one of the sport's best venues.
We're just about ready to get things started here at the first game of this weekend's Chick-fil-A Kickoff, with Tennessee taking on NC State inside the Georgia Dome.
TGIF, indeed!
This should be one of the more exciting games of the first weekend, especially with the matchup between Tennessee's passing game and the Wolfpack's secondary. The interesting storyline is that both groups are down solid players.
Da'Rick Rogers has made his exit from Tennessee's football team, while NC State cornerback
C.J. Wilson
, who has started 29 games in his career, is dealing with an NCAA eligibility issue.
The good news for the Wolfpack is that junior cornerback
Dontae Johnson
had already beaten out Wilson before he was ruled out of Friday night's game.
Oh, and cornerback
David Amerson
, who led the ACC in interceptions last year, is still around for NC State, and he might be a future first-round pick.
It's not like the Vols are down and out at wide receiver without Rogers, who led the SEC in receptions (67) last year and was second in receiving yards (1,040).
Justin Hunter
is back after his ACL injury that he suffered early last season. At 100 percent, he might be the SEC's top deep threat. Helping him will be junior college transfer
Cordarrelle Patterson
, who received a boatload of hype heading into fall camp.
Highlight reels show that Tennessee should be fine in the passing game, especially with quarterback
Tyler Bray
slinging the ball, but coach Derek Dooley's still a little worried. He expects Hunter to be a bit rusty in his return and isn't sure if Patterson will have the breakout performance fans are banking on against NC State's talented secondary.
"I'm very concerned because we have very little experience and they've got a lot of experience," Dooley said earlier this week. "What those guys do best is they make you pay for any mistakes, whether it's a poor route, whether it's an inaccurate football, a bobbled ball. Whatever it is, they're going to make you pay."
Bray's natural ability will play a big part in helping limit the mistakes. He's got all the skill to make his guys look good, but he's had issues with the mental part of the game in the past.
Both teams are trying to prove that they can compete in their respective conferences. Tonight we'll get a glimpse of things to come for both squads.
August, 30, 2012
8/30/12
10:15
AM ET
With all 12 teams playing in Week 1, including two conference games, there will be plenty to watch in the ACC, from Friday through Labor Day. Here are 10 things to keep an eye on, in no particular order:
1. NC State's secondary vs. Tennessee quarterback Tyler Bray.
The Pack will be without starting cornerback
C.J. Wilson
, who has an "eligibility issue," according to coach Tom O'Brien, but All-American
David Amerson
returns to help the Pack against Bray. Despite missing five games last season with a fractured thumb, Bray threw for 1,983 yards and 17 touchdowns.
2. Clemson in the trenches.
Much of the focus leading up to the Auburn game has been on how Clemson will survive without suspended leading receiver
Sammy Watkins
, but more important is how Clemson will fare up front, on both the offensive and defensive lines. Depth on the offensive line remains a concern, and overall, Clemson had to replace six starters up front from last season.
3. True freshmen in College Park and Chestnut Hill.
Maryland and Miami both will be depending heavily on true freshmen in their season openers. The Terps will have true freshman
Perry Hills
starting at quarterback, are likely to use two freshman running backs and will use receiver
Stefon Diggs
in several roles. Miami has more than a dozen freshmen in its two-deep.
[+] Enlarge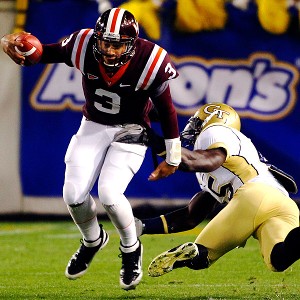 AP Photo/John BazemoreGeorgia Tech's Jeremiah Attaochu gets another chance to bring down Virginia Tech QB Logan Thomas this weekend.
4. Special teams in Blacksburg.
Georgia Tech's group was abysmal last season, but the Jackets hired special-teams coach Dave Walkosky, the first special-teams coach Paul Johnson has hired during his tenure in Atlanta. The Hokies are trying to get Beamerball back, but questions in the kicking game persisted through summer camp.
5. Jeremiah Attaochu vs. Logan Thomas, Part 2.
In this game last season, Attaochu was about to complete a third-down sack of Thomas but couldn't bring the lumberjack down. Attaochu let his frustration and adrenaline get the better of him, and took a swing at Thomas, drawing a personal foul. The two have been friendly since, but getting pressure on Thomas will be key in this game.
6. Florida State's offensive line.
If there is one reason not to snooze on the Murray State game, this is it. The Seminoles showed a lot of progress up front this offseason, but they must continue it if FSU is going to live up to the expectations this season.
7. ACC vs. SEC.
The ACC hasn't had a winning record against the SEC since it went 5-4 in 2003. The ACC could help itself change that this weekend with a 2-0 start against the SEC with victories by NC State and Clemson in the Chick-fil-A Kickoff.
8. North Carolina's tempo.
We finally get to see the "Fed Spread" in Chapel Hill, as UNC will unveil its new up-tempo spread offense under first-year coach Larry Fedora. How many more plays will the Tar Heels be able to run, and how well will they execute them? Bottom line: How fast can this team score? Time of possession could be deceiving.
9. Duke's backups.
The Blue Devils will be missing about a dozen injured scholarship players against Florida International, including receiver
Blair Holliday
, tight end
Braxton Deaver
, defensive tackle
Jamal Bruce
, safety
Jordon Byas
and linebacker
Kelby Brown
.
10. Virginia's revamped secondary.
UVa has no seniors in its secondary after having three senior starters last season. Only three other schools (Florida State, LSU and North Texas) have a senior-less secondary. More specifically, there are no upper-classmen at the cornerback position. Sophomore
Demetrious Nicholson
is now the elder statesman of the group.
August, 28, 2012
8/28/12
5:00
PM ET
Here's a quick look at what's on tap in the ACC in Week 1:
FRIDAY
Tennessee vs. NC State (in Atlanta), 7:30 p.m. ET, ESPNU:
The Wolfpack will be without starting cornerback
C.J. Wilson
, but Tennessee will be missing all-SEC receiver Da'Rick Rogers, who transferred to Tennessee Tech. These teams haven't played each other in 73 years.
SATURDAY
Elon at North Carolina, 12:30 p.m. ET, ACC Network:
First-year coach Larry Fedora will unveil his up-tempo spread offense with quarterback
Bryn Renner
, and the defense will also have a new look under assistants Vic Koenning and Dan Disch. It's one of five games against in-state opponents for UNC.
William & Mary at Maryland, 3 p.m. ET, ESPN 3:
Maryland will have an entirely new look with two new coordinators following a 2-10 season, but the spotlight will be on true freshman quarterback
Perry Hills
, who will start in place of injured starter
C.J. Brown
.
Richmond at Virginia, 3 p.m. ET, RSN:
Quarterback
Michael Rocco
held onto the starting job despite competition from Alabama transfer
Phillip Sims
this summer. There is plenty of familiarity between these programs, as UVa coach Mike London is a Richmond grad and former head coach. He had a 24-5 record in two seasons with the Spiders (2008 and 2009), including the FCS National Title in 2008. Richmond coach Danny Rocco, in his first season with the Spiders, is the uncle of the Hoos' quarterback.
Miami at Boston College, 3:30 p.m. ET, ABC/ESPN2:
Both programs desperately need to start the season with a win. Boston College has won the last two meetings, including a 24-17 win at Miami in last season's regular-season finale. BC's offense will have a new look under first-year coordinator Doug Martin, and Miami quarterback
Stephen Morris
will take over the offense in his first season as full-time starter.
Murray State at No. 7 Florida State, 6 p.m. ET, ESPN3:
ACC fans are waiting to turn the page, but this will give the Noles' new-look offensive line a tune-up. This should be a glorified practice run for Florida State, as this year's team has combined to start 420 collegiate games.
Liberty at Wake Forest, 6:30 p.m. ET, ESPN3
: The Deacs get four of their first five games at home and have to take advantage of that. They've got 13 starters back from last year's team, which came within a field goal of winning the Atlantic Division.
FIU at Duke, 7 p.m. ET, ESPN3:
The Blue Devils managed to beat FIU on the road last year, but this is going to be a tough game again. FIU was the preseason favorite to win the Sun Belt Conference this year, and it received points in the USA Today Coaches preseason poll for the first time in school history. FIU is coming off back-to-back bowl games.
Auburn vs. No. 14 Clemson (in Atlanta), 7 p.m. ET, ESPN:
The defending ACC champs could help further distance themselves from that disappointing showing in the Orange Bowl with a win over an SEC team. They'll have to do it without suspended receiver
Sammy Watkins
, who will miss the first two games.
MONDAY
Georgia Tech at No. 16 Virginia Tech, 8 p.m. ET, ESPN:
The winner of this game has gone on to win the Coastal Division in each of the past seven seasons. The Hokies' defense will be their strength while a young backfield and offensive line is introduced. Georgia Tech quarterback
Tevin Washington
ran for three touchdowns against the Hokies last year.
January, 23, 2012
1/23/12
9:00
AM ET
With national signing day quickly approaching, we're going to take a look at the recruiting needs of each school in the ACC, starting with the Atlantic Division. These needs are based on current rosters and anticipated departures in the near future. Here's a look at who has what holes to fill in the 2012 class:

BOSTON COLLEGE
Linemen:
The depth here continues to be a priority on both sides. The decision of defensive end
Max Holloway
to declare early for the NFL draft was an unexpected loss, and tackle
Dillon Quinn
will be a senior. Offensively, the Eagles will have to replace two veterans and leaders in center
Mark Spinney
and guard Nate Richman.
Linebackers:
All-American Luke Kuechly's decision to leave early for the NFL draft was expected, but the staff is looking for about two or three more linebackers in this class.
Receivers:
This was a young group to begin with, as
Alex Amidon
and
Bobby Swigert
were both true sophomores, but the staff could use one or two more in this class.

CLEMSON
Linemen:
The Tigers will lose three starters on the defensive line and three more on the offensive line from the 2011 ACC championship team. Center
Dalton Freeman
is a returning starter, but he will be a senior. Six players on the final two-deep depth chart on the offensive line were either seniors or graduate students in 2011, and four on the defensive line two-deep must be replaced.
Running back:
Andre Ellington
is entering his senior year, and while
Mike Bellamy
is back in school and in the good graces of coach Dabo Swinney, the future of the position is uncertain. Rod McDowell played well in the bowl game, and
D.J. Howard
has been a backup.
Defensive backs:
The Tigers could start three seniors in the secondary in 2012:
Xavier Brewer
,
Rashard Hall
and
Jonathan Meeks
.
Kickers:
The Tigers will lose punter
Dawson Zimmerman
, opening up an opportunity for a true freshman to play immediately.

FLORIDA STATE
Pick and choose:
The Noles have built up enough depth that they can now be selective. Instead of building a class heavy on offensive linemen, Florida State can now pick and choose the best at each position. The Noles need at least one running back, one or two quarterbacks, a few offensive tackles, a linebacker to help replace Nigel Bradham and a safety or two.
Kickers:
The Noles have big shoes to fill with the graduation of punter
Shawn Powell
, and kicker
Dustin Hopkins
is entering his final season.

MARYLAND
Running back:
This is a position where a true freshman could see some playing time this year.
Justus Pickett
returns, along with
Brandon Ross
, who redshirted last year.
Quarterback:
The Terps ended the 2011 season with only two scholarship quarterbacks on the roster in
Danny O'Brien
and
C.J. Brown
. Both will be juniors and nobody is behind them.
Cornerback.
Maryland has to replace
Trenton Hughes
and
Cameron Chism
at cornerback, leaving
Dexter McDougle
the only one with any significant playing time.

NC STATE
Defensive line:
The staff already has about six linemen committed and ends were a particular focus. Half of the linemen in the two-deep depth chart for the Belk Bowl were either juniors or seniors.
Secondary:
This should be a strength for NC State in 2012, but the staff needs to prepare for the future here. Cornerback
C.J. Wilson
will be a senior, along with safeties
Earl Wolff
and
Brandan Bishop
.
Quarterback:
Mike Glennon
is already listed as a graduate student, and his backup,
Tyler Brosius
, redshirted this past season. The position is thin and the future uncertain behind Glennon.

WAKE FOREST
Offensive line:
The Deacs will lose four starters up front, but coach Jim Grobe has only played one true freshman there in 11 years. He has several redshirt freshmen and sophomores who are expected to fill in, but the staff wants to continue to build the depth at the position.
Tight end:
Wake Forest will graduate its top two tight ends and will turn to two redshirt sophomores in
Neil Basford
and
Johnny Garcia
who have yet to catch a pass. It's possible this could be a spot where an exceptional freshman could see playing time.
Defensive backs:
The Deacs have to replace starting free safety
Josh Bush
and starting strong safety
Cyhl Quarles
. Cornerback
Kenny Okoro
will be a redshirt senior.
June, 30, 2011
6/30/11
2:00
PM ET
As advertised ...
1. Florida State:
The Noles have one of the best cornerback duos in the country in Greg Reid and Xavier Rhodes. They combined for 33 passes defended last season, the most of any pair of cornerbacks in the nation. Mike Harris had 41 tackles and four picks as a reserve.
[+] Enlarge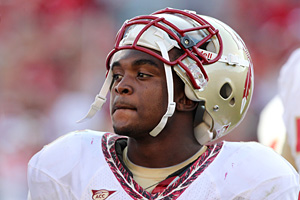 Matthew Emmons/US PresswireFlorida State cornerback Greg Reid is also one of the ACC's top return men.
2. Virginia Tech:
Jayron Hosley is one of the top boundary corners in the country, and the Hokies also have Kyle Fuller, who had six deflections last season, and Cris Hill (two deflections) at field corner.
3. Maryland:
The Terps return both starters in Cameron Chism and Trenton Hughes, who combined for 36 career starts. Chism is a strong cover corner who had 70 tackles and eight deflections last season. Hughes had nine pass deflections.
4. NC State:
Both starters return in C.J. Wilson and David Amerson. Wilson had 46 tackles, two interceptions and six pass breakups, and Amerson had 57 tackles. Justin Byers and Gary Grant also have experience.
5. North Carolina:
The Tar Heels lost some remarkable talent in their secondary, including cornerback Kendric Burney, but there is a lot of depth at the position. Jabari Price started four games last season, Charles Brown has 22 career starts but sat out last season, and Mywan Jackson and Tre Boston both have at least four starts each.
6. Boston College:
The Eagles will miss DeLeon Gause, but Donnie Fletcher has 17 career starts, 56 tackles last season, and led the team with five picks. C.J. Jones played in 12 games as a backup last season with 16 tackles. Dominique Williams also saw some time and had four tackles, and true freshman Al Louis-Jean, who was the No. 9 cornerback in the nation as ranked by ESPN Recruiting, enrolled early.
7. Clemson:
It's a young group, as the Tigers had to replace Marcus Gilchrist and Byron Maxwell. Xavier Brewer had 10 starts with 50 tackles and two interceptions last season, Coty Sensabaugh had 31 tackles in three starts, and senior Mansa Joseph will also be competing for playing time with sophomore Martin Jenkins.
8. Virginia:
The Cavaliers return both starters in Chase Minnifield and Devin Wallace, but Wallace was suspended and missed spring ball and is still suspended. Wallace had 38 tackles and six breakups last season. Chris Broadnax, Rijo Walker, Drequan Hoskey and Pablo Alvarez will all compete for playing time.
9. Miami:
The Hurricanes have to replace both starters in Brandon Harris and Ryan Hill. Jo-Jo Nicholas moved to corner and Brandon McGee, who was the nickel back last season, will compete along with
Lee Chambers
, Keion Payne, Nathan Gholston and true freshman Thomas Finnie, who had a great spring.
10. Georgia Tech:
The Jackets had to replace their entire secondary, including cornerbacks Mario Butler and Dominique Reese. They've still got several cornerbacks with experience in Rashaad Reid, who started 14 games in 2008 and 2009, Rod Sweeting (38 tackles, seven pass breakups, one interception), Louis Young (10 tackles), and Michael Peterson (six tackles, one pass breakup).
11. Wake Forest
: The Deacs have a deep enough secondary that they can live without the experience of cornerback Kevin Johnson, who started five games last season but will sit out this season while academically ineligible. Josh Bush had 33 tackles and four pass breakups last season, Kenny Okoro is a rising star, A.J. Marshall has three starts and Dominique Tate returns after missing last season while on academic suspension.
12. Duke:
Ross Cockrell is a returning starter and finished last season with 60 tackles and 10 passes defended. He was only a freshman but he tied for eighth in the ACC with passes defended with 10 in 12 games. Johnny Williams had four pass breakups last season.
May, 6, 2010
5/06/10
10:30
AM ET
There's always the potential for a surprise contender, a late-season push by an unheralded opponent (see: Duke, 2009).
The ACC race is so wide open this fall it wouldn't be a true surprise if any of the following teams won the conference title: Clemson, Boston College, Florida State, Georgia Tech, Virginia Tech, Miami or North Carolina.
So who would be a surprise, that darkhorse who creeps up on everyone?
My early pick is the
North Carolina State Wolfpack
. Here are three reasons why:
1. It's about time.
Coach Tom O'Brien is due. He's entering his fourth season and hasn't been able to catch a break. Injuries or other setbacks prevented O'Brien from showing what he can do when he's got everything in place. O'Brien is a better coach than his 2-6 ACC record last year indicates, and wins over Pitt and UNC are proof. If everyone on this team can stay healthy and out of trouble, the Pack should be back in the postseason.
2. Russell Wilson should still be one of the best quarterbacks in the league.
He completed 59.3 percent of his passes last year for 3,027 yards and a league-leading 31 touchdown passes. He finished 15th nationally in pass efficiency with a 147.77 rating. He also finished 19th nationally in total offense.
3. The defense will be better.
Linebacker should be a strong position, especially with the return of Nate Irving, who had 80 tackles and four interceptions in 2008, and Audie Cole, who was NC State's leading tackler a year ago with 73. They'll be under the guidance of former Georgia Tech defensive coordinator Jon Tenuta, who was hired to coach the linebackers. The secondary was young and ever-changing last year but should be better with the return of two starters in C.J. Wilson and Brandan Bishop. Four other defensive backs started last year.
August, 6, 2009
8/06/09
11:48
AM ET
Posted by ESPN.com's Graham Watson
After finishing as a finalist for the Ted Hendricks Award a year ago, TCU defensive end Jerry Hughes headlines the award's preseason watch list that includes eight players from the nonautomatic-qualifying schools.
The award, which is in its eighth season, is given annually to the nation's top defensive end. At least one player from every non-AQ conference is represented. No player from the nonautomatic-qualifying schools has ever won the award.
Hughes led the nation in sacks last season and helped TCU become the nation's best total defense, best rushing defense and No. 2 scoring defense. The Horned Frogs also were second nationally in sacks.
Non-AQs on Hendricks Award watch list
Alex Carrington, Arkansas State
Jan Jorgensen, BYU
Frank Zombo, Central Michigan
C.J. Wilson, East Carolina
Dontay Moch, Nevada
Jerry Hughes, TCU
Brandon Lang, Troy
Koa Misi, Utah