December, 3, 2013
12/03/13
8:00
AM ET
AUBURN, Ala. -- For a team of destiny, the play that would come to define Auburn's magical season started off in an ironic way as it looked as if luck might not be on its side after all. The clock read all zeroes in Jordan-Hare Stadium as Alabama running back
T.J. Yeldon
went out of bounds, sending a tie game into overtime. But officials double-checked, reviewed the play and put one second back on the clock -- just enough time for the top-ranked Crimson Tide to run one final play.
[+] Enlarge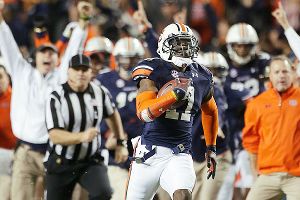 AP Photo/Dave MartinChris Davis' TD return was like something out of a video game, according to Tide QB AJ McCarron.
Alabama coach Nick Saban, staring his own date with destiny and a third straight national championship in the eye, didn't think to throw a Hail Mary pass. According to ESPN Stats & Information, the odds of
AJ McCarron
heaving a touchdown in that situation were 2 percent. Better to give
Adam Griffith
a shot at splitting the uprights from 57 yards out, Saban thought. He'd seen his freshman kicker hit it from 60 yards plenty of times, and
Cade Foster
, Alabama's regular place-kicker, had already missed three field goals.
Disgruntled, Auburn coach Gus Malzahn thought to himself, "You know, we haven't had a whole lot of luck with reviews anyway," as Alabama took the field for its shot at a game-winning field goal. Malzahn toyed with telling his special-teams coach to go for the block, but he knew he wanted to call a timeout to ice the kicker and survey his options anyway. Better go a different route, he decided.
"If they missed the kick, what was the worst that could happen?" said Auburn safety
Jermaine Whitehead
.
"Put CD back there," Auburn defensive end
Dee Ford
recalled hearing Malzahn say during the timeout, pulling safety
Ryan Smith
off the return in favor of
Chris Davis
, a speedy cornerback and part-time punt returner. Malzahn called Davis, a senior who has gone through his fair share of ups and downs, "a champion" in his book. On Saturday night with the wind blowing in his face and a title hanging in the balance, Davis was.
Cody Mandell
fielded the snap and dropped the ball into place for Griffith, who swung his right leg through cleanly. The ball floated on line for what seemed like an eternity to the orange-and-blue-clad fans standing in their seats. Then it dipped short and to the right, where Davis waited with open arms.
"I knew when I caught the ball I would have room to run," Davis said.
Alabama simulated field goal returns like Davis' every Friday during the season. "We just imagine," said tight end
Brian Vogler
, who is responsible for sealing the outside edge of the line during kicks. But there's never anyone actually there to return the ball, he said.
"You practice it so many times and when it happens you're not expecting that kind of speed," Vogler explained.
Davis started to his right up the center of the field before turning back left toward the sideline. He knew if he got to the edge the bigger guys for Alabama wouldn't be able to catch him. Vogler, all 6-foot-7 and 260 pounds of him, took a bad angle, leaped at Davis, and missed.
"I was running down the field expecting a blindside [hit] out of nowhere," Vogler said, "and when I finally got the opportunity, I was kind of in shock I hadn't gotten laid out."
Adrian Hubbard
, Alabama's 252-pound linebacker, didn't stand a chance either as he whiffed on the tackle.
Smith, in a stroke of irony, was a key part of the return as he laid out Alabama offensive lineman
Arie Kouandjio
.
"I made a good block," Smith said excitedly. "Y'all go check it out."
Mandell, the punter and holder, got one hand on Davis' jersey, but wound up only touching history rather than stopping it. Davis never broke stride as he passed Mandell and found daylight, running freely into the end zone for the game-winning score before being hugged to the turf by his own teammates as the stadium erupted in applause.
"When I looked back, I said I couldn't believe this," Davis said. "When I was running, I said, 'God is good.'"
It was like it happened in slow motion, McCarron said. His helmet on and his emotions hidden from view, he sprinted off toward the locker room as fans rushed the field.
"It's almost like a video game," McCarron said. "That's something you do on 'Madden.'"
"I was just shocked," said Alabama linebacker
C.J. Mosley
. "I didn't think that big of a play would have been caused by that."
Said Auburn defensive end
Nosa Eguae
: "I lost it. I ran and found myself on the other sideline and got to see some of my guys and hugged them. It was just an amazing experience, one that will last me for a lifetime."
The floodgates opened and the field at Jordan-Hare Stadium became a crazed sea of blue and orange fans celebrating what will go down as the most memorable Iron Bowl in history. An Auburn staffer would have to save Malzahn from being hit by Aubie, the Tigers' crowd-surfing mascot, during a postgame interview.
[+] Enlarge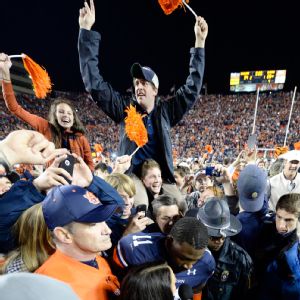 John David Mercer/USA TODAY SportsThe game over, the field turned into one very large celebration.
"I don't think I've ever been part of a sequence like that with so much on the line in that part of the game," Malzahn said, not realizing he had won the Western Division until the moment he shook Saban's hand after the game.
Meanwhile, Davis was being suffocated at the bottom of a dog pile.
"It was hard to breathe," he said. "I knew it was coming. What else do you expect when you're doing something like that? I'm proud of my teammates. It might seem like I'm the hero in this moment, but they also are too -- offense and defense and special teams. We fought together and we got the W."
"If you weren't there," Ford said, "I can't really explain it to you."
It took at least an hour for players and fans to finally leave the field. The cleanup of their celebration would continue into Monday. Toomer's Corner remained painted white with rolls upon rolls of toilet paper prior to Malzahn's news conference that day at 11:30 a.m. In fact, most of the campus remained covered in the tissue.
When Davis went to his geology class that morning, he received a standing ovation. It was like a scene from a movie: the team that couldn't win a single conference game and fired its entire staff from the season before, suddenly beats the top-ranked team in the country and its star player goes to class to a round of applause.
Davis and his teammates better get used to it. This is their legacy now. No one who saw what happened that Saturday night in Jordan-Hare will ever forget.
December, 2, 2013
12/02/13
11:15
AM ET
Whew, what a final week of the regular season in the SEC.
The heat is still rising from some of the things that happened around the league on Saturday.
So let's dive right in to our weekly look at who's hot and who's not.
GLOWING EMBERS
SEC lobbying:
The SEC is going to need some serious help to keep alive its national championship streak. Auburn and Missouri still have a heartbeat, and they will meet Saturday in the SEC championship game. The best scenario for the winner of that game would be for either No. 1 Florida State or No. 2 Ohio State to be upset in its respective conference championship game. Florida State faces Duke in the ACC title game and is a four-touchdown favorite, while Ohio State takes on Michigan State in the Big Ten title game and is a six-point favorite. In the meantime, you're going to hear some pretty passionate lobbying from SEC folks about how there's no way a one-loss SEC champion should be kept out of the VIZIO BCS National Championship Game. Already, Auburn athletic director Jay Jacobs said it would be a "disservice to the nation" if the Tigers were left out of the big game similar to what happened to them in 2004 when they were unbeaten and didn't get a chance to play for the national title. If Florida State or Ohio State win this weekend then the winner of the Auburn-Missouri game is going to have to hope several voters in the coaches' poll and Harris poll have a change of heart on their final ballots and vote a one-loss SEC champion ahead of Ohio State. Auburn, which is No. 3 this week in the BCS standings, probably has the best shot, but would need to win impressively over Missouri to leapfrog an unbeaten Ohio State team and then have the Buckeyes struggle this weekend. Even then, it's not likely enough voters would change their minds. Should Auburn beat Missouri, it would be difficult to dismiss the Tigers' resume. They would own four wins over top 25 teams in this week's BCS standings, including a win over the team that has won the past two national championships. That would compare to two wins over top 25 teams by the Buckeyes, assuming they beat the Spartans.
HOT
[+] Enlarge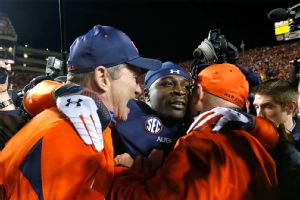 Kevin C. Cox/Getty ImagesChris Davis etched his name in Auburn lore with his touchdown return on the final play of the Iron Bowl.
Auburn cornerback Chris Davis:
His 100-yard return for a touchdown on the missed field goal attempt by Alabama gets more improbable every time you watch it. Davis was an absolute blur up the left sideline, and Alabama's players looked like they were running in slow motion. Before the season, Auburn coach Gus Malzahn told me that it was critically important for Davis to stay healthy this season because he could be a difference-maker for the Tigers in several areas. How prophetic does that look now?
NOT
Alabama's streak:
The Crimson Tide had won 15 straight games and two straight national championships. Going back to the 2009 season, when they won their first of three national championships under Nick Saban, it's the kind of run we probably won't see again anytime soon in the SEC. When historic streaks die, they typically die hard. Losing the way Alabama did last week at Auburn will cut deeply for some time.
HOT
Tennessee defensive end Corey Miller:
Entering his final college game at Kentucky, Miller had five career sacks in 48 games. He exploded for a school-record 4.5 sacks in the 27-14 win over the Wildcats. And whose record did he break? Hall of Famer Reggie White had four sacks in a game as a senior at Tennessee in 1983. That's some pretty impressive company.
NOT
Cowardly fans:
It's always a select few who screw it up for everybody else. But enough with hitting up players who miss field goals and lose key fumbles with nasty emails and messages, almost always behind the cloak of anonymity. Good to see the Alabama players come to kicker
Cade Foster
's defense. Too bad some of these so-called "grown" fans don't have the same kind of perspective the 20- and 21-year-old kids who are actually playing the game do about losing a football game.
HOT
[+] Enlarge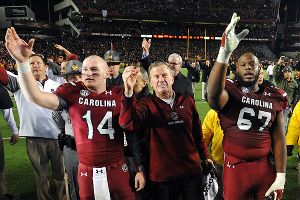 AP Photo/Rainier EhrhardtA familiar sight in the South Carolina-Clemson rivalry: Steve Spurrier and the Gamecocks celebrating another victory.
South Carolina coach Steve Spurrier:
You have to seriously wonder if Clemson will ever beat South Carolina again as long as the Head Ball Coach is there. He's renowned for getting inside teams' heads. And right now, Dabo Swinney and the Tigers might need a psychiatrist to get Spurrier out of their heads. As Spurrier said himself (in his own way) following South Carolina's fifth straight win in the series, Clemson seems to find a way to play just poorly enough and just uptight enough to lose this game every year.
NOT
Beating up on Vanderbilt in November:
Once upon a time, Vanderbilt probably considered canceling the month of November. But not anymore. The Commodores have won nine straight games in the month of November, another telltale sign that this is a program that only gets better under James Franklin as the season goes on. Before Franklin arrived, the Commodores were just 3-32 in November in the previous 10 years. Defensively, Vanderbilt really turned it on down the stretch and played lights out in November. The Commodores suffered some key injuries and struggled early, but ended up 25
th
nationally in total defense -- their third straight season in the top 25 under defensive coordinator Bob Shoop. And during this last month, Vanderbilt allowed just 11.8 points per game and 277 yards of total offense per game while forcing 12 turnovers. Opposing teams managed just one touchdown pass and 11 interceptions against the Commodores in November.
FREEZER BURN
Preseason predictions:
If anybody -- coaches, media or fans -- had Auburn and Missouri in the SEC championship game in August, I want to see the ballot. Auburn was picked fifth in the West and Missouri sixth in the East at the SEC media days. Missouri coach Gary Pinkel thanked everybody Sunday for picking the Tigers so low because it only served as motivation for his players. And get this: Neither Auburn nor Missouri received a single vote at the SEC media days to win the league championship. Let's face it, though. Given the media's shoddy track record for getting the eventual SEC champion right, if you're picked to win it in Hoover, Ala., during the summer, you might as well plan on not winning it. Only twice in the past 18 years has the media correctly predicted the SEC champion. Still, had anybody picked Auburn or Missouri this year, that would have been a story in itself at the time. Auburn didn't win a single SEC game a year ago and lost 38-0 to Georgia and 49-0 to Alabama in its previous two SEC games. Missouri won two SEC games a year ago in its first season in the league, and with so many injuries along the offensive line, looked overwhelmed at times.
December, 1, 2013
12/01/13
10:00
AM ET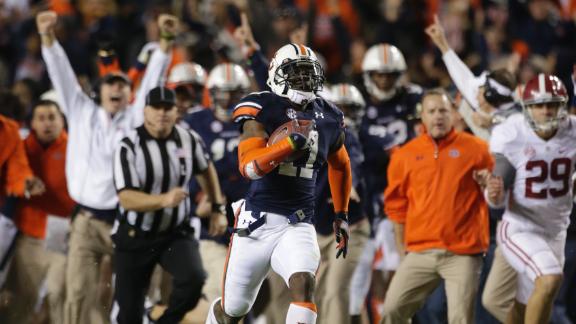 The SEC saved the best for last. In the final week of the regular season, Alabama and Auburn played the game of the year in college football. The stakes were high. The rivalry is fierce. And the game was decided by a 109-yard field goal return for a touchdown on the final play of the game. How do you write a better script than that?
The matchup is now set for next weekend's SEC title game, but let's look back at five things we learned from Saturday's action.
The ride continues:
Auburn trailed Alabama for most of Saturday's game, but the Tigers found a way to win in the fourth quarter, as they always do. It's been that way all season, and it was no different against the nation's No. 1 team in the Iron Bowl. What coach Gus Malzahn has been able to do in his first season on the Plains has been nothing short of remarkable. He took over a team that was 3-9 and winless in the SEC in 2012, and he has them playing for a conference championship. It's reminiscent of the 2010 season, when Cam Newton led the Tigers to an undefeated season and a BCS national championship, but this isn't over yet. Saturday was a monumental victory for Malzahn and this Auburn team, but now they must start preparing for Missouri.
[+] Enlarge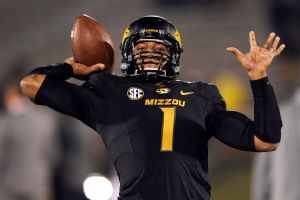 AP Photo/L.G. PattersonJames Franklin and Missouri have clinched the SEC East and will play Auburn in the SEC Championship Game.
Missouri's legitimate:
Speaking of Missouri, the Tigers just keep on winning. Everybody kept waiting for the conference newcomer to slip up and hand the SEC East over to South Carolina, but it never happened. On Saturday,
James Franklin
and
Henry Josey
led Mizzou past Texas A&M, which helped it clinch the East and book a trip to Atlanta to play Auburn in the SEC championship game. Franklin, in his second game back, finished 18-of-28 for 233 yards and two touchdowns. He also rushed for 80 yards. Josey was bottled up most of the night, but his 57-yard touchdown scamper late proved to be the game winner. Missouri's defense deserves the most credit, though. It held
Johnny Manziel
to 195 yards passing and just 21 yards rushing.
No three-peat:
Alabama's quest for a third consecutive BCS title fell short on Saturday, and the Crimson Tide had only themselves to blame. They had been able to overcome turnovers, penalties and other mistakes all season long, but the miscues finally caught up to them against Auburn. It started with a missed field goal.
AJ McCarron
and his receivers didn't look to be in sync early in the game. Then there was a blocked punt. With all of those errors, Alabama still jumped out to a 21-7 lead. But in the second half, the Tide missed three more field goals, and the last one proved to be the difference-maker as Auburn returned it 109 yards for the game-winning score. UA kicker
Cade Foster
drilled one of the attempts only to see the points taken away by a false start penalty. The stakes were high, and Alabama failed to play its best football. It cost the Crimson Tide.
QBs to the rescue:
LSU and Mississippi State both won in dramatic fashion this weekend, and both have reserve quarterbacks to thank for it. In Mississippi State's case, it was regular starter
Dak Prescott
who took over in the fourth quarter and led the Bulldogs past archrival Ole Miss in overtime. Prescott missed the two previous games with an injury and wasn't expected to play Thursday. But Dan Mullen rolled the dice, and it worked. Mississippi State became bowl eligible with the win. LSU turned to freshman signal-caller
Anthony Jennings
out of necessity when
Zach Mettenberger
got hurt in the fourth quarter. Jennings led a 99-yard drive in the final minutes, throwing a 49-yard touchdown to push the Tigers past Arkansas.
No SEC in the BCS:
It was a wild weekend in the SEC, but Saturday's Iron Bowl could leave the conference out of the BCS title game for the first time since 2005. Alabama was the favorite to reach Pasadena and win a third straight national championship, but the Tide's aspirations fell short against Auburn. Now it will likely be Florida State and Ohio State at the top with both Auburn and Missouri on the outside looking in. The SEC's only hope is that either the Seminoles or the Buckeyes lose next weekend in their conference championship games or that the winner of the SEC title game will have a strong enough résumé to overcome one loss and jump an undefeated Ohio State team. If not, the league's seven-year reign might be over.
September, 20, 2012
9/20/12
10:45
AM ET
Here's a look at what to watch in the SEC in Week 4:
1. Punching back on the Plains:
It's no secret that No. 2 LSU is one of the most physical teams in the country and revels in pounding teams into submission in the second half. The beating LSU put on Auburn last season in Baton Rouge was R-rated. Auburn gets a chance to do something about it Saturday in Jordan-Hare Stadium. But it remains to be seen if Auburn is physical enough to stand toe-to-toe with LSU, which has barely broken a sweat in its first three games. Auburn is preparing to play more of its base 4-3 defense in this game to try to slow down LSU's bruising running game. Auburn spent a lot of time in its 4-2-5 alignment in the first three games against teams that spread the field. It's going to be more about winning one-on-one battles at the line of scrimmage in this game, which has typically been LSU's forte.
[+] Enlarge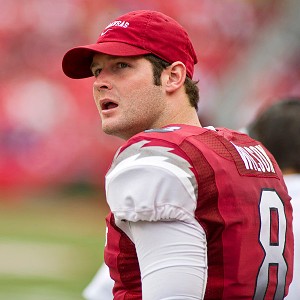 Beth Hall/US PresswireThe Hogs, who have scored one touchdown in their past six quarters of play, could be without QB Tyler Wilson against Rutgers.
2. Tyler Wilson Watch:
Even though Wilson has been practicing this week, the Hogs are still unsure if he'll be cleared medically to play against Rutgers after missing the Alabama game last week with a concussion. It could be Friday or Saturday before the Hogs know, but they're at least preparing as if Wilson will be able to play. Since he was knocked out of the Louisiana-Monroe game two weeks ago, Arkansas has scored one touchdown in its past six quarters of play. Clearly, the Razorbacks need Wilson back on the field if they're going to make something of this season, and his leadership is needed as much as his ability to throw the football.
3. Running back revival:
Everybody wondered in the offseason if South Carolina's
Marcus Lattimore
and Arkansas'
Knile Davis
could return to their pre-injury forms. The jury is still out. Lattimore, coming off a torn ACL, rushed for 110 yards and two touchdowns in the opener, but has carried it only 25 times in his past two games. The Gamecocks haven't really needed him, but that could change Saturday against Missouri. It has been tough sledding for Davis, who has 191 yards on 54 carries in his first three games. Davis missed all of last season with a fractured ankle and just hasn't been as decisive about hitting the hole. And to be fair, there hasn't been a surplus of holes to run through to this point. The Hogs need to get the running game going and may give
Dennis Johnson
a few more opportunities.
4. Absorbing the pounding:
South Carolina's
Connor Shaw
and Missouri's
James Franklin
are both hurting, and it's still September. That's not to question the toughness of either player, but it is a reminder that quarterbacks whose livelihood in this conference is running the ball have to be a special breed and also have to be able to absorb a serious amount of pounding. Shaw, who has a hairline fracture in his right (throwing) shoulder, will start Saturday against Missouri. He sat out the game two weeks ago and left the game early last week after aggravating the injury. Franklin is optimistic that he'll be able to play Saturday after missing last week's game against Arizona State. Franklin declined to take a painkilling shot after injuring his shoulder against Georgia two weeks ago.
5. Gators chomping away:
There's only one SEC team with two league wins, and that team is Florida. In fact, the Gators have two road wins and are home Saturday to face struggling Kentucky in the Swamp. To this point, Florida has been exactly what second-year coach Will Muschamp had hoped the Gators would be. They're physical. They can run the ball, and they've been suffocating on defense in the second half. They've yet to allow any fourth-quarter points in three games and have forced 10 three-and-outs in the second half. Florida has a bye week after Kentucky's visit and gets LSU at home on Oct. 6. So barring a major letdown in the Swamp this weekend, the Gators are poised to rejoin the SEC's elite and will have a chance to rejoin college football's elite that first Saturday in October.
6. Three straight shutouts for Alabama?
In their first three games, the No. 1-ranked Crimson Tide have won by a combined margin of 128-14. They haven't allowed any points in their past two games, and if they blank Florida Atlantic this Saturday, it would mark the first time since 1966 that Alabama had recorded three shutouts in a row. That 1966 team, which finished 11-0 and won the SEC championship, had four straight shutouts and collected a total of six shutouts that season. The 2012 version of the Crimson Tide has been equally dominant, and if you go back to the end of the 2010 season, Alabama has played only one game in its past 17 that was decided by fewer than 16 points. That was the 9-6 overtime loss to LSU last season. Only twice in its past 16 victories has Alabama won by fewer than 21 points.
7. Carta-Samuels takes his shot:
Vanderbilt coach James Franklin isn't saying for sure who will start at quarterback this week against Georgia, but
Austyn Carta-Samuels
is listed No. 1 on the depth chart after playing the whole game last week in the Commodores' 58-0 rout of Presbyterian.
Jordan Rodgers
, one of Vanderbilt's team captains, had been the starter in the first two games, but the Commodores lost both and failed to score a second-half touchdown in either game. Franklin has shown in the past that he's not afraid to switch quarterbacks. A year ago, the Commodores started playing some of their best football after Rodgers replaced Larry Smith. Now, it looks like Carta-Samuels, a transfer from Wyoming, will get a chance to show what he can do against an SEC defense. Franklin has been guarded about the whole situation and has refused to let either quarterback talk to the media this week.
8. Playing like a contender:
Mississippi State played just well enough to survive last week in its 30-24 victory at Troy. The Bulldogs moved into The Associated Press' Top 25 poll at No. 23 this week, but they still need to prove they belong there. A big step in that direction would be taking care of business against South Alabama in convincing fashion Saturday and not playing down to the competition. The Bulldogs are set up to have a special season when you look at their schedule. Quarterback
Tyler Russell
is playing lights out, and the defense stepped up big in the win over Auburn. But if Mississippi State is going to be a legitimate contender in the West, it's time the Bulldogs start playing their best football every week … regardless of the opponent.
9. Most improved:
Speaking of Russell, he's right there at the top when you start reeling off the SEC's most improved players three weeks into the season. Russell and West Virginia's
Geno Smith
are the only two quarterbacks in the country with a passing efficiency rating of at least 160.0 with eight or more touchdowns and no interceptions. Florida's
Mike Gillislee
, now that he's the Gators' go-to back, also has blossomed. He's leading the SEC with 346 rushing yards. A few others who deserve mention are Alabama cornerback
Dee Milliner
, Alabama place-kicker
Cade Foster
, South Carolina cornerback
Jimmy Legree
, LSU linebacker
Kevin Minter
, LSU running back
Kenny Hilliard
, Georgia receiver
Marlon Brown
and Florida receiver
Frankie Hammond
.
10. Maturation of Manziel:
What has been the biggest difference in Texas A&M redshirt freshman quarterback
Johnny Manziel
, who's leading the SEC in total offense with an average of 325.5 yards through his first two games? That's easy, said coach Kevin Sumlin. "The biggest transition for him has been moving from an athlete playing quarterback to a quarterback who's an athlete," Sumlin said. Manziel is still working on becoming a better passer and keeping his eyes down the field when he starts to scramble. But Sumlin likes what he sees from his first-year starter to this point. "The biggest compliment I can give him is how he's led the team and taken care of the football," Sumlin said.
January, 9, 2012
1/09/12
7:42
PM ET
NEW ORLEANS -- Greetings from the Mercedes-Benz Superdome!

If you're looking for a confident bunch Monday night, look no further than Alabama's kickers. Cade Foster and Jeremy Shelley took the field by storm. Along with punter Cody Mandell and snapper Caron Tinker, Alabama's specialists rushed out on the field, taunted some LSU players and were chest bumping all the way to their side of the field.

All the confidence this group lost in Tuscaloosa, Ala., on Nov. 5, must have been found on the bus ride in tonight. These two are looking to make up for the awful showing they had the last time these two teams met. You know all those kicks have been running through their brains all week, so it's time to come out strong for these guys.

Both have been nailing kicks, so far, but there aren't any Tigers in their faces this time ...

There are also a few celebrities in the house. Cedric the Entertainer rode with me on the elevator up to his seat. No word from him on which team he's rooting for.

So far, it's hard to tell which side has more fans, but this place exploded when the Alabama kickers ran out onto the field. It got even louder when Alabama's skill players ran out onto the field. We'll see what it looks like come kickoff.

This place is going to be electric come kickoff. It helps that music from the movie "Inception" is blaring through the stadium loudspeakers.

Did you just get goosebumps? I know I did.
January, 2, 2012
1/02/12
2:31
PM ET
The grade that counts for Alabama won't come until next Monday night, but the regular-season grades have already been posted for the Crimson Tide.
OFFENSE: A-

Alabama wasn't known this season for its offense, and there were times that the Crimson Tide looked limited in the passing game. But when you step back and look at the results (and the stats), Alabama deserves an A. The minus is for not being able to score a touchdown at home against LSU and for a passing game that was hit and miss. Nonetheless, the Crimson Tide were second in the SEC in total offense, averaging 433.4 yards per game, and their balance was what was so impressive. They were the only team in the league to average more than 200 rushing yards and 200 passing yards per game. Junior running back
Trent Richardson
led the SEC with 1,583 rushing yards, and the Crimson Tide turned the ball over only 12 times in 12 games. And against SEC competition, Alabama led the league in total offense (414 yards) and was second in scoring offense (33.9 points).
DEFENSE: A+
Perfection is what every football team seeks, and Alabama was about as close as it gets this season on defense. The Crimson Tide head into the Allstate BCS National Championship Game ranked No. 1 nationally in all four of the major statistical categories on defense -- total defense, scoring defense, rushing defense and passing defense. Oklahoma is the only school to accomplish that feat since the NCAA began keeping records in 1937. Alabama is allowing just 191.3 yards per game, which is more than 60 yards fewer than the second-place team nationally (LSU) is averaging giving up per game. What's more, Alabama opponents are averaging just 8.8 points per game, making the Crimson Tide the only team nationally to hold foes to single digits. Defensively, Alabama didn't allow more than 14 points in a game all season.
SPECIAL TEAMS: C-
It didn't go the way Nick Saban would have drawn it up in the kicking game. It wasn't all bad.
Marquis Maze
led the SEC in kickoff return average and was third in punt return average. He had an 83-yard punt return for a touchdown against Arkansas. But aside from Maze, the Crimson Tide had their struggles on special teams. They were ninth in the SEC in net punting and 11
th
in kickoff coverage. They gave up two kickoff returns for touchdowns and were 18-of-29 on field goals. Cade Foster, who handles the longer field goals, had seven of the Tide's 11 misses. Of course, the killer for Alabama was missing four field goals in the loss to LSU.
COACHING: A-
The only glitch was special teams. Otherwise, Alabama was a balanced, disciplined, well-coached football team. The job Kirby Smart did on defense speaks for itself, as Alabama is chasing history on that side of the ball. The secondary went from a liability at times in 2010 to one of the strengths of the team this season. And on offense, Jim McElwain's guys generated the kind of balance you rarely see. The Tide ran it pretty much when they wanted to and made enough plays in the passing game to keep defenses honest. Sophomore quarterback
AJ McCarron
didn't have big numbers, but he played within himself and only threw five interceptions all season. When you play defense the way Alabama does, commit the fewest number of penalties in the league and only turn it over 12 times in 12 games, you're going to win a lot of games.
December, 26, 2011
12/26/11
10:23
AM ET
Later this week, the bowl season kicks off for the SEC with three games.
On Friday, Mississippi State faces Wake Forest in the Franklin American Mortgage Music City Bowl. And on Saturday, Vanderbilt takes on Cincinnati in the AutoZone Liberty Bowl, while Auburn meets Virginia in the Chick-fil-A Bowl.
Who in the SEC has the most to prove this season in the bowl games? And we're talking head coaches, assistant coaches, players, teams and particular units on teams.
[+] Enlarge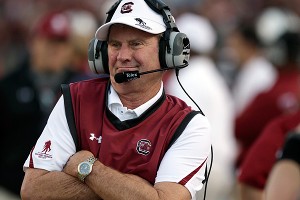 AP Photo/Brett FlashnickCan coach Steve Spurrier get the Gamecocks their fifth overall bowl win in school history?
Here's a look:
South Carolina:
Don't bother looking up South Carolina's bowl record. It's ugly. Try 4-12 all-time, and the Gamecocks have lost four of their last five, including three straight. They've played some real stinkers in the postseason, too. Steve Spurrier has knocked down a lot of barriers at South Carolina. Here's a chance to knock down another one against Nebraska in the Capital One Bowl. He and his ball team need to prove they can get it done in the postseason.
Alabama:
Second chances are rare in college football. The Crimson Tide are getting one in the Allstate BCS National Championship Game against LSU. There was a lot of chatter coming out of Tuscaloosa the first time about Alabama being the better football team despite what the scoreboard said. Well, this time, there's a lot of chatter nationally about the Crimson Tide not belonging in the national title game. There's only one way to quell that.
Mississippi State:
It wasn't a bad season in Starkville. Unfulfilling is probably a better way to put it. The Bulldogs had high expectations, but wound up 6-6. It's true they were a few plays away from being 8-4, but they didn't make those plays. Making them against Wake Forest in the Franklin American Mortgage Music City Bowl and completing a second straight winning season would make everybody in Bulldog Land feel a lot better.
Bobby Petrino:
It's not so much that Petrino has a lot to prove. After all, he's turned Arkansas into one of the SEC's elite programs in four seasons. But here's a chance to get to 11 wins and do it against a top-10 team — Kansas State in the AT&T Cotton Bowl. The Hogs have lost five of their last seven games to top-10 opponents. If they're going to take that proverbial next step, this is the kind of game they need to win, and a victory would generate a ton of momentum heading into next season.
James Franklin:
The coach has already done what nobody (outside the guys in that Vanderbilt locker room) expected -- he's guided the Commodores to a bowl game. But if they don't win it against Cincinnati in the AutoZone Liberty Bowl, it's just going to go down as another losing season, which would be the 28
th
at Vanderbilt in the last 29 seasons. The difference between winning and losing this game for Franklin and the Commodores is huge.
Alabama's place-kickers:
Not much needs to be said here. If the Crimson Tide had made a couple of field goals back on Nov. 5, they would be unbeaten right now. Cade Foster is the one who's struggled the most, but he handles the longer attempts. In Jeremy Shelley's defense, he ended the regular season by making his last four attempts. Alabama fans hope they're saving up all their big kicks for the Big Easy.
Jordan Jefferson:
There are a lot of folks who don't think the LSU quarterback can beat Alabama standing in the pocket and throwing the ball. Obviously, a big part of Jefferson's game is running the ball. But something says Alabama will be a bit more prepared for the option this time. If LSU is going to win its second national championship in five years, Jefferson will have to make a few big plays in the passing game.
Isaiah Crowell:
For a true freshman who flirted with 1,000 yards in the regular season, Crowell sure has been a lightning rod. He still has a lot of growing up to do, but the talent is there to be a great one in a long line of great Georgia tailbacks. Maybe he'll put it all together for four quarters in the Outback Bowl versus Michigan State.
Auburn's defense:
Not that head coach Gene Chizik is prone to point the finger, but if he's looking for somebody to blame about the way Auburn plays on defense after the Chick-fil-A Bowl, he'll have to point it at himself. Chizik is in charge of the Tigers' defense for the bowl game, and this is their last chance to get that sour taste out of their mouths from the regular season. Auburn was one of two SEC teams to give up an average of 400 yards per game and allowed 34 or more points in seven of 12 games.
Florida's offense:
Charlie Weis has taken off for Kansas, meaning Brian White moves in as the Gators' interim offensive coordinator. He could be auditioning for the full-time job. The thing he has going for him is that it can't get much worse than the regular season. Not counting the Furman game, the Gators scored more than one offensive touchdown in a game only once in their last seven contests. The other bit of good news is that
Jeff Demps
and
Chris Rainey
should both be as healthy as they've been.
November, 5, 2011
11/05/11
9:08
PM ET
TUSCALOOSA, Ala. -- Remember that special-teams advantage LSU supposedly had coming into this game?

So far, it's the part of the game that has kept the Tigers in this game.

Alabama has missed three field goals, the last a 49-yarder that was blocked by LSU's Bennie Logan.

Cade Foster missed the first two (a 44-yarder and 50-yarder), and the Tide gave Jeremy Shelley a shot on the third one. The results were even worse. Logan blocked it, and Eric Reid returned it to the Alabama 48.

Missing out on nine potential points is one thing, but there's also an emotional punch to the gut when you move within striking distance three times and come up empty all three times.

The game's scoreless, but LSU has to feel like it's ahead at this point.
June, 23, 2011
6/23/11
10:46
AM ET
We're pulling double-duty with the kickers today. Instead of ranking 10 place-kickers and 10 punters, we're doing the top five for each position.
These aren't the workout warriors that grab all of the headlines, but try to find a team that would go through a season without using them. Last season, 15 games involving SEC teams were determined by three points or fewer.
Here are our top five place-kickers:
[+] Enlarge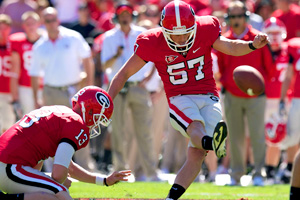 Dale Zanine/US PresswireBlair Walsh already has missed five field goals this season, the same amount he missed across his sophomore and junior seasons combined.
1. Blair Walsh, Georgia, Sr.:
Walsh was very reliable for the Bulldogs last season, making 20 of 23 (87 percent) field goals. For his career, he's hit 55 of 68 kicks in his career, including 22-of-29 from 40 yards and beyond. He has missed just two kicks within 30 yards in his career.
2. Zach Hocker, Arkansas, So.:
He was only a freshman last season, but Hocker nailed 16 of 19 field goals, with seven from 40 yards or better. With the high-powered offense the Razorbacks have, Hocker will get plenty of opportunities again. Now that he's gone through a year of learning in the SEC, he should be even better, which is scary.
3. Bryson Rose, Ole Miss, Jr.:
Rose returns with the highest kicking percent in the league after connecting on 16 of 18 (89 percent) field goals in 2010. He only attempted two kicks from 40 or more yards last year, but he hit both and might see more long attempts this season if the offense is slow out of the gate.
4. Derek DePasquale, Mississippi State, Sr.:
He shared time with Sean Brauchle last season, but was still 10-of-12 kicking with a long of 43 yards. The Bulldogs' offense should get him more attempts this season and the coaches were pleased with his range this spring.
5. Jeremy Shelley, Alabama, Jr.:
Shelley was used for kicks within 40 yards, while Cade Foster dealt with the long ball. The two should be utilized the same way this fall, but Shelley will again get more attempts to score points. He was 12-of-16 in 2010.
Here are our top five punters:
1. Tyler Campbell, Ole Miss, Jr.:
Campbell led the nation with a punting average of 46.4 yards per kick in 2010. He had 19 punts of more than 50 yards and five were launched 60 or more yards. Campbell is the ultimate field-position changer.
2. Drew Butler, Georgia, Sr.:
Butler completes the dynamic kicking duo in Athens. He ranked fourth in the league, averaging 44.5 yards per punt last season. Nineteen of his 50 punts landed inside the 20-yard line.
3. Dylan Breeding, Arkansas, Jr.:
Breeding will help out Arkansas' defense with his extremely strong leg. He pinned 18 punts inside the 20 a year ago and averaged 42.5 yards per kick, which the coaches expect to increase after a solid spring.
4. Ryan Tydlacka, Kentucky, Sr.:
He's been a kicker of all trades during his time at Kentucky. He started as a pooch punter, kicked a few field goals and has now been a two-year starter at punter. He averaged 43.8 yards per punt in 2010 with a net average of 35.3 yards.
5. Richard Kent, Vanderbilt, Jr.:
It's hard to believe he still has a leg after the year he had in 2010. Kent kicked a nation-leading 84 punts last season and had 27 downed inside the 20. He only had a 41.8 yard-per-kick average, but that's to be expected with all those kicks.
June, 23, 2011
6/23/11
10:06
AM ET
We're finally at the end of our position rankings and we'll finish up with special teams. This group does a lot more than people think and teams are starting to put their best athletes out here.
Kickers and punters don't get a lot of respect in the athletic department, but they are crucial assets to teams.
Let's see how the SEC special-teams units stack up:
1. Georgia:
It would be hard to find another special-teams unit better than the one in Athens. The Bulldogs return the dependable Blair Walsh at kicker, who kicked a league-high 20 field goals on 23 attempts (87 percent). Punter Drew Butler averaged 44.5 yards on 50 punts, with 19 landing inside the 20-yard line. Georgia also has a talented returning duo in Brandon Boykin and Branden Smith. Boykin is the school's all-time leader in kick return yards and averaged 24.3 yards per return with a touchdown in 2010. Smith only returned 10 punts last year, but is dynamic in space.
[+] Enlarge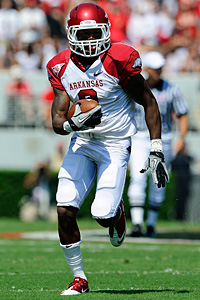 Paul Abell/US PresswireJoe Adams was fifth in the nation in punt returns last season, averaging 15.6 yards per return.
2. Arkansas:
Joe Adams
might be one of the most fun guys to watch in the return game. He was fifth in the nation, averaging 15.6 yards per return last year, and is one of the shiftiest returners out there. He also had a touchdown.
Dennis Johnson
is back from injury and when he was healthy, he was one of the best kicker returners in the league. In the kicking game, sophomore Zach Hocker had an impressive freshman year where he connected on 16 of 19 field goals, with seven from 40 or better. Punter Dylan Breeding averaged 42.5 yards per kick and pinned 18 inside the 20.
3. Alabama:
Trent Richardson
not only heads the Tide's offense, but he's extremely dangerous as a kick returner. He averaged 26.4 yards per return and had a touchdown last year.
Marquis Maze
, who grabbed 21 punt returns last year, has great speed to break one at any time. Alabama actually returns two kickers in Jeremy Shelley and Cade Foster. Shelley handled kicks with the 40-yard range, while Foster had long distance duty. The job at punter hasn't been settled, with Cody Mandell and Jay Williams battling it out.
4. Florida:
Caleb Sturgis is finally healthy after suffering a back injury last season. He was solid from farther out as a freshman, but struggled to stay consistent closer to the end zone. Ray Guy winner Chas Henry is gone, but freshman Kyle Christy enrolled early and immediately took over punting duties, launching a punt 55 yards in the spring game.
Andre Debose
was named the nation's top kick returner by the College Football Performance Awards in 2010 after returning two kicks for touchdowns and
Chris Rainey
could be the slipperiest punt returner in the SEC. Florida also has been the best punt/kick blocking team around the last few years.
5. Ole Miss:
Place-kicker Bryson Rose made 16 of 18 kicks last year and should be just as solid and might have to come up with even more kicks this fall. His kicking partner, punter Tyler Campbell, had a nation-leading 46.4 yards per punt average in 2010. He launched 19 punts over 50 yards and five of 60 or more yards.
Jeff Scott
was solid on kick returns, but Ole Miss' staff will look to junior college transfer Philander Moore for kick and punt returns. Last season at Blinn (Texas) College, Moore had 811 total return yards and six touchdowns.
6. Vanderbilt:
Kicker Ryan Fowler and punter Richard Kent return in 2011. Fowler was solid as a freshman, but took a few steps backward in 2010 kicking 8-of-13 and missing all of his kicks from beyond 35 yards. Carey Spear, who handled kickoffs last season, could push Fowler. Kent had one of the strongest and most durable legs in the country last season, leading the nation with 84 punts and averaged 41.8 yards per kick. Twenty-seven of them were downed inside the 20. Vanderbilt did, however, have four punts blocked. When healthy,
Warren Norman
is one of the most dynamic returners in the league. As a freshman, he took three kickoffs back for touchdowns and averaged 25.4 yards per return before his injury last season.
7. LSU:
The Tigers had one of the most exciting place-kickers to watch in Josh Jasper because he not only kicked but he was the master of the trick play. LSU will now look to Drew Alleman, who has had issues with consistency. Jasper also punted here and there, but regular punter Derek Helton is gone, leaving redshirt freshman Brad Wing in charge. The Australian-born athlete has a lot to learn about the SEC. Now that Patrick Peterson is gone, LSU is starting over in the return game. No one on the roster is as dynamic, but the Tigers will look at
Rueben Randle
, Tyrann Mathieu and Ron Brooks to carry the load by committee.
8. Mississippi State:
Kicker shouldn't be an issue for the Bulldogs. Derek Depasquale has hit 20-of-24 field goals in his two seasons in Starkville and nailed a 54-yarder in the spring game. Mississippi State must replace punter Heath Hutchins, but Baker Swedenburg should fill in nicely. The Bulldogs have a lot of athletes to throw out into the kicking game this year.
LaDarius Perkins
, who is Mississippi State's talented backup to running back
Vick Ballard
, will be used on kicks, along with receiver
Brandon Heavens
.
Chad Bumphis
returned punts last season, but Heavens could take over that role.
9. Kentucky:
Returners Randall Cobb and
Derrick Locke
are gone, but there are some athletes ready to fill in. Randall Burden, Winston Guy and Martavius Neloms got looks at punt returner this spring and there are a few options at kick returner. Both
Raymond Sanders
and Jerrell Priester fielded a few last season. Both kickers are back. Walk-on Craig McIntosh made 11 of 15 field goals last season, with a long of 50, while punter Ryan Tydlacka averaged 43.8 yards per kick.
10.Tennessee:
Kicker Michael Palardy only attempted seven kicks last year while backing up Daniel Lincoln. His only three misses were from beyond 40 yards. Tennessee will also be breaking in new punter Matt Darr this fall. The Volunteers were in the middle of the SEC pack in kick returns last year, but were 11th in the league in punt returns, totaling just 73 punt returns. Da'Rick Rogers will return punts and showed improvements there, while the Vols have yet to find their punt returner.
11. Auburn:
Record-setting kicker Wes Byrum is finally gone, so the Tigers' new kicker literally has big shoes to fill. That person should be Cody Parkey, who primarily kicked off last year. Auburn also lost punter Ryan Shoemaker. His replacement,
Steven Clark
had nine punts in 2010, with two dropping inside the 20.
Onterio McCalebb
should return more kicks this season and dynamic redshirt freshman
Trovon Reed
could be used on punt returns, where the Tigers averaged just 6.2 yards per return a year ago.
12. South Carolina:
Gone is dual-threat kicker Spencer Lanning, who kicked field goals and punts. Jay Wooten impressed at times this spring and can place-kick and punt. There's a chance the Gamecocks might end up having two kickers as Patrick Fish competed for the punting spot this spring. The Gamecocks were last in the SEC with a 3.4-yard average on punt returns, while the tiny
Bryce Sherman
averaged 20.4 yards on kicks, with a long of 37. The shifty
Ace Sanders
and newcomer Damiere Byrd could compete for time at punt returner.