November, 23, 2011
11/23/11
11:00
AM ET
Virginia coach Mike London knows the facts: Virginia Tech has won 11 of the past 12 games in the series, and each of the past seven.
This team, though, is different, London said.
You'd better believe it is.
[+] Enlarge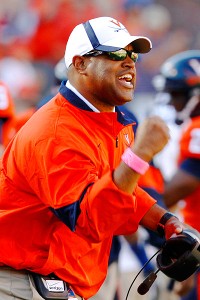 AP Photo/Steve HelberMike London took over a team that went 3-9 in 2009 and has them one victory away from winning the Coastal Division.
For three straight seasons prior to this one, Virginia had a losing record. Now, in only London's second season, the Cavaliers are heading to a bowl game and playing on Saturday for the Coastal Division title for the first time since 2007. The turnaround is ahead of schedule and has far exceeded expectations for a team that was picked by the media to finish fifth in the Coastal Division standings this year.
So how'd he do it? What, exactly, is different?
London will tell you at length about the off-field process, the effort to get the players more involved in the classroom and in community service, to make them winners off the field before they walked on it. He has done that, and weeded out some players who couldn't cut it academically or socially. He has changed the culture, and he has changed the mentality on the field, but there are also some big differences on the field that have helped lead to the Cavaliers' immediate success.
You can point to the defense, which is another year older and wiser and more comfortable in the second year under coordinator Jim Reid. You can point to the quarterback,
Michael Rocco
, who has been a steady factor over the four-game winning streak, completing 61.2 percent of his passes for seven touchdowns and one interception. You can point to the work of offensive coordinator Bill Lazor, who has dramatically improved the Cavaliers' offensive numbers. The staff has a good blend of promising young talent it recruited and veteran players who remained from the previous staff. It's important to remember that Al Groh did not leave the cupboard bare, especially on defense. The staff also has had the same five starters on the offensive line for the past 11 games.
"They're a good football team," Virginia Tech coach Frank Beamer said. "They're for real. They're good, and they're playing really well and playing with a lot of confidence, as they should. They've done a good job up there."
UVa has amassed more than 400 yards of total offense in 11-of-23 games since Lazor brought his pro-style philosophy to Charlottesville. The Oct. 22 game against NC State (249 yards) and UVa's 2010 season finale (291 yards) are the only games during London's tenure when the Cavaliers failed to reach at least 300 yards of total offense. UVa enters Saturday's game against the Hokies ranked No. 3 in the ACC and No. 42 in the nation with an average of 411.0 total yards per game.
Defensively, Virginia has forced a turnover in every game this season and is tied for No. 5 in the nation and No. 1 in the ACC in red zone defense. Virginia's front seven has been a strength, and it should be with the veteran leadership of senior defensive tackles Matt Conrath and Nick Jenkins, and senior defensive end Cam Johnson.
While Virginia has overachieved in the big picture, the expectations from the start were that this was going to be a good defense. All of it, though, has added up to an ACC contender quicker than most expected.
The question now is whether London can finish what he has started. It's an accomplishment in itself, though, to be in a position to try.
"It's great to know that in November we're still talking about Virginia football being relevant," London said. "It's great to know that there's a lot at stake here. It's an opportunity to play in the last game of the year that decides whether you have a chance to play for goals that you've set coming into this season. They've been on this side of the ledger for a long time. This is new, unchartered territory for us.
"There doesn't have to be any fake hype or fake talk, anything like that. We don't need any Twitter account stuff, Facebook stuff, going back and forth. We're in-state rivals, and it would be characterized to say that's how they feel about us and we feel about them.
"You know and you respect the men that you're going against, but you also understand that you're the in-state rival. You want to beat the in-state rival in everything that you do. Right now, they've had a number of years of success in that regard. We stand here and get ready to play and want to be able to challenge them in recruiting. We want to be able to challenge them on the football field. And that's what you do. I can't put it any other way."
August, 12, 2011
8/12/11
1:00
PM ET
Heading into the 2010 season, there was an abundance of talent at the running back position in the ACC, as five 1,000-yard rushers returned for the first time in league history. This season, the ACC is deep and talented at several positions, but not so much so that there is one overwhelming strength. Offensively, the receivers are probably the deepest, most proven group, and defensively, the defensive ends could be the most fearsome group.

Which one, though, will be the position of power in the ACC this fall?

Defensive ends:The ACC has earned a reputation as a defensive conference, and these players will do their best to uphold that tradition. Brandon Jenkins at Florida State and Quinton Coples at North Carolina should be two of the best in the country, but they're hardly alone in their pass rushing abilities. Izaan Cross at Georgia Tech is a name ACC fans will know by the end of the season. He's underrated and has a chance to finish the season with all-conference accolades. His teammate, Jason Peters, can do the same. Together they should help bring noticeable improvement to the Jackets' defense this year.

North Carolina also has Donte Paige-Moss at the other end position, another player who has already caught the attention of NFL scouts. Adewale Ojomo and Olivier Vernon at Miami are two veteran standouts, and NC State's Jeff Rieskamp and Virginia's Cam Johnson are also among the best in the league. Andre Branch at Clemson should get more recognition this fall, especially with the early departure of Da'Quan Bowers, and Max Holloway at Boston College hasn't reached his potential yet but began to make a name for himself last season.

There aren't a lot of veteran quarterbacks in the ACC this year, but there are plenty of defensive ends ready to give the rookies a not-so-warm welcome.
July, 25, 2011
7/25/11
11:15
PM ET

Boston College:
The inconsistency of the quarterback position has been at the heart of the Eagles' recent struggles, but with the maturation of
Chase Rettig
and hire of Kevin Rogers, coach Frank Spaziani said they're in a much better position than when he was hired. "We're moving forward there. Certainly, we're light years ahead of where we were two years ago when I was sitting here. … Chase has separated himself a little, if you will."

Clemson:
There are several positions freshmen will have a legitimate chance to earn playing time at this summer, starting with wide receiver. "We need some help there," Dabo Swinney said. He also said the team needs immediate help at linebacker, and running back
Mike Bellamy
will "really spice things up for us." The defensive line is another area of opportunity and possibly one in the secondary. Clemson redshirted 15 players last year and will use 12 to 13 freshmen this fall.

Duke:
David Cutcliffe's three-year record with the Blue Devils is 12-24. That's not great -- but it's a heck of an upgrade from the three previous years, when the program went 2-33. "I'm not writing home to my mother about 12 wins in three years," Cutcliffe said. "But we've won six times as many games [as from 2005-07]. There's a lot to be excited about for the future. … I'm glad people talk about [Duke not playing in a bowl since 1994]. They should question it. I tell our players, 'Quit talking about it and go do it. Win more than you lose.' "

Florida State:
The Seminoles are among the programs that officials of the Chik-Fil-A Kickoff Game would like to bring to Atlanta for a season opener in the future. (The game is currently booked through 2014.) When someone casually suggested to coach Jimbo Fisher that Florida-Florida State would make a nice season starter instead of the traditional season ender, Fisher was not overly opposed. He pointed out the difficulty of playing an emotional rivalry game, then -- if either team is good enough -- turning around a week later and playing with peak intensity in the league title game. Fisher also opined that the Florida State-Miami game should be anchored in a permanent spot on the season schedule, instead of being moved around. He favors the midseason slot the rivalry enjoyed in its heyday during the 1980s and '90s.

Georgia Tech:
Even after 32 years of marriage, Paul Johnson still doesn't wear his wedding ring. So the absence of his 2009 ACC title game ring is hardly a surprise, even after the NCAA forced him to vacate the title. Johnson said the school hasn't decided yet if it will appeal the sanctions, but because there was no loss of scholarships he said it won't affect his program moving forward.

Maryland:
The NCAA has cut 2.5 hours of practice time per week from first-year coach Randy Edsall, so he has adjusted by cutting down film time on Sundays and shortened his practice plan in anticipation of the sanctions. "It's not going to affect us," he said. "We're not going to make any excuses. We're just going to go play. I have a schedule put together for what we need to get done and what we need to comply with, we'll comply with it."

Miami:
Coach Al Golden said offensive lineman Seantrel Henderson has a back injury that has been bothering him since mid-March, and defensive tackle Marcus Forston had surgery. "I don't know what the timetable on them is, but I do know they're probably not going to be full-go as we kick off camp." Golden said Henderson was 388 pounds in January, but is 341 now and has responded well to the adversity and developed maturity.

North Carolina:
Coach Butch Davis said a leadership committee was formed by the players to help those within the program make good decisions. They meet every Wednesday, and Tony Dungy has been a guest speaker for them. Davis said they were going to start it a year ago, but it was tabled until this spring because of the NCAA investigation. The coaches chose the initial leaders.

NC State:
Coach Tom O'Brien said the decision to release former quarterback
Russell Wilson
from his scholarship was probably the most scrutinized decision he's ever made as a head coach. Still, he said "we're happy with the decision. … We're confident with the team we have coming in with the decision we made, and certainly we wish Russell the best. I hope he wins a Big Ten championship. I think that would be great for him."

Virginia:
Defensive end Cam Johnson has a sickle cell anemia trait, coach Mike London said, and it could be affecting his cardiovascular performance. "You can go, go hard for two or three plays and then on that fifth or sixth play be gassed," London said. The staff will closely manage how many snaps Johnson gets and rotate him after fewer plays. It's something Johnson has been aware about for a few years, London said.

Virginia Tech:
Virginia Tech coach Frank Beamer said he's still not sure who his punter is going to be, but he's got one advantage in the uncertainty of the position:
"The only thing we know is people will not return punts against us because [if] we don't know where it's going, they don't know where it's going," he said. "There's not a chance in the world for guys to be returning punts on us. That's the only good thing I see out of it."

Wake Forest:
Coach Jim Grobe said he is still looking for a go-to receiver, and based on this past spring,
Michael Campanaro
could be the guy.
Chris Givens
is one of the fastest players on the team, but has been inconsistent and needs a better work ethic. The Deacons could use as many as four receivers this fall, but Grobe said if they don't earn the playing time, "we're going to have a fullback and a tight end on the field all the time."
June, 23, 2011
6/23/11
9:00
AM ET
The quarterbacks in the ACC are not strong this year. They're not weak, either.
They're a complete unknown.
With more than half of the ACC introducing first-year starting quarterbacks, there's not enough on tape yet to determine how this group will fare. There is enough evidence, though, to pinpoint which position groups -- based on past performances and future potential -- enter this fall as the strongest and weakest in the ACC:
STRONGEST/OFFENSE
[+] Enlarge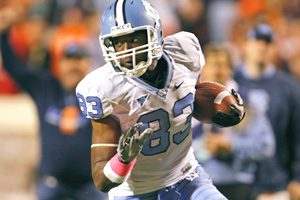 AP Photo/Steve HelberDwight Jones had 62 receptions for 946 yards last season, both good for fourth in the ACC.
Wide receivers:
The ACC overfloweth this year with veteran receivers. Virginia Tech, Florida State and Duke come to mind first, but don't forget about North Carolina. The Tar Heels didn't lose any receivers from last year, and
Dwight Jones
had 946 yards last year. Colin Larmond Jr. at Boston College, who is making his way back from a season-ending knee injury,
Kris Burd
at Virginia and Miami's fast and talented group will also highlight ACC passing games. With Leonard Hankerson gone at Miami, somebody is going to have to emerge as the go-to receiver, and
Tommy Streeter
gets my vote, but he must be more consistent.
WEAKEST/OFFENSE
Center:
There are three above-average centers in the league this year: Cam Holland at North Carolina, Tyler Horn at Miami, and Dalton Freeman at Clemson. Beyond that, it's a thankless yet vital position that's in transition throughout the conference. Brian Moore is replacing a three-year starter at Duke, Florida State loses one of its best players in center Ryan McMahon, the same with Georgia Tech and Sean Bedford, Virginia Tech and Beau Warren, and Wake Forest and Russell Nenon. With the exception of Freeman (22), and Holland (20), no returning starter at center in the league has more than 13 career starts.
STRONGEST/DEFENSE
[+] Enlarge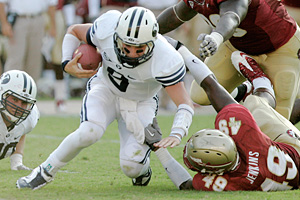 AP Photo/Steve CannonFlorida State's Brandon Jenkins had 13.5 sacks as a true sophomore.
Defensive ends:
The ACC has had a reputation as a defensive conference, and this year shouldn't be any different. Conference fans should be excited about the talent up front. Brandon Jenkins at Florida State and Quinton Coples at North Carolina should be two of the best pass-rushers in the country, but they're not the only players with all-league potential. Andre Branch at Clemson, UNC's Donte Paige-Moss, Virginia's Cam Johnson, and Miami's Adewale Ojomo and Olivier Vernon are all going to cause opposing quarterbacks some pain.
WEAKEST/DEFENSE
Cornerbacks:
Unless, of course, you're Florida State, where Greg Reid and Xavier Rhodes should be one of the best duos in the country. Chase Minnifield at Virginia and Jayron Hosley should also be candidates for national honors, but that's about where the confidence in corners comes to a halt. North Carolina has to replace its entire secondary, and so does Georgia Tech. Clemson also lost two starting corners in Marcus Gilchrist and Byron Maxwell, and Miami lost two starters in Brandon Harris and Ryan Hill.
Posted by ESPN.com's Heather Dinich
Each team is going to need a little bit of help this fall (some more than others). Here's a look at where everyone in the ACC needs the most help heading into summer camp:
BOSTON COLLEGE -- Quarterback. It's easily the biggest question mark in Chestnut Hill, and it will also be one of Frank Spaziani's first major decisions as head coach. Regardless of whom he picks -- Dominique Davis, Codi Boek or Justin Tuggle -- experience will be at a minimum.
CLEMSON -- Wide receivers. Somebody needs to help Jacoby Ford, and Aaron Kelly and Tyler Grisham are no longer around to do it. Xavier Dye didn't quite have the consistency he'd hoped for this spring. Marquan Jones and Terrence Ashe could also be factors.
DUKE -- Offensive line. The Blue Devils lost three starters there and moved a fourth (Kyle Hill from left guard to left tackle), so it will have an entirely new look. The one player back in his original position is center Bryan Morgan.
FLORIDA STATE -- Receivers. FSU is waiting until the legal process unfolds to determine the length of Rod Owens' suspension, and it's uncertain how quickly Taiwan Easterling will be cleared to play after an injury to his Achilles. Bert Reed, Louis Givens and Jarmon Fortson will be heavily depended upon.
GEORGIA TECH -- Linemen. The Yellow Jackets have to replace three of four starters on the defensive line, and injuries to Cord Howard, Dan Voss and Nick Claytor slowed the progress on the offensive line this spring.
MARYLAND -- Offensive line. The Terps lost three starters and will have four players in new positions. Phil Costa should be the leader of an otherwise inexperienced group.
MIAMI -- Linebacker depth. There were a few position changes, and Colin McCarthy missed the spring. Sean Spence is proven, but depth remains a concern.
NORTH CAROLINA -- Receivers. This group had to be completely rebuilt, as UNC lost players who accounted for 17 of 21 receiving touchdowns last year. Greg Little had a good spring and should be the leader now, and freshman Joshua Adams benefitted from enrolling early.
NC STATE -- Safety. This is coach Tom O'Brien's biggest concern, and the Pack need Javon Walker, who tore his ACL and missed the spring, back and healthy. Clem Johnson played well last year despite being hindered by several injuries. O'Brien is looking for more from Jimmaul Simmons and Justin Byers.

VIRGINIA -- Linebackers. The backups to Antonio Appleby, Jon Copper and Clint Sintim rarely played, as Al Groh wanted to keep his best players on the field. Darren Childs, Steve Greer, Aaron Taliaferro, Cam Johnson, and Darnell Carter will have to grow up quickly.
VIRGINIA TECH -- Kicker. For the third straight year, Frank Beamer is in search of a new kicker, this time to replace Dustin Keys. Matt Waldron was the leading candidate out of the spring, but the competition is wide open.
WAKE FOREST -- Linebackers. Gone are Aaron Curry, Stanley Arnoux and Chantz McClinic. Introducing Gelo Orange. Yes, that's his name. Orange, along with Hunter Haynes, Jonathan Jones and a host of others have some big shoes to fill.