February, 11, 2010
2/11/10
9:20
AM ET
The Hokies' defense will be one of the biggest questions in the ACC this preseason, as Virginia Tech has to replace six starters. Still, expectations are high heading into 2010 that Virginia Tech will be one of the best teams in the country. Much of that confidence comes from defensive coordinator Bud Foster's proven ability to reload.
Can he do it again?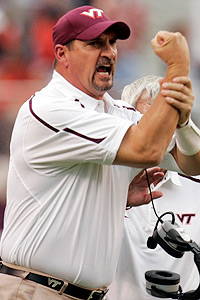 AP Photo/Steve HelberBud Foster will have some new pieces to work with this season.
Here's a closer look at exactly what Virginia Tech's situation is on defense heading into spring practice, and how much work the Hokies have to do:
Overall, Virginia Tech needs to replace three of four starters up front, outside linebacker, cornerback and free safety.

The only defensive ends with any significant playing time are Chris Drager, who the staff wanted to move back to tight end, and Steven Friday. There are a few redshirt freshmen you might get to know: Duan Perez-Means, Tyrel Wilson, James Gayle and J.R. Collins. Of course, the only problem with redshirt freshmen is that they haven't played yet. Isaiah Hamlette is the only other defensive end who has played, but that was extremely sparingly. It's possible the staff could move tackle John Graves back to end, where he practiced last spring, or possibly look at moving other players.

At defensive tackle, Antoine Hopkins will be the front-runner to replace Cordarrow Thompson, and he has experience so that shouldn't be too much of a concern.

At outside linebacker, Cody Grimm and Cam Martin have to be replaced, leaving a wide open competition.

At cornerback, Jayron Hosley or Cris Hill will likely take over for Stephan Virgil. No worries there.

At free safety, Eddie Whitley was Kam Chancellor's backup, and the staff is confident in him. Antone Exum will also be given an opportunity.

The good news? Virginia Tech returns cornerback Rashad Carmichael, rover Davon Morgan, Graves at defensive tackle, and Lyndell Gibson at inside linebacker.
It's a lot to ask for a team that faces Boise State's offense on Labor Day, but the Hokies wouldn't be so highly ranked this preseason if people didn't think they could do it.
September, 16, 2009
9/16/09
9:53
AM ET

Posted by ESPN.com's Heather Dinich
Virginia Tech linebacker Cam Martin thought he jammed his right middle finger on his first play Saturday against Marshall. He went to the sideline after the series ended, and his glove was "full of blood."
The training staff took out a Band-Aid to stop the bleeding, wrapped it up in some tape, and he went back in the game. Every time Martin came off the field, his finger needed more attention. It wasn't until halftime, when he had to get stitches, when Martin realized the bone had poked through his skin.
| | |
| --- | --- |
| | |
| | Scott Cunningham/Getty Images |
| | Virginia Tech linebacker Cam Martin has gotten used to playing through pain. |
"To me, I was like, if I come out of the game for a jammed finger, that's pretty wimpy," said Martin, who finished second on the team with six tackles, including one tackle for loss in the Hokies' 52-10 romp of Marshall. "It feels pretty terrible this week."
Pain is par for the course for Martin, a fifth-year senior who seems to have had as many injuries as he has career tackles for loss (14.5).
He missed all of this past spring with a right knee injury, but the knee injury that has limited him the most occurred in the 2007 ACC title game. He's still dealing with the lingering effects of a microfracture on the inside of his knee cap that's caused him to become noticeably slower and still causes some pain when he plants.
He's also partially torn his labrum. He's had a shoulder sprain. He had a foot injury that kept him out a few games. Since his senior year in high school, Martin has undergone four surgeries. He has had so many injuries he couldn't even name them all. He's had two hernias, one on each side that required surgery. His elbow has been "all jacked up" since high school and doesn't fully extend anymore.
Heck, he even had an ingrown toenail.
"I know how limited my plays are right now," he said. "I know when I'm in there I need to make the best of them. … I don't think a hurt finger is a reason to come out of the game."
Martin said he'll wear a small molded cast on his finger this Saturday against Nebraska so it won't bother him. Considering his medical history, odds are it won't.
"A guy that goes through as much pain to play this game as he does, you just want things to work out good for him," said coach Frank Beamer. "I think he's probably more appreciative than ever of the time to get out there and make some plays, and help this football team. What a solid guy, what a good guy, what a good football player."
Martin, who splits time with redshirt senior Cody Grimm at whip linebacker, isn't na´ve. He knows Grimm is faster. This year, Martin really doesn't know when he'll get in the game. That's why he takes every opportunity he's given to get on the field -- injured or not.
"Some of the older guys ask me about being on the kickoff team," Martin said. "Like, why don't I tell coach Beamer to take me off, I'm a senior. I'm like, why? You come to Virginia Tech to play football. If he asks me to go out there on kickoff, right I'm going to go out there on kickoff. If I play five snaps, if I play 50 snaps, I'm going to give them all like I'm playing my last game. With all these injuries, you don't know when it's going to be your last game."
February, 24, 2009
2/24/09
10:12
AM ET
Posted by ESPN.com's Heather Dinich
As we head into spring football, there will be plenty of starting jobs up for grabs. It's no secret UNC needs to find dependable receivers, and Georgia Tech needs to replace three of four starters on its defensive line. Will FSU quarterback Christian Ponder keep his job, or will E.J. Manuel win it from him? Despite several quarterbacks returning with starting experience, spring could bring change throughout the ACC. Here's a look at five key position battles to keep an eye on:

Clemson quarterback -- Will Kyle Parker assert himself as the Tigers' quarterback of the future this spring, or will Willy Korn lock up the starting job? Korn played in six games last year and started one, but he has been plagued by a nagging shoulder injury. Michael Wade and Jon Richt (Georgia coach Mark Richt's son) will also compete to take over as Cullen Harper's successor.

Boston College quarterback -- Considering how Dominique Davis struggled in losses in the ACC championship game and the Gaylord Hotels Music City Bowl (he combined to throw three touchdowns, four interceptions and complete 40.5 percent of his passes), nothing is guaranteed. The previous coaching staff had high hopes for Justin Tuggle, and this spring is a chance for him to show Frank Spaziani and Co. why.

Virginia quarterback -- With cornerback Vic Hall working out at quarterback this spring, and two players returning with starting experience in Marc Verica and Jameel Sewell, this spot appears to be wide open. Hall was the Cavaliers' fifth-leading tackler last year (the top four have to be replaced), and made 24 straight starts at cornerback before his surprise appearance at quarterback in the season finale at Virginia Tech. Hall only threw the ball once against the Hokies but scored on 40 and 16-yard runs.

Virginia Tech linebackers -- The Hokies will have to replace Brett Warren and Purnell Sturdivant. Barquell Rivers, who started for the injured Warren in the Orange Bowl, should be a frontrunner, but Cam Martin and Cody Grimm are also experienced returners at outside linebacker. It's also possible some players in the secondary could get a look.

Duke cornerback -- Returning starter Leon Wright missed the last six games due to injury, and while he was out, Chris Rwabukamba played well in the 10-7 win over Vanderbilt, grabbing an interception at the Duke one-yard line. He started two games. Lee Butler saw playing time as a freshman last year, and Zach Greene enrolled in January and will participate in spring practice so he'll get an opportunity, too.
July, 18, 2008
7/18/08
6:46
PM ET
Posted by ESPN.com's Heather Dinich
1. Virginia: Senior captain Clint Sintim started all 37 games in his career and was third on the team with 77 tackles last season. His nine sacks last year were the most of any linebacker in the nation. Inside linebacker Jon Copper is UVA's active leader in tackles with 200, and Antonio Appleby is third on that list with 155.
2. Wake Forest: All three returning starters are back, including strongside linebacker Aaron Curry, a two-time defensive player of the week who had three interception returns for touchdowns and led the nation in interception return yards with 256. He also led the team with 13.5 tackles for a loss. Middle linebacker Stanley Arnoux also returns, along with weakside linebacker Chantz McClinic, who had 42 tackles.
| | |
| --- | --- |
| | |
| | Ned Dishman/Getty Images |
| | Senior linebacker Brian Toal, who has 180 career tackles despite missing last season, is healthy again for Boston College. |
3. Boston College: The Eagles lost two key starters, but senior Brian Toal's shoulder is healed and he has 180 career tackles despite missing last season with a medical redshirt. His primary competition at weakside linebacker will come from senior Robert Francois, who finished last season with 39 total tackles. Junior Mark Herzlich, who started all 14 games last year and finished second in total tackles with 97 should anchor this unit. Junior Mike McLaughlin started three games at middle linebacker last season when Jo-Lonn Dunbar was injured and is the heir apparent there.
4. Maryland: This could be one of the Terps' deeper positions, even with the loss of Erin Henderson to the NFL. Seniors Dave Philistin and Moise Fokou each started all 13 games last season, and Adrian Moten, who played all three positions as a freshman, tied for the team lead in sacks (5.5) and had 50 tackles even though he didn't start a game. Philistin ranked fourth in the ACC with 9.5 tackles per game.
5. Florida State: These guys have talent, it's just a matter of when it will all come together. Geno Hayes is gone, and so is Marcus Ball, who was expected to fill in for Hayes but was booted off the team. Still, the Seminoles' leading tackler is back. Underrated middle linebacker Derek Nicholson made 99 stops last year and was the only linebacker to start all 13 games. Strongside linebacker Dekoda Watson started every game but the bowl game because of the academic scandal and will miss the first three, leaving the job to sophomore Kendall Smith. The 'Noles are also excited about freshman Nigel Bradham.
6. Miami: The Hurricanes lost their leading tackler in Tavares Gooden, a third-round NFL draft pick by the Ravens, but are still better off than the way they ended last season -- with three healthy linebackers. Senior Glenn Cook is back after missing last season with a foot injury, and the freshmen -- Arthur Brown and Sean Spence -- didn't waste any time impressing the staff while Coin McCarthy was out this spring. Darryl Sharpton and Spencer Adkins are possible starters in the middle.
7. Virginia Tech: The Hokies will obviously miss Vince Hall and Xavier Adibi, but middle linebacker Brett Warren played well last year when Hall got hurt and earned the confidence of defensive coordinator Bud Foster. Purnell Sturdivant is No. 1 heading into the fall, but should be challenged by veteran Jonas Houseright and redshirt freshman Hunter Ovens. Redshirt junior Cam Martin started 13 of 14 games last season at weakside after being moved from free safety and finished fifth on the team with 78 tackles and was third in sacks with 4.5.
8. Duke: Senior Michael Tauiliili is the top active player in the league in terms of career tackles, and finished last season with 108. He also had four sacks and three interceptions. Vincent Rey led the Blue Devils with 111 tackles. The third slot will be between Marcus Jones and Adam Banks. There's not a lot of depth here, but there's talent.
9. Clemson: This is the least experienced unit on the Tigers' defense. Josh Miller is the only senior in the group and is competing for the starting middle linebacker job. Tommy Bowden was impressed with freshman Stanley Hunter this spring, but Brandon Maye had the top spring among the newcomers and is listed as first team in the middle entering the fall. Junior Kavell Connor is the top option at weakside linebacker and had a career high 15 tackles in the Chick-fil-A Peach Bowl. He had 46 stops for the year, tops among linebackers on the spring depth chart. Sophomore Scotty Cooper also started the Chick-fil-A Bowl at strongside linebacker. He had 33 stops for the season in 183 plays on defense.
10. North Carolina: The Tar Heels have to replace leading tackler Durell Mapp, but return sophomore Bruce Carter and sophomore Quan Sturdivant. Carter played in all 12 games and started seven. He made 18 of his 25 tackles in the final five games. Sturdivant's experience is similar, having played in all 12 games, but started just five. He finished the season with 47 tackles, but also added an interception and a blocked punt. Senior Mark Paschal played in all 12 games and started four at middle linebacker, and Chase Rice was still recovering this spring from a torn tendon in his left ankle. He was the starter in 2007, but got hurt in the season opener and missed the rest of the season.
11. NC State: There's not a lot of experience, as the top candidates have combined for five starts and only four guys have played in a collegiate game. Nate Irving is the lead candidate at weakside linebacker, having started four games. Ray Michel started one game in the middle, and strongside should be wide open. Robbie Leonard, a converted walk-on defensive back, is the starter heading into summer camp. He played in eight games as a strong safety and has seen most of his action on special teams the past two seasons. Thomas Barnes got valuable experience as a backup middle linebacker last season, playing the last 10 games and scoring a touchdown on a fumble recovery in only his third career play from scrimmage.
12. Georgia Tech: Two of the three stars from last year -- Philip Wheeler and Gary Guyton -- are now on NFL rosters. Junior Shane Bowen started nine games last season, but sophomore Anthony Barnes has the most potential and started three. Two young rookies, sophomore Brad Jefferson and redshirt freshman Kyle Jackson, are good enough that Bowen may lose his starting job.