January, 15, 2015
Jan 15
10:30
AM ET
Our world is full of overreactions. The slightest flap of a butterfly's wings has us all in a tizzy.
That's why we were so quick to jump on Texas A&M as a title contender after Week 1. That's why the SEC was thrashed after going 7-5 in bowl season. It's a never-ending cycle of instant hyperbole, and it usually comes back to haunt us.
The 2014 SEC season certainly didn't lack overreaction during an exciting year, and here are some of the major ones we got wrong:
The Magnolia State takeover
[+] Enlarge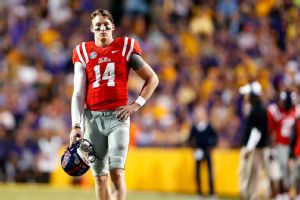 AP Photo/Jonathan BachmanA promising start for Bo Wallace and Ole Miss fell apart with consecutive losses to LSU and Auburn.
After Mississippi State and Ole Miss beat Texas A&M and Alabama, respectively, at home on the same day, the state of college football resided in the 20th state admitted to the Union. The Bulldogs thrashed A&M 48-31, and Ole Miss topped Alabama 23-17 at home and watched the Grove overflow onto the field inside Vaught-Hemmingway Stadium. The schools then tied for third in the Associated Press Poll, and Mississippi State would eventually rank No. 1 in the College Football Playoff Rankings.
All was good in Mississippi until Ole Miss lost an ugly one at LSU and a heartbreaker at home to Auburn in consecutive weeks. Two weeks later, the Bulldogs suffered their first loss of the season at Alabama. The regular season culminated with neither Mississippi team in the SEC title game after the Rebels were blown out at Arkansas 30-0, then eliminated Mississippi State from the race with a 31-17 win at home.
Bowl season erased any remnants of that magical Magnolia run, as Ole Miss was demolished 42-3 by TCU in the Chick-fil-A Peach Bowl, and Mississippi State surrendered 452 rushing yards in a 49-34 loss to Georgia Tech in the Capital One Orange Bowl.
Kenny Thrill for Heisman
After a record-setting 511-yard passing debut by
Kenny Hill
in Texas A&M's 52-28 drubbing of South Carolina
in
Columbia, we all thought we were seeing another College Station Heisman winner. And he just kept bringing us back in with more jaw-dropping performances. By the start of October, Hill had thrown for 1,745 yards and 17 touchdowns with just two interceptions. He also had a QBR that didn't dip below 91.5 at any point during the Aggies' 5-0 start, which pushed them to No. 6 in the country -- another thing that caused us to overreact.
Then the meat of the SEC season arrived, and the Thrill was gone. During three straight blowout losses, Hill turned it over seven times with just six touchdowns. After a disastrous 59-0 loss at Alabama, Hill was benched for freshman
Kyle Allen
and would never see the field again. He dealt with a suspension and decided to transfer from A&M after the season.
South Carolina's East run
We in the media picked South Carolina and Steve Spurrier to represent the SEC East in the conference championship. After opening night, that prediction imploded. Despite sporting a record-setting offense, the defense was atrocious, ranking 13th in the SEC (432.7 yards allowed per game). South Carolina surrendered 36.8 points per game in SEC play; made choking in the fourth quarter with double-digit leads an art; and finished the season 7-6 (3-5, SEC). Not exactly title-worthy.
The SEC West
The SEC West took a lot of heat for its embarrassing 2-5 bowl record. Arkansas and Texas A&M -- the only winners -- were ashamed of their division mates, and the 5-0 SEC East was left smiling after being lambasted for most of the season. Chants of "overrated" rained down around the SEC, especially after No. 1 Alabama was left out of the national title game after losing to Ohio State -- the eventual champion -- in the Allstate Sugar Bowl. All that talk of how great the West was during the season went out the window because of its bowl showing. Is the SEC still the deepest conference? Yes, but when your star attraction (the West) fails to show up against everyone else, it's hard to call it the best division ever. It's hard not to at least listen to some of those "overrated" chants. It puts a damper on such an exciting regular season from that side of the conference. And I don't buy the excuse that the division was beaten up from the regular season.
Save it. A few teams played better opponents, and others just fell flat at the worst time.
The conference certainly isn't in ruins now, but the gap between the SEC and the rest of the nation is closing.
Some early overreactions for 2015
Alabama's run of dominance is over
You never quite got the feeling that you were looking at a dominant Alabama team in 2014, and Ohio State's 42-35 College Football Playoff Semifinal win against the Crimson Tide supported those feelings. The Tide was the No. 1 team in the country, but couldn't make it to the final game. Now, Alabama loses a lot of what pushed the team to a No. 1 ranking. Only two starters -- left tackle
Cam Robinson
and center
Ryan Kelly
-- return on offense, and four very valuable defensive starters are gone, including safety
Landon Collins
and linebacker
Trey DePriest
. Plus, two defensive coaches left.
Are we seeing the demise of the Tide? Heck, no! Don't throw dirt on Nick Saban and his squad just yet. The Tide will rebuild on offense, still has some young talent to work with, and running back
Derrick Henry
might as well have been a starter last season. The defense has some work to do, yes, but if you think Saban is going to let his program leave the realm of relevance, you are greatly mistaken.
Steve Spurrier is done
From three straight 11-win seasons to a disappointing 7-6, the Head Ball Coach has seen better days. Rumors swirled about his possible retirement, but Spurrier will return in 2015, and like Saban, he is not one to just let his program fall apart. The defense will be older in 2015, and you better believe that Spurrier will be coaching with a chip on his shoulder this fall. Will the Gamecocks win the East? Not gonna put money on it, but Spurrier will make his squad much more competitive in 2015.
Will Muschamp will turn Auburn's defense around
Regardless of what you think of Will Muschamp's head-coaching job at Florida, he's an excellent defensive mind. And his hiring as Auburn's defensive coordinator has the Plains all abuzz with the thought of an SEC and playoff run with only three starters departing on the defensive side. But not so fast, Auburn fans. Can Muschamp have the same sort of success Lane Kiffin did in his first year at Alabama? Kiffin wasn't exactly working with an inept offense when he arrived. Muschamp must turn around one of the SEC's worst defensive units. I'm not saying Auburn won't challenge for the West, but let's be careful immediately crowning the Tigers this early.
Nick Chubb for Heisman
Yeah, he's the best running back returning in the SEC and should be one of the nation's best ... again ... but come on, this a quarterback award.
January, 14, 2015
Jan 14
12:00
PM ET
Unfortunately, the time has come to say goodbye to the 2014 season. All that excitement generated from the first College Football Playoff is slowly evaporating around the country.
It's sad to see such a fun season end, but that just leaves us with more time to talk about what could/should happen in college football in 2015. As rabid consumers of the next big thing, it's really never too early to peer into the future, which is why we are here today.
Fresh off Ohio State's rout of Oregon in the College Football Playoff National Championship Game Presented by AT&T, we are here wondering if the SEC will get itself back into the national title game. Which teams can compete for that spot? Which teams will be competing for the SEC title in 2015?
The upcoming season should bring us a handful of contenders, especially from the Western Division, but we are going with three from each division.
Here are the top three SEC contenders from each division in 2015:
EAST
Georgia:
I took some heat for writing on Monday that the Bulldogs
might be a quarterback away from taking the SEC
and making a legitimate playoff run. I stand by that, and still believe that the Bulldogs have enough pieces in place to be the top SEC at the end of 2015.
Nick Chubb
is the league's top returning running back and will be a Heisman Trophy candidate, while the defense is stacked at linebacker and in the secondary. There's work to be done along a defensive line that lacks adequate depth, but a loaded D-line class is on the way. With a host of talent coming back on both sides and a more than manageable schedule, Georgia has no choice but to be the East favorite.
Tennessee:
If everything goes according to plan, the Vols should return 18 total starters in 2015. That's huge for a team that was so incredibly young last year and started to jell late in the year. Both lines should be strong and the offense will revolve around quarterback
Joshua Dobbs
and running back
Jalen Hurd
, but keep an eye on a deep receiving corps that could prove to be among the SEC's best. Tennessee must go to Florida, Alabama and Missouri, but getting Georgia and South Carolina at home will be huge in the SEC race.
Missouri:
Coach Gary Pinkel has done a tremendous job for the better part of his three years in the SEC, but this could be quite the challenge. Mizzou loses a lot of firepower from its 2014 team, including the nation's best defensive end combination in
Shane Ray
and
Markus Golden
. The Tigers have been through this before, but there isn't a dynamic combo lurking like the ones Mizzou has had the last two years. Offensively, quarterback
Maty Mauk
must get his game under control and unlike the position the Tigers were in to start 2014, Mizzou loses its top receivers to a very inexperienced group. Still, these are the
Missouri Tigers
. Don't you dare count them out.
Watch out for ... Florida:
New coach, myriad offensive questions and a quarterback battle. Yeah, the Gators need a lot of help, and new coach Jim McElwain certainly has his work cut out for him in Year 1. The road schedule is tough, but the defense should be fine once again, and if the offense has any sort of identity, the Gators could surprise.
WEST
Auburn:
The addition of former Florida head coach Will Muschamp to head up the defense was a monster hire for the Tigers. He'll have the luxury of having all but three starters returning on his side, and top pass-rusher
Carl Lawson
will be back. Muschamp has quite the challenge in fixing what was a bad defense in 2014, but any sort of improvement will give the Tigers contender status. That's because Auburn's offense should continue to roll behind quarterback
Jeremy Johnson
, who might be a better pure passer than
Nick Marshall
.
Duke Williams
is back at receiver, three starting linemen return, and rising sophomore
Roc Thomas
could be a beast at running back.
Alabama:
The Crimson Tide lose a lot on offense with only two starters returning -- left tackle
Cam Robinson
and center
Ryan Kelly
-- and the defense, which loses four valuable starters, certainly needs to get back to its old ways. The loss of Kevin Steele to LSU and Lance Thompson to Auburn means Nick Saban will have to rework his staff, but you have to wonder what sort of changes will come philosophically to a defense that just hasn't played well against tempo, running quarterbacks and the spread. There's still talent in Tuscaloosa, and Alabama isn't going anywhere, but don't be surprised if the Tide goes into a little bit of a rebuilding mode.
Ole Miss:
The Rebels, like Georgia, might be a quarterback away from making a serious run in 2015. There will be relative inexperience at the position, regardless of who wins the starting job in 2015. But getting star receiver
Laquon Treadwell
back will provide whichever quarterback an elite target. The defense loses some value, including defensive backs
Senquez Golson
and
Cody Prewitt
, but that incredibly talented defensive line comes back in tact and there are young, budding stars littered around that side of the ball. Ole Miss has to get more consistent play out of its offensive line/running game and must go to Florida, Alabama, Auburn and Mississippi State.
Watch out for ... Arkansas:
The Hogs' next offensive coordinator needs to know one thing: Hand the ball off. Running backs
Jonathan Williams
and
Alex Collins
(2,290 combined yards in 2014) will be the focus of the offense again, but Arkansas has to get better production out of quarterback
Brandon Allen
(175.8 yards per game). The defense should be solid, but losing DT
Darius Philon
to the NFL will hurt.
January, 9, 2015
Jan 9
9:00
AM ET
The season isn't even over yet, but does that mean it's too early to start looking ahead to 2015? Not when it comes to Alabama and Auburn. Fans are already talking about which team will be better next season and who will have the advantage come November.
So who does have the edge? We decided it break it down for you … in January.
Offense
[+] Enlarge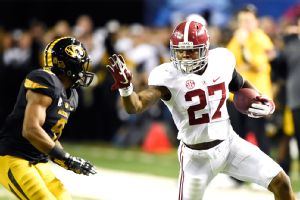 John David Mercer/USA TODAY SportsDerrick Henry will return to lead Alabama's offense and running game.
Alex Scarborough:
In terms of knowing what you're getting at the skill positions, I'm inclined to give Auburn the edge.
But that's not to say that Alabama isn't loaded with potential.
Derrick Henry
is clearly a beast and the return of
Kenyan Drake
from injury could provide a lethal one-two punch at running back. But outside of those two, is there a position where you know who the starters will be? That's not the case at receiver, where
Amari Cooper
and his 124 receptions exit stage left, along with the next two leading receivers in
Christion Jones
and
DeAndrew White
. The wideout with the most receptions returning to school this spring?
Chris Black
, who caught all of 19 passes this past season.
Cam Sims
,
Robert Foster
and
ArDarius Stewart
have great potential, but they're unproven. Heck,
O.J. Howard
has the skill to be an All-SEC tight end, but two years in he hasn't found any consistency in the passing game.
And that's all not to mention the quarterback, which could be
Jake Coker
... or
Cooper Bateman
or
David Cornwell
or Blake Barnett.
The one spot where I feel most sure Alabama will succeed is up front. On the offensive line, the return of center
Ryan Kelly
is an enormous help in terms of leadership for the rest of the line and continuity with whoever wins the starting job at quarterback. As is the return of standout freshman
Cam Robinson
. With Robinson anchoring the line at left tackle, there's plenty to build around.
Grant Hill
,
Alphonse Taylor
and Dominic Jackson have gained plenty of experience as a backups and could slide into the starting rotation with minimal stress.
Greg Ostendorf:
Don't be so quick to give Auburn the edge at the skill positions considering the Tigers are losing
Cameron Artis-Payne
,
Sammie Coates
,
Quan Bray
and
Corey Grant
.
The good news is that D'haquille Williams is returning to school. He solidifies a wide receiver group that would've been a huge question mark otherwise. Auburn should also be set at running back with
Roc Thomas
and
Peyton Barber
taking over for Artis-Payne and Grant, not to mention the addition of Jovon Robinson, the nation's No. 1 junior college player. Gus Malzahn has had a 1,000-yard rusher every year he's coached at the college level, and that trend should continue in 2015 with at least one of the players mentioned above.
The Tigers have a proven commodity at quarterback, too, which is more than their cross-state rival can say.
Jeremy Johnson
could've started for the majority of teams in college football, but he was stuck behind
Nick Marshall
, one of the best to ever play at Auburn. The offense might look a little different with Johnson under center, but don't expect a big drop-off in production. Not after what we saw in the first half of the Arkansas game.
The concern will be up front on the offensive line. How do the Tigers replace
Reese Dismukes
? How long will the coaches stick with
Shon Coleman
at left tackle?
The pieces are there --
Avery Young
is returning;
Alex Kozan
will be back from injury;
Braden Smith
will have a full year under his belt -- it's just a matter of how they fit together. If Auburn can figure that out, this offense will be scary good.
Defense
[+] Enlarge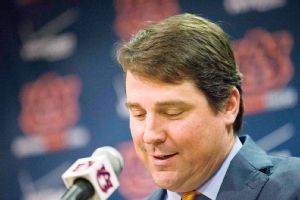 AP Photo/Brynn AndersonAuburn is looking to Will Muschamp to lessen the talent gap between Auburn and Alabama's defenses.
Scarborough:
The gap between the quality of Alabama's defense and that of Auburn's has narrowed of late. This past Iron Bowl and the bowl season showed that neither program is particularly adept at playing defense these days.
But in terms of who has the better defense entering the offseason, it has to be the Tide.
For one, there's no change in the system like Auburn is having to deal with. For another, there's a wealth of talent to draw from.
Alabama's secondary may be shaky today outside of
Cyrus Jones
, but there are so many four- and five-star DBs in Tuscaloosa it's hard to walk near the practice field without tripping over one. If for some reason
Eddie Jackson
continues to backslide and
Maurice Smith
and
Jonathan Cook
don't develop as planned, there's always the pair of top cornerbacks from last year's signing class in
Tony Brown
and
Marlon Humphrey
. If they don't work out, there are two top-five cornerbacks committed and two top-10 safeties committed as well.
But the big reason to like Alabama's chances on defense next season rest primarily with the front seven and the defensive line in particular. With the likes of
A'Shawn Robinson
,
Jonathan Allen
and
Dalvin Tomlinson
returning, most of last season's two-deep depth chart will remain intact. If
Jarran Reed
and
D.J. Pettway
stays for their senior season and the signing of Jonathan Taylor works out, defensive coordinator Kirby Smart will have more defensive linemen than he'll know what to do with.
Ostendorf:
I'm not going to sit here and try and argue that Auburn has a better defense. It's just not true. As bad as Alabama looked against Ohio State, Auburn was worse.
What I can say is that the Tigers will be better. Bringing in Will Muschamp to run the defense was the best move Auburn made all offseason. He's one of the more renowned defensive coordinators in college football, and regardless of talent, he'll have this defense playing much better than they did down the stretch.
But really, talent shouldn't be an issue. Linebackers
Cassanova McKinzy
and
Kris Frost
have both announced they're returning to school. Cornerback
Jonathan Jones
will be back after he quietly put together an All-SEC caliber season. Oh and did I mention that
Carl Lawson
will be healthy? Lawson missed the entire 2014 season due to injury, but he has a chance to be one of the league's top pass-rushers this fall. Remember what Dante Fowler Jr. did at Florida? That's what Muschamp wants to do with Lawson.
This unit might look even better a month from now depending on whether Muschamp can reel in five-stars Byron Cowart and CeCe Jefferson.
Alabama might have the better defense next year. And they should; that's Saban's identity. But like you said earlier, the gap won't be as wide as it looked at times this past season. Auburn's defense isn't giving up 55 points in the Iron Bowl. I don't care if
Braxton Miller
transfers to Tuscaloosa. That's not happening again.
December, 24, 2014
12/24/14
10:00
AM ET
With all due respect to the quarterbacks and other skill position players, the Allstate Sugar Bowl will ultimately come down to who wins the battle of the trenches.
If Ohio State can't protect
Cardale Jones
, his youth will show.
If Alabama can't give
Blake Sims
a clean pocket, he could struggle, too.
So which team has the edge in the battle of offensive line versus defensive line? Big Ten reporter Austin Ward and SEC reporter Alex Scarborough preview the matchup.
Alabama OL:
This isn't the Alabama offensive line of two years ago, the one that consistently moved the line of scrimmage four and five yards ahead with each snap.
Barrett Jones
,
Chance Warmack
and
D.J. Fluker
have long since left the building. But while this season's group hasn't met that lofty standard, it has exceeded the nationally average. Just look at the past four games when the line surrendered only four sacks. And that was with a less-than-100-percent
Cam Robinson
at left tackle, who should be healthy again after a few weeks of rest. Robinson is still a true freshman, though, and starting right guard
Leon Brown
has been inconsistent, drawing penalties at some inopportune moments.
-- Scarborough
Ohio State DL:
The Buckeyes might not have lived up to the preseason hype as the best unit in the nation after losing star defensive end
Noah Spence
for the entire season (second failed drug test), but they're pretty close. With three more surefire, high-round draft picks in the starting lineup, including perhaps the most disruptive pass-rusher in the country in sophomore
Joey Bosa
, there's still no shortage of talent up front.
Michael Bennett
and
Adolphus Washington
make life miserable on the inside, and Bosa has shown signs of becoming a more complete, even more frightening defensive end late in his second year with the program.
-- Ward
Advantage:
It's awfully close, but give the slight edge to Ohio State, which might have the best lineman on the field in Bosa.
Ohio State OL:
There was plenty of growing up to do for an offensive line that was replacing four starters while also moving the only veteran with first-team experience to a new position. But the Buckeyes zipped through the learning curve. The unit is virtually unrecognizable at this point when compared to the one that struggled mightily in a Week 2 loss to Virginia Tech. Left tackle
Taylor Decker
emerged as a cornerstone for Ohio State. He has both on-field ability and is a respected leader who helped usher those new starters through a rough patch and into players capable of keeping the highest-scoring attack in the Big Ten rolling.
-- Ward
Alabama DL:
Everyone who watched this team closely and followed its recruiting exploits over the past few years knew that this promised to be one of the most deep and talented D-lines in Nick Saban's time at Alabama. Saban, of course, scoffed at the idea, and for the first few weeks of the season he looked to be right as the unit largely underperformed. But somewhere along the way things kicked it into gear.
A'Shawn Robinson
returned to his freshman All-American form, anchoring the interior of the line, and
Jonathan Allen
,
Dalvin Tomlinson
and others pitched in at defensive end. Throw in hybrid end/linebackers
Ryan Anderson
and
Xavier Dickson
, and Alabama has a wealth of options to rush the passer.
-- Scarborough
Advantage:
Another close call with both units steadily improving throughout the year, but we'll give the nod to Alabama's depth and ability to roll in fresh linemen.
December, 5, 2014
12/05/14
10:00
AM ET
On Oct. 11, it didn't look like either
Alabama
or
Missouri
would be playing in the SEC championship game. Alabama, who lost to
Ole Miss
the week before, escaped with a 14-13 win at
Arkansas
that wasn't pretty. Earlier in the day, Missouri played even worse. The Tigers were blown out at home by
Georgia
just weeks after a home loss to
Indiana
.
And yet, here they are, the last two SEC teams standing. Both the Crimson Tide and the Tigers went on to win their next six games, clinching their respective divisions, and on Saturday they will play for the conference title in Atlanta.
Alabama's key to victory:
Missouri's secondary is exploitable, but it's up to Alabama's offensive line whether or not
Blake Sims
gets the ball downfield. More specifically, the onus is on tackles
Austin Shepherd
and
Cam Robinson
as they go up against what could be the most fearsome pair of defensive ends in the country,
Shane Ray
and
Markus Golden
. O-line coach Mario Cristobal should feel good about Shepherd's prospects, as the senior has been the most consistent starter on the line. But Robinson's health should worry Cristobal. On Monday, coach Nick Saban said his freshman left tackle is "day to day" with a sprained shoulder. That comes on the heels of an ankle sprain against
Tennessee
and another ankle injury against
Western Carolina
. If Robinson's mobility is limited, Ray and Golden will take advantage and harass Sims into mistakes.
Missouri's key to victory:
To take that one step further, Missouri is 17-0 since joining the SEC when recording three or more sacks. Meanwhile, Alabama has not allowed three sacks in a game this season. Something has to give. But it's not all about the defense for Missouri. The Tigers are going to have to score to keep up with this potent Alabama offense, and that means getting production from the running game. Missouri is known more as a passing team -- and rightfully so with past quarterbacks such as
Chase Daniel
,
Blaine Gabbert
and James Franklin -- but this year's team has relied more on the ground game. The Tigers are averaging 178 rushing yards per game in their current six-game winning streak. It won't be easy against the SEC's top rushing defense, but Missouri has to find a way to establish the run.
Alabama X factor:
Eddie Jackson
couldn't hide from the beating he took against
Auburn
. In fact, the cornerback for Alabama took to Twitter on Monday and apologized for his play. But now the question becomes whether to bench the talented sophomore or replace him in the lineup. If Jackson doesn't play, look for either
Bradley Sylve
or
Tony Brown
to step in. Sylve got the nod late against Auburn, but it's hard to forget the veteran's struggles early in the season that led to his demotion. Meanwhile, there's Brown, who has played some as a true freshman but hasn't seen the field with much consistency. On the big stage, would Saban be willing to gamble on such an inexperienced player?
Missouri X factor:
Russell Hansbrough
might be the "lead" back, but senior
Marcus Murphy
has emerged as a perfect complement in Missouri's backfield. The diminutive Murphy has rushed for 373 yards and three touchdowns over the past five games. He's fast, he's explosive and he's liable to take it to the house every time he touches it. Just ask
Florida
. Murphy accounted for a career-best 224 all-purpose yards against the Gators and scored on a 5-yard run, an 82-yard punt return and a 96-yard kickoff return. Alabama ranks outside the top 60 nationally in both kickoff and punt return defense. Missouri is going to need hit on some big plays to upset the Tide, and Murphy is a prime candidate to make that happen.
Playoff impact:
Sorry, Missouri, even with an upset win on Saturday it's implausible that you sneak into the playoff. It's not just the two losses that cost you; it's the fact that you lost at home to Indiana, the same team that couldn't beat
Bowling Green
. So with that said, this game is essentially about whether or not the SEC will be represented in the College Football Playoff and whether or not that team will be Alabama. If the No. 1-ranked Crimson Tide win, they're in as the top seed, as which they'll play a semifinal game in nearby New Orleans. If the Tide lose, the SEC is likely to be shut out of the top four entirely.
November, 26, 2014
11/26/14
9:00
AM ET
By
ESPN.com staff
| ESPN.com
For the first time all season, there was no movement among the top four teams in this week's College Football Playoff rankings. In fact, the only movement in the top 10 was Ole Miss plummeting from No. 8 to No. 19 after its loss to Arkansas last Saturday. It's no surprise the Rebels also dropped out of this week's playoff tracker.
Here's a look at where the three remaining SEC playoff contenders stand heading into the final week of the regular season:
Alabama
Record:
10-1 (6-1 SEC)
Rank:
No. 1
Next big obstacle:
Saturday versus No. 15 Auburn
Reason for optimism:
It all comes down to this. Beat Auburn this weekend and Alabama wins the West, has a shot at the conference title and a trip to the College Football Playoff. The Crimson Tide should be heavy favorites, too, seeing as Auburn has hit the skids ever since beating Ole Miss in dramatic fashion.
Cause for concern:
Could last weekend's game against Western Carolina have gone any worse? Alabama started sluggish and saw a number of starters sidelined with injuries, the most alarming of which were
Amari Cooper
and
Cam Robinson
. Both should be fine for Auburn, but it would have been better to escape Western Carolina without the bruises.
Who they'll be rooting for:
Missouri over Arkansas. It's hard to believe Alabama would rather see Georgia than Missouri in the SEC championship game.
-- Alex Scarborough
Mississippi State
Record:
10-1 (6-1 SEC)
Rank:
No. 4
Next big obstacle:
Saturday at No. 19 Ole Miss
Reason for optimism:
Saturday's Egg Bowl looked like a much tougher challenge for Mississippi State before Ole Miss absorbed a 30-0 beating from Arkansas last weekend. This probably won't be a cakewalk, but Ole Miss has to be demoralized because of the way things have gone downhill over the past month.
Cause for concern:
The home team typically dominates in the Egg Bowl. And even if State wins, numerous teams can claim conference titles and possibly jump the Bulldogs in the playoff rankings. Remember, though, that State can still play for an SEC title if it wins Saturday and Alabama loses to Auburn. An unlikely outcome, but still a possibility.
Who they'll be rooting for this week:
Auburn over Alabama, Texas over TCU, Michigan over Ohio State, Texas Tech over Baylor
-- David Ching
Georgia
Record:
9-2 (6-2 SEC)
Rank:
No. 9
Next big obstacle:
Saturday versus No. 16 Georgia Tech
Reason for optimism:
Georgia is a double-digit favorite over Georgia Tech on Saturday, but a win over the rival Yellow Jackets will still impress the committee. It would be the Bulldogs' fourth win over a Top 25 opponent, and right now they need all the help they can get. A win Saturday and a win in the SEC title game should give them a shot.
Cause for concern:
There's no guarantee Georgia will even play for the SEC championship. The Bulldogs need Missouri to lose to Arkansas first before they can book their trip to Atlanta next weekend. And even if everything falls in place, they're still not a lock for the playoff. They probably need at least one of the one-loss teams in front of them to go down.
Who they'll be rooting for this week:
Arkansas over Missouri. The SEC East is on the line. Georgia has done its part. Now it's up to the Razorbacks to provide an assist.
-- Greg Ostendorf
November, 10, 2014
11/10/14
10:05
AM ET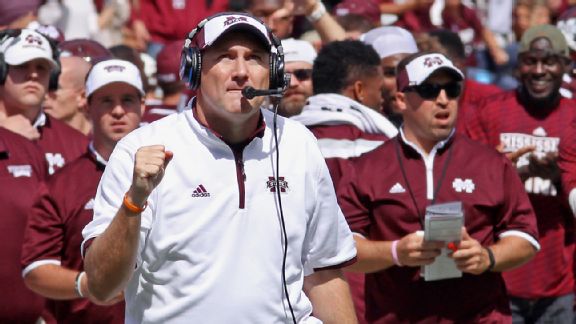 AP Photo/Jim LytleDan Mullen and Mississippi State have been building toward the matchup with Alabama for weeks.
STARKVILLE, Miss. -- Dan Mullen twisted and squirmed to remove his wireless mic as he walked off the field on Saturday night.
"Load 'em up," he told his wife the moment his postgame TV show had ended.
No. 1 Mississippi State had just throttled UT Martin, 45-16, and the Bulldogs' head coach was eager to get his family home and unwind in front of the TV.
His job was done. Now he could relax and watch someone else struggle.
Because there on the screen waiting for him was Alabama-LSU. What Mullen saw during that four-hour slugfest had to make him smile. All the hits. All the collisions. All the wear and tear next week's opponent, Alabama, took as it eked out a 7-point win in overtime.
The timing couldn't have been more perfect.
Against UT Martin, Mullen was able to pull quarterback
Dak Prescott
in the third quarter and told
Josh Robinson
to take it easy after just six carries. He didn't bother making
Jameon Lewis
or
Justin Malone
practice, because they were dinged up and he wanted them 100 percent for the following week, he said.
Against LSU, Nick Saban had no such luxury. Quarterback
Blake Sims
struggled to less than 50 percent passing and running back
T.J. Yeldon
aggravated an ankle injury.
Reggie Ragland
played through a broken hand and
Cam Robinson
worked on an ankle that was supposed to take a week or two longer to heal.
While Alabama laid it all on the line, Mississippi State was able to relax and lie in wait.
Prior to Saturday, Bulldogs defensive linemen
Ryan Brown
reached out to a friend who plays center for LSU. His message: "Bang them up so my boy Dak can get a couple extra yards."
Building toward Alabama game
For Mississippi State, everything has led to this.
"These are young kids, so you know in the back of their mind what they're thinking," Mullen said, "and they're thinking about next week's game."
It wasn't just the players, though. When you're on top of the polls, everyone looks ahead.
After beating three straight ranked teams to climb to No. 1, Mississippi State took a step back and played unranked Kentucky, unranked Arkansas and FCS opponent UT Martin. So naturally it wasn't about any of those games; it was about top-10 Alabama on the horizon.
In fact, the first question Mullen faced after beating UT Martin was about turning the page to the Crimson Tide.
He saw it coming. As the question was delivered, he pursed his lips and exhaled audibly.
"Absolutely," he said. "Bigtime game this week. This is what you play for. That's what we want our program to be like, competing in these big games late in the season."
Ever a wet blanket of praise, Mullen insisted that, "So far, it's pretty cool" being undefeated and ranked No. 1, but, "We still haven't achieved all that much."
For the first time in school history, State is 9-0.
To get there, Mullen has had to clear a lot of hurdles. For one, he had to beat a ranked opponent, which he had done just twice in 23 opportunities coming into the season. So he took down three in a row, starting with LSU, which he had never beaten as a head coach.
Now he gets to try and beat Alabama, which would be another first during his tenure.
"I'd like to just make sure we do our job, win the game and go win the West, and not back into it or anything like that," Mullen said.
SEC West crown up for grabs
But can you put too much into playing Alabama?
After all, even if State loses the game it can still win the division.
The answer, Mullen said, is both yes and no.
"No, they're going to be hyped for that game," he said before changing directions. "There's about mathematically probably 50 different scenarios that can still happen in the SEC West. One game isn't going to make or break or decide the season."
Though that's technically true, the fact is that the team that wins Saturday controls its playoff destiny.
That thought has to be exciting for Mississippi State's players, which might explain why some embraced the enormity of the matchup while others did their best to downplay the meaning.
Receivers
Joe Morrow
and
Fred Brown
weren't exactly on the same page.
Morrow, for one, was nonchalant, saying it would "be a fun game" and "we just have to keep playing ball."
"I'm not really worried about it," he said. "I just want to keep winning."
Brown, meanwhile, said the trip to Alabama was "everything."
"We have Bama coming up," he said, "so we're all-in this week."
Ryan Brown, the defensive lineman who asked for LSU's help wearing down Alabama, said, "I have jitters even thinking about it."
Even so, he was careful not to get too excited.
"There is a point of being too high for a game and too amped up," he said. "But we try to stay focused and level-headed."
Taking their cue from Prescott, their quarterback and Heisman Trophy hopeful, the team seems to be keeping its cool for the most part.
Maybe they are not used to it yet.
For three weeks State has been ranked No. 1, but as Prescott said, "I don't think we actually get to wear it."
Maybe a win against perennial powerhouse Alabama would change that.
"It means everything," Prescott said of the game. "Playing big time games in November, that means you're playing for championships.
"To go into [Tuscaloosa] and being the hunted going in there, that's a challenge we're willing to take."
November, 7, 2014
11/07/14
8:30
AM ET
The SEC has a table for one, and perhaps two, reserved at the College Football Playoff cafe. Even if things get really wacky (see: LSU beating Alabama on Saturday night), some team from the league that has produced seven of the past eight national champions will claim a spot in the final four.
Does the Pac-12 have the same luxury? My colleague Chris Low thinks it does, arguing on
Thursday's kickoff show
that the Pac-12 champ will make the playoff no matter what. I think the Pac-12 champ
should
make the playoff, but I'm not as certain as Chris that it will.
The question here is whether Pac-12 depth truly resonates with the playoff selection committee. I recently spent five days in Pac-12 country, and coaches repeatedly pointed to the depth the league has this season.
"If you played all the teams in the Pac-12 and all the teams in the SEC, it would be harder to go through the Pac-12 undefeated," Arizona coach Rich Rodriguez told me.
August, 22, 2014
8/22/14
10:00
AM ET
The SEC is no stranger to losing underclassmen to the NFL draft each year, making finding true fourth-year stars harder than ever.
In the 2012 draft, the SEC saw 12 underclassmen bolt for the NFL early. That number jumped to a record 32 players -- counting dismissed LSU cornerback
Tyrann Mathieu
-- in 2013. The league then lost 28 underclassmen to this year's draft.
In the past, the SEC hasn't had a problem replacing its young stars, but things might be a little more difficult this time. The SEC didn't just lose a plethora of talent, it lost bona fide star power.
Here's a list of a few underclassmen who no longer suit up for their schools:
That's just a short list, but of the guys listed above, all but Easley, who suffered an ACL injury early last season, were first-team All-SEC members last year, and only Ealy and Mason were left out of the first round of this year's NFL draft.
That's quite the haul for the NFL, and the SEC finds itself in a bind at certain spots because of the mass exodus of experienced seniors and underclassmen. We already knew that the league would likely see its offenses take a couple of steps back with such a great quarterback class gone, but plenty of other positions have been affected.
The SEC lost four of its top five receivers from last year: Evans, Beckham, Ole Miss'
Donte Moncrief
and LSU's
Jarvis Landry
. That's 257 catches, 4,677 yards and 36 touchdowns gone. South Carolina also lost top receiving option
Bruce Ellington
, who led the Gamecocks with 775 yards and eight touchdowns. These losses sting even more for Texas A&M and LSU, who are breaking in new starting quarterbacks this season.
Once again, the team affected the most by the underclassmen migration was LSU. A year after losing 11 underclassmen -- including Mathieu -- to the draft, the Tigers said goodbye to seven more underclassmen, a number that led the conference.
For a team entering the season ranked 13th in the preseason AP poll, LSU has a lot of ground to make up with Beckham and Landry gone, along with beastly running back
Jeremy Hill
, who rushed for 1,401 yards and 16 touchdowns during his redshirt sophomore season in 2013. LSU also parted ways with starting defensive tackles
Ego Ferguson
and
Anthony Johnson
.
Have Alabama pegged as your early SEC champ and in the College Football Playoff? Well, think about the fact that its defense lost a chunk of experience and talent. We already knew that seniors C.J. Mosley,
Ed Stinson
and
Deion Belue
were going to be gone, but add guys like Clinton-Dix,
Jeoffrey Pagan
,
Adrian Hubbard
and
Vinnie Sunseri
, who surely would have been staples in this year's relatively younger defense, and Alabama has some holes that need tending to. And don't forget that All-American
Cyrus Kouandjio
will likely be replaced by true freshman Cam Robinson.
Remember, talent isn't everything. Experience goes a long way in this league.
Think Florida's defense will continue to be elite under Will Muschamp? (It hasn't finished worse than eighth nationally in total defense during Muschamp's three years). Well, Easley was arguably Florida's best player before his season-ending knee injury, and corners
Loucheiz Purifoy
and
Marcus Roberson
are both gone, leaving the Gators with an inexperienced secondary besides star cornerback Vernon Hargreaves III.
The departure of Clowney and
Kelcy Quarles
, who led South Carolina in sacks last year, makes the Gamecocks' defensive line less formidable, and while Texas A&M coach Kevin Sumlin might be a quarterback whiz, asking
Kenny Hill
to duplicate Johnny Football's success is a tall order.
Look, the SEC has gone through this before and come out fine. Last year, Auburn and Alabama finished the regular season ranked in the top four of the BCS standings, and seven league teams were ranked in the final AP Top 25. The loss of so many underclassmen didn't scare voters this year, either, as eight teams will enter the season ranked in the preseason AP poll.
Maybe it isn't anything to worry about, but if you're looking for a problem in the SEC, it's that the underclassmen who bolted manned very important positions for SEC squads.
August, 20, 2014
8/20/14
2:00
PM ET
There's a certain pride that comes with playing along the
Alabama Crimson Tide
offensive line. If you sign up to be one of Tuscaloosa's big uglies, you better be prepared for the pressure of living up to the past.
While this year's line, which is replacing two starters from last season, is still slightly covered by the shadows of players such as
Barrett Jones
,
Chance Warmack
,
D.J. Fluker
,
Cyrus Kouandjio
, and William Vlachos, the pressure of living up to what they did is absent.
The pressure for this line is to live up to its own potential.
"We want to be better than those lines," senior right tackle
Austin Shepherd
said. "We try not to live in the past so we'd like to have a million rushing yards if we could. We want to be the most dominant offense in the NCAA."
[+] Enlarge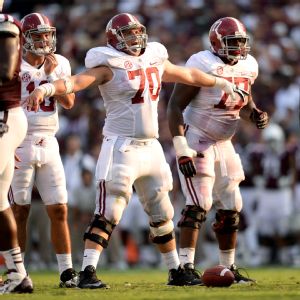 Thomas Campbell/USA TODAY SportsRyan Kelly and Alabama's offensive line are working together to build unity; plans include more speed in practice and more gatherings during the week.
To do that, Alabama's offensive line tried to move faster this spring. Under new offensive coordinator Lane Kiffin, speed has increased for lineman before snaps. Instead of lumbering to the line to make checks and adjust to the defense, redshirt junior center
Ryan Kelly
said offensive linemen have been running to get set and make calls earlier before the snap.
"That way we can at least be set before we want send motions or figure out what the defense is doing," Kelly said. "It's kind of speeding up the offense, but it's also helping us have more time and put us in better situations."
So far, the offensive line, which has the responsibility of protecting a new starting quarterback and arguably the nation's best running back stable, is coming together. There have been some natural hiccups, and coach Nick Saban even called out the line's physicality recently, but this doesn't appear to be a problem area for the Crimson Tide.
The three returning starters -- Kelly, Shepherd and fifth-year senior left guard
Arie Kouandjio
-- have cemented their places up front, while welcoming a few new pieces to the bunch. Most notably, left tackle
Cam Robinson
, the true freshman pegged to replace former All-American Cyrus Kouandjio.
The nation's No. 1 offensive tackle in the 2014 recruiting class, Robinson stepped into the first-team spot at left tackle toward the end of spring, and hasn't moved.
With senior
Leon Brown
and junior college transfer
Dominick Jackson
dealing with injuries during camp, there has been a little shuffling up front, but third-year sophomore
Alphonse Taylor
has impressed at right guard.
The biggest thing the players want to take care of along the line is communication. Kelly said communication broke down at times last year, leading to some glaring errors up front.
One way to enhance that? Develop better chemistry, and to do that, Alabama's linemen are hoping to bring back the Thursday night dinner tradition started by former quarterback
AJ McCarron
.
A chance to unwind and leave Alabama football talk at the facilities, the Thursday night dinners have done wonders for bringing the big boys together, Kelly said.
"It was good," Kelly said of past dinners. "You spend so much time up here [at the football facilities] talking about football and stuff that you can get away. ...It clears your mind going into Friday and getting ready for the game [on Saturday].
"When you get away, your bonds become more than just a football relationship. You have real friends you can do stuff with and that carries over to the football field and makes us a better team."
McCarron played host before, but Shepherd is hoping to take over the reins this season.
"It's time to get away from all the coaches and just be guys around everyone else," Shepherd said. "The only other time we're all together at the same time is when we're in the offensive line meeting room with a coach in there. We can't really talk because he's teaching us. It's time to mingle and do what you want and hang out."
From watching Thursday night football games and playing a variety of sports video games on the house Xbox to dining on the finest red meats and starches, Thursday nights for Alabama's offensive line are special.
Meals have usually involved a combination of steaks, burgers, brats and tight end
Corey McCarron
's famous mac & cheese. Every once in a while, the group gets a surprise, like when former guard
Anthony Steen
's parents brought over venison to make tenderloin.
Just looking for a succulent steak? Talk to Shepherd.
"I cook a mean filet. I like it fresh off the cow," he said.
Need a tidy house to eat in? Well, Shepherd doesn't think he needs to go
that
far.
"It doesn't matter when you have all these nasty guys in there."
January, 9, 2014
1/09/14
6:50
PM ET
TUSCALOOSA, Ala. -- It happens every year now, so don't act surprised. If you're an Alabama fan, deal with it. If you're not, don't weep for the Crimson Tide, either. Coach Nick Saban has lost multiple underclassmen to the NFL before, so
Thursday's news
that safety
Ha Ha Clinton-Dix
, offensive tackle
Cyrus Kouandjio
, linebacker
Adrian Hubbard
and defensive end
Jeoffrey Pagan
will all leave school early is no insurmountable thing. This is just the reason why Saban and his staff recruit so hard.
[+] Enlarge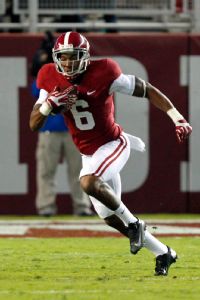 AP Photo/Butch DillSafety Ha Ha Clinton-Dix is one of four Alabama players who are leaving school early to enter the 2014 NFL draft.
Their leadership and experience will be missed -- along with seniors
AJ McCarron
,
C.J. Mosley
and
Anthony Steen
-- but their talent can be replaced. When you're the only school in the country to finish in the top three of ESPN's class rankings every year since 2008, you have that luxury of plug-and-play. Blue-chip prospects overflow from Alabama's football offices, rattling out its pockets every once in a while like loose change.
"Our twos and threes could do what I did out there," Clinton-Dix said of the team moving forward. "I'm not worried about any of those guys stepping up."
Alabama will be fine without Pagan, Hubbard, Kouandjio and Clinton-Dix. Many of their replacements are already on board:
Landon Collins
at safety,
Leon Brown
at tackle,
Dillon Lee
at strongside linebacker,
Jonathan Allen
at defensive end. Those who will challenge them for playing time are either just now arriving or just now finishing their first seasons in Tuscaloosa: defensive backs
ArDarius Stewart
and
Laurence 'Hootie' Jones
, tackles
Grant Hill
and Cam Robinson, linebackers
Tim Williams
and
Da'Shawn Hand
, and defensive ends
Dee Liner
and
D.J. Pettway
-- all excellent prospects.
It's easy to look at the loss of stars and say, "Oh no!" but that's not how it works at Alabama. It wasn't that long ago that safety
Mark Barron
left school and Clinton-Dix entered the fold.
D.J. Fluker
went to the NFL a year early and
Austin Shepherd
had little trouble at right tackle in his absence.
Eddie Lacy
torched Notre Dame in last year's BCS title game, announced he was turning pro and Alabama never missed a beat. Not only is
T.J. Yeldon
back for his junior season, a fella by the name of
Derrick Henry
appears ready to be his new sidekick.
This is the program that Saban has built. This is what his "Process" has borne. And it's embraced around campus. Just look at
this
,
this
and
this
from Alabama's director of player personnel Tyler Siskey. As Saban told reporters, "We've had 13 guys go out early for the NFL draft, 11 of those guys have been first-round draft picks."
Often when other schools lose key players to the NFL, there's a mad scramble to find their replacements. At Alabama, coaches turn to a stocked cupboard. Take the safety position, for instance: Cinton-Dix goes out with off-field drama and Collins enters the fold at free safety, followed by
Vinnie Sunseri
blowing out his knee and Collins then shifting over to strong safety. Collins, a former five-star prospect in his own right, immediately found success. A year after playing primarily on special teams, he finished second on the team in tackles, tied for first in interceptions and tops in passes defended.
Sure, Saban would love to see Pagan, Hubbard, Kouandjio and Clinton-Dix back for another year. Just don't expect him to openly weep about it. He's probably more than thrilled that
Trey DePriest
and
DeAndrew White
should be sticking around for their senior seasons.
You know, two out of six isn't bad. Three championships in five years seems to be going over quite well in Tuscaloosa.
Alabama will survive and new stars will emerge next season. Sometimes you hate to see athletes like Clinton-Dix leave early, but their departure only clears the way for who's next.