May, 6, 2010
5/06/10
8:30
AM ET
2009 overall record:
7-6
2009 conference record:
5-3
Returning starters (started 7 or more games)

Offense:
6, defense: 10, punter/kicker: 1
Top returners
TB
Chad Spann
, WR
Landon Cox
, FB
Kyle Skarb
, OT Trevor Olson, CB Chris Smith, S Tracy Wilson, DT D.J. Pirkle, DE Sean Progar, OLB Alex Kube
Key losses
C Eddie Adamski, OG Jason Onyebuagu, DE Jake Coffman, DE Brandon Bice, LB Cory Hanson
2009 statistical leaders (* denotes returners)
Rushing:
Chad Spann* (1,038 yards rushing)
Passing:
Chandler Harnish
* (1,670 yards passing)
Receiving:
Landon Cox* (45 catches, 535 yards)
Tackles:
Tracy Wilson* (93 tackles)
Sacks:
Jake Coffman (8.5); Sean Progar* (6.0)
Interceptions:
Cory Hanson (3); Patrick George* (2)
Spring answers
1. Running backs a-plenty:
Chad Spann was already going to be the starting running back next season, but now he won't have to do it alone. The Huskies found an abundance of running back depth with
Cameron Bell
, Jasmin Hopkins and
Ricky Crider
. The depth is so strong that many are likening it to the years when the Huskies had Michael Turner and Garrett Wolfe in the backfield.
2. Fill holes on the line:
The Huskies had two major holes to fill on the offensive line, but none more important than the one left by center Eddie Adamski. Scott Wedige had been the center in waiting for a year and he stepped in with little incident this spring. His ability to seamlessly jell with the rest of the line will do wonders for whichever quarterback the Huskies decide to use.
3. Stingy defense:
The Northern Illinois defense was the best in the Mid-American Conference last season and seemed to get even better this spring with increased athleticism. The Huskies did lose sack leader and defensive MVP Jake Coffman and interception leader Cory Hanson from last year's squad, but there are several other players who are poised for big seasons.
Fall questions
1. Little resolved at quarterback:
Last year's starter, Chandler Harnish, was supposed to miss the spring with knee surgery, but that didn't happen and he looked comfortable during the spring. But whether he keeps his starting quarterback job remains to be seen.
DeMarcus Grady
,
Jordan Lynch
,
A.J. Hill
and incoming junior college transfer Casey Weston will all take a run at it in the fall.
2. Waiting on the freshmen:
The Huskies have a pretty stout group of linebackers coming in this fall who will immediately challenge for playing time, including Greg Barksdale, Jamaal Bass, Mike Hellams and Cameron Stingily. Those players will try to supplant the likes of Alex Kube, Pat Schiller and Jordan Delegal in the starting lineup. The competition for linebacker will be one of the more interesting ones in August.
3. Kickin' it:
The Huskies had two walk-on kickers this spring -- Alex Faust and Ryan Fillingim -- but neither took a stranglehold on the job heading into the summer. So it might be up to Mat Sims, a three-time all-state player from Kansas, to win the job in the fall.
April, 29, 2010
4/29/10
3:45
PM ET
Northern Illinois coach Jerry Kill didn't hide his affinity for the running back corps that will take the field this fall.
With four players that each have the ability to start and bring something different to the field, Kill likened this year's running backs not only to the ones from past Northern Illinois teams, but also to the ones he had at Southern Illinois, which at one point included star back Brandon Jacobs.
"I think we're more like we were at Southern [Illinois] and I think we're more like what [Coach] Joe [Novak] had during the very good years," Kill said during the Mid-American Conference coaches call this week. "I think
Cameron Bell
and [Jasmin] Hopkins were better than I thought they would be and I think we'll be as deep in the backfield as we've been."
Chad Spann
, last year's starter, was held out of spring practices because of offseason shoulder surgery to repair a torn labrum. That allowed players such as
Ricky Crider
, Iowa State transfer Bell, and junior college transfer Hopkins to emerge.
Crider was the biggest surprise since he hadn't played much since before he broke his leg against Wisconsin in 2007. He carried the ball just 43 times in 2008 and was almost nonexistent in 2009 with 10 carries for 37 yards.
But this spring, he ran confidently and was so good that he didn't play in the final scrimmage because the coaching staff already knew what he could do. As of right now, it appears Crider will be Spann's backup and could play the same role Me'co Brown played a year ago.
Spann was the workhorse last season with 179 carries for 1,038 yards and 19 touchdowns, but this year could be more of a committee system. Kill has had success shuffling multiple running backs before. At Southern Illinois in 2003, Kill had Muhammad Abdulqaadir, Tom Koutsos and Brandon Robinson, who combined to rush for 2,453 yards and 28 touchdowns. The Salukis ranked sixth nationally in the FCS in rushing offense. A year later, Southern Illinois boasted Brandon Jacobs, Arkee Whitlock and Terry Jackson as their premier backs and ranked third in the FCS with 3,404 yards and 42 touchdowns.
This year's stable of running Huskies has the chance to compare to stellar running backs corps of the past, including the trio of Michael Turner,
A.J. Harris
and Adrian Davis in 2003 and Garrett Wolfe, A.J. Harris and Adrian Davis in 2004.
"I think this, without a doubt, with those four youngsters right now, is the best we've been since we've been here," Kill said.
March, 4, 2010
3/04/10
12:30
PM ET
On Wednesday we looked at the
top quarterbacks transferring
from schools from automatic qualifying conferences to non-AQ schools, and a today we're going to look at some of the top running backs.
Here are my top five running back transfers from AQ schools:
Sam McGuffie, Rice:
As a true freshman at Michigan in 2008, McGuffie led the Wolverines in rushing with 486 yards and three touchdowns. He also missed three games with an injury. McGuffie, combined with Miami quarterback transfer Taylor Cook, could make Rice a feared offensive team in Conference USA. McGuffie can run, catch and return kicks. He might be the best weapon the Owls have this spring.
Lennon Creer, Louisiana Tech:
Creer transferred from Tennessee after head coach Lane Kiffin arrived in 2009. Creer had played two seasons for the Volunteers and appeared in 24 total games. In 2008, he rushed for 388 yards and two touchdowns. He'll have a prime opportunity to earn the starting role this spring with the Bulldogs looking for a new running back to replace
Daniel Porter
. Sophomore
Tyrone Duplessis
will be his primary competition, and it will be interesting to see how the running game is used with the Bulldogs' new spread offensive system.
Aundre Dean, TCU:
Dean came from UCLA last year as a Parade All-American running back, but this spring he'll be trying his hand at safety. TCU is loaded at running back and Dean probably would have seen spot time behind
Ed Wesley
and
Matthew Tucker
. But the Horned Frogs are thin at safety and it's an opportunity for Dean to play. Plus, the TCU coaching staff has proved time and time again that it has a knack for placing players in positions that accentuate their abilities.
Cameron Bell, Northern Illinois:
Chad Spann
is the starting running back, but the Huskies were most effective last season when they had a two-headed attack. Me'co Brown, who was the No. 2 back, returns, but he's had some injury and family issues that have limited his playing time. The door is open for Bell, an Iowa State transfer, to compete for playing time and help the Huskies re-establish the two-headed monster. But there will be a lot of competition in the backfield this spring with junior college transfer Jasmin Hopkins,
Ricky Crider
and Antoine Kirkand.
Raymond Carter, Colorado State:
Carter is another former UCLA running back looking for a home. However, finding one with Colorado State this year won't be easy. The Rams return both leading rushers in
John Mosure
and
Leonard Mason
, and 92 percent of last year's rushing yards. The Colorado State backfield is crowded with
Lou Greenwood
and
Chris Nwoke
also competing this spring. Carter was a highly rated back out of high school and saw action in seven games during his freshman year at UCLA. However, he had just 51 yards and a touchdown in that first season.
February, 16, 2010
2/16/10
5:00
PM ET
Jerry Kill admits Northern Illinois progressed faster than he thought it would when he took the job two years ago.
[+] Enlarge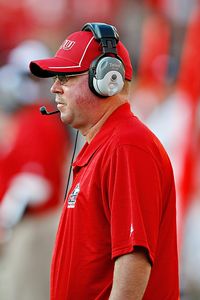 Scott Boehm/Getty ImagesKill's Huskies are one of the top teams in the MAC's West Division.
At that point, the team was coming off a disappointing 2-10 season that featured multiple injuries to key players. Kill wasn't sure what to expect, so he braced himself for a rebuilding process.
"When you come off a 2-10 season, you don't know where the confidence of the kids is," Kill said. "We're still going through the transition to be honest with you. I don't think in college football until you have four recruiting classes that you don't really develop an identity. I thought that by year three we might be able to get into a bowl game."
But the Huskies went to two bowl games in Kills first two seasons and were in the race for the West Division in the Mid-American Conference.
With Central Michigan and Western Michigan in transition and Toledo building with young players, the 2010 season might be as good as any for the Huskies to ascend to the top of the conference.
"Our best years are still ahead of us," Kill said. "I think years four and five we should have a really, really good team. But we're building some depth and I look for us to be better than we were a year ago. I thought we got better from the first year I was here to the second and I think we'll definitely be better than what we were last year. We've got more talent, more speed and more athleticism."
The Huskies have 42 redshirt freshmen and sophomores on their spring roster and signed a class of 26 players, 22 of which are true freshmen. With youth comes competition. Kill said his goal in the past two recruiting classes was to get better talent than he did the year before. He feels like he's done that especially at the running back and quarterback positions.
Starting quarterback
Chandler Harnish
is questionable for spring football as he continues to rehab the right knee he injured midway through the 2009 season. Because of that, Kill signed quarterback Casey Weston from Northwest Mississippi Junior College. Weston holds Northwest Mississippi JC records for career passing yards (4,943), completions (394) and attempts (695). He also threw 42 touchdowns during his career. Kill said Weston gives the Huskies immediate relief if Harnish is injured. Harnish will be the starter in the spring if he can play, but if he can't, the competition is open.
"He's doing some things in the offseason, but that's a big question mark," Kill said of Harnish's status. "That's why we recruited a junior college quarterback that's very talented. Because if something happened with Chandler, I want to make sure we have a guy that's been underneath center."
Kill also noted that last year's backup
DeMarcus Grady
has been progressing and that redshirt freshmen
A.J. Hill
and
Jordan Lynch
also could emerge in the competition.
But Kill said he wants his team to establish an identity as a balanced offense.
Last season, the running game dominated behind senior
Chad Spann
. The Huskies added Jasmin Hopkins, who was the National Junior College Athletic Association Offensive Player of the Year after leading the NJCAA in rushing with 1,931 yards. And he'll fight for time with
Me'co Brown
,
Ricky Crider
,
Cameron Bell
and
Antione Kirkland
. Brown was the primary backup last year, but family problems and injuries limited him late in the year. Kill made sure to note that Brown's issues were personal and were not because of disciplinary issues.
Kill said even though it looks like he has a crowded backfield, he thinks the competition will only make the team better.
"I want competition," Kill said. "You get good when you develop depth and athleticism and you don't have to put up with anything, so to speak. And people have to compete everyday. That's why USC is special. They have lots of good players. We're certainly not USC, but we want to have as many good players as we can to create competition."
February, 16, 2010
2/16/10
11:00
AM ET
Here's a breakdown of three issues facing each team in the MAC heading into the spring:
Akron Zips
Spring practice starts:
March 24
Spring game:
April 17
What to watch:

" New head coach Rob Ianello takes over an Akron squad that hasn't had a winning season since 2005. The Zips struggled last year averaging 19.25 points per game on offense and gave up 28.75 points per game on defense. This spring's goal will be to find playmakers to bring both sides of the ball on par with the rest of the league.
" The Zips had a running back by committee system last year, but none of their backs had more than 250 yards. Two of the team's top three rushers are gone and the rest are freshmen and sophomores. Ianello signed five tailbacks in his first class.
" The defense struggled to put pressure on the quarterback as the Zips finished with 11 sacks. Opponents scored touchdowns on 66 percent of opportunities inside the red zone. Shoring up the defensive line and the linebackers will be an emphasis this spring.
Ball State Cardinals
Spring practice starts:
March 24
Spring game:
April 17
What to watch:

" Sophomore quarterback
Kelly Page
tries to regain the starting role after missing the second half of the season with thumb surgery. The Cardinals were winless with him in the lineup, but he improved as the season progressed. Redshirt freshman
Aaron Mershman
will vie for the role in the spring before highly-touted recruit Keith Wenning joins the competition in the fall.
" Running back
MiQuale Lewis
and tight end
Madaris Grant
are both awaiting word from the NCAA about a possible sixth season. Both are team leaders and are the top players at their respective positions.
" Losing defensive coordinator Doug Graber is a blow to the Cardinals. Although he was only with the team for a season, the defense was one of the team's bright spots and got better as the season progressed. The Cardinals have yet to name a replacement.
Bowling Green Falcons
Spring practice starts:
March 19
Spring game:
April 16
What to watch:

" Replacing quarterback
Tyler Sheehan
will be one of the biggest chores since he took 95 percent of the snaps for the past three seasons.
Aaron Pankratz
was the backup last year and the leader heading into spring. But redshirt Matt Schiltz, walk-on
Kellen Pagel
and December enrollee Caleb Watkins will all be in the mix.
"
Freddie Barnes
was the Falcons best offensive weapon and it will be hard to find a replacement. Overall, the Falcons lose three of their top five receivers, and one of those returning is running back Wille Geter.
" Rebuilding the defense will be a priority after losing seven players, including the entire line backers corps and three-fourths of the secondary. There is a lot of young talent waiting, it is just a matter of gelling during spring ball.
Buffalo Bulls
Spring practice starts:
March 20
Spring game:
April 24
What to watch:

" Losing quarterback Zach Maynard, who decided to transfer last month, hurt their offense. He would have been the starter heading into the season, but now sophomore
Jerry Davis
and redshirt freshman
Alex Dennison
will duke it out this spring before two freshmen arrive in August.
" The Bulls have to replace top receivers
Naaman Roosevelt
and
Brett Hamlin
and have several candidates to do so. Juniors
Terrell Jackson
,
Marcus Rivers
and
Ed Young
, and redshirt freshmen
Fred Lee
and
Alex Neutz
will compete for playing time.
" New head coach Jeff Quinn is going to install a more wide-open offensive system at Buffalo, however finding the right guys to play it will be a challenge. There are athletes remaining at Buffalo, but the loss of players such as Maynard and Roosevelt will make the transition slower.