NCF Nation:

Cameron Collins
January, 31, 2012
1/31/12
3:20
PM ET
Every team needs to hit every position group each recruiting season, but there are always priorities. It's not just positions where starters are lost or going to be seniors, it's about addressing weaknesses where a true freshman might be a better answer than a returning player.
Up next is the North Division.

California
QB
:
Zach Maynard
will be a senior, and it says something about the depth behind him that he never lost his job during his midseason swoon.
WR:
Keenan Allen
is back, but that's it in terms of returning production and experience.
S:
Three of the top four safeties from 2011 are gone.

Oregon
Skill:
In Chip Kelly's offense, you can never have enough fast guys. Sure,
Kenjon Barner
,
De'Anthony Thomas
and
Josh Huff
are back, but there's a lot of youth and uncertainty after that at running back and wide receiver.
TE:
His name is
David Paulson
, but he's gone.
Colt Lyerla
was a productive backup -- at least in terms of finding the end zone -- but after him things are uncertain. Tight end is one of the most underrated positions in the Ducks offense, so having more than one Kelly trusts is significant.
S:
Eddie Pleasant
is gone and
John Boyett
is a senior.
Avery Patterson
,
Erick Dargan
and
Brian Jackson
are next in line, but the young talent isn't as certain as it is at corner.

Oregon State
OL:
Oregon State lost three starters from a line that led the worst rushing attack in the conference and surrendered 27 sacks. Quarterback
Sean Mannion
has potential, but he needs time. And a running game.
DT:
The Beavers had the worst rushing defense in the Pac-12 in 2011. 'Nuff said.
LB:
The Beavers had the worst rushing defense in the Pac-12 in 2011. Almost enough said.
Cameron Collins
is gone, and all the contributors on the two-deep will be seniors, other than junior
Michael Doctor
.

Stanford
WR
: Perhaps the weakest position for the Cardinal in 2011, this need is augmented by the loss of
Griff Whalen
and
Chris Owusu
and the lack of up-and-comers other than sophomore
Ty Montgomery
.
DB:
Three of four starters are gone, including both safeties. In the Cardinal's two losses -- to Oregon and Oklahoma State -- an absence of top-end athleticism in the back half was exploited.
OL:
Three starters are back, but the losses are huge: Tackle
Jonathan Martin
and guard
David DeCastro
. And backup tackle
Tyler Mabry
and backup guard
Matt Bentler
also are gone. If coach David Shaw intends to remain a physical, downhill running team -- and he does -- he'll need to continuously stock up on linemen who can get the job done.

Washington
DB:
Lots of guys are back in the secondary, but the Huskies gave up 284.6 yards passing per game, which ranked 11th in the Pac-12. They couldn't cover anybody and often seemed out of position. So new blood might help.
DL
: (See if you can notice a theme here that ignores questions at wide receiver and running back). Two starters are gone from a line that consistently underperformed based on preseason expectations.
LB:
Second-team All-Pac-12 middle linebacker
Cort Dennison
is the only one of the eight men on the depth chart who won't be back, but he was the team's only consistent linebacker.

Washington State
DL:
Three of four starters are back, but all three will be seniors.
OL:
Three starters are back, but to make the next step on offense, the Cougars need to run the ball better. They ranked 10th in the conference in rushing offense. And that might reduce a conference-high 3.3 sacks per game. Mike Leach's quick-hit offense also might help.
RB:
170-pound sophomore
Rickey Galvin
is back, as is senior
Carl Winston
, but the backs need to share responsibility for a 3.1-yards-per-carry average, worst in the conference (of course, losing 237 yards to sacks doesn't help).
October, 21, 2011
10/21/11
3:30
PM ET
When Washington State took its final knee out of victory formation last year at Oregon State, beating the Beavers 31-14, it ended a 16-game conference losing streak. It also gave the Cougars and coach Paul Wulff hope.
The Cougars are 4-4 in their past eight games after winning just four of their previous 34. That is a suggestion of an upward trend.
[+] Enlarge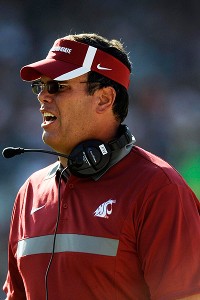 Christopher Hanewinckel/US PresswirePaul Wulff and Washington State are 4-4 in their past eight games.
For Oregon State, things are different. The embarrassing home loss is one of the exhibits from a downward trend. The Beavers, a team in the midst of the 2008 and 2009 Rose Bowl races, have lost nine of 11 extending to last season. Besides the loss to the Cougars, there's also two shutout defeats -- to Stanford and Wisconsin by a combined count of 73-zip-- and season-opening loss to Sacramento State, an FCS team.
Still, the predominant pressure will remain on the Cougars sidelines at CenturyLink Field in Seattle on Saturday. It's a win-or-else season for Wulff, and the 1-5 Beavers represent the best opportunity on the remaining schedule to win. The Cougars are slight favorites to do so.
Wulff believes his team already has played "some pretty dang good football."
"Our football team is drastically improved," he said. "All I can say is where we were a year ago and where we are today, we've come a long, long ways."
Oregon State coach Mike Riley, while receiving heavy criticism of late, is not under the same pressure. His success in 11 years leading the Beavers has earned him some win-equity. And the notoriously upbeat and gracious coach isn't showing signs that his chronic optimism is cracking.
"I don't think we are at our best yet, which is encouraging to me," he said. "I'm excited to play again and see these guys continue to grow."
Of course, Riley doesn't live in fantasy land. For one, he remembers what happened against the Cougars last year.
"Aside from the fact that they outplayed us in almost every phase, the quarterback running killed us," he said.
That would be the 79 yards Cougars quarterback
Jeff Tuel
ran for last year, part of 221 yards the Cougars gained on the ground against a hapless defense. Tuel also threw a 33-yard scoring pass.
Tuel will be the first key. This will be his second start since he was knocked out of the season opener -- he didn't start that game either because of illness -- with a fractured clavicle. He was OK in the loss to Stanford last weekend, completing 17 of 30 for 145 yards, but he clearly wasn't yet at his best, and the tough Cardinal defense isn't ideal competition for a rusty quarterback. With a game and a full week of practice to his credit, he might look a lot more like the Tuel of old -- one of the better quarterbacks on the West Coast.
"When he is at full strength, we're a better football team," Wulff said. "We knew there was going to be rust [against Stanford] but we had to get him in there to break some of it off."
That said, it makes sense for the Cougars to test the Beavers' run defense. For one, the Cougars ran well last season against the Beavers. Second, they are a better running team this season -- 126.7 yards per game vs. 91 yards per game in 2010. Third, the Beavers' defense will be without middle linebacker Feti Unga (calf) and outside linebacker Cameron Collins (groin) as well as 334-pound defensive tackle Castro Masaniai (broken fibula). The Oregon State front-seven wasn't great to start with, and those are some pretty big personnel hits.
Given an opportunity to play the "woe's with us" card, Riley declined: "It's football. When something comes up, you adjust," he said.
Woe was with Washington State for three previous seasons. Now, the Cougs appear capable of finishing at .500 and earning a bowl berth, which almost certainly would save Wulff's job.
And for Wulff, who notes his team is "sophomore-dominant," improving to .500 isn't the ultimate goal. The trend that started last season in Corvallis, he indicates, has a better destination.
Said Wulff, "We're definitely moving in a good direction."
August, 29, 2011
8/29/11
10:00
AM ET
Welcome to the final preseason Pac-12 power rankings!
You can review the
post-spring power rankings here
. There is a good deal of movement. And a lot of different iterations -- including change at the very top -- were heavily considered.
This week's vote is based on one factor: If the Pac-12 had a tournament this week on a neutral field, how do you think things would finish. That means, for example, a team's schedule doesn't matter. But preseason camp momentum -- read: an absence of controversy or injuries -- does.
Going forward, the power rankings will be far more focused on that immediate present reality: How did teams handle their business that past weekend? It won't necessarily be a projection of finish.
And, for those new to the power rankings, the motto here is simple: If you don't like where you are in the power rankings, play better.
1.
Oregon
: Based on what we typed above, one might think the Ducks would fall behind Stanford. And our thought process in early August was exactly that --
see here
-- as our top-25 poll included other factors, such as schedule, such as Stanford playing host to Oregon this season. But here's the deal: Oregon is the top bird until somebody shoots it out of the air.
2.
Stanford
: A lot of folks are questioning Stanford. The Pac-12 blog is, too. My question: Will
Andrew Luck
and the Cardinal win the national championship this season. My hunch? A strong maybe.
3.
USC
: If the Trojans were eligible for the postseason, the gap between them and Nos. 1 and 2 would be fairly small. As it is, the gap between USC and the top two spots is fairly gigantic.
4.
Arizona State
: The Pac-12 blog has been banging the Sun Devils' drum since late in the 2010 season. And if this team was getting ready to send out the depth chart it appeared to have last December -- just about everyone back -- I'd project it in the top-15. But with all the attrition -- injuries, players quitting, etc. -- it's hard to know who the Sun Devils will be.
5.
Washington
: The Huskies' big question was replacing quarterback Jake Locker. Ther second question was at linebacker. It seems more than a few folks are optimistic those questions will be adequately answered. There's a lot to like on this roster, particularly what looks to be a dramatically improved defense.
6.
Utah
: It's hard to project Utah because we've never seen them before in this environment. What we can say is the success of this season hangs on keeping quarterback
Jordan Wynn
's surgically repaired shoulder safe.
7.
Arizona
: Just when we were starting to think the Wildcats might be an underrated team, they lose their best cover corner -- Jonathan McKnight -- for the season to a knee injury. While Arizona State and Oregon State have had the worst injury luck of the offseason, the Wildcats aren't far behind.
8.
UCLA
: The Bruins feel like a sleeper. It almost seems as simple as this: If UCLA is merely adequate at quarterback, it will be a bowl team and a factor in the Pac-12 South.
9.
California
: See what we typed for UCLA, only in the North Division. Further, the Bears look like they are going to play a lot of their talented true and redshirt freshmen classes. That should at least be very interesting.
10.
Colorado
: Not unlike Utah, we don't really know what we're going to get with the Buffaloes. There was a big temptation to rank them higher -- this is an experienced team with more talent than many old school Pac-10 folks think. But how could we rank the Buffs ahead of Cal after what happened in Berkeley last season?
11.
Oregon State
: Beavers fans are erupting... no way! Yes way. On the list of injured or at least uncertain: receiver
James Rodgers
, tight end
Joe Halahuni
, cornerback Brandon Hardin, defensive tackle Dominic Glover, defensive tackle Kevin Frahm and linebacker Cameron Collins. And many more, actually. The Beavers entered preseason practices with a lot of questions -- as coach Mike Riley repeatedly said -- they will head into the first week with perhaps more than they did at the beginning of August.
12.
Washington State
: There was some thought of bouncing the Cougars out of the basement. They, unlike a number of teams, have stayed relatively healthy during camp, and just about every report coming out of Pullman is colored with optimism. But the same rule that applies to Oregon in a positive way applies to the Cougars in a negative one: You're here until you prove otherwise.
August, 24, 2011
8/24/11
1:12
PM ET
Oregon State and Arizona State seem to be battling to become the Pac-12's biggest MASH unit.
Most folks already know about the uncertainty of receiver
James Rodgers
(knee) and tight end
Joe Halahuni
(shoulder), who are doubtful to play at Wisconsin on Sept. 10. But there are a couple of other injuries worth following that are also critical.
On the "fairly good," side of the injured list is DT Kevin Frahm. He had surgery on Monday to repair a torn meniscus. The hope is he will return to practice in time to play at Wisconsin.
The news is not so good for cornerback Brandon Hardin and his shoulder. He'll need surgery to fix a fracture, and the procedure could end his season. At the minimum, he'll be out six weeks. Sophomore Rashaad Reynolds will step into a starting role.
Defensive tackle Dominic Glover still hasn't been cleared academically. What once seemed like a minor issue is taking longer than expected to resolve, which is reason to be nervous.
Things are cloudy at tight end until Halahuni comes back. Freshman Kellen Clute hurt his knee in the scrimmage, and two redshirt freshmen, Tyler Perry and Connor Hamlett, will be suspended for a game, though it's unclear which game at this point.
Also, linebacker Cameron Collins continues to be limited by an abominable issue. He had offseason surgery and has missed a lot of practice time.
Getting away from injuries, it appears that true freshman
Malcolm Agnew
is on the cusp of earning the starting spot at running back. The last true freshman to start at the position for the Beavers turned out OK, you might recall.