NCF Nation:

Cameron Fleming
January, 24, 2014
Jan 24
9:30
AM ET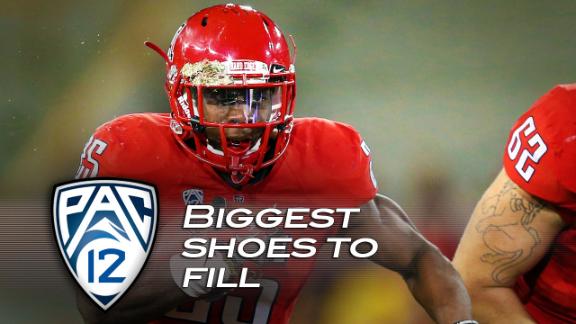 Earlier this morning, we took a look at who might replace the guys who jumped to the NFL in the South Division. Here's a look at the North.
Leaving:
Brendan Bigelow
, RB, Cal
The replacement
:
Khalfani Muhammad
and
Daniel Lasco
are both coming back, so there is at least some experience at the position.
Jeffrey Coprich
and
Darren Ervin
could also see some time. Incoming freshman
Devante Downs
is built more like a fullback but could also see some carries in the running game.
Leaving
:
Richard Rodgers
, WR, Cal
The replacement
:
Stephen Anderson
is a possibility to emerge at inside receiver.
Darius Powe
is going to see action regardless of whether it's inside or outside and
Raymond Hudson
,
Jacob Wark
, and
Drake Whitehurst
are all possibilities.
Leaving
:
Khairi Fortt
, LB, Cal
The replacement
:
Nathan Broussard
is coming off an injury and
Raymond Davison
and
Jason Gibson
are moving back to linebacker from safety. Juco transfers
Sam Atoe
and
Jonathon Johnson
could help. Also, Downs (see the Bigelow section) comes in as an athlete, and putting him on the defensive side of the ball is a possibility.
Leaving
:
Kameron Jackson
, CB, Cal
The replacement
:
Darius Allensworth
and
Trey Cheek
will get the most looks.
Cedric Dozier
saw some starting time last season. He's not a lock but has some experience.
Isaac Lapite
,
Adrian Lee
and
Joel Willis
are also possibilities.
Stefan McClure
should also be back from his 2013 injury, and
Cameron Walker
, who was playing out of position at safety, might move back to corner.
Leaving
:
Viliami Moala
, DT, Cal
The replacement
:
Jacobi Hunter
should be the main guy, but transfers Trevor Kelly and
Marcus Manley
should help out across the line.
Austin Clark
is still waiting to hear about his sixth year of eligibility, but if he gets it, he and
Mustafa Jalil
could shuffle up and down the line as they look to replace the graduated
Deandre Coleman
as well.
Leaving
:
Chris McCain
, DE, Cal (Previously dismissed from team)
The replacement
:
Kyle Kragen
and
Puka Lopa
were the top two guys to replace McCain after he left.
Brennan Scarlett
is also expected back and Johnson could be in the mix. The coaching staff seems to be really high on him.
[+] Enlarge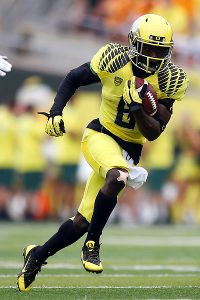 Jonathan Ferrey/Getty ImagesDe'Anthony Thomas' unique set of skills will be hard for Oregon to replicate.
Leaving
:
De'Anthony Thomas
, RB, Oregon
The replacement:
Unless Oregon is hiding another multitalented back who can run like DAT, there is no "real" replacement.
Byron Marshall
and
Thomas Tyner
should continue to get the work as the primary 1-2 punch, but it will be interesting to see if the Ducks use either in a more dynamic way like they did Thomas.
Leaving
: Colt Lyerla, TE, Oregon (Left the team earlier in the season).
The replacement:
Pharaoh Brown
,
Evan Baylis
and
John Mundt
will all continue to get work, probably in that order. They all pitched in in some capacity after Lyerla left the team, so the Ducks should be in good shape at the position.
Leaving
:
Terrance Mitchell
, CB, Oregon
The replacement
: That
Ifo Ekpre-Olomu
opted to return bodes well for the Ducks.
Troy Hill
would have been the obvious selection, but he remains suspended indefinitely, and his future with the program is in question.
Dior Mathis
has experience and the coaching staff is high on redshirt freshman
Chris Seisay
. Juco transfer
Dominique Harrison
enrolled early and will participate in spring ball, so there are options.
Leaving
:
Brandin Cooks
, WR, Oregon State
The replacement
: Much like USC's dilemma with
Marqise Lee
, The Beavers' task of replacing a Biletnikoff winner is no easy one.
Victor Bolden
is the logical choice. He returned kicks, ran a few fly sweeps and was Cooks' immediate backup. But a big wide receiver class last year that included Bolden,
Hunter Jarmon
and
Walter Jones
could make things more interesting in the spring.
Leaving
:
Scott Crichton
, DE, Oregon State
The replacement
:
Lavonte Barnett
was the backup all season but didn't have much production.
Jaswha James
has bounced around a bit -- mostly at linebacker -- but has finally settled at DE and had a nice bowl performance.
Titus Failauga
is also a possibility as Mike Riley went out of his way to specifically mention him during a recent teleconference. There are also rumblings that
Obum Gwacham
-- a talented athlete who hasn't worked out at wide receiver -- could move to defensive end.
Leaving
:
David Yankey
, OL, Stanford
[+] Enlarge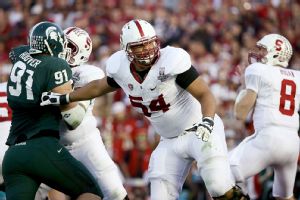 AP Photo/Ben LiebenbergStanford has a lot of offensive linemen with experience, but replacing an All-American such as David Yankey is never easy.
The replacement
: A member of Stanford's lauded offensive line recruiting class of 2012,
Joshua Garnett
has already seen his share of playing time. That's one of the big advantages of being an offensive lineman at Stanford. With their multiple offensive-linemen sets, there is plenty of rotation. Then again, Yankey was a two-time All-American -- it's tough to replace that.
Leaving
:
Cameron Fleming
, OL, Stanford
The replacement
: Like Garnett,
Kyle Murphy
was part of the '12 class and has also seen his share of action on the offensive line. The Cardinal are replacing four offensive linemen, but most of those replacements -- such as Garnett and Murphy -- already have some playing experience.
Leaving
:
Ed Reynolds
, FS, Stanford
The replacement
: Good question. All of Stanford's free safeties are gone, while returning strong safeties include
Jordan Richards
and
Zach Hoffpauir
. Someone could make a switch, or it's possible that former quarterback
Dallas Lloyd
, who is now making the transition to safety, could play here.
Leaving
:
Bishop Sankey
, RB, Washington
The replacement
:
Jesse Callier
started the 2012 season, but a season-ending injury gave rise to Sankey.
Dwayne Washington
seems like he could be an every down-type back, while Callier excels in third-down situations or as a changeup back.
Deontae Cooper
will also see carries.
Leaving
:
Austin Seferian-Jenkins
, TE, Washington
The replacement
:
Joshua Perkins
was the No. 2 all season, so there's little reason to think he won't graduate to No. 1. He's more receiver than blocker, but he's got talent and shouldn't have a problem assuming the role of the outgoing Mackey winner.
December, 30, 2012
12/30/12
10:00
AM ET
LOS ANGELES -- Before a Stanford offensive lineman ever sees the field, he must first negotiate "The Room." And The Room can be tougher than any drill, any conditioning program or even any defensive end or linebacker he will face. Because it's in the The Room where line coach Mike Bloomgren not-so-silently passes judgment on who does or doesn't have the chops.
And it's not just Bloomgren. It's the veterans, too --
Sam Schwartzstein
,
David Yankey
,
Kevin Danser
– who will self-police and critique those who desire more playing time.
"Everything those guys get in that room is earned," said Stanford head coach David Shaw. "And it's a tough room. You walk in that room, you better have thick skin. Cause it's not just Mike that's going to get on you. Sammy's gonna get on you. David Yankey's gonna get on you. If you can handle that room and come out and perform, you deserve to play."
[+] Enlarge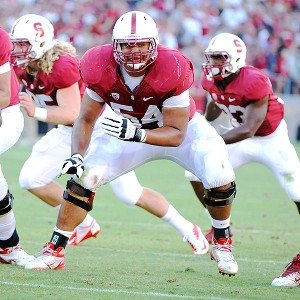 AP Photo/Rob HoltDavid Yankey and Stanford's offensive line have kept grinding down foes despite constant turnover.
For as much credit as Stanford gets for overcoming the losses of Toby Gerhart, Jim Harbaugh and Andrew Luck over the past few seasons, forgotten is that the offensive line has had to re-invent itself several times over with multiple standouts leaving for the NFL. The philosophy remains the same. But the personalities of each line have changed throughout the years.
"It starts in recruiting," said Bloomgren, who began his career as a graduate assistant at Alabama and cut his teeth for four seasons as an offensive assistant with the New York Jets. "We were fortunate to plug in the three new guys last year and have them grow (Schwartzstein, Yankey and
Cameron Fleming
). Then you lose David DeCastro and Jonathan Martin a year early and it's like, wow, now we have to do it again. David Yankey comes around and wins the Morris Trophy (given to the Pac-12's top lineman) and is a consensus All-American. It's a compliment to those guys and how they work and striving to get better. They call themselves the Tunnel Worker's Union. Those guys buy into that stuff."
Along with assistant Ron Crook -- who manages the tight ends and offensive tackles -- Bloomgren also coordinates Stanford's rushing attack, which has produced a three-time 1,000-yard rusher in
Stepfan Taylor
. And like any good running back, Taylor knows where his bread is buttered. He's rushed for 1,000 yards behind three very different offensive line units.
"They are a lot more goofy than last year," Taylor said. "They are great guys. I wouldn't want to be behind any other line. They are physical, tough, smart and athletic. That's the thing. They are really big athletic guys running around. It all starts with them and to win games, they have to do their job. And we are winning games so they are obviously doing their job."
Stanford's downhill, power-running approach is appealing to prospective offensive lineman. And the fact that they have offensive packages that involve as many as eight offensive linemen at a time is also attractive.
"For us, we've played one true freshman on the offensive line, up until this year, during the last five years," Shaw said. "This year we've played three. And those guys have earned that.
Andrus Peat
,
Kyle Murphy
,
Josh Garnett
. Those guys have earned that. And those guys have taken some beatings in that room. Some verbal assaults, if you will.
"… There are a lot of places that play five starters and the rest of the guys watch. They've had success and that's great. But we're going to play eight -- at least eight -- just in the Rose Bowl. And we've been that way all year. If we can play nine, we'll play nine. A young guy comes in and knows he's going to have a chance to play. That he won't sit on the bench for three years. If he does it right. If he can survive in our room, he'll get a chance to play."
Danser -- who became a full-time starter this year after seeing lots of time the last couple of years as a reserve -- has seen some great offensive linemen come and go. And he's witnessed each season how the line has rediscovered a new identity and how each group takes on a life of its own.
"It really comes down to the work we do in the winter, spring and summer," Danser said. "It really forms this unit. It takes leaders like Sam and leaders in the past like Chase Beeler, James McGillicuddy, David DeCastro, Jonathan Martin, Andrew Phillips. It's that leadership that makes this a great unit."
And the trio of freshmen who have made their debuts this year know they are getting their trial by fire on the field -- and in The Room.
"The coaches and the older guys won't let anything slide," Garnett said. "They always find something. Yankey tells me you have to find something. You never do it right. Always be nit-picky and find something you did wrong. That's what we're all about -- getting to that next level, never being content. You are always looking for the perfect block."
December, 31, 2011
12/31/11
8:29
PM ET
SCOTTSDALE, Ariz. -- Think you traveled a long way to get to the Fiesta Bowl? Chances are Lt. Col. Karen Fleming of the U.S. Army has you beat.

Her trek? About 8,000 miles, give or take.

The mother of Stanford's starting offensive tackle Cameron Fleming -- who is currently deployed in Bahrain -- planned her leave around the Jan. 2 Fiesta Bowl.

"Yesterday [Friday] was the first time I've seen him -- right before practice when they were going on the field," she said. "The last time before that was the April spring game. He was really excited and so was I."

Fleming is a battalion commander, overseeing troops in several Middle East countries. Kem Fleming, Cameron's father, is also a lieutenant colonel in the Army and is an operations officer for Homeland Security. He's done three tours in Iraq.

Cameron Fleming, who was born in Fort Hood, Texas, is one of three first-year starters on the offensive line this season. The 6-foot-6, 299-pound redshirt freshman started 10 games this season – missing the Oregon State and Oregon games with an ankle injury. He earned All-Pac-12 honorable mention in his first season as a starter and was named to the Yahoo! Sports freshman All-America team.

With his wife deployed, Kem was still able to take Cameron's 11-year-old sister, Jordan, to most of Stanford's games this season -- making it out to seven of the 12 contests. Karen, meanwhile, would stay up into the early hours of the morning to watch the games on the Armed Forces Network.

"We'd call each other during the games or after the games and talk about what was going on," Kem said. "She always stayed involved."
December, 27, 2011
12/27/11
11:00
AM ET
A healthy Stanford is a happy Stanford. And for the first time since about the midway point of the regular season, the Cardinal are as close to 100 percent as they are going to be.
When Stanford takes on Oklahoma State in the Tostitos Fiesta Bowl on Jan. 2, several key players will be moving quicker than they were in the final few games of the regular season. Understanding just how beat up his team was heading into the postseason, head coach David Shaw said repairs on both sides of the ball were a top priority.
[+] Enlarge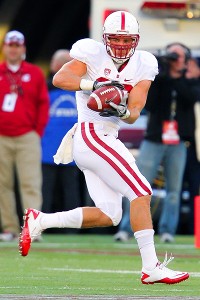 Steve Conner/Icon SMIStanford tight end Zach Ertz is expected to be near full strength for the Fiesta Bowl.
"We've got to get healthy," Shaw said after the Notre Dame victory in the regular season finale. "We played with our three tight ends and two of them were probably 80 percent. Our backs have been beaten up and bruised all year. We have to get them fresh."
Injuries, no doubt, took their toll on the Cardinal this year. It all started in the third game of the season when middle linebacker Shayne Skov -- arguably one of the top run stoppers in the country -- went down against Arizona and was lost for the year with a knee injury. Suddenly one of the best run defenses in the country looked a little thin. A.J. Tarpley and Jarek Lancaster filled in admirably -- better, in fact, than most expected -- but neither is at the level yet of Skov.
Still, they have endured, ranking fifth nationally in rush defense, allowing just 90.3 yards per game.
Like all teams, the Cardinal fell prey to the typical bumps and bruises. But a critical bump occurred against USC, when tight end
Zach Ertz
suffered a knee injury on the opening kickoff and would go on to miss the next three games.
Why is Ertz so significant? About one-third of Stanford's offensive playbook involves three-tight-end formations. With Ertz,
Coby Fleener
and
Levine Toilolo
on the field at the same time, the Cardinal offense was able to exploit numerous mismatches.
Ryan Hewitt
split time between fullback and tight end during that stretch. But even then, quarterback
Andrew Luck
would lose Hewitt out of the backfield, one of his most reliable and productive receivers coming out from behind the line of scrimmage.
Ertz returned for the season finale against Notre Dame. Nowhere near 100 percent, he caught one ball for no yards. But the fact that he was even on the field was a morale boost for his teammates. He's expected to be near full-strength -- if not at 100 percent -- for the Fiesta Bowl.
"It's exciting to have the tight ends back together and ready to go," said Fleener, who was recently named to the AP All-America third-team offense. "I think it's just exciting to know that we have a lot of guys back at full strength and hopefully we can be as good as we were before a lot of the injuries. It can only make us better as a team."
Obviously, Skov won't be back. Neither will wide receiver
Chris Owusu
, who has suffered at least three concussions in the past 14 months -- the scariest (as if they aren't all scary) coming against Oregon State when he was taken off the field in an ambulance.
There was some hope for Owusu's return because he's a senior and one of the emotional leaders of the offense, but head coach David Shaw told reporters last week "it's not going to happen."
"He's just been one of those guys,"
Shaw said following a practice last week
. "And he's gotten beaten up and knocked out, and he comes back. He's been beaten up and knocked out, and he comes back. And the players recognize that as the guy that they look to for courage."
In Owusu's absence, true freshman
Ty Montgomery
has been filling in, giving Cardinal fans a glimpse of the future. In the final three games, Montgomery caught 10 balls (on 16 targets) for 130 yards and a touchdown in the finale against Notre Dame.
Still, they have endured, ranking 11th nationally in total offense while averaging almost 481 yards per game.
Offensive linemen Cameron Fleming and Jonathan Martin also had lingering lower leg injuries that forced Fleming to miss time. Both are expected to be back at or near full strength.
Offensive lineman David DeCastro offered a more glass-half-empty view of the Cardinal injury situation.
"We're never going to be injury-free," he said, "that's just part of college football."
On the opposite side of the ball -- aside from Skov -- one of the biggest temporary losses was safety Delano Howell. While he convalesced his injured hand for three games -- only to re-injure it in the first half against Oregon -- Michael Thomas stepped in and split time between free and strong safety.
Youngsters Devon Carrington and Jordan Richards got lots of playing experience that will aid the Cardinal in years to come, but Stanford is clearly a better defense when Howell is on the field. He too is expected to be at full strength.
And yet throughout the injury-plagued season, the players have never used injuries as an excuse.
"I think what it comes down to is no matter who is available, the coaches did an awesome job putting us in the best positions to succeed," Fleener said. "Whether it was Zach or Hewitt in there, ultimately our identity is running the football and being a physical team regardless of who is on the field. That shouldn't change with the personnel."
November, 27, 2011
11/27/11
10:00
AM ET
STANFORD, Calif. -- Five things we learned about the Cardinal in their 28-14 win over Notre Dame Saturday night.
[+] Enlarge

Kyle Terada/US Presswire Andrew Luck threw four touchdown passes in Stanford's win Saturday night.

Stanford can start fast: Normally this is a question; phrased by swapping the "can" and "Stanford." It's been an off-and-on issue for the Cardinal this season. But they came out, with the exception of one or two plays, and looked solid on both sides of the ball in the first half. Andrew Luck moved the ball efficiently through the air (save the interception), Stepfan Taylor rushed for 75 yards in the first half on nine carries (an average of 8.3 yards per carry) and the defense held the Irish to just 75 yards of total offense in the first 30 minutes.

Chris Owusu got his play: Classy move by Stanford head coach David Shaw to allow wide receiver Chris Owusu to take the field on the victory formation kneel down to end the game (more on this later today). Owusu's tale of concussions has been well-documented, and for him to be able to be on the field -- on senior night -- and be a part of the victory was a special moment.

The tight ends are back: Good to see the Tree Amigos reunited. Zach Ertz returned from a knee injury he suffered on the opening kickoff against USC. He didn't do much statistically -- one catch for zero yards -- but his presence allowed things to open up down the field for Coby Fleener and Levine Toilolo. Fleener had a monster game: four catches for 97 yards and two touchdowns, including a 55-yarder in the fourth quarter. Toilolo also had a 3-yard touchdown reception. Ertz simply being on the field impacts how teams defend the Cardinal.

The Cardinal have a case: Probably not for a spot in the national championship, but certainly for a spot in one of the other BCS bowl games. An 11-1 record and a Heisman finalist should be enticing enough to get the Cardinal into one of college football's red-carpet gatherings. Wherever they land, the Cardinal can make a case that they shouldn't play again until 2012.

The Farm's farm system looks OK: There are several spectacular players and a once-in-a-generation college quarterback who played their final game at Stanford Stadium Saturday night. But the cupboards aren't totally empty. Guys like Ty Montgomery (six catches, 77 yards, touchdown), Jarek Lancaster (six tackles, one for a loss) and A.J. Tarpley (two tackles, sack) provided a glance at what Stanford's future will look like. And it looks promising. David Yankey and Cameron Fleming will continue to grow. James Vaughters (one tackle) will get bigger and faster. The foundation is there for a pretty good football team.
November, 5, 2011
11/05/11
5:24
PM ET
CORVALLIS, Ore. -- A few thoughts
from halftime
of Stanford-Oregon State.


Turning point:
Wide receiver
Chris Owusu
was taken off the field in an ambulance after taking another illegal hit. After making a reception, Owusu was hit and fumbled the ball and it was returned for a touchdown, but the play was negated because of the penalty. The score would have tied the game at 14, but instead the Cardinal were able to convert a 31-yard Eric Whitaker field goal for a 17-7 lead. Initial reports are Owusu suffered a concussion, but was fully conscious and had full motion of all of his extremities.
Turning point (2):
On the opening play of the second quarter, tight end
Levine Toilolo
suffered an "upper body" injury. The Cardinal were already down one tight end with
Zach Ertz
suffering a knee injury last week.
Best player
: As
Andrew Luck
's targets continue to go down, wide receiver
Griff Whalen
continues to be Mr. Reliable on third down. Luck has twice looked to him on third down and he's converted both times. Plus he had a 17-yard touchdown reception midway through the second quarter to put the Cardinal ahead 14-0.
Stat of the half
: 2: Two more significant injuries to marquee playmakers. The Cardinal already limped into this game without Ertz, offensive tackle Cameron Fleming, kicker Jordan Williamson and safety Delano Howell. Without Toilolo and Owusu, Luck loses the player he targets more than anyone else in Owusu and a 6-foot-8 red zone threat in Toilolo.
September, 29, 2011
9/29/11
1:00
PM ET
PALO ALTO, Calif. -- Has there ever been a more appropriate nickname for an offensive lineman than "Moose?" It leaves little to no room for interpretation about size or demeanor.
And except for the fact that Stanford offensive tackle Jonathan Martin is extremely articulate -- and lacks antlers -- the nickname fits him as snugly as his shoulder pads.
[+] Enlarge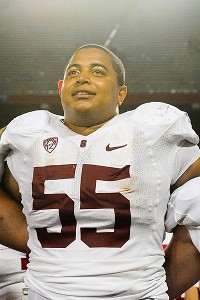 Matt Kartozian/US PresswireStanford offensive tackle Jonathan Martin is expected to be a first-round pick in the NFL draft next spring.
"That's how he introduced himself to me (the first time I met him)," joked quarterback
Andrew Luck
-- whose blindside is protected by the 6-foot-6, 304-pound Martin.
Martin was crowned with the moniker when he was in fifth grade. He was too big to play Pop Warner football in California, so during a flag football game, one of his teammates first called him Moose.
"I guess I was mauling people," Martin said. "It stuck since then."
It's how he still introduces himself -- though not to his professors.
"I'm more comfortable with Jon or Jonathan Martin in an academic setting," he said.
So when his name is called in the first round of the NFL draft -- probably not too long after the guy he's protecting -- chances are it will be Jon or Jonathan.
"He has natural tools," said head coach David Shaw. "An old coach once told me you have to find the guy that can do the things that you can't teach. And you can't teach a guy to be 6-5, 304-pounds and be athletic. And that's what he is.
"He's long. He's got long arms. He's tall, but he's flexible. He can kick and punch, and a lot of the publicity he's gotten is from NFL draft rankings, because he looks like an NFL tackle. Guys like that don't come around very often to be able to do the things he can do."
It's tough to statistically quantify the progress of an offensive line or lineman. But there are a few telltale signs. For example – Stanford has increased its rushing total every week, from 141 yards against San Jose State to 205 against Duke to 242 against Arizona. Luck has only been sacked twice (though one was him running out of bounds). Those are pretty good figures.
"He's a tireless worker," Luck said of Martin. "He takes a lot of pride in being consistent and using the right technique … he sets such a great standard for the younger guys. He's very meticulous, which I appreciate, obviously.
"(The offensive line has) done a great job. They are still hungry … they take pride in the fact that they want to be a physical group."
Martin, who has started in 27 of the past 29 games since redshirting in 2008, checks in as the No. 6 player on ESPN's Mel Kiper's Big Board. He said he still needs some work on his pass protection (Luck would disagree), but he might be the best run blocker in this year's draft class.
"I really like those drives at the end of games when you get to run the ball for 10 straight plays," Martin said. "It's a pretty gratifying feeling."
Shaw has asked Martin to do more than just protect the presumptive top pick in the NFL draft. With three starters from the offensive line graduating last season, Martin and David DeCastro became the veterans of the line. Tackle Cameron Fleming, center Sam Schwartzstein and guard David Yankey had never started a college football gamed prior to the season opener. And if the group was going to meet their coaches' expectations, Martin and DeCastro were going to have to whip them into shape.
"The roles those two guys played were so vital," Shaw said. "It's one thing when the coaches demand it of a young player. It's an entirely different deal when the veteran players, the guys they see in the locker room, in the weight room, and in the training room demand it of them also. There is no soft place to land when you don't do it right. And that's a good thing. David and Jon have been very vocal in their expectations about how the line should play. And each game it's getting better."
The younger players speak highly of Martin, calling him, among other things, an impressive leader. He's made it an emphasis that as a line and a team, he won't accept anything but their best effort. Martin arrived at Stanford in the midst of the culture change and has seen firsthand the strides the program has made. His hope is that he leaves it in better shape than when he first arrived.
"We want to win. We expect to win," Martin said. "That's where the standard has been set. Before, it was just to get to a bowl game. Now we have higher aspirations to win the Pac-12. It's been a fun process to be a part of."
September, 14, 2011
9/14/11
6:00
PM ET
PALO ALTO, Calif. -- It was center Sam Schartzstein who jumped off the film and into Stanford coach David Shaw's good graces following Week 1 against San Jose State.
Last week, against Duke, it was offensive guard David Yankey who made the proverbial big leap between Weeks 1 and 2. And Shaw didn't hesitate to praise the 6-5, 300-pound redshirt freshman.
"David Yankey played a very, very good game," Shaw said. "Pretty much one bad play early in the game and the rest of the game was very, very good. I'm very pleased with him."
The offensive line, with three new starters this season, has been, and will be a point of interest all through the year. The loss of All-American center Chase Beeler, guard Andrew Phillips and tackle Derek Hall, both Pac-10 honorable mention, was perhaps the biggest question marks going into the season.
Against Duke, the new guys got their first taste of delayed blitzes -- something the Blue Devils hadn't shown on film. And it caught the rookies off guard in the first half.
"I believe after this game we'll be prepared for that for the rest of the season," Shaw said. "... We said it in the beginning, we knew we were starting two redshirt freshmen [Yankey and tackle Cameron Fleming]. We know Game 5 they are going to be better than they were Game 1. Every game is going to be taking another step with these two young guys."
Yankey took his coach's praise in stride.
"It's nice, but I still have a long way to go," said Yankey, who was born in Australia and raised in Georgia. "Playing next to Moose (Jonathan) Martin and David DeCastro just shows me how far I have to go. These are just minimal leaps. But it's still nice to hear."
Shaw said he thought the line play, overall, was better than against San Jose State. Fleming didn't make as big a jump as Yankey, Shaw said. But noted, overall, he thought Fleming played better.
Yankey said he and the rest of the line take responsibility for not responding quick enough to Duke's delayed stunts. It's an experience and communication issue that he expects will improve as the new line grows together.
"I'm glad we made the corrections in the second half," he said. "But honestly, you have to be ready for it in the first place. We're coached to respond to everything and be prepared. But we picked it up and got better as the game went on."
While the line was figuring out Duke's scheme, quarterback
Andrew Luck
took more hits than his linemen were comfortable with. That was also a concern for Shaw.
"I would love for him never to get touched," Shaw said. "The bottom line is, that's what I love about him. He doesn't care. But we care a lot. He says 'Coach, I'll stand in there.' At the same time, it's a big reason why we need to be balanced so we don't play against pass rushers all game."
September, 3, 2011
9/03/11
11:00
PM ET
PALO ALTO, Calif. -- In the first 30 minutes of Saturday's season opener -- despite holding a 27-3 lead -- the
Stanford Cardinal
showed their immaturity.
Seven carries inside the San Jose State red zone produced a mere 5 yards scattered over four possessions. Two of the carries went for a loss. If not for quarterback
Andrew Luck
's 1-yard touchdown run, the running game would have been blanked in the first half at Stanford Stadium.
In the following 30 minutes of Saturday's season opener -- this time with a 29-3 lead -- the Stanford Cardinal showed their maturity.
Running back
Stepfan Taylor
plowed ahead from 3 yards out for a touchdown midway through the third quarter. And the Stanford sideline started to exhale.
[+] Enlarge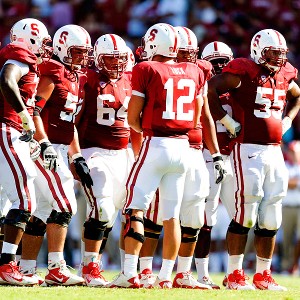 Jason O. Watson/US PRESSWIREA revamped Stanford offensive line kept prized quarterback Andrew Luck from getting sacked against San Jose State.
"I made a statement to the coaches that we were going to run the ball into the end zone," said first-year Stanford coach David Shaw. "We needed that as an offensive line. Our fullback needed that. Stepfan needed that. We need to run the ball physically into the end zone and we did that."
Tough to call a touchdown that puts you ahead 36-3 a "turning point."
But it was.
"Coach came up to me and said, 'What do you want to do?'" said tackle Jonathan Martin, one of two returning starters on the offensive line from last year's 12-1 squad. "I told him we have to run the power. It's a simple guard pull, but that's what we go to when we need to get things going."
That's the veteran leadership Shaw is looking for as his team moves forward with national championship aspirations.
The Cardinal (1-0) cruised to a
57-3 victory
. By halftime, the only real drama was whether San Jose State would take the Interstate 280 or Highway 101 from Palo Alto back to downtown San Jose. It's a push on Googlemaps. About 30 minutes either way depending on traffic.
But today's game was more about Shaw finding out what his team is made of -- particularly running the ball.
"That's where we start," Shaw said. "That's our attitude. That's our scheme. That's the heartbeat of everything we do. This is our first victory. And it didn't come perfectly. But it's a stepping stone and hopefully we'll do better next week."
Left guard David Yankey, center Sam Schwartzstein and right tackle Cameron Fleming are the newcomers to the offensive line -- joining Martin and David DeCastro, all-conference performers last year. And it took some time for the continuity to kick in. It's going to take more time.
"The biggest jump is between Week 1 and Week 2," Martin said.
But they also did a lot of things right. They kept Luck clean and sack-free, allowing the Heisman favorite to throw for 171 yards and two touchdowns on 17-of-26 passing.
"That's important, given who we have at quarterback," Shaw said.
Luck said he expected some first-game jitters from the offense, specifically his re-vamped line.
"I think they started to realize everything in the second half," Luck said. "It's one play at a time. Do my job and everyone around me is going to do their job and we'll get something done. I think that was a big step in terms of building that continuity up."
After rushing for 64 yards in the first half, they came back with 77 yards in the second half -- including a pair of touchdowns from Taylor and another from running back
Tyler Gaffney
.
Continuity is important -- given the transitions this team has endured since last year's 40-12 romp over Virginia Tech in the Orange Bowl. There's a new head coach; rebuilt offensive and defensive lines; new starters at wide receiver.
But there is also Luck. And linebacker Shayne Skov. And linebacker Chase Thomas. And Taylor.
"Our maturity is the biggest thing we have going for us," Shaw said. "We have athletes and we're pretty deep at some positions. We have guys that don't let the game get too big or let the outside influences affect us. Leaders like (safety) Michael Thomas, Skov and Luck. Those guys were here when it wasn't pretty. We weren't ranked and nobody was patting them on the back. They remember that. They'll take the praise, but then they'll turn around and put their heads back on."
That being said, there were certainly first-game mistakes that must be corrected looking forward.
"We had a lot of guys who were unsatisfied with the performance today," Shaw said. "We put our hands on three balls we should have caught. That's not us. We missed a couple of blocks up front. That's not us. Our running back got hit behind the line a couple of times. That never happens to us."
Tough to be unhappy about 8-for-8 on red zone opportunities. Tough to be unhappy with a 54-point victory. But they were.
Mature teams usually aren't happy until the season is over and there's a No. 1 next to their name.