NCF Nation:

Cameron Saddler
August, 30, 2012
8/30/12
1:00
PM ET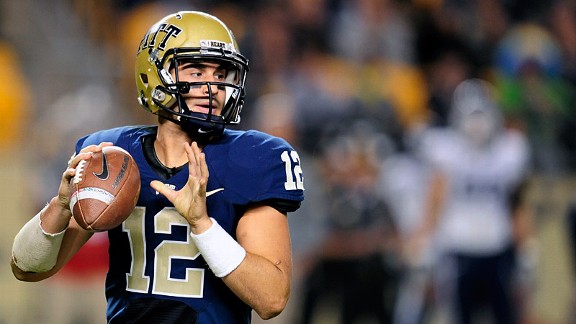 Jeanine Leech/Icon SMITino Sunseri is ready to move on from last season's disaster and run a pro-style offense again.
The son of a former linebacker and a former gymnast at his current school, Pitt quarterback
Tino Sunseri
learned how to take criticism at an early age.
"My parents really instilled that in me," Sunseri told ESPN.com, adding, "They never really sugarcoated anything. They gave me straightforward answers every time I asked them, and they made sure that I was always told the truth."
Last season, the truth was that Sunseri threw more interceptions (11) than touchdowns (10) in a campaign that went south following the loss of running back
Ray Graham
, as the Panthers dropped three of five games to finish 6-7. The truth was also that Sunseri was charged with running new coach Todd Graham's option-read, shotgun offense — a system that hardly fit him or his offensive teammates, though Graham often publicly voiced his displeasure with the unit.
But Graham's abrupt winter departure for Arizona State led to the hiring of former Wisconsin offensive coordinator Paul Chryst, who has brought a return to the pro-style attack that Sunseri and his teammates ran in 2010, his first year as a starter. And Sunseri is hoping that translates into a productive fifth and final season with the Panthers, who have become the popular darkhorse pick to win the Big East in their final year before moving to the ACC.
"I think the biggest difference is Coach Chryst really has brought us in and said, 'You have to forget about the past; only worry about the present and future,' " Sunseri said. "And I think that's what a lot of our guys have really done in the
way that we've practiced. We really haven't thought much about what's happened. We're getting ready for this kind of offense, this kind of team, making sure that we're doing everything possible to work and get better each day."
Chryst, offensive coordinator Joe Rudolph and quarterbacks coach Brooks Bollinger have demanded decorum across the offense as a whole, Sunseri said, making sure every player is on the same page from the routes they run to the way they line up before plays.
"Last year it was a little bit of a zoo," Sunseri said. "Guys were running the wrong routes each game, guys were making mistakes. So for us to really just focus in on each game, each player has to do their part. Obviously it's sports, and everybody works good as a unit."
The carry-over effect is felt under center, where Sunseri arrived in 2008 to play for Dave Wannstedt.
The son of Tennessee defensive coordinator Sal Sunseri, Tino said that he feels blessed to return to a pro-style system after the rough 2011 campaign, during which his frustration became evident in his teammates' eyes.
"Last year he was doing something that he wasn't really comfortable with, and I think we all could really tell that he wasn't really comfortable with all that," fifth-year receiver
Cameron Saddler
said. "He's confident again and he's a senior, man. I feel like once you become a senior you kind of just get a feel for the game. You're confident."
Sunseri has carried that confidence into this season, ignoring the public and in-house criticism from a year ago and recognizing his mistakes on his own through film study and practice.
It's all in the name of making the next play count more than the last, as Sunseri refuses to look at his final college season with the typical "last chance" narrative that follows so many seniors, especially at his position.
"Ever since I stepped into college, you never know what could happen," Sunseri said. "So each day I don't take for granted. I come out here ready to work great and try to push my team, make sure that we can accomplish something each day. And each day that I'm able to go out there and practice and perform, I honestly feel like I'm blessed and I'm lucky and I just wanna make sure I can keep on going out and keep the same approach."
February, 24, 2012
2/24/12
3:00
PM ET
We have come to the final group in the 2011 postseason position rankings: special teams. This one is all encompassing -- kickers, punters, returners, and team coverage -- which has made it quite the task to evaluate as one group. Some teams had returns that excelled and kickers that were so-so. Some had great kickers but a so-so return game.
I tried to give equal weight to all parts. In the end, I took the rankings in several special-teams categories and used an average ranking to help determine these. Special weight was given to game-changing plays as well.
1. Cincinnati.
The Bearcats ranked in the top two in four of the five statistical categories I used to evaluate special teams as a whole. The only area lacking was field goals, but I thought overall
Tony Miliano
had a decent year for a true freshman, even considering his missed kick against West Virginia. Ralph David Abernathy IV emerged as a dynamite kickoff man, and
Pat O'Donnell
was the best punter in the Big East again. Kickoff coverage was solid as well.
Preseason ranking
: 5.
2. UConn.
Nick Williams
averaged just 5.6 yards a return on punts. He was not particularly dynamic on kickoff returns, either, ranking No. 4 in the Big East after going into the season as one of the top returners in the league. UConn was one of two Big East teams without a kickoff return for a touchdown. But still, the Huskies were solid in every other category.
Dave Teggart
once again was the Big East first-team kicker, and
Cole Wagner
averaged 41.1 yards a punt.
Preseason ranking:
1.
[+] Enlarge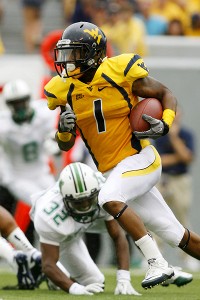 Charles LeClaire/US PresswireTavon Austin had two kickoff returns for touchdowns last season.
3. West Virginia.
Tavon Austin
was hands down the best returner in the Big East this season, and one of the best in the nation. But since this is an evaluation of special teams as a whole, everything is taken into account. West Virginia had the worst punting situation in the Big East, and ranked last in kickoff coverage. There were several critical blocked field goals as well. Special teams absolutely improved as the year went on, and some players made big plays --
Eain Smith
comes to mind. But Austin alone wasn't enough to elevate the group higher.
Preseason ranking:
7.
4. Rutgers.
Once again, the Scarlet Knights were highly effective at blocking kicks -- a staple under coach Greg Schiano.
Jeremy Deering
was solid in the kickoff return game as well. But
San San Te
had the worst field goal percentage in the Big East (64.5 percent), and kickoff coverage ranked No. 7 in the conference. Rutgers only had an opportunity to return 16 punts last season, averaging about 6 yards a return.
Preseason ranking:
6.
5. Pitt.
The Panthers lost their punter and field goal kicker from a year ago and did perhaps better than expected in special teams overall. Punter
Matt Yoklic
was second in the league in punts, though
Kevin Harper
did struggle at times with his field goals. Losing
Cameron Saddler
really hurt the punt return game as well.
Preseason ranking:
8.
6. Syracuse.
Ross Krautman
led the Big East in field goal percentage (78.9) but he only had 19 attempts on the season, second fewest in the Big East. Punt returns were essentially nonexistent -- with only 12 attempts for an average of 3.1 yards a return.
Jeremiah Kobena
was a nice addition at kickoff returner, but the Orange still ranked No. 6 in the Big East in that category and kickoff return coverage as well.
Preseason ranking:
4.
7. Louisville.
Chris Philpott
had a disappointing season, ranking No. 7 in the league in field goal percentage (66.7). He and
Josh Bleser
averaged 37.3 yards a punt. Punt returning ranked No. 7 in the Big East as well, and aside from
Adrian Bushell
's 100-yard kickoff return for a touchdown, that category was just average for the Cardinals.
Preseason ranking:
3.
8. USF.
I think the Bulls were the biggest disappointment in this category.
Lindsey Lamar
, who was the first-team Big East selection at returner last year, had zero this year and ranked No. 9 in the league in kickoff return average. His average was down some six yards from last season. When
Terrence Mitchell
got hurt and missed the second half of the season, no one was dynamic at punt returner, either.
Maikon Bonani
ranked No. 3 in field goal percentage but fairly or not is going to be remembered for missing a field goal that would have beaten Rutgers, and eventually gotten the Bulls bowl eligible.
Preseason ranking:
2.
January, 23, 2012
1/23/12
9:00
AM ET
National signing day is inching ever closer, so it is time to take a look at the biggest recruiting needs for every team in the Big East.
Cincinnati

Defensive line.
Cincinnati loses a host of seniors from this position, including Co-Defensive Player of the Year
Derek Wolfe
,
John Hughes
,
Monte Taylor
, and
Rob Trigg
. Factor in the key contributors for 2012 will be seniors in
Dan Giordano
,
Brandon Mills
and
Walter Stewart
and it is time to reload at this position.
Receiver.
There is some promising young talent on the roster, but several guys are going to be leaving in the next few years. The Bearcats really need a guy who can stretch the field and make some big plays to join
Anthony McClung
and
Alex Chisum
.
Secondary.
The Bearcats are going to take a hit at this position after 2012, losing a ton of seniors-to-be, including Cam Cheatham,
Drew Frey
,
Dominique Battle
and
Reuben Johnson
. Senior safety
Wesley Richardson
is already gone. The lone four-star commitment the Bearcats have is from a safety, Marcus Foster.
UConn

Quarterback.
This need has been addressed in this recruiting cycle, with junior college transfer Chandler Whitmer and Casey Cochran already enrolled in school.
Tight end.
With the impending departure of
Ryan Griffin
and
John Delahunt
, the Huskies could use another young player to be groomed to take over. Tight end is a critical part of the UConn offense.
Offensive line.
UConn is losing its two best linemen in
Moe Petrus
and
Mike Ryan
. Of the 16 linemen currently listed on the roster, seven are juniors or seniors. Linemen generally take a redshirt season, so it never hurts to sign more to be able to restock.
Louisville

Linebacker.
The Cardinals are losing
Dexter Heyman
and have a lot of juniors and seniors on their roster at this position. It is no surprise, then, that three of the top players coming in are linebackers -- Keith Brown and James Burgess are already enrolled; four-star recruit Nick Dawson has given a commitment.
Offensive line.
Louisville has young players here, but not much depth, as evidenced this season when several true freshmen were forced to play much earlier than anticipated. It never hurts to build depth here, and the Cardinals have gotten a huge commit from four-star guard Abraham Garcia out of Miami.
Running back.
This was an area the Cardinals struggled in this season, having to move quarterback
Dominique Brown
to the position.
Victor Anderson
is gone, and this team could really used another back to carry the load.
Pitt

Quarterback.
This one is pretty self explanatory if you watched
Tino Sunseri
play.
Mark Myers
and
Trey Anderson
are also on the roster, but the Panthers are in definite need here -- which is why so many fans are looking forward to commit Chad Voytik coming to town.
Linebacker.
This has been an area of inconsistency for the Panthers, who lose their best player in
Max Gruder
. There are some young players with talent in
Todd Thomas
and
Ejuan Price
, but this position could definitely use an upgrade.
Receiver.
The play of the offense was disappointing this season, and that includes the receivers. Pitt could use some players to stretch the field.
Ronald Jones
was a start this season. But when you consider that
Cameron Saddler
,
Mike Shanahan
and
Devin Street
will all be upperclassmen in 2012, this is a definite area of need.
Rutgers

Receiver.
Mohamed Sanu
is gone, and
Mark Harrison
is a senior to be. There is plenty of young talent, but there is a reason Rutgers has commitments from four athletes. This gives the Scarlet Knights the flexibility to try them at receiver or running back, another area of need.
Running back.
Once
Savon Huggins
got hurt this year, Rutgers had
Jawan Jamison
and
Jeremy Deering
at running back and that was about it. Depth has to be developed here.
Offensive line.
Strides have absolutely been made at this position, but coach Greg Schiano likes to reiterate that the Scarlet Knights aren't going to pull themselves out of the hole they were in overnight. They need another solid draft class at this position to keep building.
USF

Secondary.
Injuries and inconsistent play this season showed the Bulls really lacked some depth and need some immediate help in this area, which is why they signed junior college cornerbacks Fidel Montgomery and
Josh Brown
. One of their top four-star commitments is cornerback Chris Bivins.
Quarterback.
Beyond
B.J. Daniels
, a senior in 2012, the Bulls have
Bobby Eveld
and
Matt Floyd
as the two heirs to take over. Eveld has been less than impressive, and we don't know much about Floyd. The Bulls would be served to get another quarterback in as they prepare for the future.
Running back.
Darrell Scott
is gone, and the Bulls are really in need of a game breaker at this position.
Demetris Murray
is going to be a senior, and nobody else really has stepped up at the position. Depth has to be built here, because USF goes into spring practice with four running backs on the roster.
Syracuse

Defensive line.
The Orange are losing
Chandler Jones
and
Mikhail Marinovich
and could really used some difference-makers up front who can help get after the quarterback. Depth is an issue here. One of their big commitments so far has been defensive end Josh Manley out of Georgia.
Secondary.
This was one of the weakest parts of the team and now the Orange lose
Phillip Thomas
and Kevyn Scott, and there was a lack of depth when injuries hit this position in 2011. Brooklyn prep safety Wayne Morgan would be a huge get to add to this unit.
Receiver.
Alec Lemon
is a senior,
Van Chew
is gone and who knows what happens with
Marcus Sales
. The bottom line is the Orange are in major need of a game-changer to turn 15-yard passes into 40-yard receptions.
West Virginia

Quarterback.
Geno Smith
is a rising senior and after him it is crickets in the form of one player behind him in
Paul Millard
. So consider this need majorly filled with Ford Childress, ranked No. 139 on the ESPNU 150.
Offensive line.
The most inconsistent part of the team in 2011, West Virginia has a major need here. The Mountaineers struggled so badly here they started converted defensive lineman
Curtis Feigt
late in the season.
Don Barclay
is gone, and
Joe Madsen
,
Jeff Braun
and
Josh Jenkins
are all upperclassmen.
Defensive line.
Julian Miller
,
Josh Taylor
and
Bruce Irvin
are gone, and there are depth concerns here. West Virginia has four commitments from defensive linemen already.
December, 22, 2011
12/22/11
1:35
PM ET
The time has come for Pitt to move on from the debacle of the past year, and really, there is no better person to do that than Paul Chryst.
He is no-nonsense, a man who does not yabber on and on like a certain somebody Pitt fans want to forget. A man who has proved he can coach and can mold his players from good to great. A man who proved -- most especially this year -- he can coach both a smashmouth style and a pretty passing style, too.
Chryst may have been passed over for the job a year ago because he was not "high-octane," but that is a word that no longer fits in the Pitt vocabulary. The Panthers need solid coaching and no drama, and that is what Chryst should be able to provide.
Because the biggest mess that has to be fixed on this team is the offense. Quarterback was a disaster position in 2011, and not all of the blame belongs to
Tino Sunseri
. He simply was not a good fit for the spread. Seeing how Chryst was able to work with
Russell Wilson
this season and tailor the offense to his strengths has to make the Panthers believe he can do the same with Sunseri or whoever wins the starting job.
Ray Graham
has the potential to go from being great to entering the
Montee Ball
stratosphere. Graham is coming off a knee injury, and this hire should encourage him to stay in school for one more season. He already was the best player on the offense, and if he returns, he should have a real opportunity to reach 1,500 yards next season.
[+] Enlarge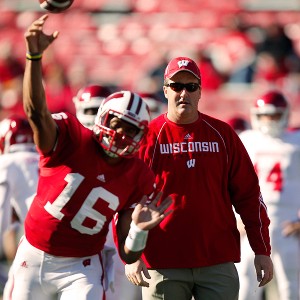 AP Photo/Andy ManisThe Panthers hope Paul Chryst, right, can improve Tino Sunseri's game the way he did with Wisconsin's Russell Wilson, left.
But what about the offensive line, you ask? Pitt does not have 300-pound behemoths like Wisconsin. That is quite true. Pitt was bad in pass protection, though mostly because of strange blocking schemes that none of the players fully endorsed. Sunseri held on to the ball way too long, too. Let's face it -- neither Sunseri nor his offensive linemen ever fully grasped the timing concept that is the heart of the Graham offense.
Pitt should be better up front with Chryst in charge. Should Chris Jacobson receive a sixth year of eligibility, the offensive line will have an anchor to help lead the way. As for the receivers, there is plenty of talent here as well, from
Devin Street
and
Mike Shanahan
to
Ronald Jones
and
Cameron Saddler
. There is no reason they cannot develop further under a coach who should be able to maximize their talents.
What Chryst did as offensive coordinator speaks for all the possibilities. Over the past three seasons, Wisconsin has averaged 39.3 points a game. This season, Ball became a first-team All-American and Heisman Trophy finalist, leading the nation in total rushing yards (1,759) and scoring (38 touchdowns). Wilson completed 73 percent of his passes for 2,879 yards with 31 touchdowns to just three interceptions.
Those stats perfectly illustrate how Chryst adapts to his personnel. Wilson shattered the Wisconsin single-season passing touchdown mark. John Stocco held the old mark of 21 set in 2005. They are the only two quarterbacks to throw more than 20 touchdowns in Wisconsin history.
Then there is the coaching up part, too. According the ESPN Stats & Information, Wilson immensely improved his accuracy on passes longer than 15 yards. That has been one of the biggest areas of weakness for Sunseri. Wilson completed 52.4 percent of his passes longer than 15 yards this season, with 10 touchdowns and two interceptions. Last season at NC State, Wilson completed 33.6 percent of his passes longer than 15 yards, with eight touchdowns and eight interceptions.
Chryst also has started to win over his new players. Street, one of the most outspoken on Twitter when Todd Graham bolted for Arizona State, tweeted two separate messages: "Just met the new head man ! Ready to rock" and "Said its not what he says its his actions !!! Perfect."
All of these are signs of hope. Now all the Panthers need is for Chryst to stay on the job for more than 11 months.
October, 30, 2011
10/30/11
10:00
AM ET
What did we learn in the Big East in Week 9?
1. Separation.
We have a clearer picture of the Big East race today, but by no means is anything certain. Louisville, West Virginia and Pitt each have one conference loss, right behind league unbeaten Cincinnati. The Bearcats, West Virginia and Pitt control their own destinies -- if one of those teams wins out, it heads to the BCS; Louisville needs help because it lost to the Bearcats. But at this point, it appears that one of those four is the most likely candidate to win the conference.
[+] Enlarge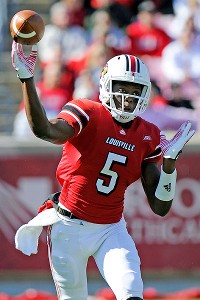 Jamie Rhodes/US PresswireCan emerging Louisville QB Teddy Bridgewater help the Big East gain more national attention?
2. Growing up.
If anybody thought Louisville would be in the conversation -- with home losses to FIU and Marshall this season -- then you were a big-time believer. The Cardinals have had one of the most anemic offenses in the Big East, and a defense that had given up way too many big plays. But they have consecutive victories in league play against two winning Big East teams and look as if things are starting to come together. The offensive line and running game have made huge strides, and so has true freshman quarterback
Teddy Bridgewater
. Remember, Bridgewater is one of eight true freshmen starting for this team — we are watching the Cardinals grow up before our eyes.
3. Jekyll 'n' Hyde.
If anybody knows what they are going to see from West Virginia and Syracuse next week, let me know. The Orange went from beating the Mountaineers
49-23
to losing to Louisville
27-10
. The offense, so dominant last week, had a season-low for points. Quarterback
Ryan Nassib
was completely off all game, and Syracuse was unable to run effectively. The secondary had some of the same problems that has plagued it at various times this season. Meanwhile, West Virginia gave up 31 first-half points to Rutgers before pulling out a
41-31
victory. The defense played much better in the second half, but there appear to be some holes in the secondary that need to be addressed.
4. Life without Ray Graham.
Pitt found out it would be without running back Ray Graham for the remainder of the season after he was hurt during a
Wednesday night game
against UConn. Losing your best player, along with another starting offensive lineman in Matt Rotheram and receiver
Cameron Saddler
, is probably not going to bode well for the Panthers. Wisconsin transfer
Zach Brown
will start in Graham's place, but quarterback
Tino Sunseri
will face more pressure to get the job done. He did it against UConn but he has been so inconsistent, there is no telling which Sunseri you are going to get on game days. He will be incredibly tested in the final four games of the season.
5. So long, Huskies?
UConn dropped to 3-5 on the season and needs to win three of its final four to become bowl-eligible. With Syracuse, Louisville, Rutgers and Cincinnati left on the schedule, the Huskies face an incredibly tough task; each of those teams is .500 or better. They simply have not been able to get anything going on offense with
Johnny McEntee
at quarterback, but coach Paul Pasqualoni says he is sticking with him as a starter. UConn overcame steep odds to win a spot in the BCS last year. But the odds of making a return trip to a lower-tier bowl game are much steeper.
October, 27, 2011
10/27/11
3:00
PM ET
Pitt running back
Ray Graham
is
out for the season with a right knee injury
, dealing the Panthers a devastating blow as they hit the stretch run of the season.
Graham hurt his knee early on in a victory over Pitt on Wednesday night. Pitt did not say how badly Graham hurt his knee, only that he would undergo surgery.
Graham has been the only consistent player on the Panthers' offense this season. He had two 200-yard games, and leads the team in carries (164), rushing yards (958), rushing touchdowns (nine) and receptions (30). His rushing and receiving yards account for 40 percent of all the yards Pitt has gained on offense this season.
In addition, receiver
Cameron Saddler
(fractured sternum) and offensive lineman Matt Rotheram (fractured ankle) sustained season-ending injuries against the Huskies.
"We are incredibly disappointed for these three young men," coach Todd Graham said in a statement. "They have put so much work into our program and it's heartbreaking to see their seasons end prematurely. Even from the sidelines, I know they are going to remain important leaders who will continue to make an impact as we strive to reach our goal of a Big East championship.
"I know each will attack their rehabilitation programs with incredible commitment and be back better than ever for next season. That's the type of people and competitors they are and we're proud that they are Panthers."
Injuries have hit Pitt particularly hard. Starting offensive lineman Chris Jacobson (knee), starting safety Jason Hendricks (shoulder) and receiver
Salath Williams
(shoulder) also are out for the season.
With Graham out, Wisconsin transfer
Zach Brown
emerges as the No. 1 running back. Against UConn, he led the team with nine catches for 84 yards, and had 12 carries for 30 yards and a touchdown.
October, 27, 2011
10/27/11
7:30
AM ET
I know all of you out there predicted
Tino Sunseri
would throw for more than 400 yards against UConn.
Right? Right?
Sunseri looked much better in a
35-20
victory over the Huskies on Wednesday night, throwing for a career-high 419 yards and two touchdowns. He ran for another, and in the short term got critics off his back after poor performances in consecutive losses to Rutgers and Utah.
[+] Enlarge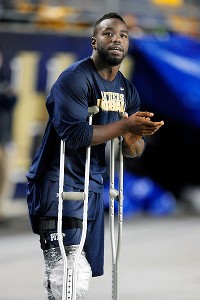 Jeanine Leech/Icon SMIRay Graham, the nation's second-leading rusher, left Pitt's victory over UConn in the first quarter with a knee injury.
But of more immediate concern was the health of superstar running back
Ray Graham
, the Panthers' best player. Graham went down early in the first quarter with a right knee injury and will undergo further evaluation Thursday to determine its injury. Graham appeared to hurt his knee when he planted his foot in the turf, immediately grabbing it when he fell to the ground. He was carted off the field and ended up on crutches, with ice wrapped around the affected area.
His would be a devastating loss for an offense that has relied so heavily on him. Graham began the week ranked No. 2 in the nation, averaging just over 134 yards a game. He also leads the team in receptions and was a big-time asset out of the backfield. The Panthers also lost yet another offensive lineman when Matt Rotheram went down against UConn. Receiver
Cameron Saddler
also got hurt and never returned. Injuries have hit the Panthers particularly hard on the offensive line, where three starters have now missed time.
But Pitt was able to survive without Graham on Wednesday, in part because the Panthers were able to protect a little better up front and take advantage of screens and underneath routes. Sunseri did not burn the Huskies deep. His teammates just took 6-yard passes and turned them into big gains.
Zach Brown
, in for Graham, did well catching balls out of the backfield the way Graham has this season, leading the team with nine catches for 84 yards.
The Panthers (4-4, 2-1 Big East) remained in the hunt for the conference title, but the road is going to be much tougher for UConn, the defending BCS representatives. The Huskies (3-5, 1-2) have now given up more than 400 yards passing three times this season. To do that against a Pitt team that had 50 total yards passing against Utah was probably unthinkable to them. The biggest problem were the linebackers, who were essentially nonexistent. UConn never seemed to adjust to the Pitt game plan, and the Panthers just took advantage.
Meanwhile, the Huskies offense showed some signs of life but for the most part, quarterback
Johnny McEntee
was flummoxed once again. Amazingly, the UConn offensive line played worse than Pitt did, even down a starter. It all adds up to yet another disappointing performance for the Huskies.
October, 16, 2011
10/16/11
10:00
AM ET
What did we learn in the Big East in Week 7?
1. The offense went missing.
West Virginia and its prolific offense took a seat on the couch this week, leaving the rest of the league in the spotlight. Most of us had to hide our eyes at what passed for offense Saturday. UConn, Louisville and Pitt failed to score offensive touchdowns. USF had one. The highest scoring team -- Cincinnati with 25 points. That would be 20 points below its season average. Only the Bearcats and Rutgers went over 20 points. It was the ugliest weekend of the season.
[+] Enlarge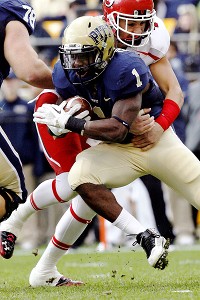 Charles LeClaire/USPRESSWIREWith almost no passing game, Utah was able to key on Pitt running back Ray Graham.
2. Pitt is in trouble.
The Panthers have now scored 10 points of offense in the past two games combined, reaching rock bottom in a 26-14 loss to Utah in which they scored on a kickoff return and a blocked punt. Simply put: they have no quarterback.
Tino Sunseri
has had one good game out of the seven he has started. True freshman backup
Trey Anderson
has looked totally overwhelmed. Teams know they can key in on
Ray Graham
when there is no threat to pass. Pitt finished with 50 yards passing, and starting receivers
Devin Street
,
Mike Shanahan
and
Cam Saddler
combined for -- NO catches. What is supposed to be a "high-octane" offense is sputtering like a clunker that is running on molasses. If Pitt continues to play this poorly, its bowl prospects will be in serious jeopardy.
3. The USF Bulls teased. Again.
This is a team that starts off hot, but then disappoints. With 16 days between games, you would have thought the Bulls would have played a bit better against UConn. Four turnovers -- including three from
B.J. Daniels
-- cost them big time in a 16-10 loss. So did nine penalties and an inability to convert on third down for the second straight week. After a 4-0 start that featured three wins against cupcakes, the Bulls are now 0-2 in conference. Their two losses are to teams that currently have losing records (Pitt, UConn are each 3-4).
4. Rutgers, Cincinnati nearly bowl eligible.
Two teams nobody picked anywhere near the top of the conference are now one win away from becoming bowl eligible. Both were 4-8 last season; both sit at 5-1 headed into next week. Both hit the road next week: Rutgers is at Louisville; Cincinnati goes to USF.
5. Defensive fronts dominated.
Well, maybe the offense was bad, but the defensive lines had nice showings Saturday. Cincinnati defensive tackle Derek Wolfe had a career-high 11 tackles and the Bearcats had four sacks. Rutgers had four sacks -- on a triple-option team. Pitt had seven sacks against Utah. USF tied a school record with seven sacks -- Ryne Giddins set a career high with two sacks and Sam Barrington set a career high with 1.5 sacks. Louisville had three. The only Big East team that did not have a sack this week was UConn -- the No. 2 team in the conference in that category headed into Week 7.
August, 16, 2011
8/16/11
9:46
AM ET
Taking a look at practice around the league:
Cincinnati:
Several freshmen have already
impressed their teammates
. One tradition during fall camp is for the young players to lose the stripes on their helmets when their "big brother" on the team feels they've earned it. On Monday, defensive back Trenier Orr had his stripe removed by Camerron Cheatham and receiver
Shaq Washington
had his stripe removed by
Zach Collaros
.
Connecticut:
The Huskies have spent time
shuffling around players
on their offensive line to see who gives them the best fit. The only locks -- tackle Mike Ryan and center Moe Petrus. Everybody else has been shifted.
"We're moving people around, looking at our depth so that guys can play different positions," offensive line coach Mike Foley told the Hartford Courant. "A guy like Gary Bardzak can play both at guard and he can also play center so it gives you that flexibility so you can always get your five best on the field. A guy like Adam Masters who plays tackle but also is playing guard and that allows us, with (tackle) Kevin Friend, to get some work with that first group, move it around and see what our best combination of guys is and really take it from there."
Louisville:
Freshman Lorenzo Mauldin has
moved from defensive end to tight end
. Mauldin was moved to give the Cardinals some bodies at that position because of injuries to
Nate Nord
and
Stephon Ball
. Both players are expected to return to practice in the next few days. In another position switch, tight end Jordan Tennyson has moved to defensive end. Receiver
Michaelee Harris
has been practicing with a soft cast on his thumb, but made a couple of great catches during team work Monday morning.
Pitt:
The Panthers are going to go with Ryan Turnley at center and Chris Jacobson at guard, though the two are still competing at center. Coach Todd Graham said during the scrimmage Sunday there were
four mishandled snaps
, so Turnley has to keep working. Jacobson is getting reps at left guard with the starters and center with the second unit. Graham wants his starting five to play together this week. "We need to get to the point where five guys are repping together constantly as a unit," Graham said. Receiver
Cameron Saddler
and cornerback K'Waun Williams sat out practice Monday because they were "dinged up." Receiver
Devin Street
left practice early, but Graham didn't think the injury was serious.
Rutgers:
Coach Greg Schiano still wants to see
more out of his offensive line
, even after an impressive rushing performance in the scrimmage Saturday. "We have to make sure we protect better, continue to protect better. We protected better than we have but not good enough for a game," Schiano said. Running back
Jawan Jamison
(hamstring) returned to practice but was limited. Meanwhile, receivers
Brandon Coleman
and Miles Shuler, defensive end Manny Abreu and running back
Jeremy Deering
all wore non-contact jerseys.
Syracuse:
Some injured players have slowly started to
make their return
to the field for the Orange. Running back
Prince-Tyson Gulley
and
Steve Rene
were in full pads Monday. Both should be cleared for full contact soon. Safety Shamarko Thomas also is likely to be back on the field today, and cornerback Keon Lyn could return this weekend. Coach Doug Marrone was asked whether he was worried about any of his injured players being out for the opener Sept. 1. Offensive lineman Sean Hickey is out for the season, but Marrone also is worried about lineman Ian Allport because of the severity of his concussion.
USF:
Quarterback
B.J. Daniels
participated
fully in both practices
Monday. Fullback
Armando Sanchez
has moved back to linebacker from fullback. Coach Skip Holtz said the decision to redshirt all the freshmen linebackers played into the decision. Holtz also singled out all the true freshmen he expects to play this season, including defensive tackle Elkino Watson and receivers
Andre Davis
and
Ruben Gonzalez
.
West Virginia:
Coach Dana Holgorsen has had high praise for young running backs
Vernard Roberts
, Dustin Garrison,
Trey Johnson
and Andrew Buie. But the Mountaineers may not necessarily go with a
running back by committee approach
. Nor are they looking for somebody who is going to be an afterthought to the passing game. Running backs coach Robert Gillespie told the Times West Virginian: "We would like a guy we could strap the team on his back and go," he said.
July, 12, 2011
7/12/11
3:00
PM ET
We wrap up our look at team position rankings with special teams. There are plenty of strong kickers and returners in the league. I did not separate them, though, because those would be more like individual rankings. Those are coming soon.
[+] Enlarge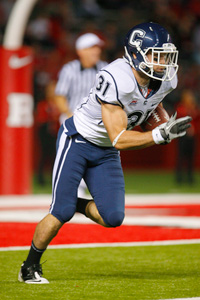 Jim O'Connor/US PresswireNick Williams led the NCAA in kickoff return average last season.
1. Connecticut.
The Huskies have one of the best kickers in the league in Dave Teggart and one of the best kickoff returners in the league in
Nick Williams
putting them in the top spot here. Williams led the NCAA in kickoff return average last season with 35.3 yards per kick. Teggart was the Big East first-team selection, making 25 of 31 field goals. They should be better this year, even with the loss of
Robbie Frey
.
2. USF.
The Bulls also have an excellent kicker-returner duo in Maikon Bonani and
Lindsey Lamar
. Bonani made 17 of 21 kicks last year, while Lamar was the first-team All-Big East selection, returning two kickoffs for touchdowns and averaging 26 yards per return. Add in punt returner Terrence Mitchell and this is one of the best units in the league.
3. Louisville.
The Cardinals have one of the best in the league in Chris Philpott, who punts and kicks. Josh Bleser is solid in splitting the punting duties with Philpott.
Victor Anderson
and
Jeremy Wright
are back as kickoff returners -- both averaged 30-plus yards per return last season. Wright's kick return helped the Cardinals win the Beef 'O' Brady's Bowl last year.
Doug Beaumont
is gone as punt returner, but he is the only loss. This unit has a chance to be No. 1 at year's end.
4. Syracuse.
The Orange have one of the best kickers in the league in Ross Krautman, who missed just one of his 19 field goal attempts last season. They do lose their top punt returner in Mike Holmes, along with punter Rob Long so there are questions at some of the most important spots on special teams. But Krautman, and the return of
Dorian Graham
and
Prince-Tyson Gulley
returning kicks puts this unit just ahead of the Bearcats.
5. Cincinnati.
This is a mixed bag for the Bearcats. They have the best punter in the league in Pat O'Donnell, who also happens to be a
physical freak in the weight room
. They should be decent in the return game with the return of
D.J. Woods
, who will compete with
Anthony McClung
, Shaq Washington and
Kenbrell Thompkins
to return kicks and punts.
Darrin Williams
is in the mix for kickoff returner, too. But kicker is a huge question mark. Jacob Rogers was solid last season. Now there is uncertainty in the competition between Tony Miliano and
Danny Milligan
. Coach Butch Jones says he won't name a starter until game week.
6. Rutgers.
The Scarlet Knights also have question marks here. Kicker San San Te returns, but he needs to be better from longer distances (2-of-7 from 40-plus yards). Punter Teddy Dellaganna is gone and so is kickoff returner Joe Lefeged. True freshman Anthony DiPaula enrolled early and takes over at punter.
Mason Robinson
is back at punt returner, and
Jeremy Deering
and
Mark Harrison
make a good combo returning kicks.
7. West Virginia.
The Mountaineers need more consistency from kicker Tyler Bitancurt, who missed his final four kicks of last season. He made just 10 of 17 attempts and looked shaky in the spring. West Virginia has a new holder and a new punter in Corey Smith, and hopes for improvement in the return game.
8. Pittsburgh.
The Panthers have to replace both kicking specialists, including Big East first-team punter Dan Hutchins. At punter, you have walk-ons Matt Yoklic and Drake Greer, neither of whom has punted in a collegiate game. Kevin Harper takes over as kicker and had a good spring game. The Panthers also replace their long-snapper, so there will be a period of adjustment for this unit when the season starts.
Cameron Saddler
is a bright spot at returner.
Previous rankings
June, 28, 2011
6/28/11
8:23
PM ET
We continue our team position rankings today with receiver. This is an area of great potential for plenty of teams around the league, especially with some of the high-octane offenses that we are going to see. Only three teams return their leading receiver from last season. The overriding theme seems to be this: there is a lot of talent, but much of it is unproven. So how are these receivers going to step up?
To make these rankings, I considered returning starters, accolades for returning starters, depth and potential.
[+] Enlarge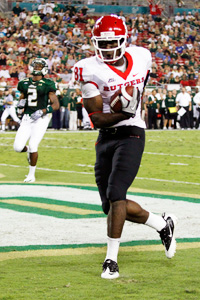 AP Photo/Mike CarlsonMark Harrison caught 44 passes for 829 yards and 9 touchdowns last season.
1. Rutgers.
The Scarlet Knights have proven talent and depth at this position, putting them at the top spot in these rankings. When healthy,
Mark Harrison
and
Mohamed Sanu
form one of the top 1-2 punches in the entire league. Add in
Brandon Coleman
, who had an outstanding spring, along with Tim Wright returning from injury and the top four looks as solid as it gets. Let's not forget incoming speedsters Miles Shuler and Tejay Johnson, who have the potential to play as well.
2. West Virginia.
The Mountaineers have
Tavon Austin
,
Stedman Bailey
and a whole bunch of questions at the position. But with the new offense Dana Holgorsen is bringing in, other receivers have a chance to be more effective. Austin is about as close as you can come to a surefire first-team All-Big East player.
Ryan Nehlen
had a nice spring and could be the surprise of the season. So could
Tyler Urban
, a converted tight end. How will
Brad Starks
do after shoulder surgery? Will
Ivan McCartney
live up to his potential? There is talent here and great potential if everybody lives up to expectations.
3. Cincinnati.
The Bearcats are stocked with talent, but many of these skill players have got to gain experience and fast with
Armon Binns
,
Marcus Barnett
,
Vidal Hazelton
and
Ben Guidugli
gone.
D.J. Woods
is expected to be a first-team All-Big East selection. But beyond he and
Anthony McClung
, you have got young guys -- junior college transfers
Kenbrell Thompkins
and Damon Julian, redshirt freshman Dyjuan Lewis, freshmen Shaq Washington, Chris Moore, Alex Chisum and Max Morrison. Thompkins showed great promise in the spring.
4. Pittsburgh.
The Panthers lose their leading receiver in Jon Baldwin, but the duo of
Mike Shanahan
and
Devin Street
could each be 1,000-yard receivers. Behind them, though, there are some questions and inexperience. Junior
Cameron Saddler
is going to have to step up. Redshirt freshmen
Salath Williams
,
Drew Carswell
, junior college transfer Josh Brinson and true freshman Justin Jackson are all young but have a chance to be big contributors. Pitt also is waiting to hear whether UNC transfer
Brendon Felder
will have his petition for immediate eligibility granted.
5. Syracuse.
The Orange have plenty of solid returning receivers in
Van Chew
,
Marcus Sales
and
Alec Lemon
but what this team is really lacking is big-play potential. In five games last season, Syracuse failed to complete a pass that went longer than 30 yards. In fact,
Ryan Nassib
averaged 6.5 yards per pass attempt. A healthy
Jarrod West
could help those numbers improve.
Dorian Graham
has to work on his hands, too.
6. USF.
The Bulls lose leading receiver
Dontavia Bogan
, but they return injured players
Sterling Griffin
and
A.J. Love
to the mix, which is going to be huge.
Lindsey Lamar
and
Evan Landi
also return, along with
Terrence Mitchell
,
Joel Miller
and
Faron Hornes
.
Deonte Welch
had a nice spring game and is listed as a backup behind Landi. True freshman Andre Davis has the potential to contribute as well. The Bulls have plenty of depth here but there are still some questions about this group, especially with Griffin and Love coming off injuries.
7. Louisville.
The Cardinals lose their top two receivers, and have got to figure out a way to make big plays and stretch the field with a young group.
Josh Bellamy
appears to be the go-to man headed into 2011, and much is going to be expected of
Andrell Smith
and
Michaelee Harris
. Both are coming off injuries and were unable to practice in the spring. True freshmen are most likely going to be relied upon, giving Eli Rogers and DeVante Parker and opportunity to play.
8. Connecticut.
A playmaker has got to emerge from this group to help out whoever is going to be playing quarterback. The Huskies lost leading receiver
Mike Smith
because of academics.
Kashif Moore
,
Ryan Griffin
and
Isiah Moore
return but UConn is going to need some of its redshirt freshmen like
Geremy Davis
and
Tebucky Jones
Jr. to step up. The Huskies are not preparing to run the spread, so the potential for a 1,000-yard receiver in this group is low.
Previous rankings:
October, 7, 2009
10/07/09
8:49
AM ET

Posted by ESPN.com's Brian Bennett
Bulls and bears are the lingo of the stock market, while Bulls and Bearcats are the top teams in the Big East. Coincidence? Well, yeah. But that's one way to introduce this week's Big East stock report (with special teams our bonus category this week):
Stock up
1. Nate Allen:
The South Florida safety has always had NFL-caliber talent, and he's living up to that his senior year. He played great at Florida State and had two interceptions at Syracuse.
2. Mike Williams:
His stock was already high, but now it's soaring. The Syracuse receiver continues to shine and had 13 catches for 186 yards and two touchdowns against South Florida despite the Bulls knowing he's their best playmaker. Is Williams the best receiver in the Big East? Right now, yes.
3. West Virginia special teams:
After looking shaky in the spring and earlier in the season, the Mountaineers are improving in the kicking game. Punter Scott Kozlowski was the Big East special teams player of the week. West Virginia allowed 25.5 yards per return on its much-maligned kickoff coverage team -- not great, but better than its season average.
4. Cincinnati fundraising:
The school announced that donors had matched a $1 million private gift for an athletics project that includes long-awaited football practice fields. No better time to strike than when your football team is in the top 10. Construction of those fields is the only way the school has a prayer of keeping Brian Kelly.
5. Ray Graham:
Dion Lewis
isn't the only freshman running back capable of big things at Pitt. Graham bounced back from a first-half fumble to post 75 yards and a touchdown at Louisville. He's got a little LeSean McCoy flair to his game as well.
Stock down
1. Cincinnati's time of possession:
Opponents are trying their best to keep the Bearcats off the field, and Cincinnati has had the ball for a little more than 35 minutes in its last two games combined.
2. West Virginia's pass defense:
The losses of Ellis Lankster and Quinton Andrews have hurt more than expected. The Mountaineers have been sliced up by both Auburn and Colorado, though they did pick off the Buffaloes'
Cody Hawkins
three times last week.
3. Syracuse's pass defense:
Without starting defensive back Phillip Thomas, the Orange gave up two huge passing plays against South Florida. Thomas will be back this week. Could we see a shootout in the Carrier Dome this Saturday between
Greg Paulus
and
Jarrett Brown
?
4. Steve Kragthorpe:
Just when you thought the Louisville coach's stock couldn't get any lower, his home stadium empties in the second half as Pitt outscores the Cardinals 28-0. Kragthorpe took over as offensive coordinator this season, and his team is last in the Big East in scoring. Speculating on the next coach has become a full-time obsession in Louisville. Kragthorpe had better beat Southern Miss this week.
5. South Florida's kicking game:
Eric Schwartz missed a field goal and an extra point at Syracuse, one week after missing two at Florida State. The Bulls may lose a game because of their field goal troubles at some point this year.
Player of the year race: Offense
1. Tony Pike, QB, Cincinnati:
Has completed 66.7 percent of his passes for 1,493 yards and 13 touchdowns with three interceptions.
2. Noel Devine, RB, West Virginia:
Has rushed 73 times for 540 yards and six touchdowns, averaging 7.4 yards per carry.
3.
Mike Williams, WR, Syracuse:
Has 41 catches for 623 yards and five touchdowns.
4. Mardy Gilyard, WR, Cincinnati:
Has 38 catches for 517 yards and seven touchdowns.
5. Dion Lewis, RB, Pitt:
Has rushed 107 times for 580 yards and seven touchdowns, averaging 5.4 yards per carry.
Player of the year race: Defense
1. George Selvie, DE, South Florida:
Still the anchor for the Bulls' dominant defensive front.
2. Lindsey Witten, DE, UConn:
This week's game at Pitt will be big to prove whether he was an early-season wonder or a yearlong force.
3. Nate Allen, S, South Florida:
See above.
4. JK Schaffer, LB, Cincinnati:
Has three interceptions and 31 tackles on the year.
5. Greg Romeus, DE, Pitt:
Had 3.5 sacks last week and is now second in the league in that category.
Player of the year race: Special teams
1. Ryan Lichtenstein, K, Syracuse:
Has converted 9 of 10 field goals this season, including the game-winner against Northwestern.
2. Mardy Gilyard, KR, Cincinnati:
Numbers are down for last year's winner of this award, but he does have a punt return touchdown.
3. Cameron Saddler, KR, Pitt:
Freshman is averaging 31.5 yards per return.
4. Trent Guy, KR, Louisville:
Senior is averaging 30.2 yards per return.
5. Desi Cullen, P, UConn:
Leads league with a 43.9-yard average.

Posted by ESPN.com's Brian Bennett
More reliable than Wall Street, here comes the weekly Big East stock report. Your bonus category this week is coach of the year race.
Stock up
1. South Florida's defensive line:
I ranked the Bulls' D-line No. 2 in my preseason position rankings primarily because I didn't know how good the newcomers would be. All questions were answered in the Florida State game, when this group played like one of the best in the country. "It would be a challenge for an NFL offensive line against this team," Syracuse coach Doug Marrone said this week.
2. B.J. Daniels:
This may be heresy, but when I saw Daniels run the show for the Bulls, I didn't think
Matt Grothe
as much as I did a young Pat White. Not as fast as White, but with a stronger arm. Maybe Daniels will be the one who eventually breaks Grothe's yardage record.
3. Jonathan Freeny:
The junior is developing into the pass-rusher that Rutgers needs, with four sacks already on the season.
4. Delone Carter:
The Syracuse back had four touchdowns against Maine. He's built like a fire hydrant and runs with 100 percent effort.
5. Cameron Saddler:
The Pitt freshman was one of the lone bright spots in the NC State loss, with 111 total yards and some nice kick returns. He's becoming a weapon in the offense at receiver.
Stock down
1. Pitt's discipline:
The dumb penalties and missed assignments have to get fixed in a hurry before the Panthers start Big East play.
2. Louisville's red zone production:
The Cardinals have scored just seven touchdowns in 17 trips inside the 20 and have missed three field goals in the red zone. And when they did score a touchdown in the fourth quarter to make it 23-13 at Utah last week, Steve Kragthorpe didn't go for two to make it a one score contest. He said later he was thinking about winning the game at that point; seems like an extra point would help in that regard.
3. UConn's hands:
Seven fumbles against Rhode Island is crazy. At least the Huskies recovered four of them -- and won 52-10.
4. Cincinnati's kickoff coverage:
The Bearcats gave up 26 yards per return to Fresno State. Hey, we've got to find something to criticize this team for, right?
5. Saturday tailgating:
This week in the Big East, anyway. There are only two games involving league teams on Saturday, and both of them will kick off by 1 p.m.
Player of the year race: Offense
1. Tony Pike, QB, Cincinnati:
Has completed 70.5 percent of his passes for 1,223 yards, 11 touchdowns and two interceptions. Runaway leader at this point.
2. Mardy Gilyard, WR, Cincinnati:
Has 32 catches for 442 yards and six touchdowns.
3. Dion Lewis, RB, Pittsburgh:
Has rushed 86 times for 493 yards (5.7 yards per carry) and seven touchdowns.
4. Noel Devine, RB, West Virginia:
Has rushed 51 times for 320 yards (6.3 ypc) and five touchdowns.
5. Mike Williams, WR, Syracuse:
Has 28 catches for 437 yards and three touchdowns.
Player of the year race: Defense
1. George Selvie, DE, South Florida:
Leader of the league's nastiest unit.
2. Lindsey Witten, DE, UConn:
Numbers down the last two games, but he's also been dealing with a stomach bug.
3. Lawrence Wilson, LB, UConn:
Leads league with 42 tackles and has been strong in absence of Scott Lutrus.
4. Nate Allen, S, South Florida:
Showed his potential with a great game at Florida State.
5. Aaron Webster, S, Cincinnati:
Bearcats still looking good on defense, and he's their leader.
Coach of the year race:
1. Brian Kelly, Cincinnati:
The way he replaced so many parts and made this team even better makes him the front-runner for a third straight trophy.
2. Jim Leavitt, South Florida:
Losing Matt Grothe and still winning at Florida State says a lot.
3. Doug Marrone, Syracuse:
Has the Orange at .500 for the first time since 2006.
4. Randy Edsall, Connecticut:
Lost a slew of draft picks but has the Huskies at 3-1.