NCF Nation:

Camren Williams
November, 9, 2012
11/09/12
4:30
PM ET
Week 11 is nearly here. Enjoy.
Steve from Albuquerque, N.M., writes:
Who will get the most pursued Nittany Lion this offseason,
Deion Barnes
,
Allen Robinson
, or Bill O'Brien?
Adam Rittenberg:
All three men likely will have chances to leave, but I'd expect all three to remain. It will be interesting if any NFL teams pursue O'Brien, who has excelled both as a coach and as a motivator in his first season as a head coach. My sense is he wants to see things through in State College, where his legacy likely would be much greater than if he went to the NFL, which spits out coaches every few years. Barnes and Robinson both have stated they intend to remain with Penn State, but that likely won't stop other teams from recruiting them. Both men can be multi-year starters at Penn State and play for coaches (O'Brien, Larry Johnson, etc.) who know what it takes to get them to the NFL. While every player wants to compete for championships, it won't stunt Robinson's or Barnes' long-term development if they remain at PSU.
---
Michael from Ft. Picklett, Va., writes:
Adam, I have been wondering. Why is it that the Huskers are not able to land the top prospects? Is it location? I see Ohio State and Michigan are able to take about anyone they want. What can the Husker do to improve? I feel this is the reason the Huskers are not able to be as dominate as the teams of the 90's.
Adam Rittenberg:
Michael, Nebraska still gets some top prospects, but there are some challenges for the program. The location doesn't help, because Nebraska has to extend itself nationally more than other programs. And for recruiting purposes, being in the Big Ten provides some challenges, too. Nebraska's recruiting success in Texas stemmed in part from the pitch that players could play near home a few times a year (Texas, Texas Tech, Baylor, Texas A&M). That's not there any more.
Dirk Chatelain addressed the Texas recruiting issue
this week, noting that Nebraska recruiting coordinator Ross Els still thinks the team can have a good presence in the Lone Star State. I guess time will tell, but I'm not so sure. The key is for Nebraska to increase its presence in the Big Ten footprint, particularly Ohio, Michigan and Pennsylvania. The Husker coaches have ties to the region and should be able to pluck more high-level prospects in the years to come. A Big Ten championship this season -- plus a Rose Bowl championship -- certainly will help.
---
Nate from Iowa writes:
Adam, I have one that if you are brave enough to answer it will start a great debate on the message board below. I had a very spirited debate with a good friend that wasn't settled and wonder if you can give your input. No one can deny the great legacy and tradition of the
Nebraska Cornhuskers
. 5 National titles, 3 Heisman Trophy Winners, Top 5 All-time Wins in NCAA Football. But can you really say that Iowa, although they haven't beat Nebraska since the 80's, hasn't had more success than Nebraska in the past 10 years? I'm not one to measure success on wins alone, I look at the entire picture. What are your thoughts?
Adam Rittenberg:
Nate, if you're going purely by on-field results, you can make a case for Iowa against Nebraska from 2002-2011. Keep in mind Nebraska endured a major dip in its program under Bill Callahan, while Iowa had a historic run from 2002-04 and another surge in 2009, when it won an Orange Bowl championship. Both teams were very good in 2009, but Nebraska since has been the stronger program, winning nine or more games in each of the past four seasons. The Huskers have lacked the major breakthroughs Iowa had in 2002, 2004 and 2009, but they've been a little more consistent as of late. It's a fun debate, and you can make good arguments for either team.
---
Rob from Omaha writes:
Adam -- You and Brian have been down on Michigan State and Maxwell, but really a 9 point differential from 5-5 to 9-1. I think Maxwell has played very well this year, a few poor decisions and a couple balls that sailed, but otherwise, I think he is very strong. Assuming no early departures, I say Sparty is a top 5 program next year. What are you thoughts?
Adam Rittenberg:
Rob, love the optimism, but a top-5 program? That's setting the bar very high for a team that will finish with at least five losses (no matter how close they are). I guess it's possible, but that's an enormous jump to make. I also have a hard time seeing how Maxwell has played "very well" when he's completing barely than half of his passes (54.2 percent). While at times people have been too hard on him, as his receivers are either unproven or unreliable, a drop-back quarterback with limited mobility needs to be completing at least 65 percent of his passes to be doing very well in my book. While Ohio State's
Braxton Miller
completes just 56.9 percent of his passes, he does so much more as a runner to help his team win. Maxwell needs to get a lot better for Michigan State to contend for the Big Ten title in 2013, and I think he could make those strides. But it might be tough for Michigan State to maintain this type of defense year after year, especially if/when coordinator Pat Narduzzi leaves to become a head coach. The offense also will have question marks, namely line depth and possibly running back if
Le'Veon Bell
bolts for the NFL. I agree that Michigan State will be an improved team next year and most likely a contender in the Legends division, but let's pump the brakes on the top-5 talk.
---
Chris from High Point, N.C., writes:
Hey, Adam, with the lack of depth at LB for the Buckeyes and all of the talent that they are seemingly stockpiling on the D-line, do you think that some of those players might switch to LB or work in a modified role like
Nathan Williams
? Thanks for considering my question.
Adam Rittenberg:
Chris, some players might work in a rush-end role like Nathan Williams or former Buckeye standout Thaddeus Gibson. Freshman
Noah Spence
, at 6-foot-3 and 240 pounds, might fit into that spot. But for the most part, Ohio State's younger defensive linemen are big enough and strong enough to play up front, and likely wouldn't work well at linebacker. I agree building depth at linebacker is a challenge for Ohio State, but you don't want to force a player at a spot where he doesn't naturally fit physically. Keep in mind, too, that Ohio State has a lot of youth at linebacker that could turn out to be good in the long run, players like
Joshua Perry
,
David Perkins
and
Camren Williams
. Linebacker will be a fascinating position to watch in 2013 as those guys get a little older.
---
Solomon from Ann Arbor, Mich., writes:
Hey Adam, in your Week 11 predictions, you predict that Iowa "ensures the Boilers won't be bowling for the second straight year." This isn't quite true as Purdue played in the Pizza Bowl last year and beat WMU 37-32. Just keeping you honest.
Dan from Carmel, Ind., writes:
You stated in this week's predictions that Purdue won't go bowling for the 2nd straight year, better check that, they played in the Little Caesars Pizza Bowl in 2011. Not that it should help Hope keep his job.
Adam Rittenberg writes:
I think that sentence has been misunderstood, and for that, I apologize. I was trying to say a loss would prevent Purdue from going bowling for a second straight year, not that a loss would keep Purdue home for a second straight year. I should have been more clear, but I'm well aware Purdue played in the postseason last year and gave the Big Ten one of its three bowl wins.
---
William from Denver writes:
Adam, what do you think are the chances of Fitzgerald leaving for Auburn or Arkansas if, big IF, those coaching positions open up?
Adam Rittenberg:
Almost zero chance, William. You don't turn down Michigan, which would have been a really good fit, and then leave for mid-level SEC jobs where you have no connections. Also, Pat Fitzgerald is a Big Ten guy through and through, and I don't see him enjoying some of the challenges in the SEC (not talking about on-field competition, if you catch my drift). It wouldn't surprise me if an SEC team or two pursued Fitzgerald, but I'd be really surprised if he leaves Northwestern any time soon. He received a 10-year contract last year, and Northwestern recently approved the on-campus facility he really wanted. Fitzgerald has ties to Chicago and wants to see things through at Northwestern with the new facility.
January, 31, 2012
1/31/12
1:10
PM ET
The Super Bowl is Sunday, but the super bowl of recruiting arrives on Wednesday. So on the eve of national signing day, we thought we'd check in with some of ESPN.com's top recruiting experts to get a feel for what's going on in the Big Ten.
Our esteemed panel included senior national recruiting analyst Tom Luginbill, Midwest recruiting writer Jared Shanker and Scouts Inc. recruiting coordinator Craig Haubert. This is Part I of our discussion; look for Part II later on today.
Topic 1: What impact has the arrival of Urban Meyer had on the league and in general when it comes to recruiting?
Tom Luginbill:
"It's been fairly significant. If there's one thing Urban Meyer understands and has been able to do, it's that you build a championship team from the inside out. Whether it was at Florida or now at Ohio State, if you notice who essentially all his first commitments were, they were all on the defensive line and offensive line. So he understands that, if they're going to compete for a national championship, the gap has to be closed in the defensive front seven. That's the difference between what's happened in the SEC and everywhere else. So I think that's where he's made his biggest impact."
Craig Haubert:
"What Urban Meyer has been able to come and do down the stretch has been huge. I knew when he took over, they would get better as a class, but I didn't really think when this happened, they'd have a chance to crack the Top 25. They're still in a position to possibly land some guys.
Davonte Neal
, the No. 1 athlete, could be headed there.
Stefon Diggs
and
Jordan Diamond
are also in the mix there." [Diggs and Neal are both post-signing day announcements].
"If you look at this class, it's all in the trenches, really. And our philosophy is there's always an increased value to upper-tier linemen because they're harder to find.
Noah Spence
obviously is huge, he's a five-star, but so is
Adolphus Washington
. The other thing that stands out to me about Ohio State is he's been plucking guys from other Big Ten schools.
[Se'Von] Pittman
was a Michigan State kid.
Joey O'Connor
had decommitted before he got him, but he was a Penn State kid. Same thing with
Tommy Schutt
.
Armani Reeves
. So his upper part of his class, a lot of them have come from other Big Ten schools."
Jared Shanker:
"He's exceeded my expectations. He's obviously a great recruiter. At the same time, I wouldn't call it walking into a perfect situation, but with what was going on at Penn State, I think he's taken five recruits from Penn State, so there were opportunities for him to come in and flip some guys. Noah Spence was a Penn State lean. He had O'Connor and Tommy Schutt, two other ESPNU 150 guys who were committed to Penn State.
Camren Williams
and
Armani Reeves
, two other guys at Penn State. Obviously, he's one of the best recruiters in the game. He also had some good fortune in being able to come in at a time when things were shaky at a rival school and pick up some of their commitments. Se'Von Pittman, the other ESPNU 150 guy, he was really looking for a reason to get to Ohio State."
Topic 2: How good is Michigan's class, and has the Wolverines' momentum slowed down in the last several weeks?

CH:
"They came out fast. We've always had them in that 5-to-7 type range. People might get frustrated that it's getting near signing day, when there's a lot of buzz and things going on, and they're not doing much, but to be fair to them, what they did has allowed them to maintain in the same area where they've been for most of the recruiting process. The thing that sticks out to me about this class is a lot of people kind of scoffed when Brady Hoke got hired and he said, 'I'm a Michigan man.' But he's been true to that. They've done very well in state. A lot of their key players are Michigan guys, led by
Terry Richardson
. So he's brought a little bit of that Michigan man feel, and there seems to be an excitement among recruits."

TL: "
Michigan was rolling before Meyer got the job, and they were teetering on maybe swinging
Bri'onte Dunn
, the running back, and Ohio State was able to keep him in the fold. Is Michigan in competition with Ohio State for some players? Yes. But Michigan right now is more focused on revamping the roster to the mold that Brady Hoke wants. They need more size up front, some size at the linebacking positions and some size at the skill spots. And I think they've done that in all three areas. [The lack of recent commitments] is a reflection of numbers and how much room they have. With the Big Ten's hard cap, they don't have a ton of wiggle room. If anything, the winning on the field and the sustained excellence helped solidify that the class would stay intact."
JS:
"I don't know if I'd say they've lost momentum. They really were hoping to get Josh Garnett, who ended up going to Stanford. Their class filled up so quickly, and they only had about four or five spots left midway through the season. They're hoping to get some of the guys who are closer to signing day. They're in good position to get Jordan Diamond. I think he's No. 94 overall. So it seems like they've maybe fallen off, but they were at 21 or 22 commitments by the time the season started. They really had their run of success in the spring and summer. I'm sure they would have liked to maintain that a little bit and gotten some of those final targets like Garnett, but they're also able to get the two receivers, [Amara] Darboh and [Jehu] Chesson, right after the season ended. So they've still been able to pick up some guys along the way."
Topic 3: How has Penn State fared given all the turmoil surrounding the program and the flurry of decommitments?
JS:
"My thinking for them was, if they could have just held on to their 14 commitments, that would be the main thing. They were obviously going to get some more commitments, but they weren't going to be the top-caliber guys. If they could hold onto the 14 and add those sleeper guys who have a chance to be something at the next level, that was my expectation for them. I like that they got
Akeel Lynch
, the running back. I think he could be a good player. They're probably a little disappointed that it looks like they're going to miss out on
[Skyler] Mornhinweg
and the two Massachusetts guys in Reeves and Williams."
TL:
"I think to this point, Bill O'Brien has done a good job. But a lot of credit needs to go to that previous staff. Outside of the guys they lost to Ohio State, through all of this, they're still siting here with 18 verbal commitments. If you think about it, that's astounding. And I would say that the top third of them, athletically, can compete for a conference championship. Of course, you don't know all the intangibles and all that, but based on pure player level, this is a pretty strong class. It certainly isn't anywhere near where people would have expected it to be. ... But just to have bodies in this class, in my opinion, is a positive. [O'Brien] won't be judged on this class. He will be given a long leash, and in my opinion, it was made very clear with the timetable the administration set with this hire that the 2012 class is not the priority. If it had been, they would have hired a guy in December."
November, 7, 2011
11/07/11
1:30
PM ET
The
Penn State scandal
isn't going away any time soon, and it could affect several areas of the Nittany Lions football program, including recruiting.
Penn State has 16 verbal commitments for its 2012 class, including two ESPNU 150 selections -- offensive tackle
Joey O'Connor
and defensive tackle
Tommy Schutt
.
[+] Enlarge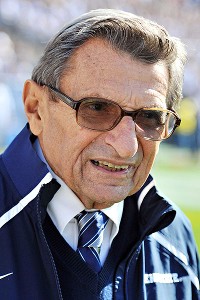 Jeffrey G. Pittenger/US PresswireSeveral recruits in Penn State's 2012 class say they are firm in their commitments whether Joe Paterno remains coach or not.
Colleague Jared Shanker of ESPN Recruiting, who covered Penn State football until last year for The (Harrisburg) Patriot-News,

checked in with several Lions recruits
during the weekend. The good news for Penn State: They're still on board.
O'Connor told Shanker he discussed the situation with his parents and still has every intention of being in State College next fall -- even if Joe Paterno is no longer Penn State's coach.
"You go to a school based on coaches, but then again you don't," said O'Connor, who officially visited Penn State in September and won't make it back to the campus before enrolling. "They could be gone tomorrow. No matter what, if coach Paterno is there or not, I still love Penn State."
Other recruits like athlete
Armani Reeves
echoed the sentiment about Paterno. The bigger issue could be if the scandal leads to major changes throughout the staff of assistants, who do the direct recruiting for Penn State.
If Paterno leaves for any reason, Reeves said he would still be solid. If the rest of the staff is also forced out or a new coach doesn't retain them -- the likely scenario -- Reeves could open things back up.
"Definitely," Reeves said when asked if he would be forced to reconsider if assistant coach Bill Kenney, his lead recruiter, was let go.
The recruits Shanker talked with seemed to have different levels of knowledge about the case. Linebacker recruit
Camren Williams
told Shanker, "It was the old coach [Jerry Sandusky] and coach Paterno actually turned him into the athletic director," Williams said. "He did his job. It's the AD under investigation for lying and not turning him in. I'm not concerned at all."
While Penn State's current commits are on board, a big question is how all of this affects the team's future recruiting.
Arguably Penn State's biggest recruiting target is
Noah Spence
, a defensive end from Harrisburg, Pa., rated as the nation's
No. 4 player in the 2012 class
by ESPN Recruiting. Spence has shut down his recruitment until after the football season but is considering Penn State and many other top programs.
"They're a very spiritual family, and Noah Spence's dad puts a high emphasis on character," Shanker told me Monday. "I can only this having a huge impact with Greg Spence, Noah's dad. The first thing he always says is he's a man of God, and he places a lot of emphasis on moral character. When I talked to him back in August, I don't think he mentioned Joe Paterno's coaching once. It was more about the person Joe is. Even though Joe's been cleared legally at this point, things are very up in the air."
Another factor is that Penn State's recruiting coordinator and wide receivers coach, Mike McQueary, reportedly was the
former graduate assistant who reported an alleged sexual assault
involving Sandusky to Paterno in 2002.
"That's huge," Shanker said. "He's going to be the first one usually [recruits] can contact. He might not end up being the lead recruiter, but in most instances he's the guy to initate contact with recruits or their parents. That's going to be something parents are going to ask. They're going to want to know what happened."
Questions also likely will be asked of other assistants who were on staff in 2002, including top recruiters like defensive coordinator Tom Bradley.
Shanker said many of the recruits he spoke to have been told that if Paterno were to step down -- Paterno's contract ends after this season -- a member of his staff would take over. The big factor going forward, if there are changes, is how dramatic those changes are.
"All of them didn't seem concerned about wholesale changes to the staff," Shanker told me. "If Paterno were to leave, that was pretty much a non-factor for them. They were building their relationships with the assistant coaches. If the assistants leave, they would have to reevaluate things."
TOP 25 SCOREBOARD
Saturday, 12/21
Monday, 12/23
Tuesday, 12/24
Thursday, 12/26
Friday, 12/27
Saturday, 12/28
Monday, 12/30
Tuesday, 12/31
Wednesday, 1/1
Thursday, 1/2
Friday, 1/3
Saturday, 1/4
Sunday, 1/5
Monday, 1/6