NCF Nation:

cap one bowl 2013
January, 1, 2014
1/01/14
4:45
PM ET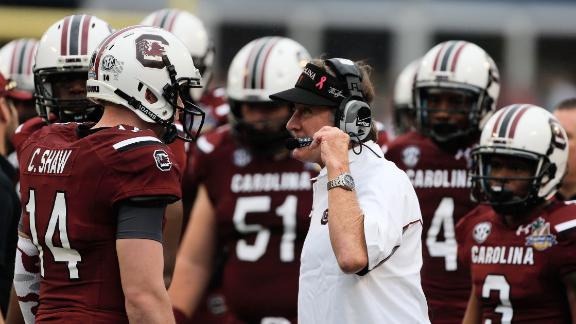 A late surge gave South Carolina another 11-win season, as the Gamecocks defeated Wisconsin
34-24
in the Capital One Bowl.


This marked a program-best third consecutive season that South Carolina won a bowl game. Here's how it went down:
It was over when:
Freshman linebacker
Skai Moore
intercepted a Wisconsin pass in the end zone with 3:14 remaining. Badgers backup quarterback
Curt Phillips
threw a 16-yard pass into heavy coverage, and Moore made an athletic pick to ice the game.
Game ball goes to:
South Carolina quarterback
Connor Shaw
. The performance of Shaw against Wisconsin (9-4) cannot be understated. Stats usually don't tell the whole story, but these numbers should definitely give you a good idea of his efficiency: 22-of-25, 312 yards, three touchdowns, no interceptions. Wisconsin's secondary struggled against Shaw and the South Carolina receivers all day, and Shaw made the Badgers' defense pay in other ways, too. He caught a 9-yard touchdown pass, ran for a 1-yard touchdown and even rushed for 47 yards. Shaw did anything and everything for the Gamecocks.
Stat of the game:
88 percent. That's the completion rate for the Gamecocks, between Shaw's 22-of-25 passing and wide receiver
Bruce Ellington
's 1-of-1 stat line. South Carolina threw just three incompletions in 60 minutes and never threw more than one incompletion in a quarter.
Unsung hero:
Ellington. Not only did he account for more than 40 percent of his team's yards through the air and catch two touchdown passes, he also threw a 9-yard TD pass on a double-reverse pass play. Ellington finished with six catches for 140 yards and he came up big when the Gamecocks needed it. On a key fourth-and-7 play in the second half, Ellington kept the drive alive by making an acrobatic catch after tipping the pass -- one that's
sure to be a "SportsCenter" highlight
. He made a tough 22-yard TD catch one play later to give his team a 20-17 lead.
What it means:
This punctuated what looks like the golden age of Gamecocks football. Steve Spurrier's team has finished the last three seasons with the same record (11-2) and ended each season with a bowl victory. That's never been done before in school history. Before this three-year streak, the Gamecocks had won just four bowl games and hadn't had a 10-win season since 1984.
To watch the trophy presentation of the Capital One Bowl,
click here
.
January, 1, 2014
1/01/14
9:00
AM ET
Wisconsin is hoping to change the Big Ten's fortunes with a win in the Capital One Bowl, while South Carolina is on the verge of clinching a program-best third straight season with a bowl win.
The two teams will face each other at 1 p.m. ET on Wednesday (ABC). Here's a quick preview:


Who to watch:
South Carolina DE
Jadeveon Clowney
and Wisconsin LB
Chris Borland
. This will be the last college game for both players, and you can bet they'll want to end their respective careers on a high note. NFL commissioner Roger Goodell will almost certainly call Clowney's name within the first five picks of the draft, and Borland was named the Big Ten Defensive Player of the Year. Clowney has dealt with injuries and more double-teams this season, so his stats are down -- but, when he's on, he's one of the most exciting players in college to watch. Borland led his team with 102 tackles -- 40 more stops than the No. 2 tackler -- and has been the heartbeat of Wisconsin's defense. Both of these defensive players have the uncanny ability to take control of a game.
What to watch:
Wisconsin's run game. It's no secret that if the Badgers are going to win, then they're going to have to run the ball. That's been the staple of their offense. Wisconsin is the only team in the FBS with two running backs,
James White
and
Melvin Gordon
, who both average more than 100 rushing yards a game. And the Badgers are second in the FBS by averaging 6.61 yards per carry. On the flip side, South Carolina's defensive line will be a huge test for this rushing attack. DT
Kelcy Quarles
has been
compared to Warren Sapp
and currently has 13.5 tackles for loss to go along with 9.5 sacks. Then, of course, there's Clowney. Wisconsin's success rushing the ball could march hand in hand with its overall success in this game.
Why to watch:
This game features some of the best defensive players either conference has to offer, three all-conference tailbacks will be showcased, and then there's South Carolina QB
Connor Shaw
(21 TDs, 1 INT) and Wisconsin WR
Jared Abbrederis
(73 catches, 1,051 yards). What's not to love? Outside of that, this is the first-ever matchup of these two teams, and the Badgers are trying to rebound from an upset to Penn State. Both teams weren't that far off from BCS bowls, so this is a strong matchup for the Capital One Bowl.
Prediction:
South Carolina 28, Wisconsin 24.
December, 31, 2013
12/31/13
2:30
PM ET
Gary Andersen has helped compile extensive scouting reports for both defenses appearing in Wednesday's Capital One Bowl.
In the summer of 2012, Andersen, then Utah State's coach, examined a Wisconsin team that his Aggies would face in Week 3. South Carolina's defense has been on the top of his mind the past three weeks, as Andersen prepares Wisconsin to face the Gamecocks.
[+] Enlarge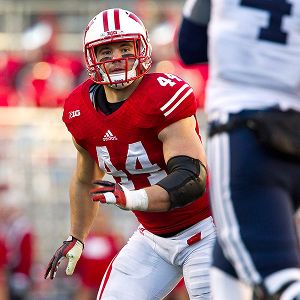 Dan Sanger/Icon SMIFour-year Wisconsin starter Chris Borland is set to close out his college career on Wednesday.
Not surprisingly, the South Carolina report is filled with mentions of
Jadeveon Clowney
, just like the Wisconsin report was with
Chris Borland
a year and a half ago.
"If you're playing Wisconsin, you're going to want to know where Chris is, and the same thing with Clowney as you're getting ready to play South Carolina," Andersen told ESPN.com. "They deserve that; they're that good. They're very similar players in those areas."
Similar might not be the first term used to link Clowney, South Carolina's junior defensive end, and Borland, Wisconsin's senior middle linebacker. Clowney is 6-foot-6 and 274 pounds, a rare physical specimen who came into college as the nation's No. 1 recruit and could exit as the No. 1 overall pick in the NFL draft. Clowney recorded a team-record 13.5 sacks and 23.5 tackles for loss as a sophomore, earned unanimous All-America honors and finished sixth in the Heisman Trophy voting, leading many to wonder if he should even play this season before jumping to the NFL. He suited up for South Carolina and, despite some speed bumps, still earned first-team All-SEC honors.
Borland is short at 5-foot-11. His recruiting profile next to Clowney's is laughable. He played soccer and other sports growing up, didn't participate in organized football until high school and appeared headed for a Division III school until wowing Wisconsin at a summer camp before his senior season. Of the 17 players in Wisconsin's 2009 recruiting class graded by ESPN recruiting, Borland received the second lowest.
He'll finish his career Wednesday as one of the best defensive players in team history, a four-year starter with multiple All-America honors who earned Big Ten Defensive Player of the Year honors this season. His NFL draft forecast isn't as promising as Clowney's -- most mocks have him in the second or third round -- but few defensive players have more accomplished college careers.
"He's as good as advertised," Andersen said, "just like I'm sure the Clowney kid is."
Clowney was the first player Andersen and Wisconsin's offensive coaches discussed when crafting Wednesday's game plan. But the strength of South Carolina's overall front seven, which includes first-team All-SEC tackle
Kelcy Quarles
and second-team All-SEC linebacker
Sharrod Golightly
, prevents the Badgers from constantly doubling, chipping or avoiding No. 7.
"Is he consciously in our game plan? Yes. But is every play designed to run away from him? Absolutely not," Andersen said. "We've got to get in there and do what we do. Our goal is to block him and put him a spot where he can't make plays."
South Carolina will take a similar approach against Borland, just like Andersen did with Utah State in 2012. It won't be easy, largely because of the position Borland plays.
Utah State tried to take Borland out of the box with formations to make him play more in space.
"A defensive end is on the left side or the right side," Andersen said. "Chris starts every play usually right in the middle of the defense, so it's harder to scheme if you want to run the ball between the tackles."
[+] Enlarge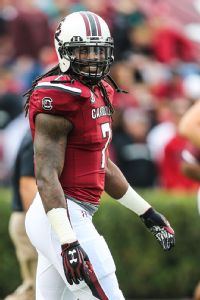 Jim Dedmon/Icon SMIThe Badgers will need to know where South Carolina's Jadeveon Clowney is at all times.
Andersen has never seen a college player quite like Clowney. Wisconsin guard
Ryan Groy
called the South Carolina star "a breed of his own" and admits there's no one that truly prepare you for his size-strength-speed combination.
Clowney also is an effective gambler, taking chances with inside moves both against the run and the pass. Defensive ends risk losing contain by doing this, but Clowney still usually covers the edge.
"You would never allow a young man who can't recover if he's making those inside moves, but it's also part of their scheme," Andersen said. "They have a backer that overhangs him and pre-snap, it's very difficult to sit there and understand that's what you're going to get. He does a nice job of not giving it away when he's going to make those moves, and maybe it's just him reacting. Maybe he's that gifted that he feels like you're reaching a little bit and he can come underneath that block, or if you get a little bit on your heels in a pass set, he's either going to right through you or he's going to come on an inside move.
"They probably don't even look at it as taking chances. They probably look at it as, 'This is our defensive scheme.'"
Clowney has one year of eligibility remaining, but Wednesday marks his final game with South Carolina. He participated in senior day ceremonies Nov. 30.
"He'll be an instant pro when the game is over," Gamecocks coach Steve Spurrier said Tuesday.
It will be a shock if Clowney isn't one of the first five names called at April's NFL draft. Borland still can boost his stock at the Senior Bowl and other pre-draft events.
His height will come up, but Andersen has received positive feedback from NFL scouts, who liken Borland to two other shorter linebackers, Sam Mills and Zach Thomas, who had 12 Pro Bowl appearances and 11 All-Pro selections in their careers.
"Somebody better take him early because if somebody takes him late, Chris is going to make a whole lot of people look bad," Andersen said. "He's going to be a great player in that league for many, many years, not just because he's so talented, but because he's such a great preparer and his care factor is as good or anybody that I've ever been around."
December, 8, 2013
12/08/13
10:40
PM ET
Jan. 1, 1 p.m. ET, Orlando, Fla. (ABC)
WISCONSIN BADGERS BREAKDOWN
The Badgers' streak of three straight Rose Bowls has come to an end. That doesn't mean, however, that Gary Andersen's first season in Madison was a failure. Wisconsin actually added one more win to its total compared to a season ago, when it went 8-6.
[+] Enlarge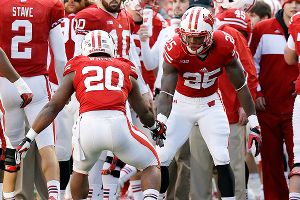 AP Photo/Morry GashJames White (left) and Melvin Gordon powered a Wisconsin run game that was among the best in the country.
Wisconsin's rushing attack ensured Andersen would find success this season, as
Melvin Gordon
and
James White
combined to form the No. 8 run game (283 YPG) in the nation. The speedy duo helped the Badgers average an FBS-best 8.3 yards per carry outside the tackles, and both rushed for more than 1,300 yards.
Wisconsin's new 3-4 defense also helped it move up nine spots from last season's 15th-ranked defense. But that doesn't mean the Badgers didn't have their weaknesses. Besides the passing game (and lack of weapons outside of
Jared Abbrederis
), inconsistency plagued Wisconsin.
The Badgers allowed the opposition to score more than 30 points in just four games -- and three of those games wound up as losses. Wisconsin suffered a controversial ending against Arizona State, fell by a touchdown vs. the Buckeyes ... and then was somehow upset by a sanctions-depleted Penn State squad. Wisconsin is obviously hoping to bounce back after PSU's huge upset, and it should be ready for this bowl game. It can actually improve on last year's record despite playing one fewer game.
-- Josh Moyer

vs.

SOUTH CAROLINA GAMECOCKS BREAKDOWN
Quietly, Steve Spurrier has led the Gamecocks to yet another 10-win season. A postseason victory, and South Carolina would have its third straight 11-win season under Spurrier.
[+] Enlarge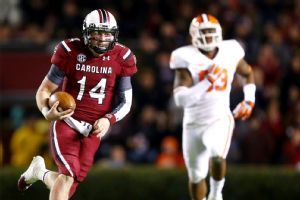 Streeter Lecka/Getty ImagesConnor Shaw battled injury but South Carolina has finished strong.
It's been a fun season for the Gamecocks, who started it with a loss to Georgia but were on the heels of their second SEC Eastern Division crown after upsetting Missouri in double overtime on the road. But they just fell short of their goal to return to Atlanta after Mizzou won out after losing to the Gamecocks.
The game that will really have this team kicking itself is that 23-21 loss to Tennessee in Knoxville. South Carolina turned it over twice and lost starting quarterback
Connor Shaw
to a knee injury but was clearly the more talented team. Fortunately for the Gamecocks, that was their final stumble. They won their last five games by a combined 181-81 margin, including a 31-17 win over Clemson that made it five in a row for South Carolina over the Tigers.
The star of the show for the Gamecocks was supposed to be defensive end
Jadeveon Clowney
. Nagging injuries and constant double-teams left him with a pedestrian three sacks, but he did have 10.5 tackles for loss.
The top performers for South Carolina were Shaw and bell cow running back
Mike Davis
.
Shaw continued to show the country why he's one of the toughest players. His knee sprain sidelined him only briefly, as he returned in the fourth quarter against Mizzou only to throw for 201 yards and three touchdowns to erase a 17-point deficit. Shaw finished the year with 2,135 yards with 21 touchdowns to just one interception.
Helping Shaw along the way was Davis, who made a strong case for the title of the SEC's top running back. Davis, who was a home run threat and a legitimate between-the-tackles bruiser, rushed for 1,134 yards and 11 touchdowns in his first year as a starter.
-- Edward Aschoff