NCF Nation:

Cardinal-Bruins-091110
September, 12, 2010
9/12/10
3:31
AM ET
PASADENA, Calif. -- When pundits talked about Stanford during the preseason, it was almost all about quarterback
Andrew Luck
and his scintillating NFL potential and how his skill set might be what leads the Cardinal into the thick of the Pac-10 race. Heisman Trophy runnerup Toby Gerhart was gone, so Stanford was Luck's team.
Luck didn't play terribly well -- at least in terms of the passing part of being a quarterback -- against UCLA on Saturday. And you'd think his completing less than 50 percent of his throws would mean a tough night for Stanford, seeing that he was now the lead talent in front of the resurgent program.
But this wasn't a tough night for Stanford (2-0, 1-0 Pac-10) in the least. At least if everyone can agree a
35-0 win
isn't a tough night.
[+] Enlarge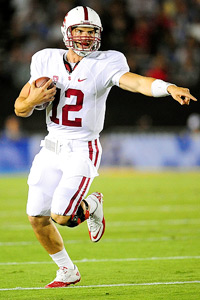 Gary A. Vasquez/US PresswireAndrew Luck did not post the best numbers of his career against UCLA, but still directed the Cardinal to a 35-0 win at the Rose Bowl.
"I definitely did not play my best game by any means," said Luck, who completed 11 of 24 passes for 151 yards with two TDs and no interceptions. "I'm thankful for a great defensive performance."
Stanford coach Jim Harbaugh disagreed with Luck and with the line of questioning about Luck's passing struggles. He said he was happy with Luck's night.
"He played winning quarterback football," Harbaugh noted.
What's that mean? It means leading an offense that converts 9 of 16 third down plays and is 1-for-1 on fourth down. It means leading an 18-play, 68-yard touchdown drive that eats 9:25 off the third-quarter clock and gives a team a 21-0 lead.
Then there's losing quarterback football. UCLA, which fell to 0-2, is getting that. The Bruins were 1-of-9 on third down and 0-for-2 on fourth down and finished with 233 total yards.
Kevin Prince
was yanked to start the fourth quarter after completing just 6-of-12 for 39 yards. He was replaced by
Richard Brehaut
, and coach Rick Neuheisel wouldn't commit to a starting quarterback for next week's visit from Houston.
"We don't like making those kinds of comments right after the game," he said. "We'll watch game tape tomorrow before we make a decision."
Neuheisel wasn't noncommittal, however, on what he termed a "very difficult night for UCLA football."
"Tonight was an offensive disaster," he said.
And so we have two teams heading in different directions in the conference pecking order. Stanford is now good enough to win in the Rose Bowl, which it hasn't done since 1996. It also was the Cardinal's first road shutout since 1974. Defense was the major preseason concern. Through two games, Stanford has given up 17 points, seven of which came on special teams.
"We were telling the guys when they went in: 'Believe in trying to keep that score at zero,'" Stanford free safety Michael Thomas said.
Thomas forced a pair of fumbles with aggressive strips. The second pretty much ended the game. Just after the 18-play drive, UCLA took over on its 20-yard line. Prince ran for a yard to his left, but Thomas yanked the ball away from him and took the fumble back 21 yards for a TD and a 28-0 lead.
That's when Prince took a seat.
UCLA's evening was made even worse when running back
Derrick Coleman
spent 10 minutes flat and motionless on the field and then was removed on a stretcher after taking a head shot. Neuheisel said Coleman was "communicating and conscious." A UCLA spokesman said Coleman went to the hospital but had movement in all his extremities.
The game left the Bruins searching for answers. It left Stanford atop the Pac-10 standings.
Luck shrugged that off.
"For what it's worth, it's nice," he said. "But people don't look back and see who's leading the Pac-10 in Week 2. They look back to see who was in the Rose Bowl."
After the game, Stanford's players dashed over to the corner of the stadium full of red. The portion -- only 56,931 were in attendance -- that was blue had mostly been vacated by then. When the giddy Cardinal then walked up the tunnel toward their locker room -- grinning and boisterous -- it was hard not to see that, for the first time in a long, long time, they sure seemed at home in the Rose Bowl.
September, 12, 2010
9/12/10
2:42
AM ET

Ted Miller talks to Stanford coach Jim Harbaugh about Stanford's dominant win, quarterback Andrew Luck and defensive improvement.

September, 12, 2010
9/12/10
1:42
AM ET
This was a methodical whipping. Stanford just ground UCLA down before decisively prevailing 35-0.


UCLA's defense was game most of the night, but it wore down in the second half because the Bruins offense is simply lost.
The new "pistol" is firing blanks (I know, that's a bad one). Quarterback
Kevin Prince
, who's missed nearly every practice this season due to injury, only completed 6 of 12 passes for 39 yards before being yanked for
Richard Brehaut
at the start of the fourth. Prince threw an interception and his fumble was returned 21 yards for a TD.
Stanford wasn't great. Quarterback
Andrew Luck
only completed 11 of 24 passes (two TDs). His running -- 63 yards on 7 carries -- was better than his passing.
But the Cardinal didn't have to be great vs. a UCLA team that is 0-2 with an 0-4 start very possible.
Stanford should be better tested at home next week when Wake Forest comes to Palo Alto.
The Bruins play host to Houston, which may not have injured quarterback
Case Keenum
.
September, 12, 2010
9/12/10
1:05
AM ET
PASADENA, Calif. -- Stanford went 68 yards in 18 plays -- 18 plays! -- taking up 9:25, and now leads UCLA 21-0 after a 2-point conversion.
On the drive, the Cardinal converted four third downs -- of 10, 8, 1 and 1 yards -- and one fourth down of a half yard from the goal line.
Andrew Luck
scored an apparent TD on third-and-goal from the 5-yard line, but the play was ruled down at the 1 on review.
So fullback
Owen Marecic
busted in for the score.
By the way, UCLA is 0-6 on third down.
Hard to believe the Bruins can find 21 points in the fourth quarter, seeing the way their offense is struggling.
September, 12, 2010
9/12/10
12:51
AM ET
PASADENA, Calif. -- UCLA running back
Derrick Coleman
, who was carted off the field on a stretcher after remaining motionless on the Rose Bowl field for 10 minutes, has movement and sensation in all his extremities, according to Bruins officials.
He's been taken to the hospital, but early indications are that the worst-case scenarios have been averted.
September, 12, 2010
9/12/10
12:19
AM ET
PASADENA, Calif. -- UCLA can't get out of its own way. Stanford has failed to assert itself.
It was not a very impressive first half of football, though Stanford is probably happy to own a 13-0 lead, which in UCLA offensive points -- think dog years -- is not unlike a 22-point lead.
Multiple times, there have been a scattering of boos among the Bruins faithful.
Stat of the half
: UCLA was o-for-5 on third-down conversions.
Turning point
: Each time the Bruins threatened to make it a game -- you know, score -- they made a mistake (or mistakes) and threw up on themselves. A third-and-3 on the Stanford 35? Sack. A first-and-10 on the Stanford 24? False start, 1-yard run, sack, interception. A potential TD pass to tight end
Cory Harkey
late in the half? Dropped.
What Stanford needs to do; What UCLA needs to do
: Stanford twice had first-and-goal situations and had to settle for field goals. It needs to get in sync offensively. Quarterback
Andrew Luck
was only 8-of-18 for 117 yards in the first half. As for UCLA, the offense has shown signs of life and the defense signs of resilience. But the Bruins just can't seem to make the critical play that keeps drives going -- and gets points on the board. They get the third-quarter kick. It would be a great time to settle down and get on the board.
September, 11, 2010
9/11/10
11:27
PM ET
PASADENA, Calif. -- It's strange to write that
Andrew Luck
doesn't look sharp when Stanford leads 10-0 after the first quarter and when he has thrown a touchdown and rushed for 27 yards. But so far he's only been 5-of-11.
The problem for UCLA is even with that line, the Cardinal dominated, outgaining the Bruins 137 yards to 37.
Stanford's offensive line won the battle up front with the Bruins, and that's the sort of thing that could get worse as the game goes on.
September, 11, 2010
9/11/10
10:13
PM ET
PASADENA, Calif. -- One mystery is solved. Stanford middle linebacker Shayne Skov, one of the bright young talents in the Pac-10, isn't going to play against UCLA.
A Stanford spokesman said he doesn't believe Skov made the trip.
Wide receiver
Chris Owusu
is on the field and dressed. But he's not doing much.
So there are two significant personnel hits for the Cardinal that bolster the Bruins chances.
Still don't know the injury for either.
September, 11, 2010
9/11/10
9:02
PM ET
PASADENA, Calif. -- It should be a beautiful night at the Rose Bowl. We can report that. But there's a lot we can't report yet about the
Stanford-UCLA Pac-10 showdown
.


We can't report whether Stanford receiver-returner
Chris Owusu
will play. We can't report whether Cardinal linebacker Shayne Skov will play either. Both have super-secret injuries that kept them out of the season-opener versus Sacramento State.
We can't report for sure whether Stanford has, indeed, switched to a 3-4 defense. That was what was widely reported during the spring, but the Cardinal ran a 4-2-5 last weekend and coach Jim Harbaugh intimated this week -- for what that's worth -- it might be the right scheme to combat UCLA's new pistol offense.
And we can't report whether banged-up Bruins quarterback
Kevin Prince
-- he's missed nearly every practice so far this season with back and then shoulder injuries -- will be any better leading that pistol offense against that Cardinal defense. Last weekend at Kansas State, Prince and the Bruins offense struggled mightily, but not as much as the run defense, which was gashed for 313 yards.
But all these mysteries will be solved when the Bruins and Cardinal get around to playing. UCLA is trying to right itself after a dispiriting loss, while Stanford is trying to establish its bona fides as a conference contender.
That UCLA run defense is going to be tempting for Stanford, which lost Toby Gerhart, sure, but has four starters back from what probably was the best offensive line in the conference in 2009. Harbaugh enjoys the physical running game.
But his best player is quarterback
Andrew Luck
, who threw four touchdown passes last weekend. Luck's passing will be a strength-on-strength matchup with a talented Bruins secondary, which is led by All-American safety Rahim Moore.
While it's not fair to call UCLA desperate after just one game, a look at its brutal schedule certainly raises an eyebrow. After Stanford, is a visit from Houston and a trip to Texas. After Washington State, are road games at California and Oregon.
That's not an easy way to start a season.
If Luck comes up big, count on Stanford rolling. And maybe then the Cardinal will have a legitimate Heisman Trophy candidate for a second consecutive year.